[Return]
Africa Safari -- Feb 2009 Itinerary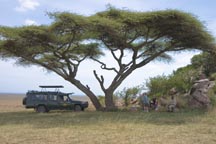 Welcome to our 2009 Africa Trip Itinerary. Our 2009 Safari will start in San Francisco on Thursday, February 12, and will include Debbie and Jim Sawin, from Walnut Creek, California.

This trip will be to Tanzania and will consist of a Safari in the Tarangire National Park, Ngorongoro Crater, and the Serengeti. Then rest and relaxation on the island of Zanzibar. Our Safari was booked through Naipenda Safaris, again. Check out their brand new web site, check testimonials the 2nd one!!! So why Tanzania again? As Naipenda's webpage states, "Tanzania has more protected land than any country in the world. According to Earth trends more than 39% of Tanzania land is protected, while the world average is less than 11%."



The follow is a narrative of our planned trip. The days of our trip will be highlighted (between Feb 12th and March 3rd), so check DAILY.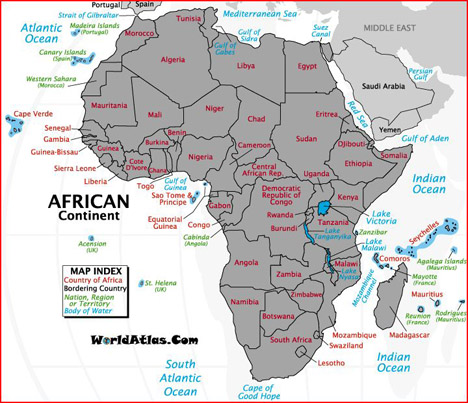 Tanzania is located south of the equator and on the eastern coast of Africa. It is located immediately south of Kenya and Uganda. Just off the coast of the Tanzania in the Indian Ocean is the small island of Zanzibar which is much smaller than Madagascar.
OUR 2009 SAFARI:
Day #1(Thur, Feb 12)=> BART to SFO; 2 hour flight to Seattle; 10 hour flight to Amsterdam, arriving at 7:40am.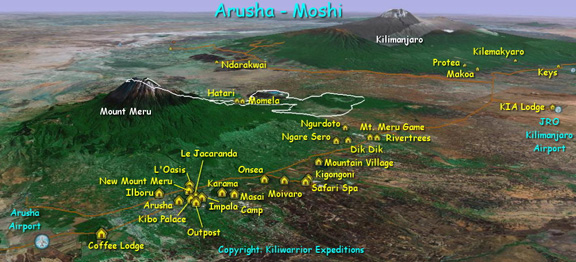 Day #2(Fri, Feb 13)=> Leave Amserdam at 10:10am for the 8 1/2 hour flight to Kilimanjaro, Tanzania. The airport is labeled JRO (on the far right) on this map. Upon arrival at 8:35pm we will be met by our guide and transferred to Mt. Meru Lodge in Arusha. Arusha is about 30 minutes west of the airport. This lodge only has 17 rooms and is also a game sanctuary. From the Meru Lodge you can see Mt Meru and Mt. Kilimanjaro. The lodge is on the map called "Mt. Meru Game". In 2008 our first night was at "Mt Village" which can also be seen on this map.
Day #3(Sat, Feb 14)=> Our first game drive will be at Tarangire National Park which is about a 2 1/2 hrs drive from the Mt. Meru Lodge. The Tarangire area consists of 25,000 hectares of village land including Lakes Burunge and Manyara. While at the Tarangire National Park, we will be staying at Tarangire Safari Lodge.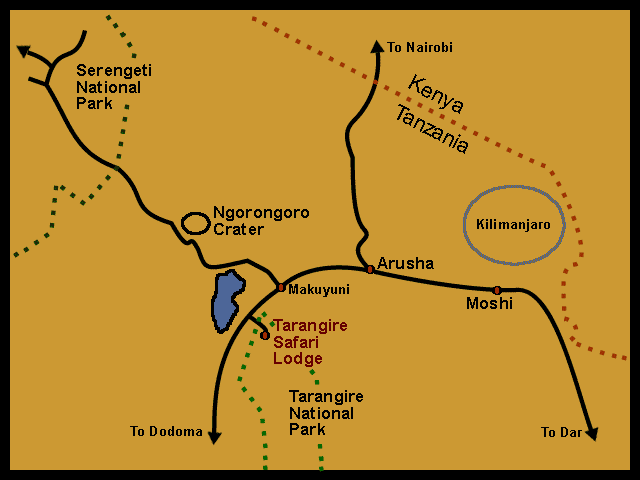 Tarangire Safari Lodge is situated inside Tarangire National Park. See the map to the right which shows Arusha, the park and location of this lodge inside the park. Tarangire is perhaps best known for its large herds of elephants. The park is home to around 2500 elephants and herds of more than 200 have been viewed from the lodge veranda.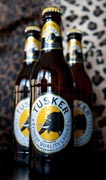 Day #4(Sun, Feb 15)=> Today we will go back into the Tarangire National Park about 6:30am. The goal is to capture the early morning game activity and have a picnic breakfast, but lunch back at our lodge since we are so close. And of course we plan to have sundowners back at the Lodge in the afternoon overlooking the park and the sundowner of choice is "cold" Tusker.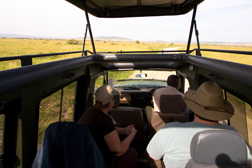 Day #5(Mon, Feb 16)=> This is a travel day to Ngorongoro Crater. But since crater day is tomorrow we will begin with another early game drive into the Tarangire National Park with picnic lunch before leaving for Ngorongoro. The goal is to arrive at the Ngorongoro Sopa Lodge in time for afternoon sundowners overlooking the Crater.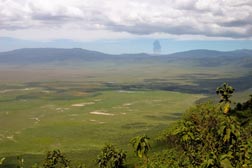 Day #6(Tue, Feb 17)=> "Crater" day begins at 6:30am after a buffet breakfast. Game viewing begins instantly once you enter the Crater. Last year within a mile of the Crater entrance we came across a large herd of elephants, and babies. Ngorongoro Crater is the world's largest intact caldera, forming a spectacular bowl of about 102 square miles with sides up to 2000 feet deep. The Ngorongoro Crater was created from a volcanic eruption of a mountain that scientist think was taller than Mt. Kilimanjaro. This crater is home to around 20,000 to 30,000 wild animals at any one time, including the black rhino, but does NOT include giraffe.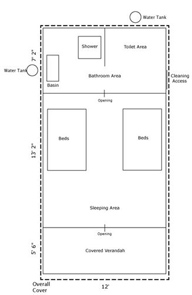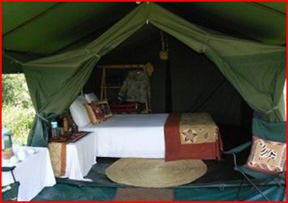 Day #7(Wed, Feb 18)=> This is a travel day to the Southern Serengeti, Ndutu area. However, 11 months advance reservation was not good enough to get into the Ndutu Safari Lodge so our first night will be mobile camping. This is our first true tent camping which sounds like a lot of fun. The picture to the right is an example of what our tent will look like. Also notice the tent layout which includes private bathroom, shower and a front porch.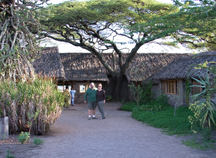 Day #8(Thur, Feb 19)=> This will be our first full day in the Ndutu area, which is the premier location for safari in February. The seemingly unending plains of the Southern Serengeti/Ndutu Area are inhabited by enormous herds of wildebeests and zebras. The great herds graze on rain ripened grass. In the calving season (late January through mid March) the herds concentrate at the Ndutu area attracting the attention of predators like lions, cheetahs and hyenas. During this period the migration is best observed from Ndutu Safari Lodge which is exactly where we are staying the next two nights.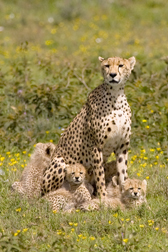 Day #9(Fri, Feb 20)=> Our last full Ndutu day will start early, probably with a picnic breakfast on the Sergenti. Our goal is to find something to equal Cheetah mom Eleanor and her six cubs from our 2008 Safari.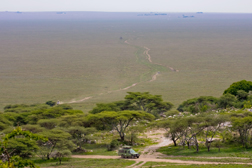 Day #10(Sat, Feb 21)=> We will start out with early breakfast at the lodge and then a full day of game viewing. At some time during the day we will pass through the Naabi Hill gate(picture to the right is from the Naabi Hill gate) into the Central Serengeti. The Serengeti is feels like an endless plain and when filled with wildlife during a migration it too SURREAL for words, check image1 and image35to see what I mean. At the end of this day we will arrive at the Serengeti Sopa Lodge.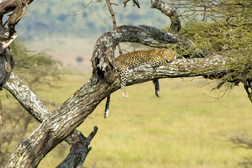 Day #11(Sun, Feb 22)=> Today we will be in search of Leopards which are most common in the trees along the Seronera River in the Central Serengeti. And of course the hippo pools are a breath of fresh air!!! Discovery for yourself the beauty of the Serengeti with this most unusual website, it dyanmically changes based upon when you visit.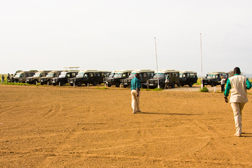 Day #12(Mon, Feb 23)=> An early morning game drive will end when we arrive at the Serengeti airport for our flight back to Arusha. Flying out of the Serengeti is a very common as you can see from all the safari vehicles waiting for planes to arrive. From Arusha we will catch a 2nd flight to Stone Town on the island of Zanzibar. We will be met at the airport and transferred to the Pongwe Beach Hotel for 7 days of R&R.
Day #13, Day #14, Day #15, Day #16, Day #17, Day #18=> At the Pongwe Resort(all 15 units), where options include :
| | | |
| --- | --- | --- |
| | | |
| Shopping... | Swimming in infinity pool... | Kayaking... |
| | | |
| Seaweed farming... | Sailing... | Filming... |
| | | |
| Dining... | Relax on day bed... | or simple R&R... |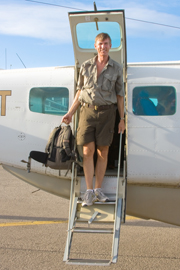 Day #19(Mon, Mar 2)=> This afternoon we are leaving Pongwe, our favorite beach on earth, to begin our travel home. Travel begins with a 20 minute flight from Zanzibar to Dar es Salaam. We have an evening of shopping and dinning in Dar es Salaam before boarding the midnight flight to Amsterdam.
Day #20(Tue, Mar 3)=> Arrive in Amsterdam and depart for San Francisco and back to reality.