[Return]
Africa Safari -- Kenya & Rwanda 2012 Itinerary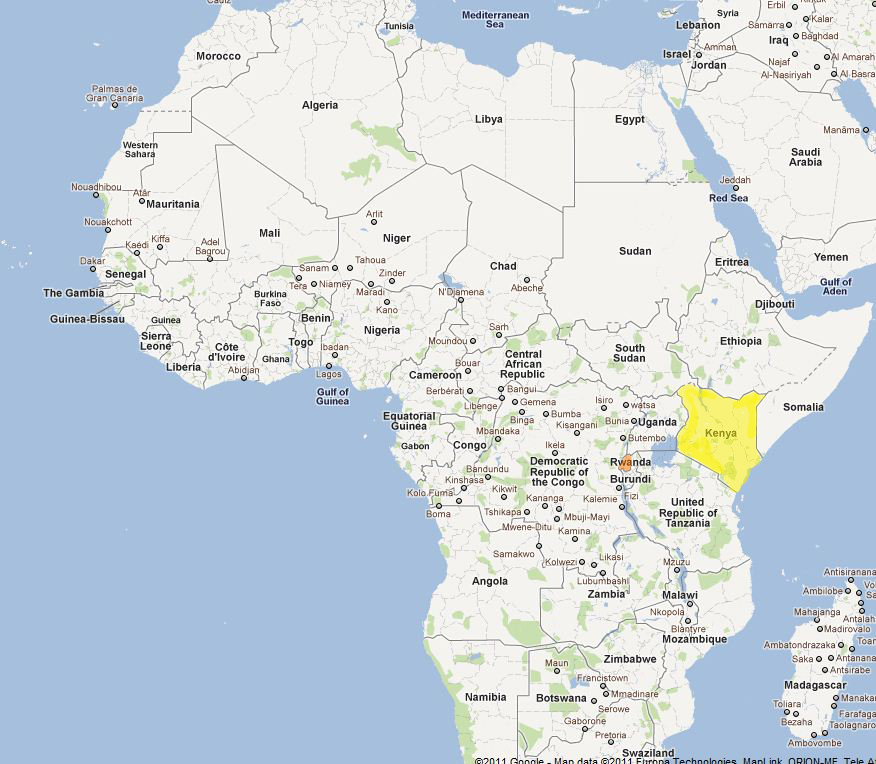 Our 2012 Safari will start in San Francisco, and will include Debbie and Jim Sawin, from Walnut Creek, California. Our airline is KLM, flying thru JFK ending in Nairobi, Kenya.

This year's safari will be to Kenya(yellow on Africa map), the Maasai Mara and then gorilla treking in Rwanda(orange on Africa map, yes it is small).


OUR 2012 SAFARI:


Day #1=>

Depart SFO at 6am on KLM to JFK, then JFK to Amsterdam, arriving in Amsterdam at 8am the next day.





Day #2=>

Leave Amserdam at 11am for the 9hr flight to Nairobi, Kenya. Upon arrival we will be met by our guide and transferred to Nairobi Serena Hotel.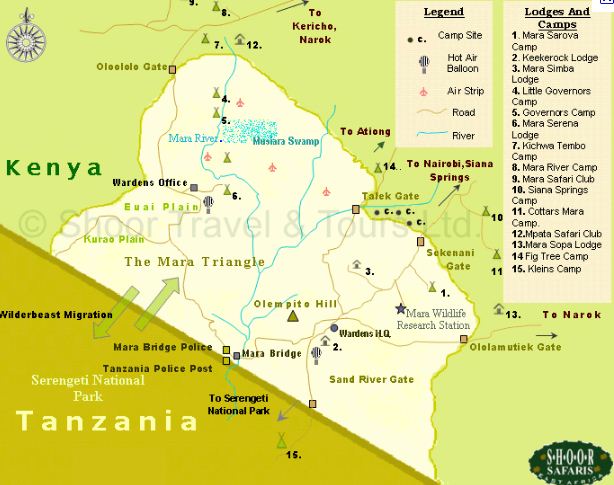 Day #3=>

After breakfast we depart for the local Nairobi airport(Wilson) for our flight to the Maasai Mara. Our one hour flight leaves at 9:15am. Upon arrival our private driver/guide will meet us and drive use to the Keekorok Lodge(#2 on map), located in the Sekanani area of the Mara Reserve. After checking in we will have our first Mara game drive.

The lodge was built in 1962 has en-suite room with private balconies facing the park. A covered walkway connects the lodge to the sundowner bar. Traditional dances available in the evenings. Electricity is available 24hour per day, 220v. The lodge has internet connection, a gift shop and a swimming pool.

The Masai Mara and Serengeti form a contiguous ecosystem, the playground of the annual wildebeest migration, the greatest and most spectacular mammal migration on earth. Supporting over 273 herbivores per square kilometer, the Mara boasts of one of the richest assemblage of wildlife in the world. Beside herboivores, the Mara has a large representative of predator lions, hyenas, cheetahs, and leopards. There are no dull moments in the Masai Mara. Nature is always at play. Bird watch is superb with 450 species recorded.




Day #4 and #5=>

Morning, mid-morning and afternoon game drives in the Sekanani area of Mara Reserve.



Day #6=>

After breakfast check out of the Keekorok lodge and game drive west across the Mara river to the Mara Tringle(see on map). The Mara Tringle was the original reserve before addition of the other sections(Sekanani and Musiara) in 1992. Mid morning we will reach our 2nd lodge in the Masai Mara, the Mara Serena(#6 on map). After check in and lunch we will game drive in the Mara Tringle area.



Day #7, #8, and #9=>

Game drive the Mara Tringle area.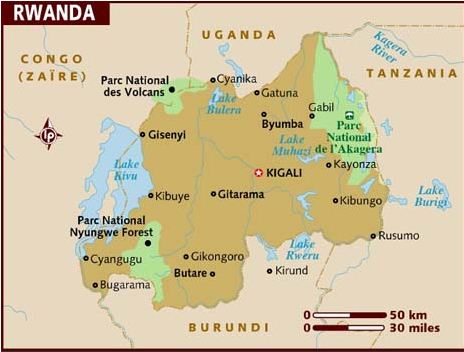 Day #10=>

Early morning game drive and return to lodge for breakfast. Transfer to airstrip to catch 10:15am flight to Wilson Airport (Nairobi). On arrival at Wilson airport we will be transferred to Nairobi International airport where we will catch our 3:30pm flight to Kigali, Rwanda(see star on map). Upon arrival in Rwanda we will be transferred to our hotel, the Kigali Serena Hotel.



Day #11=>

After breakfast we will have a city tour of Kigali. The tour visits genocide memorial of Gisazi. Lunch at a city restaurant. Then drive to Musanze (Ruhengeri - far north by Lake Bulera) and finally to Kinigi(near green far north) the base of gorilla tracking. This 2hr drive takes us through the beautifully terraced hilly countryside of Rwanda and ends at our lodge.



Day #12=>

Today is the first of 2 gorilla treks. Permits must be obtained well in advance as only 8 is allowed in a group. So today will start early with breakfast followed by a drive to Kinigi park for guide allocation and a trek briefing. This is followed by a drive to the trealheads and hike up the hills to the bamboo zone, the natural habitat of Mountain gorillas. Hiking and tracking gorillas may take 2-3 hours. Sight and stay with the Gorillas for an hour, then return to the hotel for lunch. In the afternoon, visit lakes Burela and Ruhondo. Lodging this night is again at what they refer to as "High End Luxury Lodge", the Mountain Gorilla View Lodge.



Day #13=>

Another Gorilla trek day, again breakfast drive to park where we will receive our daily briefing. Then drive to the trail head and trek up the mountain for our 2nd memorable experience with gorillas. Return to base hotel for lunch. In the afternoon drive to Gisenyi (Rubavu) on the shores of Lake Kivu(large lake on the west side of Rwanda) and check in to the Kivu Serena Hotel.



Day #14=>

Breakfast and drive to Kigali. Lunch at a city restaurant, then off to the airport to catch our 1:40pm flight back to Nairobi airport. Upon arrival we have plenty of time for dinner and to make our way to the international airport for our 11pm KLM departure to Amsterdam.



Day #15=>

Arrive in Amsterdam at 5:30am. We have about 5hr here and the Amsterdam airport has showers, so should be a good refreshing stop. Then at 10am depart for SFO and home.