[Return]
Africa 2012 - Namibia Trip Report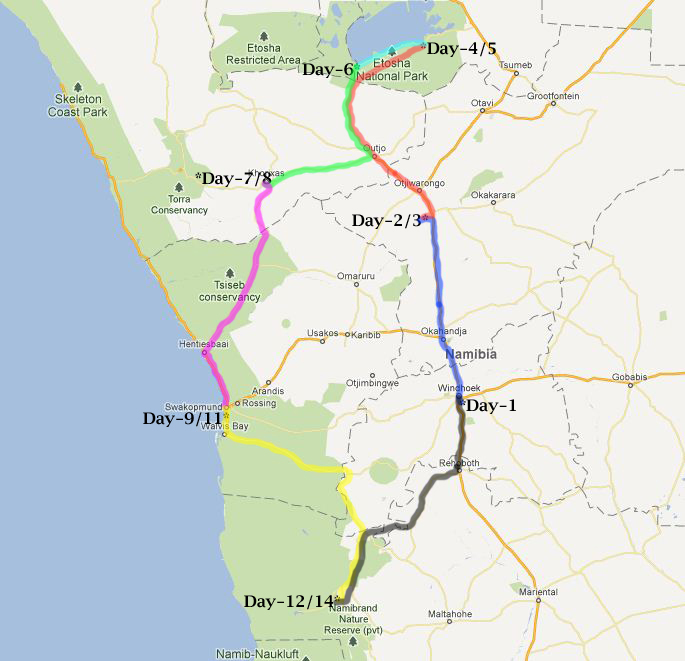 The success of our first Namibian was made possible because of the extra effort, advise and recommendations of Gemma Dry of Discover Namibia Tours and Safaris. Thank you.

Before starting our Fall 2012 trip to Namibia we had done a lot of research and planning. Based on our research we had very high hopes that Namibia would be a trip of a life time. Seldom does a trip live up to the hype when put on that high of pedestal. BUT Namibia did!!

Namibia is a very unique country with a large variety of unique locations to visit. During our brief visit to Namibia we visited seven different areas, which are shown on the map to the right. This map shows the locations we visited and routes we took between locations.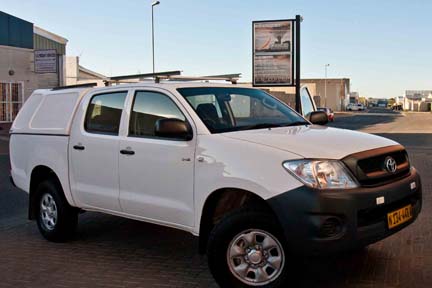 Our first stop was the capital, Windhoek where we picked up our Toyota Hilux 4x4 dual cab w/frig. We used "Advance Car Hire". The vehicle we rented was well prepared for the rugged Namibian terrain with three spare tires (needed none), air pump with tire guage, towing cables, first aid kit, etc. etc. Notice how clean it is, it wasn't after two weeks. During our 2 week adventure in Namibia we drove 2,793 kilomiters or 1,735 miles. A total of 243 liters of diesel was a bit too much as the fuel guage was about half when we returned our vehicle.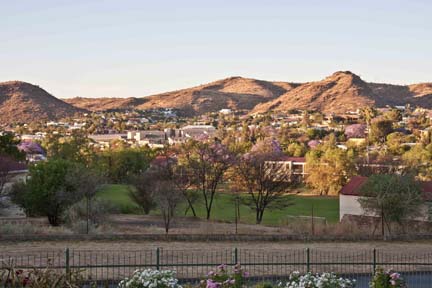 That evening for dinner we went to a restaurant(Am Weinberg) that had outside dining, this was the view.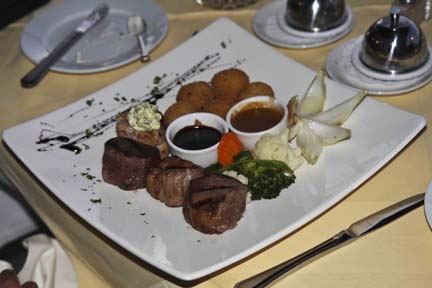 I had to try a special meat sample dish with four local favorites (crocodile, zebra, oryx, and springbok). I will pass on the crocodile next time!!! This first night we stayed at a nice lodge, Terra Africa.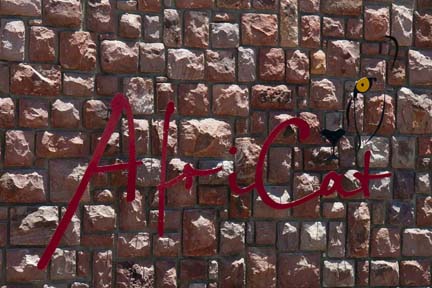 On our 2nd day we headed up the B1(blue line on map) to Africat. Africat is an animal reserve where we spent two days during which time we had a number of safaris into their private compound.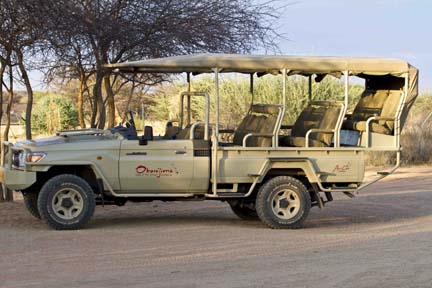 We did a tour of the Africat facilities where we watched them feed cheetah and caracals. Then we did a game drive to track leopard. Later in the day we tracked wild dogs on foot and following morning we tracked cheetah on foot. Both evenings we spend time in their "hide". Images from our visit to Arficat are linked here.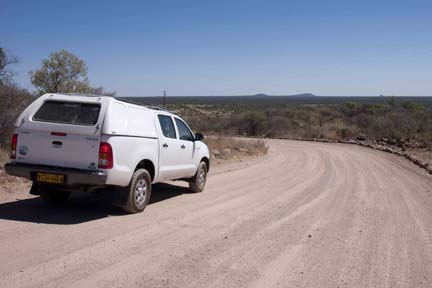 Day 4 we were back again on the B1, this time the red line to Halali Resort in Etosha National Park. We spent two nights at this resort visiting all the unique water holes in this area of Etosha. We were pleasantly surprised to learn that we had a two bedroom chalet with living room, kitchen and patio, very nice.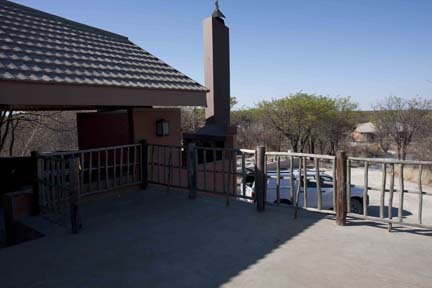 We had great sightings of 8 lions sharing the water hole with a herd of elephants, two black rhinos running through the pan and a leopard among the usual grazing wildlife. Images from our visit to the Halali area of Etosha are linked here.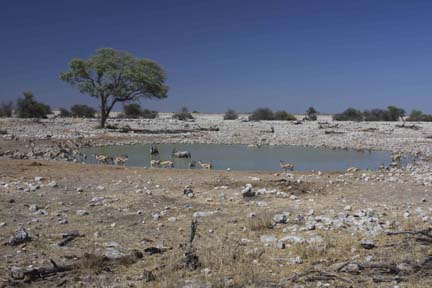 Day 6 was our last night in Etosha National Park and we headed to Okaukuejo that many believe has the best water hole is all of Etosha, so good that you could just hang out here all day.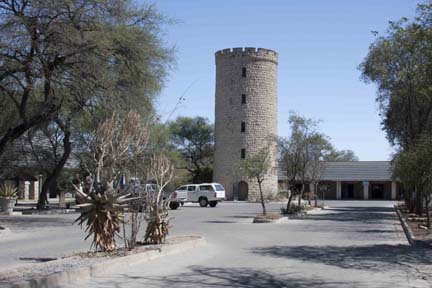 Here we had a fabulous sighting of 19 lions including 6 cubs and 3 males. Also saw two rhino and lions at our resort watering hole after dark. Images from the famous Okaukuejo water hole and all the Okaukuejo area of Etosha are linked here.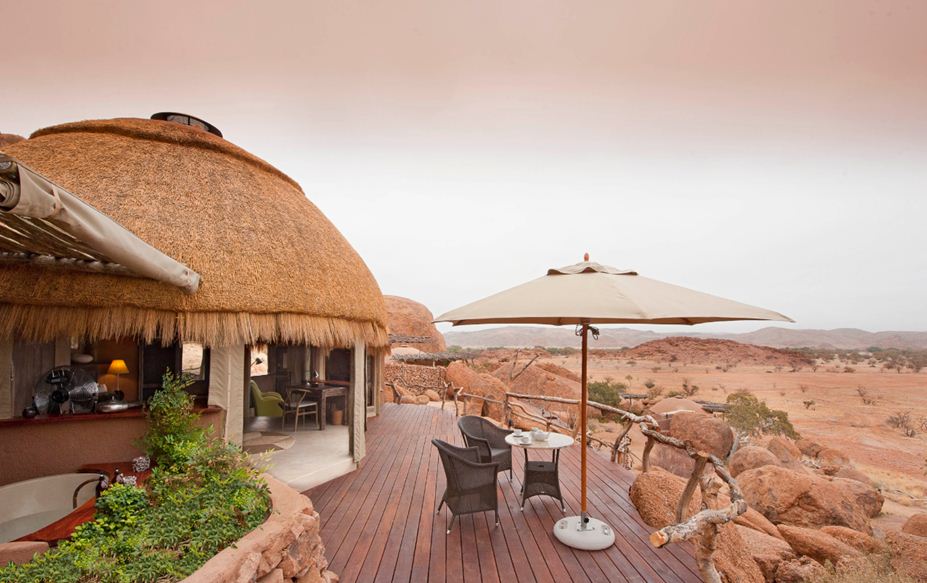 Day 7 back down the B1, this time the green line to Camp Kipwe in Damarland area of Namibia. We had a GREAT room and did a safari to visit the desert elephants, wonderful, unbelievable terrain.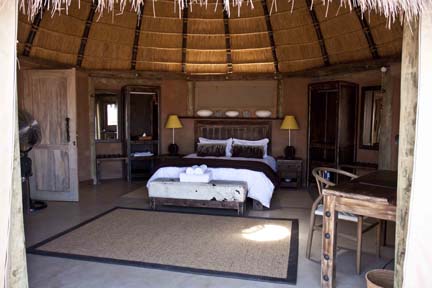 Images from our visit to the Camp Kipwe are linked here.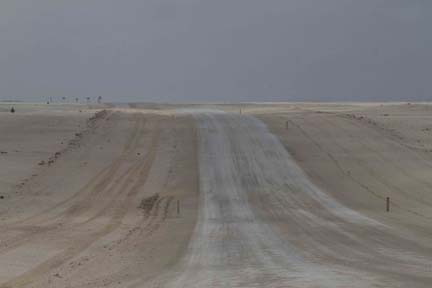 Day 9 we headed west toward the coast, the purple line, to the Stiltz in the city of Swakopmund. While in Swakopmund we took a scenic flight over the dunes, took sandwich harbor tour and enjoyed GREAT seafood dining. Highly recommend every dinner restaurant we tried while in Swakopmund, "The Tug", "Jetty" and "Kuckis Pub"(in the wine bar).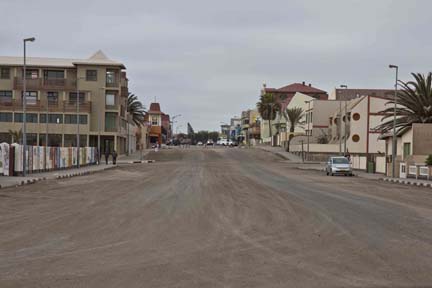 Images from our time on the Namibia coast are linked here.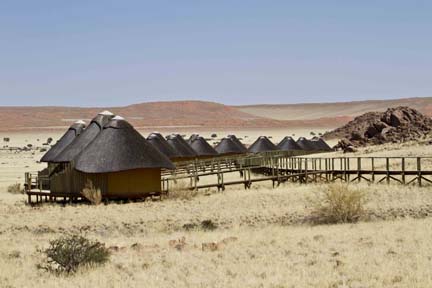 On day 12 we headed southeast to the inland dunes, the yellow line. At the dunes we stayed at the Sossus Dune Lodge and spent out time here enjoying the amazing red dunes.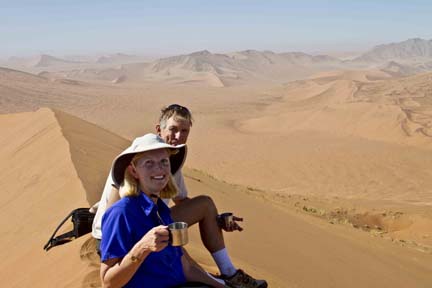 The last day at the dunes was also Jim's big "60". So the day before we went to the gas station and got a bottle of champagne for the big event. The next morning at 5am we headed out to climb "Big Daddy" the tallest dune in the world, at over 1000'. We celebrated Jim's big "60" with a bottle of champagne at the TOP of "Big Daddy"!!! Images from our time in the dunes are linked here.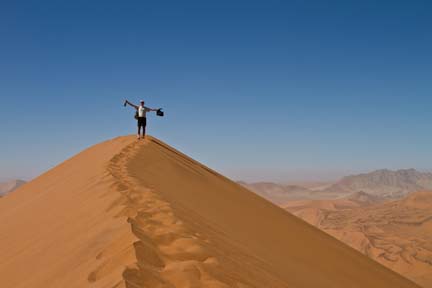 After spending our last night in Namibia we head back to Windhoek via Spreetshoogte pass. Unfortunately our way home was blocked by Superstorm Sandy so we had to stay an extra three nights in Johannesburg, South Africa. Instead of returning through JFK we caught a Cathay Pacific flight east through Hong Kong (with a 7hr layover) and were able to catch a few pictures of Hong Kong 2012.