October 2014 Namibia Trip Report
This was our second trip to Northern Namibia and this time we were adding the Caprivi/Zambezi Region to our tour and dropping the car at the end in Katima Mulilo. We then were transferred over the border to Botswana for our flight home.
This trip did not start out well for us. We left/lost a passport at immigrations on the way in and didn't realize it until we were at the car rental. There was a fair bit of confusion at Advanced Car (Marlette was not on duty) and they didn't have our packet with directions and vouchers. Because we needed to go back to the airport and check for the lost passport we left without resolving our missing vouchers. Immigration did not have the passport so we proceeded to our first lodge leaving Windhoek at dusk for Immanuel Lodge. Because of all the construction we struggled find the lodge in the dark since the road had a detour around the area where the lodge sign and turn-off were. We eventually found it on our last attempt before heading back to Windhoek. Immanuel Lodge had a fabulous dinner and then we searched everywhere hoping we had just misplaced our passport. Not the case so early the next morning we headed back to Windhoek and the US Embassy for a replacement. First we needed new passport photos and a police report of the loss. Then because we were not coming back to Windhoek, we needed to wait while they made a temporary replacement. So off we went for shopping and lunch in time to return at 2ish to pick up the new passport. Now the difficult part began because we needed to keep the petal to the metal on the tar road and "hopefully" reach our next Lodge before dark.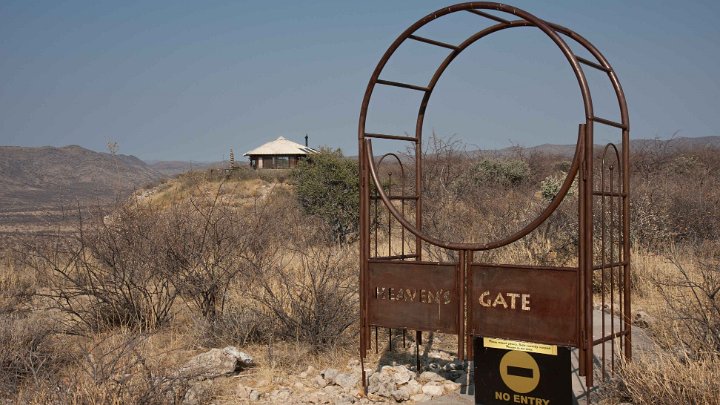 Unfortunately the road construction leaving Windhoek was going on and we hit several severe rain storms but new tar had been added all the way to the turn-off for our next stop. Our rental car contract allows us to travel 120km per hour on tar but only 70 on gravel. We pulled in to Vingerklip Lodge at 7pm just as the sun went down.
Vingerklip has a special chalet on top of the cliff called Heaven's Gate and that is what we had reserved for 2 nights. It was indeed heavenly after the walk up to the top. Luggage magically arrived a little later. Dinner was served at the Eagles Nest restaurant up on the top and it too was fabulous and very romantic.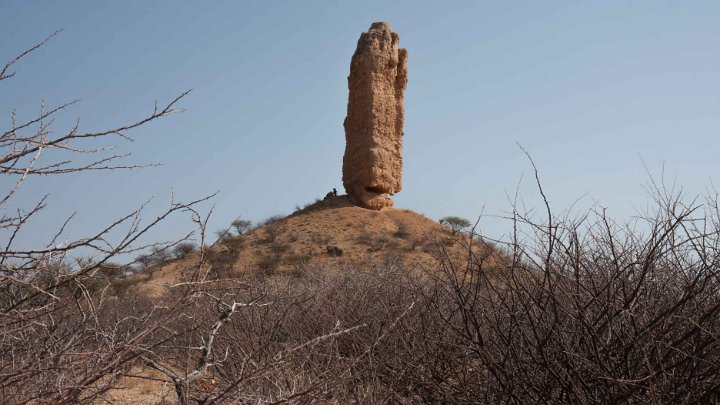 Breakfast was cooked for us exclusive at the Eagles Nest and then we hiked to the Vingerklip rock.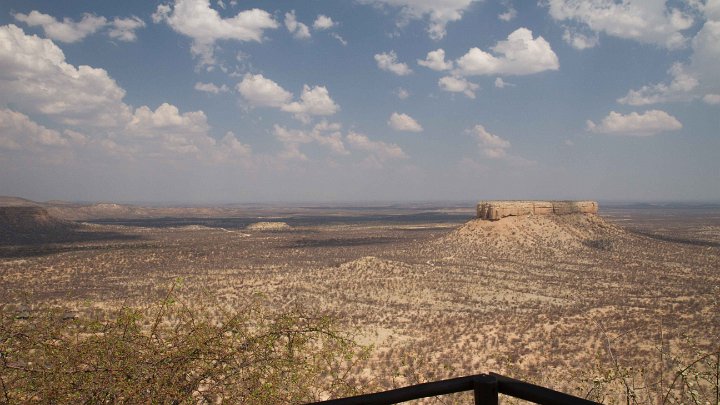 We spent the rest of the day enjoying our view, our deck and the mini bar.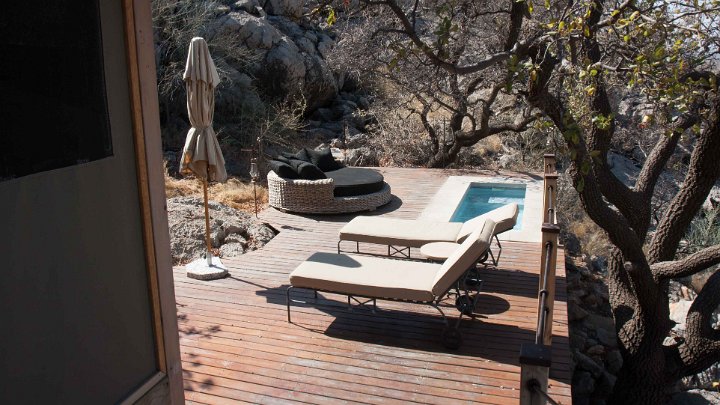 The next day we were off for the Galton Gate entrance to Etosha Park and the Dolomite Camp. It was an easy drive on mostly gravel roads all the way to the park and on to our camp. We were assigned #20 which is a deluxe tent with private plunge pool and a fabulous view over the park.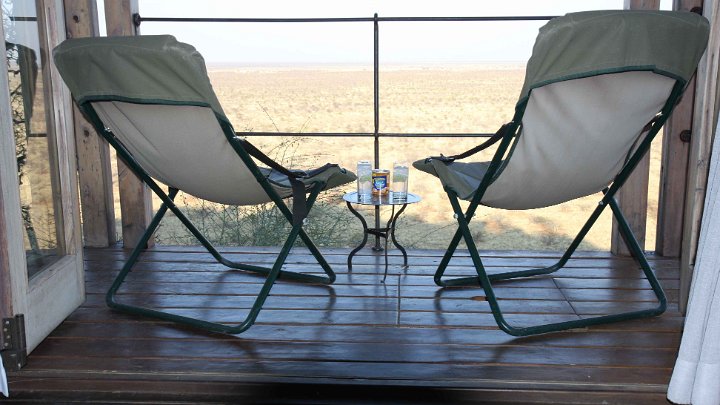 We spent 3 nights here and enjoyed self-guided game drives morning and evening every day. Our special sighting was 2 male lions at Jakkalswater and we had them all to ourselves. We thought the food was excellent at this camp and the service was good, other than cart service from the parking lot. Since #20 was the first tent, we normally walked back and forth.
We enjoyed the trip across the western side of Etosha with some really impressive sightings of masses of hoof stock. This side of the park had very little traffic and the animals were a bit more fearful of vehicles.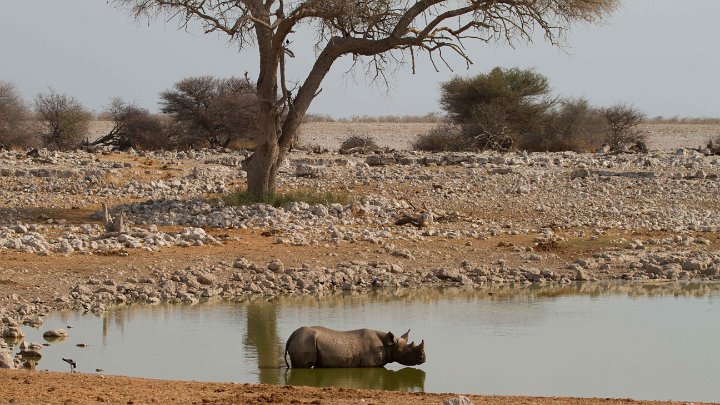 At Okaukuejo we hit our first problem with no vouchers. We had booked a premier waterhole chalet for 2 nights and they had us for 1 night at a regular waterhole chalet and 1 night at premier chalet. They would not call our travel agent in South Africa, we didn't have a phone and they didn't have internet. So we were stuck with the 2 different rooms and having to move. The premier chalet is really nice and big enough for 2 couples. We moved in upstairs and watched all the comings and goings at the waterhole.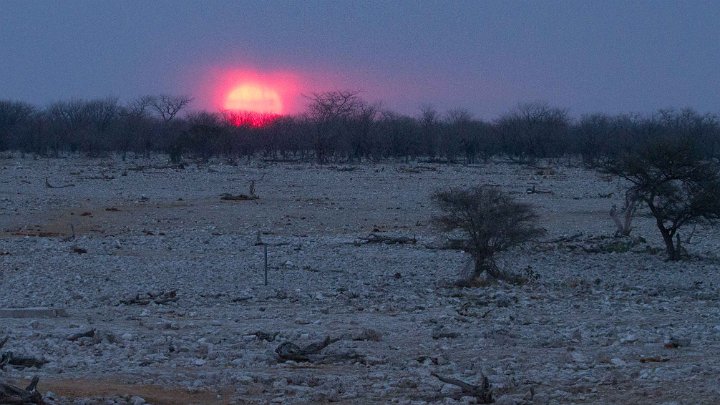 The problem came at night. I could hear every noise from the waterhole so I was up and down a dozen times. There were probably a dozen rhinos coming all night long so my sleep was very limited. I'm complaining because the viewing was too good!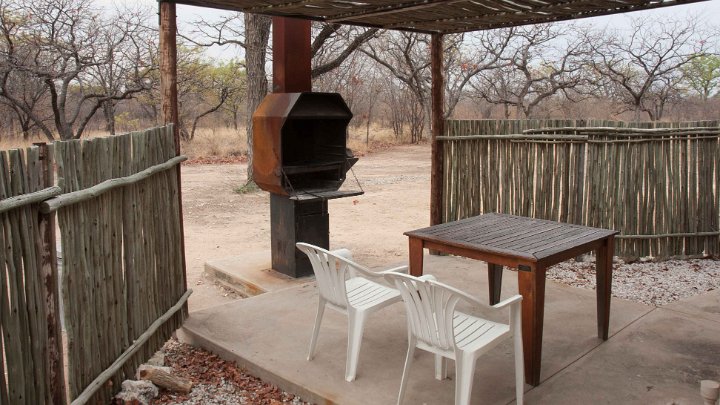 Next we moved on to Halali for 2 nights where we self-catered. It was so much fun to do our own cooking! In 2014 the chalet had dishes but not in 2015 so bring your own.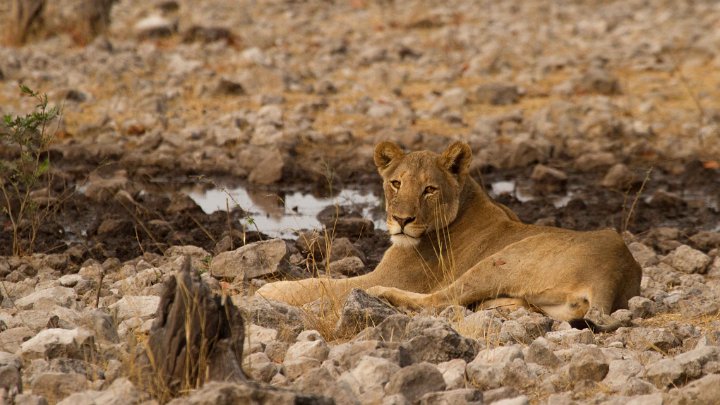 In 7 nights in the park we had great sightings. The count was 44 lions, 1 leopard, 5 hyenas and all the other usual things. We saw a large pride of lions with 2 males, 5 females and 7 cubs on the road across from Ombika. The cubs were adorable and we went looking for them again the next day but couldn't find them. We had another great lion sighting one evening near Rietfontein waterhole. We saw a male and female off in the distance coming to the waterhole so we positioned our truck between them and it. As they got closer they start running right at us! So our windows are down, cameras at our faces and they are coming closer and closer. It was a heart stopping moment but they did go around at the last minute.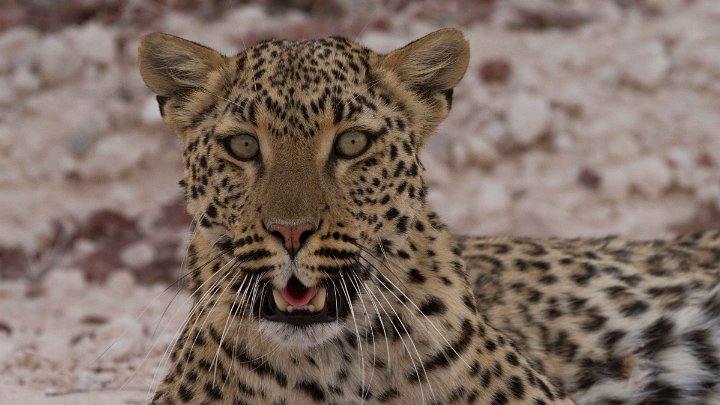 On that same evening going back to Halali, we came across a leopard lying in the road. We were upset to see a car easing really close to the leopard in front of another car. What we found out was that a large over lander truck had stopped and then couldn't get started again. They wanted to stack up a couple of cars between the leopard and the truck so the driver could get out and fix the problem.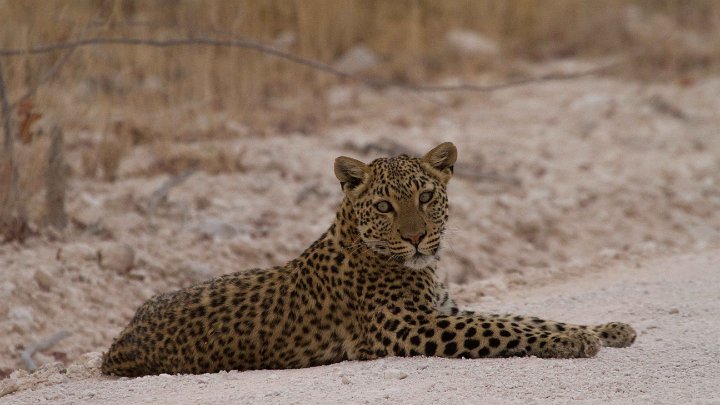 The leopard was intently looking under the cars to see what was going on but did not move. I think she was posing for all the guests. I believe her lying on the road in the area of Halali is quite common. In fact, other people saw her in 2015 with a cub.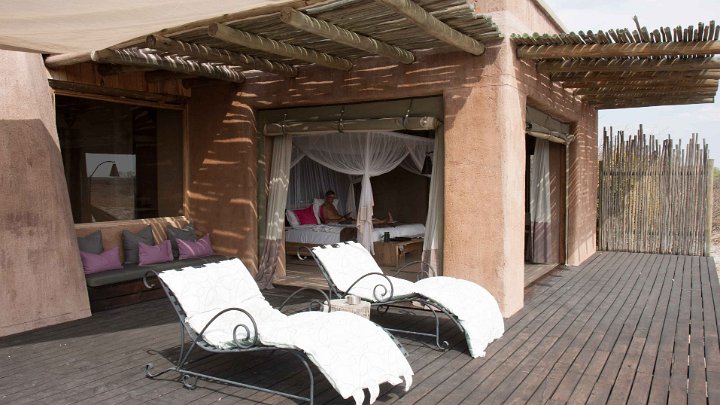 Our next stop was at Onguma the Fort for 3 nights. I had planned on going into the park every day but by this point we felt that we had seen enough and we just relaxed in camp.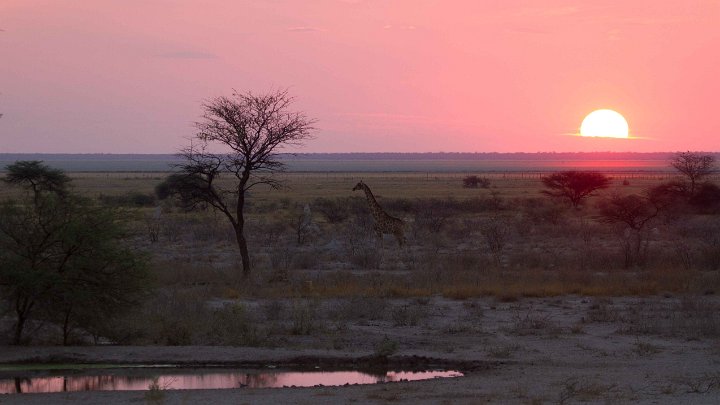 The Fort is stunning, the food was excellent and we really enjoyed our time here.
With Etosha behind us we headed off in virgin territory to Rundu and beyond. It was a good tar road all the way to Rundu with only light traffic and village life. I had expected more villages and people but not the case. We did get a bit lost in Rundu though as they had road construction going on.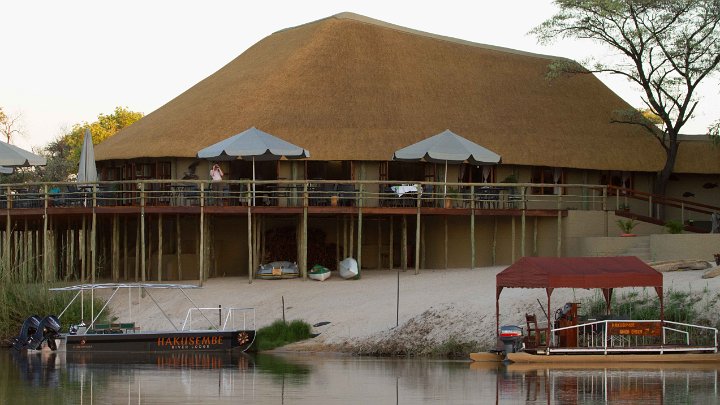 We stayed 1 night at Hakusembe River Lodge. We were assigned there family guest cottage and it was quite large with a great view on the river. We did their evening sundowner boat trip on the Kavango River and it was very nice. They sent out 2 boats with about 12 persons on each. We didn't see much wildlife but we saw lots of village activities on the Angola side of the river and a beautiful sunset.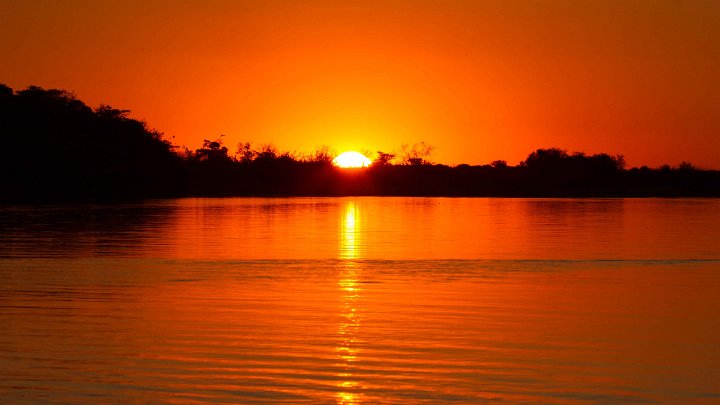 We asked to have dinner on the outside deck and it actually got cold. Dinner was a buffet and it was excellent. This is a pretty big lodge and not as personable as some of the other private lodges.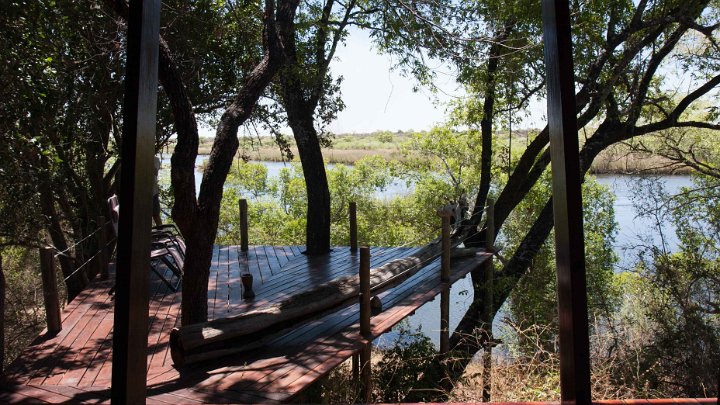 We left Rundu about 10am for a short drive to River Dance Lodge near Divundu. We pulled in about noon and they served us lunch while our room was being prepared. What a room! 2 separate wood and glass buildings one the bedroom and one the bathroom. We only stayed 2 nights and we would love to go back someday. The owners are a lovely couple with a little girl and they were the kindest, nicest owners of our trip. We did a self-drive to Mahango Park (with books from the owners) and also visited Poppa Falls.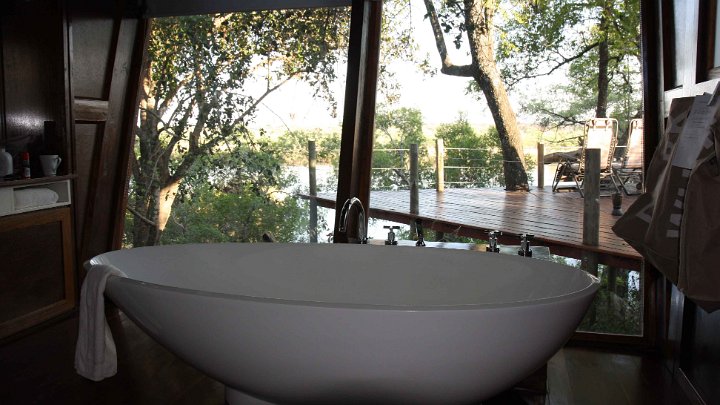 The park only has a couple of roads and is quite tame after Etosha. But we did see roan, sable and red lechwe. The lone elephant that we saw was quite shy. We left the park and then stopped at Poppa Falls for lunch. The falls are small but pretty and there is a nice walking trail. We then went back to River Dance for a nap. That afternoon we did the sunset cruise and we were the only 2 people. (The lodge only had 4 guests and some campers while we were there.) We enjoyed this boat trip a lot more that at Rundu and there were actually some rapids or at least fast water. We saw crocks and hippos and lots of local villagers. It seems in this area people go back and forth across the border/river to Angola. In fact, the kids go to school in Namibia and live in Angola. Again we had beautiful sunsets and the evenings got chilly here along the river.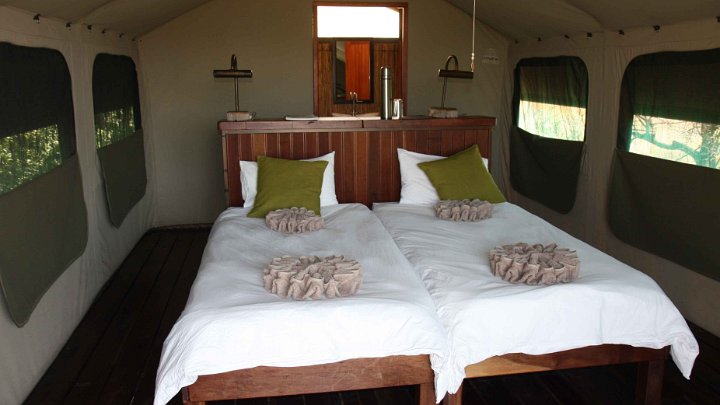 Our last camp was the new Nkasa Lupala in the Mamili Park. We didn't know what to expect but they were completing a new tar road all the way down to the turn off for the lodge. Now the tricky part was driving to the lodge. They have a drop and pick up service but we had a 4x4 truck. So off we went and what a ride. The only problem was that the directions say we should cross 3 bridges and we crossed 4. It seems that they make new ways around as parts of the road become impassable with deep sand.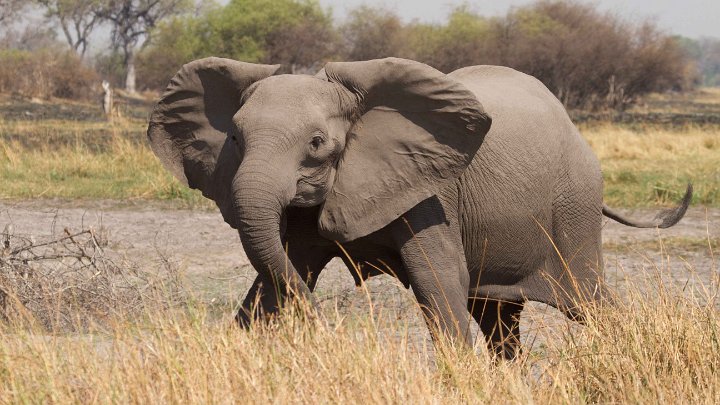 The camp was a little disappointing for us. The river in front of the camp had dried up to a large puddle so no boat trips from camp were available. We were able to go out for a long morning drive/boat combo which was very good and we did this both mornings. I've posted lots of photos of what we saw. But the tent got very hot and there wasn't much to do in camp. We strolled down for drinks in the evenings but very few other people did and the camp was full. Dinner was served at one long table and the 20 guests were speaking many languages. The food was very ordinary in comparison of all the truly outstanding meals we have eaten in Namibia. So maybe depending on where you've been this may or may not be a good fit.
Now the other problem of this trip came to play. We were supposed to drive to Katima Mulilo and turn in our truck and get a road transfer across the border into Botswana and on to the airport in Kasane. We didn't know where or when to drop the truck! We finally got a location but the timing was such that we would have to leave before sunrise and driving isn't allowed then. So in talking to fellow guests we found out that they were on the same flight out of Kasane with the same transfer company. Now we had to drive our truck to the drop sight first but then we assumed we would go with them. We left ahead of them at first light and when we got there they took us that our transfer had already left and they didn't know anything about leaving our truck there. With some calls to Advance Car we got the truck worked out. Then knowing the other guests were coming from our last camp we worked it out so we could go with them. So all worked out in the end but we were a lot nervous with the uncertainty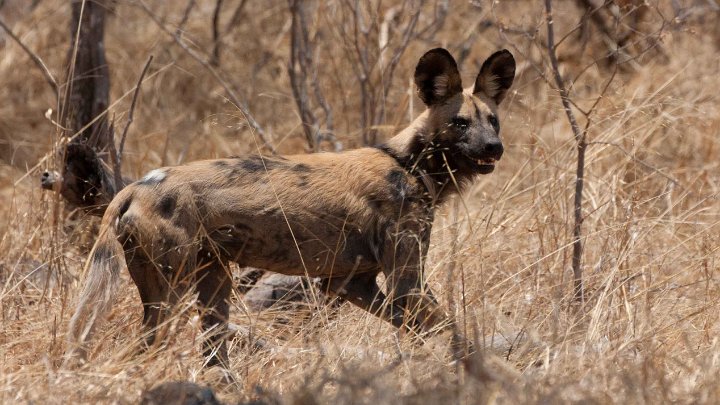 And then we had one last surprise and very exciting event. After crossing into Botswana we found a pack of wild dogs right alongside the road. Our driver stopped and let us open the sliding door for photos. Unfortunately my wildlife lens was already packed for the trip home but I did get some shots with my wide angle.
Even though we had some problems, we had an overall great trip and learned some lessons. This was our second trip to Namibia and we leave in 2 weeks for our 5th trip back to Namibia. Don't know how the trip report got overlooked but here it is now!