Uganda Safari Trip Report
We flew from San Francisco to Los Angeles to Amsterdam to Kigali, Rwanda to Entebbe, Uganda. All went well except we were an hour late leaving AMS due to a mechanical problem and arrived an hour late into Etebbe. We collected luggage, got our visa and converted money at the airport in record time. Then out the door and we were met by Charles from Churchill Safari. He delivered us to the Airport Guesthouse just a few miles away. There was some confusion in finding the key to our room but it got sorted out and we then celebrated our arrival with a Nile Special beer on our front porch, around midnight. Really too dark to see much of the lodge but our room was clean and nice enough for 1 night.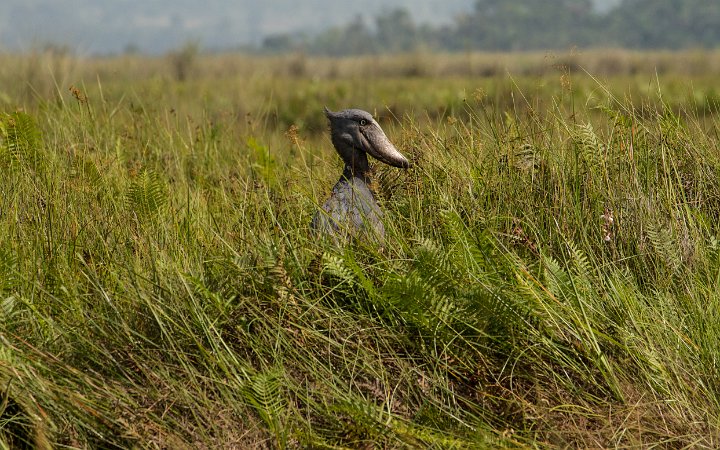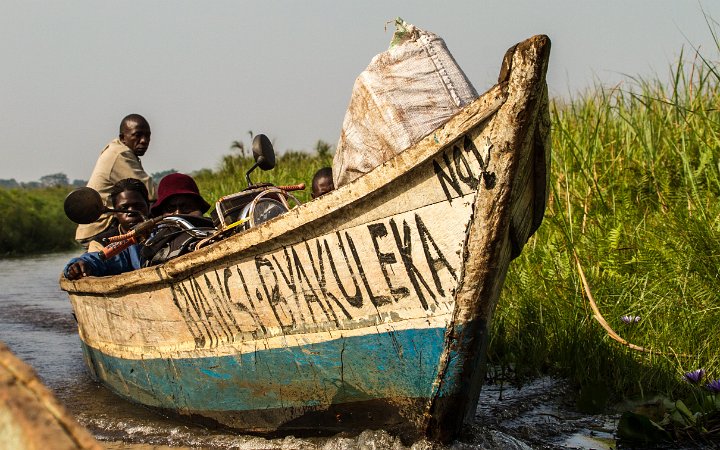 Day 2, we met Charles at 7am to start our safari with a trip to the Mamamba Swamp on the way to Lake Mburo. The swamp is famous for the Shoebill stork which was high on our list for this trip to Uganda. We went out in a smallish boat with a driver and guide and we did find one along with other birds and flowers. Our great beginning stumbled here as we thought we were then off to Lake Mburo, instead we drove for an hour or more on a short cut road that took us to back to KAMPALA which is in the opposite direction. Kampala the capital of Uganda is next to Etebbe which is the location of the international airport. At first we were told it was the only place to have lunch and then Charles confused that he needed to go by Churchill offices and then get gas. We were pretty mad about this because we had changed the itinerary since the swamp was well on the way to Lake Mburo and we could arrive by 2 or 3pm and recover from our jet lag. Thanks to Charles that plan did not work and then it started to rainÖ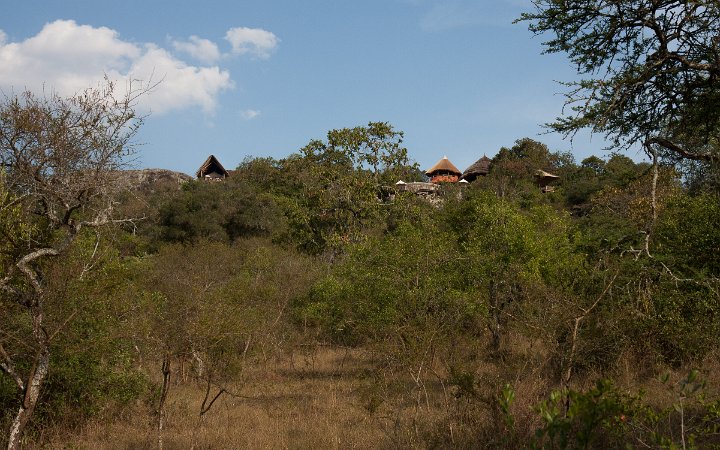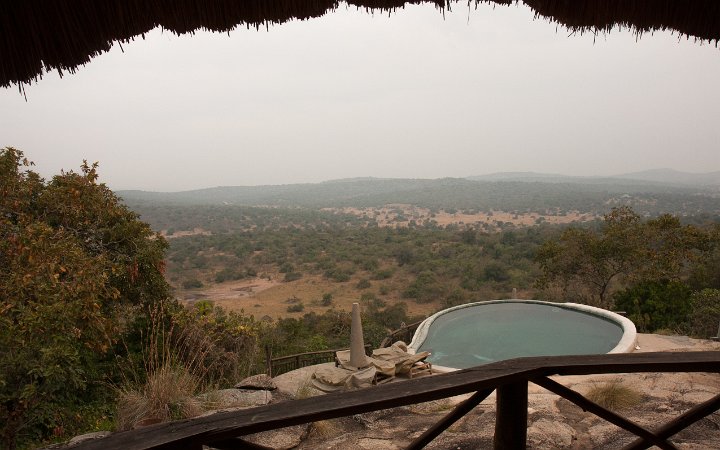 We got to Mhingo Lodge about 6:30pm. Well after sundown. What a lovely lodge with charming camp managers and a gorgeous view. We were assigned to the Kingís Room which was what I had requested. It sits on top of a giant granite rock with a stunning view and it has a great bathroom planned around a real BIG rock. (I did kick that said rock on our last morning much to my pain.) After drinks, dinner and a bottle of wine we had calmed down and decided to blow off our morning game drive and get our heads mentally back on track. Charles did not give in easily.

Day 3, we had a lovely morning (coffee delivered to our room) and spent some time down in the hide. Charles picked us up at 2pm for our excursion to Lake Mburo National Park, our boat trip. The boat was full as in 3 across and 5 rows of bench seating and we were the last to board. So this was the least enjoyable of all the boat trips in Uganda but a good enough beginning and we did see some nice birds. It did teach us to get to the boats early. On the drive back to the lodge, we stopped one to many times and just missed the leopard sighting near the gate to our lodge. Oh well.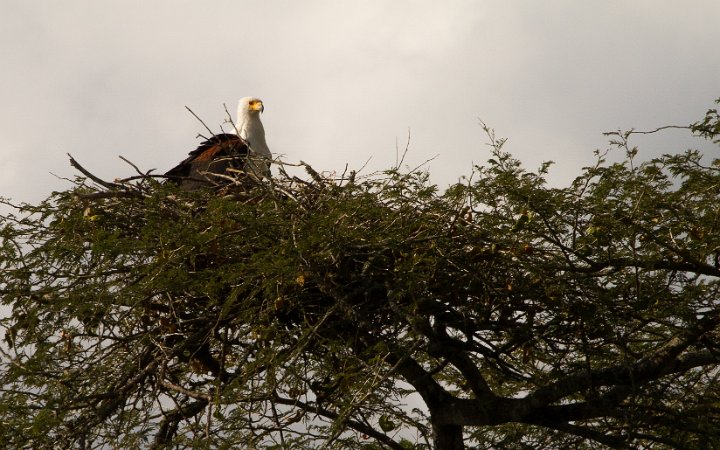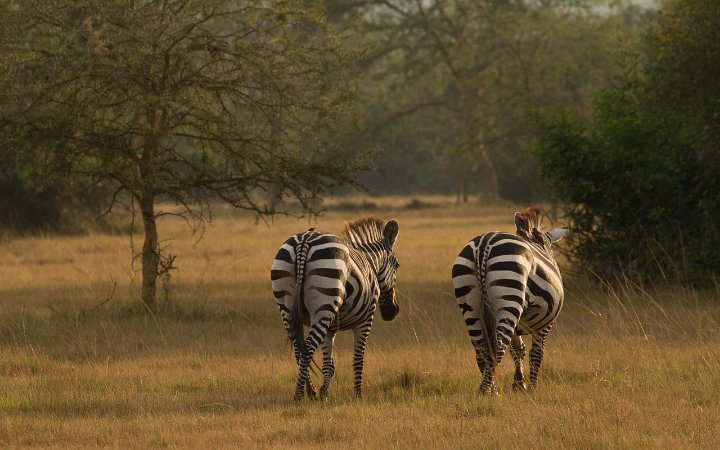 Day 4, today we went on a†walking safari†in the park with a ranger. We started from the lodge, just the 2 of us, and our guide was excellent. He asked what we were interested in (animals and birds not poop and grass) and we saw a lot and really enjoyed it. We got close to zebras and warthogs and more birds.
Lake Mburo is thin on cats and we have been on many safaris and the lodge is stunning so we again decided to blow off the afternoon game drive. It was a good decision for us and we did spend more time in the hide and even took a little nap down there; still recovering from 11 hours of jet leg.

This night we finally were able to photograph the bush babies at the lodge(images in Mhingo Lodge link). The lighting is very dim and some of our cameras struggled to focus but we finally got them. This lodge was a real highlight. I canít say enough good things about the food. Breakfast was ordered eggs and buffet for the rest. Lunch was soup served then buffet salads mostly cold but one hot item and dinner was served soup and desert with buffet entrees. The meals were very special and I would love to have some of their secret recipes but not to be. The swimming pool was lovely and the camp managers were charming, and very real. We added a 3rd night here at the last minute and it was a great decision.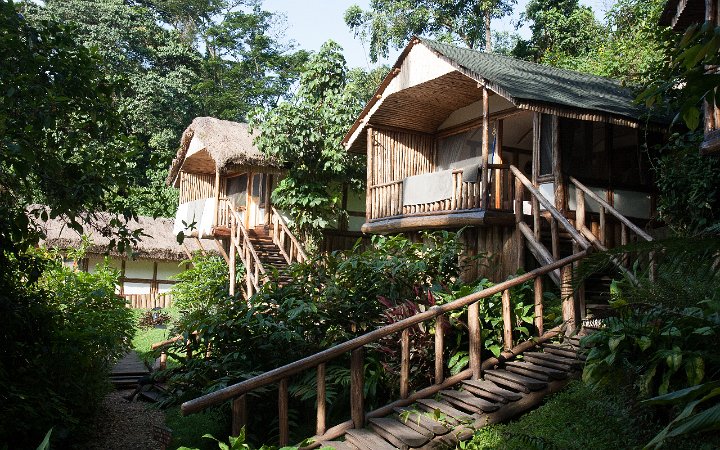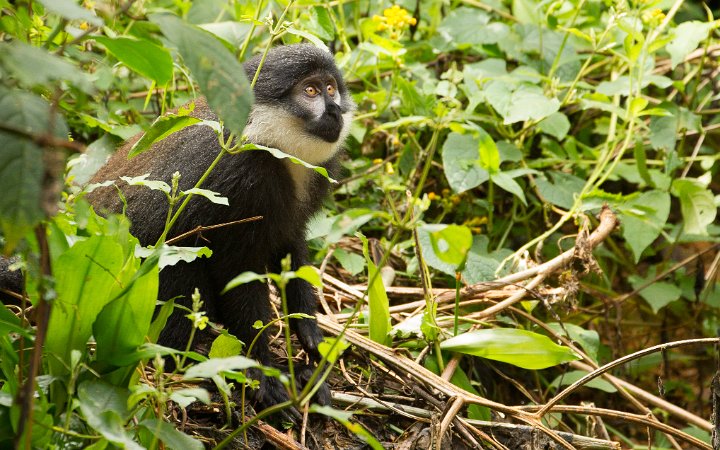 Day 5, so this was a travel day to Buhoma in the Bwindi Impenetrable Forest. Charles proposed leaving quite early so we could game drive on the way. I didnít really understand his plan but our only request was that we wanted to be at the lodge by 5pm. So because of the bad roads on the direct way to Buhoma, we drove towards Queen Elizabeth National Park and then drove down to Buhoma via the Ishasha road. It was a lovely drive along the park border and we saw elephants and monkeys. Again it started raining hard for some of the drive. This cut our game driving short.
We arrived at Buhoma Lodge early about 4 pm and the sun was shining again. We had a lovely room at the top as we requested with a great view of the forest and a bathtub. I was worried that I would be cold here as the room only had netting for windows but not so. The common area at this lodge was a little dark and we were the only paying guests so we opted for sundowners on our balcony. The barman delivered up many flights of stairs with a smile.
Day 6, today was our scheduled Waterfall Hike. We start out at 8am just the 2 of us with a guide and 2 armed rangers. It started to rain. We were prepared with our Columbia jackets (like the rangers wear) and rain pants and it rained the whole walk. The jungle is stunning but no photos as it was too wet. This was where I enjoyed that hot bath when we returned. Itís not cold but we were pretty wet when we put on our raingear and then I sweated too so I was a little chilly. That afternoon we took a little nap and then the sun came out so we went on the self-guided hike along the creek. Just lovely!
So hereís the gorilla situation. We had booked the easy gorilla group (Rushegura) months in advance. While we were at Mihingo Lodge, guests told us that the silverback had been killed and one of the sons took over the family and that they had headed far up the mountain. If you saw the mountains you would know why I was concerned. The guests didnít get back from trekking them until 7pm. Anyway, Abercrombie and Kent had a group of 40 guests in the Buhoma area and they were trekking the day before us. Their guides were staying at our lodge so they were giving us updates. The word was that at 3pm they had found them, spent their hour and were heading down. So all looked pretty good for us with fingers crossed that it didnít rain.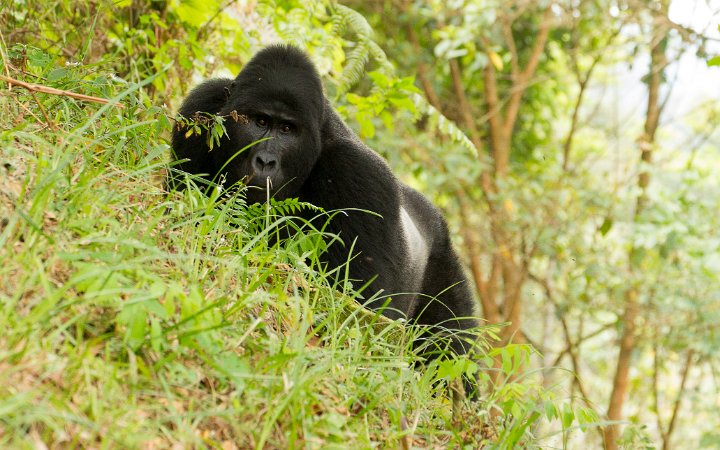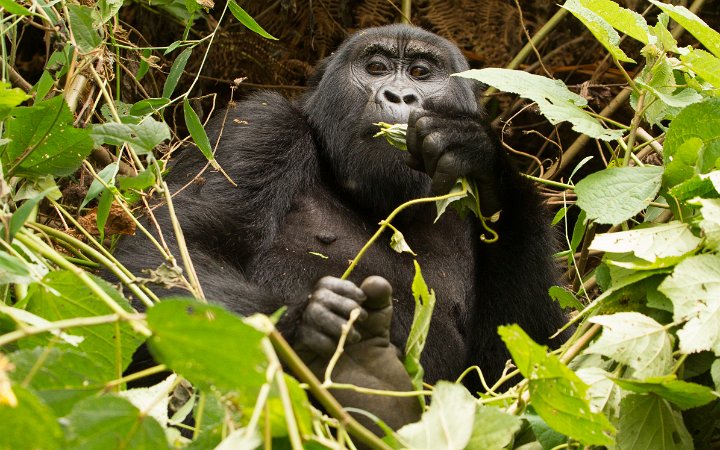 Day 7, Gorilla Day. No rain and a perfect weather day. We met at the gathering point and the M group headed out with 9 guests and we headed out with 6 guests. We had our choice to view either the R group as planned or the H group as no one was trekking to them that day. We voted to hold the course and go for the R group. Well we got to the top of the first mountain (sure glad I got that porter) and waited for word from the trekkers out searching for the gorillas. They couldnít find the R group. So after waiting around awhile, we decided to see the H group instead.
The H group has a new baby but we only caught a quick glimpse. The group moved around a fair amount so quite a few different photo opportunities. They were mostly in dense undergrowth which required some hacking down by the guides to get a clearer view. We were generally a lot closer than the 7 meters and 1 gorilla actually came up and allowed 1 of the guests to get a movie selfie with himself and the gorilla on his I phone. Pretty good footage too! All in all we had a good visit.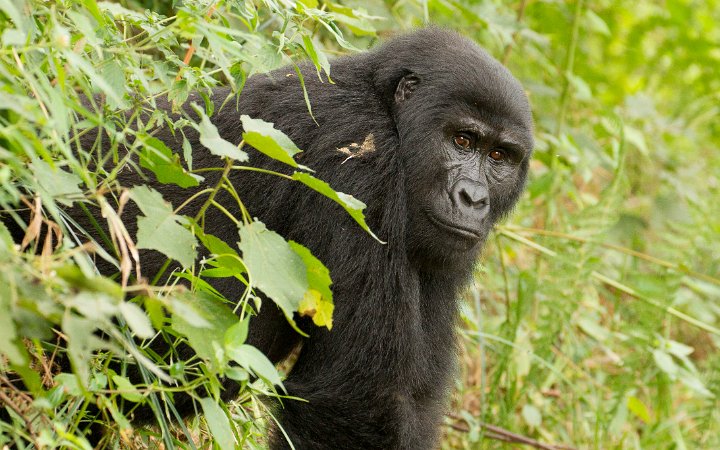 We enjoyed our time at the Buhoma Lodge. Again the food was table service and really good. Breakfast was order, lunch was soup and entrťe and dinner was also soup, entrťe and dessert. They delivered coffee to our room as a wakeup call. No power points in our room but easy charging in the lobby. The room had good lighting and a hot water bottle was in our bed after dinner (not that we needed it). The only negative was that the camp managers were off property so it felt a little uneven. Guest managers were staying on site but they really acted more like guests than managers. Fun to visit with but they were not really overseeing anything.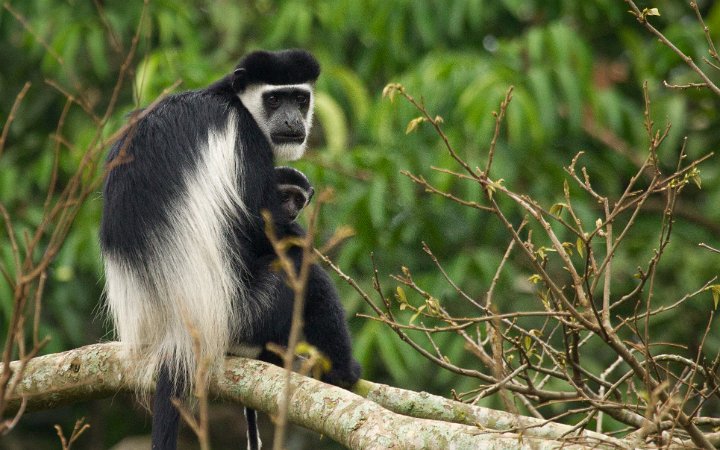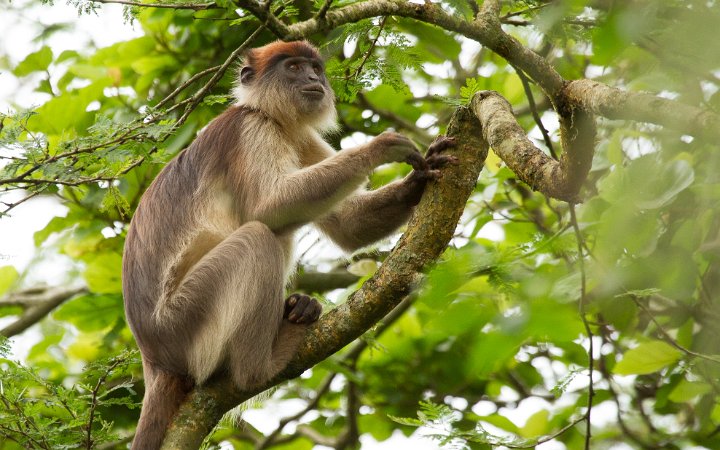 Day 8, today was transfer day to Queen Elizabeth National Park (called Queen by the guides) via Ishasha sector. Yes we did see a lion in a tree outside of the park gate. Then we went in the Ishasha gate and had boxed lunch at a campsite along the river bordering DR Congo with the hippos. Then we went in search of more lion and found a female bringing down a kob. While she rested from the kill, another male and female came to eat. Because it was starting to rain and we were running late we went back to the main road to proceed to Mweya Lodge. Along the way we stopped to photograph black and white colobus monkeys, red colobus monkeys, red tailed monkeys, and a few more monkeys along with the hyenas. One jumped on the hood of the truck and tried to get in. I knew it was a bad idea to stop for hyenas.
Once back in the park proper near Mweya we found another lion. She was flat so we proceeded on to the lodge for check-in about dark at 6:30. Todayís count 5 lions.
Day 9, todayís plan was to head out early and come back for late breakfast. We started watching hippos walking around and then we headed off to the kob mating grounds. Along the way it started to rain. It rained hard, so hard Charles had to stop because he couldnít see to drive. It gradually let up and we popped the top back up. Then we found a group of 6 lions looking to hunt. I believe the rain got them out of napping mode so the rain was a good thing. We finally had to leave them in order to get back for breakfast. Mweya has one of the best breakfasts or maybe it just tasted better at a decent hour. At 2 pm Charles collected us for the boat trip on the channel.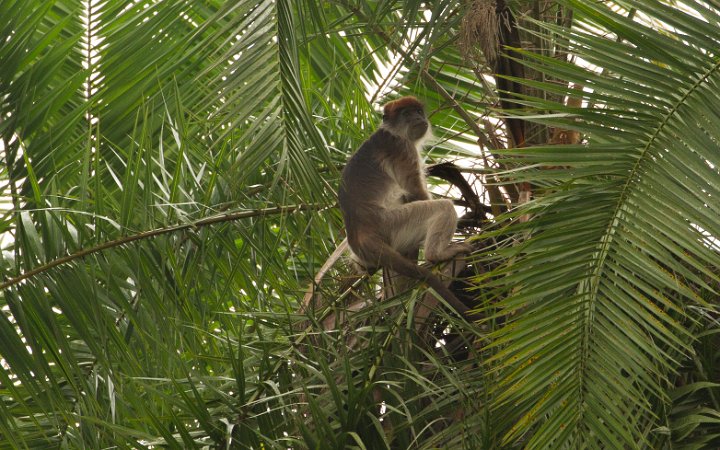 The boat trip was a delight(images in Mweya Lodge link)! We had the big double decker Hippo boat and everyone else except one couple sat up top. We had the front seat and lots of room to move around. Saw lots of hippos, crocks, birds and other wildlife.
After the boat trip we headed back out to find the lions from that morning. We did find them but they were mostly flat and it was getting dark. We got back to the lodge well after dark.
We really like Mweya Lodge and would have liked a 3rd night there. It had a beautiful bar area and pool with a lovely water view. Didnít have time to swim. The first night dinner and next day lunch were menu service. We had a great steak for dinner and fish and chips for lunch. Dinner service was a little slow but worth the wait. The next night dinner was a buffet as the lodge was much fuller. Good food and good choices.
Day 10, I believe we slept in this morning and hung out at the lodge. Then we had an early lunch and headed toward Kabale. This is a very interesting drive and we took a shortcut to Chimpanzee Guesthouse through some truly tiny villages where we only saw 1 other truck in probably an hour of driving. Definitely not a good option if it is raining.
We checked in to the Lodge around 4 and were shown to a lovely cottage at the end. It was cooler here but not really cold. This lodge has great potential but our least favorite for several reasons. First none of the drinks were very cold and my gin and tonic was room temp and they didnít have any ice (didnít find that out until after he served me). Secondly all meals are eaten with your driver. Now I liked Charles enough but breakfast, lunch, dinner and driving everywhere together is too much!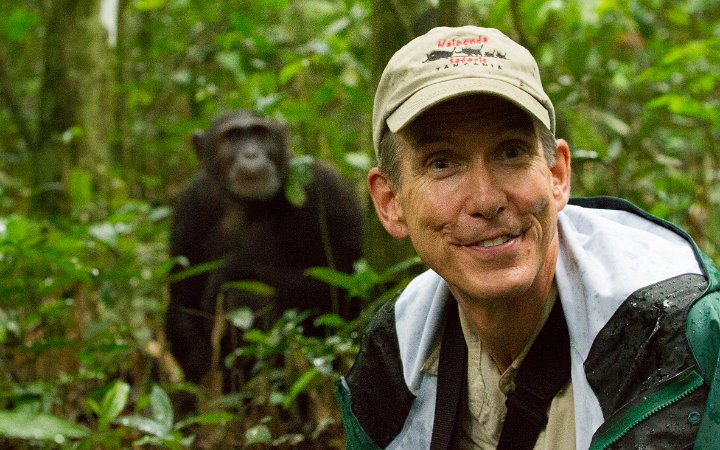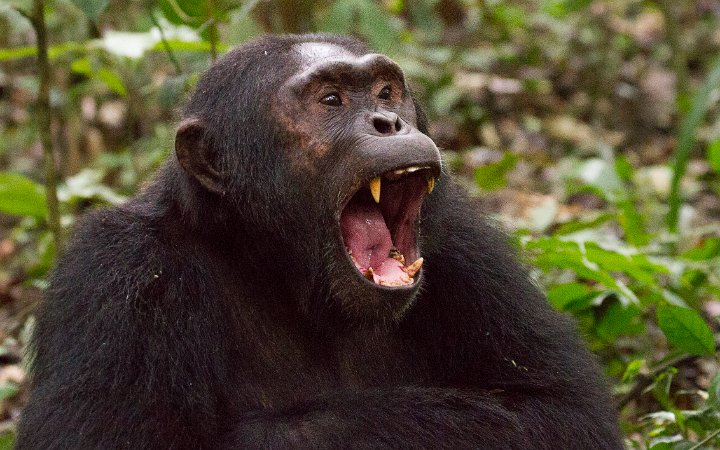 Day 11, this day we did the CHEX and it was the highlight of the trip for both of us. We started very early in the near dark and were in the forest by 7am. There were just us and one other couple with the guide and our porter. We found 1 chimp fairly early but he was looking for the larger group as well and was no help. We did find the big group at the same time as the 1 hour guests and it had just started to rain. The chimps did a rain performance which was just chilling to hear and watch. They pant/hoot run through the forest, bang on trees and scream. Iíll never forget those sounds. The best part about the chimp trek was that there were LOTS of chimps all around us and we could move around (unlike gorillas where you need to stay in a tight group). We got great photos before the rain got through the forest canopy and we had to cover up our cameras. I will say that I had put on my rain coat but not the pants and pretty soon I felt like the rain was filling my boots so I put them on over very soggy pants. At this point (less than an hour with the chimps) the other couple asked to leave so our guide walked them out to their driver while we stayed with the 1 hour group and guide.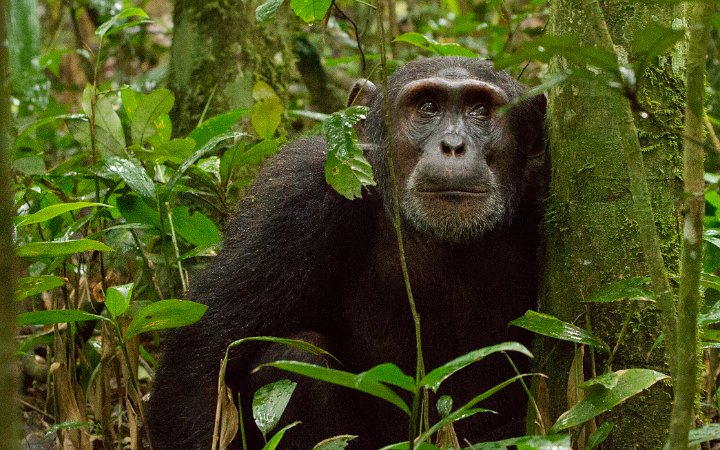 When our guide got back we continued to follow the chimps through the forest until it stopped raining and then they went up in the trees to rest and eat and nest. We had our lunch and were just deciding if we should call it a day when one by one they slipped off into the forest. So we followed them for a couple more hours. Again the best part is when they found food and pant/hoot/scream to alert the others to come. What a great day.
Day 12, we had planned to do a walk from the lodge but because we had driven very slowly through the villages I didnít feel that a walk was what we wanted. So we had planned to do the Bigoti Swamp in the afternoon so switched it to the am and then repeated it again after lunch. Both trips were good but I do think the morning was better. By afternoon there were a lot of villagers using some of the walkways and we didnít see as many monkeys. But I wanted to see monkeys and this was the place to see them. Each walk through lasted 3 to 4 hours though so it was an exhaustive day. Great guides and a must do if birds and monkeys are your thing.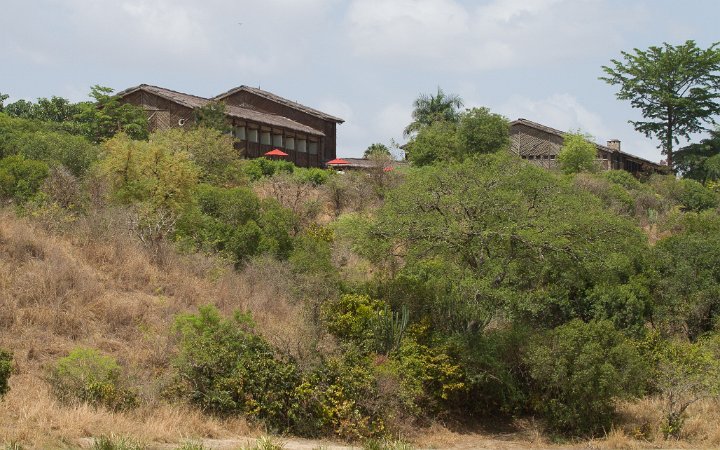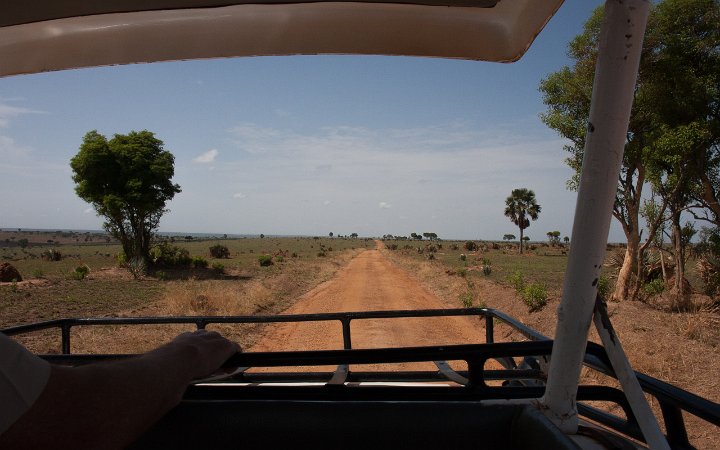 Day 13, today our goal was to leave early enough to make the 4 pm ferry in Murchison Park National Park so we could enjoy sundowners at the Paraa Lodge. Charles wanted to sleep in but we pushed hard and won. We really didnít leave that early and it was a pleasant drive along the lake. There was a long line at the ferry dock (oil workers) but they allow the tourists to go first, so no problem. The lodge was lovely and they gave us an upstairs room with a great view as requested. The only down side was the pool was empty as they had had a minor earthquake and a leak developed that they could not find. The sign said they were waiting for experts from Kampala to arrive and fix it but it had been days already and no work in sight. The up side was an elephant visiting below the pool deck during our afternoon drinks and then he decided to come up and enjoy the flowers and plants between the pool and lodge. The staff was mostly not pleased and they were afraid he would break the bushes so they threw rock to move him along.
Day 14, today was a morning game drive and then an afternoon boat trip to the falls. We saw giraffe, lots of buffalo, kob, some ellaphants and 2 hyenas. Also saw a giraffe with a snare around his leg. Charles said he would report it and I hope he did. The boat ride was wonderful. We were the only 2 on the Paraa boat the guide was excellent and went out of his way to show us everything we were interested in. The quantity or crocks and hippos were amazing and both would run for the water when we came by. We got back about sunset and headed to the lodge for drinks after.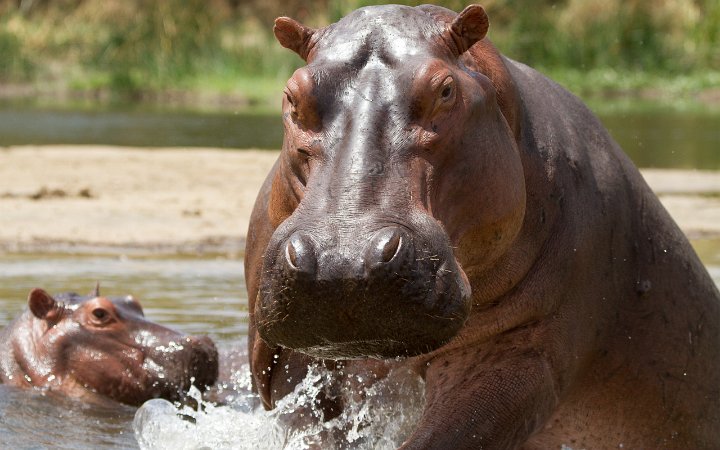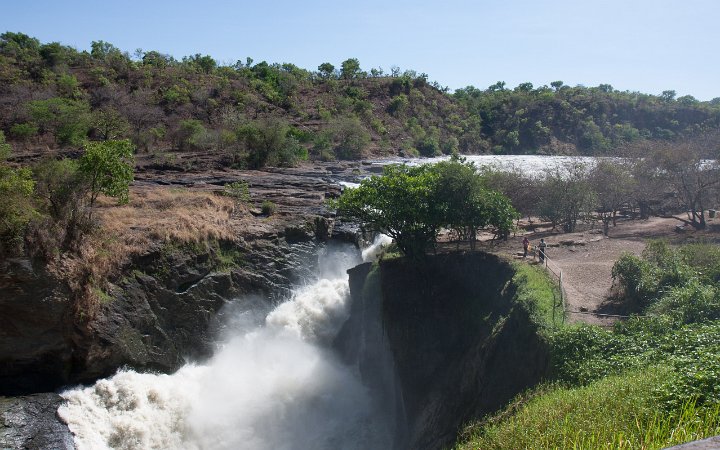 Day 15, today was a morning boat ride to the delta and then an afternoon game drive. Again the boat was fantastic (just us and another 3 some) and we saw lots of birds, crock, hippos and 2 Shoebills. They said we wouldnít see many mammals but we did see ellaphants, buffs, waterbuck, kobs and warthogs. Also saw men fishing in the lake and the oil boats mapping out a pipeline course along the river. That sure seems like a bad idea to me but the guides think it will mean more jobs and a better life for the locals.
We had lunch back at the lodge and then it started to rain Hard. We took a nap and got ready for a 4pm game drive. Charles was waiting and the sky was really dark but we did avoid the rain. Didnít see much of anything (cool and dreary) until the very end and then found 4 lion cubs out in the open waiting for mom to return. They were adorable and played with each other until we had to leave. We assumed mom was hunting and would have loved to see the reunion.
Meals were excellent at Paraa with lovely outside dining on their balcony. We had 2 larger groups (traveling health care workers and a group of youngsters from Texas) and the staff advised us to get to the buffet line before they arrived. They were really not a problem.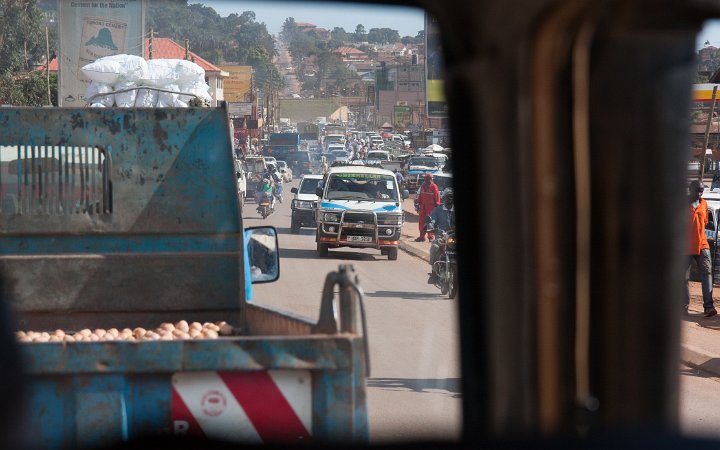 Day 16, this was our last day in country so we had breakfast and headed out for the 9am ferry. We stopped at the top of the falls and this was a not to be missed stop. The falls were very impressive! Then it was a straight drive back to Entebbe to a day room at the Airport Guesthouse, dinner and the flight leaving at 11:30. We arrived at the lodge at 6:30, dinner was at 7pm and the shuttle to the airport left at 9. Dinner was a lovely barbecue in the garden and then just enough time to shower and repack.
Final thought: We liked Uganda more than we thought we would. The people are very friendly and helpful and always have a smile and not because they wanted a tip. The roads are bad in places, the driving is crazy but we always felt safe. I felt like we saw more of the real Africa and the way they live. It rained a lot but it really never hampered any activities (sometimes it helped) and we were never cold. They do have amazing birds and primates and there are lots of opportunities to get out of the truck and hike. We took about 100 pounds of supplies for a school and I would do more next time. They really need supplies, they are very grateful and we had excess baggage allowance so it didnít cost us anything.
And lastly, even with 3 nights per lodge it still felt rushed. We wanted more time to just sit and sock up the ambience.