Africa Safari -- Namibia Winter 2017 Itinerary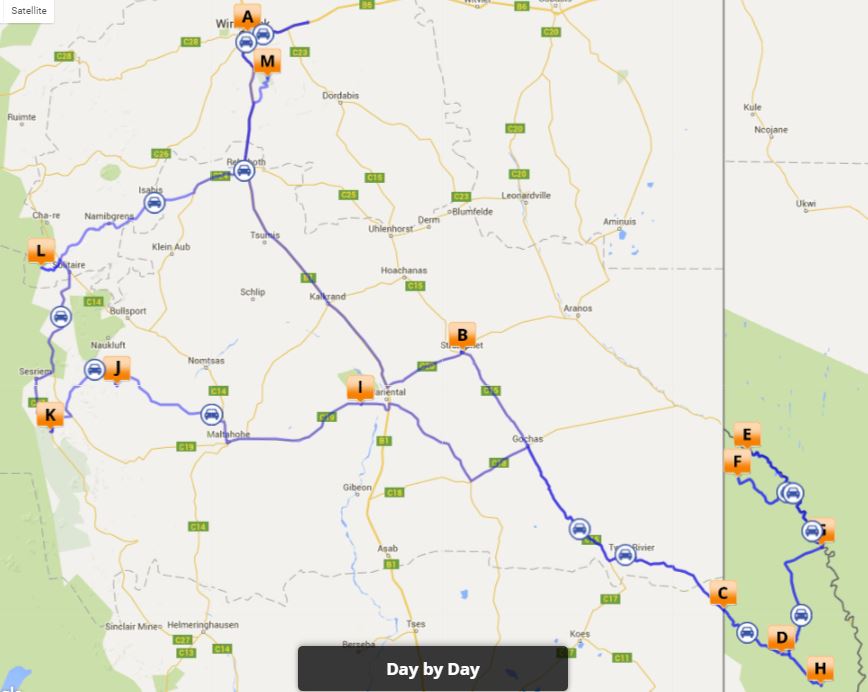 Day #1=>Depart SFO, on British Airways red-eye non-stop to Heathrow, London. We touch down the morning of day#2 where we spend a short layover before boarding another non-stop to Johannesburg, South Africa.
Again another short layover and then on to our final destination, Windoek, Namibia. Three flights from Northern California but half way around the world.
Day #3=>Arrive Windhoek, and picked up by our Toyota 4x4(always white). Windhoek is Namibia's capital, home to an international airport and a plethora of restaurants, shops, entertainment venues and accommodation options. The city is clean, safe and well-organised, with a colonial legacy that is reflected in its many German eateries and shops.
The locations of the lodges we will visit on this safari are shown on the map to the right. Each lodge is represented with a different letters and will be referred to by the following day by day itinerary.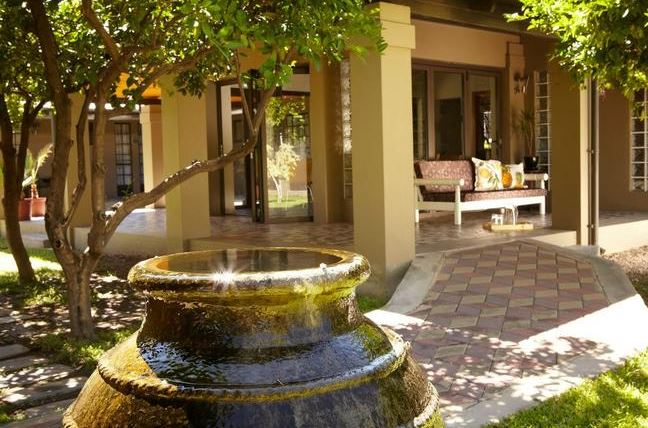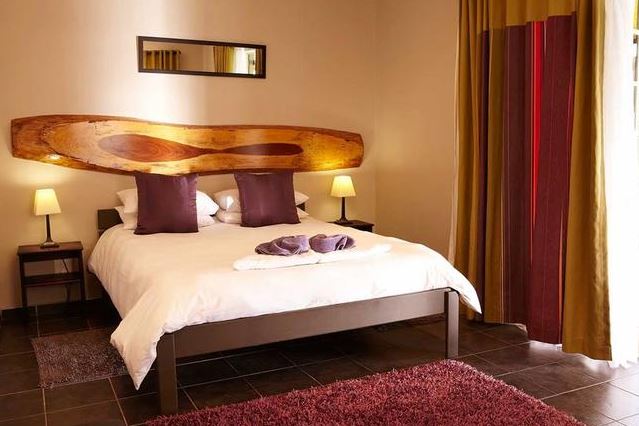 Our first lodge will be the same lodge we stayed at on our last three times we were in Namibia, Villa Violet, point "A" on map. This lodge is perfect after 30+hrs of travel. It is an ideal lodge to relax and catch your breathe before starting our safari.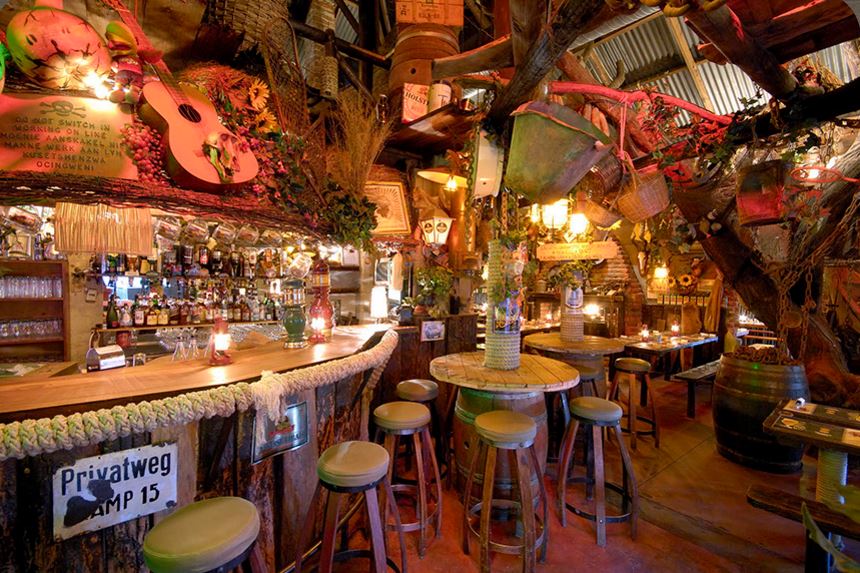 And it is only a short walk to our favorite dinner spot Joe's Beerhouse.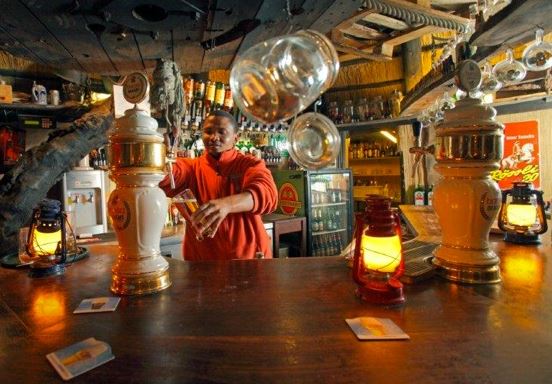 Check out the food and drinks at Joe's.

Namibia is known for GREAT food so Joe's is a good start to our 3+ week safari.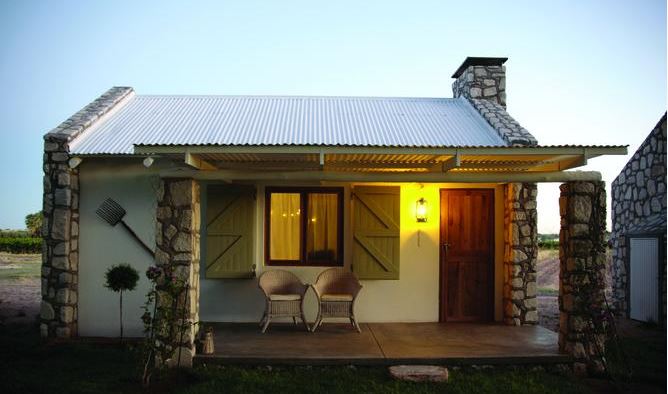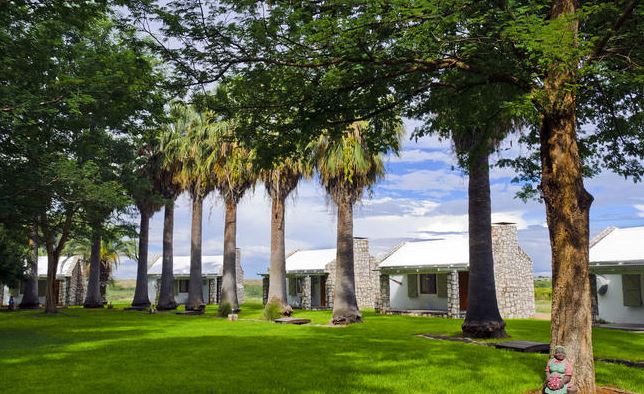 Day #4=>Kalahari Farmhouse, point "B" on map. Kalahari Farmhouse is our half way stop to the Kalahari; it combines upmarket hospitality with a rural ambience. The reception and restaurant are housed in a manor, built in the heyday of Karakul farming 50 years ago. For guests there are 11 tastefully decorated rooms in chalets reminiscent of the Cape Dutch style.
This is our third year in a row to winter in the Kalahari; we just cannot get enough of it. The Kalahari is an exceptionally beautiful living desert a large semi-arid sandy savannah. Reservation are very hard to get so we therefore took advantage of being in the park in 2016 to make reservations for 2017. Accommodations in the Kalahari are mostly government run which typically means not fancy. But location is everything and thus these are some of the hardest reservation to get in Namibia. Our goal for 2017 is to repeat some of our favorites and explore more of the Nossob river basin. The Kalahari is the best place in the world to see cheetah hunting and the big black main lions. Camps in the Kalahari are UNFENCED, thus accommodations are either raised.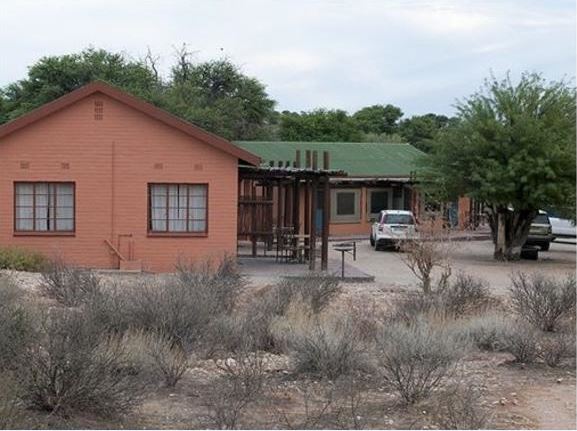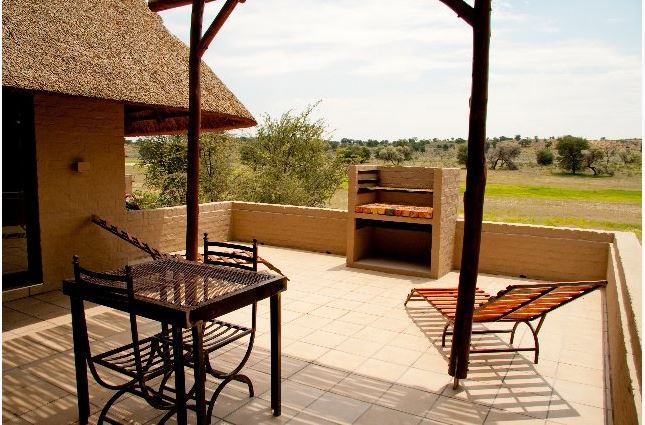 Day #5=>Our first Kalahari lodge is just inside the Mata Mata Gate Mata Mata Rest Camp, point "C" on map. Our plan was not to have as long of a driving daty as we did in 2016 and checkout this end of the desert early on so we would know what animals were present.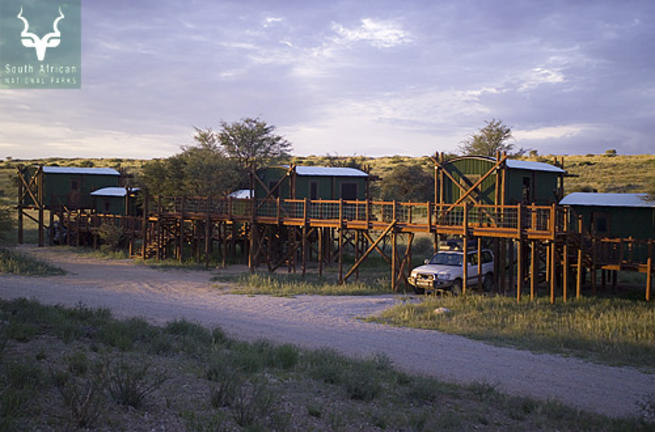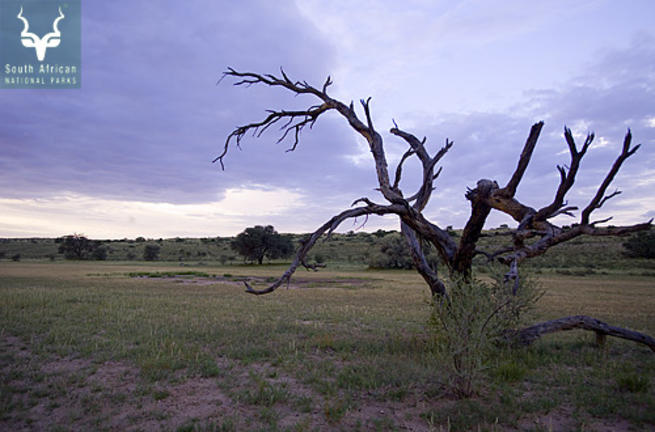 Day #6, #7 and #8=>Our 2nd Kalahari lodge is one of our favorites Urikaruus Wilderness Camp, point "D" on map. Urikaruus has one of the best water holes in the Kalahari which is exclusive only for Urikaruus guests and the camp is centrally located so very easy to locate animal activity. The camp has 5 Riverside Cabins built on stilts and connected by a plank way.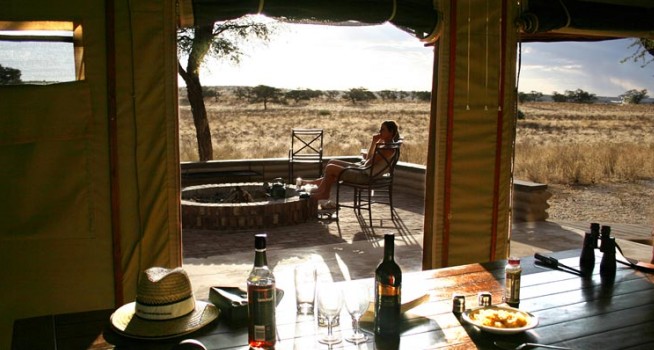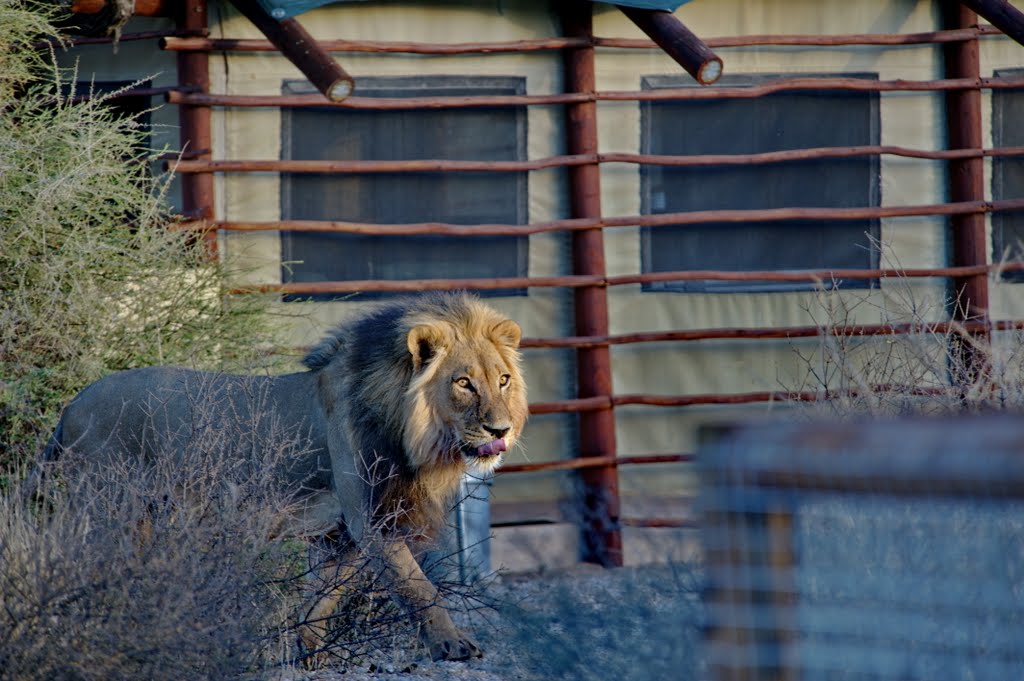 Day #9=> Our 3rd Kalahari Lodge is the first in the Nossob river basin Grootkolk Wilderness Restcamp, is point "E" on map. Grootkolk Camp consists of only four chalets or Desert Cabins, made from canvas and sand bags. Notice this camp is neither fenced nor raised and lions love it; hence ONLY one night.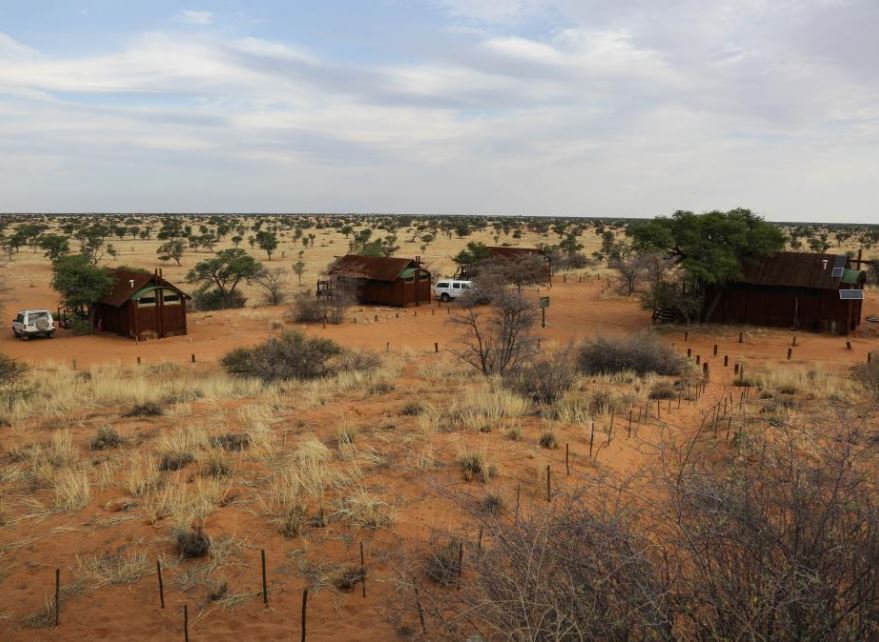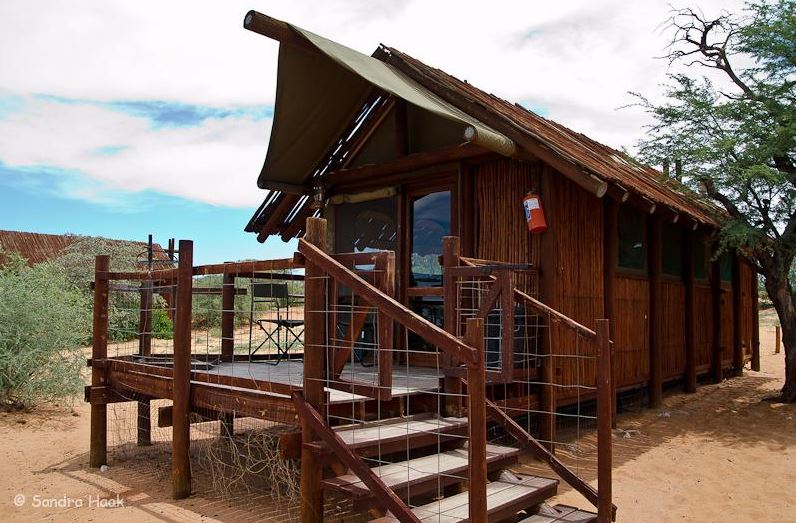 Day #10 and #11=>Our next lodge in Nossob river basin is Gharagab Wilderness Camp, point "F" on map. This is a new camp for us. Again there are only 4 cabins and only accessible with a 4x4. Need to practice driving off-road in the sand before this camp or we might not make it.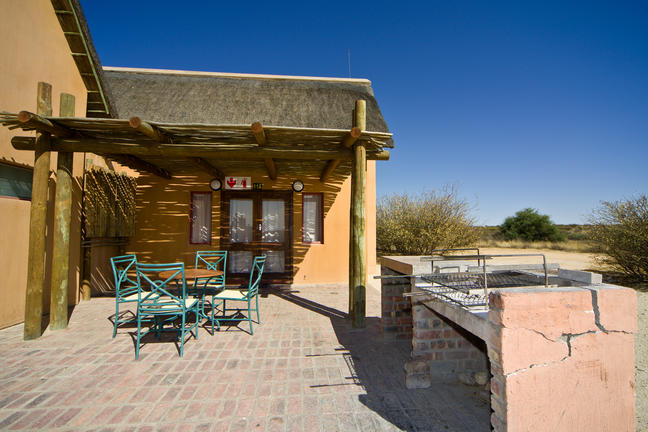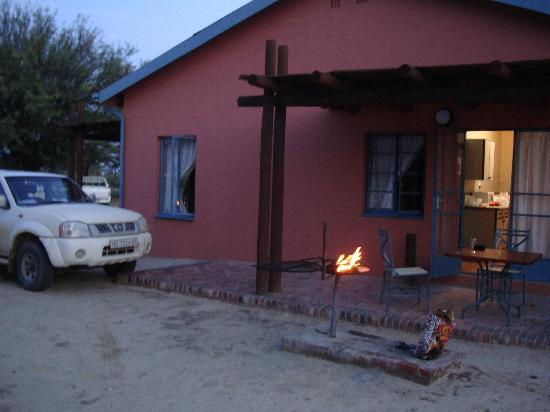 Day #12 and #13=>Our last lodge in the Nossob basin is Nossob Rest Camp, point "G" on map. Nossob Rest Camp is made well known for its predator sightings. We stayed here one night the year before and it was hotter than hell, but it is the heart of lion country so we are back.....with more ice.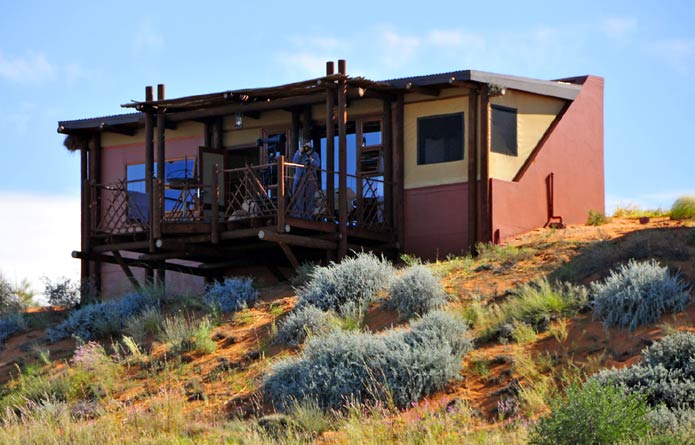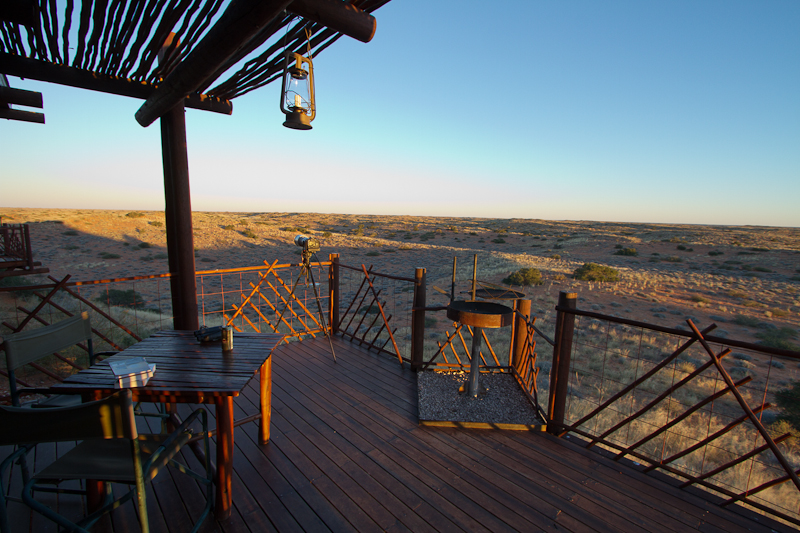 Day #14, #15 and #16=>Our last Kalahari camp is our favoriteKieliekrankie Wilderness Camp, point "H" on map. Kieliekrankie is a self catering wilderness camp is sunk into a dune, with endless views of the red Kalahari sands. The camp has 5 dune cabins (one was added in 2015). Each unit has 2 single beds, a bathroom, a kitchen equipped with gas fridge and freezer, solar power for lights, gas for hot water and bbq facilities on a deck.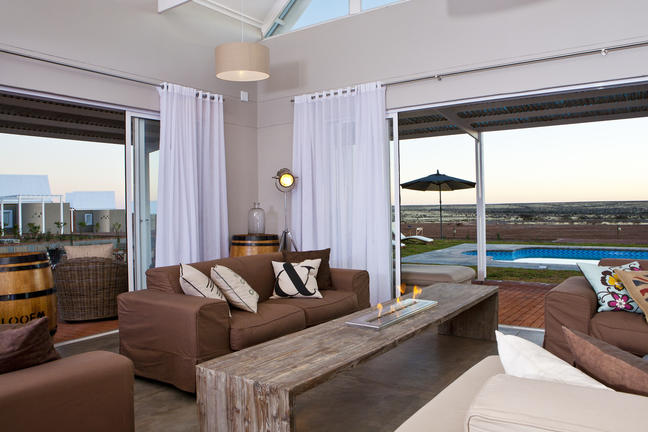 Day #17=>Our next lodge is outside the Kalahari Africa Safari Lodge, point "I" on map. There are 20 on-suite private chalets that are tastefully decorated and offer you a luxurious and comfortable room to kick off your shoes and relax after a long day of exploring the beautiful Namibian landscapes. Rooms have large glass doors that easily slide open to offer you a breathtaking panoramic view of the magnificent surrounding planes ensuring that your unique Namibian experience continues even when in your room. You may also see indigenous game grazing close to the chalets so keep your camera close.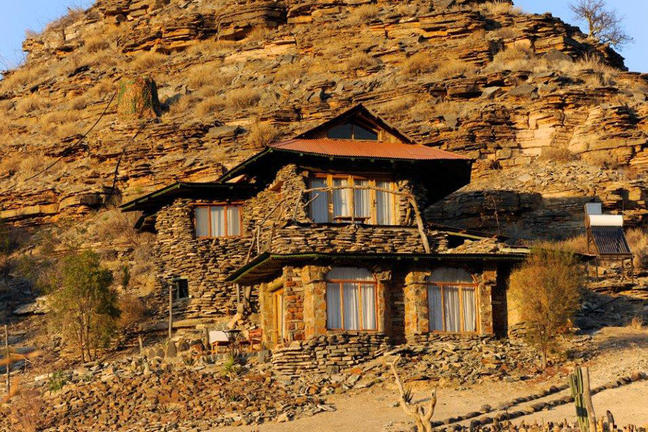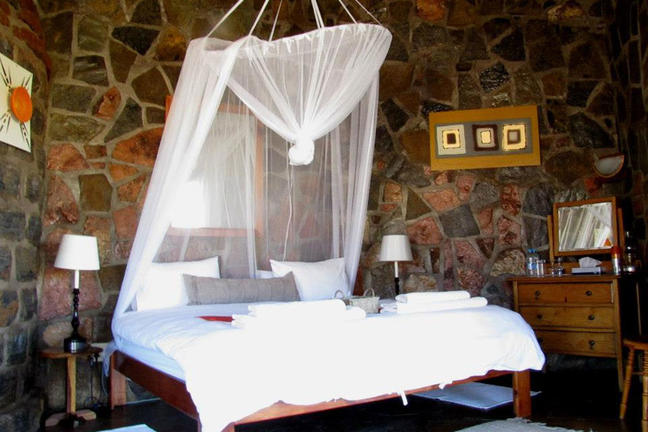 Day #18 and #19=>The next lodge, for a two night stay is the Zebra River Lodge, point "J" on map. This lodge is just down the road from the only winery in Namibia the Neuras Winery, which we visited in 2016(very good Shiraz). Zebra River Lodge is an old original farmhouse, situated in 12,500 hectares of dramatic scenery, deep in the Tsaris Mountains of southern Namibia. The Lodge has accommodated guests in its special environment for more than 15 years. The solar water heaters make the most of the sun and the new water hole, which is floodlit, is attracting more and more animals and birds as they discover this permanent source of water in the desert.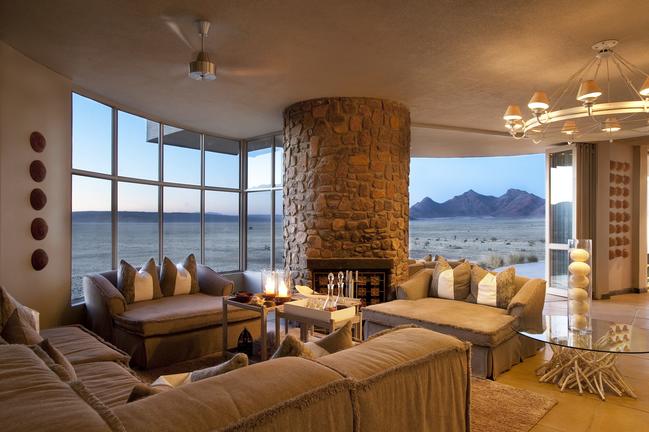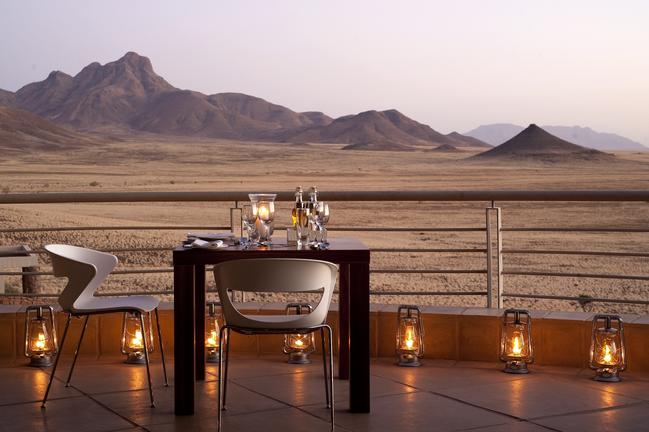 Day #20 and #21=>Our next lodge is just outside Sossusvlei a very special and unique place, the andBeyond Sossusvlei Desert Lodge, point "K" on map. One of the most pristine areas on Earth, the Namib Desert is a world of vast spaces, endless horizons, dramatic landscapes and jagged mountain heights. Cradled against the ancient mountains, andBeyond Sossusvlei Desert Lodge is renowned for its luxurious accommodation overlooking the starkly beautiful Namib Desert. Designed to capture the splendour and solitude of the desert, just ten stone and glass suites spread out along the curve of the escarpment, allowing absolute privacy. Each air conditioned suite is furnished to complement the majestic hues of the desert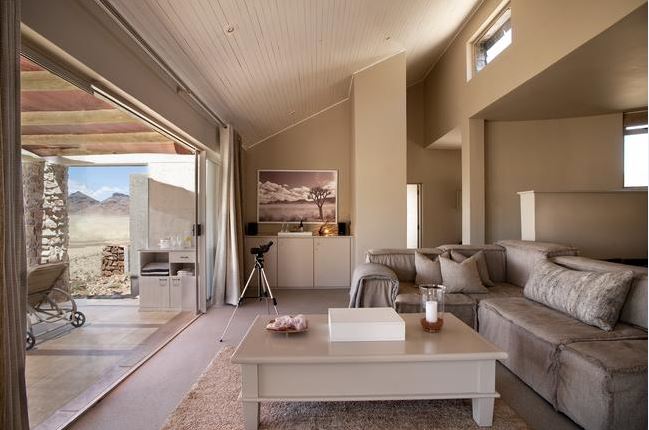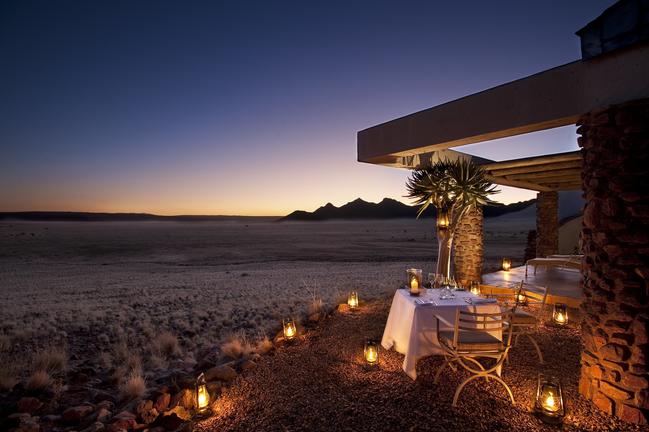 and features a private veranda, split-level bedroom and living room with fireplace, ensuite glass-encased bathroom and outdoor shower. The suites are equipped with a star-viewing skylight, discrete music system and custom-stocked personal bar. The guest area, where walls have become windows that fold away completely, boasts unimpeded desert vistas. The split-level lodge boasts a fire-lit bar, comfortable sitting room, wraparound veranda and Safari Shop. A fine selection of wines from an impressive walk-in wine cellar complements the delicious meals. Guests can escape the desert heat with a revitalising midday dip in the pool, fed by water from an underground spring. At sunset, animals are drawn to a nearby waterhole, enhancing desert sundowner drinks. A state-of-the-art observatory and resident astronomer provide insight into the magnificent constellations of Africa's first International Dark Sky Reserve.
Beautiful and pristine so of course I am most looking for forward to the complimentary quad-biking on the dunes!!!!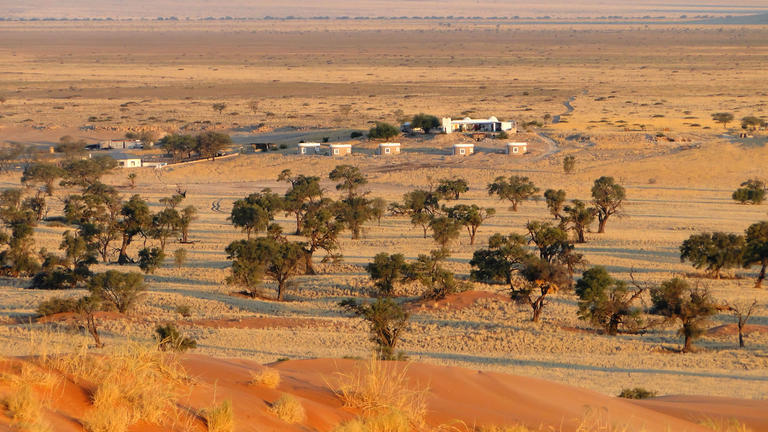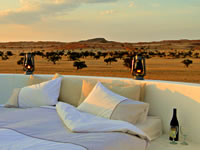 Day #22 and #23=>Our next lodge is a new one for us Tsondab Valley Resort", point "L" on map. Tsondab Valley Lodge consists of five extravagant bungalows; each with a stunning view over the Namib dunes. They feature a roof terrace which is accessed by an outer staircase. Up here the dune landscape lies at your feet; let yourself be enchanted with a private sundowner on your roof or with a night under the stars. The bungalows are robustly built with high ceilings and thick outer walls, which shield against heat and strong winds. They offer guests a living room with two beds and a spacious bathroom with shower and toilet. We can also choice to sleep on the roof of our bungalow to see the stars without light pollution. Bungalow roof looks very much like picture to the right.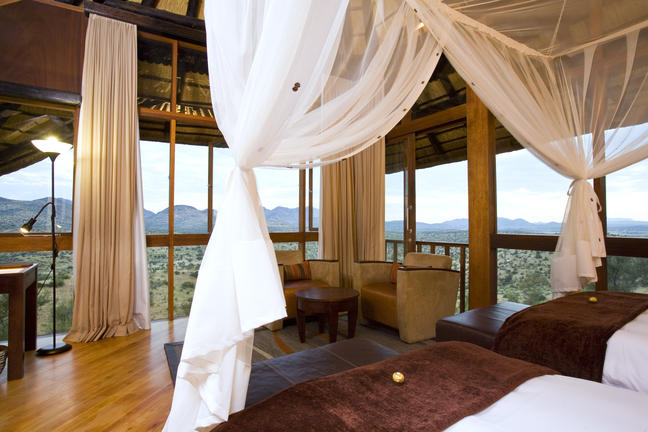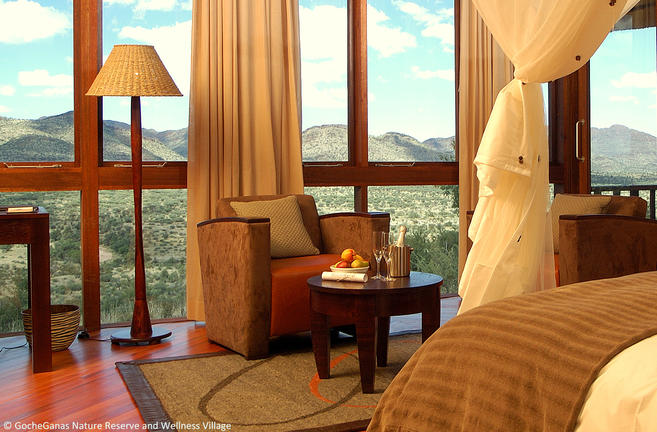 Day #24=>Our last lodge on this trip is GocheGanas Nature Reserve", point "M" on map only 28km from Windhoek, a repeat visit(very nice place and staff). GocheGanas offers 16 luxurious chalets, under thatched roof, with uninterrupted views over the Nature Reserve. All rooms are equipped with en suite bathrooms, air conditioning, mini bars, TV and DVD/CD players. Game abound on the GocheGanas Nature Reserve, with 25 different large game species totaling approximately 1,600 animals roaming across the reserve.