Africa Safari -- Namibia 2021
This will be our 11th Namibian safari but the one we are most concerned about because of corona virus. At the time of our booking Namibia and South Africa are not in good shape, corona-wise. And the US is worse then all. Will Namibia and South Africa be open for visitors in 2021? If yes will they allow Americans? Big changes are required to make this safari happen. We are optimistic and have planned what we think is our best and definately our longest safari yet.
We were very happy with our Safari truck rental in 2020, so plan to do the same. We will be picking up our "Toyota truck" at "Safari Car Rental", which is a short distance from the airport, outside Windhoek.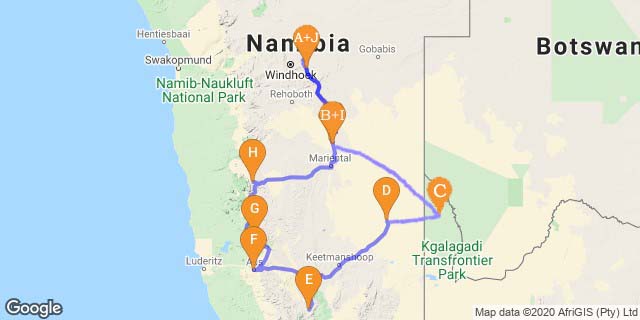 Day #1=>Depart SFO, on British Airways red-eye non-stop to Heathrow, London(w/masks and goggles)
Day #2=>We touch down the morning of day#2 in London where we spend a short layover before boarding another red-eye non-stop to Johannesburg, South Africa.
Day #3 and #4=>Another short layover and then board a short 2hr flight to our final destination, Windoek, Namibia. Upon arrival in Windhoek we are picked up by a representative from "Safari Car Rental" who will drives us to their location where we pickup our Toyota 4x4(any color you want as long as it is white).
The locations of the lodges we will visit on this trip are shown on the map above. Each lodge is represented with a different letters and will be referred to by the following day by day itinerary. One BIG exception is "C" which is the Kgalagadi Transfrontier Park which is the entire green area around the "C". The Kgalagadi Transfrontier Park is actually in South Africa and Botwanna. The straight vertical line on the map is the Namibian border and the curved line in the green area is the South Africa, Botswanna border. All of our lodges inside the Kgalagadi Transfrontier Park are in and run by South Africa, thus we will technically only be in the west side of the park.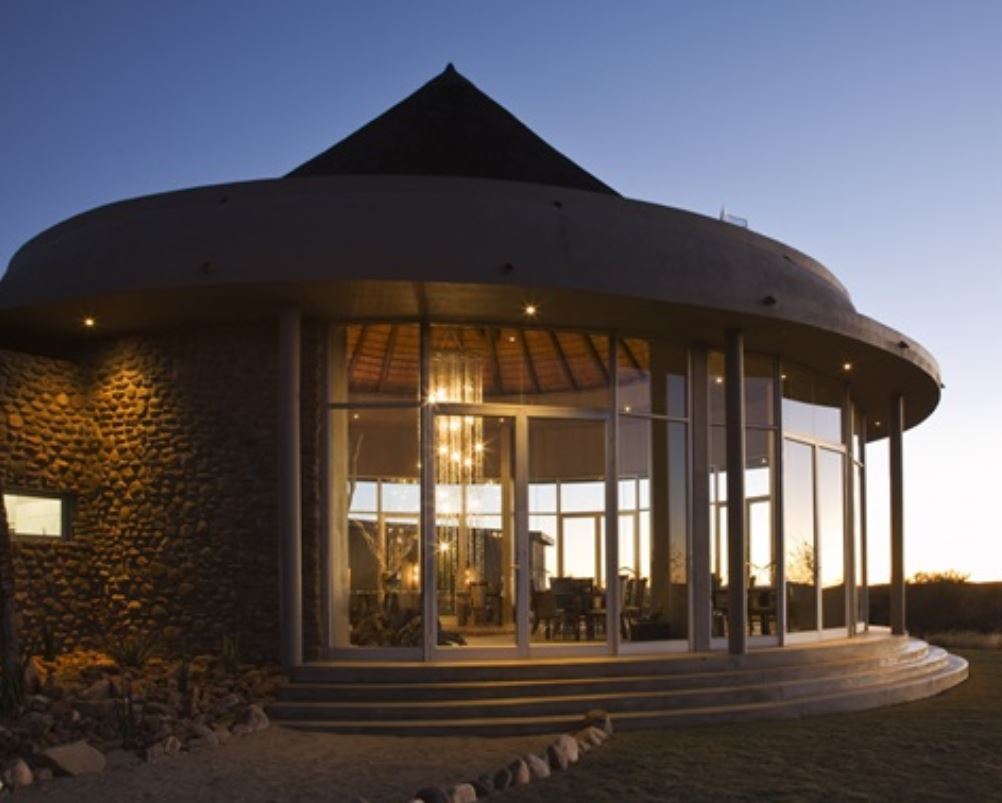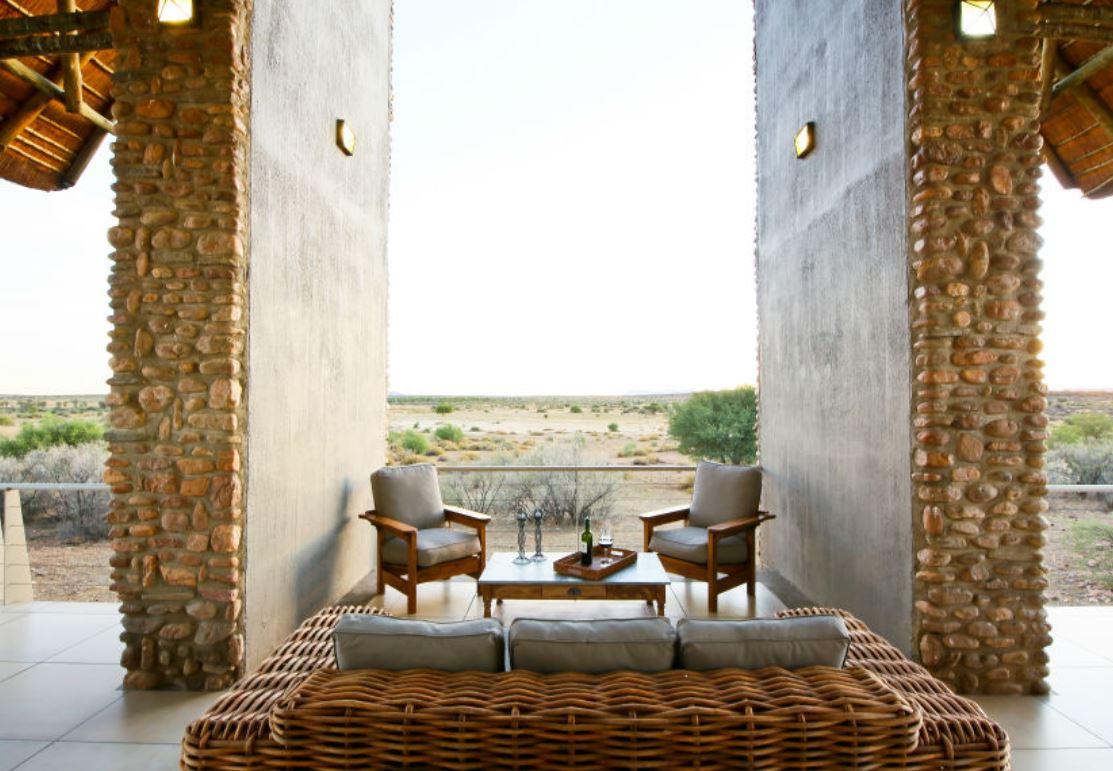 After picking up our Toyota 4x4 it is a short drive to our first lodge (a new lodge for us), Naankuse Lodge, point "A" on our route map(DBB). The location of this lodge will make it possible to totally avoid going into downtown Windhoek. Avoiding traffic is a major advantage, especially have back-to-back red-eye flights and during pandemic times.

We are spending two nights at this lodge in an attempt to recover from jet-leg.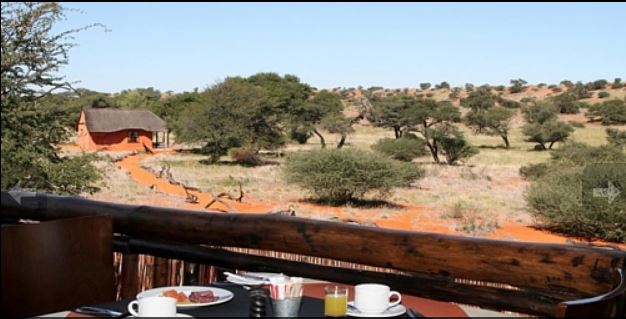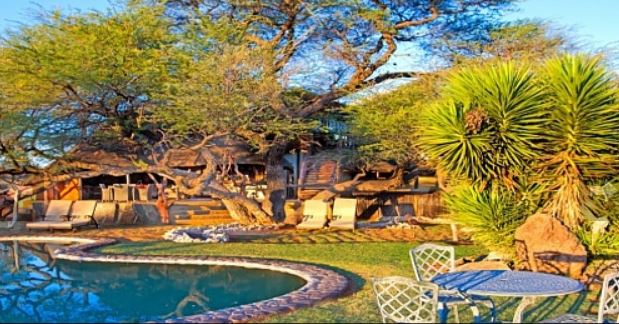 Day #5, #6 and #7=>Our 2nd lodge is straight south and just outside Mariental, Camelthorn Kalahari Lodge; point "B" on our route map(DBB). This will be our 2nd time at this lodge, they have a great quad-bike activity. Our length of stay at this lodge will allow us to recover more from jet-leg and prep for our Kalahari days. One of the days at this lodge we plan to go to Mariental and get supplies for our Kalahari days. Mariental has a great meat market and grocery store.
Day #8 thru #27=>The next 20 days will be in the Kalahari and northern South Africa, referenced as point "C" on our route map. This is our seventh year in a row to return to the Kalahari. But on this trip we plan to split our Kalahari time and go down to Upington for 3 days in the middle. Upington is about a 2 hr drive and a great place to relax and get more supplies for the rest of our Kalahari days.
The Kalahari is an exceptionally beautiful living desert, a large semi-arid sandy savannah. Accommodations in the Kalahari are mostly government run(South Africa National Parks) which typically means not fancy. But location is everything and thus these are some of the hardest reservation to get in or entire trip. The Kalahari is the best place in the world to see cheetah and leopard hunting and the big black main lions. Camps in the Kalahari are UNFENCED, thus accommodations are either raised or have some fencing around each unit. During our days in the Kalahari we will utilize a number of lodges which are detailed below.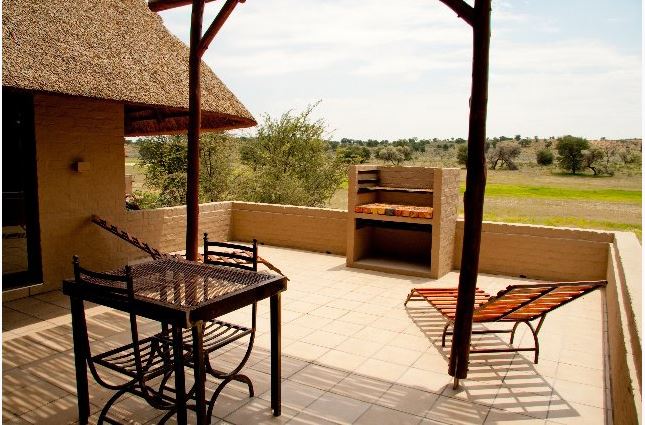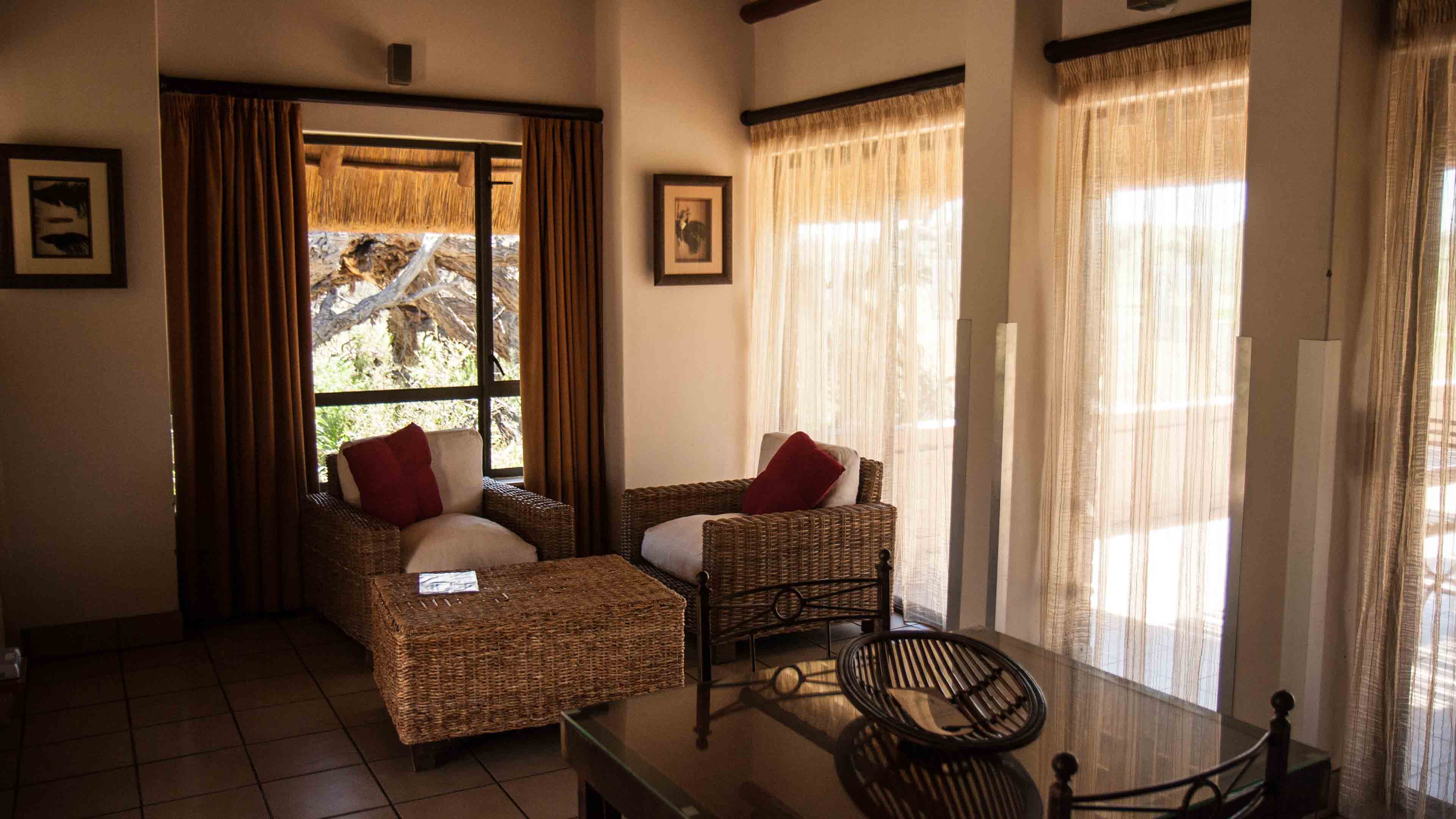 Day #8=>Our first night in the Kalahari is just inside the Mata-Mata gate(self-carter). The Mata-Mata river chalets are very nice, and an excellent place to organize food.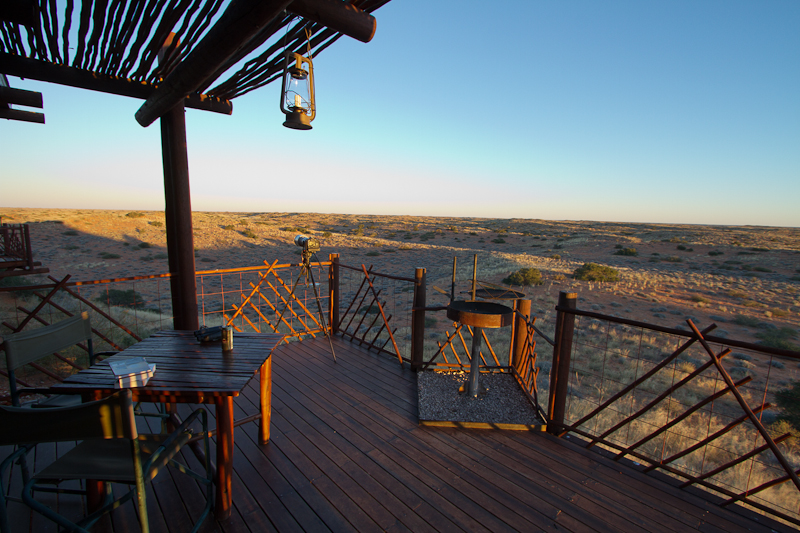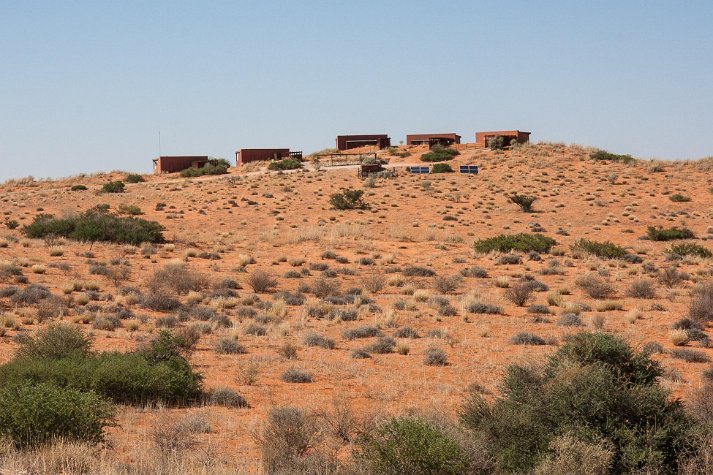 Day #9 thru #13=>The next 5 days we are staying at our favorite the Kieliekrankie Wilderness Camp(self-carter). Kieliekrankie is a self catering wilderness camp on top of red sand dunes, with endless views of the red Kalahari sands. The camp has 5 dune cabins. Each unit has 2 single beds, a bathroom, a kitchen equipped with gas fridge and freezer, solar power for lights, gas for hot water and bbq facilities on a deck.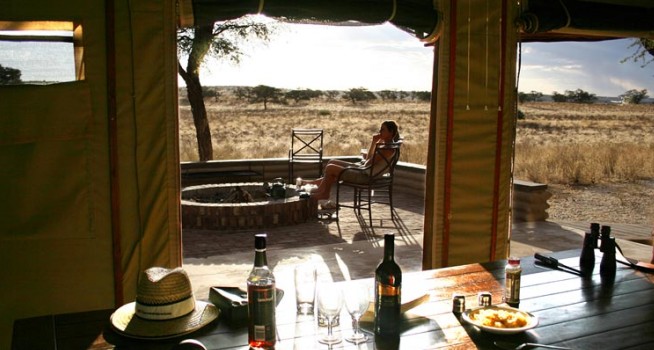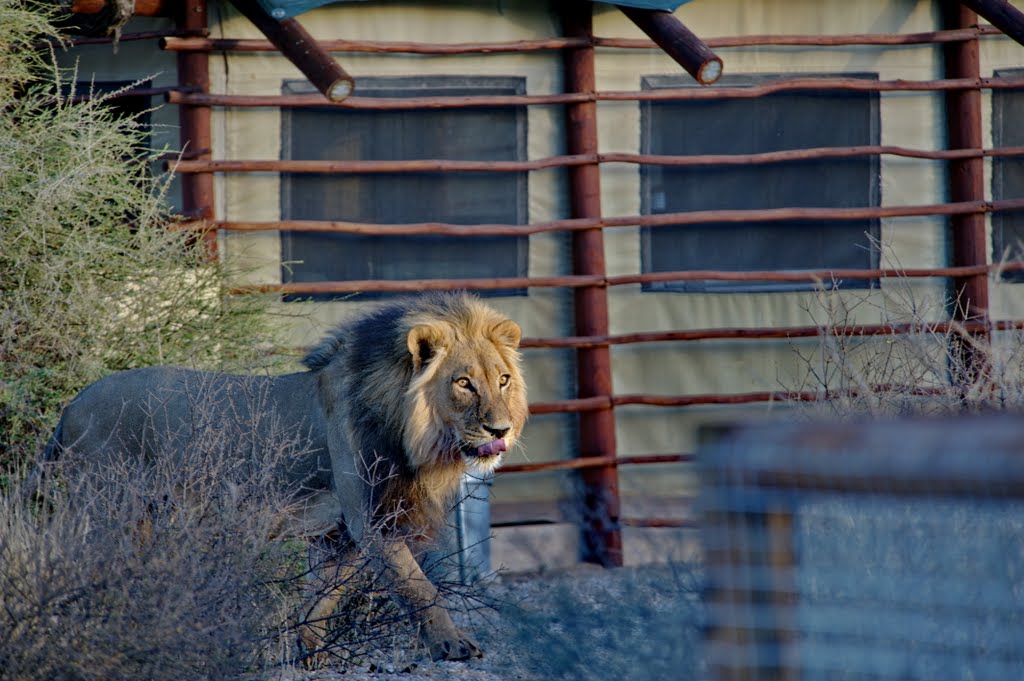 Day #14 and #15=>Our next two days is a long drive from Kieliekrankie but has a great water hole, the Grootkolk Wilderness Restcamp(self-carter). Grootkolk Camp consists of only four chalets or Desert Cabins, made from canvas and sand bags. Notice this camp is neither fenced nor raised and lions love it too.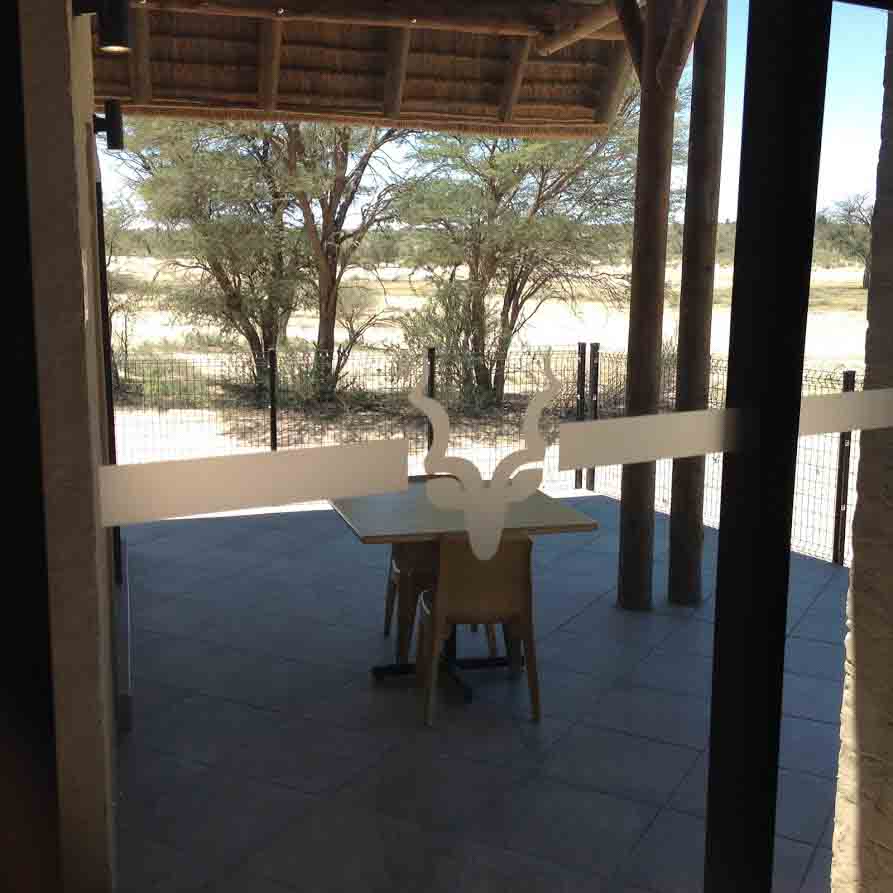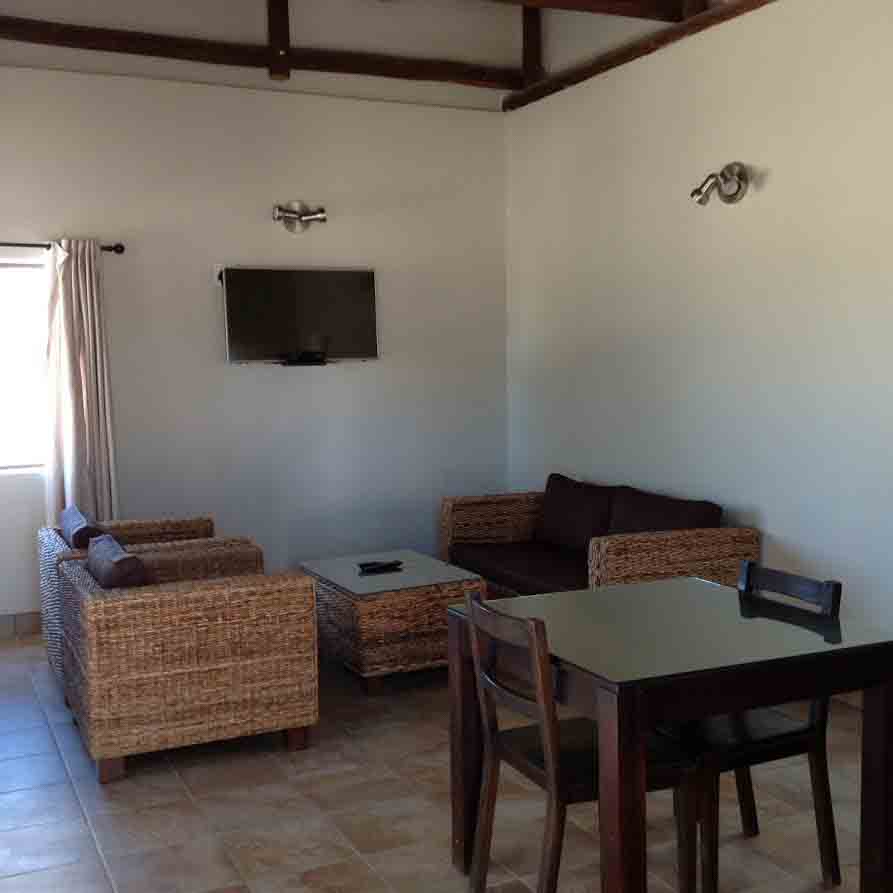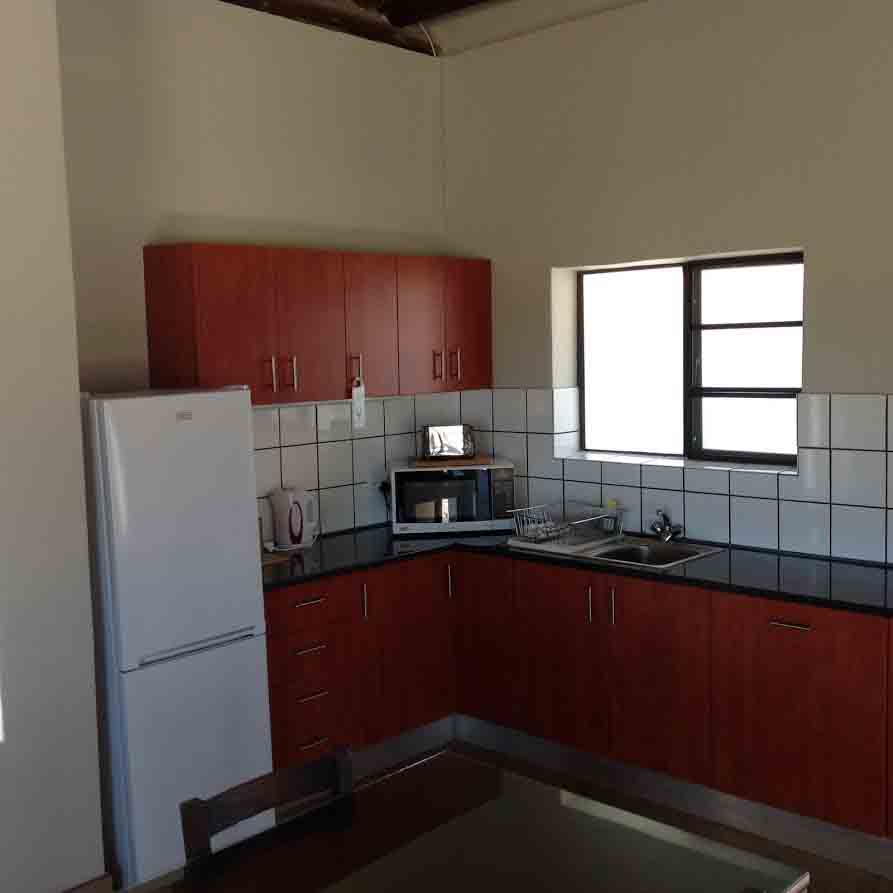 Day #16 and #17=>Our 4th Kalahari lodge is in the Nosob river bed, the Nossob Rest Camp(self-carter). We have never been very successful at animal viewing in the Nossob river basin but hoping our luck with change this trip. But it really does not matter as the River Chalets are so nice just by themselves.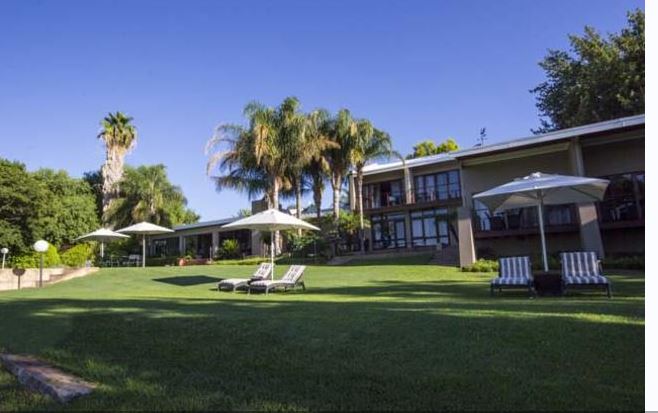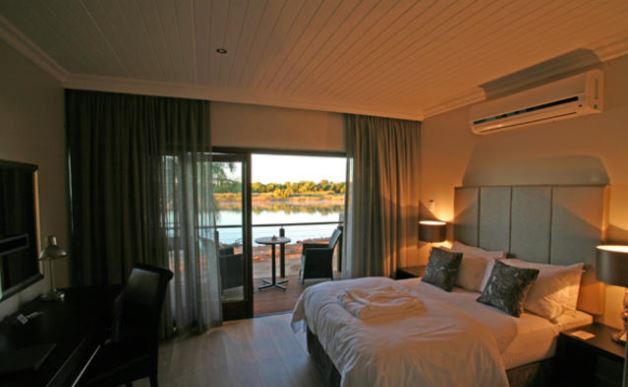 Day #18, #19 and #20=>The first part of our Kalahari days is over. Today we will end up in Upington at a lodge we have used a couple times before, the River Place Manor(B). In the morning from Nossob we will do a safari drive down the Nossob River bed to Twee Rivieren Rest Camp, 2 to 3 hours. Twee Rivieren Rest Camp is where the southern Kgalagadi Transfrontier Park gate is located. Upington is a little more that 2 hours from the southern gate. This lodge is in the Orange River area, home to Orange River Winery. Their wine tasting location is within walking distance of our lodge but too hot, we will drive. But only if pandemic safe.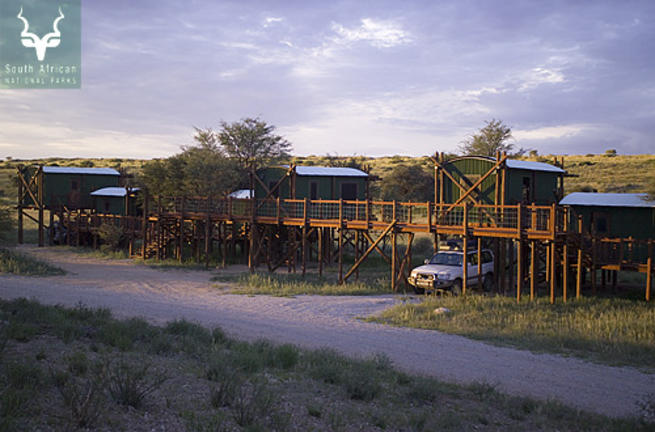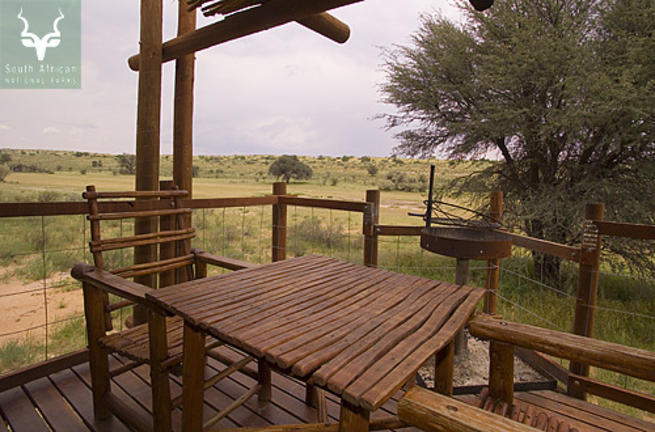 Day #21, #22 and #23=>Returning to the Kalahari our 5th lodge inside the park is another one of our favorites Urikaruus Wilderness Camp and this year we got the honeymoon tent(self-carter). Just like Kieliekrankie it is located in the central Auob river basin area. Besides its location Urikaruus has one of the best water holes in the Kalahari which is exclusive only for Urikaruus guests and the camp is centrally located so very easy to locate animal activity.

Day #24, #25 and #26=>The next 3 days back to our favrite the Kieliekrankie Wilderness Camp(self-carter). Kieliekrankie is a self catering wilderness camp on top of red sand dunes, with endless views of the red Kalahari sands. The camp has 5 dune cabins. Each unit has 2 single beds, a bathroom, a kitchen equipped with gas fridge and freezer, solar power for lights, gas for hot water and bbq facilities on a deck.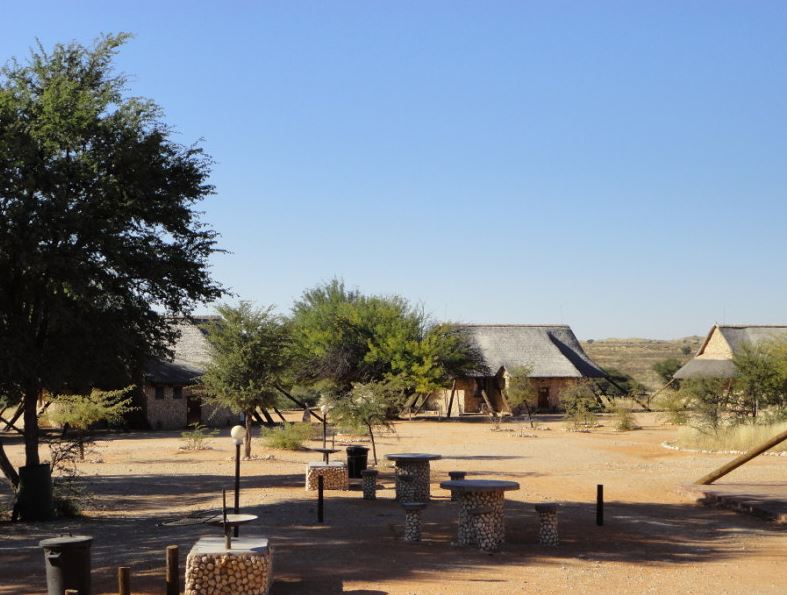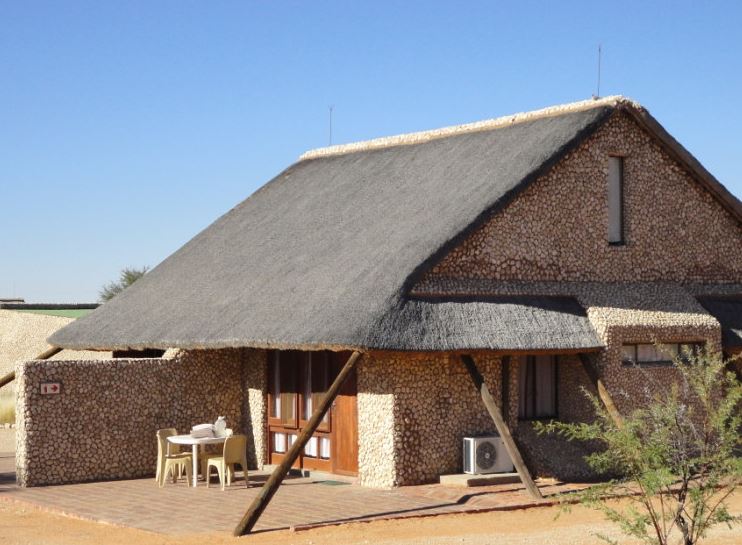 Day #27=>Our 7th and final Kalahari lodge is the largest Kalahari camp located at the southern gate Twee Rivieren Rest Camp(self-carter). Twee Rivieren camp possesses the character and stature of a desert camp to be remembered. This camp is the administrative headquarters of the Kgalagadi Transfrontier National Park as a whole.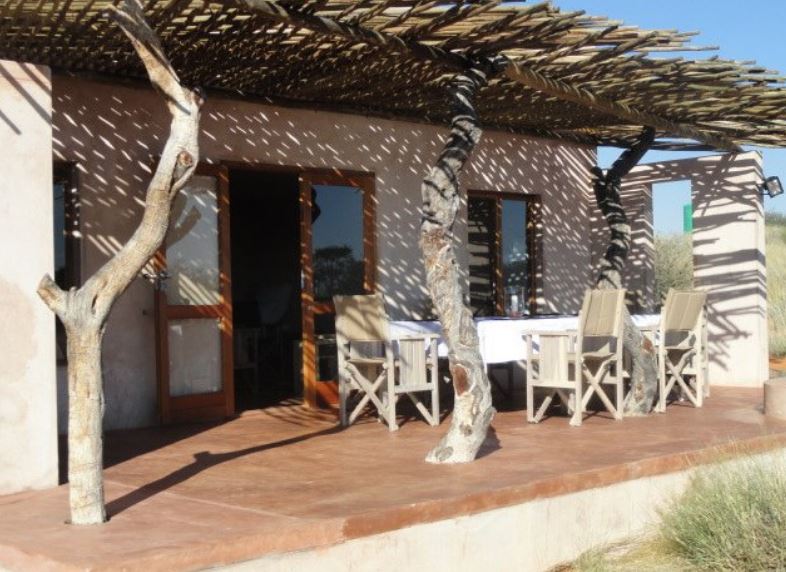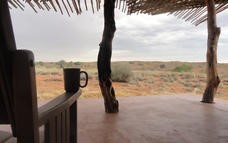 Day #28 and #29=>Our first lodge after the Kalahari and the 2nd new lodge for us is the Dune Song Lodge, point "D" on our route map(self-carter). Neighbouring Botswana, in southeastern Namibia, the renowned Kalahari Desert spans over the spectacularly scenic landscape in the south which features small red-orange dunes, similar to those of the world-famous Sossusvlei. Beautiful self catering chalets in the Kalahari region, Namibia. This is a place to unwind, relax, breathe and be inspired by nature. There are three comfortably furnished and fully equipped chalets. Click HERE for a chalet night view.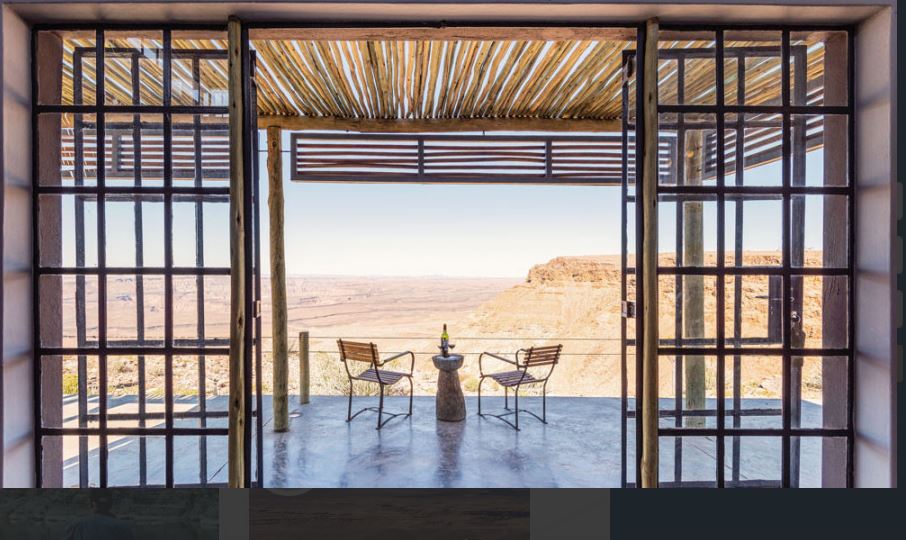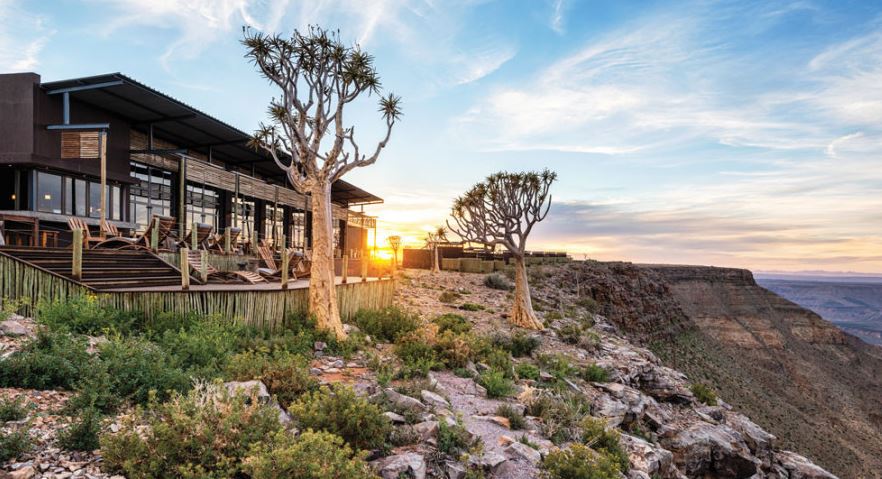 Day #30 and #31=>Our next lodge is a repeat for us the beautiful Fish River Lodge, point "E" on our route map(DBB). An inviting, sparkling blue pool which attracts the odd Oryx despite there being a waterhole in close proximity is the first sight to catch your eye as you enter the main area of the lodge. The lounge has comfortable leather seating and is next to the bar that leads to a boma area where large fires are lit and barbecues can be enjoyed at night. An upstairs restaurant overlooking the majestic sights serves an alternative area where sumptuous meals are served.
The Fish River Canyon dates back 300 million years. When the Fish River began to etch its way through hard quartzite forming a Canyon 90 kilometers long, 549 meters deep and 28 kilometers wide in some places, making it the world's second largest Canyon. The 45,000 hectare Canyon Nature Park is a natural sanctuary.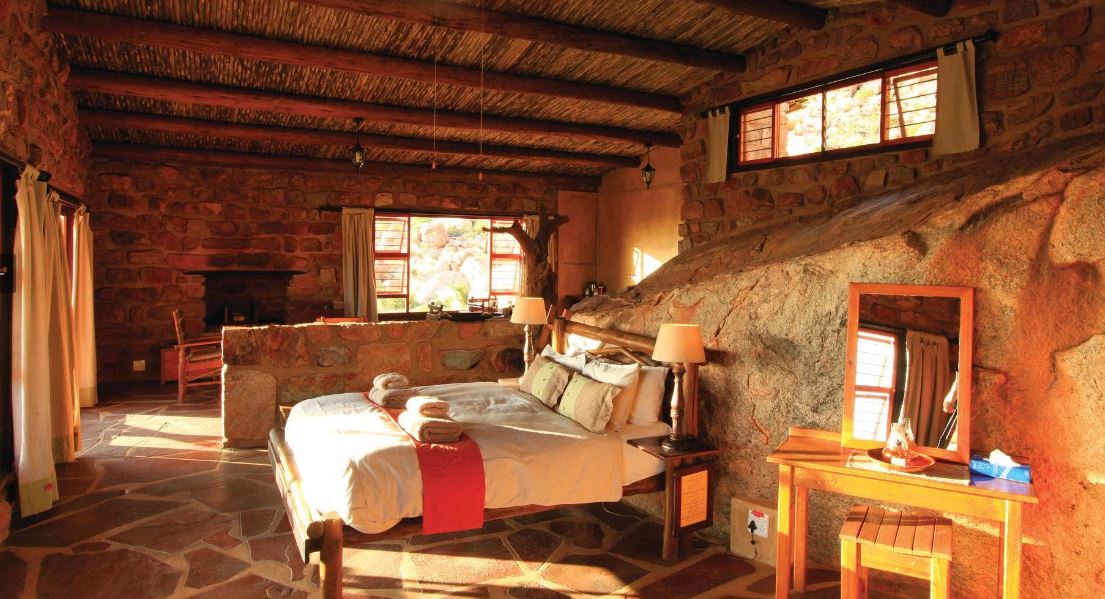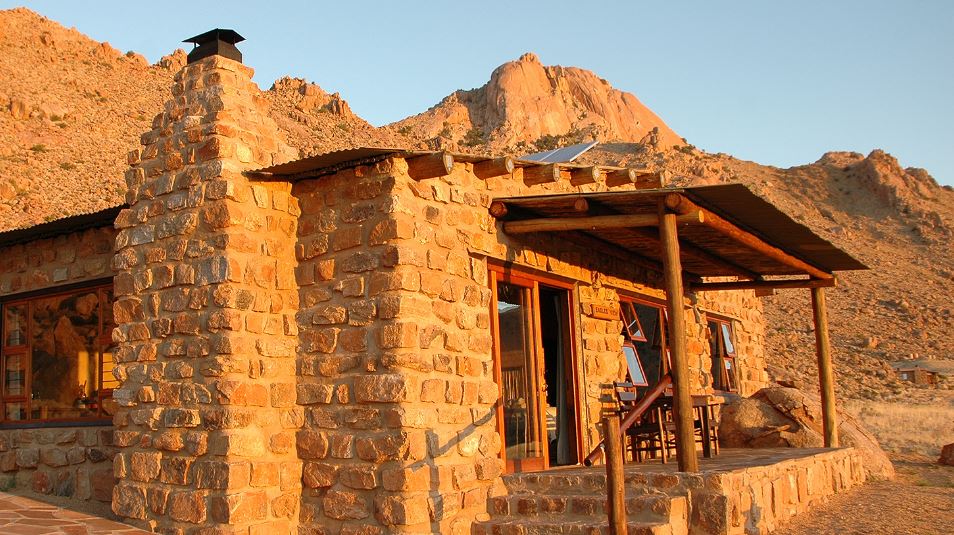 Day #32, #33 and #34=>Our next lodge is another repeat the Eagle's Nest Chalets, point "F" on route map(BB). This lodge is located just outside Aus in the rocky Aus Mountains. The arid surrounding landscape is known for its unique botanical diversity. Aus serves as an excellent base from which to explore the area and to view the main attraction: the feral horses of the Namib Desert, which run wild and free in the sparsely vegetated plains.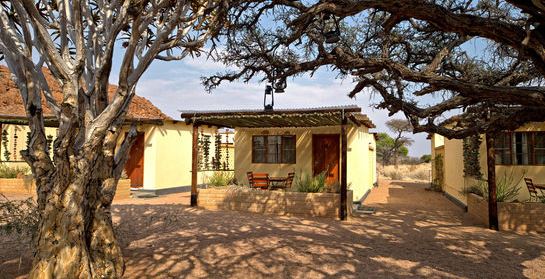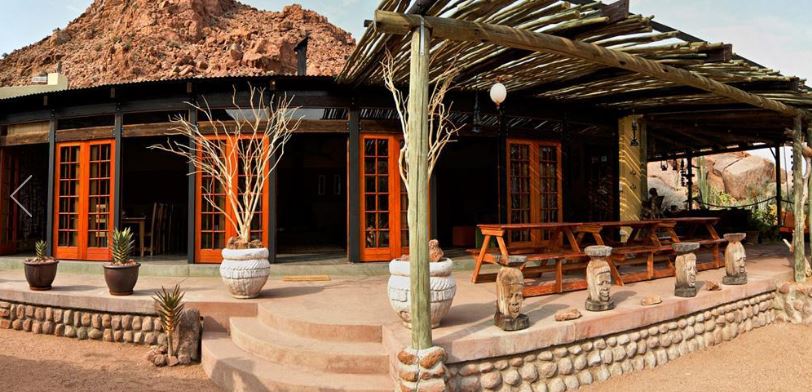 Day #35=>Our next lodge and 3rd new lodge for us is the Namtib Desert Lodge, point "G" on route map(DBB). The Namtib Desert Lodge is a genuine Namibian experience with typical Namibian farmstyle accomodations in the middle of the vast Namib desert. This small lodge has only five bungalows, one family room and two single rooms, and is the ideal place to stay for anybody seeking individuality. Situated in southwestern Namibia at the edge of the world-renowned Namib Desert, the Tiras Mountains provide the perfect backdrop for visitors who venture to this red granite wonderland and immerse themselves in the natural beauty of this region. Namibian landscapes are synonymous with tranquility, serenity and endless open spaces and the magnificent Tiras Mountains encapsulate this quiet charm. Nature lovers flock here for an off-the-beaten-track experience in one of Namibia's most beautiful areas. Visitors can enjoy thrilling 4X4 mountain and dune tours, nature walks, game and bird viewing as well as excursions through quiver tree forests and to ancient rock paintings on granite rocks.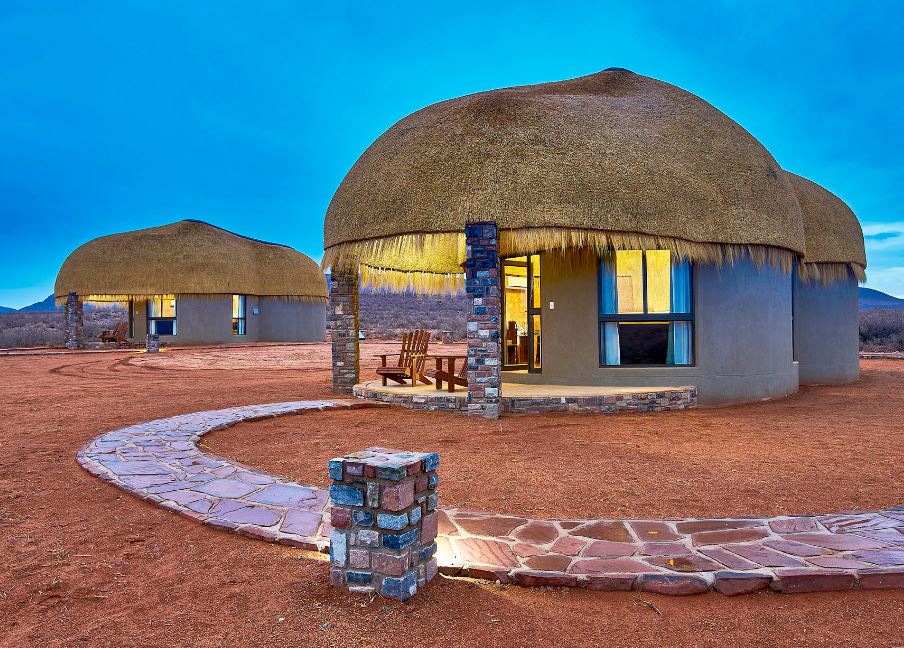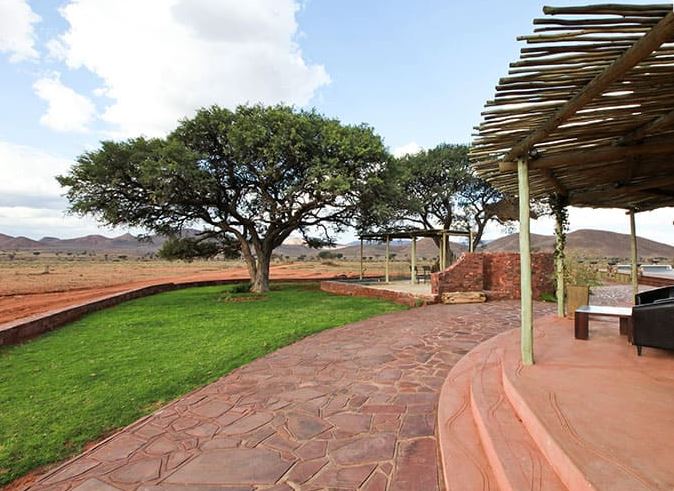 Day #36 AND #37=>Our next lodge and 4th new lodge for us is the We Kebi Safari Lodge, point "H" on route map(DBB). We Kebi means invitation. To hold true to the tradition of the San people of the desert, who roamed the plains and mountains surrounding We Kebi for thousands of years. Come and experience the solitude, privacy and tranquility at We Kebi Safari Lodge.
Each of the free standing en-suite luxury chalets has its own pavilion and a 180 degree uninterrupted view of the surrounding landscape. Spanning an area of 172,200 hectares and encompassing four distinct ecosystems, the Namib Rand Reserve is among the largest privately owned game parks in Southern Africa. Founded to conserve the unique environment and wildlife species of the south-western Namib Desert, the park's mix of dunes, mountains, rocky outcrops, sandy flats and gravel plains provides habitats for a diversity of mammals - including hyenas, jackals, foxes, antelopes and various wild cats - as well as a plethora of bird species, reptiles, insects, frogs and flora. Visitors can discover the mysterious 'fairy circles', which dot the landscape and sip on sundowners while watching the sunset over this unspoilt ancient landscape. Having been named Africa's first International Dark Sky Reserve, it is one of the least light-polluted areas in the world.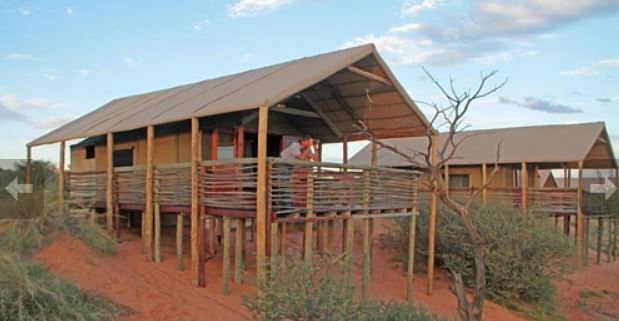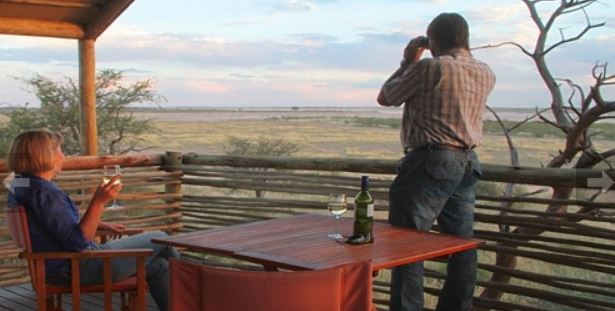 Day #38 and #39=>Our next lodge and 5th new lodge for us is the Suricate Kalahari Tented Lodge, point "I" on route map(DBB). Although technically a new lodge it is in the same family and closely located near of 2nd lodge, point "B". Towering over the pans of the Auob wetlands is the Suricate Tented Lodge which has been built on top of a majestic red dune. The tents which combine the ultimate African safari experience with the comforts and luxuries of modern day living leave a lasting impression. There are 12 tents complete with mini bars, safes, mosquito nets and all the amenities available at the other lodges with the added benefit of an open-air en-suite bathroom and a deck. One of the tents is a honey-moon suite, which is appropriately distanced from the other tents and has its own plunge pool for the convenience of the romantic couple.
The main lodge area is also intriguing as it boasts a large deck that overlooks the entire shimmering pan and the warbling waters of the infinity pool. Guests can choose to have their meals in the communal dining room which also has a built in fire place and bean bags for guests to relax on or to enjoy their meal on the deck surveying the pans. At night guests enjoy the starry skies with drinks by the fire pit with the friendly staff at your beck and call, ready and willing to assist you with planning your day or with facilitating any activities guests may want to enjoy.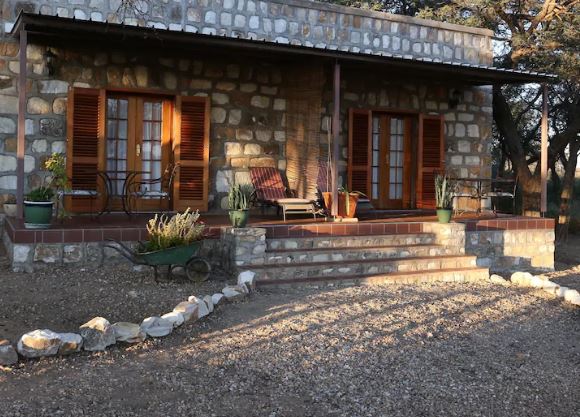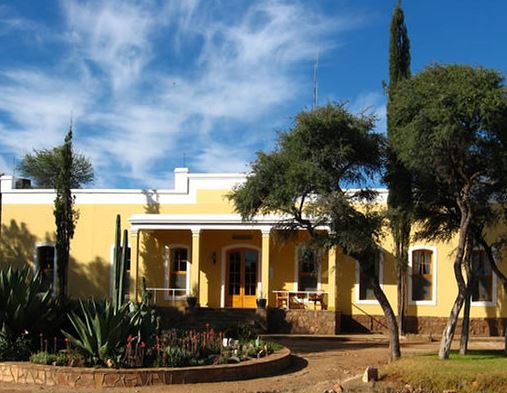 Day #40=>Our next lodge and 6th new lodge for us is the Hohewarte Guestfarm, point "J" on route map(DBB). Hohewarte Guestfarm has 7 comfortable guest rooms with an ensuite a bathroom and a suite in the main building. Another two guest rooms are found in a separate bungalow close to the farm pool. Breathtaking views onto the Olifants River can be enjoyed from the veranda.
Over a hundred years of tradition define the rustic buildings of the charming guest farm Hohewarte. Previously a colonial police station and post office, this accommodation with its historical twist makes for a perfect choice for starting and ending a Namibian holiday. The farm is located only 20 minutes from Hosea Kutako International Airport and is situated in the midst of an idyllic landscape dominated by African bush savannah, dry rivers, hills and mountains.
After breakfast we are driving back to "Safari Car Rental" (point "A" on map) where they will shuttle us to the airport to catch our 2pm flight to Johannesburg. In Johannesburg we will have a few hours to rest before our BA red-eye to London.
Day #41=>We arrive in London(Heathrow) in the early morning and have a few hours layover before boarding our last flight back to SFO. We arrive in SF later this day ending our longest safari ever. Stay tune....more to come!!!