Africa Safari -- Namibia/Etosha 2021
This will be our 12th Namibian safari and our 5th to the Etosha National Park. At the time of our booking Namibia and South Africa are not in good shape, corona-wise. And the US is worse then all. Will Namibia and South Africa be open for visitors in 2021?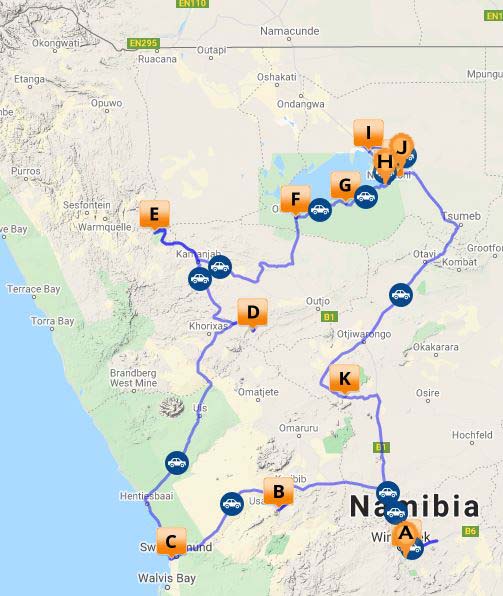 Day #1=>Depart SFO, on Qatar Airways a red-eye non-stop to Doha, Qatar. Doha is the capital and most populous city of Qatar and is located on the coast of the Arabian gulf.
Day #2=>Depart Doha on another red-eye/non-stop to Johannesburg, South Africa.
Day #3=>After a short layover and then board a 2hr flight to our final destination, Windoek, Namibia. Upon arrival in Windhoek we will be picked up by our first lodge, Naankuse Lodge.
The locations of the lodges we will visit on this trip are shown on the map to the right. Each lodge is represented with a different letters and will be referred to by the following day by day itinerary. Lodges F, G, and H are government camps inside Etosha National Park which is the green area on the map. Etosha means the "great white area" and refers to the huge salt pan. This is an impressive sight because it's certainly the biggest salt pan in Africa. What makes this park unique is the floodlit waterholes at all the main camps. Some of the camps even have photography hides near the waterholes.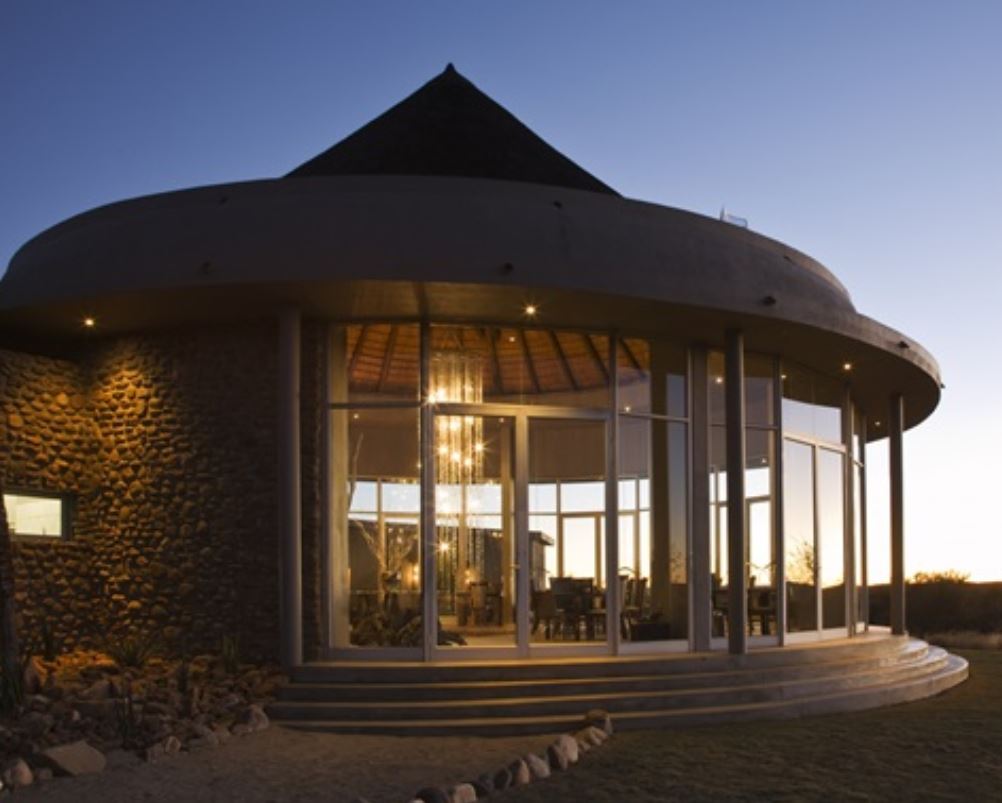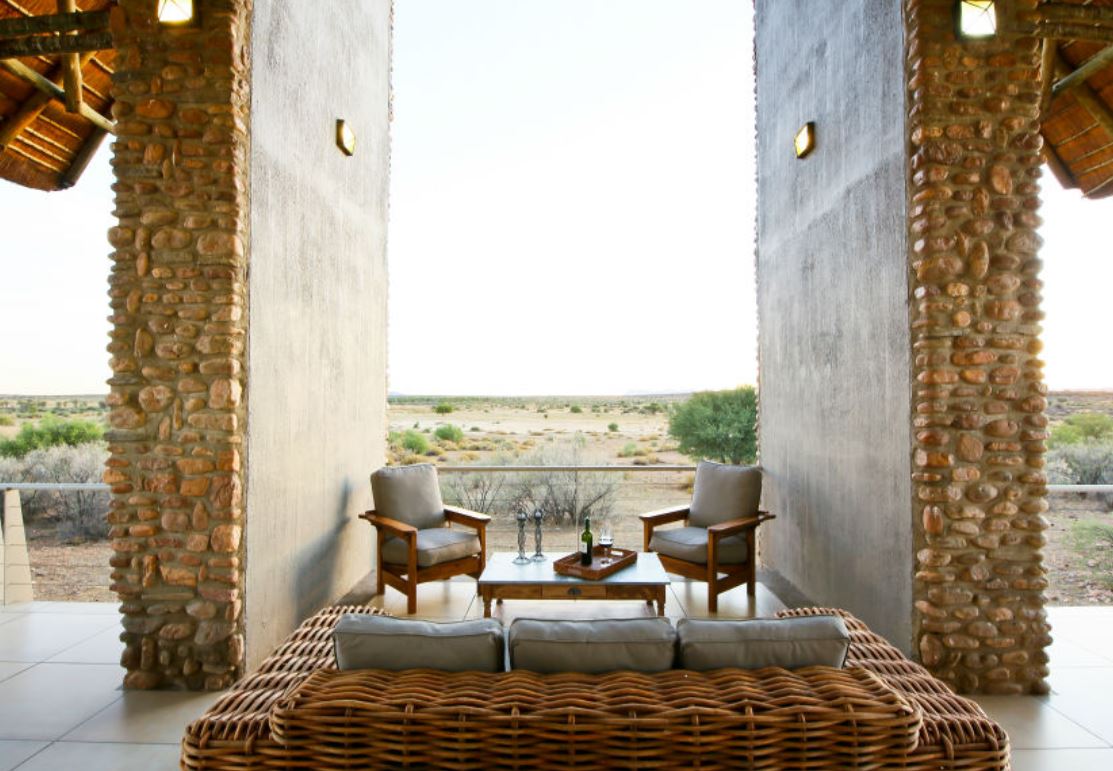 Day #3 & #4=>It is a relatively short drive to the Naankuse Lodge, which is a new lodge for us and point "A" on our route map(DBB). This lodge is outside of Windhoek on the airport side thus we will totally avoid going into downtown Windhoek for a couple days. Avoiding traffic is a major advantage, especially after back-to-back red-eye flights. When we check out a representative from Safari Car Rental will pick us up for the short drive to their location. This is the same rental company we used in 2020 and we were very happy with our truck, so we are repeat customers.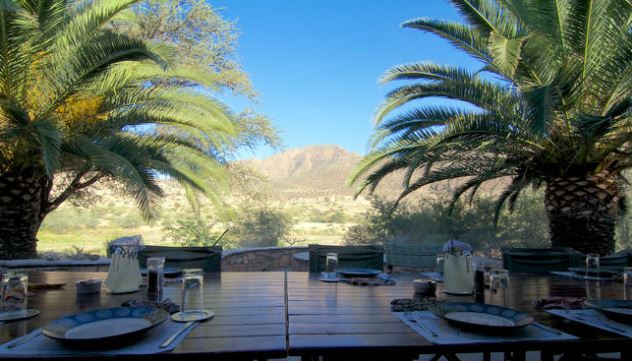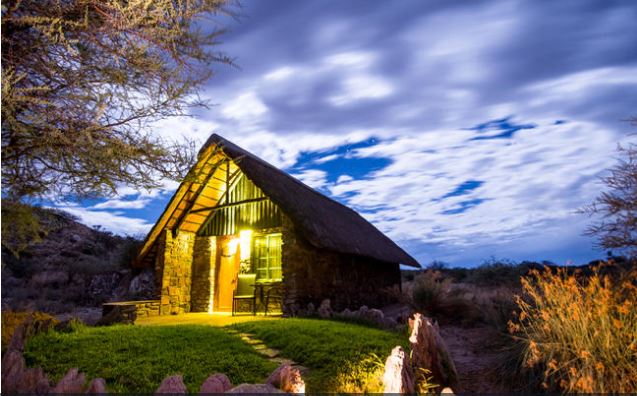 Day #5 and #6=>Our 2nd lodge is west pf Windhoek the Etusis Lodge; point "B" on our route map(DBB). This is also a new lodge for us that is located in the Otjipatera Mountain range. Etusis has 7 bungalows each with a/c, mini-bar, and a coffee/tea station. A very relaxing location to recover from our jet-leg.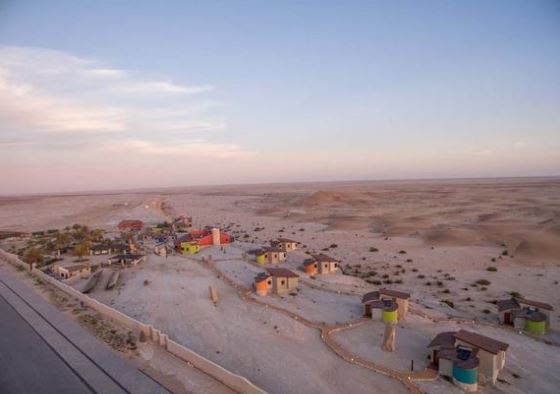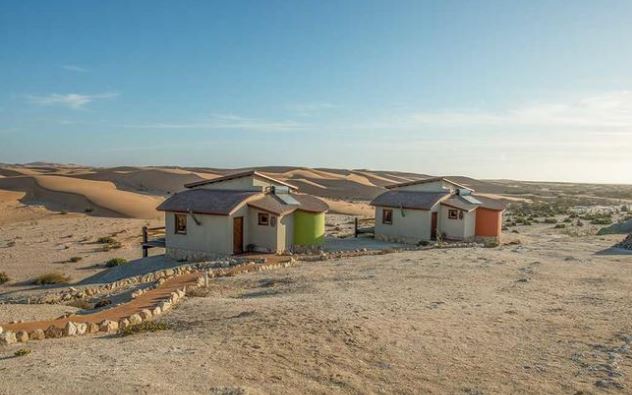 Day #7, #8 and #9=>Our next stop is Swakopmund, a city we have visited many times before. Swakopmund is right on the Altantic Ocean so hot days is not a concern here. Our lodge is a return to the Desert Breeze Lodge, point "C" on our route map(DBB). We first stayed at this lodge during our 2020 Safari and liked is so much we had to come back. The lodge is on the east side of Swakopmund with great views of the Namib desert, known as the oldest desert in the world. Each of their 12 luxury bungalows have a private sun deck with breath-taking views.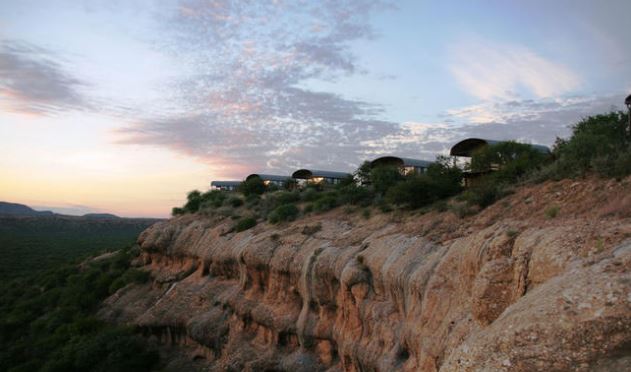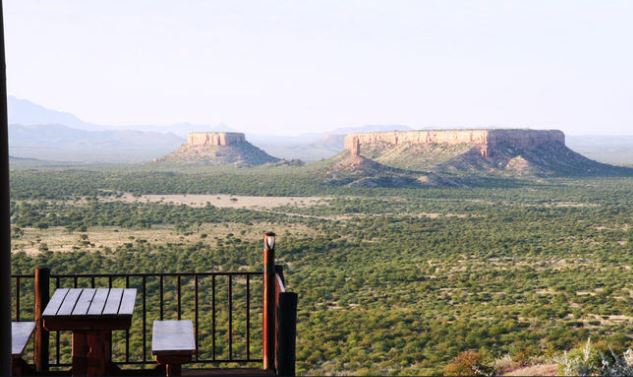 Day #10 and #11=>After cooling off at the coast we then head east into the heart of Damaraland to another new lodge for us the Ugab Terrace Lodge, point "D" on our route map(DBB). This lodge has 16 chalets set in a semi-circle on the edge of the mountain with a panoramic view over open valleys and the ancient terraces formed by water corrosion millions of years ago. There's also a restaurant and bar overlooking the Rock Vinger and beautiful Ugab Terraces valley.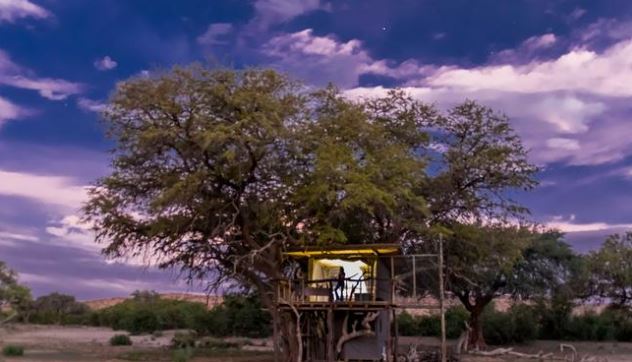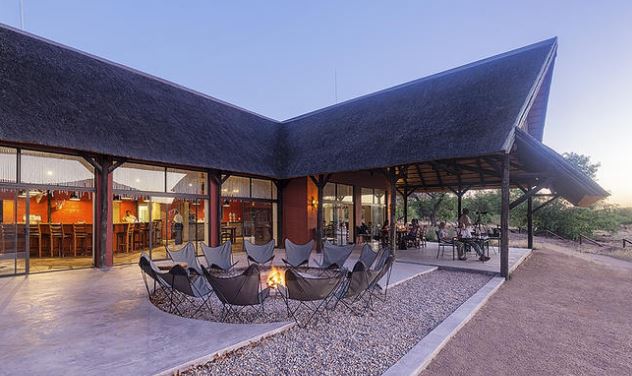 Day #12=>Our next lodge is Hobatere Lodge, point "E" on our route map(DBB). We first stayed at this lodge in 2018 but this time we are coming back to try their "Tree House" unit. The "Tree House" unit pictured to the right overlooks its own private waterhole.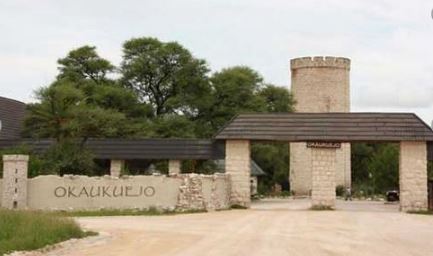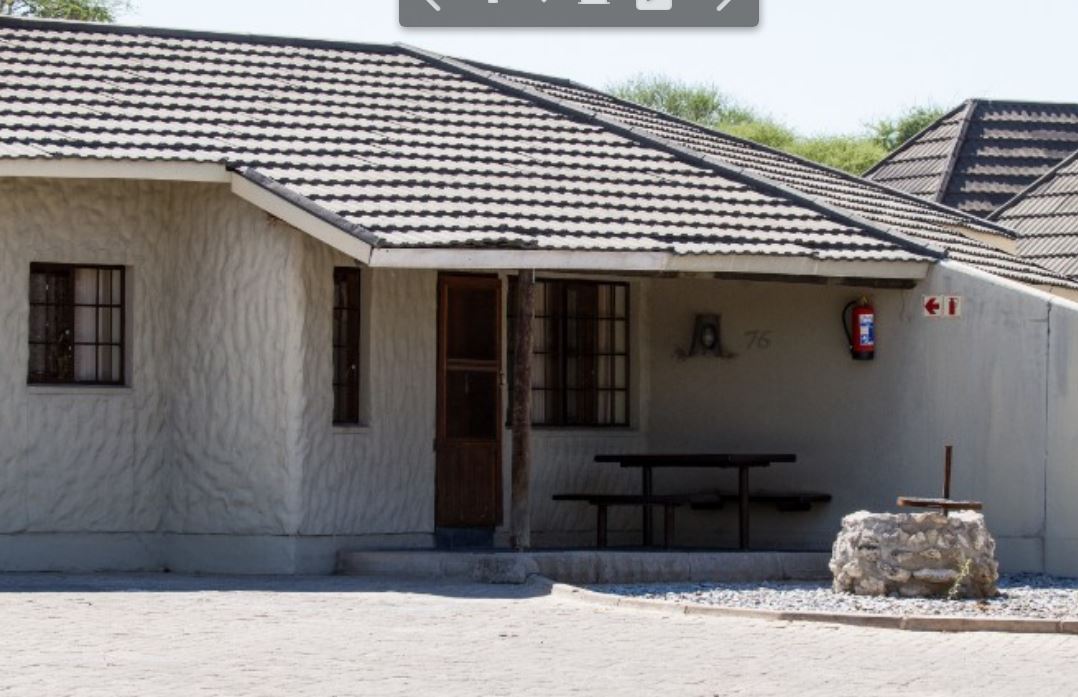 Day #13 thru #16=>Our first lodge in Etosha National Park is a favorite of ours Okaukuejo Resort, point "F" on our route map(self-carter). Okaukuejo is famous for its flood-lit waterhole, where visitors can observe at close quarters a spectacle of wildlife congregating and interacting.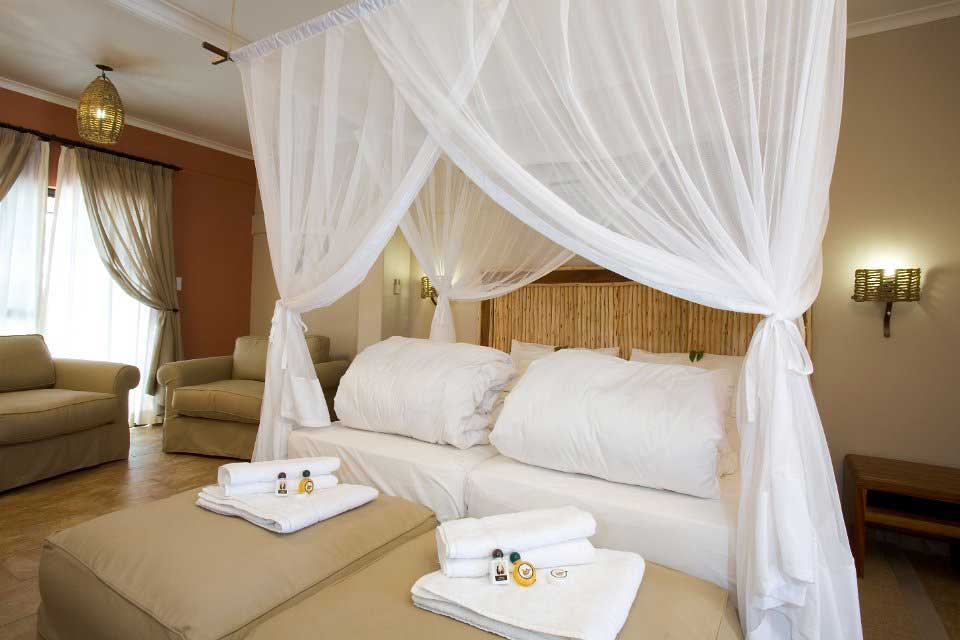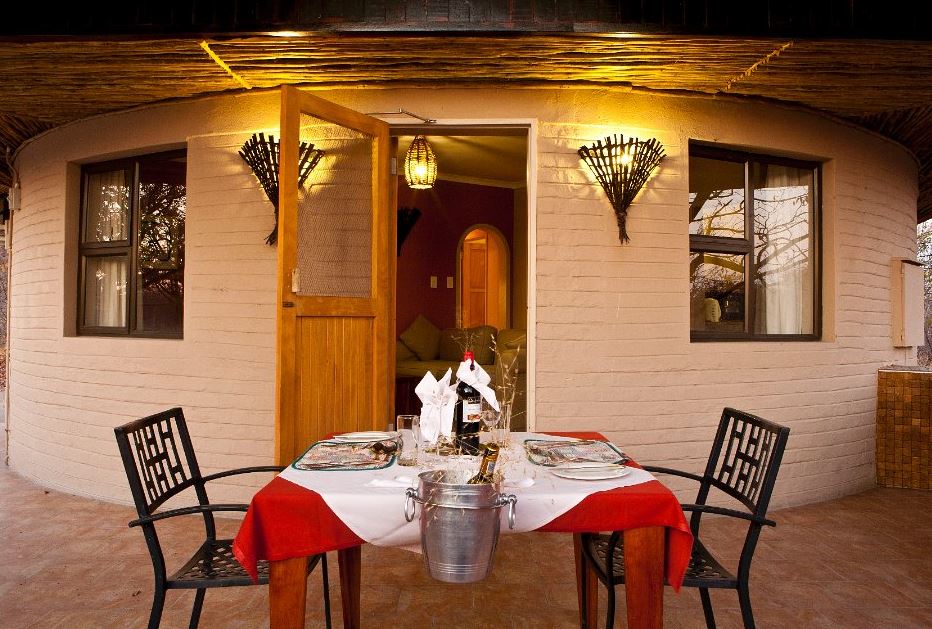 Day #17 and #18=>Our next Etosha lodge is also a long time favorite Halali Resort, point "G" on our route map(self-carter). Halali is located halfway between Okaukuejo and Namutoni. It is situated at the base of a dolomite hill, amongst shady Mopane trees. A flood-lit waterhole which is viewed from an elevated vantage point provides exceptional wildlife viewing throughout the day and into the night.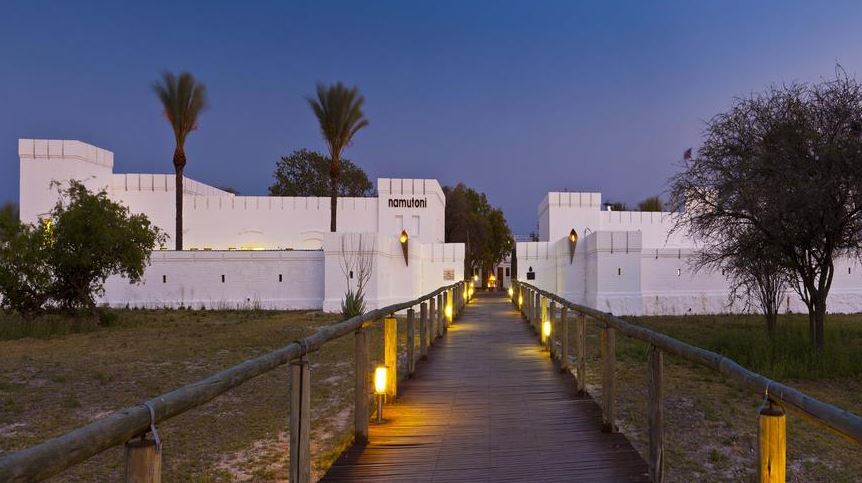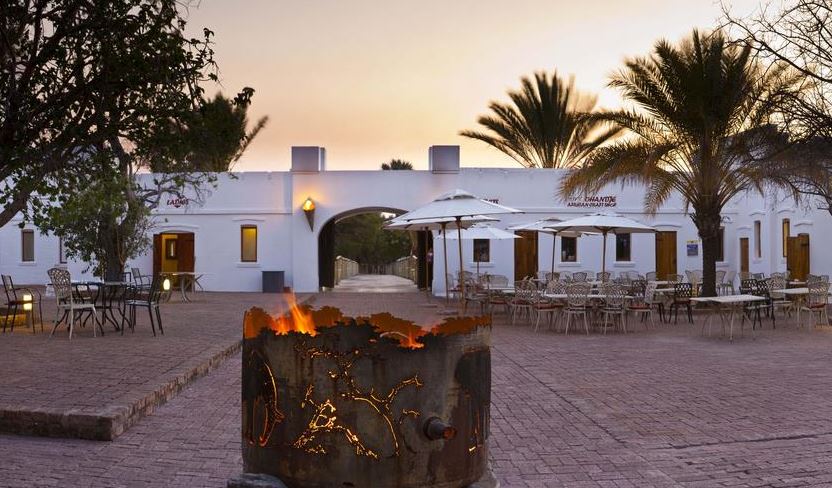 Day #19 and #20=>Our last Etosha lodge is a new lodge for us the Namutoni Camp, point "H" on our route map(self-carter). Namutoni is located in the eastern part of Etosha National Park, built from an old German fort and features an elevated view of the King Nehale Waterhole. The camp is in close proximity to Fisher's Pan, making it a hotspot for birders. Fort Namutoni was declared a national monument in 1950 and was opened to tourism in 1957.
The camp features spacious and comfortable chalets with en-suite bathrooms. There are 2 restaurants at the camp, African Fusion and The Steakhouse. Other camp facilities include a bar, a shop, a petrol station, and a swimming pool.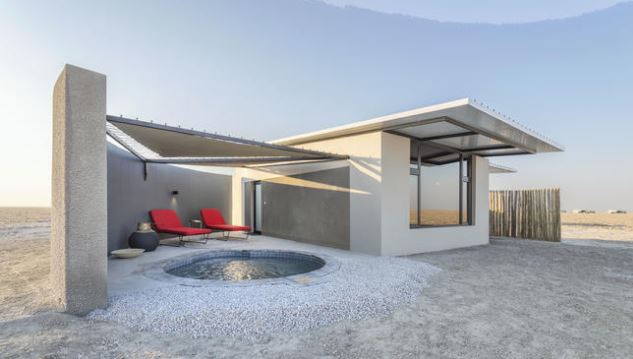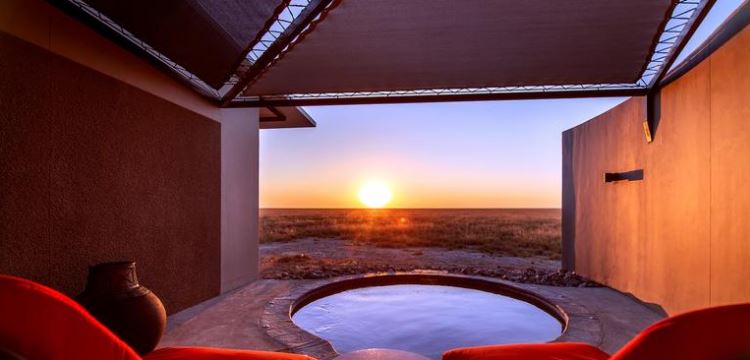 Day #21=>Our next lodge is just outside Etosha and is another new lodge for us Etosha King Nehale Resort, point "I" on our route map(DBB). This resort is part of the Gondwana Collection Namibia and opened in June 2020, and is about 5km north of the King Nehale Gate on the northern border of Etosha National Park. This resort has 40 chalets each with a veranda with private splash pool, Wi-Fi and more.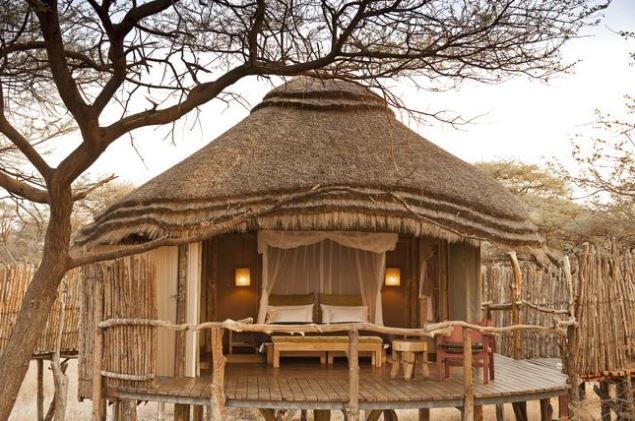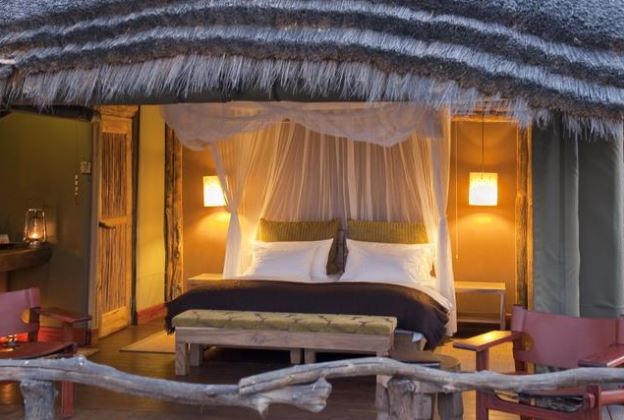 Day #22 and #23=>Our next lodge is very unique and is new for us the Onguma Tented Camp, point "J" on our route map(DBB). In the local Herero language, Onguma means, "the place you don't want to leave." With a stunning main building and seven tents providing private and exclusive accommodations.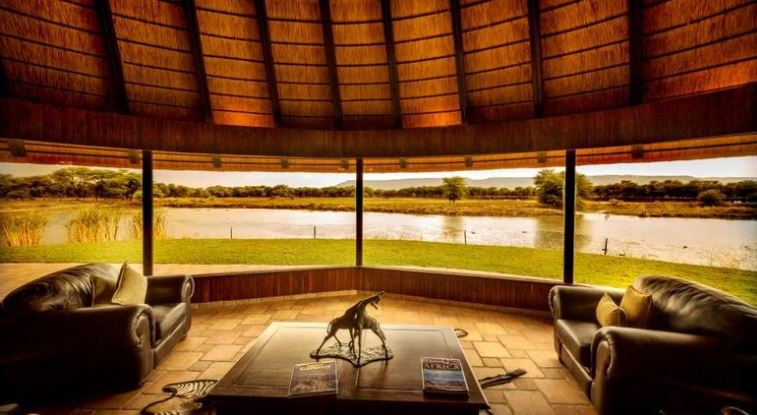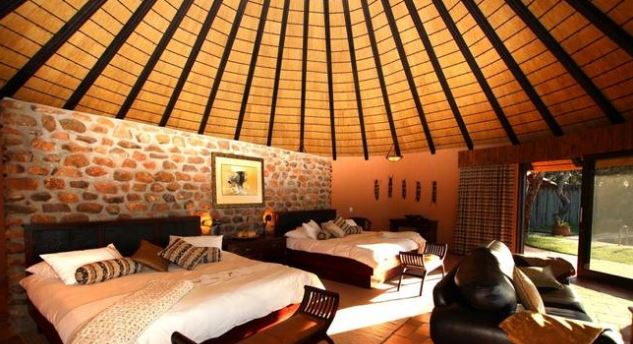 Day #24 and #25=>Our last lodge on this trip is another new lodge for us the beautiful Mount Etjo Safari Lodge, point "K" on our route map(DBB). Since this was the end of our trip we decided to splurge and booked their "villa", which has a 180 degree view of the lake. The Villa is the pearl of Mount Etjo Safari Lodge. The Villa offers privacy, exclusivity and luxury, with a private swimming pool and garden, a Jacuzzi, a mini-bar, DSTV, a large lounge with a fire-place, two king-size beds.
'Etjo' means a place of refuge. Since 1975 Mount Etjo Safari Lodge has been the heart of the Okonjati wildlife sanctuary. The Lodge is built to face a large lake where animals regularly quench their thirst and hippos come to visit. Further in the distance lingers the magnificent Mount Etjo mountain, completing the picturesque scenery.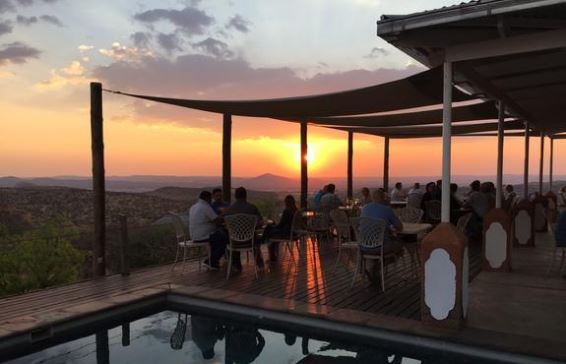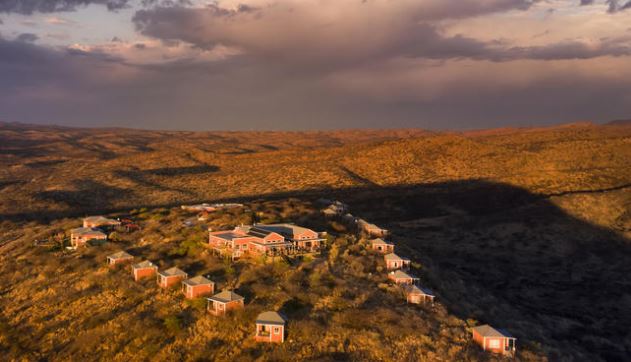 Day #26 and #27=>
Our last lodge is yet another lodge that is new to us, the
River Crossing Lodge
, point "A" on our route map(DBB). The location of this lodge is on the airport road, just 5 km before Windhoek. Spending a couple days at this location will enable getting our COVID tests before our return flights.
Day #28=>After breakfast on our last day we are driving back to "Safari Car Rental" where they will shuttle us to the airport to catch our flight to Johannesburg. In Johannesburg we will have a few hours to rest before our Qatar red-eye flight to Doha.
Day #29=>We arrive in Doha, Qater in the early morning and have a few hours layover before boarding our last flight back to SFO. We arrive in SF later this day.