2023 Namibia Trip Report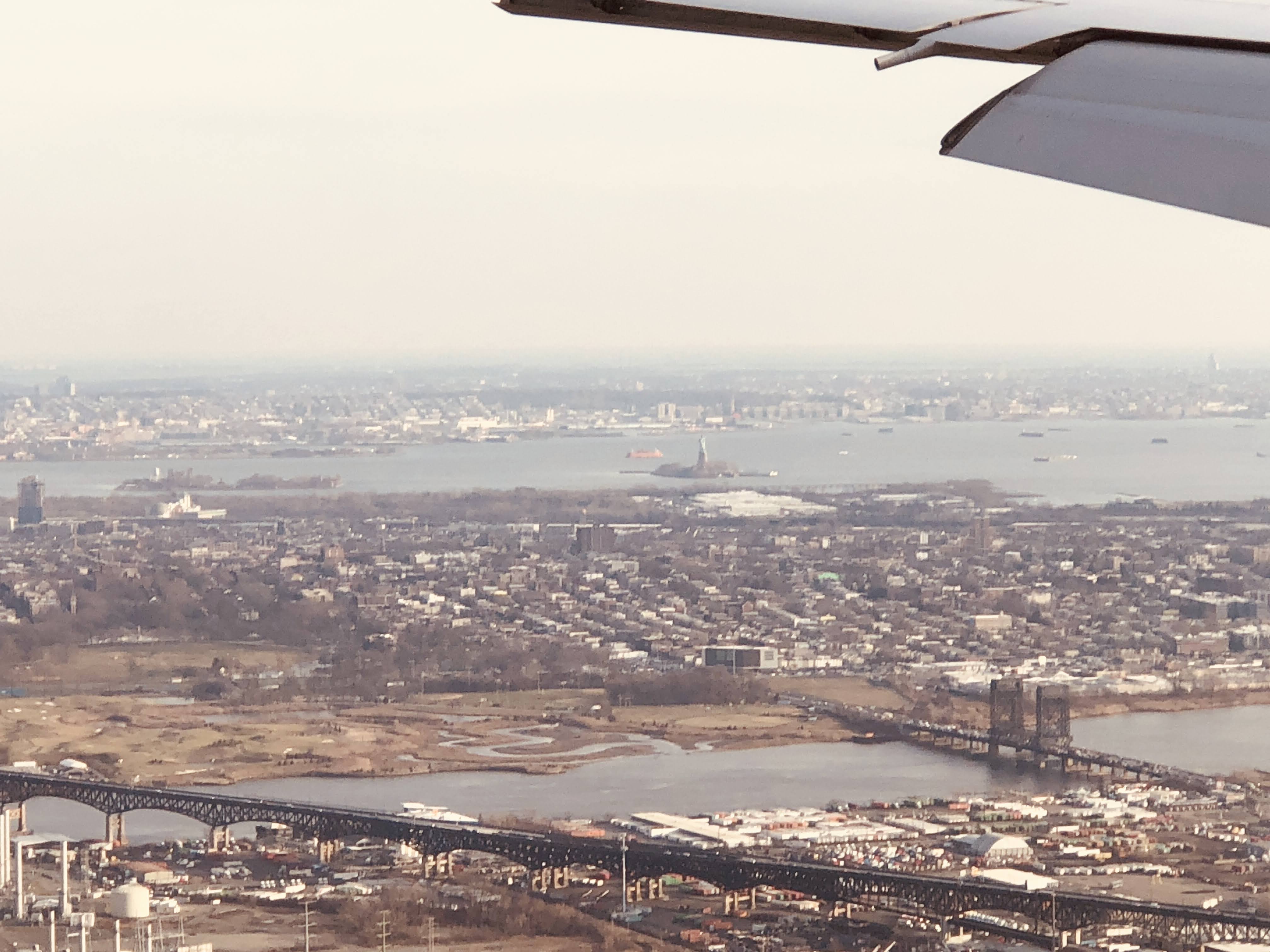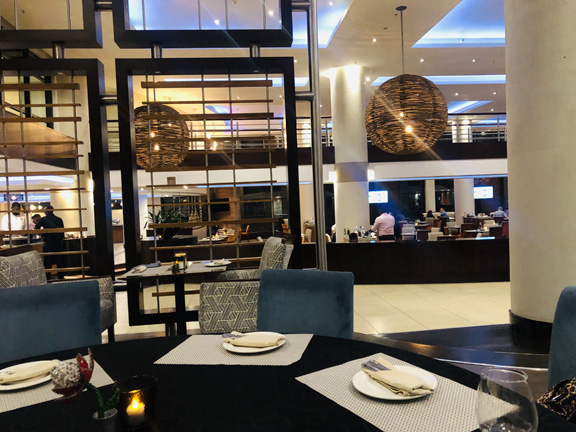 Our 24th African safari, 13th Namibian safari, started off perfect. Our flight into NYC was a beautiful, clear day, no weather delays possible. The 2nd of our three flights was red-eye (over-night) to Johannesburg, South Africa where we had a 12hr layover. This was the first time we have had a large enough Johannesburg layover where we could check into a lodge and get real food and sleep in a bed. We choose a lodge in the airport that was a very short walk from our arrival gate, the City Lodge. The image to the right is their VERY enjoyable dining area.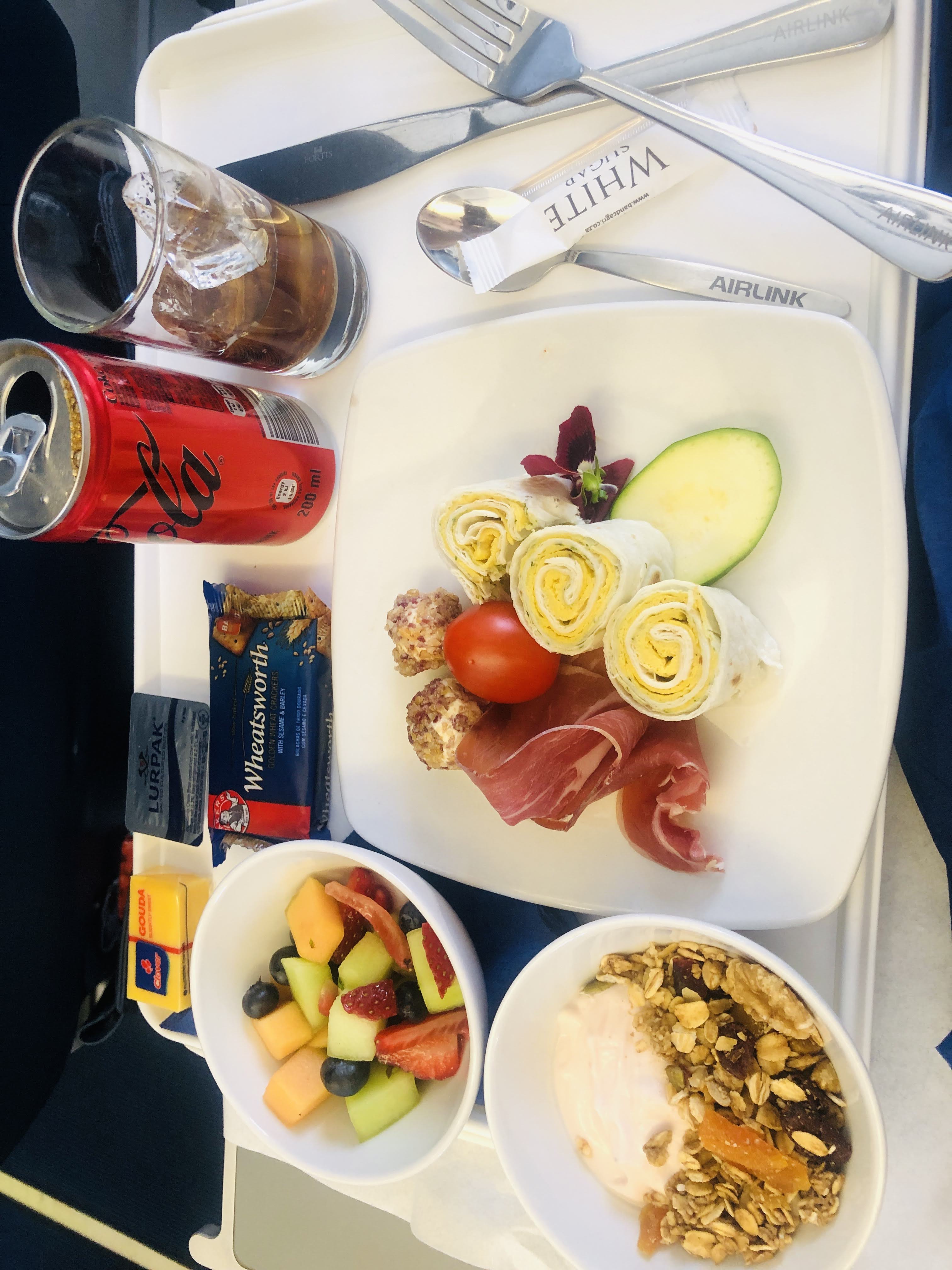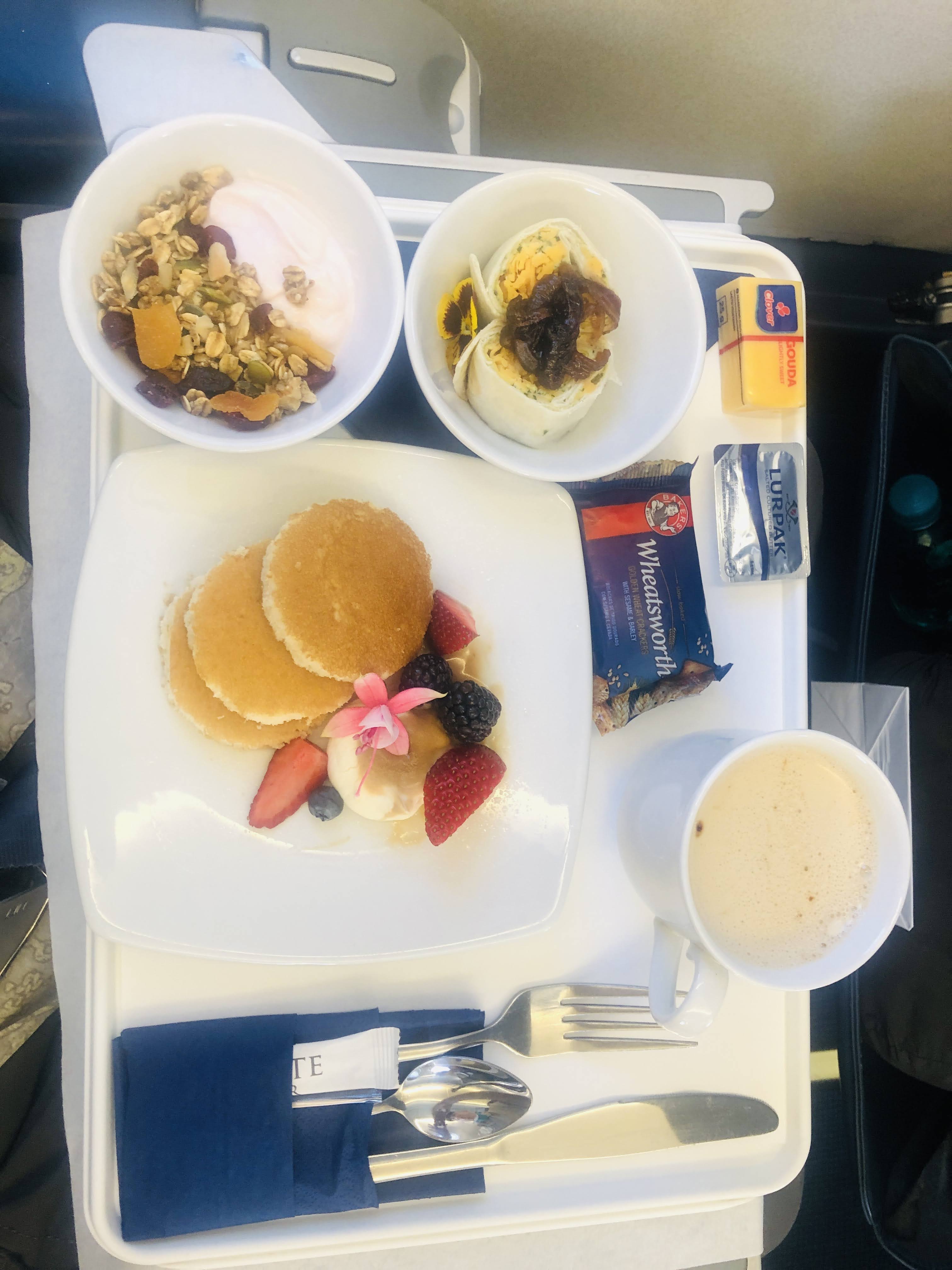 After a good night's sleep in a real bed we caught our 3rd and final flight to Windhoek, Namibia. Our good luck of Safari #24 was still with us as we learned we had been upgraded to first-class. We never found out why we were upgraded but we did not complain. The breakfast was as good as it looks.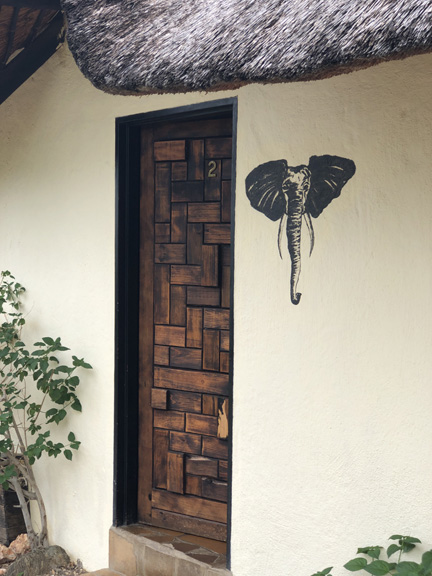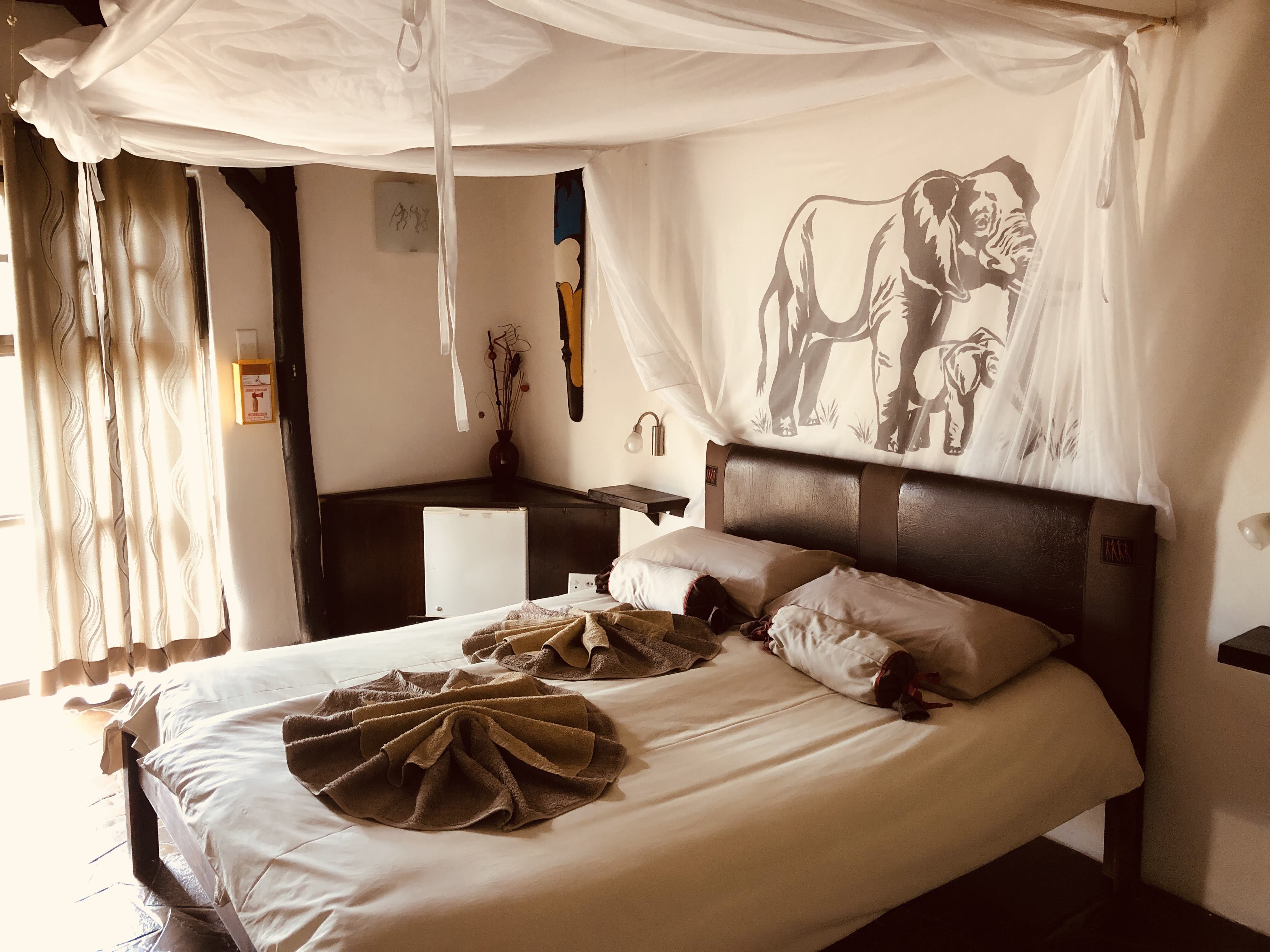 Upon arrival at Windhoek we learned our string of good luck had come to an end, lost luggage. We had check 2 bags in SF and only one was on the flight with us this morning. But for some reason we had decided our first lodge should be in the Windhoek area. The Immanuel Wilderness Lodgeis located just north of Windhoek, just off the B1. So we asked the airport staff to please call this lodge if our missing bag was lucky enough to arrive on a later flight. Upon arrival we were shown to the elephant room. The room had a nice door but the room was nothing to write home about. This room was lucky for us because shortly after arriving the lodge was called by the airport, our 2nd bag had arrived. Yes it did mean a 2+ hour round trip back to the airport but at least we now had all our luggage.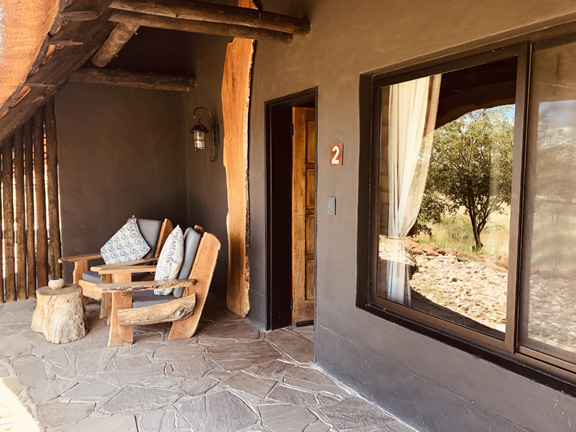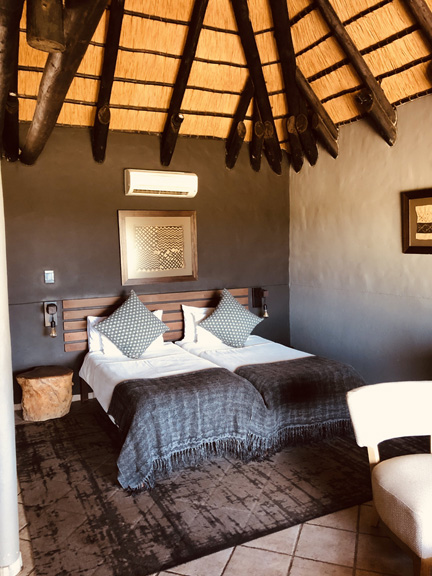 Our next lodge was the Ai Aiba Lodge. This was a repeat lodge for us which has a great room, view, and meals. This was a perfect way to get over jet-leg and the cold temperatures of back home!!! Their rooms have very effective a/c which we used and prefer to the heater back home.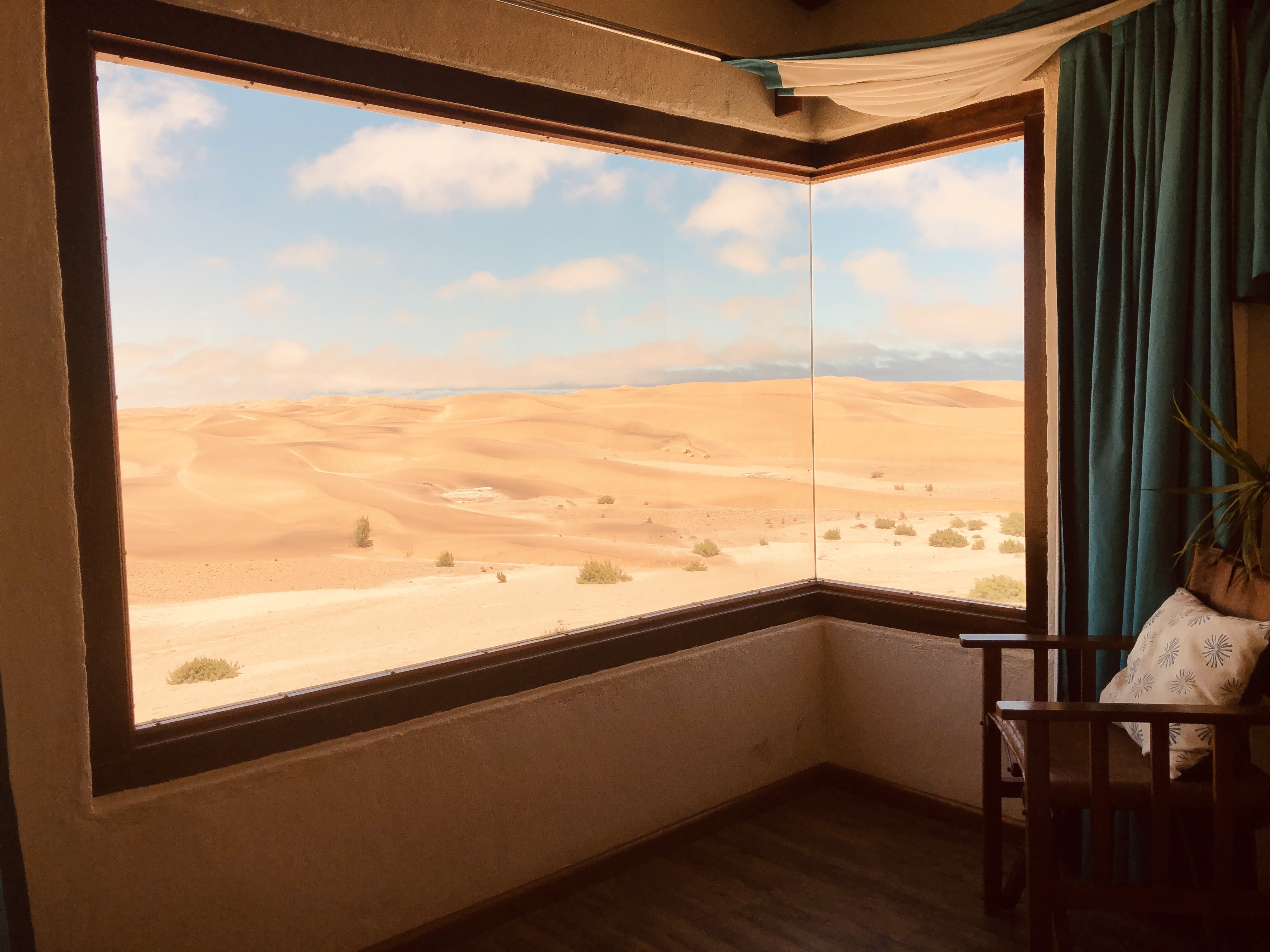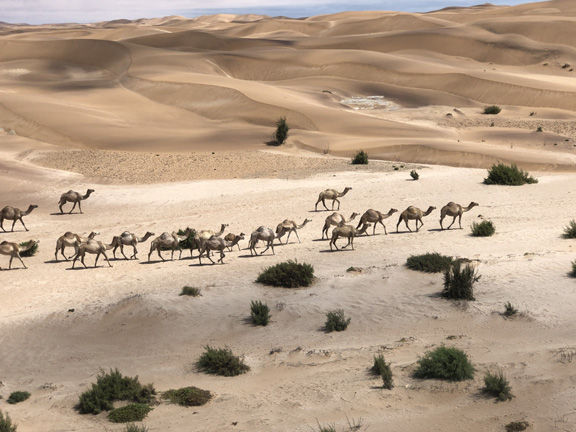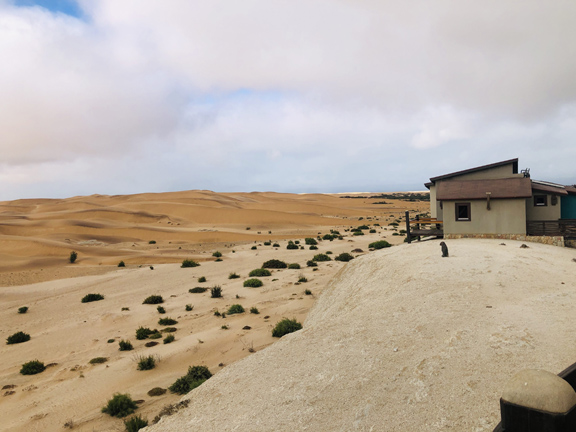 The warm weather at Ai Aiba lodge did not last long as we next headed for Swakopmund, located on the Atlantic ocean. The Desert Breeze Lodge is another lodge we like to visit frequently. The image to the right is our chalet and the red dunes out our window. The next image was a herd of camels that came by during our visit. The last image (far right) is the view from the bed of the beautiful red dunes. The chalets have a stove for heating but it was not that cold. There was no need for a/c but there was also no need for a heater either. Besides the stunning views, Swakopmund is the best place in Namibia to get great seafood. We like to get dinner to go then enjoy our meal while watching the red dune views from our room, fabulous!!!!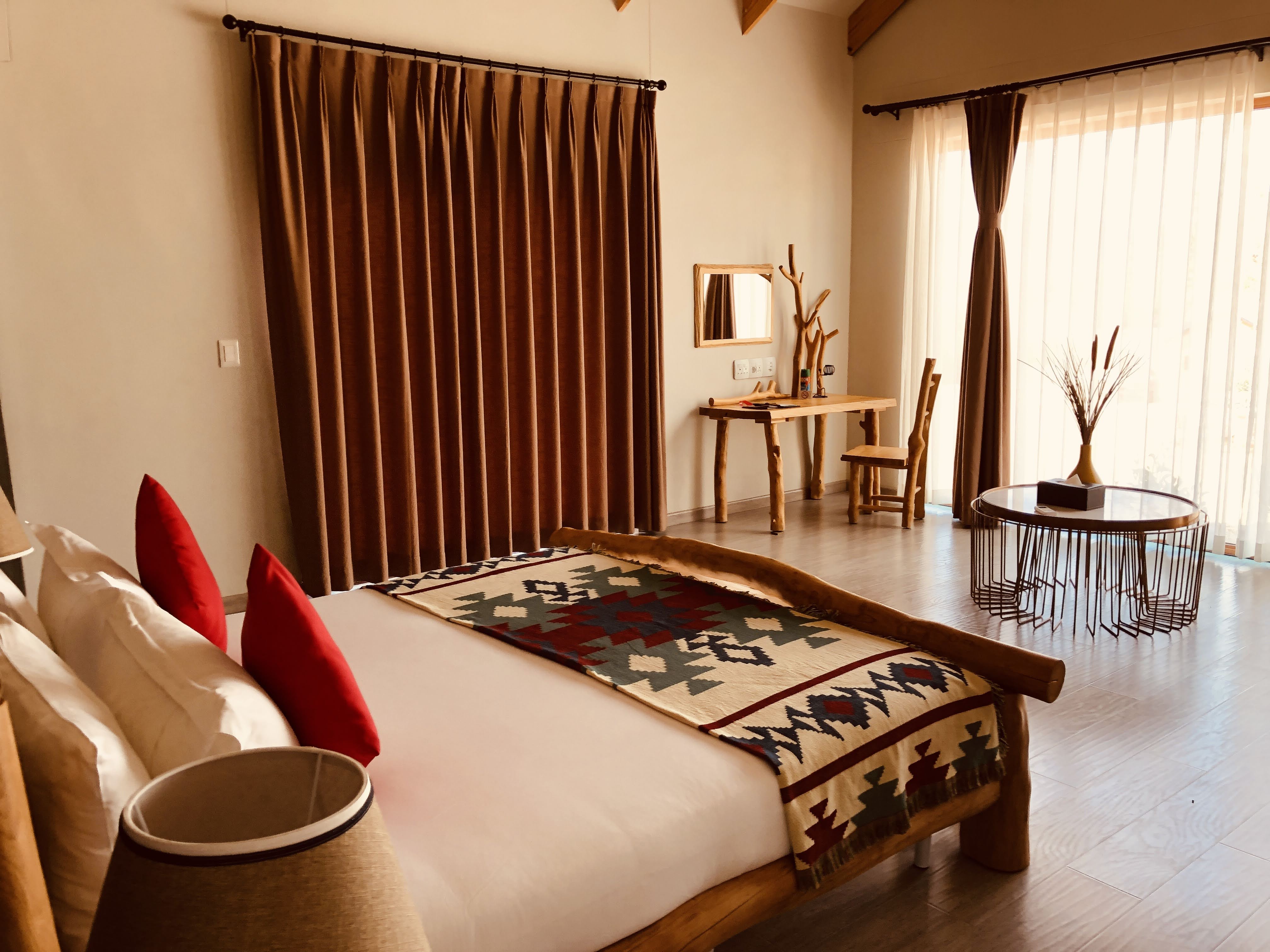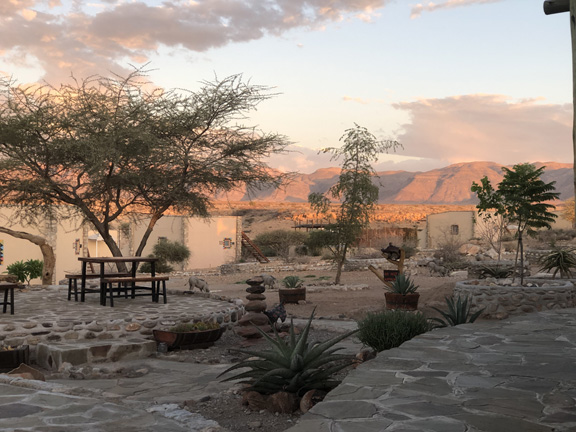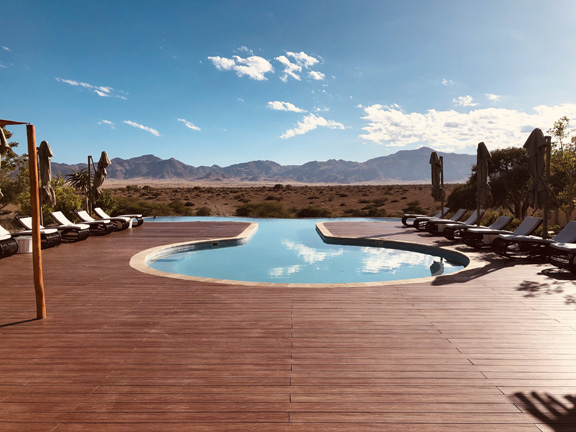 After Swakopmund we headed back to a warmer lodge near Sossusvlei, Agama Lodge. Agama was a new lodge for us which we were attracted to because of the bed-under-the-stars package. As the images to the right show this lodge is very nice but we were not impressed with its location just feet off the main dusty gravel road. Additionally the roof top bed location and quantity of night light were not exactly what we were looking for. We passed on the bed-under-the-stars package and enjoyed the bed in their lovely room shown in image to the right.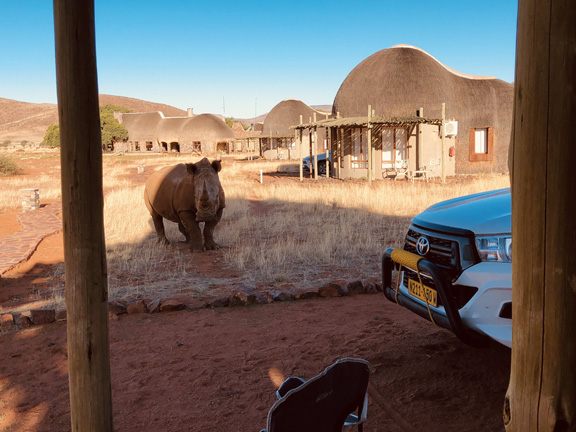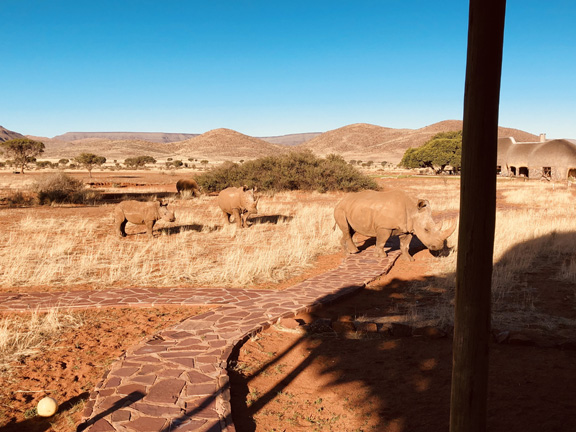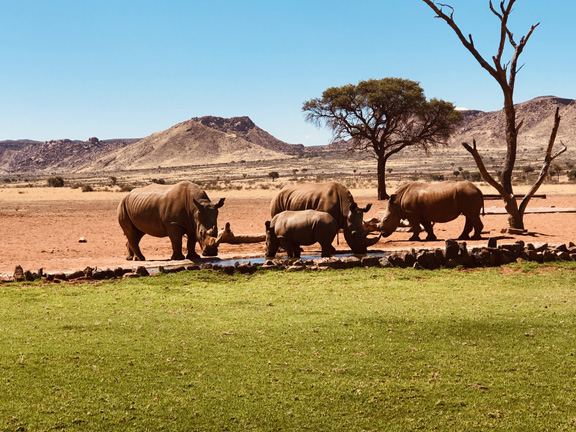 Our next lodge was a repeat from last year, the We Kebi Safari Lodge. In 2022 this lodge had construction in progress but we liked the room so much we wanted to returned. One very obvious difference is their rhinos were much more comfortable being near guests. Maybe a bit too comtfortable as my wife hid behind me when "Timmy" got a bit too close to our unit. The We Kebi food was very good and their deck/pool area was a very relaxing place to observe their rhinos.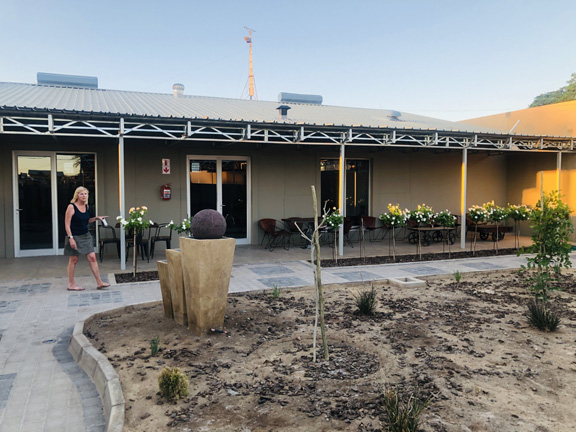 After We-Kebi it was time to head for the South African border and the town of Upington to do our provision shopping for our Kalahari days. It is possible to make Upington in a single day but we prefer a slower pace. We left We-Kebi after a nice breakfast and drove as far as Keetmanshoop where we stopped for the night at the Quiver Inn. This lodge had no food service and online reviews of local restaurants were not that good. We planned ahead and purchased two extra dinners while in Swakopmund. Our truck had a freezer so no problem keeping them.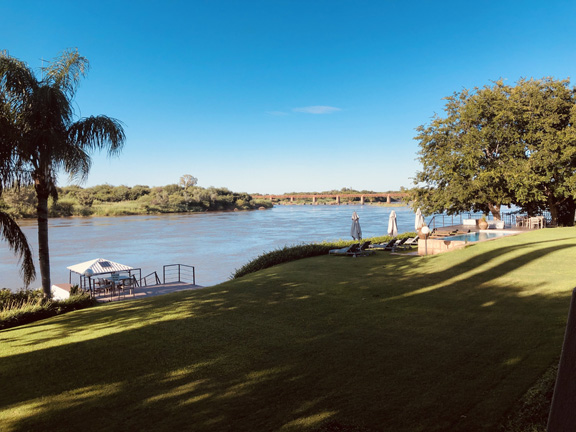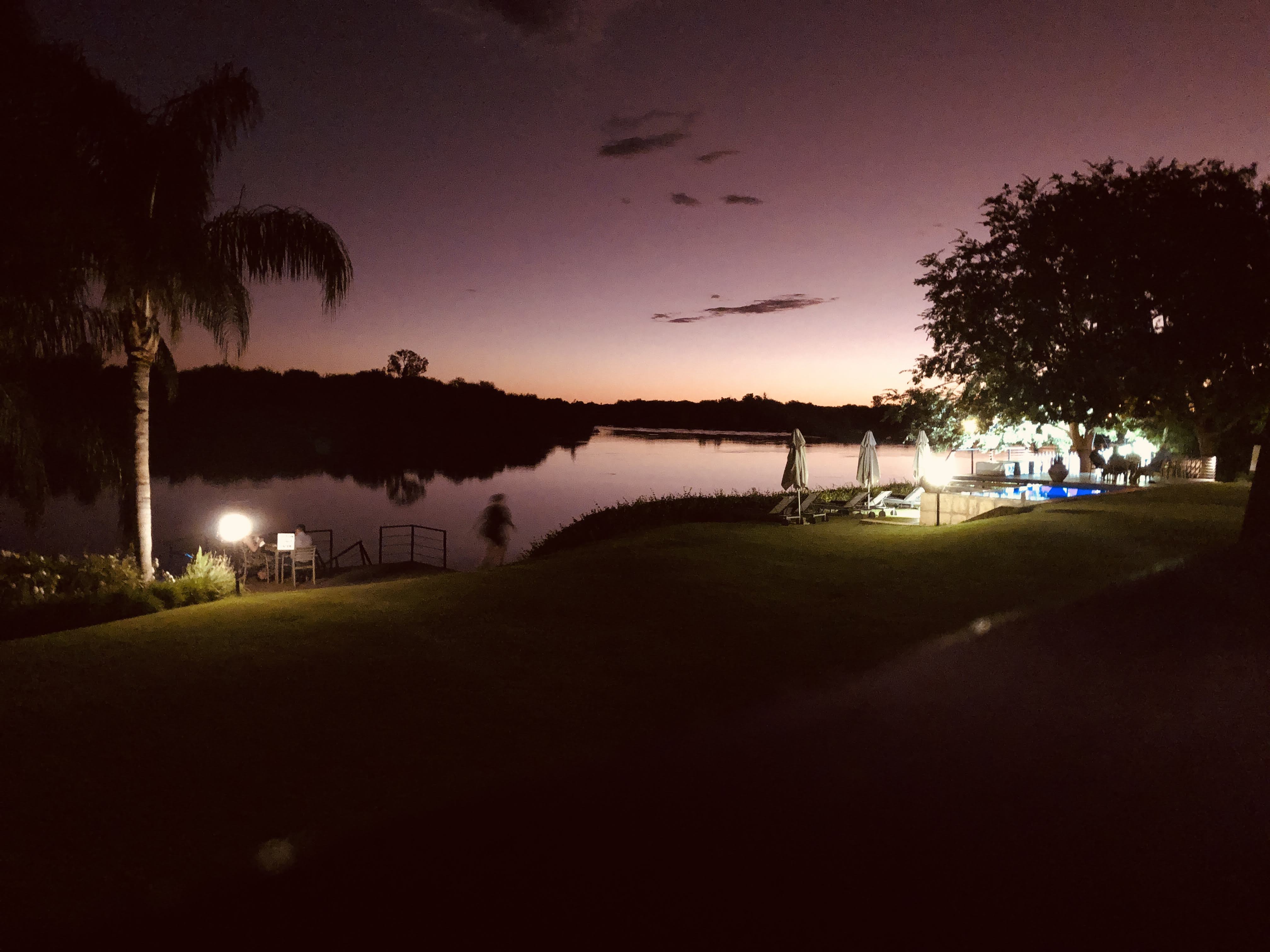 The next day we drove to the River Place Manor Lodge in Upington, South Africa, a long time favorite of ours. Our River Manor room was excellent with king-size bed, a/c, wifi, tv, frig, microwave, self-serve sherry and more. The images to the right are from our balcony. We stayed in Upington for 3 days during which time we slowly collect the provisions we would need for our 24 nights in the self-serve Kalahari park.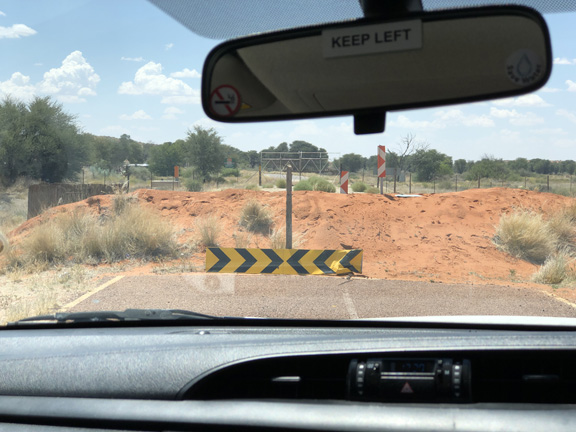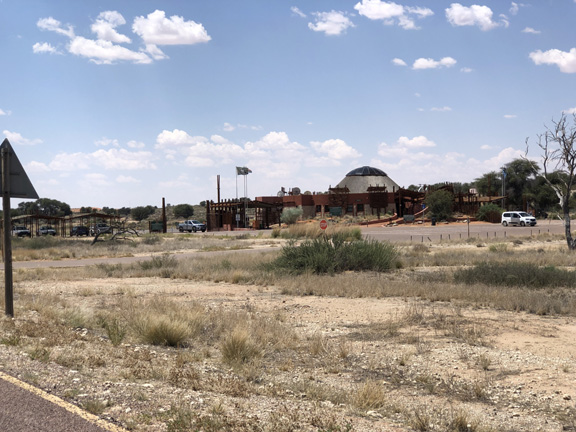 With our truck, cooler-box, and truck freezer full, we left Upington on a nice tar-road for the 2.5 hour drive to the Kgalagadi Transfrontier Park. Our nice tar-road ends at the park as the images to the right show. Check-in is done at the building shown before you are allowed into the park gate.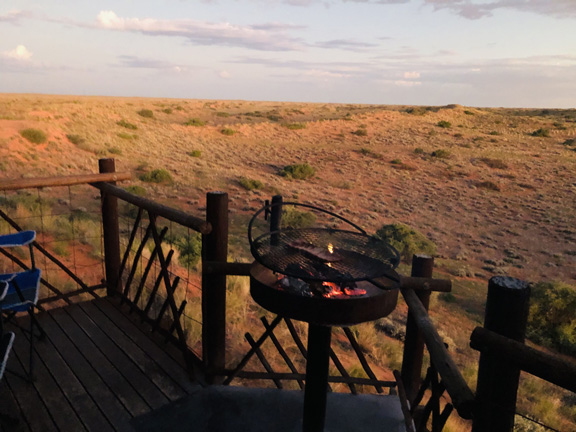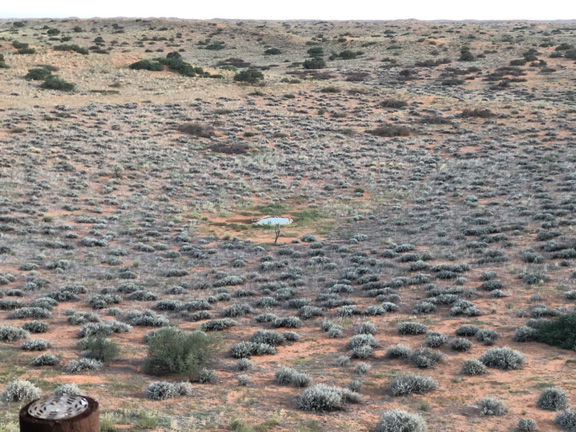 Once in the park we immediately drove to our favorite camp the Kieliekrankie Wilderness Camp. The images to the right reflect a typical evening of sitting on our deck, cooking our dinner, and watching the waterhole for activity. This never gets old!!!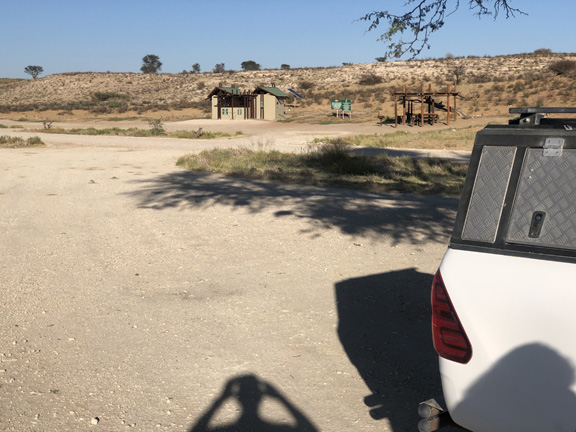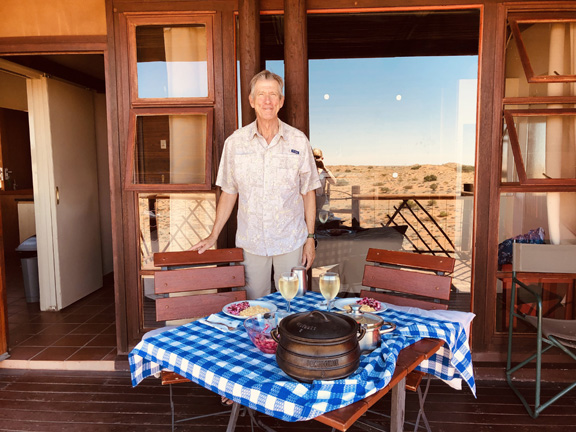 Our days in the park are much more than enjoying our evenings. The images to the right show a typical lunch when we want to celebrate a great morning sighting. The other image is of a park picnic area which is the only area you are allowed to get out of your vehicles. The picnic areas also have bathrooms. Many locals meet up with friends at these picnic areas to enjoy lunch or brunch and discuss animal sightings.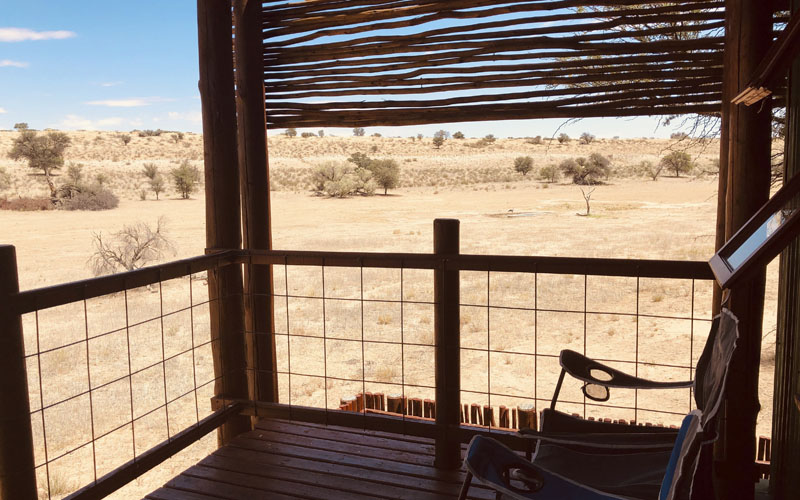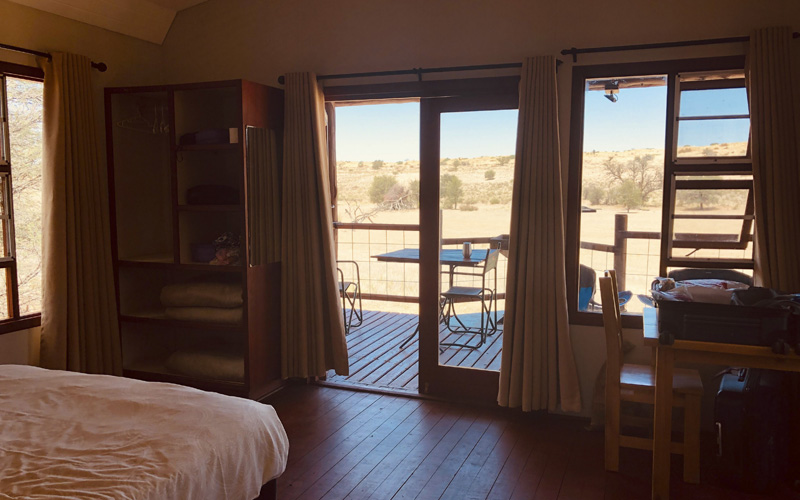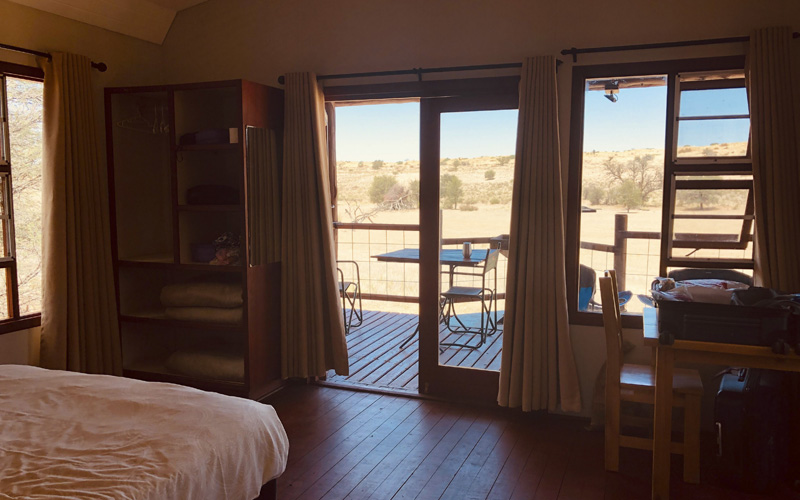 Another of our favorite park camps is Urikaruus Wilderness Camp. This year we were able to book the honeymoon suite which has a queen-size bed, is only one level and has a much bigger deck. This might be our new favorite camp!!!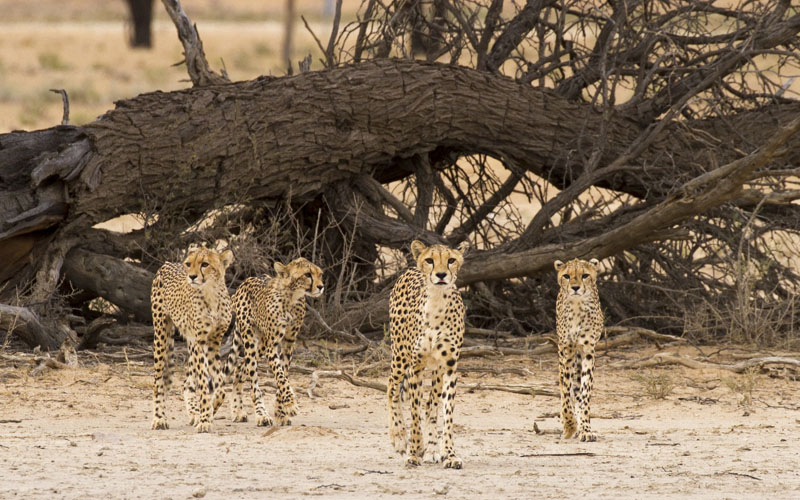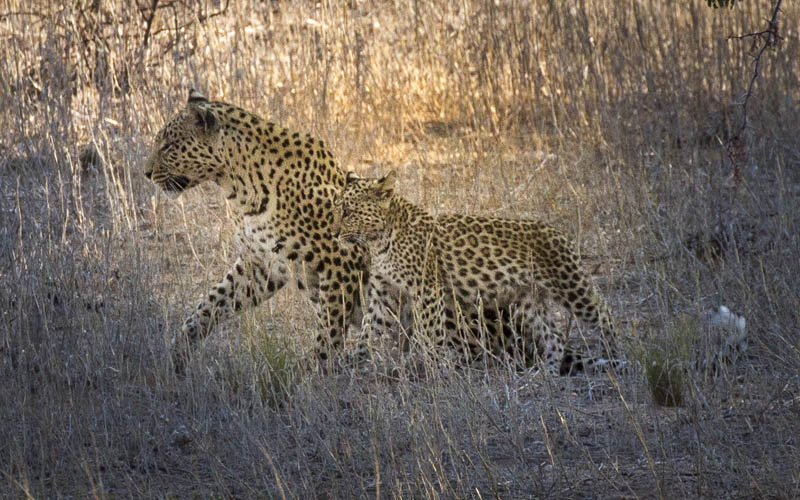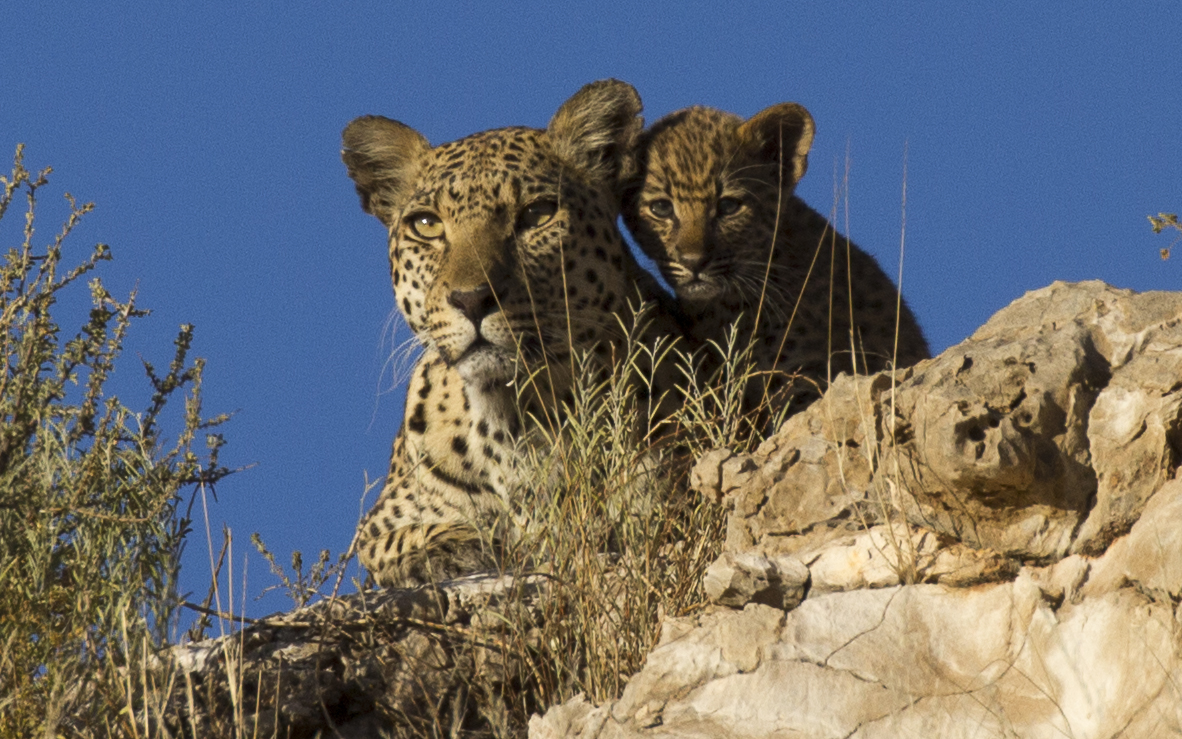 Our sighting during our 24 days in the park were less numerous than in prior years. The quality of some of our sightings were the best ever. Examples of our best ever sightings have been put into special sub-albums detailed below. The special sub-albums include:
Catrin - a cheetah mom and her three nearly full grown cubs (Gagnor, Watson, Donovan). During our time in the park we observed Catrin and family hunting a number of times. They were successful only during the first hunt we saw. During this hunt Catrin by herself distracted an entire herd of Springbok allowing her cubs to attack from the rear by surprise. The attack was pure chaos. None of the cubs were able to catch a Springbok but during the ensuing chaos Mom(Catrin) was successful.


Miera - Every year we look for leopard mom Miera. Normally she has one or two cubs. We were lucky enough to find Miera only briefly this year. The images with her and her cub were great.


Itumeleng - This year we had our first sighting of leopard mom Itumeleng. We heard she had a cub and was near the Rooibrak waterhole. Every time we drove by the waterhole we looked for her. We saw Mom once briefly one evening but our luck really changed on our last morning in the park. We arrived at the Rooibrak waterhole (about 6:45am) when they were just leaving. We were patient and Mom(Itumeleng) and cub did reappear from time to time up in the cliffs allowing us to get some great images.
Our total count of sighting for 2023 are:
49 lions
39 cheetah
6 leopard
3 brown hyeana
2 snakes
1 African Wild Cat
We made seven sub-albums from all our 2023 sightings. Those sub-albums are: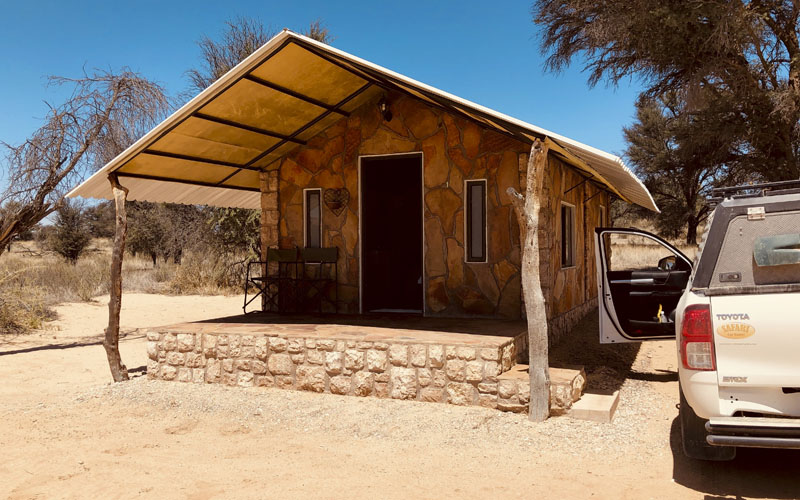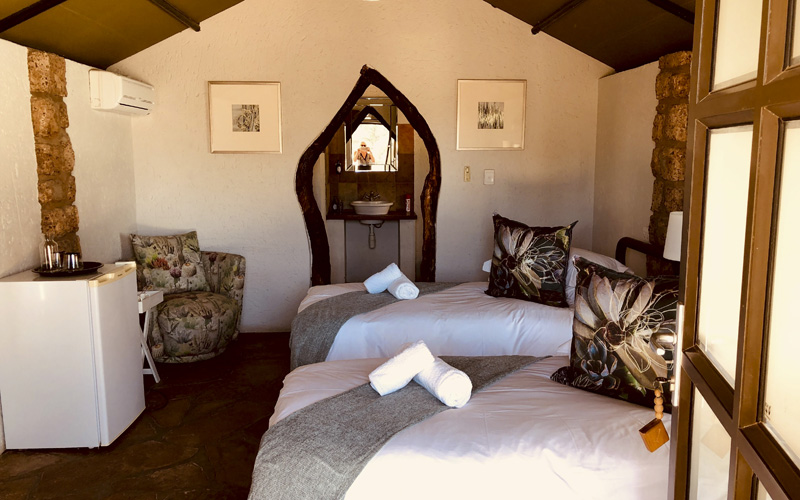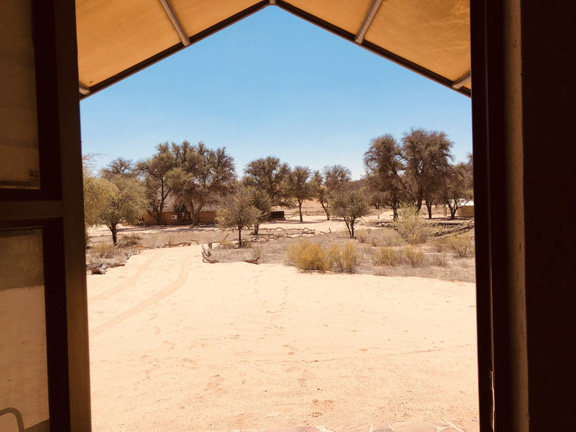 When our park days were over we exited through the Mata-Mata gate. This was the first time this gate into Namibia has been opened for us since 2020. We only drove about 5 km outside the gate to a new lodge for us, the Torgos Lodge. The rooms had a/c and the food was good.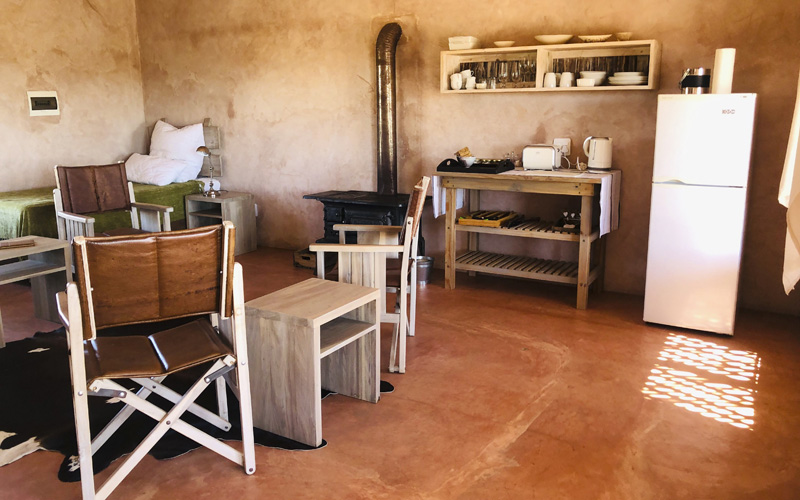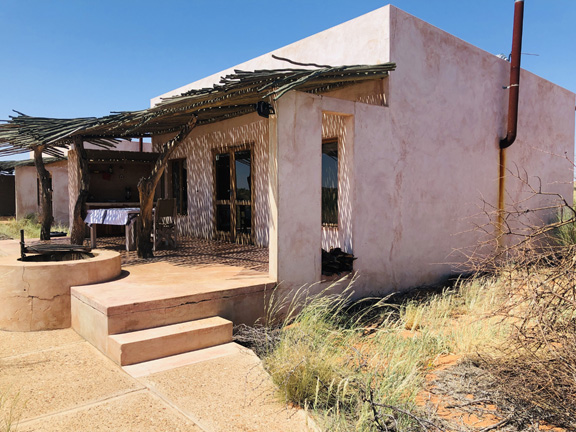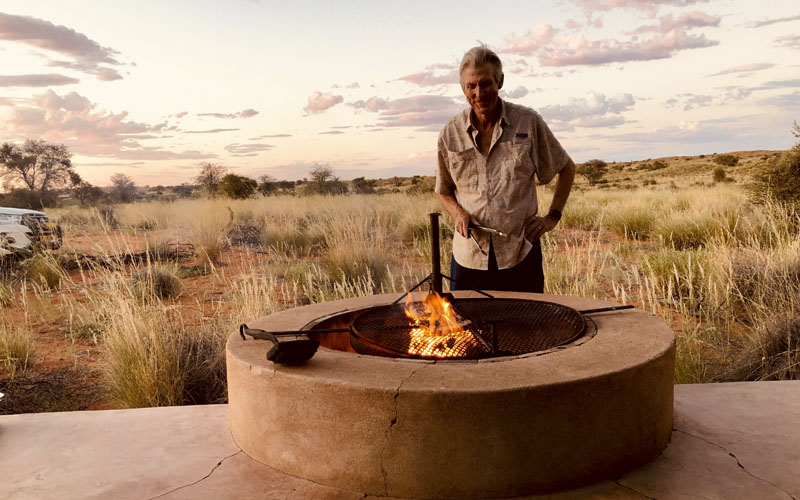 Dune Song Lodge was our next stop. It was three chatlets on a sheep/lamb farm out in the middle of red dunes. Even though it was self-cartering our hostess left a braii pack in the frig with mutten steaks and home-made sausage. Also in the frig was salad and dessert. A couple hours after we arrived she brought a loaf of home-made bread. Each unit can sleep 4 people, has a full frig and outside kitchen. No a/c but the fan was all we needed, definately a do-over!!!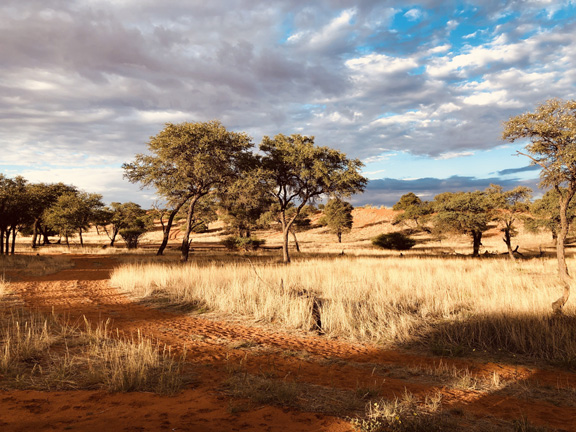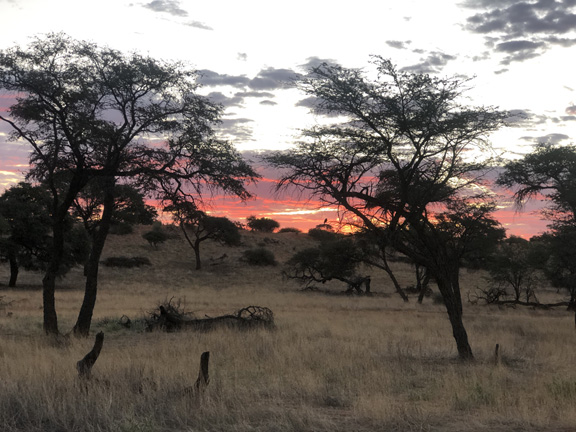 Our last lodge before heading back to Windhoek and the airport was Camelthorn Kalahari Lodge. The chalets are big with great a/c and a fully stocked frig. The images to the right are from the porch of our chalet. As can be seen in these images the lodge is surrounded in red sand dunes. The meals were very good as we remembered from a prior visit, another do-over.