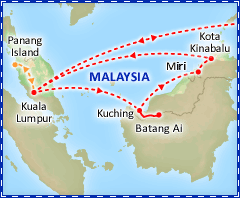 Day 1: Depart USA. Your fascinating journey begins tonight as you check in for your flight for Malaysia.
Day 2: En route. Cross the International Date Line and lose one day en route.
Day 3: Arrive Kuala Lumpur. Arrive in Kuala Lumpur, the capital city of Malaysia. After customs formalities, you'll be escorted to your luxury hotel to check in and rest from your flight. Accommodations: Prince Hotel & Residence.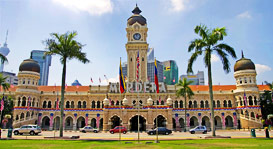 Day 4: Kuala Lumpur. A city of contrasts, Kuala Lumpur blends modern skyscrapers with impressive historic buildings to create a unique cityscape. Today, enjoy a panoramic city tour including visits to the King's Palace, the National Museum, the National Monument, the Moorish-style railway station, and the superb buildings at the Independence Square, where you can observe the contrast between historical architecture and modern skyscrapers in an abundant setting of greenery. Conclude the tour at a local handicraft center and a photo stop at the magnificent Petronas Twin Towers, the world's tallest buildings until 2004. Spend the rest of the afternoon at leisure, or join an optional half-day tour of Kuala Lumpur's countryside.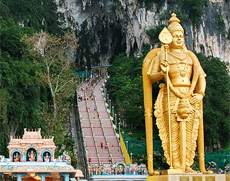 Optional Excursion: The area surrounding Kuala Lumpur abounds with cottage industries and nature reserves. See how beautiful pewter products are manufactured at the world famous Royal Selangor factory. Then stop by a batik factory and observe how this traditional fabric is designed and printed. The excursion concludes at the Batu Caves, the famous site of the annual Thaipusam festival in January and February, where almost a million devotees congregate. You'll pass a 140ft statue of the Hindu god Lord Murugan, the world's largest, as you climb the 272-steps to the top of a natural limestone cavern which houses a Hindu shrine.
Tonight, proceed to a local restaurant for a typical Malay buffet dinner and a vibrant cultural performance. Breakfast & dinner provided.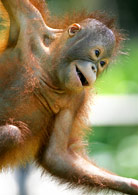 Day 5: Kuala Lumpur & Kuching. Today, transfer to the airport for your flight to Kuching, the gateway to the legendary island of Borneo. Upon arrival, you'll be escorted to your river-front luxury hotel to check in and rest from your flight. Tonight, enjoy a welcome dinner with your travel companions at the hotel's award-winning restaurant. Accommodations: Hilton Kuching or similar. Breakfast & dinner provided.
Day 6: Kuching. Today's half day of touring begins with a short scenic drive to the Semenggok Orangutan Rehabilitation Center. Established in 1975, this 1800-acre virgin forest provides sanctuary to some of Malaysia's most protected wildlife. At the center, the orangutans are carefully nurtured and rehabilitated for eventual release into the jungle, their natural habitat. You will have the opportunity to learn about the rehabilitation process and to observe and photograph the orangutans from a distance. (Note: As the orangutans in Semengok are semi-wild, sightings cannot be guaranteed.)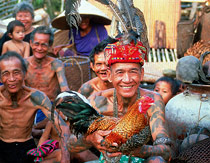 Later, return to Kuching to discover the romance and charm of the city built during the White Rajah era. Your panoramic city tour includes, among other sites, the Kuching's Chinatown, Cat statue, the colorful Tua Pek Kong Chinese Temple, the Civic Centre Viewing Platform, where you can take in the best panoramic views of Kuching. Visit the world famous Sarawak State Museum established in 1888 and acknowledged as one of the finest archeological and cultural museums in Southeast Asia. Return via the golden-domed City Mosque and through Old Kuching, crammed with spice dealers and textile shops. Pass by the heritage buildings of the White Rajah era, the Pavilion, the Square Tower, the Court House, the Charles Brooke Monument and the Post Office. View the Astana, the former residence of the White Rajahs from across the river at the Kuching Waterfront. After lunch, return to the hotel for the balance of the day at leisure.
Tonight, join your travel companions for dinner at a local restaurant renowned for its variety of seafood specialties. Breakfast, lunch & dinner provided.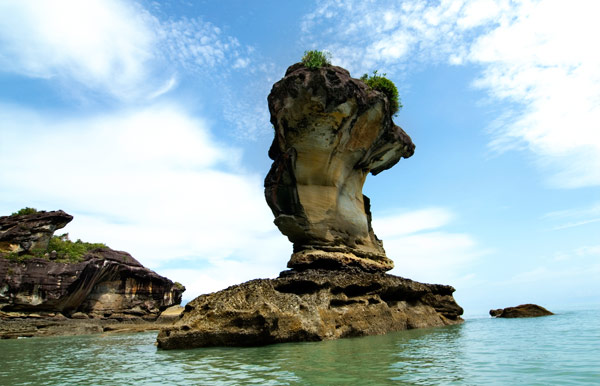 Day 7: Kuching. Enjoy a full day at leisure to explore Kuching your own, or take advantage of an exciting optional excursion to Bako National Park, one of the best places in Sarawak to see wildlife in its natural surroundings.
Optional Excursion: After arrival at Bako, a Malay fishing village built on stilts over the river, enjoy a 30-minute cruise on the South China Sea to reach this remote coastal park. Millions of years of erosion have sculpted a coastline of steep cliffs, rocky headlands, fantastically shaped arches and seastacks, and stretches of beautiful white, sandy beaches.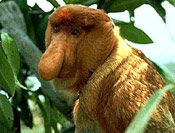 The park is a unique botanical treasure housing 25 distinct types of vegetation that form seven complete ecosystems. Your local guide will help you to explore these ecosystems on the well-marked jungle trails. Keep an eye out for some of the park's most famous residents: the rare, long-nosed Proboscis monkeys, macaque monkeys, silver leaf monkeys, sambar deer, Borneo bearded pigs, mousedeer, otter, and monitor lizards. After lunch, trek through the lush forest for more bird watching and wildlife viewing. Wildlife sightings and swimming are not guaranteed. Tour is subject to tide and weather conditions. Breakfast provided.
Day 8: Kuching & Batang Ai. This morning, depart Kuching for Batang Ai Jetty, passing through the scenic countryside consisting of quaint little towns, villages, paddy fields, pepper and oil palm plantations. En route, stop for lunch at Lachau, a small town on the way to Batang Ai. Sit back and enjoy the rest of the drive through the scenic countryside of rice fields, cocoa and rubber plantations, luxuriant tropical rainforest, wild orchids, and mountain ranges. Upon arrival at Hydro Lake, travel by shuttle ferry to your lakeside resort situated on the southern bank. Check in and relax before dinner at the resort's restaurant. Accommodations: Hilton Batang Ai Longhouse Resort. Breakfast, lunch & dinner provided.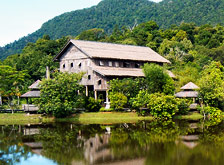 Day 9: Batang Ai & Longhouse Excursion. A special treat awaits you today as you sail by longboat across the lake down the Engkari River to an authentic Iban longhouse, an entire village under one roof. Experience the legendary hospitality and charm of the locals as you learn about their fascinating culture. Enjoy a short cultural performance with traditional dance and music, followed by a blowgun demonstration. Enjoy lunch in the longhouse or a picnic lunch by the riverbank, depending on water conditions. Return to Batang Ai later this afternoon. Breakfast, lunch & dinner provided.
Day 10: Batang Ai & Kuching. Depart for Kuching via the same route as your arrival. Stop for lunch at a charming roadside town before continuing your journey to Kuching. Enjoy the remainder of the day to explore fascinating Kuching at your leisure. Your hotel is ideally located for independent exploration. Wander through the narrow bustling streets lined with shops and observe local craftsmen at work. Accommodations: Hilton Kuching. Breakfast & lunch provided.
Day 11: Kuching & Miri. Depart to Kuching Airport for your flight to Miri. Upon arrival, transfer to your hotel. The balance of the day is yours at leisure to enjoy the resort's amenities, or join an optional city tour to discover the history and culture of Miri, the largest town in Sarawak.
Optional Excursion: Set off for Canada Hill overlooking the city of Miri. The local guide will explain the historical development of the city, which grew rapidly from a small village in the 1800s to very cosmopolitan and modern city. Visit the biggest Taoist Temple in S.E. Asia, the Heritage Centre for handicrafts shopping, and Tamu Muhibbah, a local market selling jungle produce and products. Conclude your tour with a visit to Old Chinatown. Accommodations: Miri Marriot Resort & Spa. Breakfast provided.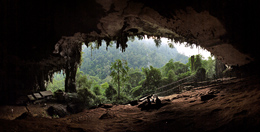 Day 12: Miri. Today, set out on a scenic drive to Niah National Park passing by oil palm plantations and Iban longhouses. Upon arrival at the national park headquarters, cross the Niah River to visit the Sarawak Archaeology Museum which houses artifacts from the nearby caves, dating back over 40,000 years.
Next, walk along a wood plank path through the lush dipterocarp forest to the entrance of the Niah Caves. These caves were once home to some of the first human inhabitants in South-East Asia. They are also home the swiftlet, a small bird that builds its nest almost entirely from fibers in its own saliva. Their nests are harvested from the cave walls and used as the main ingredient in the famous Chinese delicacy, bird's nest soup. Here you will explore Trader's Cave, Great Cave and the Large Chamber. Enjoy a boxed lunch before returning to Miri this afternoon. Breakfast & lunch provided.
Day 13: Miri & Kota Kinabalu. Today, enjoy some leisure time at the resort, or join an optional morning excursion to the beautiful Lambir Hills National Park.
Optional Excursion: This morning set off for Lambir Hills National Park, one of the world's most complex and diverse forest ecosystems. Take a short trek to the tree tower. Then proceed to a nearby waterfall for a swim. Return to Miri after tour.
This afternoon, transfer to the airport for your flight to Kota Kinabalu, one of the most beautiful and relaxed cities in the world. You'll find sandy white beaches everywhere, and a water-temperature that is always pleasing. After check-in at your hotel, enjoy leisure time to explore your new surroundings. Accommodations: Pacific Sutera Harbor. Breakfast provided.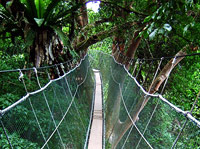 Day 14: Kota Kinabalu. Today is yours to explore Kota Kinabalu or, take advantage of an optional tour to Kinabalu Park and the Poring Hot Springs.
Optional Excursion: This excursion brings you across the mountainous Crocker Range with a panoramic view of the countryside and soaring hills. En route to Kinabalu Park, you can catch the magnificent sight of Mount Kinabalu, one of the highest peaks in Southeast Asia at 13,435 ft. The Park is a World Heritage Site with incredible amount of bio-diversity. Upon arrival, enjoy a guided nature trek along one of the many trails in the park before proceeding to Poring Hot Springs which offer visitors the opportunity for an invigorating dip into its hot sulfur springs. For a closer look at nature, take a canopy walk 100-200ft above the forest floor.
Tonight, enjoy dinner at a local restaurant. Breakfast & dinner provided.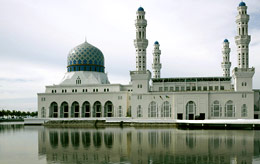 Day 15: Kota Kinabalu & Kuala Lumpur. Enjoy a morning city tour that takes you to the Tun Mustapha Tower, the State Mosque, and the Sabah Museum where you will learn historical and cultural aspects of the indigenous people. After lunch at a local restaurant, take the short flight back to Kuala Lumpur. Upon arrival, you will be met at the airport and escorted to your hotel, where you'll have the evening at leisure to rest and relax. Accommodations: Grand Millenium. Breakfast & lunch provided.
Day 16: Kuala Lumpur/USA. Today, transfer to the airport for your return flight to the US. Or, take advantage of your already included international airfare and join our Penang Island Extension (see below). Breakfast provided.
Penang Island Extension(yes, we are doing this)
Extend your Borneo Adventure by adding Penang Island, a tropical paradise off the western coast of Malaysia, famous for its sandy beaches and luxuriant vegetation. Extension includes airfare, 3 nights at the deluxe beach-front Grand Plaza Parkroyal Penang (or similar), buffet breakfast daily, a half day guided sightseeing tour and all transfers. Extension begins on the evening of Day 16 and returns to the USA on Day 19.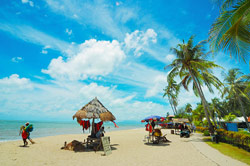 Day 16: Kuala Lumpur/Penang Island. Depart Kuala Lumpur for beautiful Penang Island. Transfer to your deluxe beachfront hotel and enjoy the remainder of the day at leisure. Accommodations: Grand Plaza Parkroyal Penang or similar. Breakfast provided.
Day 17: Penang Island. This morning, set out on a half day tour of Georgetown, the largest city on Penang Island. With its narrow streets and prewar shop houses, the town still maintains its colonial charm, while its diverse Chinese, Indian, and Malay population gives the island unique local flavor. Your tour will bring you to some of the city's most important sites: Fort Cornwallis, Street of Harmony, Little India, and Chinatown. Breakfast provided.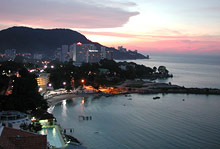 Day 18: Penang Island. Enjoy a full day at leisure to rest and unwind from your busy vacation. Your resort hotel is nestled amidst tropical gardens with swaying palms. Enjoy beautiful pool or ocean swimming, a first-class spa, and other facilities. Breakfast provided.
Day 19: Penang/USA. After breakfast this morning, bid farewell to Penang Island as you transfer to the airport for your return flight to the USA. Breakfast provided.