2019 Oregon Road Trip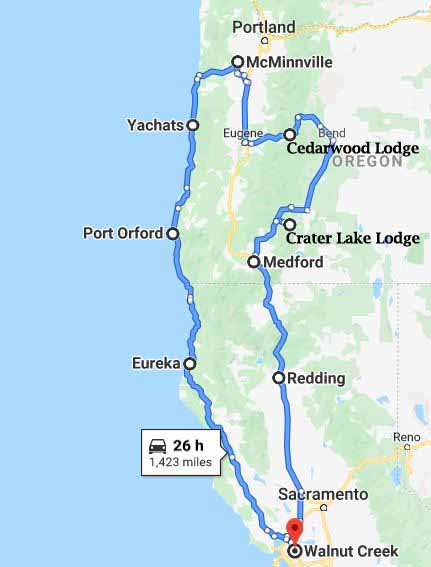 The map to the right is the route used for this 2+ week road trip. The following day by day trip narrative follows the blue line on this map. Many of the images below are also links to a related photo album. When you hover over an image if your mouse pointer changes to a hand then the image is click-able to see a related photo album.
Day #1=>We hit the road about 8am and headed immediately for US-101.  We stopped in Willits at Looses Caboose to pick up lunch to go.  Their sandwiches were highly rated on trip advisor.  We then continued north past Garberville to exit 645, the southern entrance to the "Avenue of the Giants", also known as CA-254.  We have travelled past the "Avenue of the Giants" for decades and never took the scenic drive, it was amazing, highly recommended.  This 31 miles of redwoods is incredible, one of a kind. There are many little roads you can take along CA-254 to get off hike or in our case have lunch.  These images are from our lunch stop.  We got back on US-101 at exit 674 (the northern entrance to the "Avenue of the Giants") and proceeded to Eureka where we stayed with family for the night.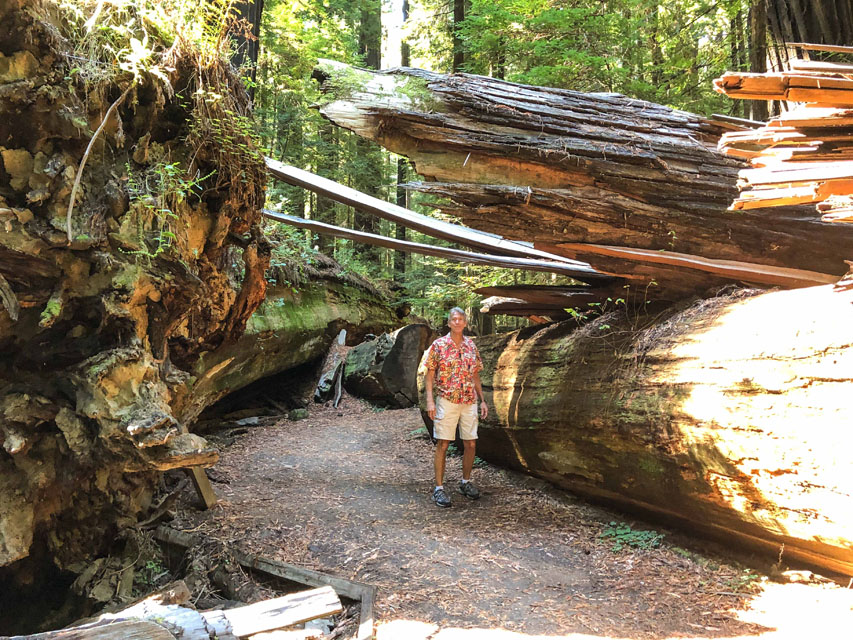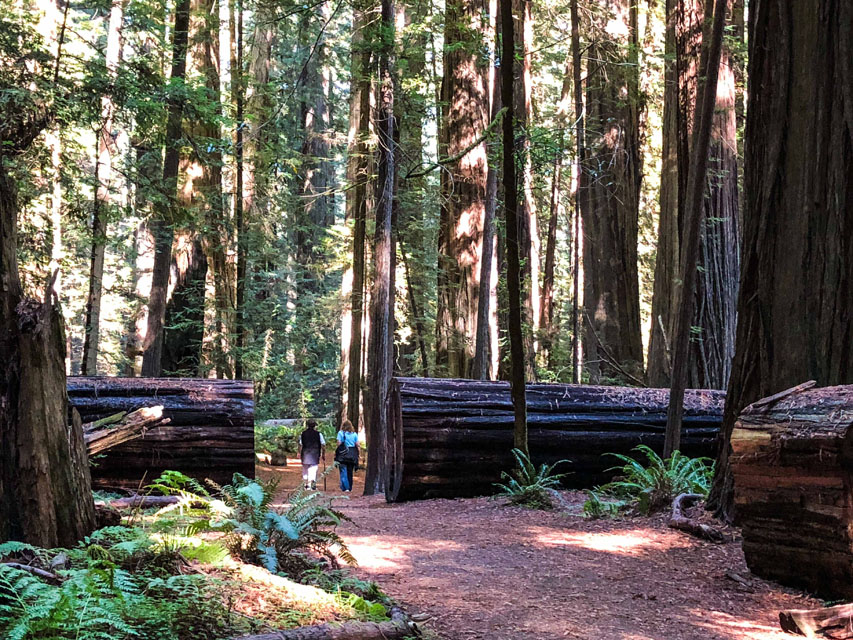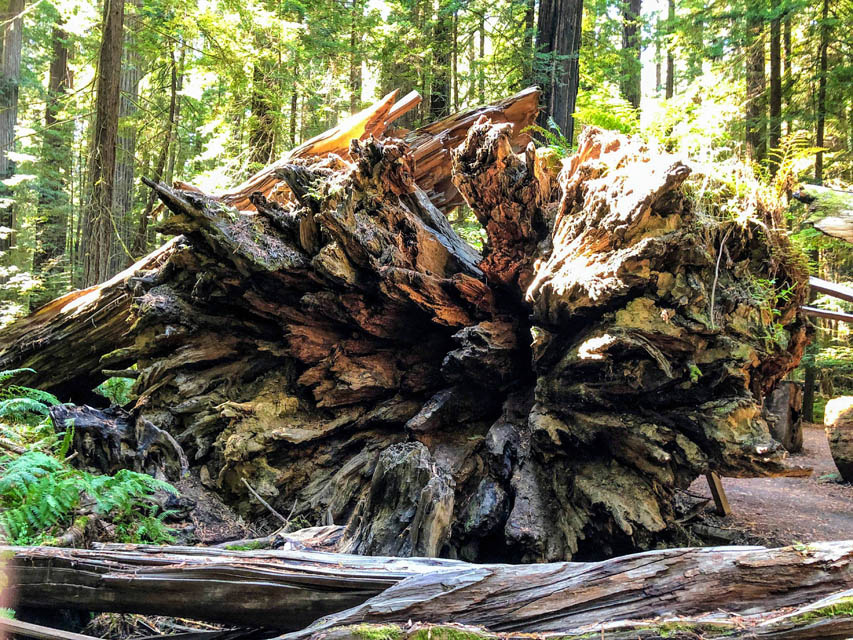 Day #2=>Even though it was still September this was a rainy day in Eureka.  But that did not keep us from revisiting many familiar and new sights of Eureka, Arcata and the surrounding area.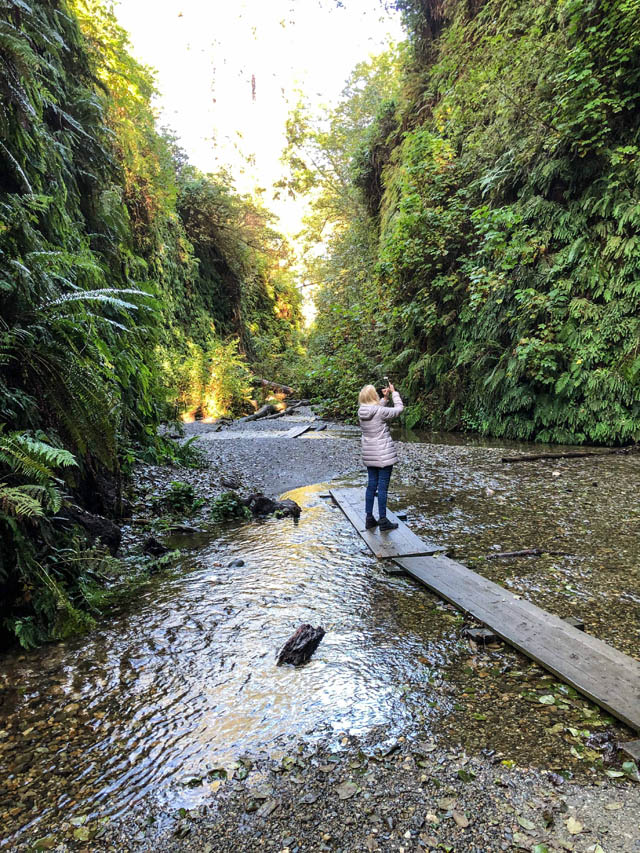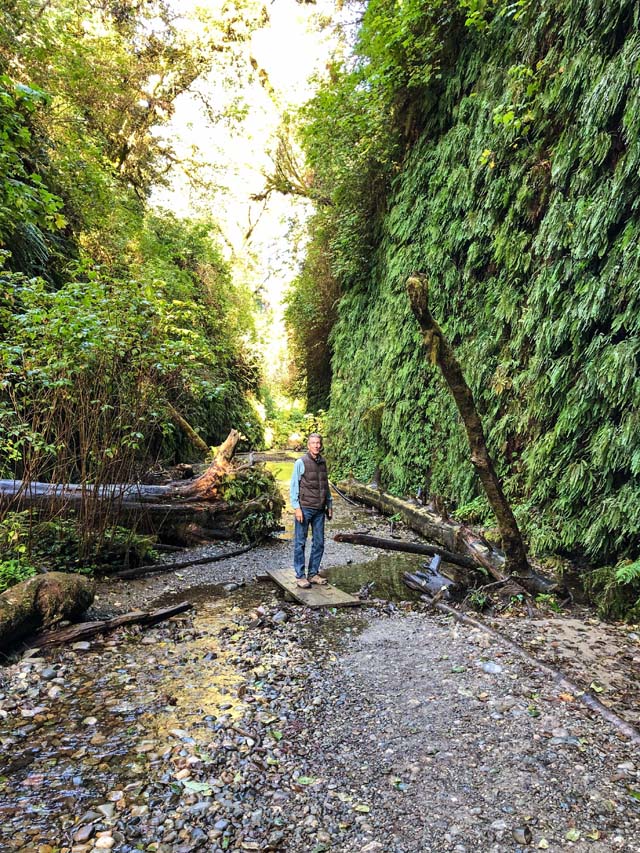 Day #3=>

We left Eureka about 8am so we would have time to make some stops and still get to our destination of Port Orford, Oregon.  Along the way we visited fern canyon at Orick and got these images.  The same fern canyon that was used in the filming of one of the Star Wars movies.  We also drove through Jedediah Smith State Park to see more tall redwoods and Stout Grove later to stretch of legs and get these images.  We finally made it to Oregon by midday and had lunch in Brookings.  US-101 in Oregon does not have as much ocean viewing as CA-1 in California. But there are a number of Cape Sebastian vista points and at one of those vista points we captured these images.  We finally arrived at Port Orford and Castaway by the Sea(our lodge).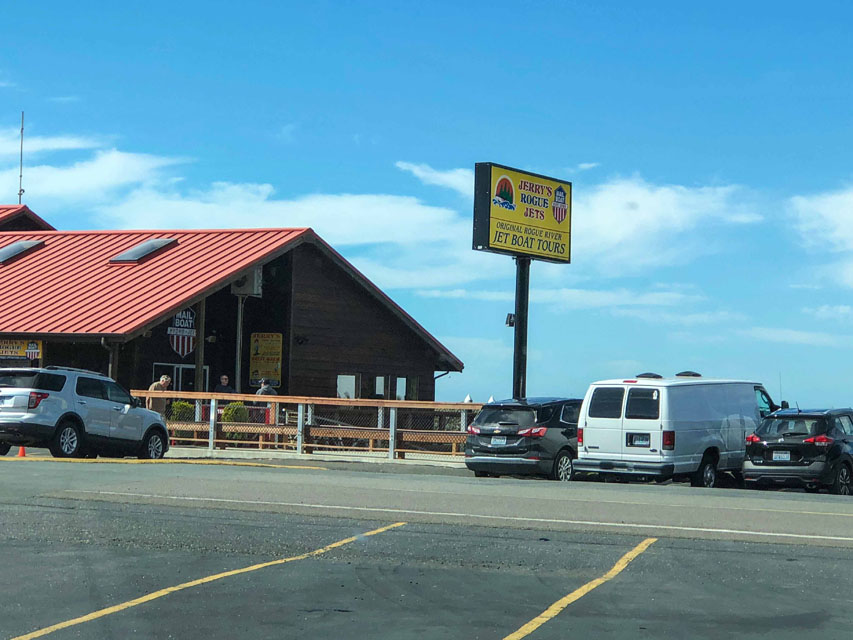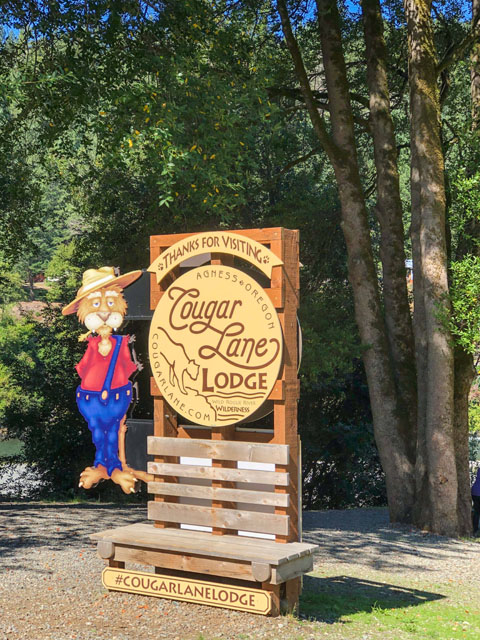 Day #4=>

This was an early day as we had jet boat reservations for 8:30am, in a town 20 miles away.  Our reservation was with Jerry's Rogue Jets. This was definitely a highlight.  There was probably about 40 of us in the jet boat and we were early enough to get the front seat.  The jet boat left Gold Beach at 9am and proceeded up the Rogue River.  There were many places where the water was only inches deep but the jet boat only needed 5", what a ride.  At midday we arrived at Cougar Lane Lodge where we had a great lunch and stretched our legs before the return trip.  This is a must do!!!!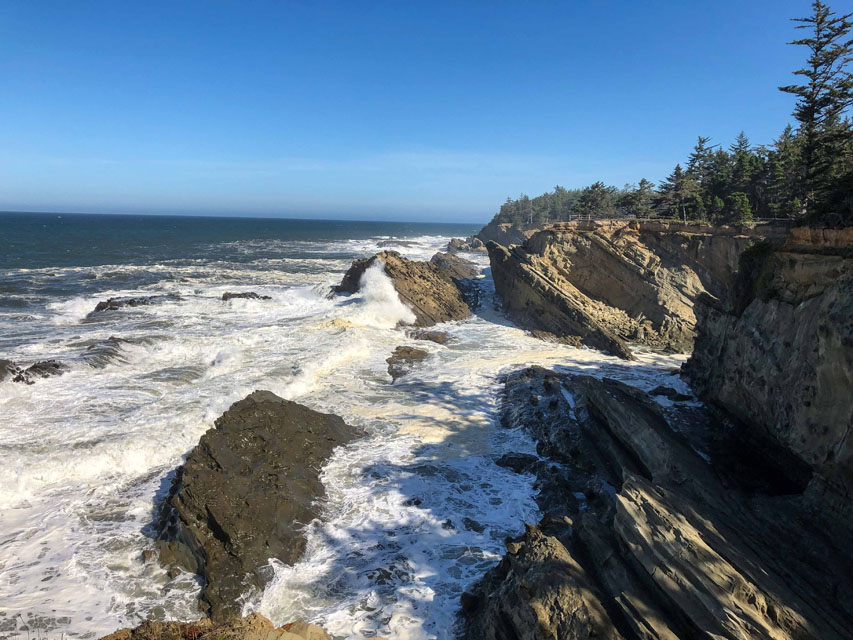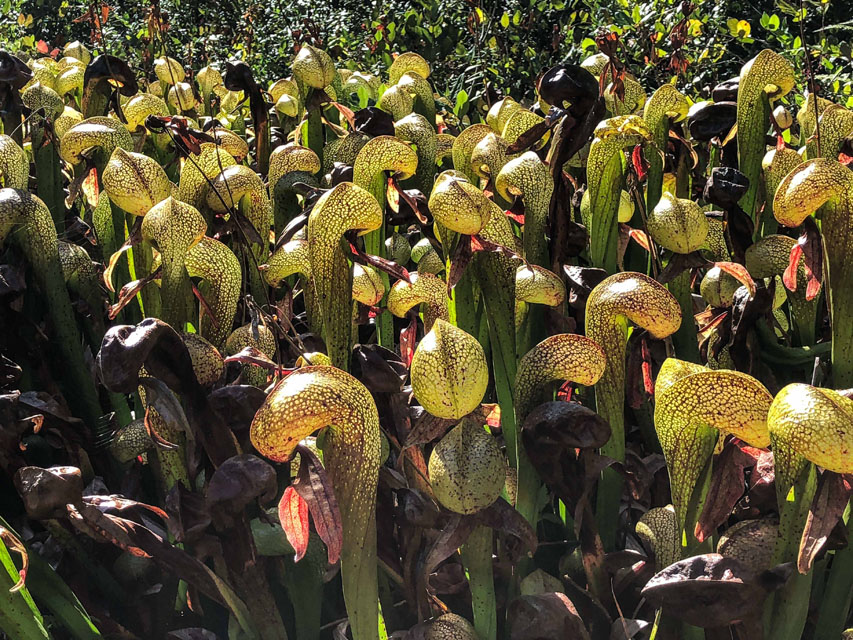 Day #5=>

This was a travel and sightseeing day.  We continued further north on US-101 as our next lodge was in Yachats Oregon.  We stopped in Coos Bay at Sharkbites for lunch, a local hot spot.  We stopped at Shore Acres State Park and visited the Simpson's private estate with its gardens and stunning view of the Pacific.  Later that same day, a highlight for me was a stop at Darlingtonia State Natural Site with Cobra Plants in their natural habitat and where we got these images.  By late afternoon we finally arrive at the FireSide, our lodge for the next 2 nights.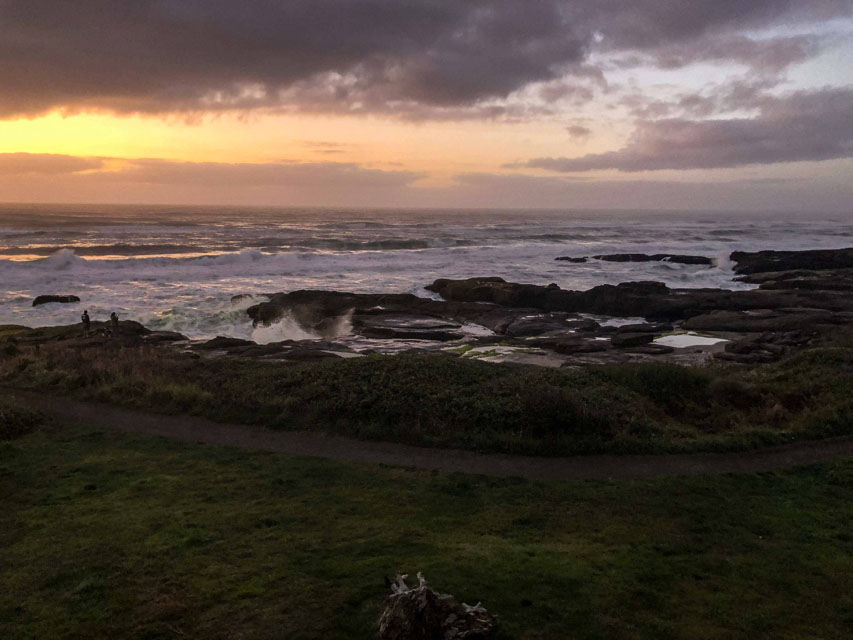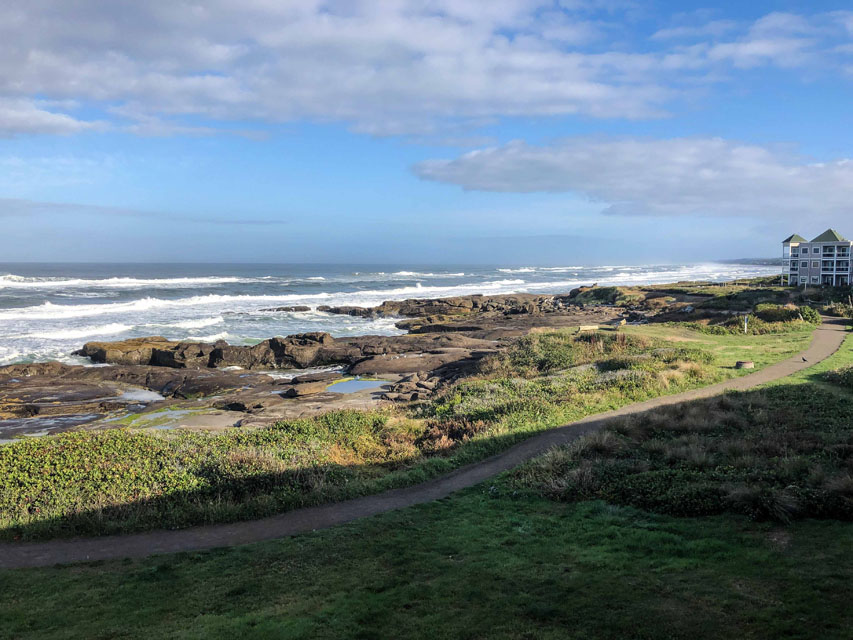 Day #6=>

We had no plans on this day and did a lot of nothing.  Call it a catch your breathe day!!! But also as you can see from these images we had a GREAT view.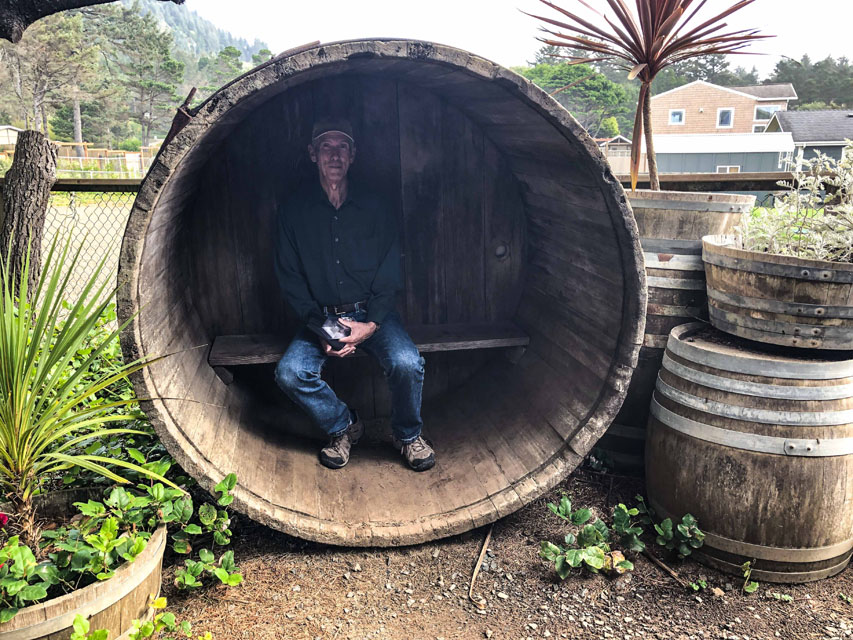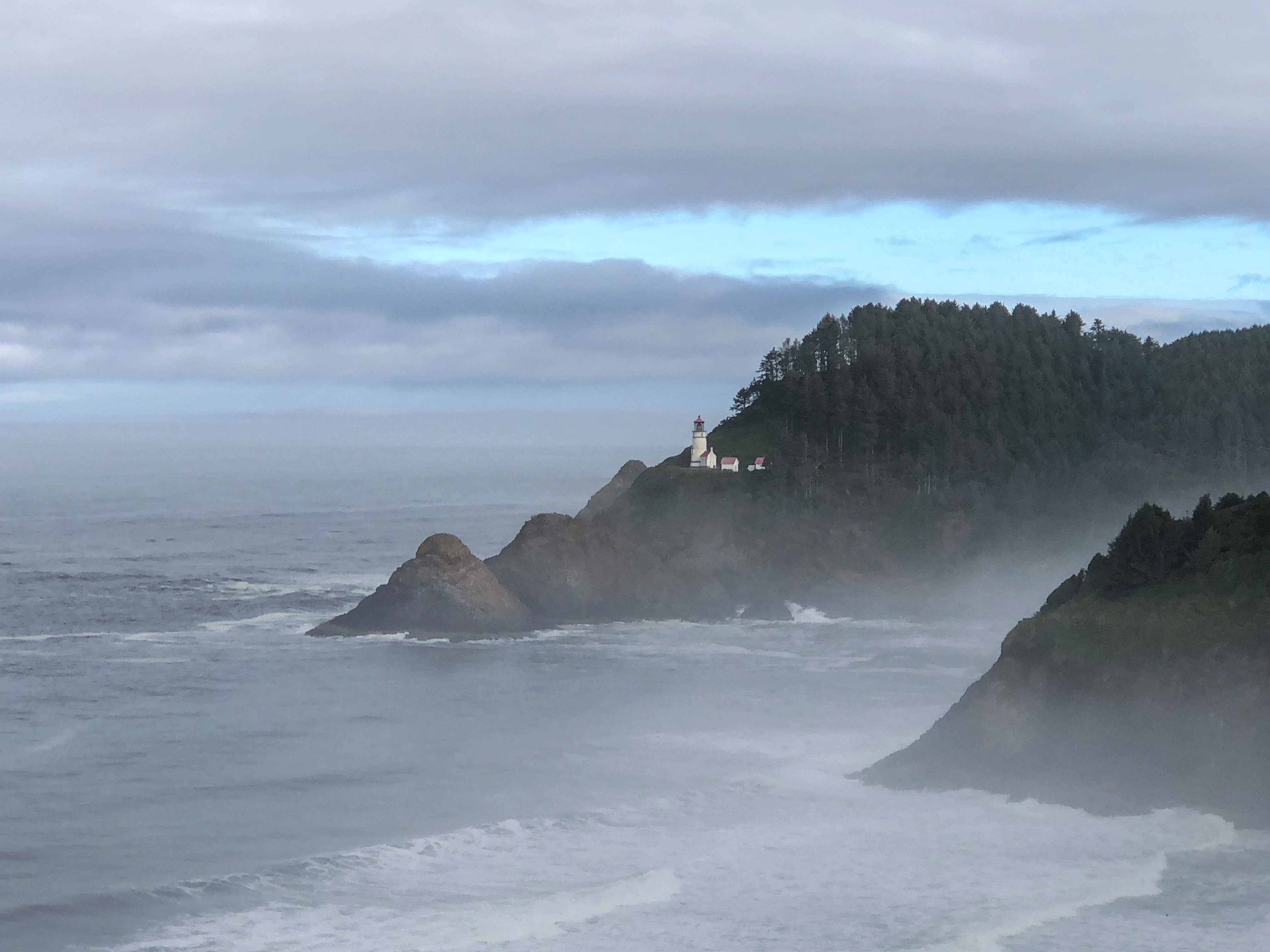 Day #7=>

This was another travel day, our destination McMinnville.  McMinnville is much bigger than Yachats and not on the coast.  So our travels today took us east away from the coast and to more of a farming area.  Before leaving the Oregon coast we did stop at a fun wine shop and capture more great Pacific Ocean views. At Cape Fowlweather we saw whales feeding off the cape.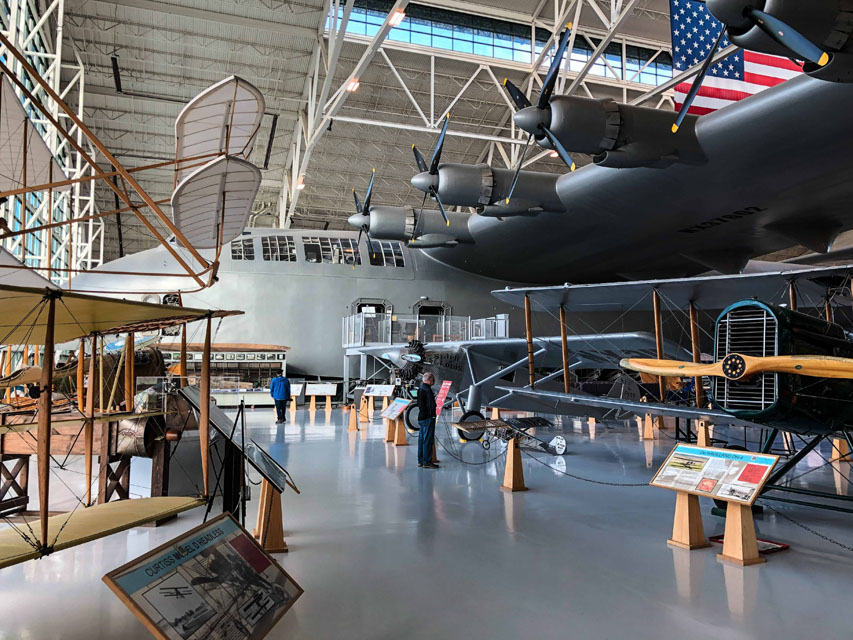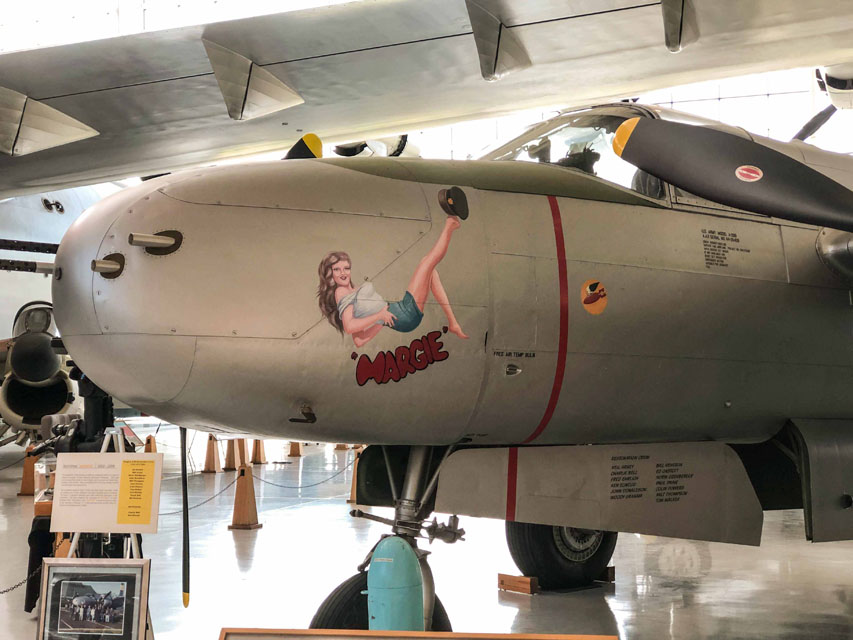 Day #8=>

McMinnville is home to the Evergreen Aviation & Space Museum which was our first stop before our 1pm reservation at a winery.  This air and space museum was GREAT as our images clearly show, a must see.  By midday we had to catch lunch as we had already paid for a sparkling wine class that included doing a champagne disgorgement.  The winery was Argyle Winery in Dundee, a few miles east of McMinnville.  The winery and sparkling tour, demo, and tasting was fabulous.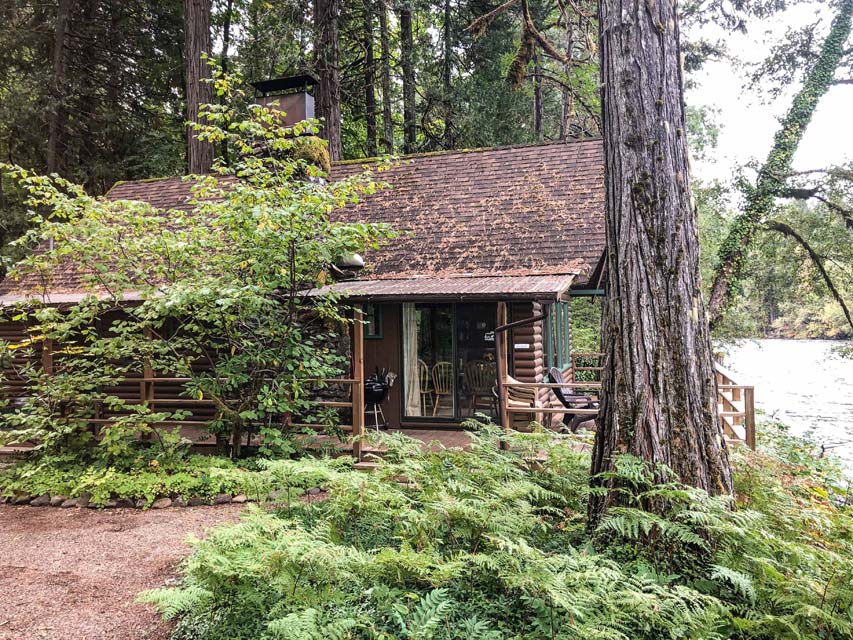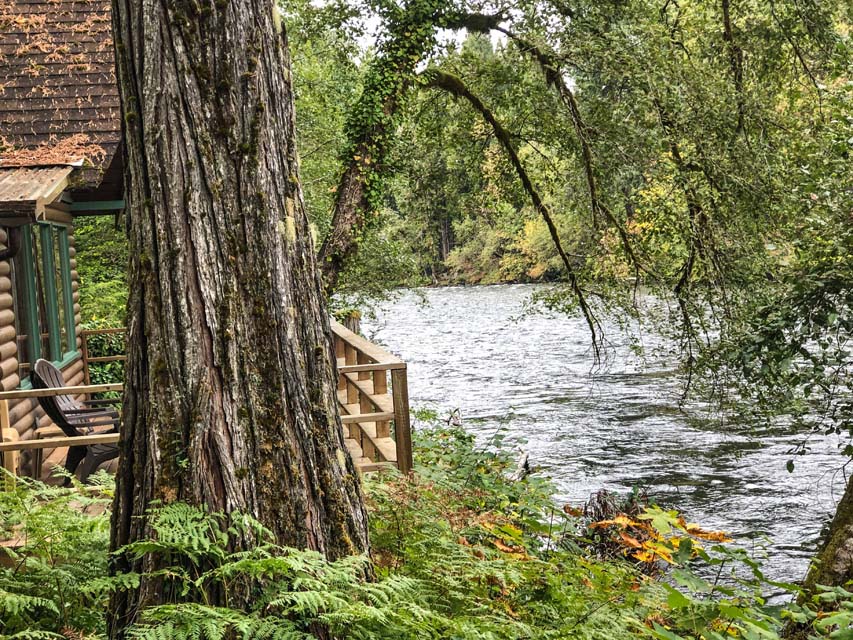 Day #9=>

Another travel day, this time to the little town of McKenzie River Bridge.  Not sure if this was even a town, but boy was it stunning beautiful.  Along the way we stopped at Mount Angel Abbey, Oregon Gardens and Silver Falls State Park. We booked our idealic looking cabin 10 months earlier so we could be the cabin right on the river.  Unfortunately it was cool the 4 nights we had this cabin but we had plenty of wood for the fire, so no problem.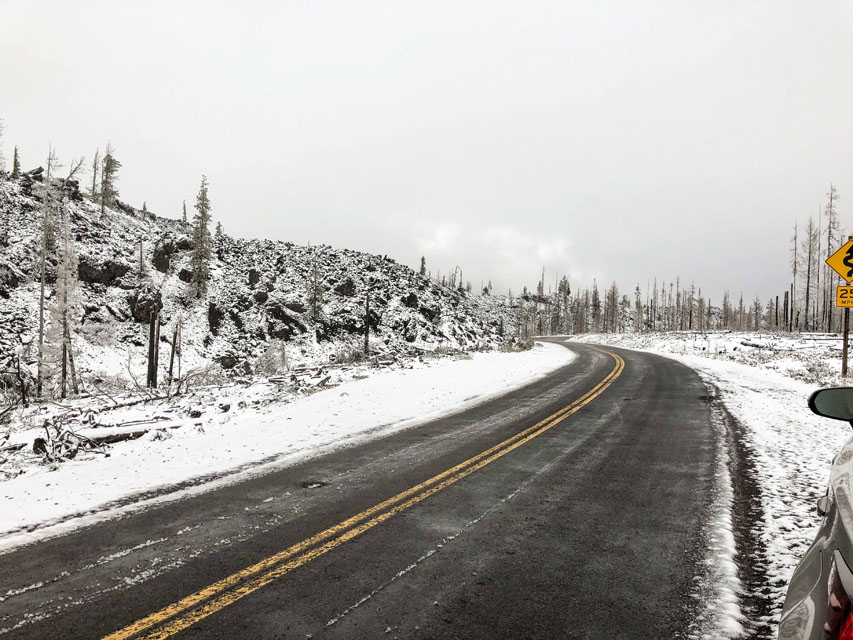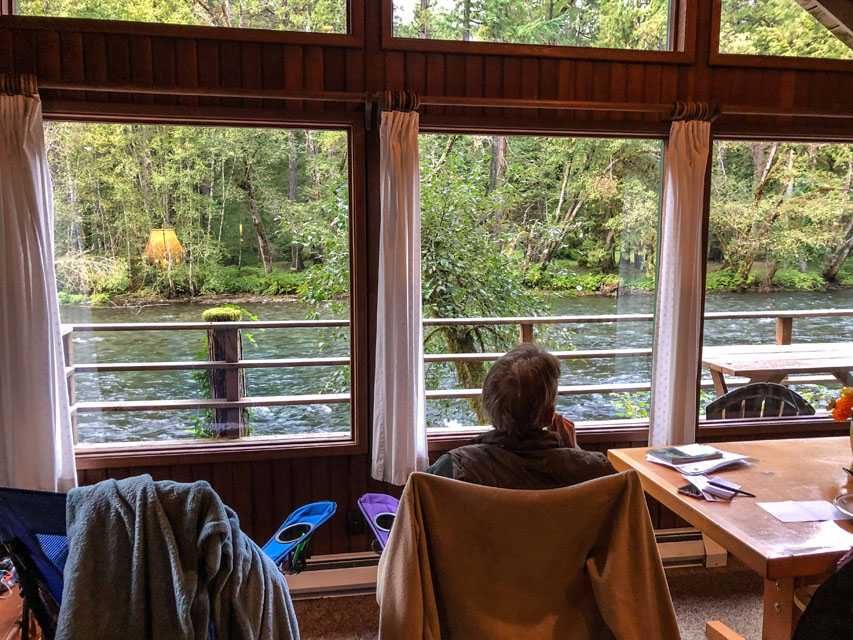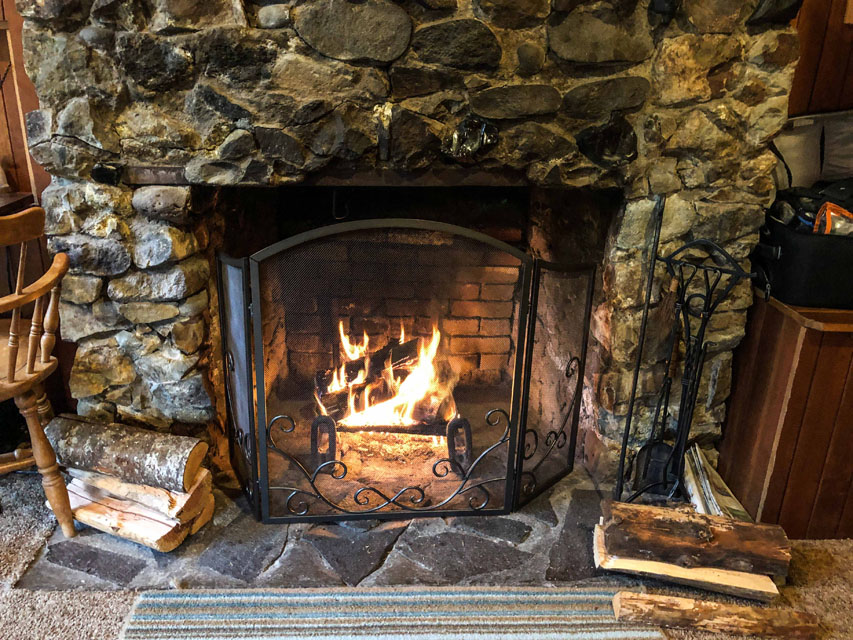 Day #10=>

This was a cold rainy day so we decided to take a drive to Sisters over the scenic 242.  The rain turned to snow and we did not have snow tires.  The scenery was cold but gorgeous.  We had lunch in Sisters at a local burger shop, GREAT!!!  Then returned to our cabin on the river for dinner and a fire.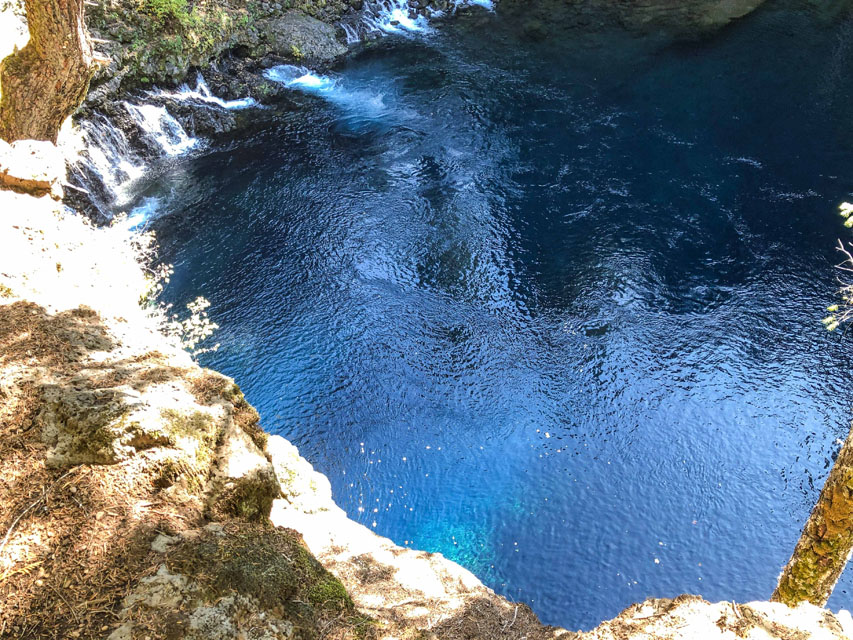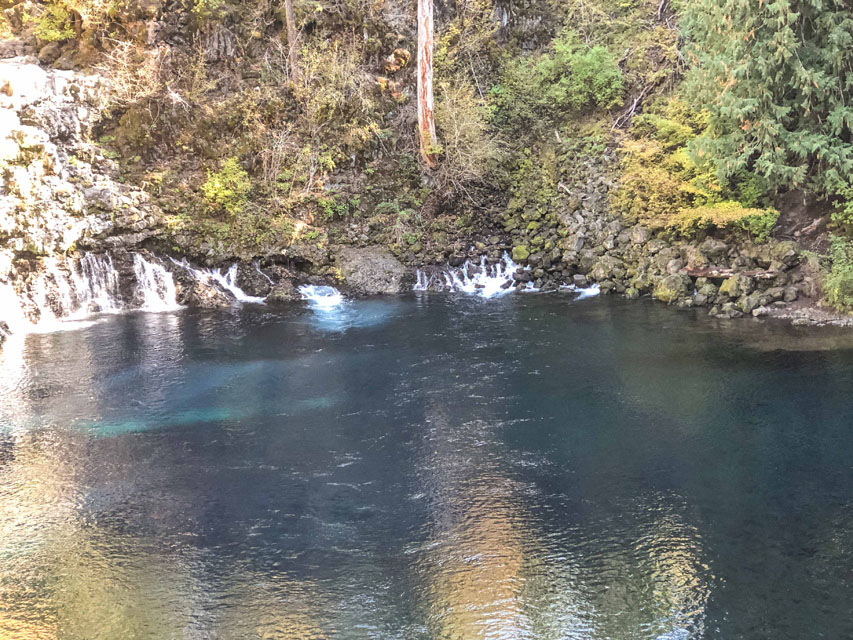 Day #11=>

Our 2nd day at the cabin was a little warmer so we decided to do a hike to the blue pool.  Here is where the McKenzie River flows out of the side of a rock wall.  A beautiful hike as you can see from these images. Then it was back to our cabin and fireplace.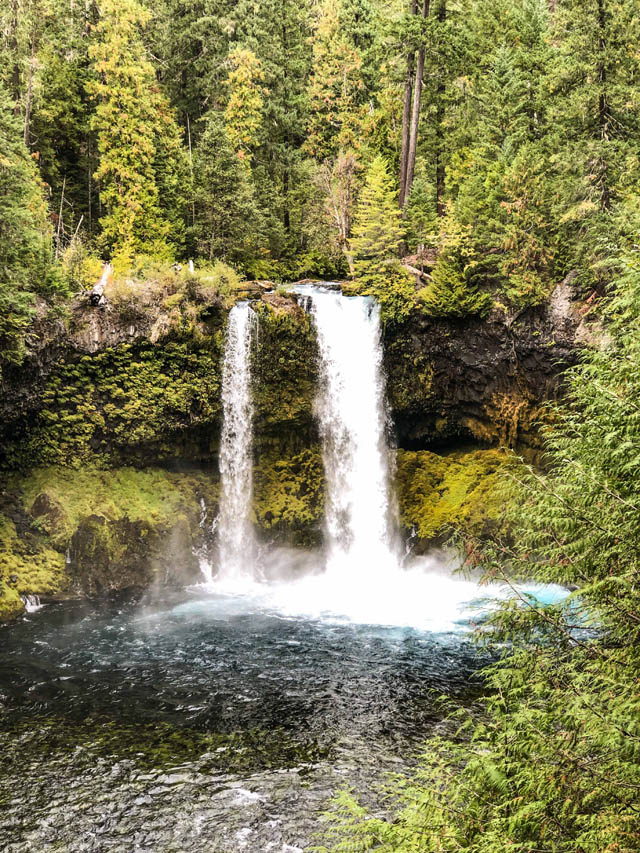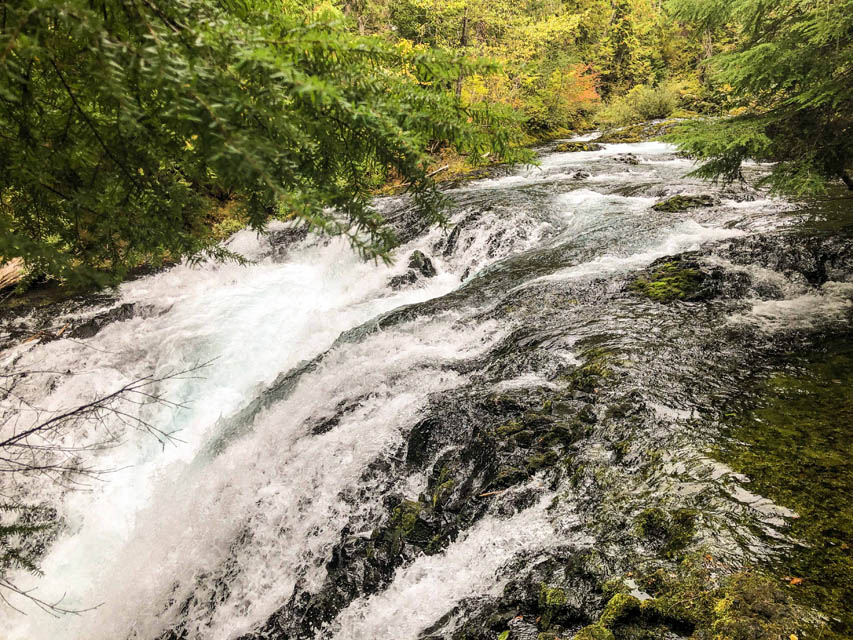 Day #12=>

For our third and final day at our river side cabin, we did another hike to see Koosah and Sahalie Falls on the McKenzie River.  This hike was actually further upstream from the day before with lots of lava rock and forest as you can see from these images.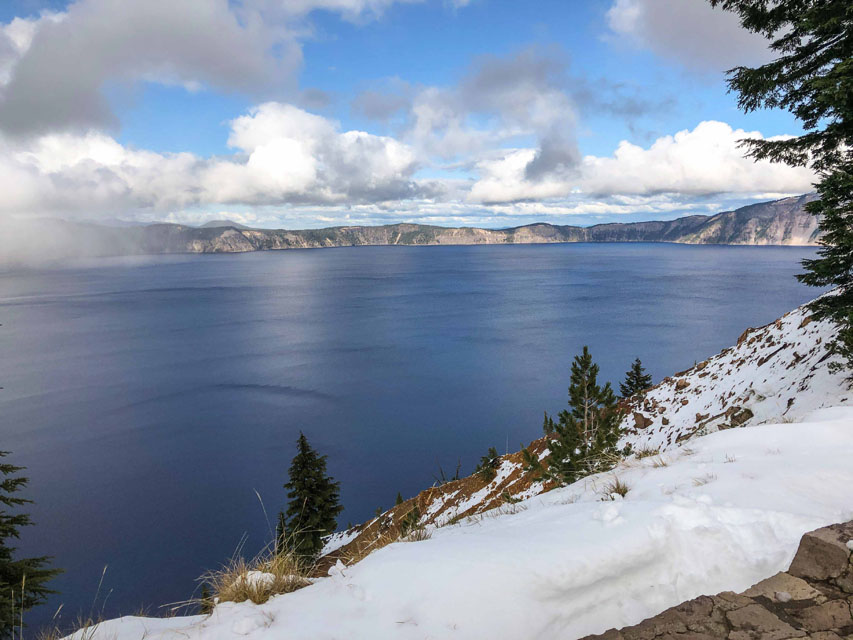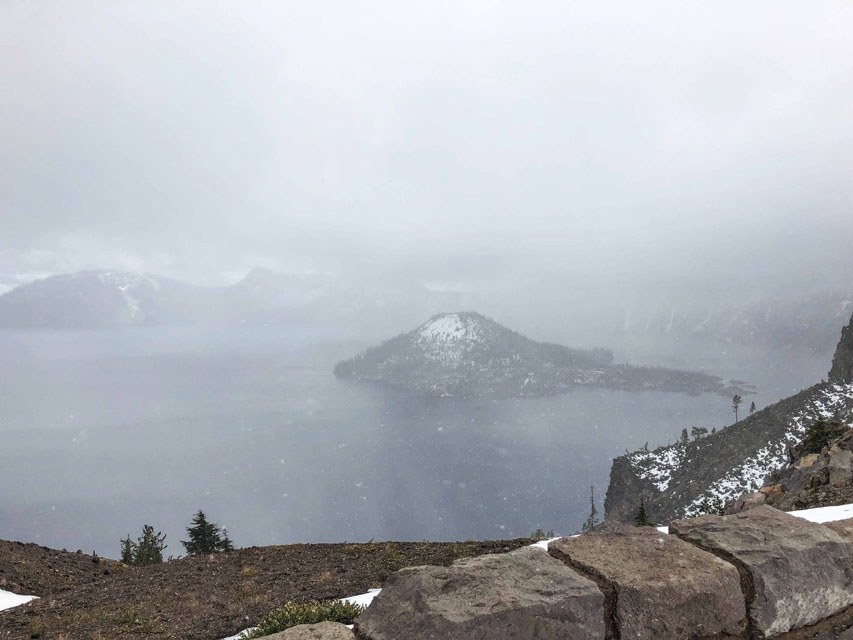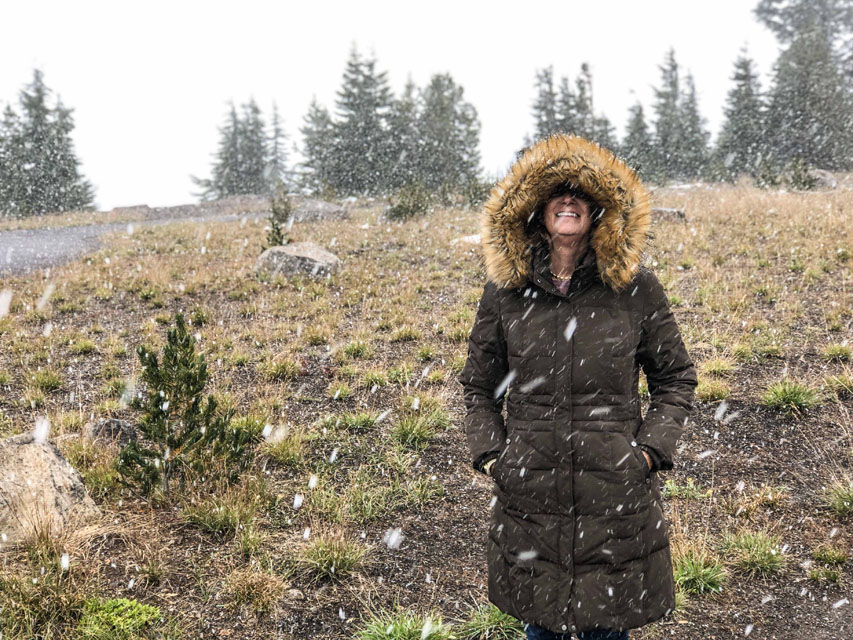 Day #13=>

Time to leave our river side cabin.  Another travel day this time to the world famous Crater Lake.  On our way we went through Bend and stopped at a very interesting place for lunch, Baldy's BBQ.  Their special is called a "BBQ Sundae" which is a bowl with the first layer of mashed potatoes, then baked beans, followed by pull pork, and topped off with cold slaw and a drizzle of bbq sauce..very different..very good.  Because of the early cold weather we barely made it to Crater Lake.  The roads had been closed due to snow but they opened the day we were to travel.  When we arrived at the National Park Lodge we couldn't even see the lake due to fog.  Finally got a glimpse and then it started to snow. As you can see from our images the lodge accomodation were rather basic, and not cheap!!!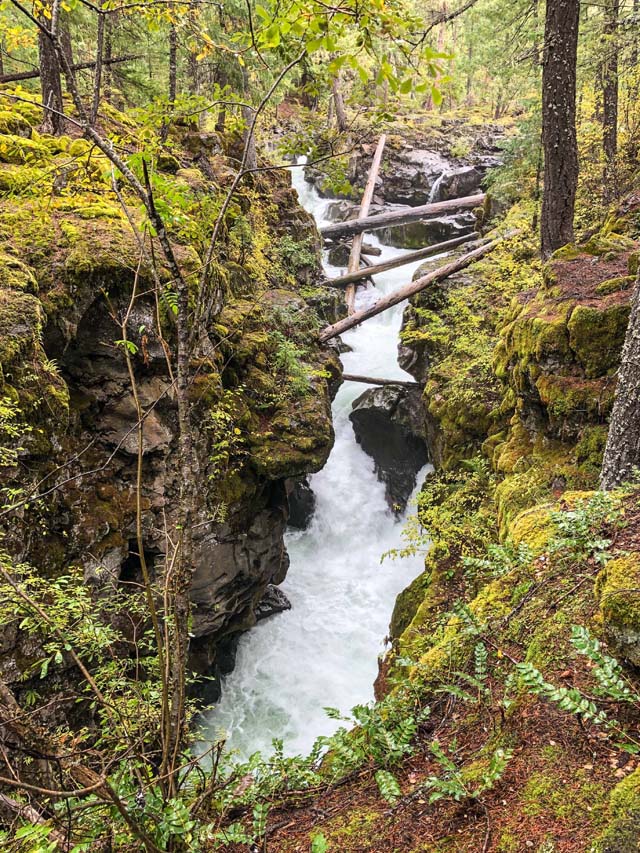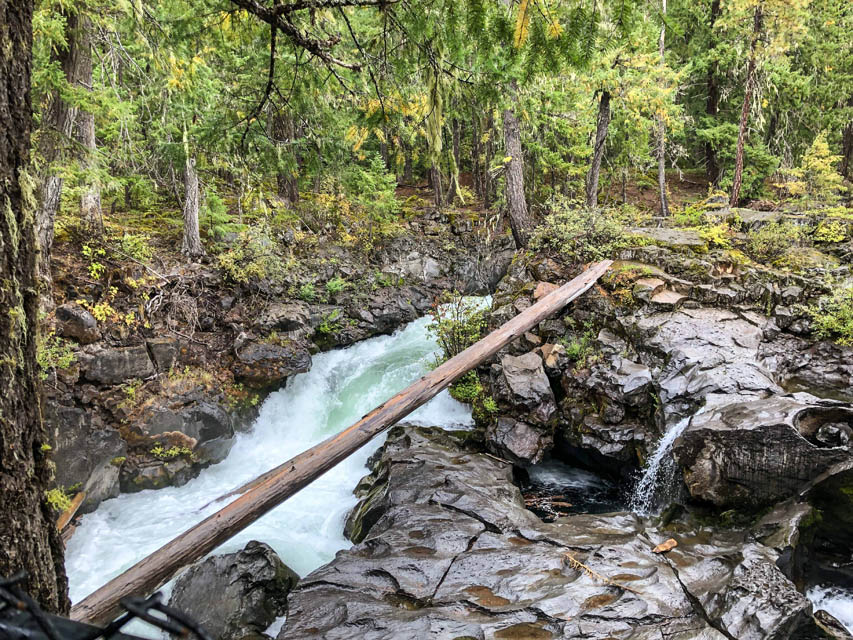 Day #14=>

We were up early to get off the mountain of Crater Lake before the driving conditions got any worse.  We didn't have snow tires and there was no snow plow in sight.  We did stop at Rouge River Gorge Viewpoint when we got below snow level for these nice images.  We stayed in Medford for the night and we visited Dancin Vineyards for a local tasting. This was a sit at your table and taste a flight of wines, no questions answered, no interaction, simple a do it yourself wine tasting.

Day #15=>This was a long travel day as our destination was home, end of our Oregon Road Trip.