2021 Aruba Trip
In the fall of 2021 we were just starting to recover from our 4th wave of COVID-19. Travel was again possible but only with strict testing requirements. We had just finished our 2021 harvest (www.SafariCreek.com), and needed a get-away/rest!!!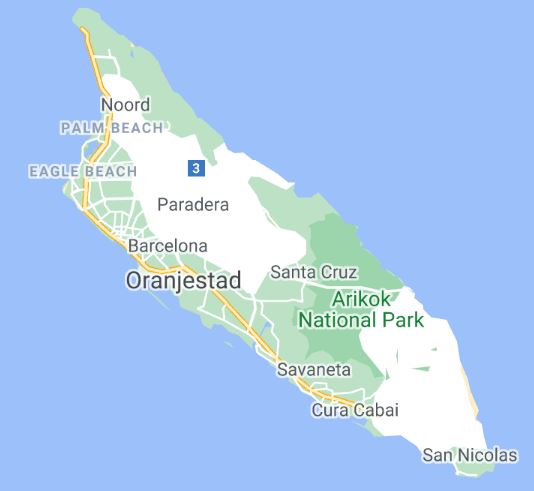 We wanted a getaway destination in the carribean. But the fall is hurricane season thus we opt'ed for the beautiful Dutch island of Aruba, also known as "The Happy Island". Aruba is considered out of the hurricane belt being located just 18 mile north of Venezuela. The island picture to the right is only 6 miles wide and 20 miles long.
The capital, on the south side of the island, is Oranjestad which is also where the airport is located. Most resorts are located in the "Eagle Beach" area (about 95%). English is spoken by everyone so there are no communication issues. The local currency is the florin which the Neatherlands stopped using when they became part of the EU. Today the florin is only used on Aruba. For this reason the US dollar is widely accepted eliminating any need of currency exchange. Additionally credit cards are accepted almost as widely as in the US.
There are a lot of options for getting around in the tourist areas. Renting a small car is very affortable and uses very little gas. Other rental options are also available like jeeps and most anything else you can think of. Since the island is so small it is very hard to get lost. As the map shows most of the built up areas are on the south side of the island.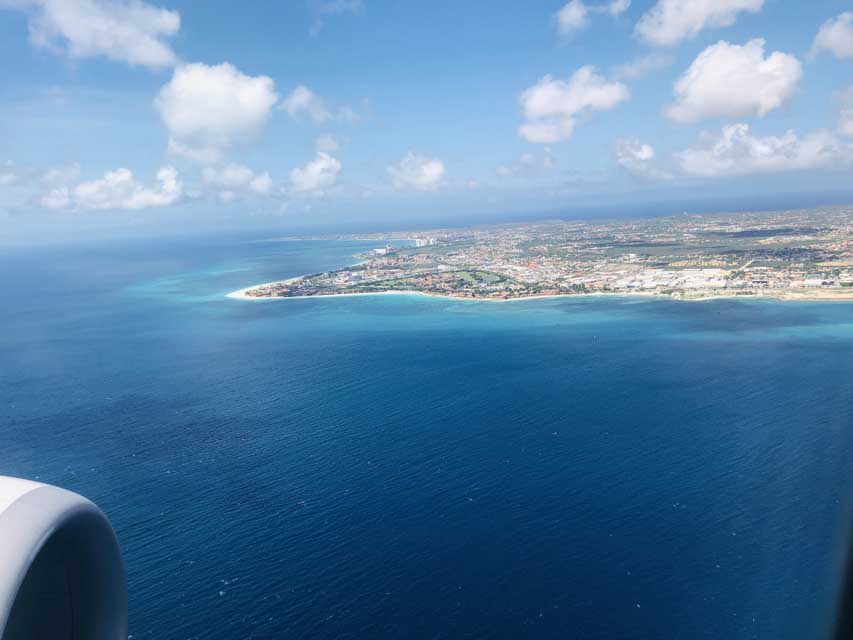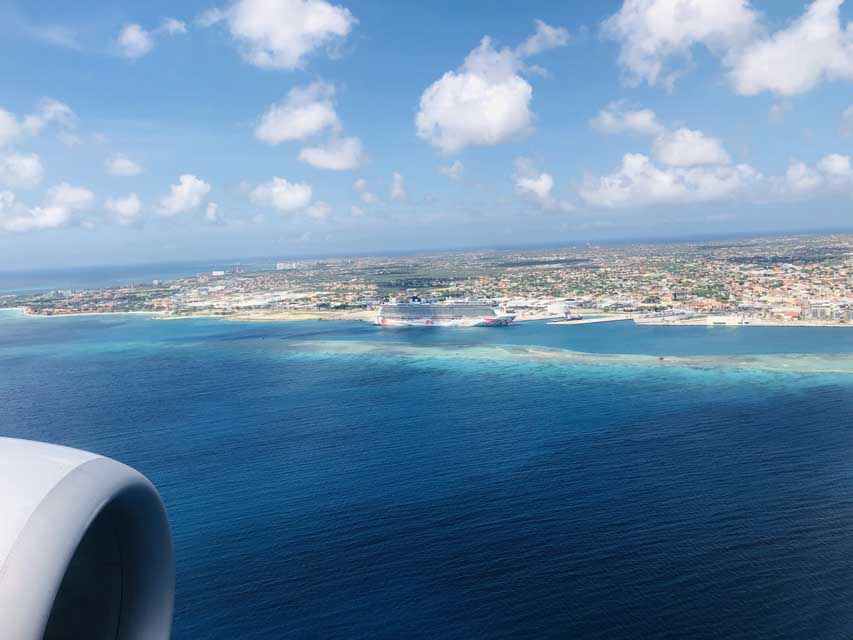 As you approach from the air you can immediately see Aruba is a flat island. Which is also a popular cruise ship destination. The closer image captured a cruise ship in port on the day we arrived.
We decided to rent a car for our visit to Aruba from a local firm who was highly rated, Wheels 2 Go. After we cleared all the luggage and pandemic hurdles we exited the airport and a Wheels 2 Go representative was there waiting. The small airport was much appreciated after our red-eye flight to get here. It was not even a 3 minute walk to a waiting transport vehicle and then only 5 minutes to their location where we took possession of a cute little red 4-door car that looked like new.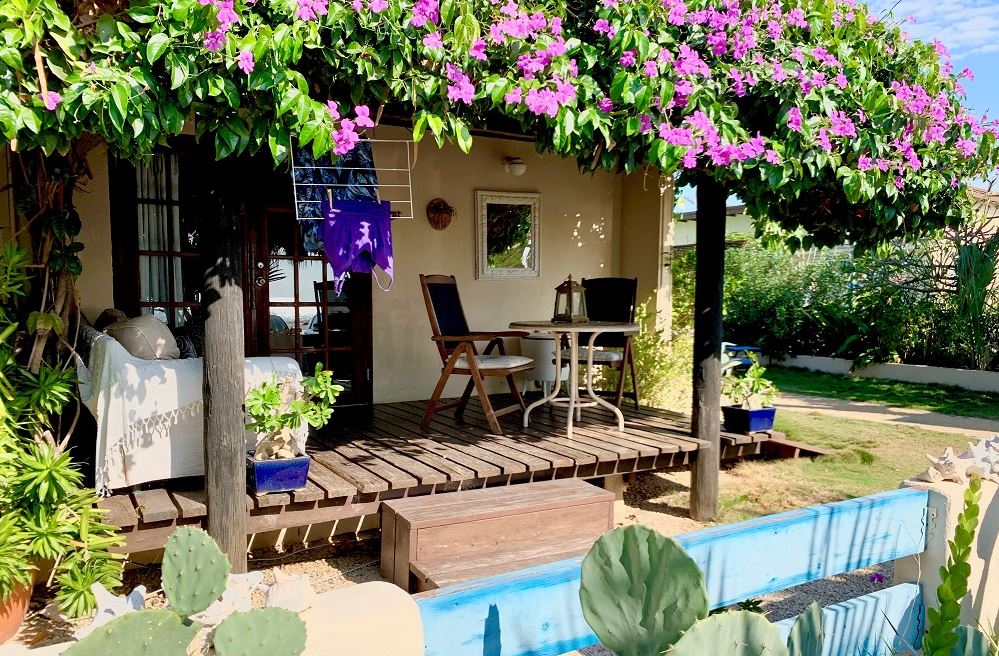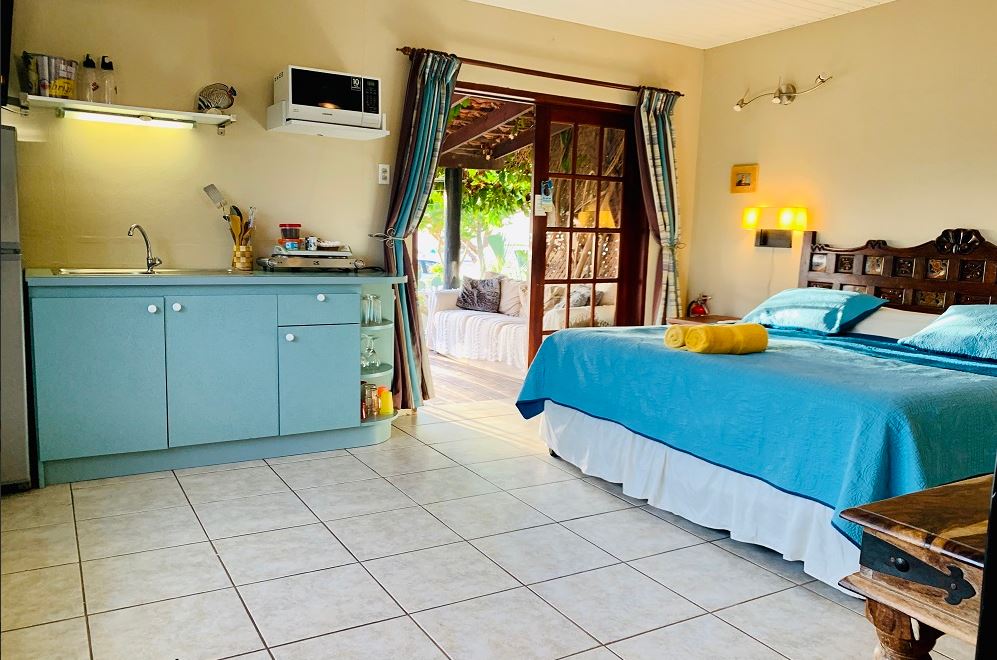 After picking up our car we drove north on the orange road shown on the map. We decided to rent a beach studio located between Eagle Beach and Palm Beach. The images to the right are from our beach studio, Aruba Sunset Beach Studios. The deck pictured here was a great location to watch water sports on the bay, boats of all kinds, off-road excursions coming and going, walkers, joggers, fabulous sunsets and much, much more. The beach studio was small but perfect for what we needed and wanted.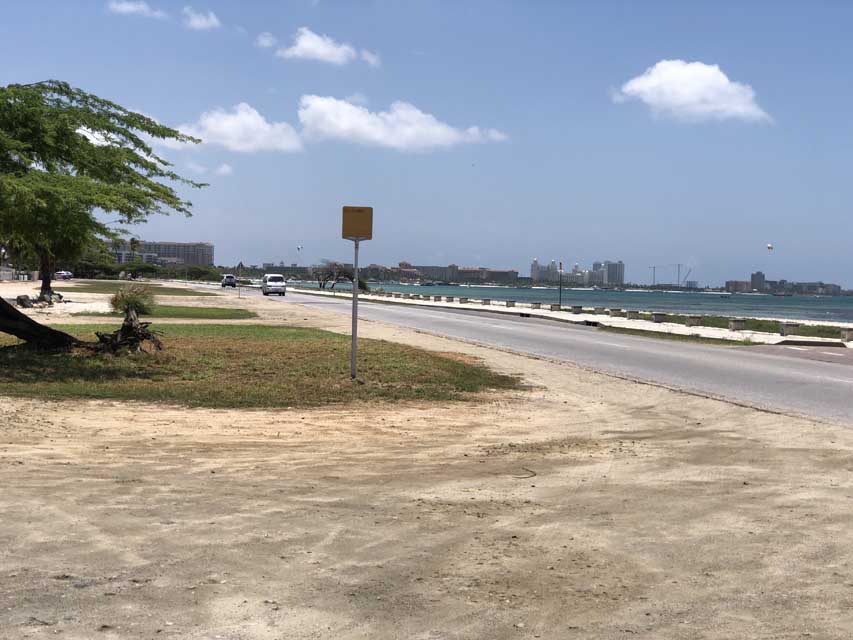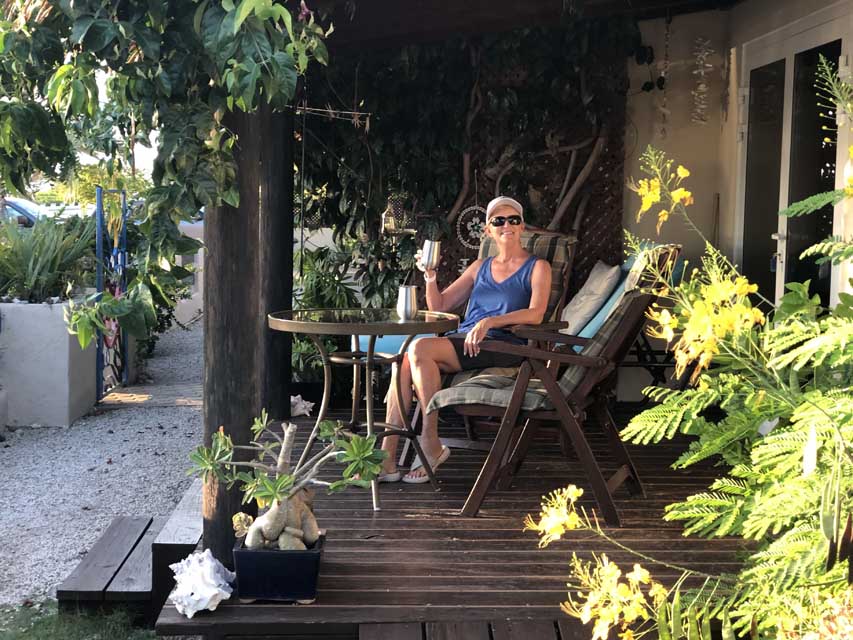 The image to the far right is from our beach studio looking south toward "Eagle Beach" and the high-rise hotel area. As mentioned before 95% of the resorts on Aruba are in a very small area which you can see from this image. In contrast we are close enough to take advantage of the great dining, shopping and beach areas but in a much less busy and quieter world here on our deck.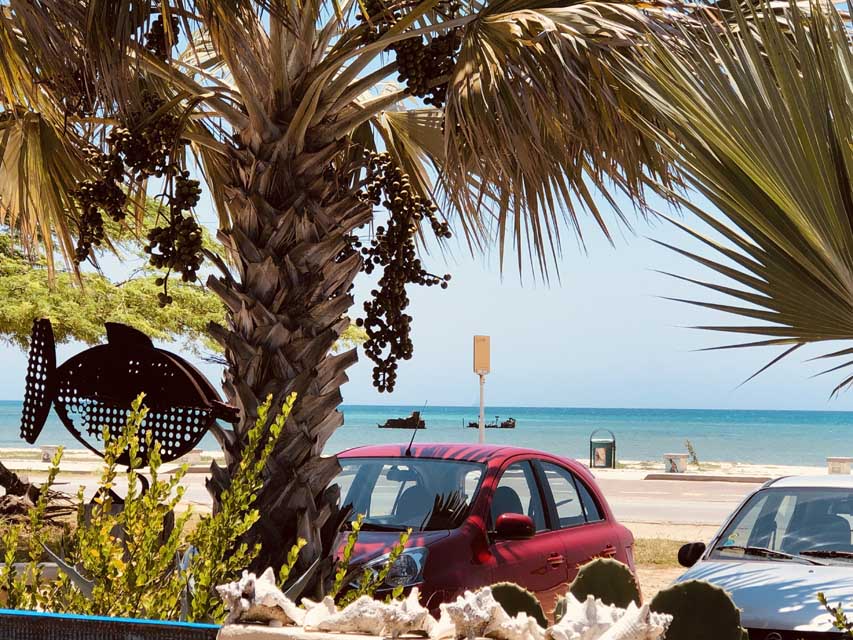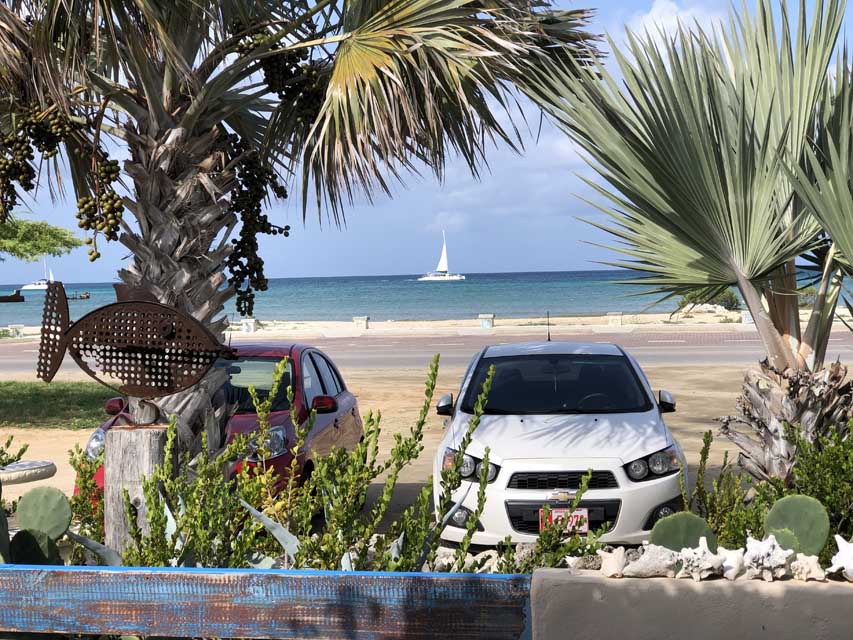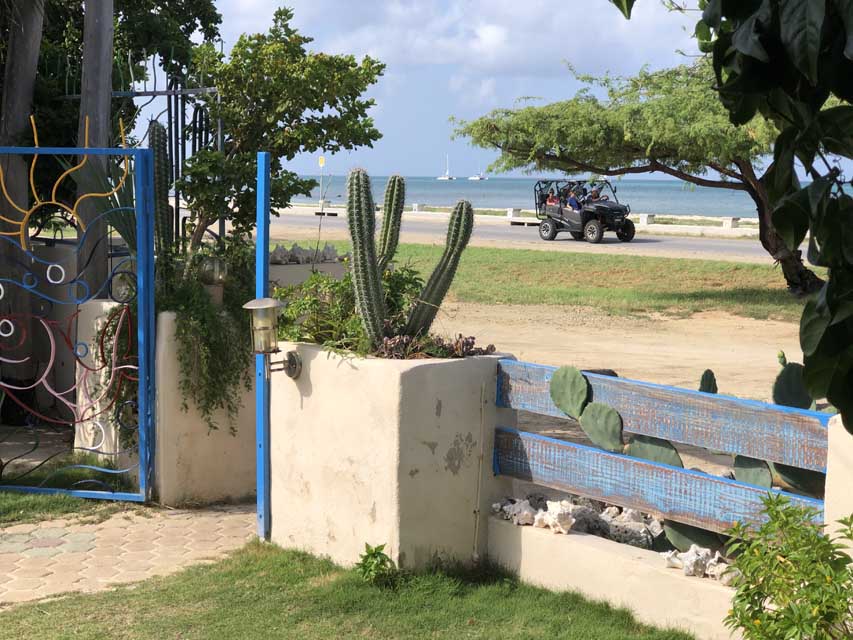 Our time in Aruba was an active COVID time so we did not dine-out. Instead we either prepared our own meals or did take-out. Our favorite take-out destination was Bingo's, which was only 10 minutes away. Thus all our meals were experienced with views like these. The ocean with remains of a ship wreck from many years ago, ships of all kinds passing by, off-road excursion caravans and much more....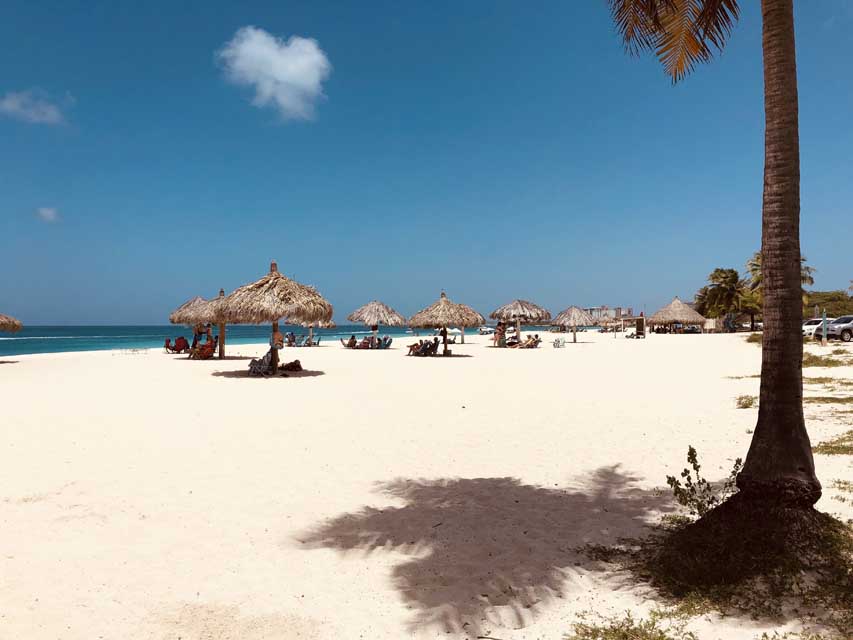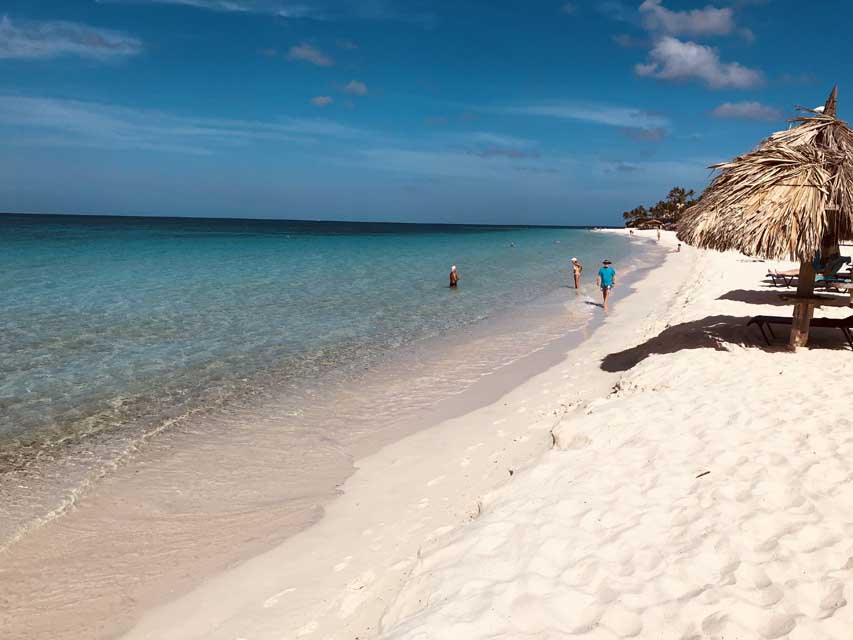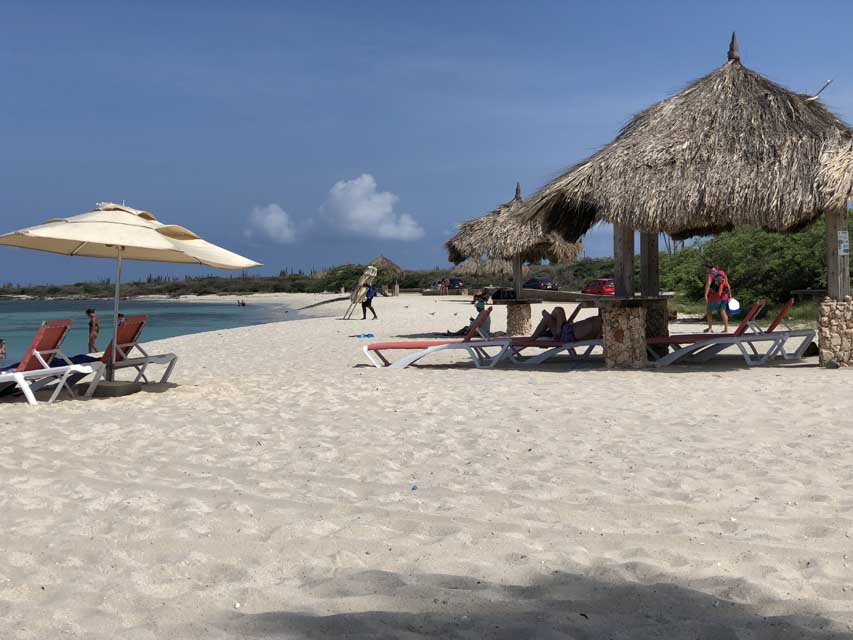 When not enjoying our beach studio and deck we sampled a few of Aruba's world class beaches. The image to the far-right is "Eagle Beach" considered one of the best on the island. This beach is right in the middle of all the resorts but getting a shade hut like the ones in this image was never an issue. The other two images are from Palm Beach which was closer to us and more private. We could not pick which we liked better!!!!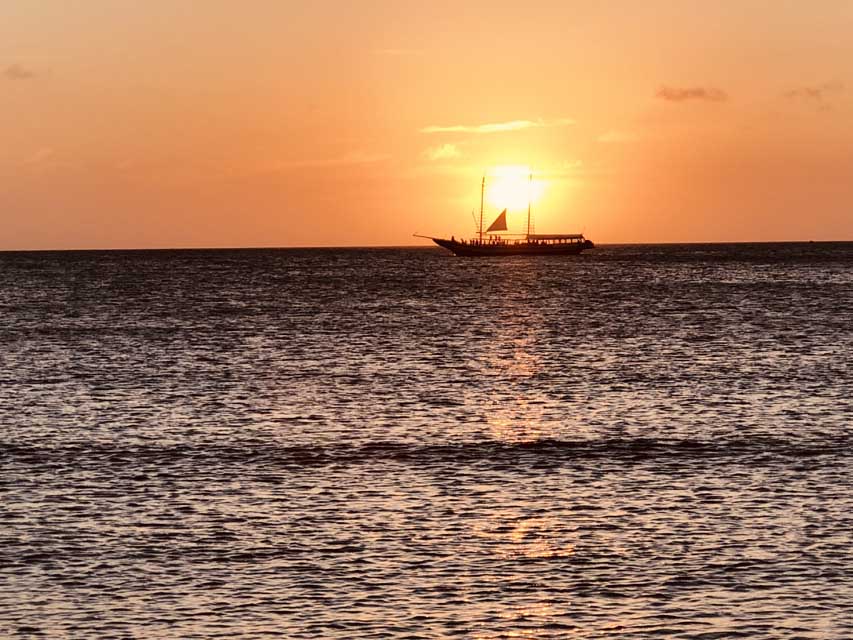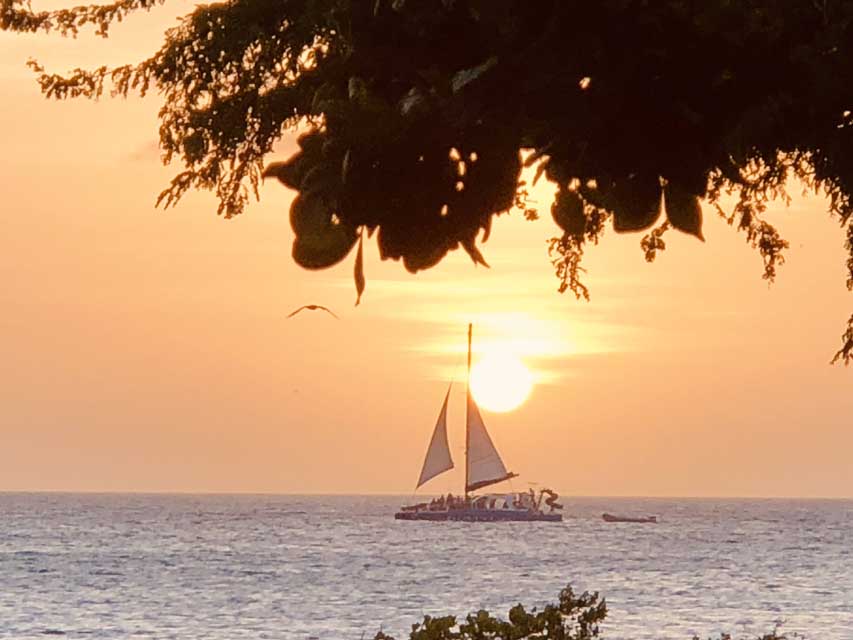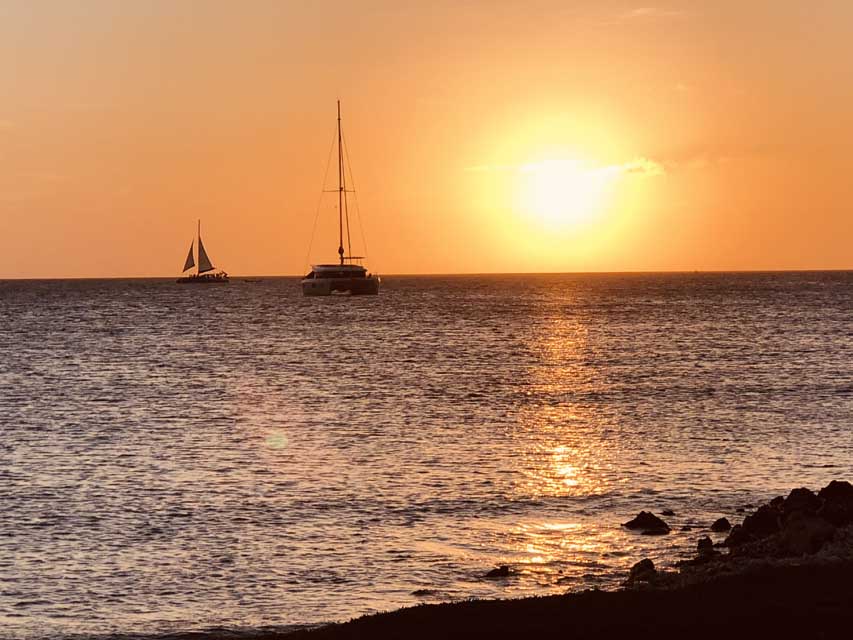 Definately one thing we did not get tired of were the sunsets. We now know why "sunset" is part of the name of the beach studio we had chosen. It was not uncommon for cars to stop and park just before sunset near our beach studio. The views from this location were just spectacular!!!