2021 Yellowstone and More Road Trip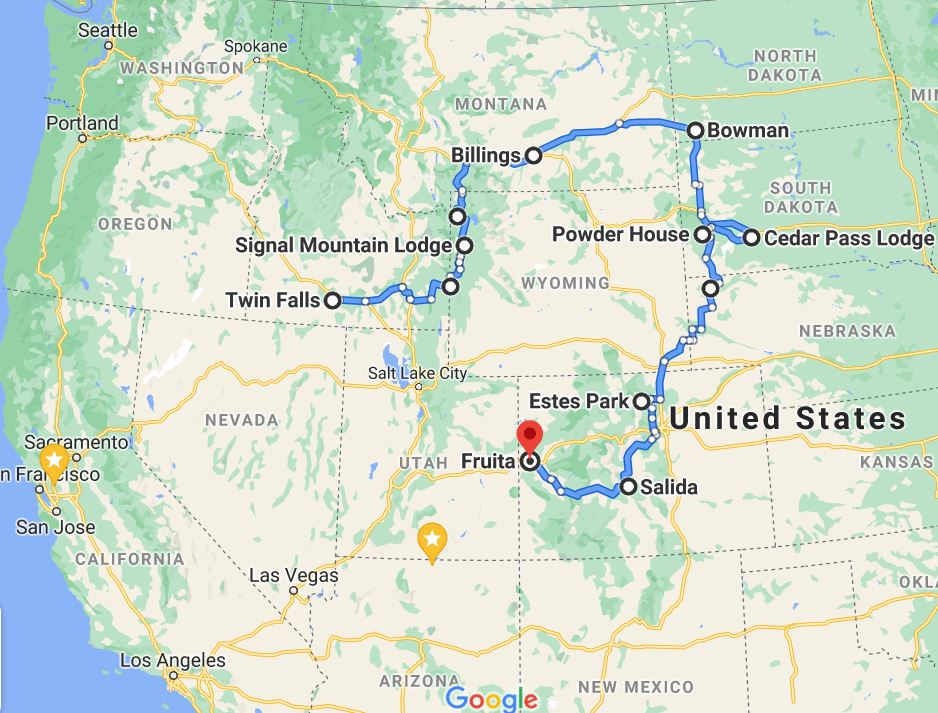 There was not a good title for this road trip. The entire road trip was over 5,000 miles and featured the following main attractions:

To the right is a rough road map of this trip. The google tool used only allows for 10 locations and is thus it was not possible to build a full detailed map of the route taken or attractions visited. The bullet points above contain italic map text that can be used to locate where a particular attraction is located.

Before detailing this road trip I thought I would start with our definition of a road trip. Many think it is driving 10-12 hours a day. That is not the definition we used. Instead a typical day consists of no more than 4 or 5 hours with plenty of time to enjoy attractions along the way. The planning of a road trip consists of selecting attractions (parks, hikes, etc), destinations(lodging) and a route that uses more scenic byways than the big interstates. Our vehicle(SUV) is equiped with a freezer, a hard and soft-side cooler, and folding chairs. Thus meals could be restaurants, take-out, or DIY meals. When DIY or take-out that need reheating we also have a couple different sizes of hot-logics, which functions like a mini-microwave, in a vehicle or in a lodge room that does not have a microwave.

Additionally this road trip contains a lot of national and state parks so we got the Gypsy app for our phone. This app contains a LOT of informational narrative about parks, scenic drives and road trips in general. Via gps the narrative will simple start talking when appropriate for where you are currently located. The app knows what direction you are travelling so it will prompt you to turn left or right, whatever is appropriate. Thanks to Gypsy we learned among other things that in 1872 Yellowstone National Park became the world's first national park. If only school had been this fun to learn!!!

Day #1=>

The first day of this road trip ended with lodging at Twin Falls, Idaho, which is where the map above begins. This day was not a typical road-trip day as it involved a lot of driving, out of California across Neveda and into Idaho.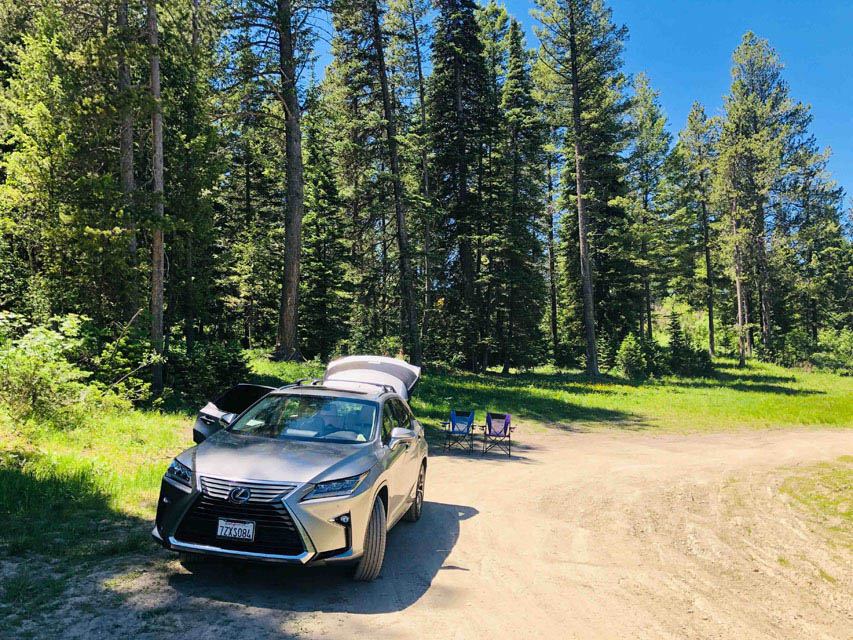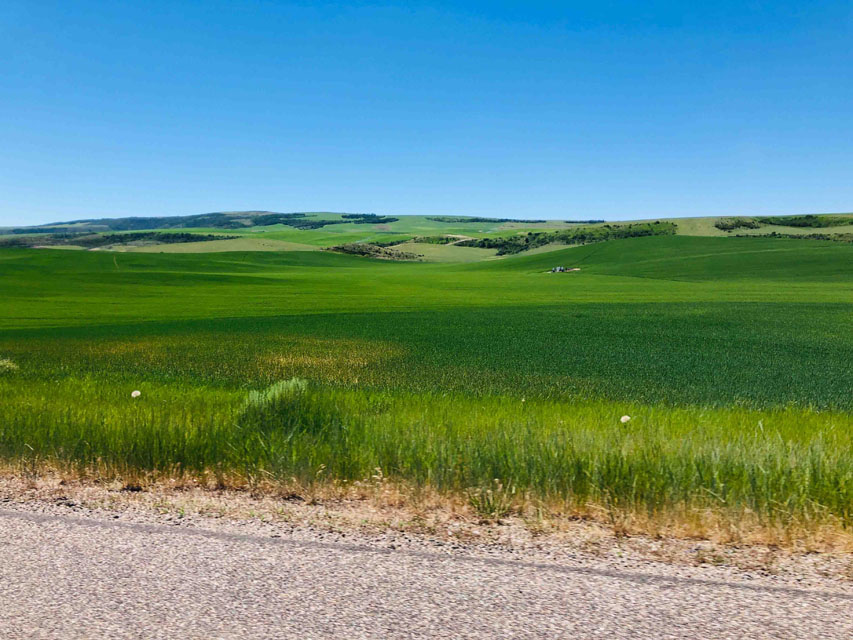 Day #2=>

On this day we drove across southern Idaho. Lots of farming and every farm was actively irragating, no water shortage here. The image to the right is a typical southern Idaho farm but this one was not irragating today. On this day we took a more scenic route through Victor, Idaho. Victor is just over the mountains from Jackson and stands out as a different little town because all parking on the street requires backing in. We are so used to seeing cars parked with the front bumper to the sidewalks that it immediately hits you when you see the opposite. The mountains before Victor turned out to be a perfect spot for lunch. So we stopped, got out our chairs, made lunch and enjoyed the beautiful scenary, and lunch, as captured in this image.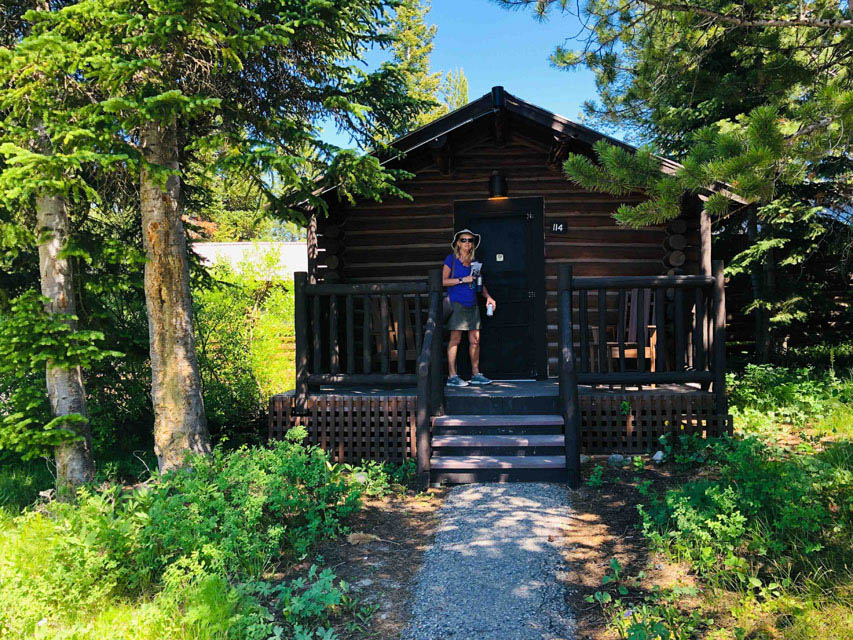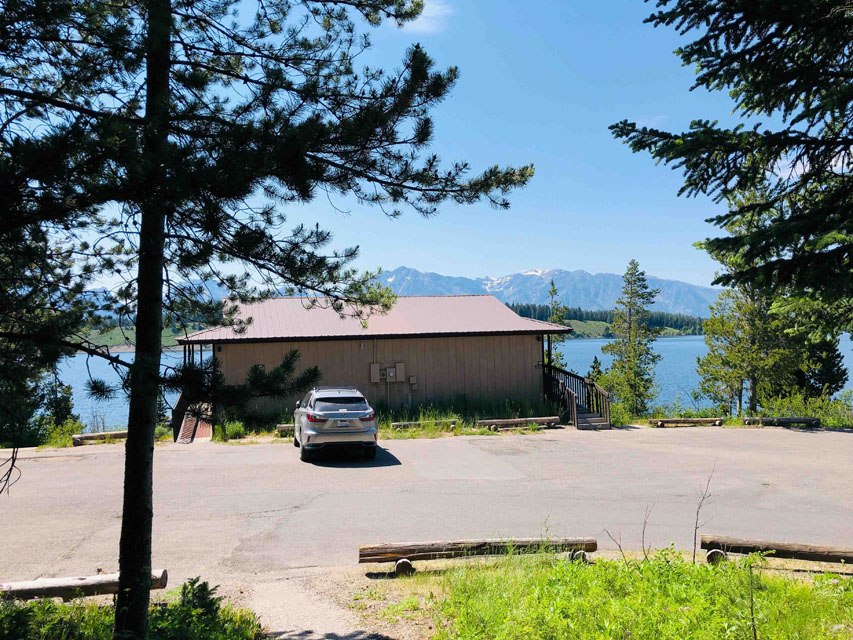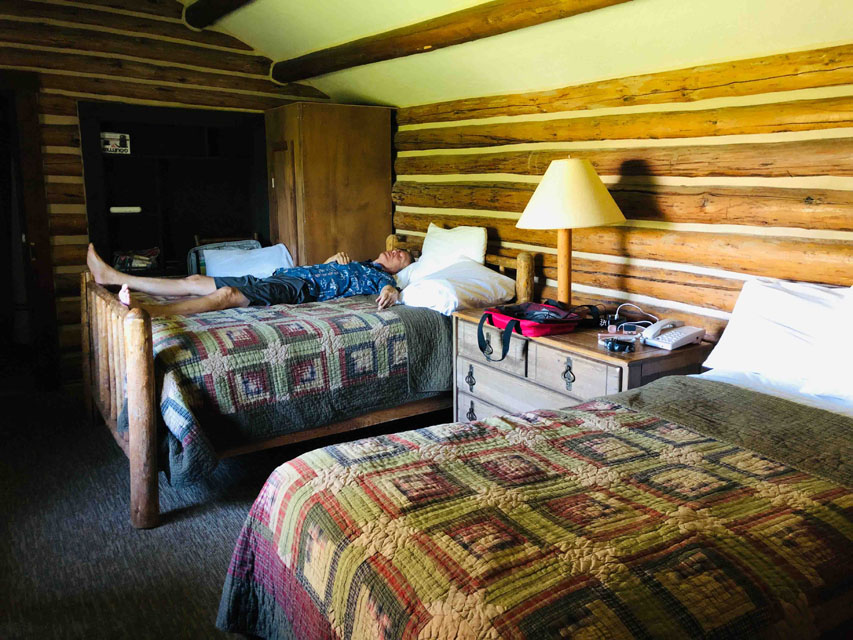 The descent into Jackson was very steep with multiple truck braking ramps. Jackson looks like the wild west village at Disneyland, but more crowded than Disneyland and is just outside the Grand Teton National Park. Our lodge for the next 3 nights was a cabin in this park. Specifically cabins at the Signal Mountain Lodge, cabin image and our view to the right. This lodge was located at the "Signal Mountain Lodge" dot on the map at the top of this web-page. I personally found it very comfortable!!!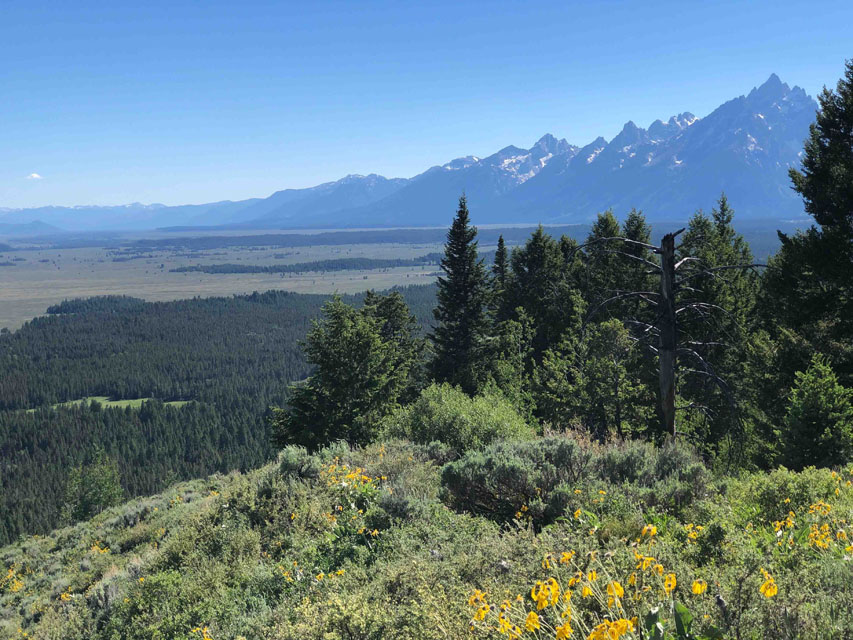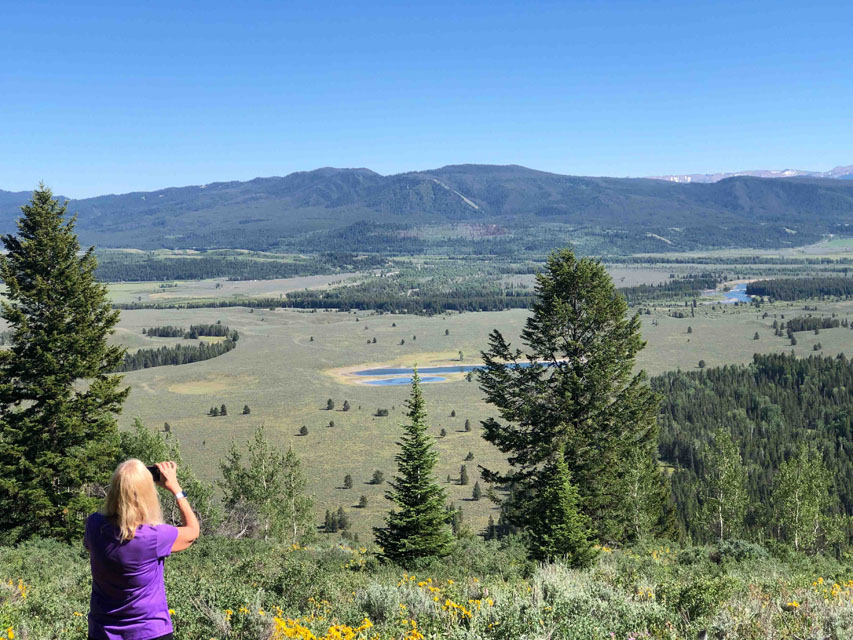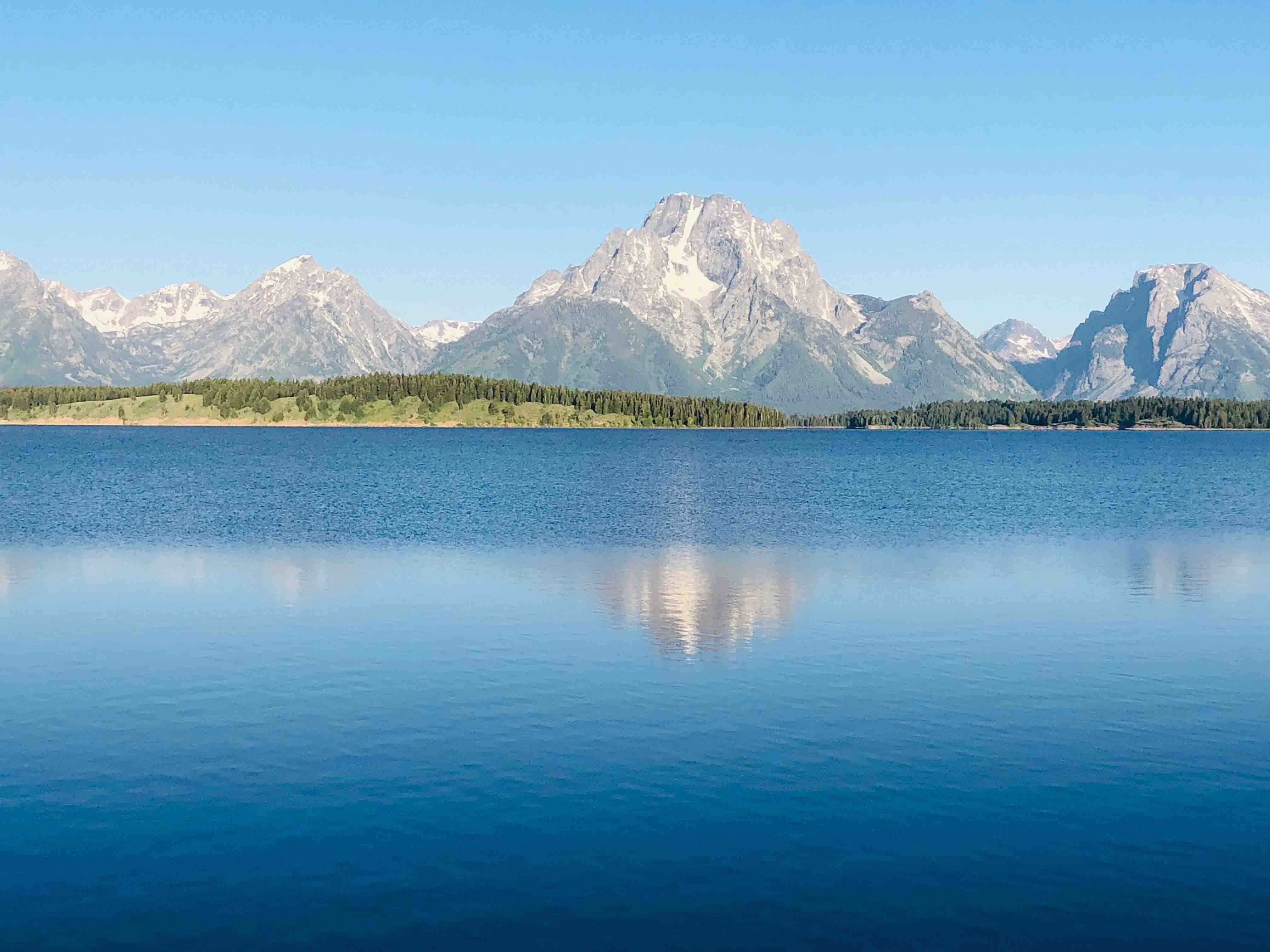 Signal mountain raises about 1000' off the valley floor and with a road all the way to the top is one of the main attactions of this park. Since it was only a mile down the road from our cabin we decided to check it out the first day. The views of the valley are especially good on top of Signal Mountain but the trees have obstruted the view of the Grand Tetons a bit, far right image. A short distance in the other direction from our cabin was Jackson Lake which as you can see from this lake view image is stunningly beautiful.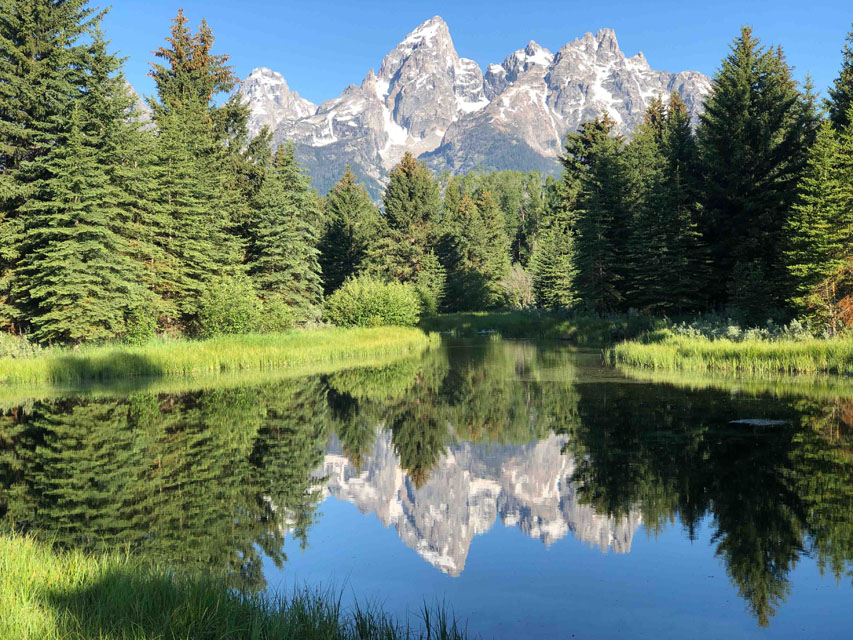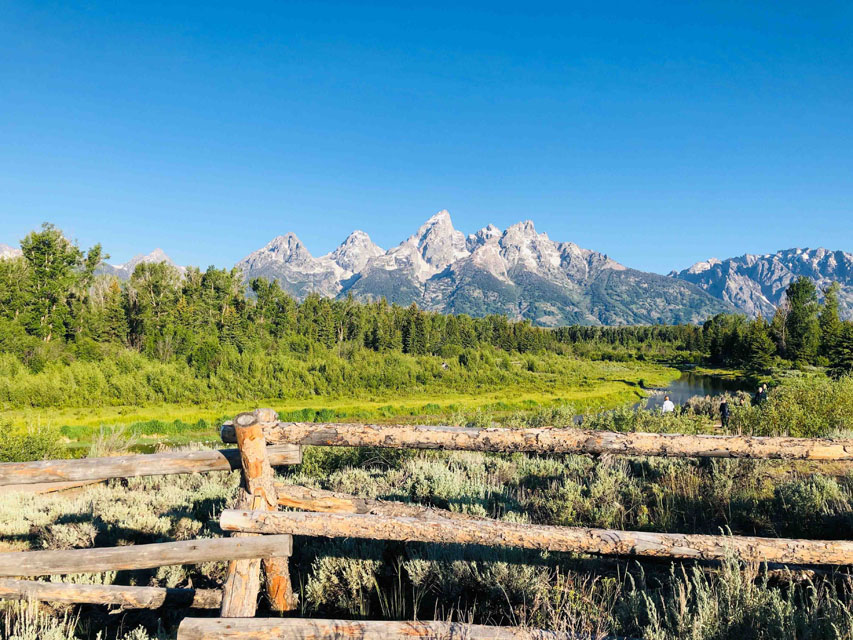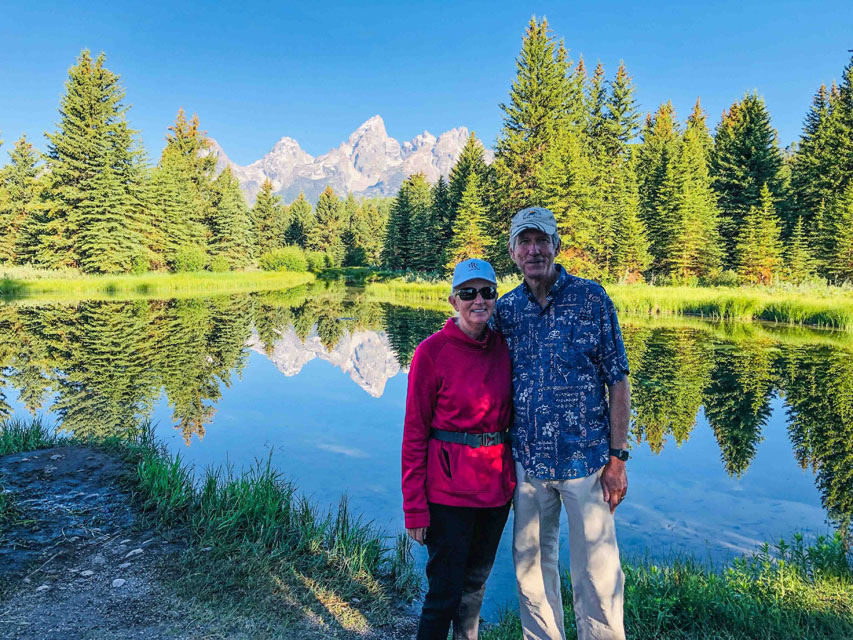 Day #3=>

This was our first full day to explore the Grand Teton National Park. The Grand Tetons are a 50 mile stretch of breathtakingly beautiful mountains with green meadows and tons of water. We started with Schwabacher Landing which as you can see (far right image) has some of the best views of the Grand Tetons. More Schwabacher Landing images.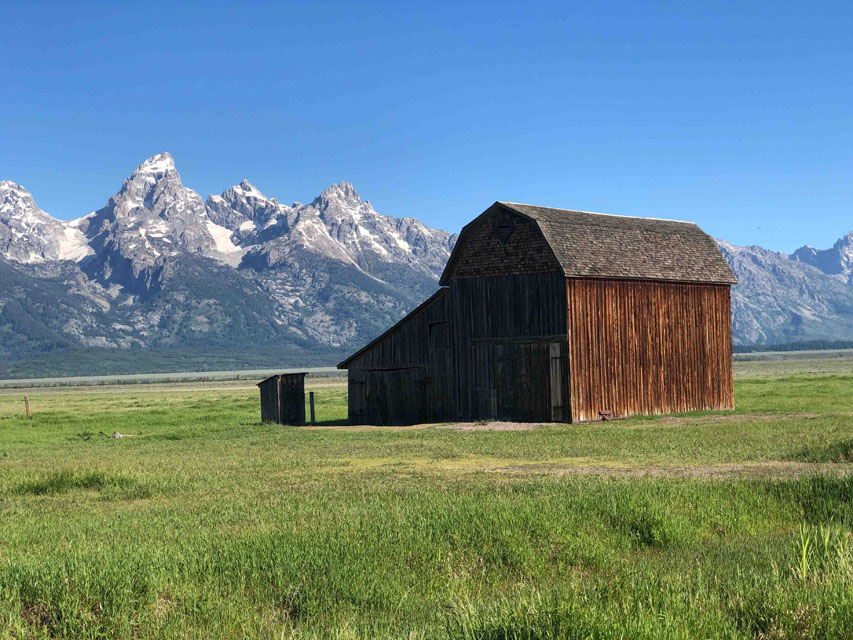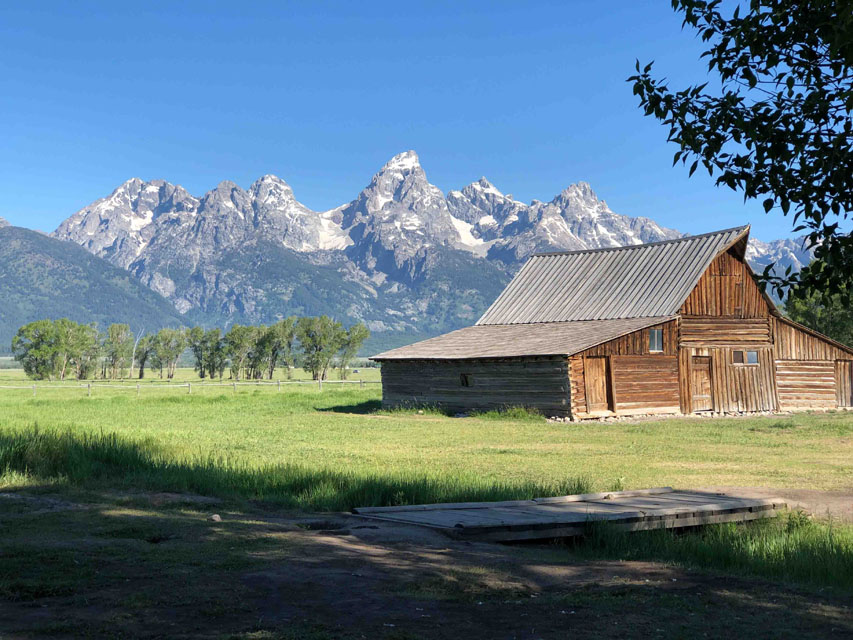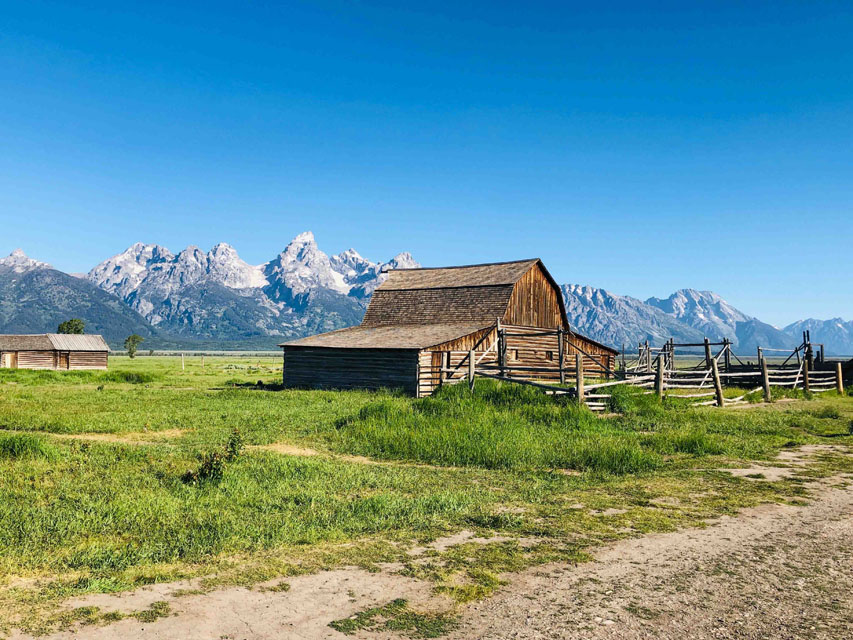 In the late 1800s the land around the Grand Tetons was available for homesteading. Many early settlers did just that and after only 5 years of improving a plot of land a settler could claim up to 160 acres with just a $10 filing fee. Some Mormans families worked together to help survive the harsh winters. A few of their homestead buildings are still standing today. The images of their farms are breath takingly beautiful. More Mormon Row images.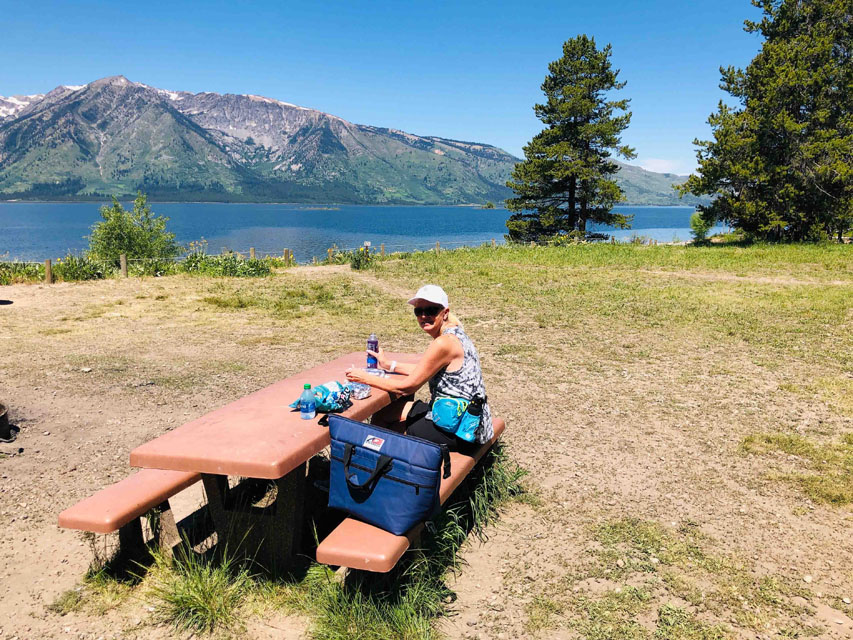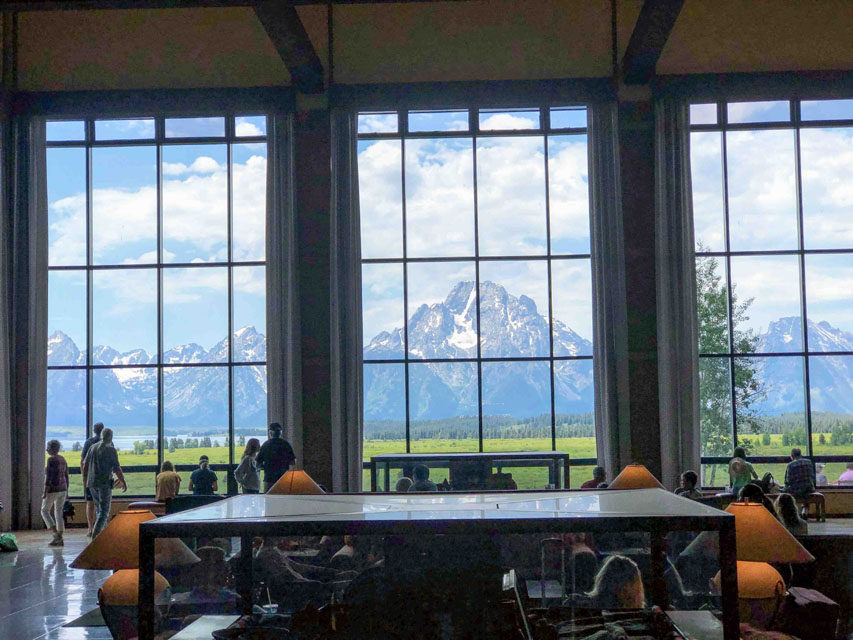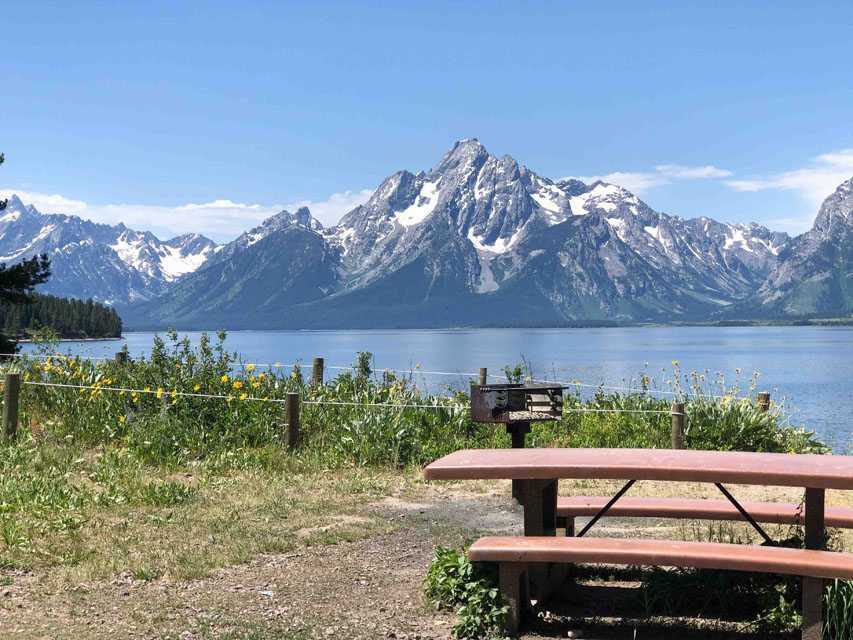 After Morman Row we drove up to Colter Bay Lodge area for lunch and hiking around Jackson Lake. Colter was a member of the Lewis & Clark expedition in the early 1800s. But left the expedition to explore the Grand Teton region. Our first objective was a lunch spot and believe it or not there were many picnic tables right on the lake and the weather was perfect. After lunch we did one of the many great hiking trails they have around the lake. On our way back to our cabin we decided to follow the guidance of our Gypsy app again. The app was strongly recommending a short visit to the Jackson Lake Lodge to view its impressive view of the Grand Tetons. Again the Gypsy app was right as you can see.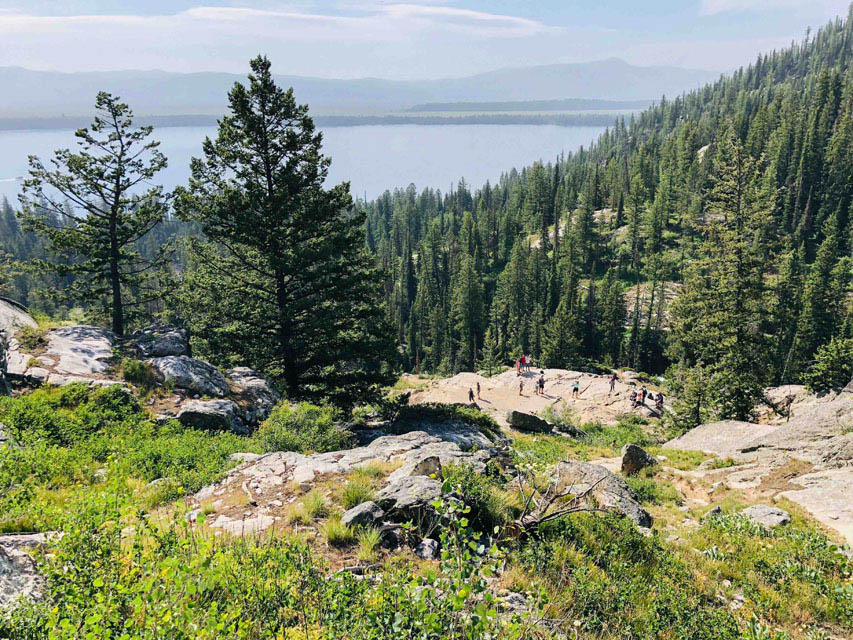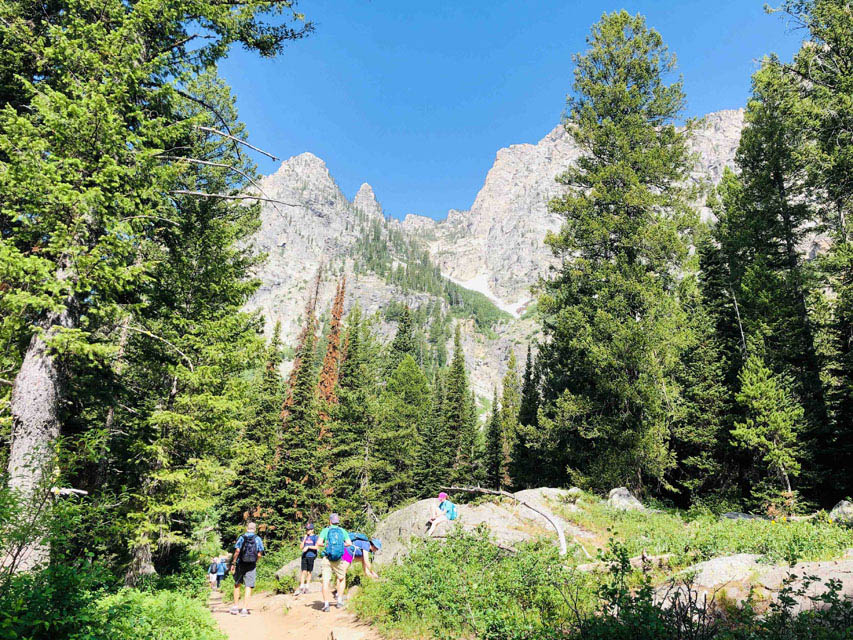 Day #4=>

Our last full day in Grand Tetons National Park we headed out for the most popular attraction, a boat ride across Jenny Lake and hike(s) around Jenny Lake. Both of these images were taken from our hike.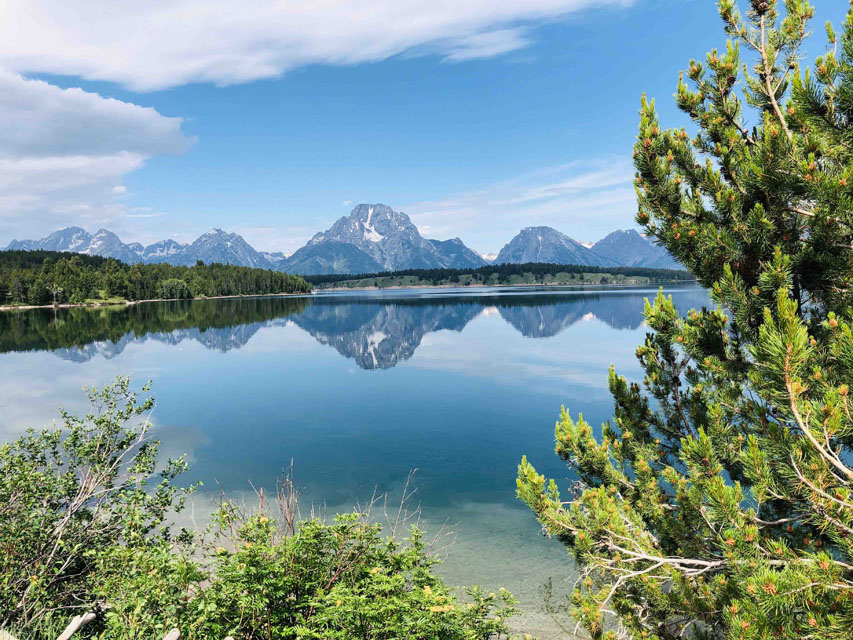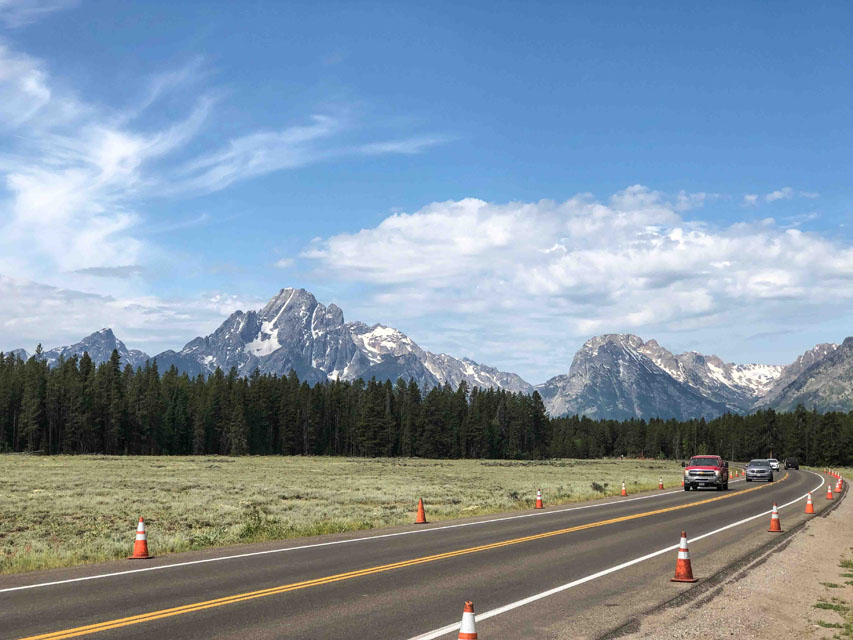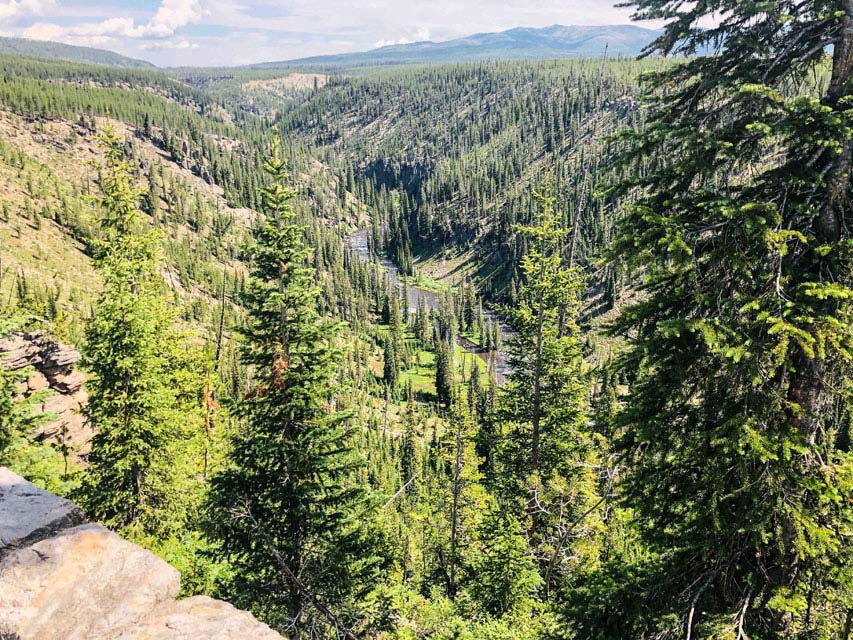 Day #5=>

On this day we drove north out of the Grand Teton National Park and into Yellowstone National Park, a very short drive. The images to the right are some last reminders of Grand Tetons before exiting the park. The images include another view of Jackson Lake, the road through the park and a final overlook of the Snake River, in the valley.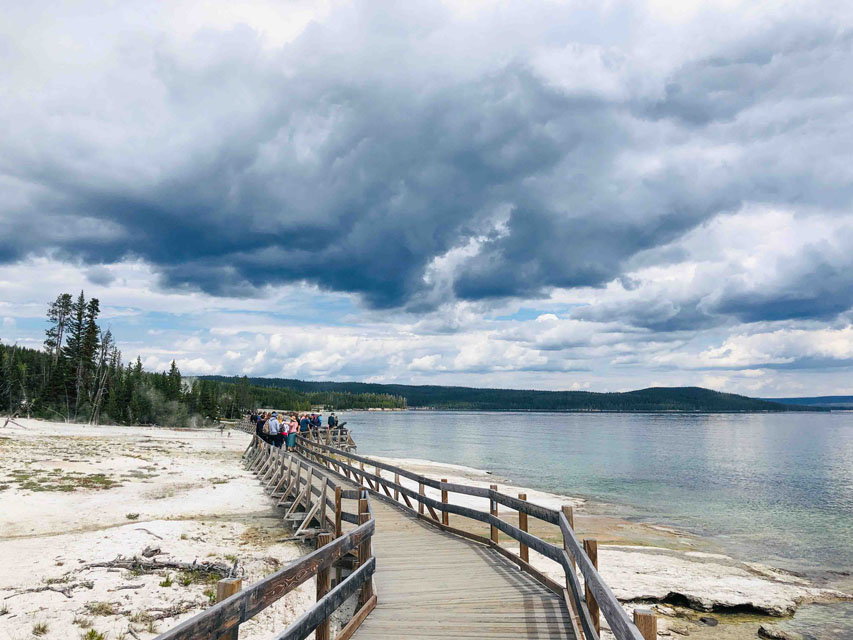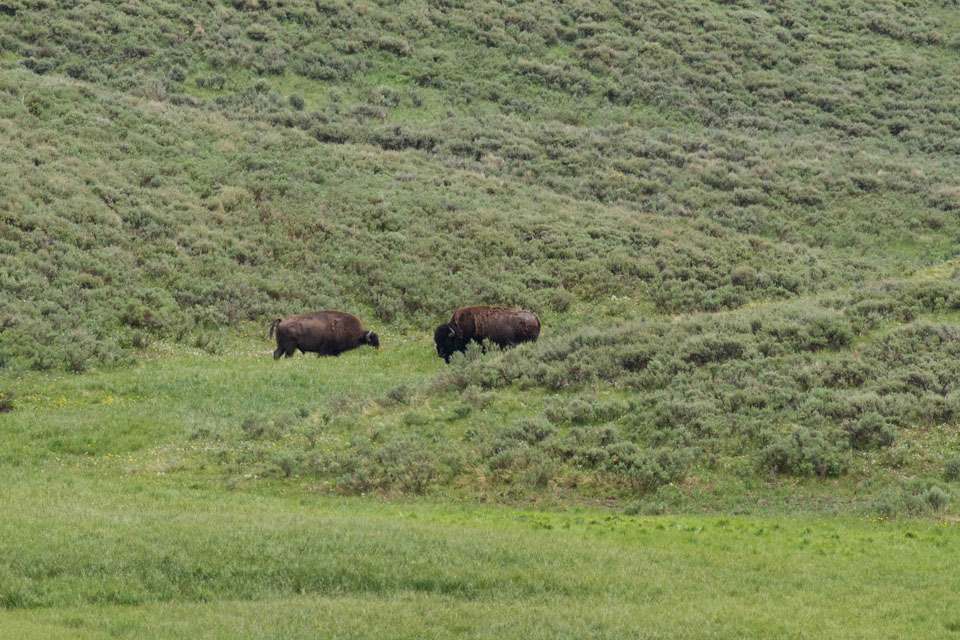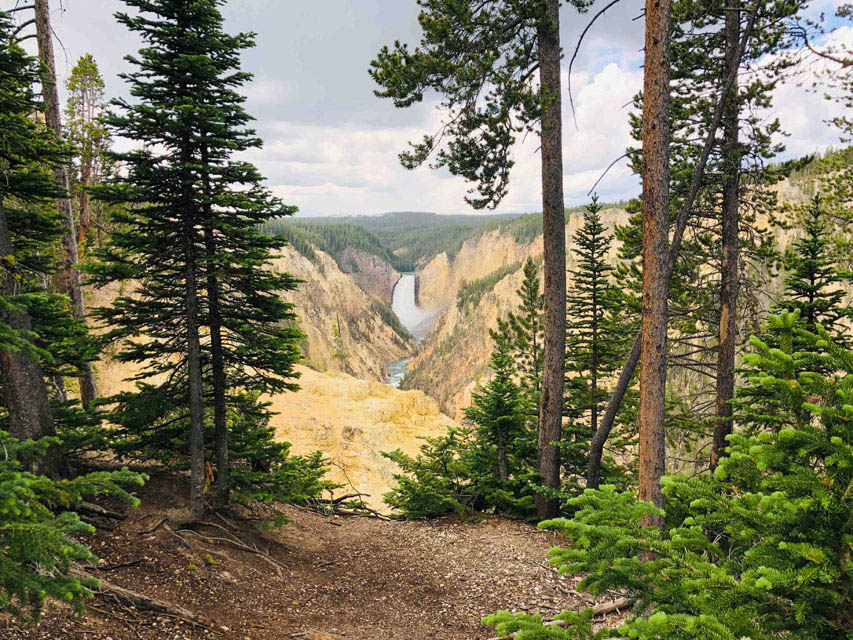 We entered Yellowstone through the South Gate and proceed to Yosemite Lake. Our first stop was the "West Thumb" geyser basin which is rather fasinating being right on the edge of the lake. We then proceed north and found a nice lunch spot overlooking the lake. After lunch we continued further north to Hayden Valley area where we saw our first buffalo grazing in the meadow. After Hayden we proceeded to Yellowstone's Canyon area. The image to the right was from Artist Point, our first stop on the South Rim Drive. Unfortunately it started to rain rather hard so we ended our canyon stops and decided it was time to find our lodge. For the next 2 nights our lodging was outside the park in West Yellowstone, Montana which was just outside the West Gate.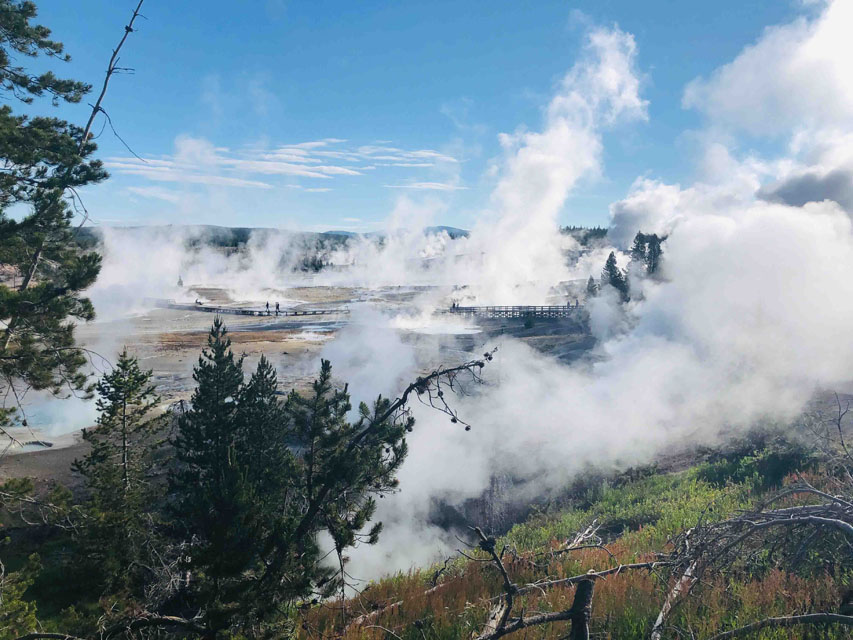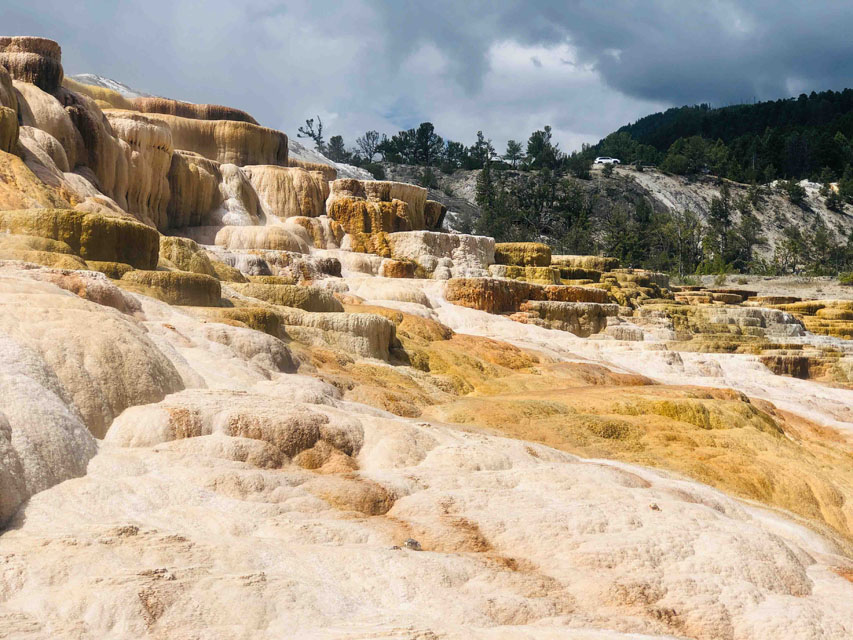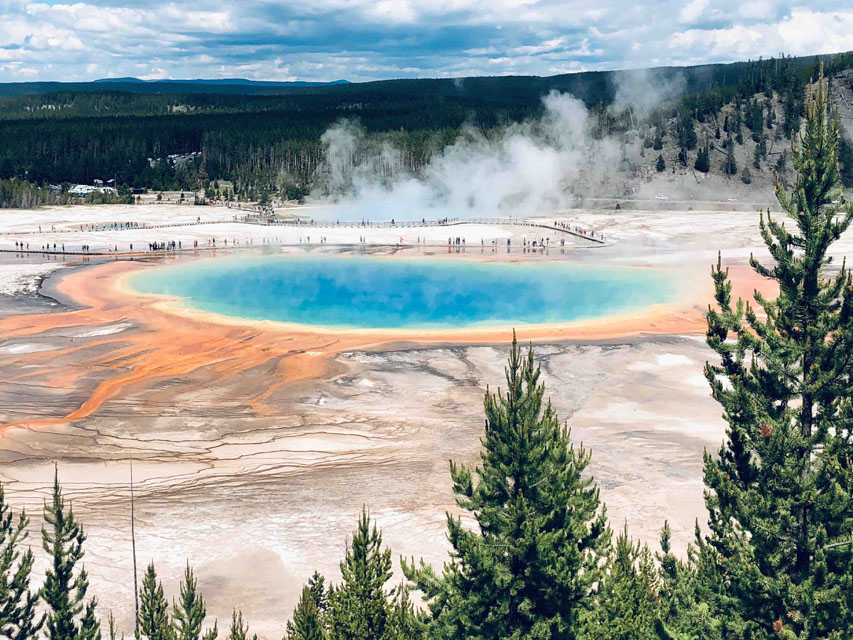 Day #6=>

This was our one full day in the park coming in from the West Yellowstone gate. A very popular attraction is the Norris Geyser Basin so we decide to stop there first while there was still easy parking available. This is a very large attraction thus the one image to the right is just a preview. View all of Norris Canyon images via this link. After Norris we headed to the most northern part of the park, Mammoth Hot Springs. Just like Norris, Mammoth Hot Springs is a large attraction with many striking travertine terraces. After Mammoth we found a nice lunch stop which happened to be in the car since a rain storm arrived at the same time. In the afternoon we wanted to get a view of the Grand Prismatic Spring from a path above the spring. We had to wait for the sun to come out from behind the clouds to get the colors we knew were possible, and it worked!!! After getting the images we came for we concluded our day with a hike at this attraction.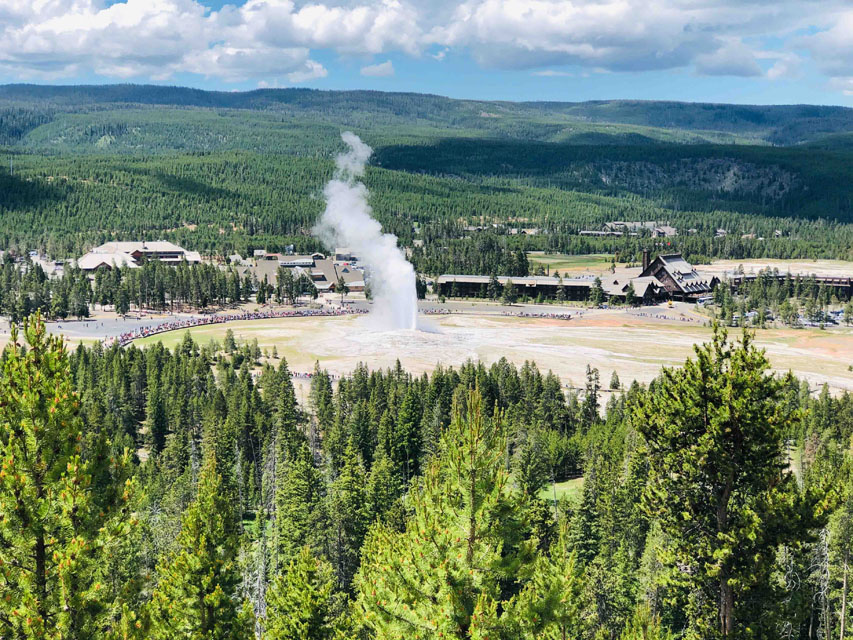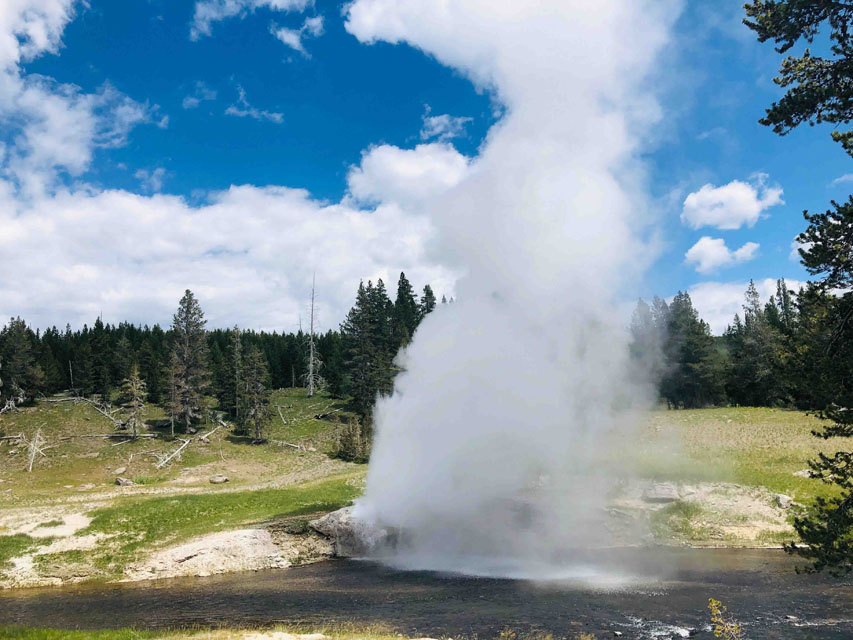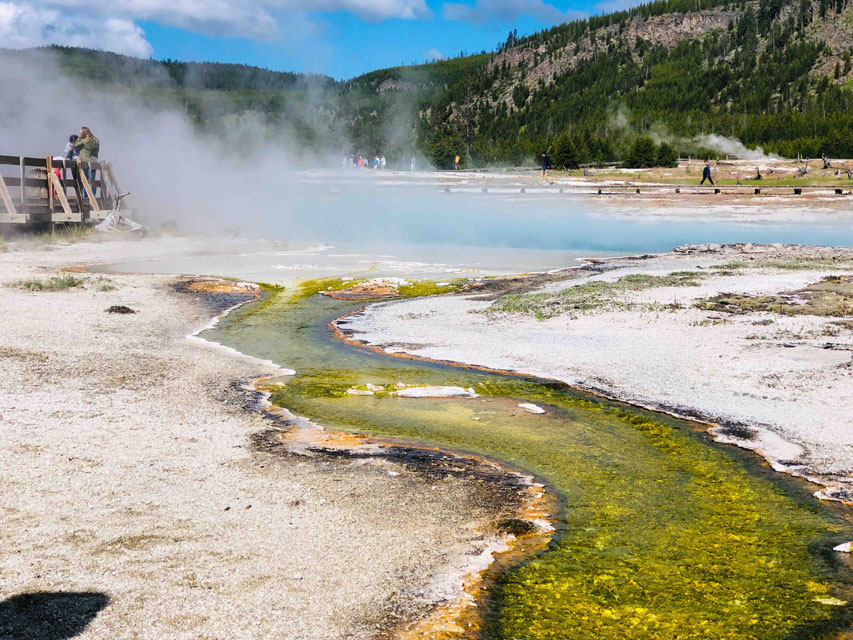 Day #7=>

On this day we left our West Yellowstone lodging but it was another full day in the park as this night we had a cabin rented at Old Faithful Lodge. On our way to Old Faithful Lodge we stopped at Lower Geyser Basin for some morning light shots, left-most image. The colors are not fake, according to gypsy app it is bacteria. Then we proceeded to Old Faithful Lodge that has a huge parking lot and lots of hiking trails to many different geysers. This area has by far the most geyser activity in the entire park. Here at the Lodge they post the approximate times of the next eruption of some of the gysers within a short walk of the lodge. Old Faithful erupts very faithful every 90 minutes or so. After checking out when Old Faithful was going to erupt we hiked up a few hundred feet above Old Faithful to have lunch and get a better view of the eruption, right-most image. Then we walked a number of trails past a number of geysers and arrived at the Riverside geyser just before it erupted. That is a river the geyser is erupting over and thus its name.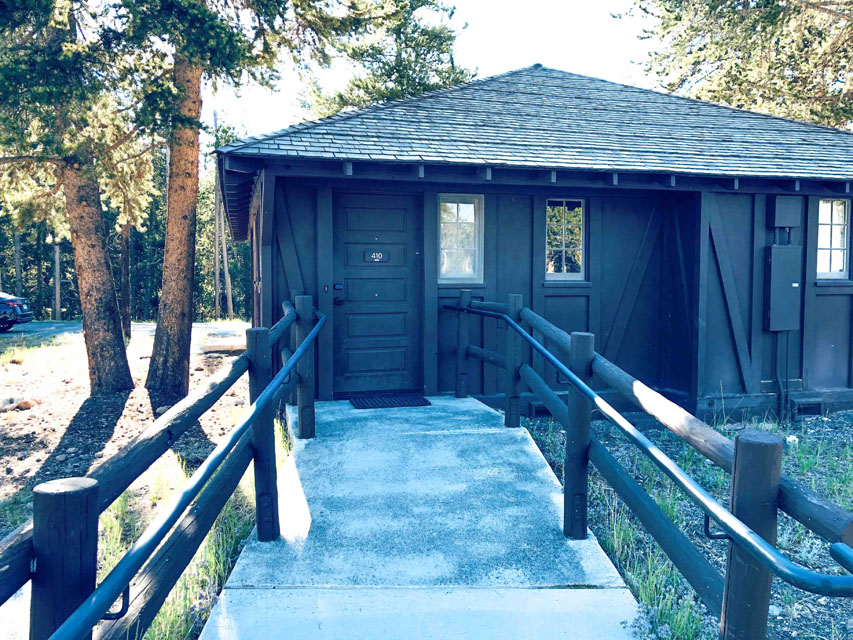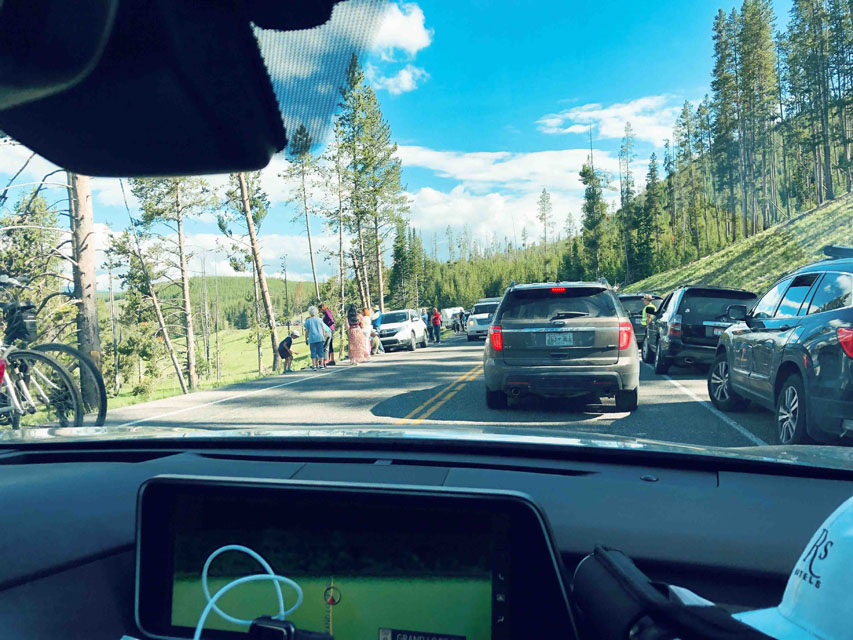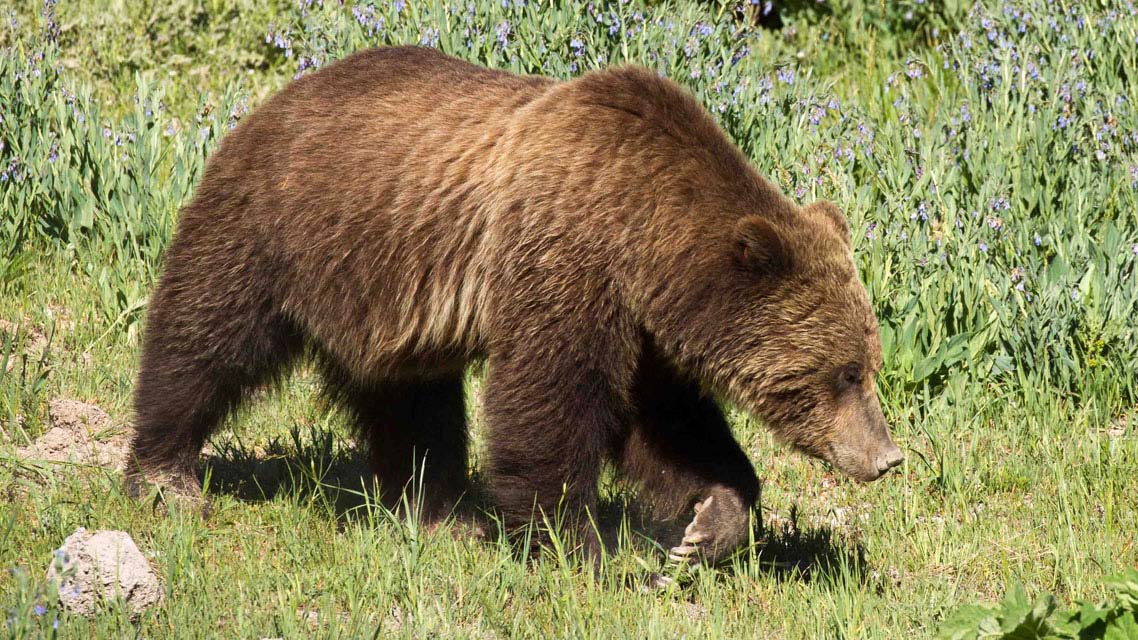 Day #8=>

On this day we left our cabin you see to the right and drove through Yellowstone Park toward Mammoth Hot Springs and the Lamar Valley. Before even getting to Mammoth Hot Spring we came across a "bear jam" (solid cars in both direction with no one moving). Everyone was out of their vehicles to watch the Grizzle Bear in a meadow beside the road.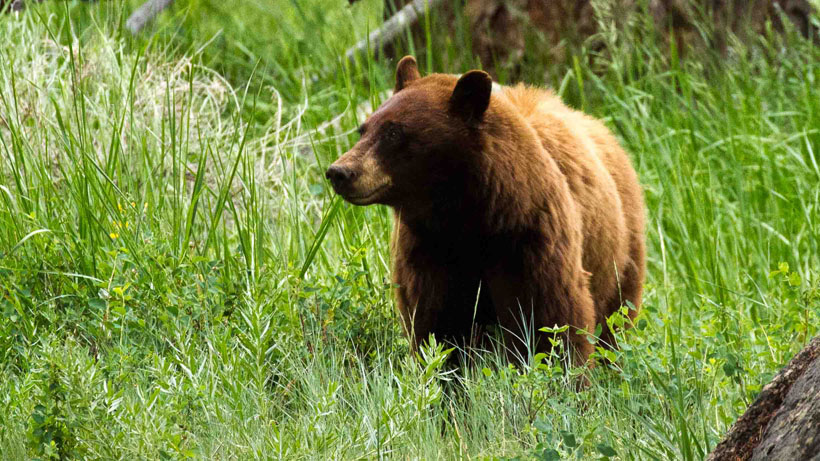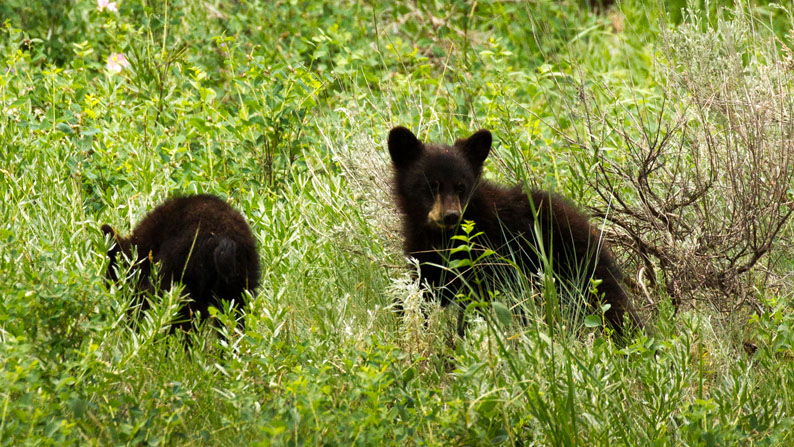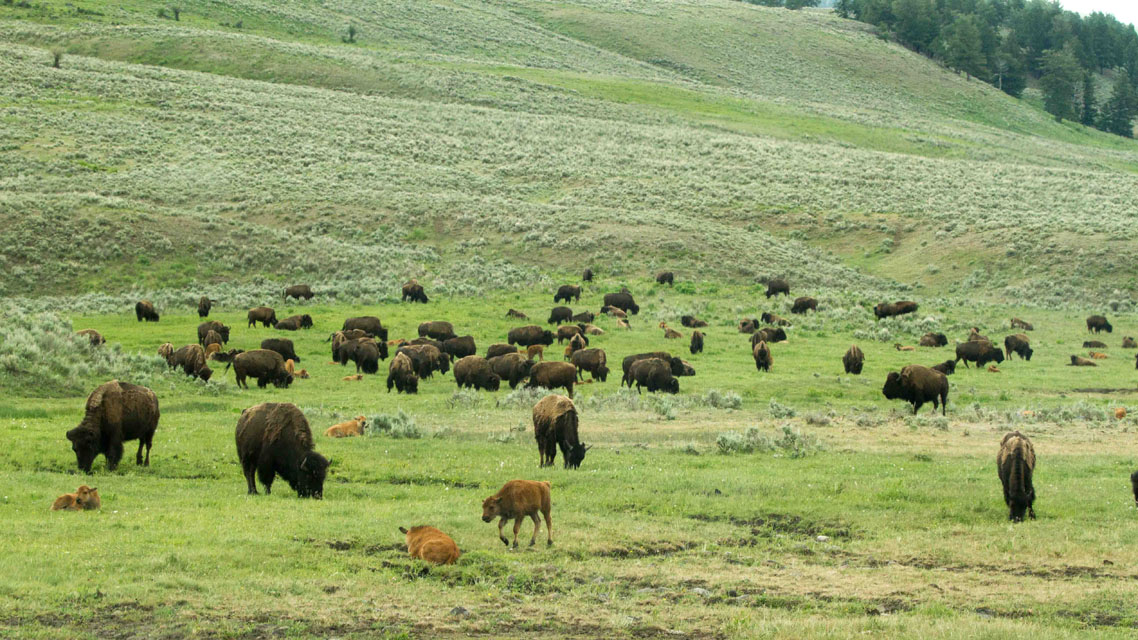 After the bear jam we proceed to the animal famous Lamar Valley and we were not disappointed. Another bear jam, this time a grizzly mother and her two cubs. A number of rangers were already there trying to keep everyone safe as we watched Mom and cubs get closer and closer to the road. The Rangers eventually told everyone to get back in our vehicles so we continued on. We exited the park through the Northeast Gate into Montana.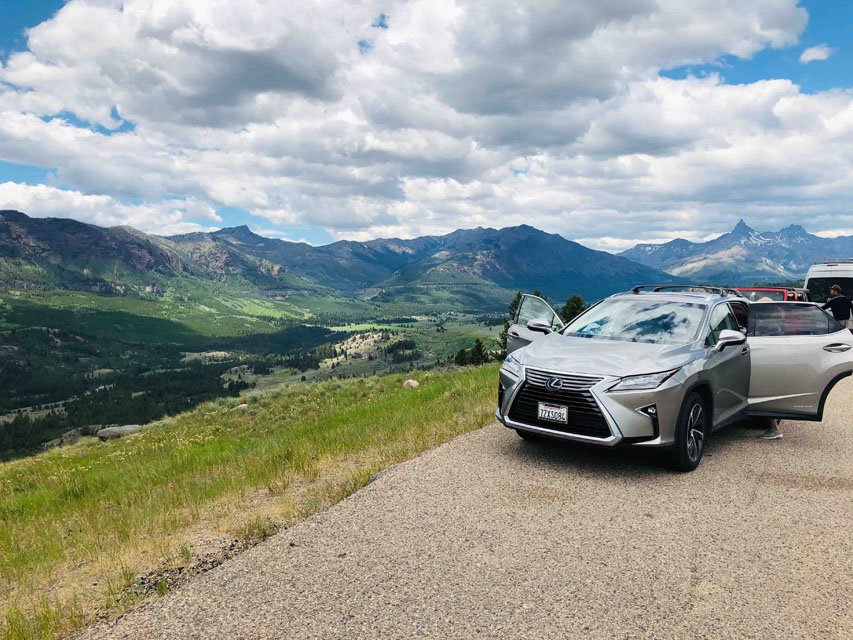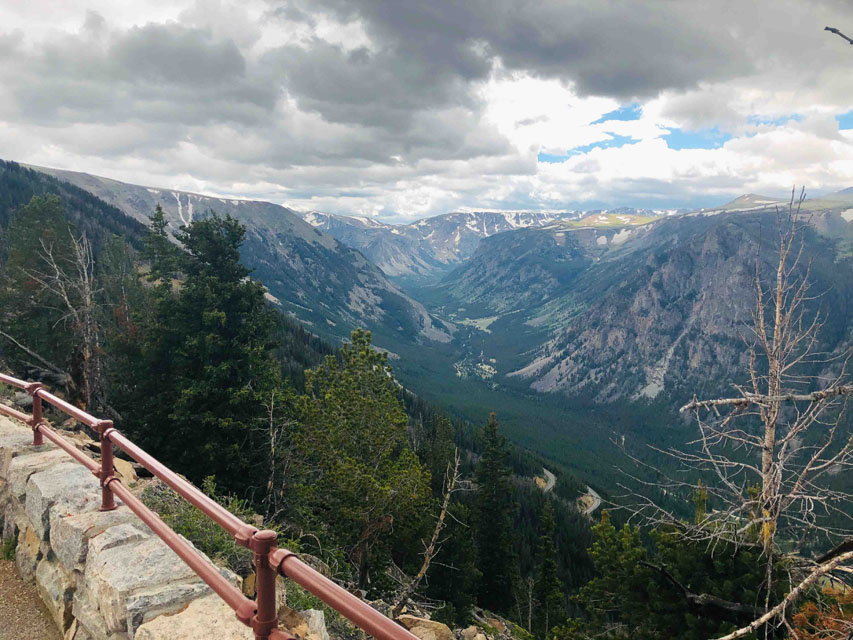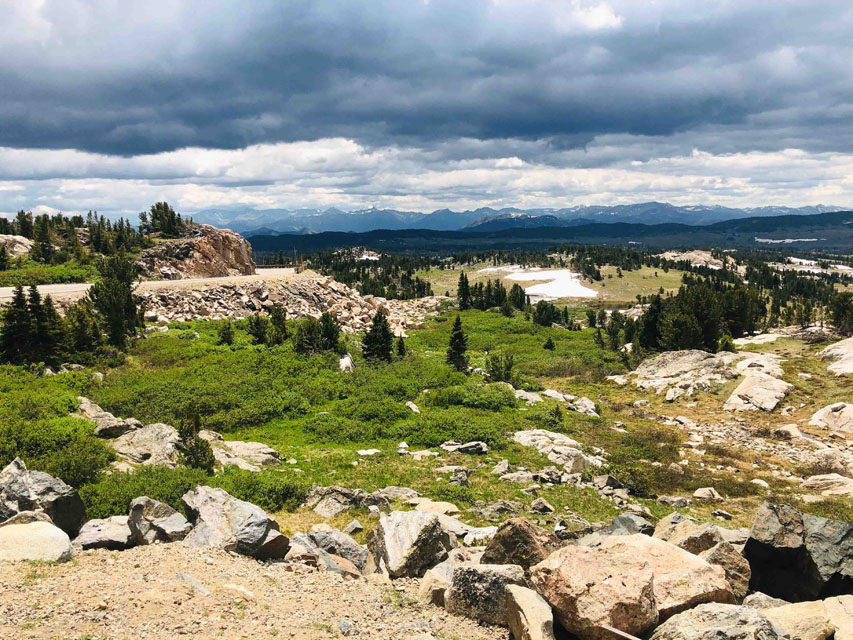 After leaving the park we stopped for lunch along side the road, image to the right. After lunch the plan was to make our way to our next lodge in Billings, Montana. The route we choose was via the Bear Tooth Highway which took us above the tree line to over 9,200'. As these images show a good choice.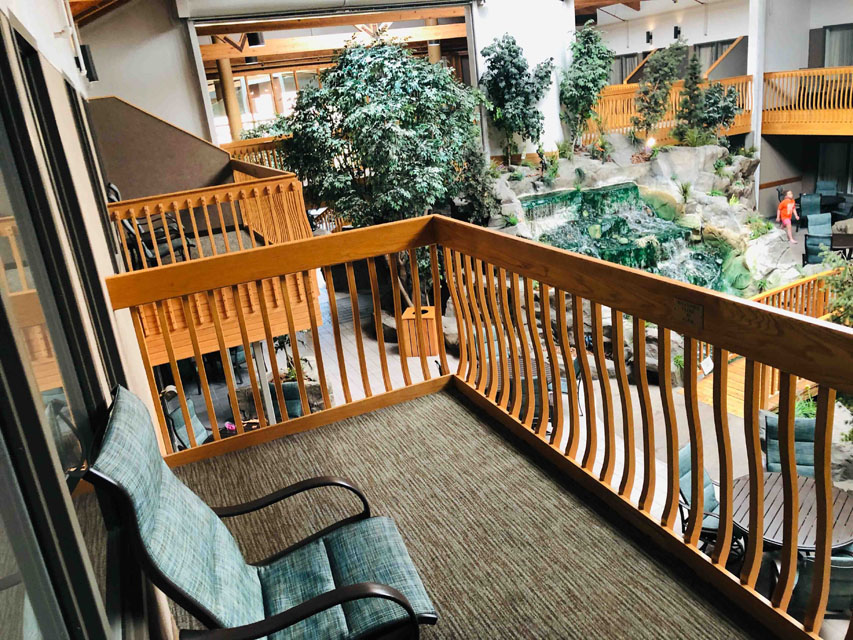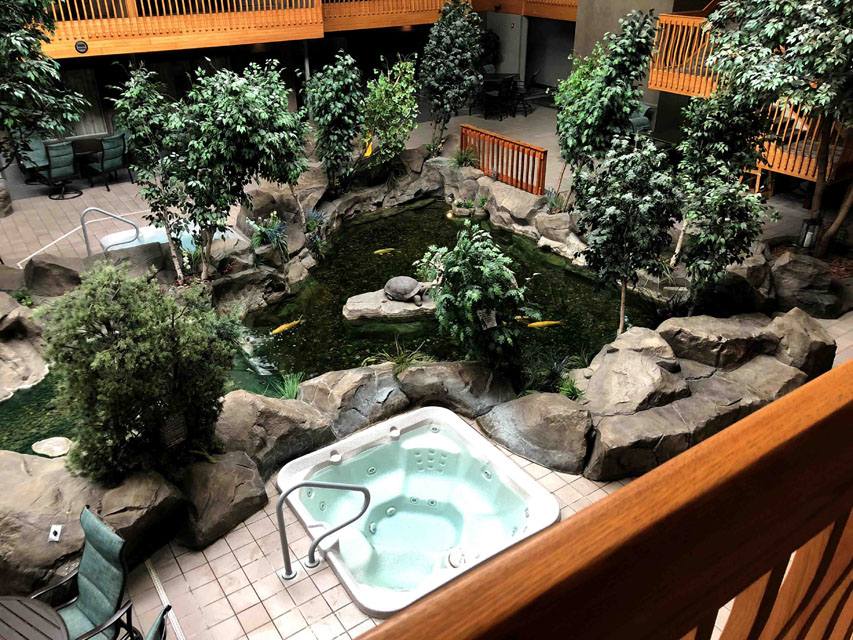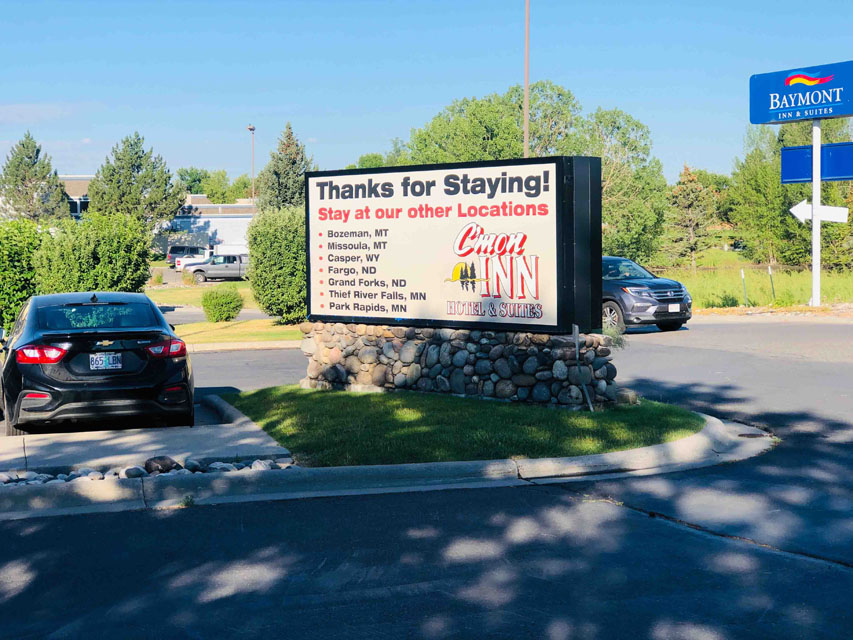 The map at the top of this page shows the location of Billings, Montana which was close to our most northern point on this trip. Our Billings lodge was most unusual, called the C'mon Inn Hotel. This was an inexpensive hotel with 2 queen beds, frig, microwave and an indoor deck that overlooked an area with a pool, big water fall, bridges, giant koi pond, 5 hot tubs and more, a fun place as you can see in these images.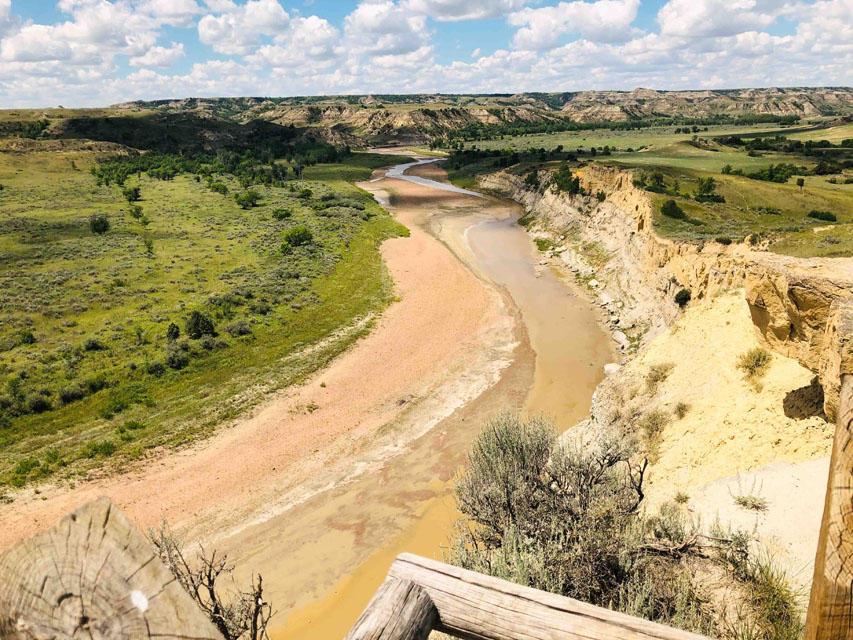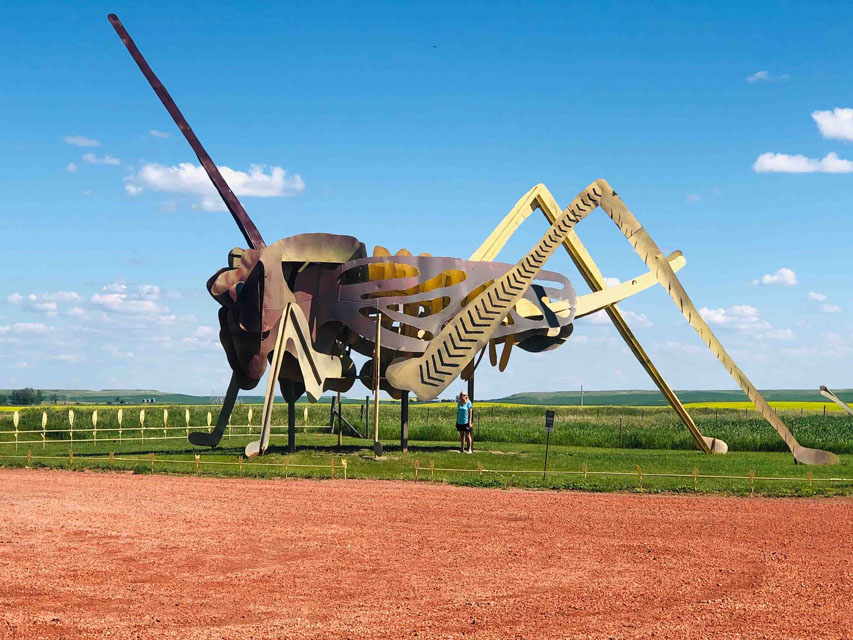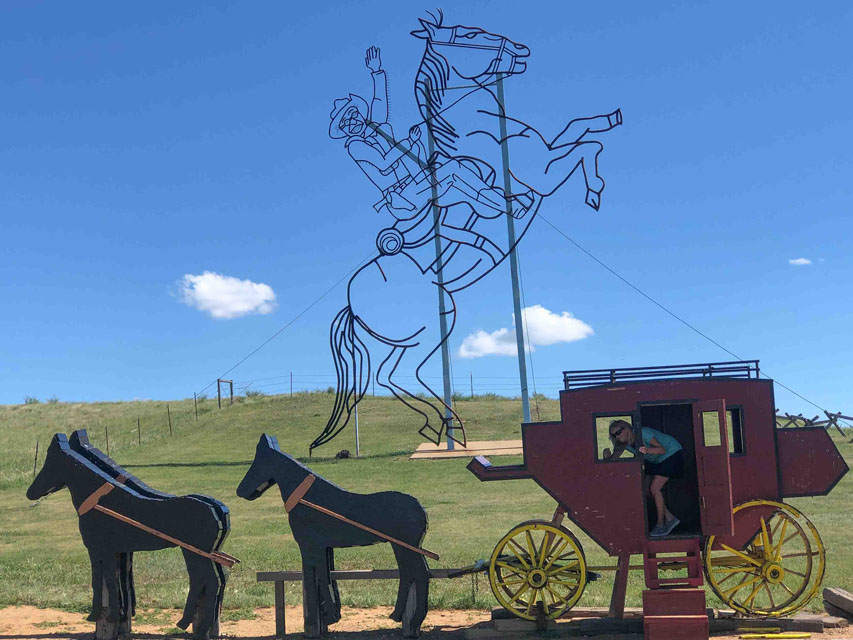 Day #9=>

After leaving Billings we headed east on interstate-94. Much of Montana looks a lot like central California, more green than golden and not much farming. In contrast there was a ton of farming in Idaho. Also most Montana farms were dry farming, again is contrast to Idaho. But that all changed when we entered North Dakota which again had lots of farming, some dry and some irrigated. In North Dakota we took time out to visit Theodore Roosevelt National Park. This was probably the least impressive of all the parks we visited which is a bit strange since during his presidency he create over 230 million acres of public park lands and reserves. More image of Theodore Roosevelt National Park via this link. But we were not done yet. We altered our route to Bowman, North Dakota so we could drive the Enchanted Highway. The Enchanted Highway contains large sculptures every few miles of this 32 mile detour, like the sculptures shown here, and more images via this Enchanted Highway link.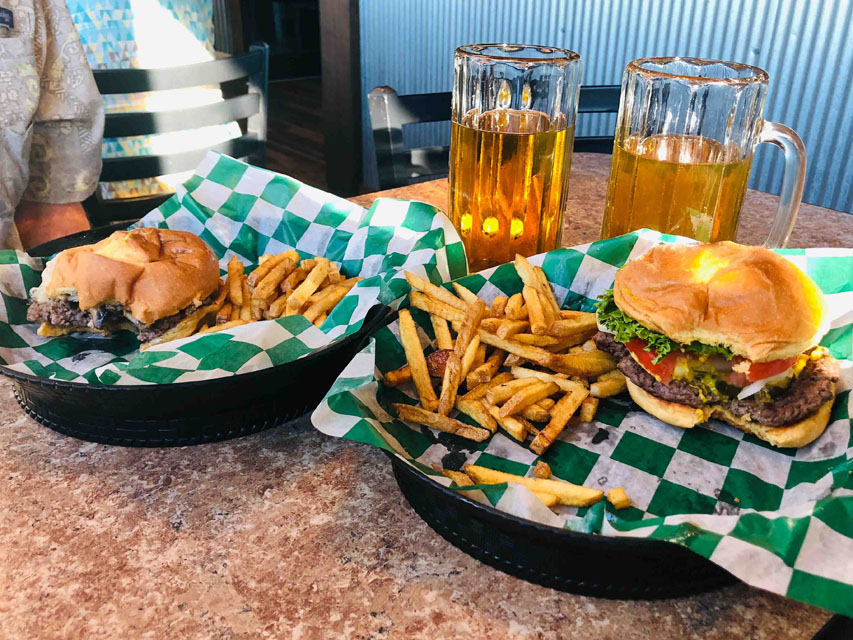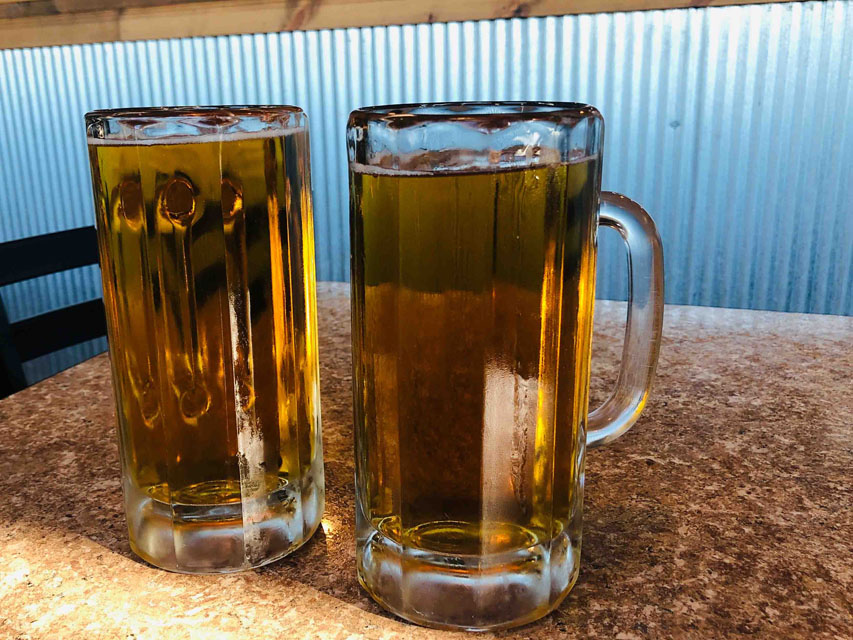 After the Enchanted Highway ended it was not far to our lodge in Bowman, North Dakota. Bowman is a town of less than 2,000, so not many lodging options. But the restaurant at the lodge we selected was recommend by Trip Advisor as having the best burger and beer, EVER!!! OMG, they were right, we had to agree the best burgers we have ever had. So much for avoiding small towns as this was a great stop. The location of Bowman is shown on the map at the top of this page.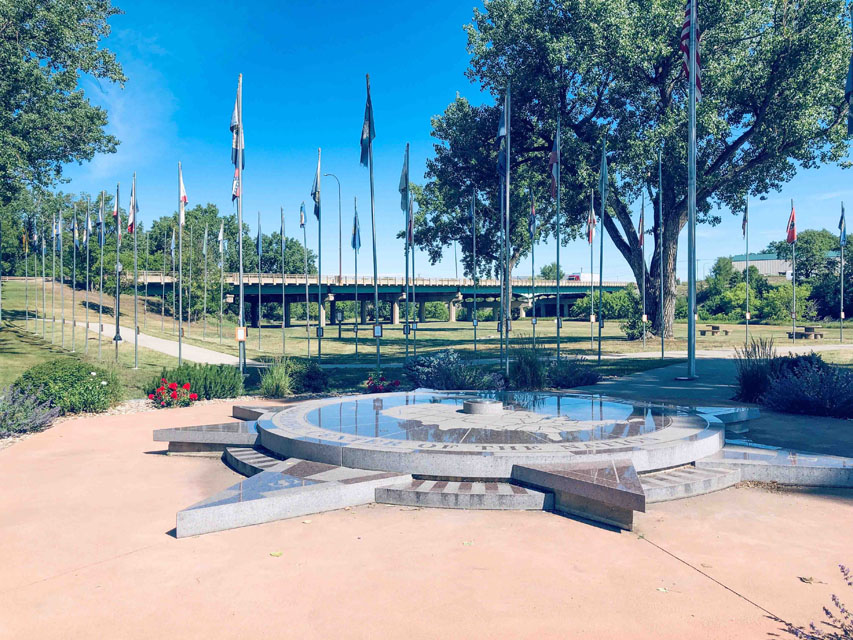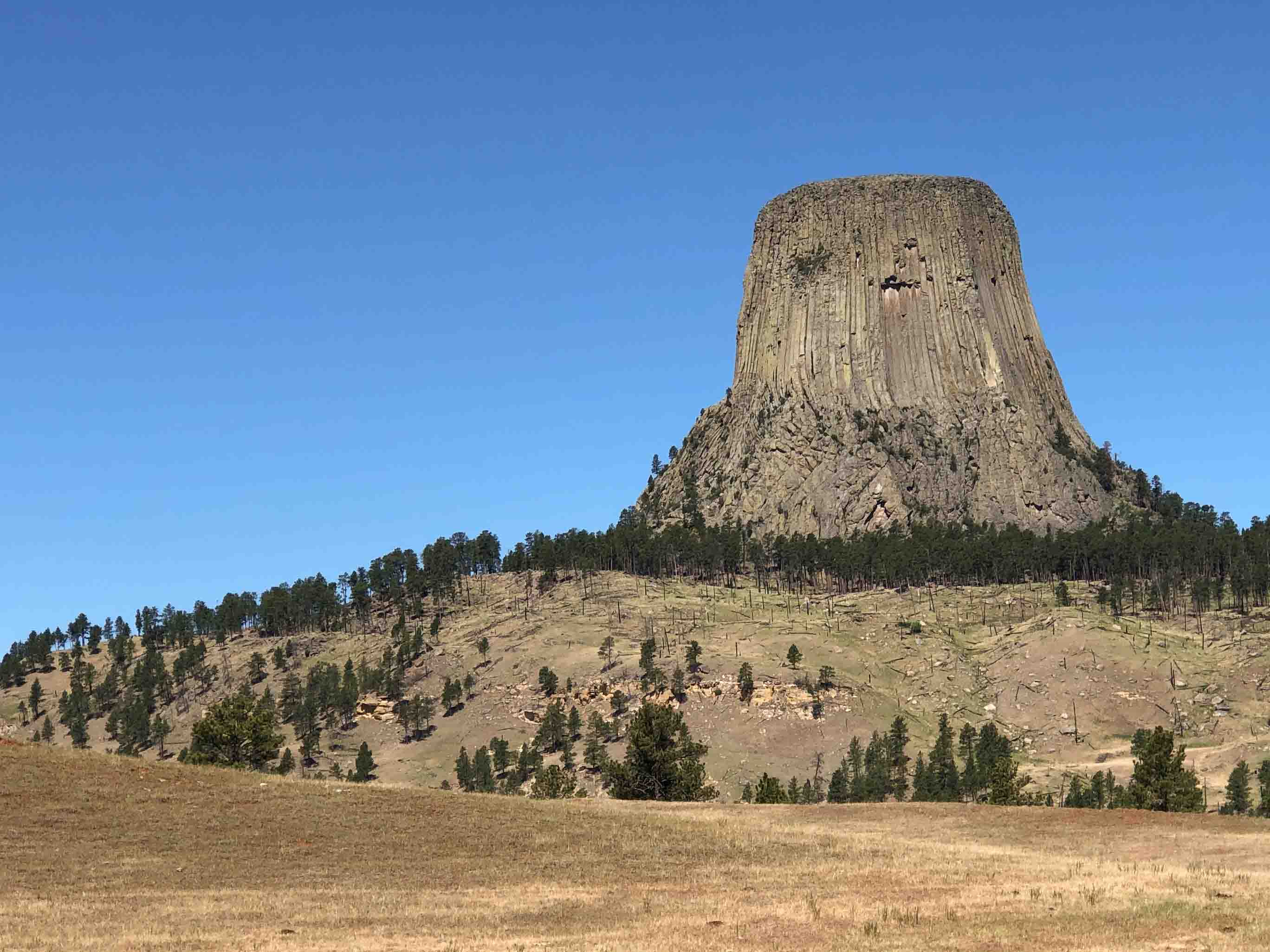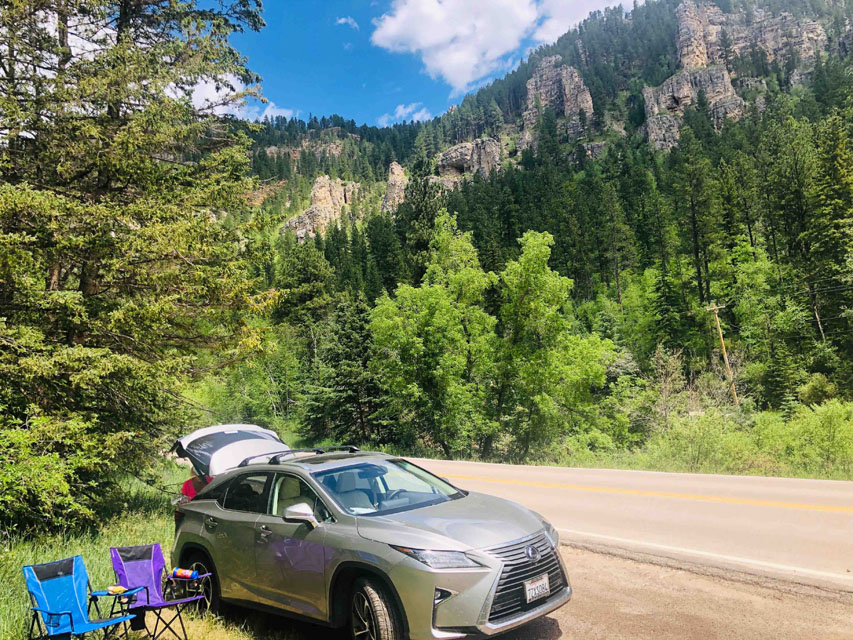 Day #10=>

Shortly after leaving Bowman we also left North Dakota and entered South Dakota where the farming abruptly stopped. Not sure why there is such a big difference from state to state. Our first stop in South Dakota was the geographical center of the US. Belle Fourche is the town closest to be the center of the US and they built a monument, image far right. I would not drive all the way from California just to see this monument but it was a nice break to our driving. Actually if you google center you will find that a city in Kansas is also claiming to be the center. Maybe we will see the other center on a different road trip.

Our next stop was the world famous Devils Tower which is pictured on many travel catalogs. Unfortunately when we arrived the line was very long and you get no closer than the line we were in. So we took a couple images(middle image above) and proceeded to our next attraction, the Black Hills. Or more specifically Spearfish Canyon which was such a beautiful canyon we decided to stop make and have lunch, left most image. After exiting the canyon we headed to Wall, South Dakota to visit the world famous Wall Drug. According to our Gypsy app a man and wife started this drug store but got very little business. His wife came up with the idea of advertising that they had free ice-water for everyone and that did it. As they grew they took over more and more of the buildings in this town. Now the whole town appears to be this drug store....what a circus!!! By now it was getting late so we headed for our lodge, the Cedar Pass cabins in the Badlands National Park. The location of Badlands and our cabin are indicated by the dot labelled "Cedar Pass Lodge" on the above map.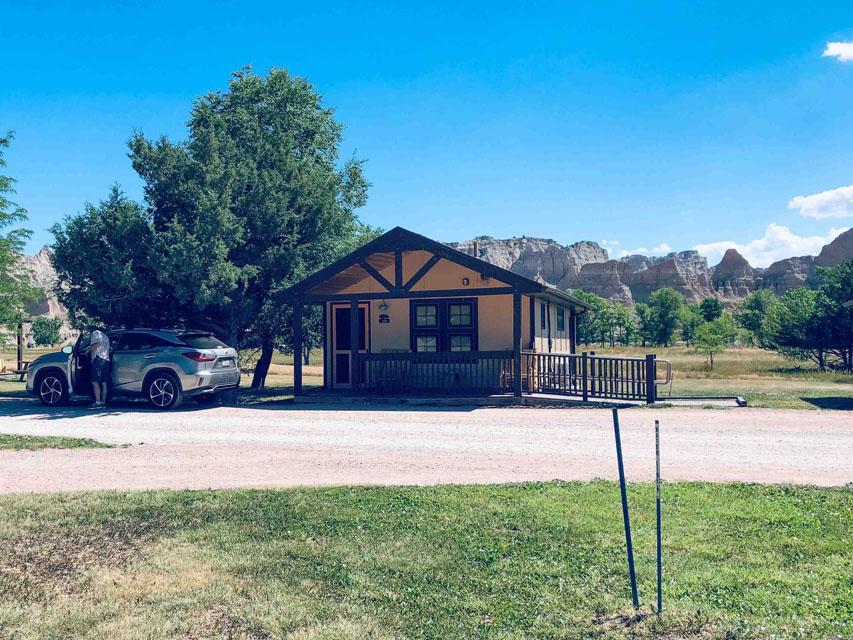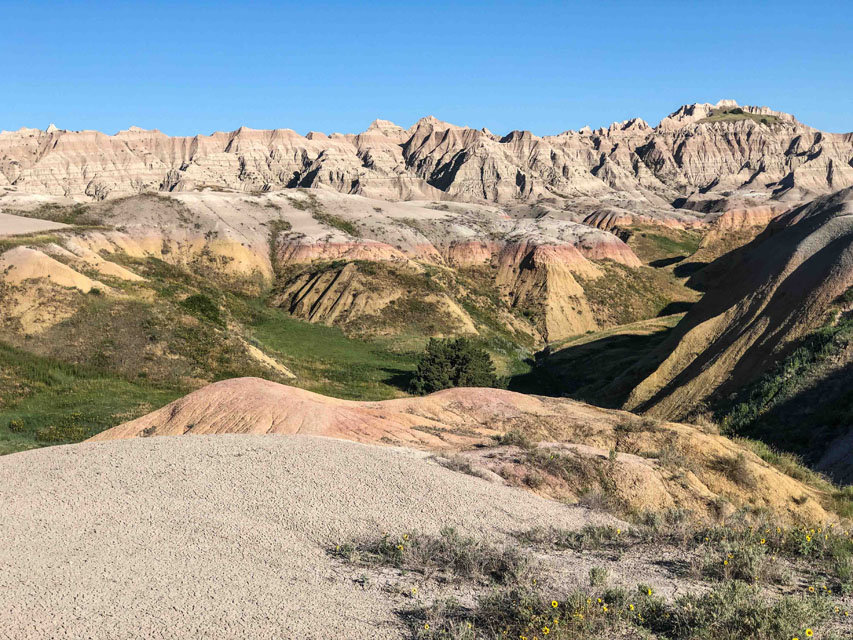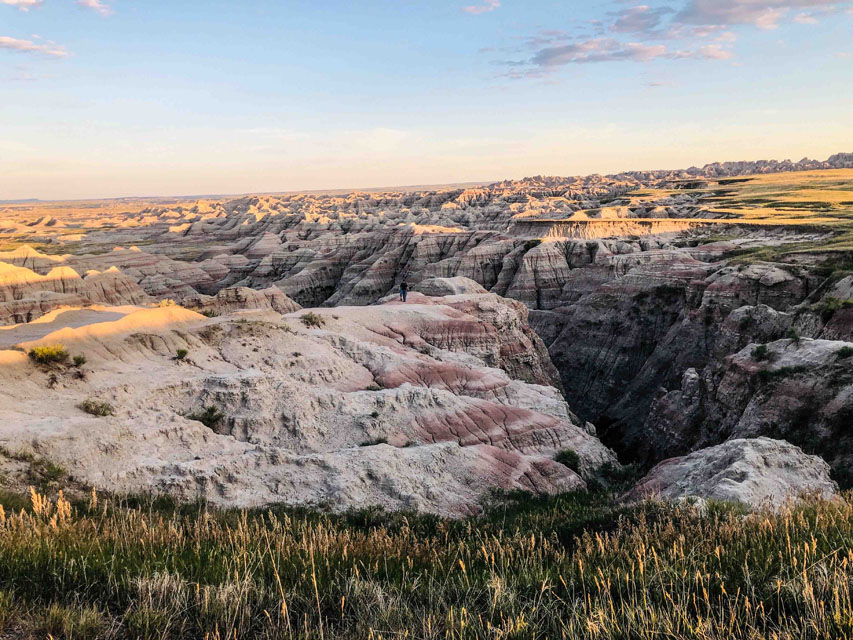 Unfortunately we only had this cabin(far right image) for one night. It was a great cabin with a deck on the front and back, a/c, a ceiling fan, frig, big screen and really nice bathroom. After dinner we did a sunset drive through the badlands and the next morning we did the same drive and captured some sunrise images. The Badlands are very photogenic, see all images via this link. Many stops on this trip I would have liked more time at and this was definately one of them.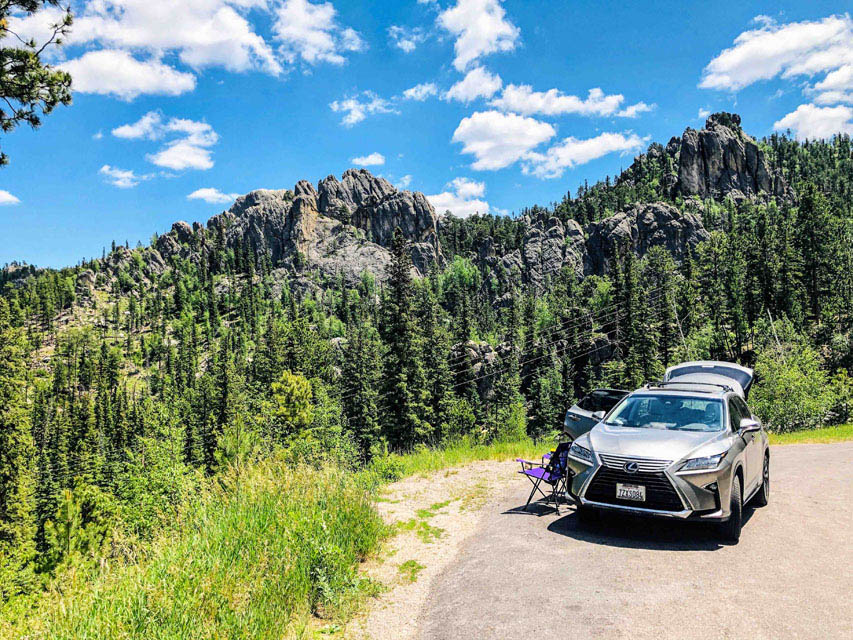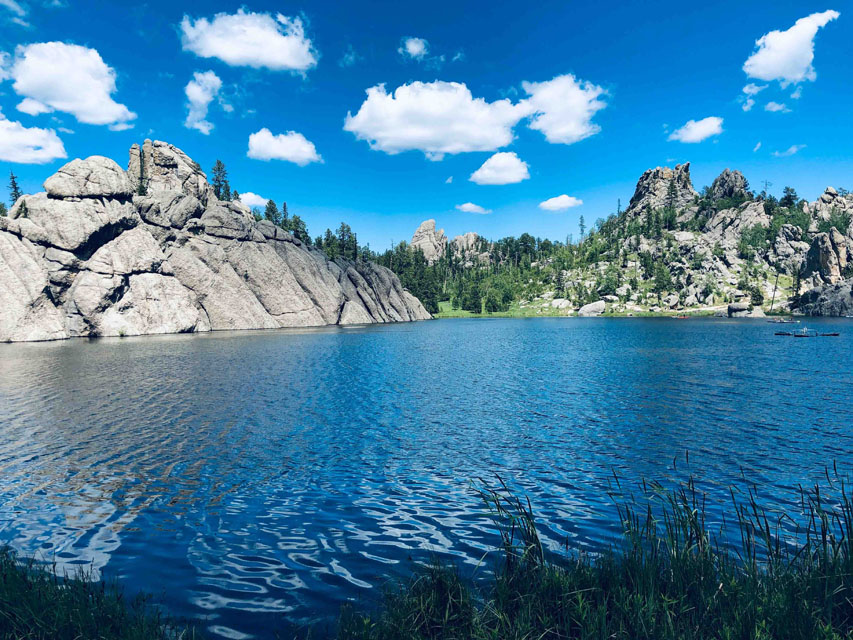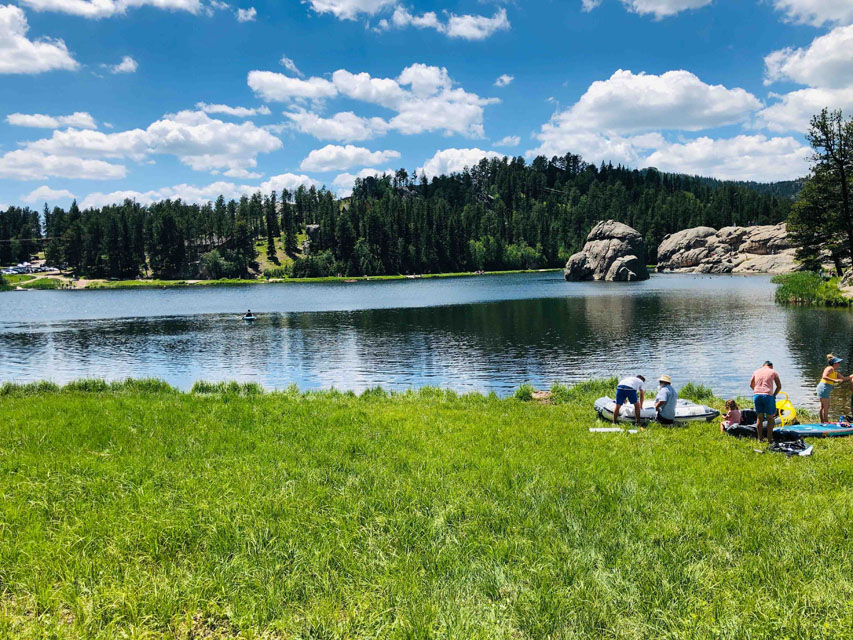 Day #11=>

After checking out of our cabin the destination for today was another cabin, this time in the Black Hills. We allowed the Gypsy app to guide us and he started with a little history. The Dakota's became states in 1889. SD is not a small state(physical) but population wise the 5th smallest with less than a million residents. For the most part SD is grassland/prairie except for Bad Lands and the Black Hills. The Black Hills are not just rolling hills as one peak is the highest anywhere in US east of Rockies. The Black Hills are 1.25 millions acres, not a small area, and is about 1hr down the road from the Badlands which is very easy to see on the map at the top of this page. The dot for Black Hills is our lodge/cabin called "Powder House" which is in the little town of Keystone.

We were surprised to learn the Black Hills is a big playground with camping, hiking, off roading, water sports, rock climbing, museums, gambling, dinosaur digs and much more. In other words it is like Lake Tahoe and the California Gold rush towns and Reno all in one. Yes I did mention gold. Gold mining in the Black Hills lasted 126 years which yeilded 41 million ounces of gold and resulted in numerous gold mining towns from the past like Sturgis, Deadwood, Lead, Keystone, and many more. These towns are now Western style playgrounds with mock gun fights, saloons, casinos and anything else you can think of.

Anyway back to the tour, Gypsy strongly recommended approaching Mt Rushmore(also in the Black Hills) via the Needles Highway/Iron Mt Road. We now know the "needles" are named for the pinnacle like granite structures on the top of the Black Hills. By the time we entered the Black Hills it was lunch time so we again took advantage of the beautiful scenry while having lunch(far right image above), see the pinnacles behind us at lunch.

After lunch we continued on the Needles Highway which took us right through the Custer State Park, a $20 charge for a week. The first thing you came to is Sylvan Lake an unbelievably beautiful lake. We did the walk around the lake which are the other two images above.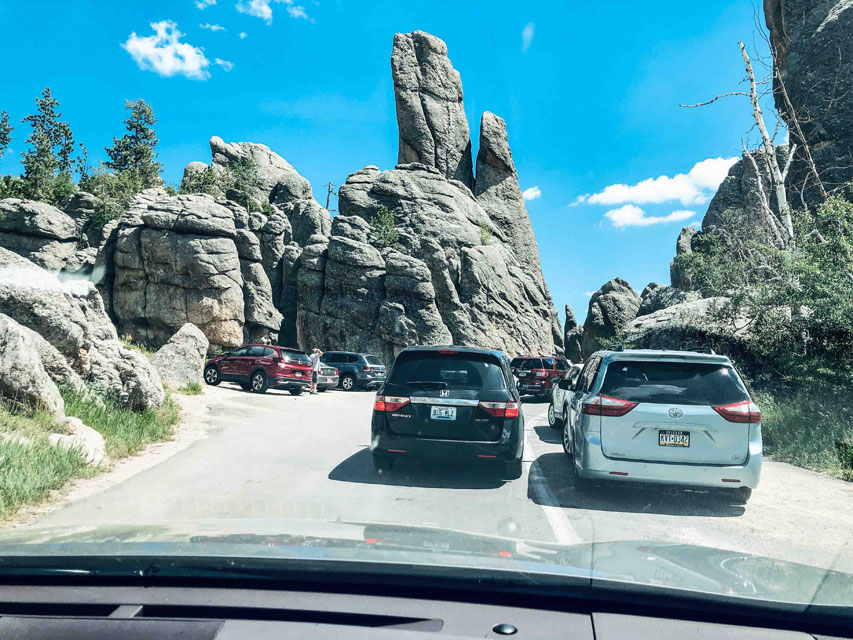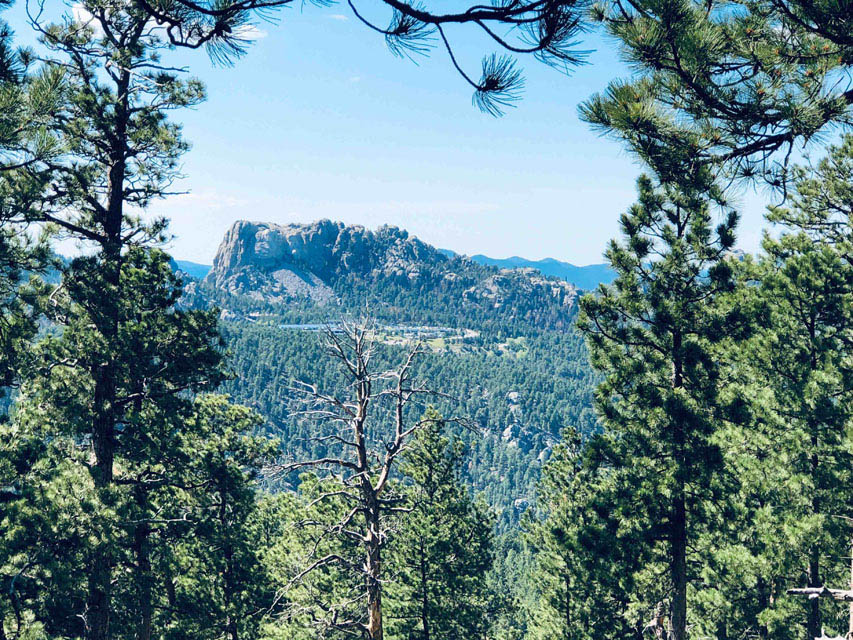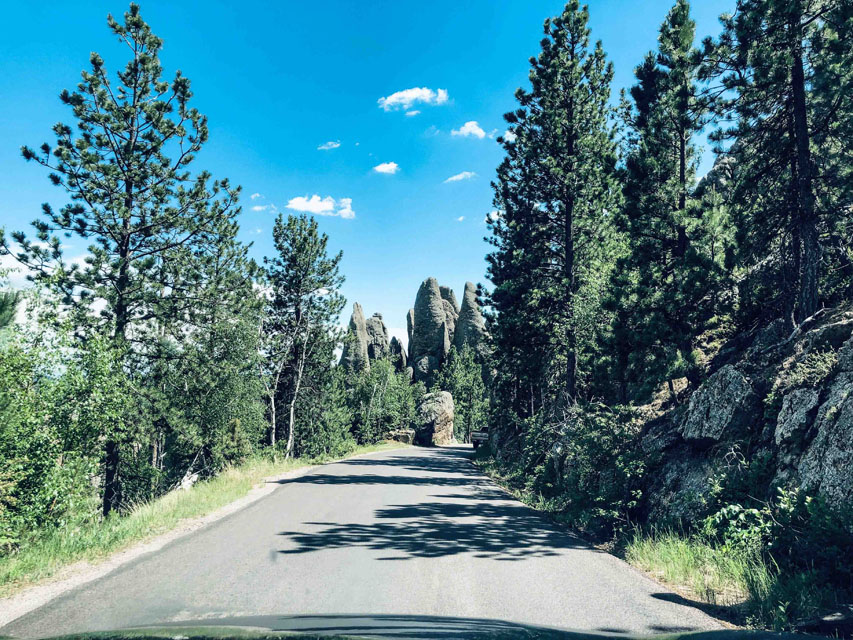 After leaving Sylvan Lake we continued up the mountain on a 2-lane road that should have been only one lane. As you can see cars were everywhere and the scenery is stunning. The road passes through a number of very narrow tunnels. Not only are the tunnels one lane but you also better not have a wide or tall vehicle. The road was long and when we started down going toward Mt Rushmore it got even more interesting. As Gypsy mentioned the road builders were really having fun, creating a fun experience. Thus this part of the road sometimes separated up from down traffic as it curved through the forest and of course more tunnels, one was framed so you saw Mt Rushmore in the distance as you exited the tunnel. Mt Rushmore is also framed by cutting down a row of trees like the middle image to the right. Can you see the presidents faces? If not remember here are more images of Mt Rushmore/Black Hills via this link. But the most unusual road feature were corkscrews. Can you visualize? You all know what a switchback is, well a corkscrew keeps turning until you go back underneath the prior road and they had both left and right corkscrews, just for fun. To say it was the most interesting road I have ever driven is an understatement.

We also learned a bit more about General Custer, from the Gypsy app. I did not know that General Custer graduated from West Point. I also did not know he graduated last in his class. From elementary school I remember something about Custer fighting the Indians but did remember the details. According to the Gypsy app there was a treaty between US government and the Sioux Indians stating that their tribal reservation land was the Black Hills. The settlers wanted the flat grasslands for their livestock and farming. No one wanted the Black Hills so they became the indian reservation and Custer was enforcing this Treaty. All that changed when word got out of a GOLD discovery in the Black Hills. And the rest, as they say, is history!!!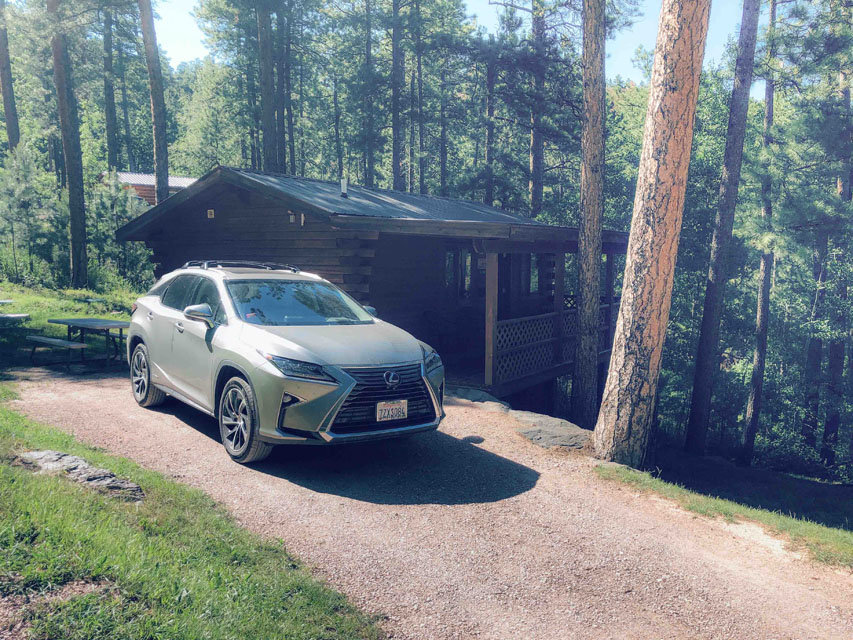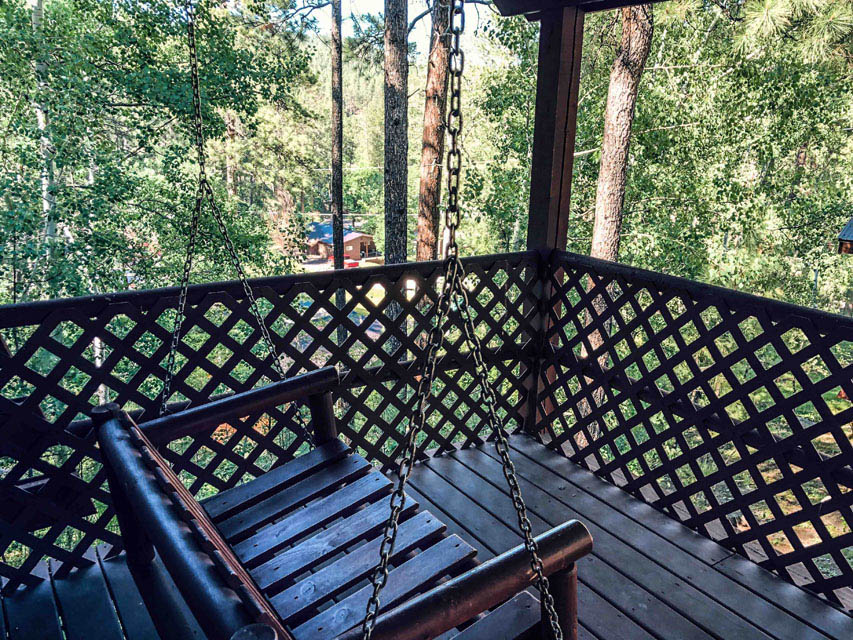 With so much to see we were rather late (for us) in checking into our Black Hills cabin(the Powder House Lodege). But not a biggie as it was home for the next 4 nights. The shade made it difficult to get a good picture especially from the porch which overlooked the pool and the rest of the resort.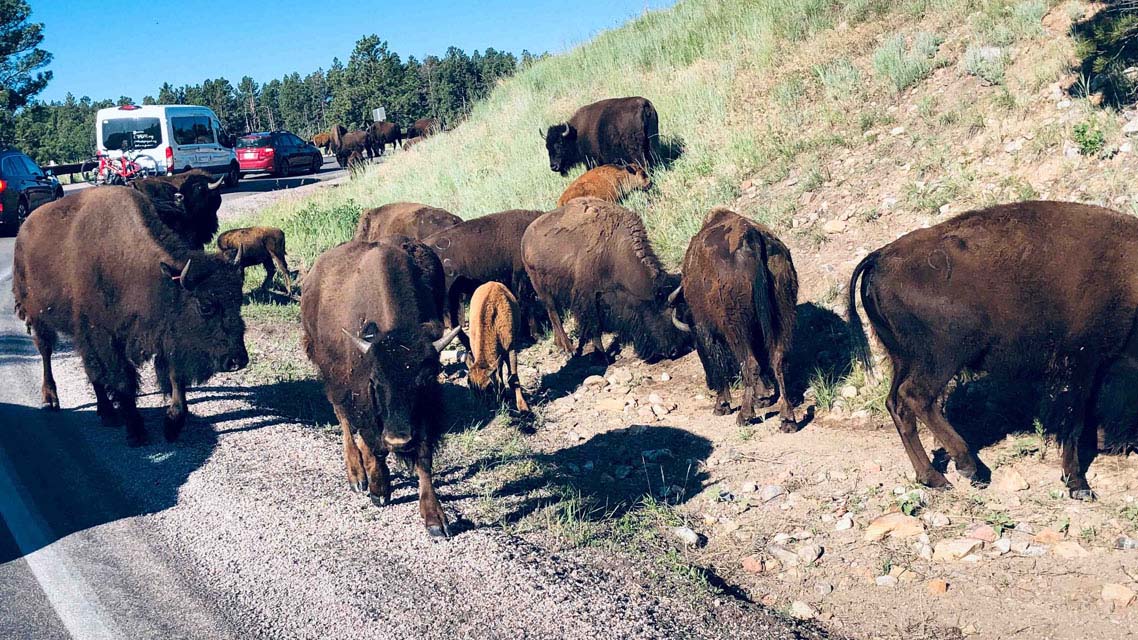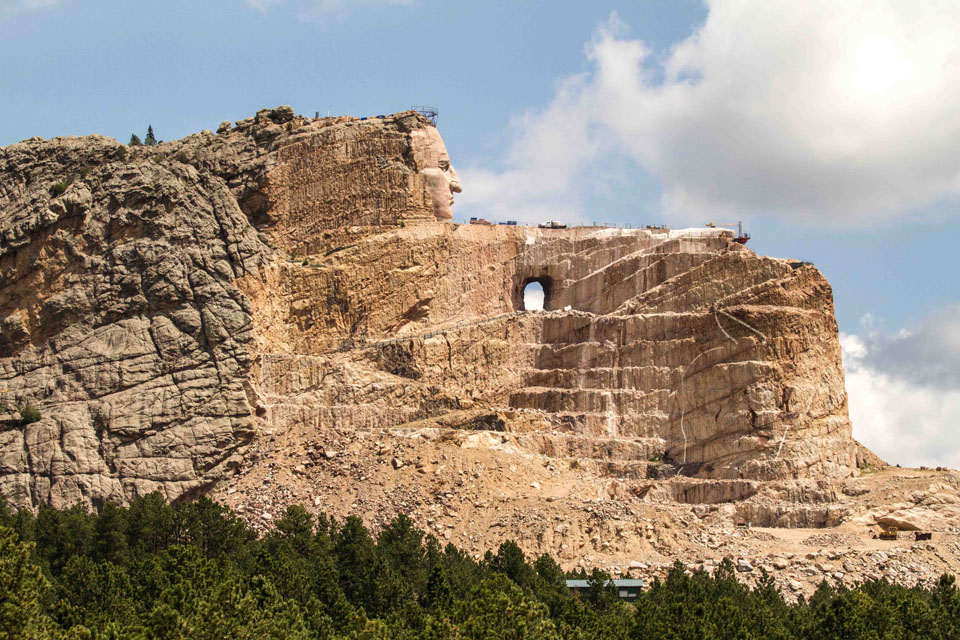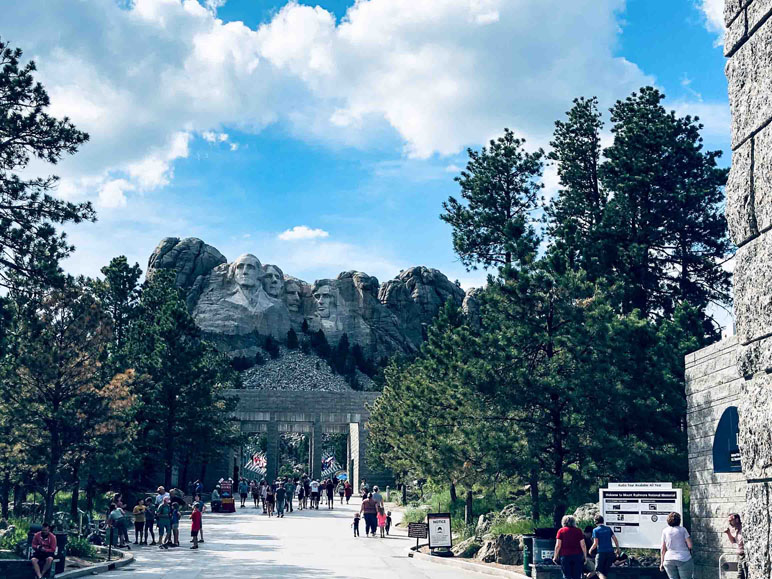 Day #12=>

Our first full day in the Black Hills we drove the Wildlife Loop Road. No sooner had we started when we ran into a "buffalo jam". Unlike a "bear jam" buffalo are actually ON the road so much so that you can not get by. A couple ranger trucks came through and they actual nudged them with their bummer and they still would not move. We also saw elk and a donkey herd with more images off the "Mt Rushmore/Black Hills" link at the top of this page.

Our next stop was "Crazy Horse", middle image to the right, which is a huge sculpture of Crazy Horse on his horse. Construction on the sculpture started in 1948 and was expected to take 30 years. It has now been over 70 years and there is decades more work to be done.

Our next stop was Mt Rushmore with the 4 presidents from left to right: George Washington(1), Thomas Jefferson(3), Teddy Roosevelt(26), Abe Lincoln(16). This memorial exceeded my expectations and therefore there are a lot more images of the Mt Rushmore/Black Hills via link. We learned the most about Teddy Roosevelt from our Gyspy guide during this trip. Teddy quit politics to be a rancher in North Dakota. His first winter was bad, he lost over 1/2 his herd. So he quit and went back to Washington and became the youngest president ever(at the time). But he was always a naturalist and used his presidency to protect approximately 230 million acres of public land.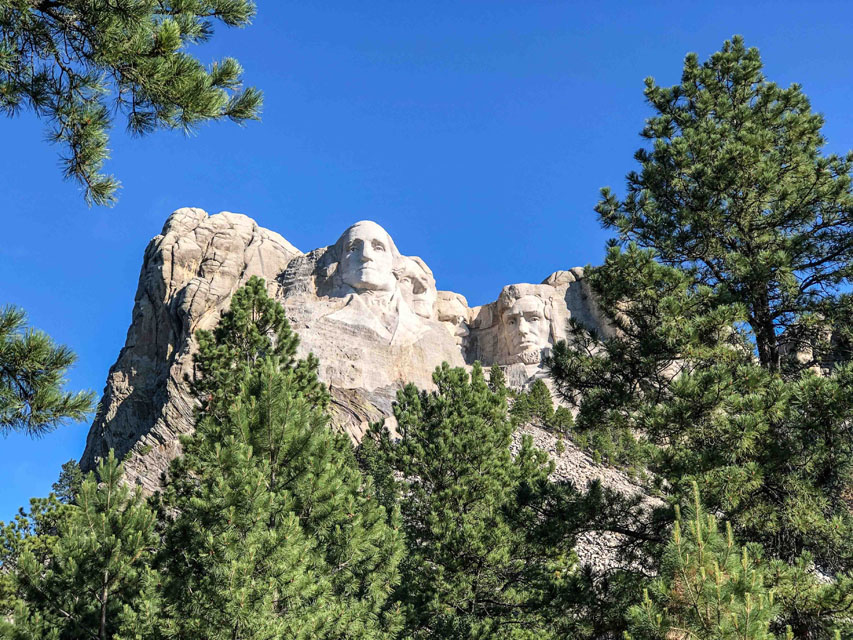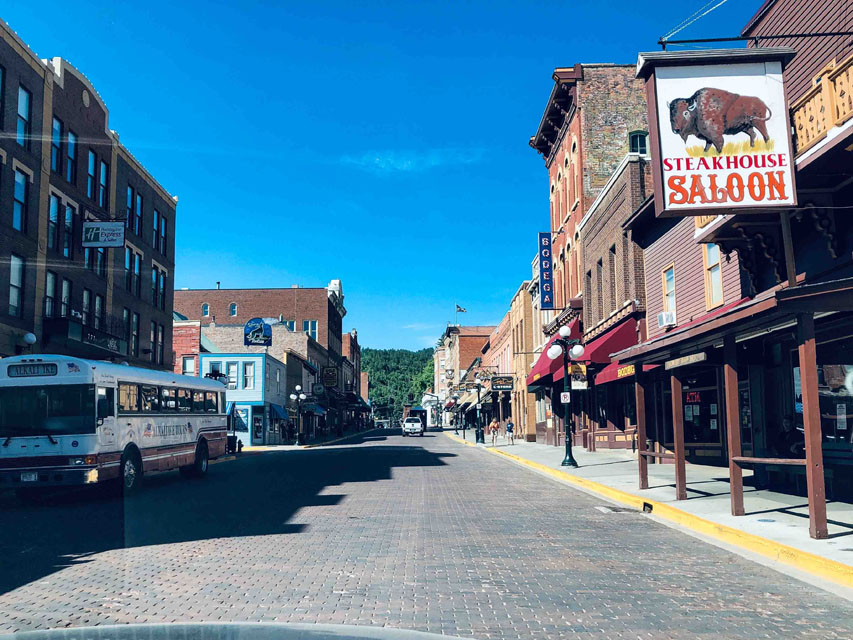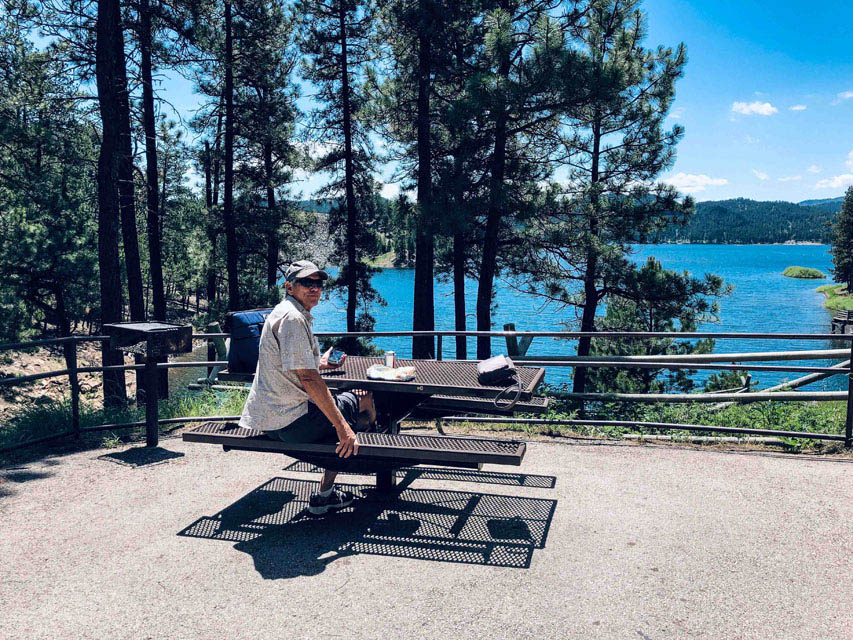 Day #13=>

Our 2nd full day in the Black Hills we returned to Mt Rushmore to capture some sun rise shots. We then drove through a number of the many towns from their gold rush era. Sturgis is one such town made famous by their annual bike rally. And when it came time to find a great spot for lunch the Black Hills did not disappoint. Notice it even had a BBQ if we wanted to cook our lunch and no crowd of people.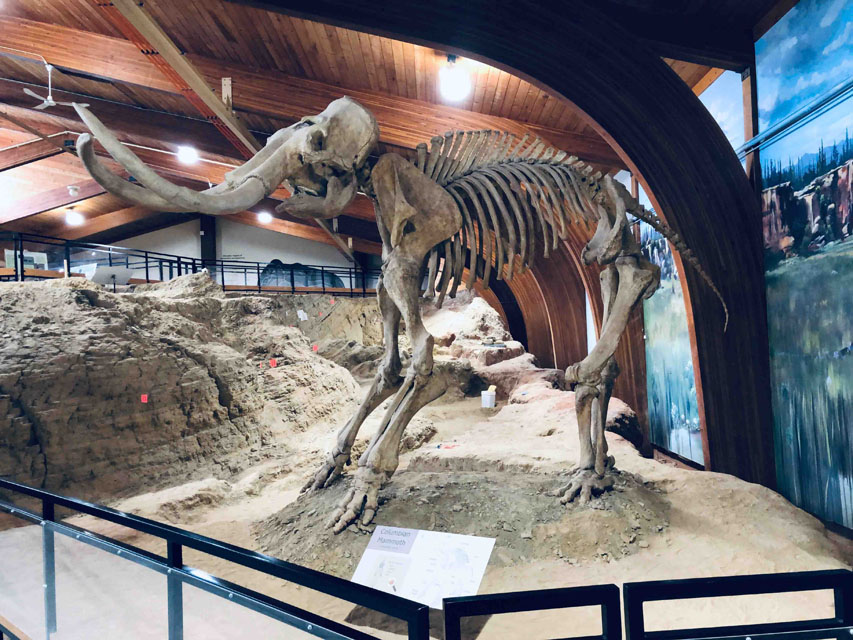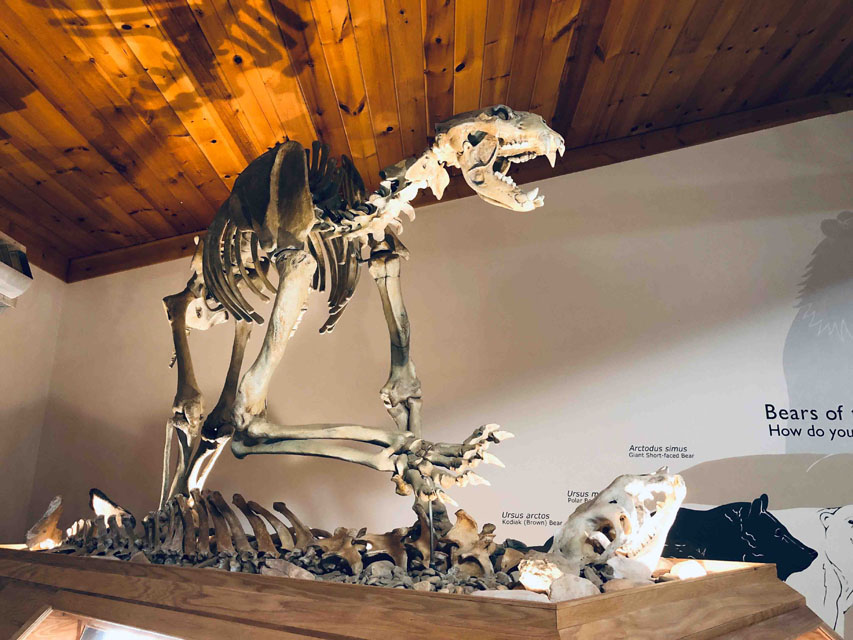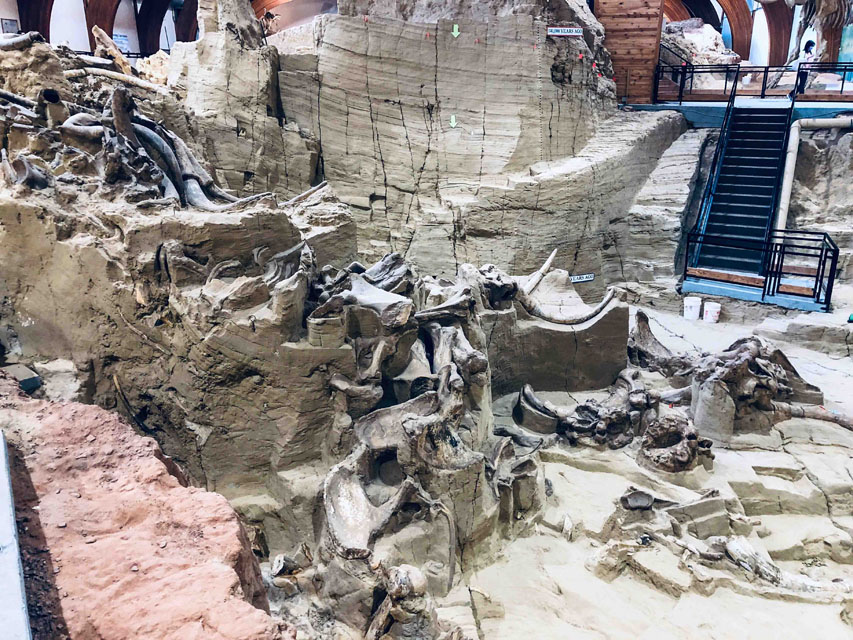 Day #14=>

On our last full day in the Black Hills we went to Hot Springs to visit the Mammoth Site. This site was only discovered in 1974 by a construction project. Today it is a self-guide tour location with guidance via a phone app. After the mammoth site we had planned to visited the "Wind Caves" then returned to our cabin in the woods to rest up for the road trip still ahead of us.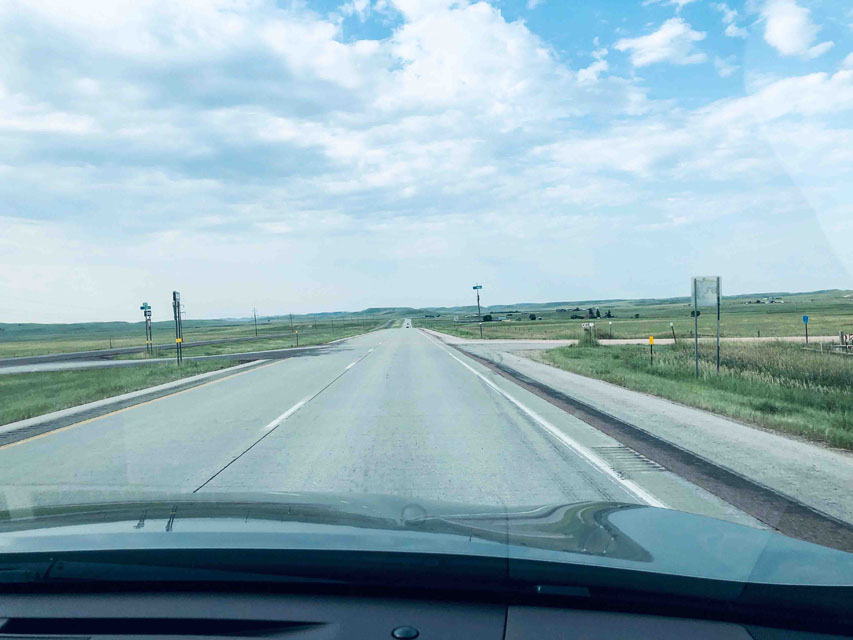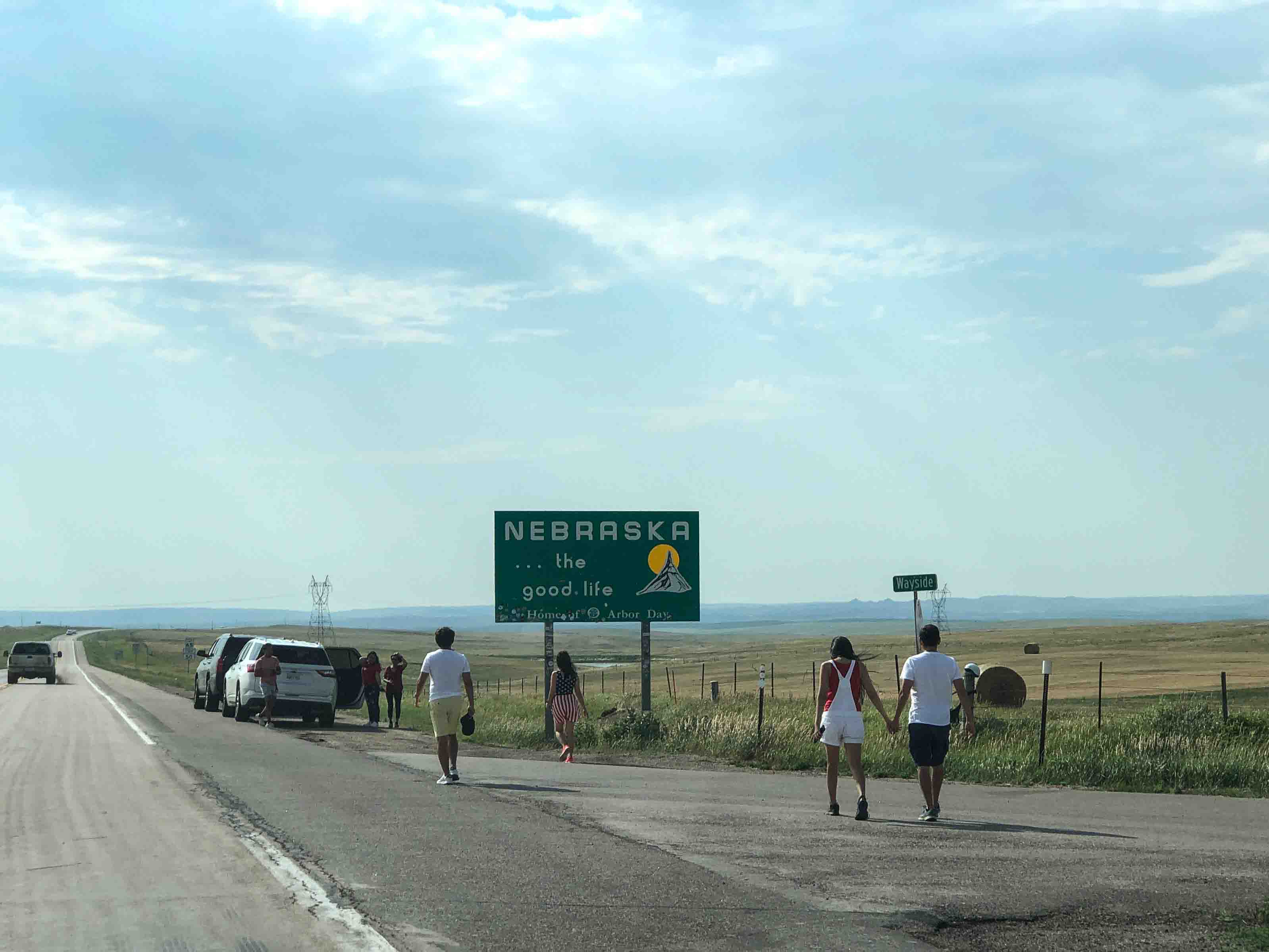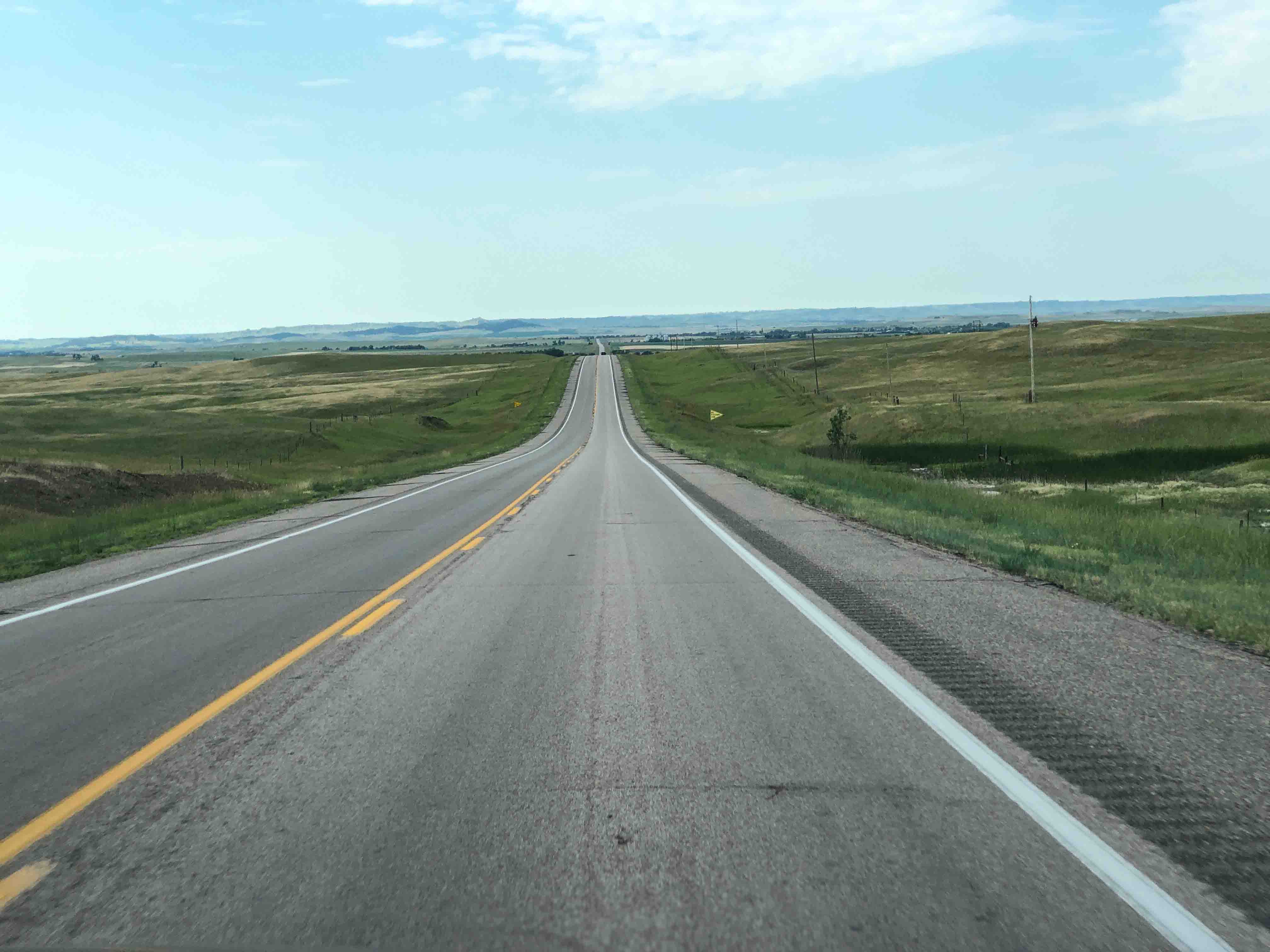 Day #15=>

Today we left the Black Hills and our cabin in the woods and headed south to Nebraska. You definately know when you are out of the Black Hills. The image to the right is what the rest of what we saw of South Dakota looks like. I am not saying it was more boring in Nebraska but it appears the highlight is the stateline(middle image). The image to the right is what the rest of Nebraska looks like.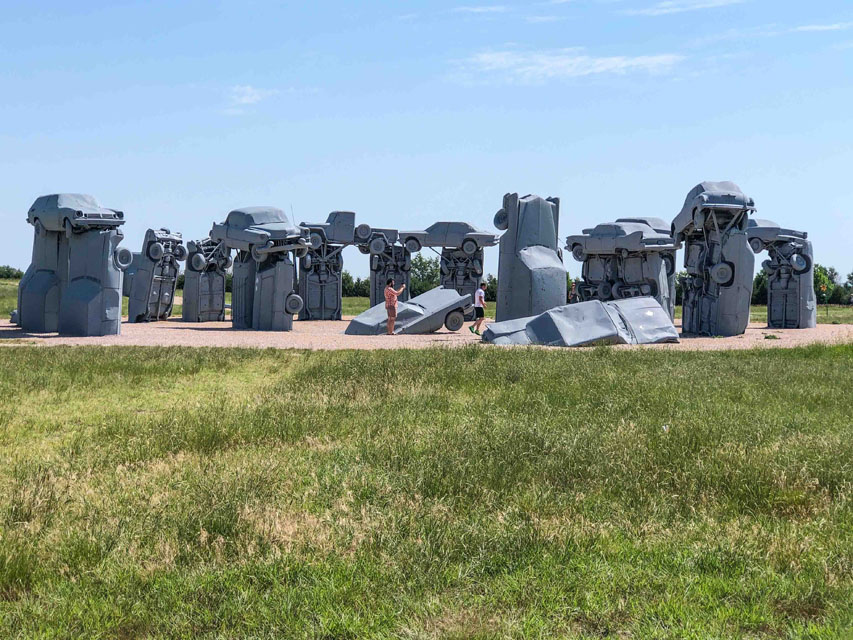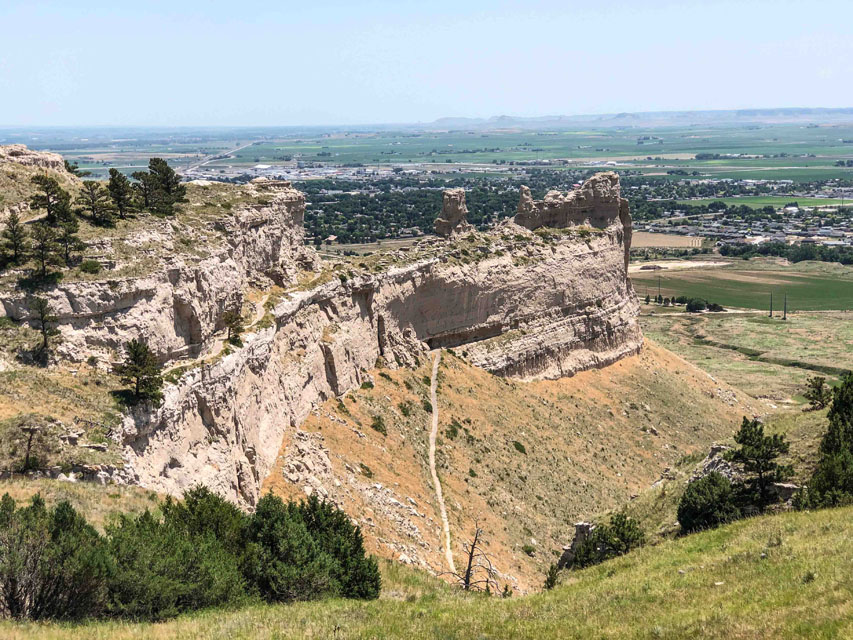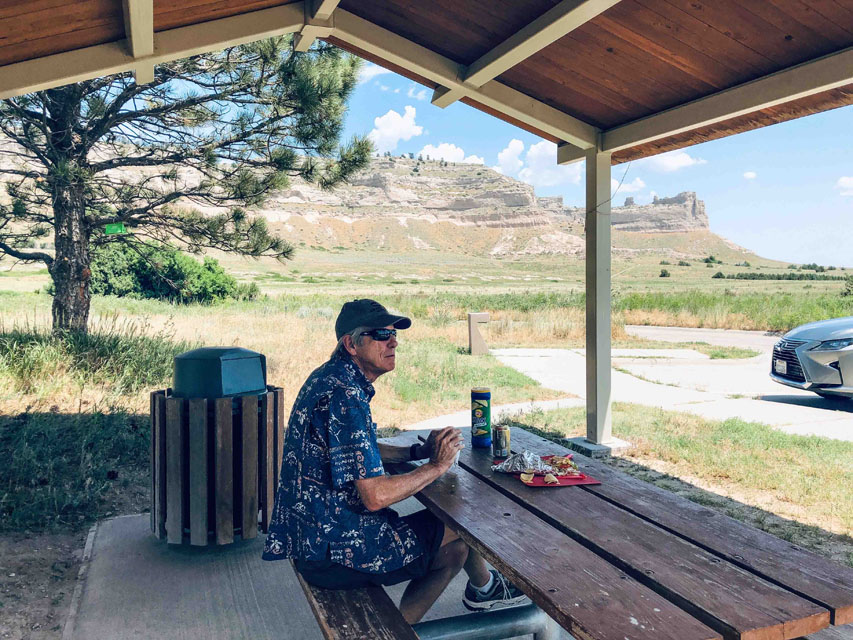 One of the reasons we included Nebraska was because of a very unusual attraction Carhenge, far right image and here are more images Carhenge. Carhenge was actually a lot more entertaining than we expected. It was free and even though it was hot a fair number of guests were there. After that we headed west to Scotts Bluff National Monument. Scotts Bluff was another great lunch spot after which we headed up on top of Scott's Bluff to take in the views. More Scotts Bluff images.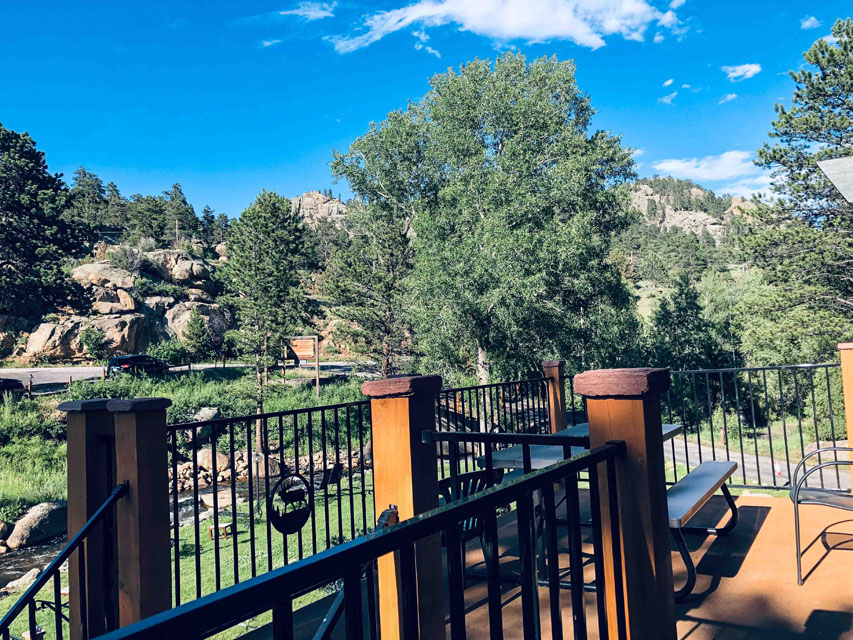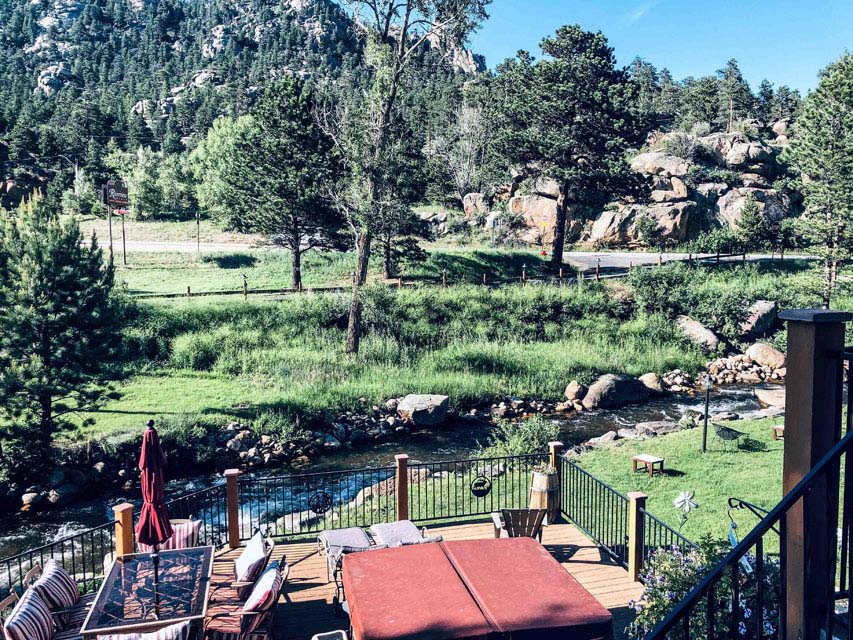 After Scott's Bluff we drove through the corner of Wyoming and finally into northern Colorado, which you can see on the map at the top. Our destination was Estes Park, Colorado which is also highlighted on the trip map. Our lodge for the next 2 nights was 4 Seasons Estes Park, which you can tell from these images was very scenic and yes that is a small stream just below our 2nd story deck.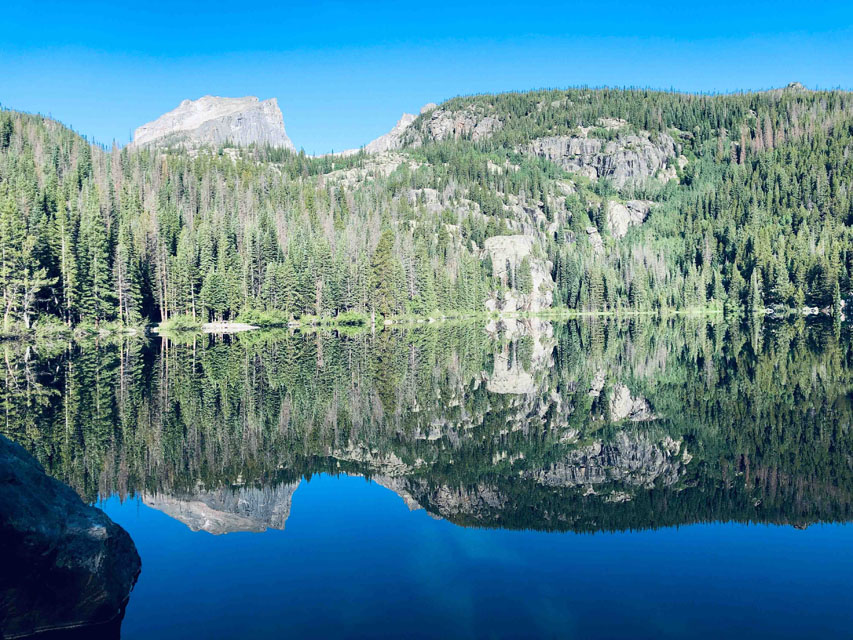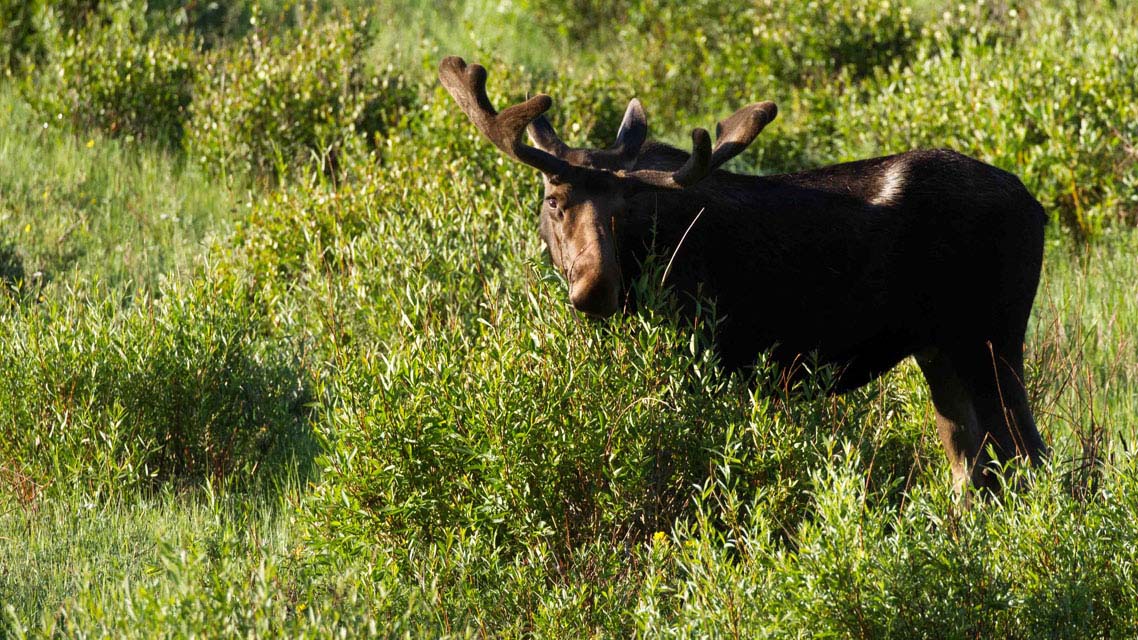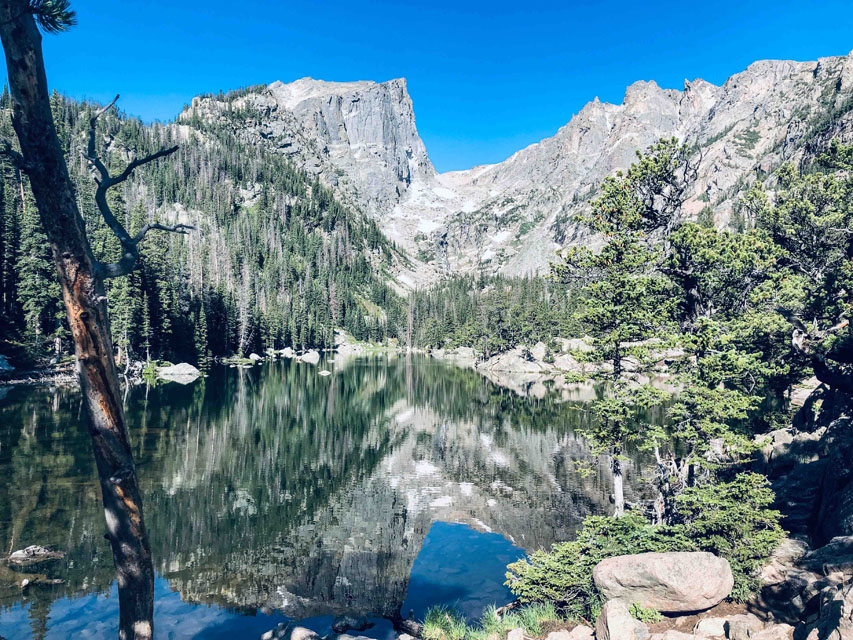 Day #16=>

Estes Park at an elevation of over 7600' is just outside the Colorado Rocky Mountain National Park. We only had one full day in this park so started early and were rewarded with a great moose sighting, midle image. Little did we know the afternoon moose sighting in the water was even better. Then we headed up to Bear Lake, which has some of the best trails in the park. By far Bear lake with reflections on the water was our best, far right image. But after Bear Lake we did a longer hike that had 4 different lakes. The trail went up hill thus allowing us to reach more and more lakes. The last lake was about 7900' and along the way we found snow, on July 5th. The image to the right is an example of the views on this hike, many more images of Rocky Mountain National Park right here.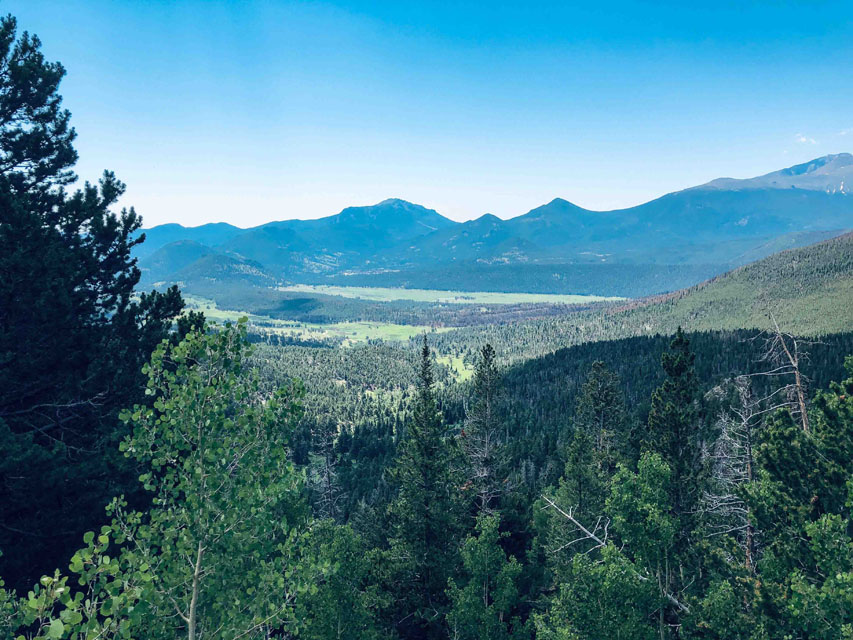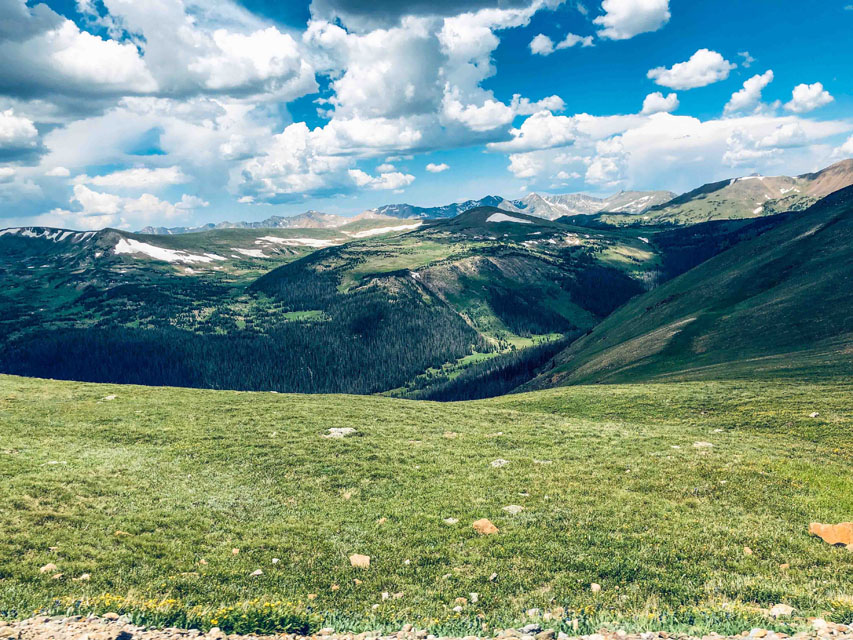 After our hike we drove to the highest drivable peak in the park at over 12,100' and believe it or not they have a Visitor Center there, way above the tree line. These images are from that drive. We exited the high country real fast as thunder and lightning decided to arrive thus ending what was a beautiful day. Too bad we can not bring these rains back to California.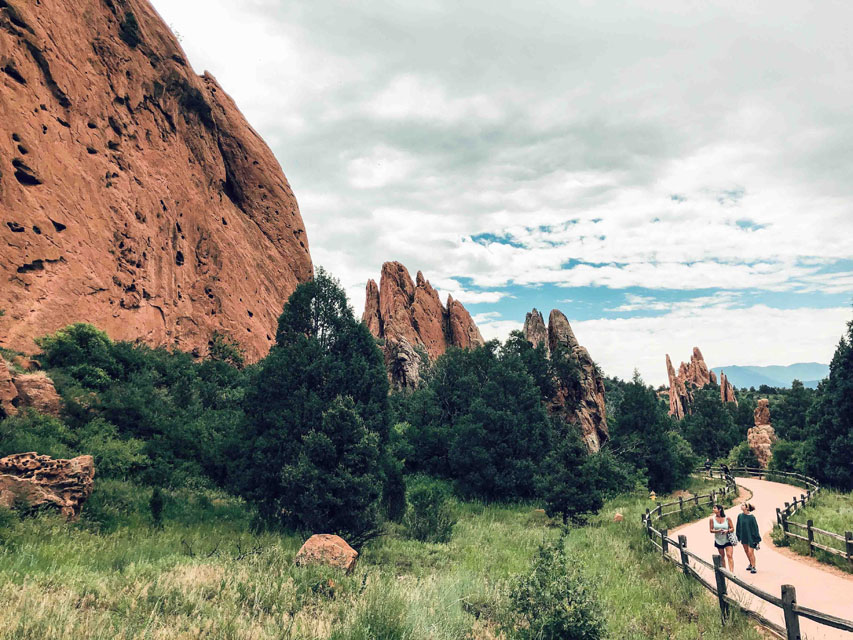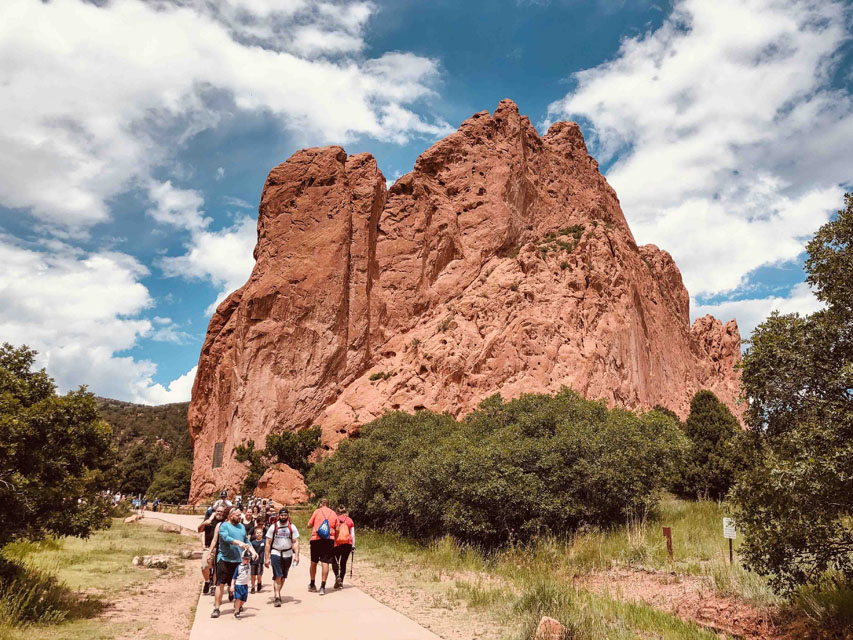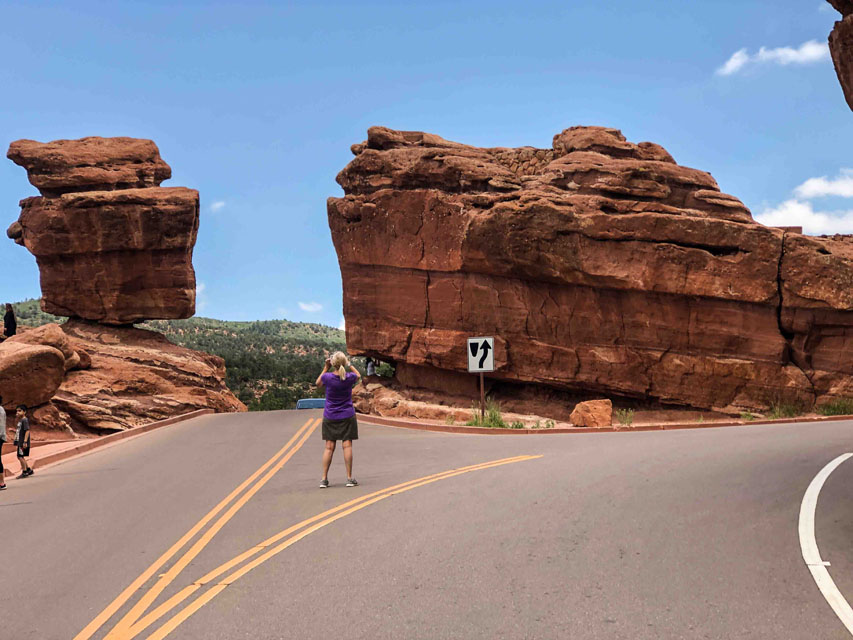 Day #17=>

We hit the road early and drove west through some very beautiful Rocky mountain passes. About lunch time we arrived at Colorado Springs, home to the Garden of the Gods. This natural landmark is located at the base of Pikes Peak and is free to all visitors. Given the price of admission this site was crowded as you can see from our images. Unfortunately this day was cloudy making it difficult to get really good images, but here are all images of Garden of the Gods. We had to keep our hike short since Colorado Springs was not our destination for this day.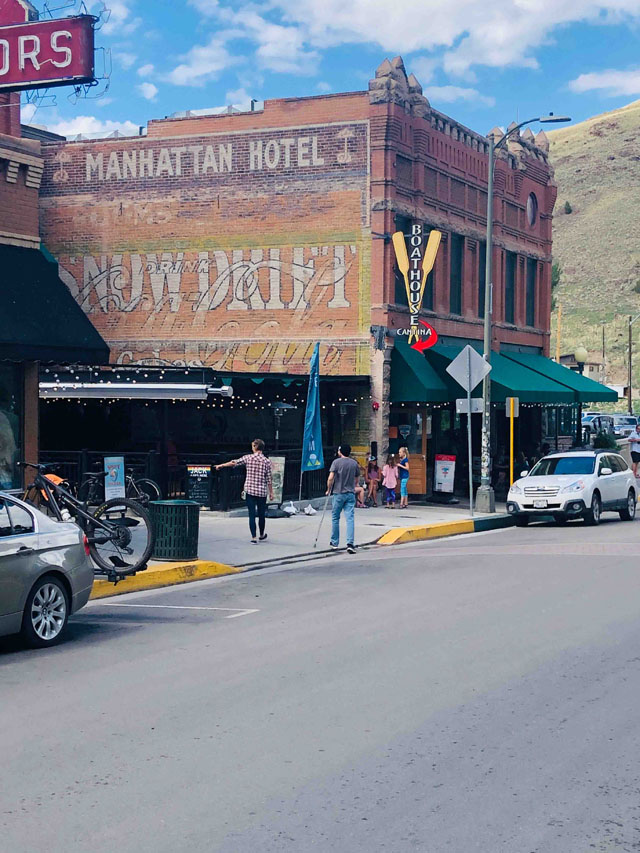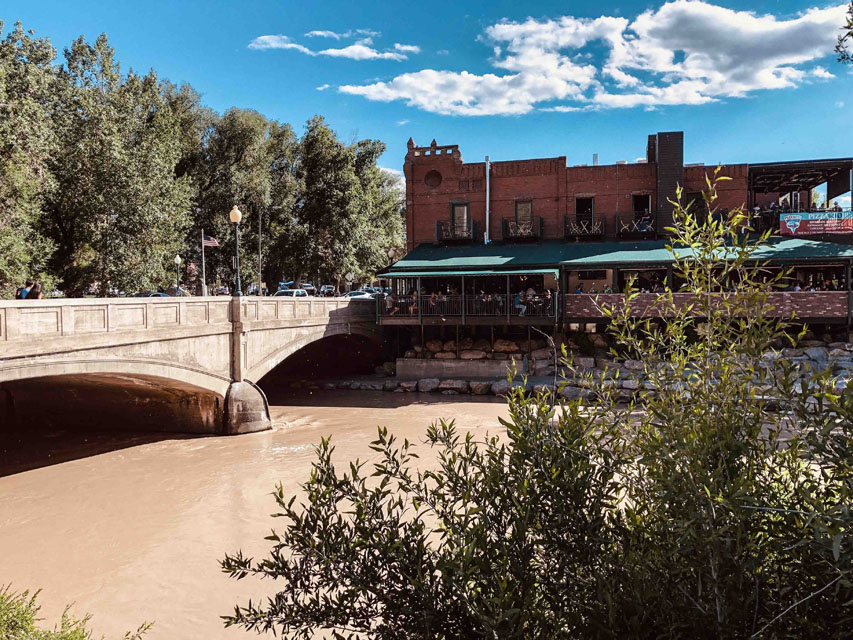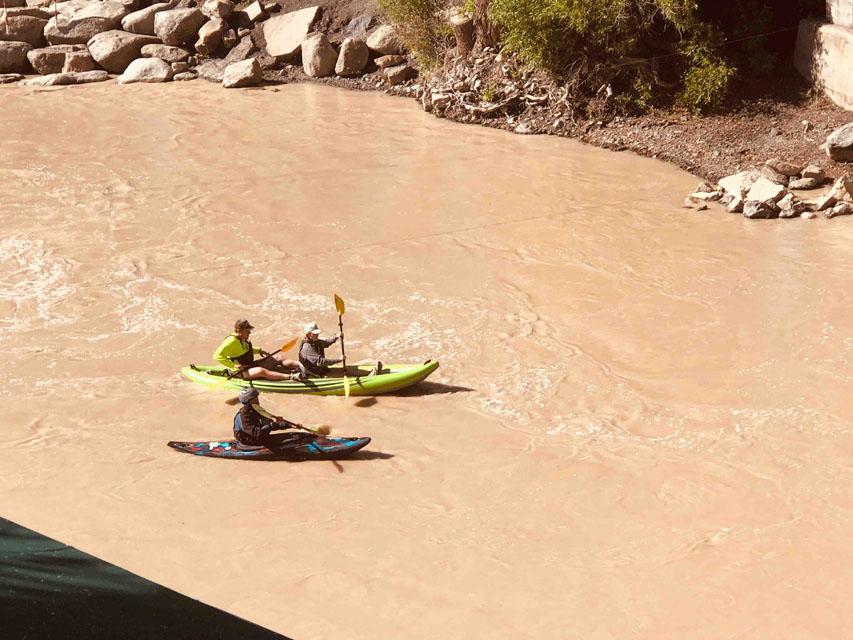 Our destination for today was a little town in central Colorado, called Salida. Salida is located on the Arkansas river and is flanked by 14,000' peaks and is highlighted on the trip map above. But for us it was also home to one of the most unusual and memoriable lodges of this entire trip, the Manhattan Hotel. The Manhattan Hotel was five rooms located upstairs in the brick building you see to the right which was the old boathouse building. In the middle image you can see the baconies of the room above the ground floor restaurant. The 3rd image is from our balcony of kayakers in the muddy Arkansas river after an afternoon rain storm.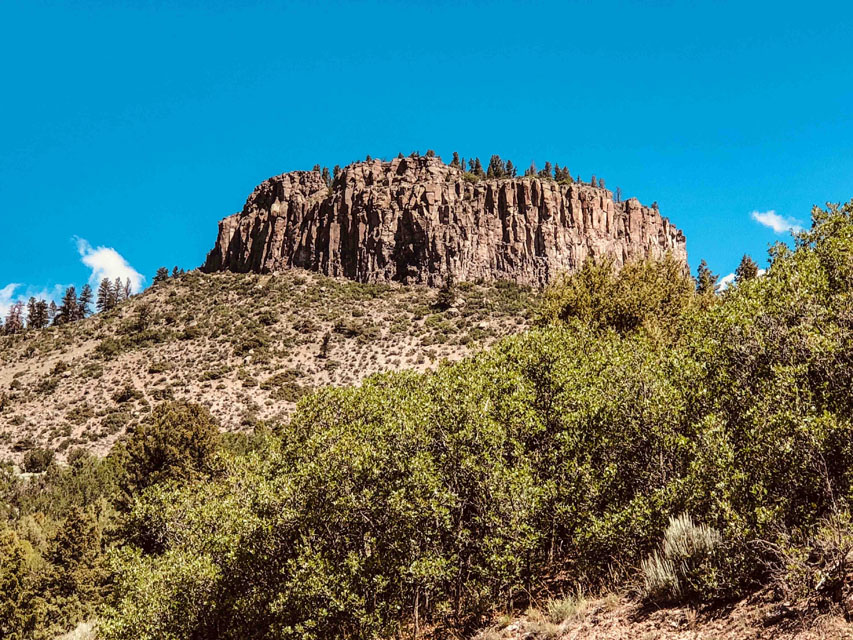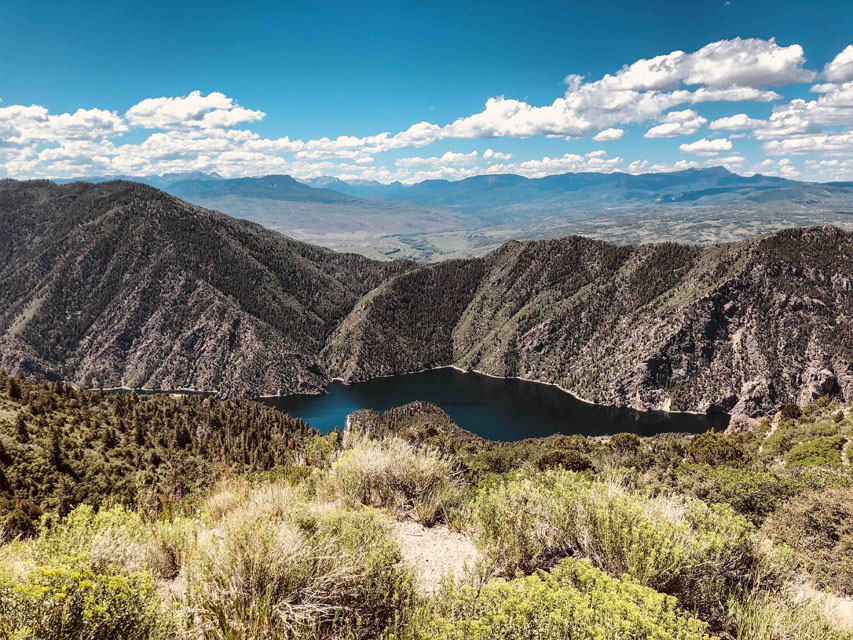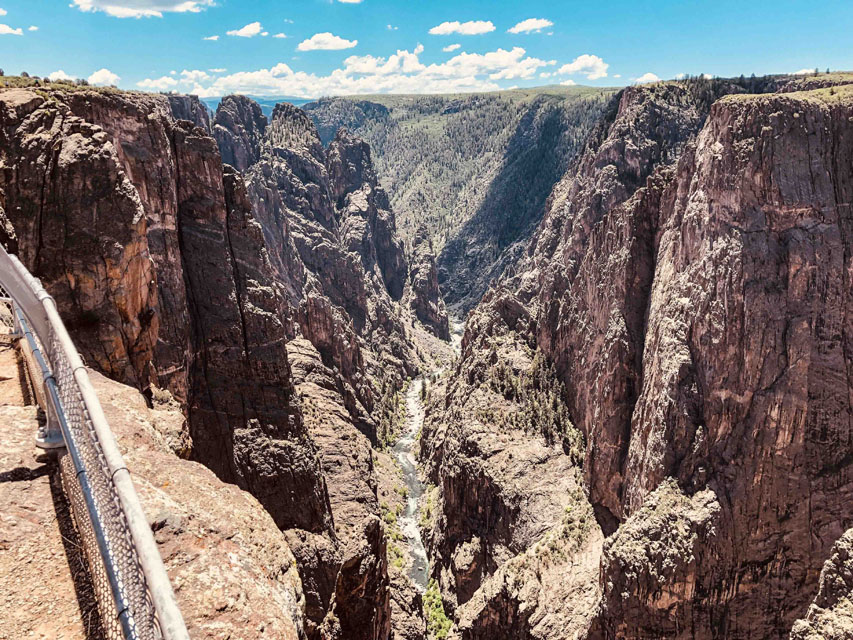 Day #18=>

After checking out of the Manhattan Hotel we head west along the north rim of the Black Canyon of Gunnison National Park. Drving through this park was a beautiful drive and turned out to be another great lunch stop/location.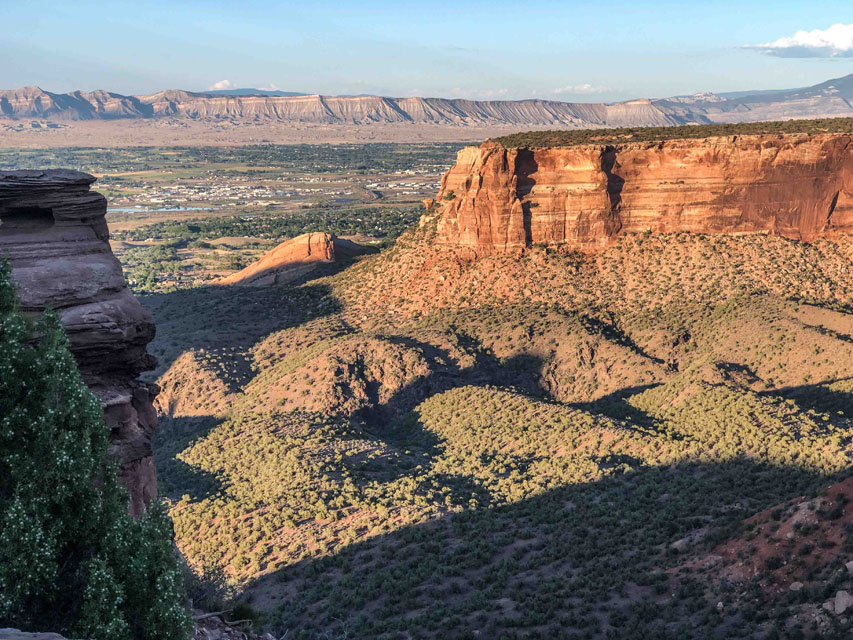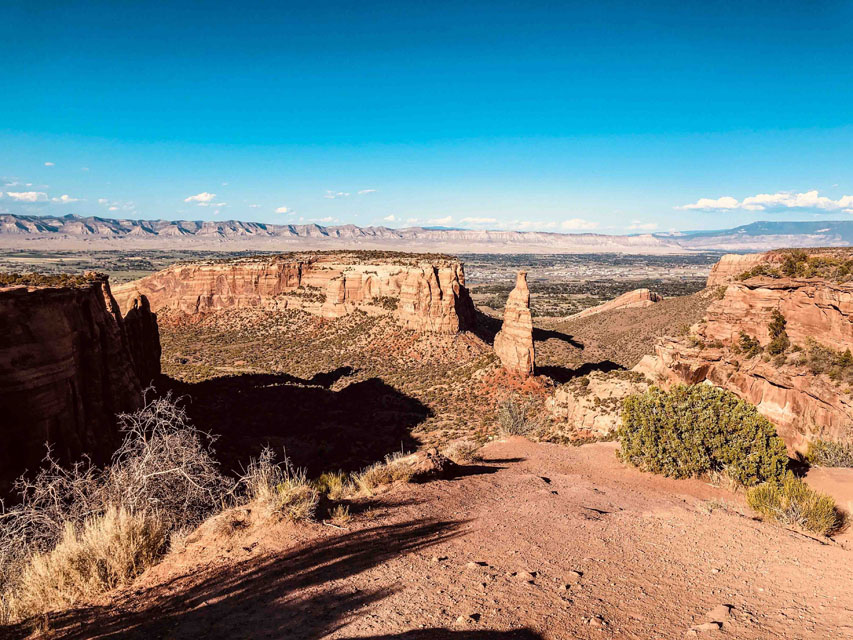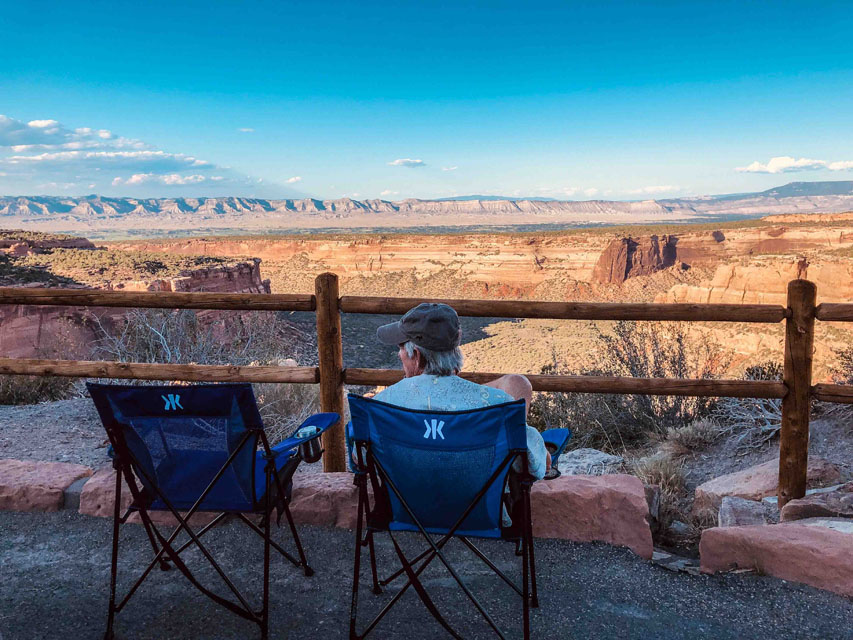 After lunch we proceeded to our destination Fruita, Colorado which has a gate to the Colorado National Monument. Fruita is also shown on the trip map at the top of the page. The images to the right are a couple sunset pictures from this park. The views were so great that we decided to get out our chairs and have dinner watching the sun set on this beautiful park. The next morning we got some sunrise images in this park before turning on the cruise control for the two day trip home. More images of Colorado National Monument via this link.