2022 Glacier, Canada Road Trip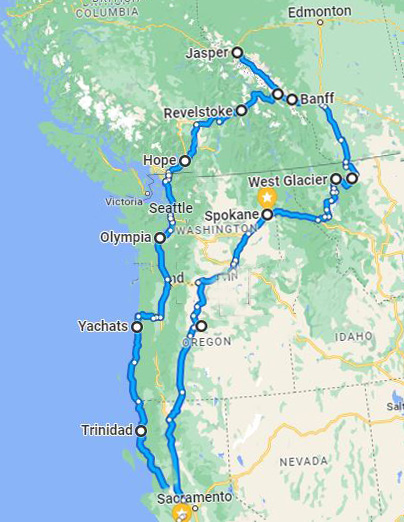 This road trip was just over 4,000 miles and as you can see by our route map on the right was more of a northern trip. The main goals of this trip was to see the Glacier National Park (northern Montana), the Banff National Park and the Jasper National Park(Alberta, Canada). During this 18 day trip we captured a lot of images that have been broken down into 8 mini-albums:
As we did on prior road-trips we took alone our Gypsy app. This app provided great narrative from Glacier National Park, the travels into Canada and during our entire Canadian tour. I cannot image touring any park without having Gypsy to guide, and to keep us informed of everything we were approaching. Now and then then Gypsy would even educate us with a bit of history which was always fascinating.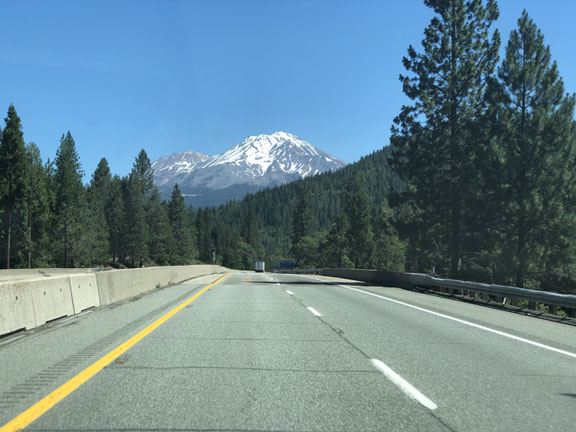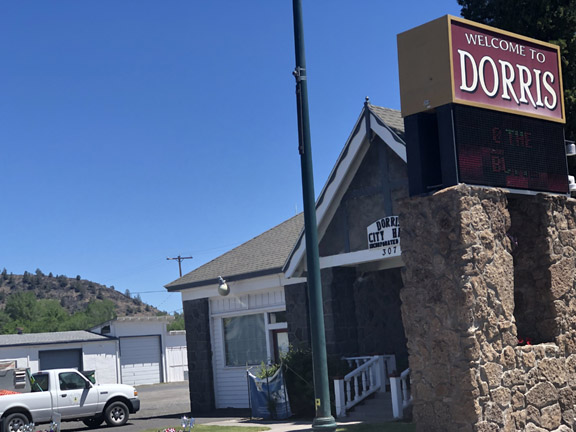 Day #1=>

The first day was by far our longest driving day. Getting out of California always requires long distances. For this trip we went up I5 past Mt Shasta then angled east and finally crosses the border at Dorris. Our lodging for the night(Country Inn & Suites) in Prineville Oregon is a ranching town that had a rodeo going as we arrived. We picked this lodge because it was right next door to Club Pioneer that serves up a great western-style dinner.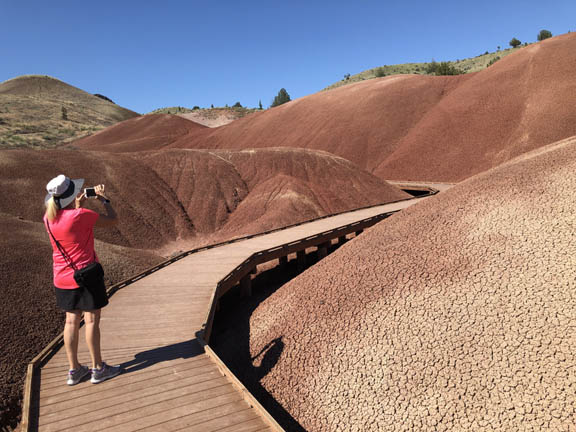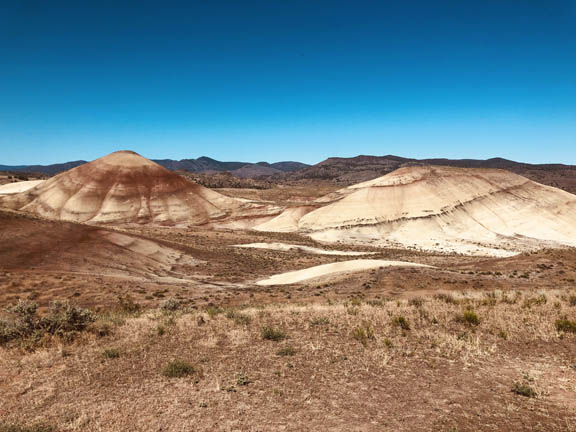 Day #2=>

The objective for our 2nd day was to get to Spokane, Washington. But since we had extra time we decide to visit John Day Fossil Beds National Monument. Unfortunately we ran short on time and only had time to visit the painted hills. We did not want to be late arriving in Spokane because we knew they had a great river walk and we booked a room on the river with a great balcony view(Oxford Suites). The river walk did not disappoint as you will see if you view that mini-album.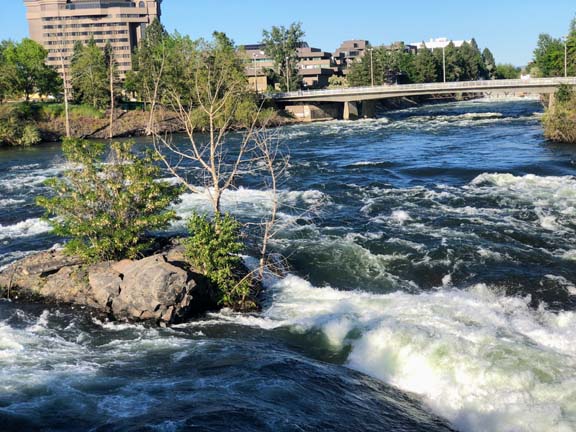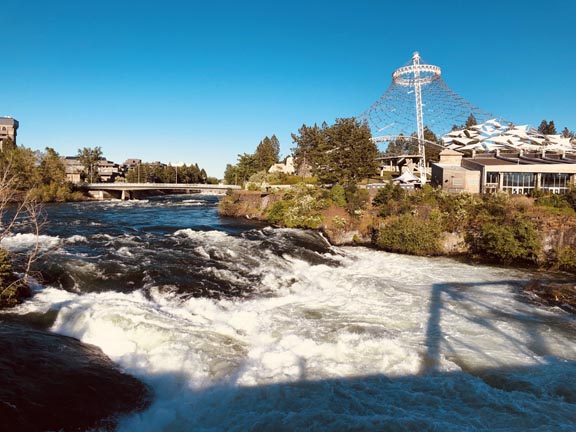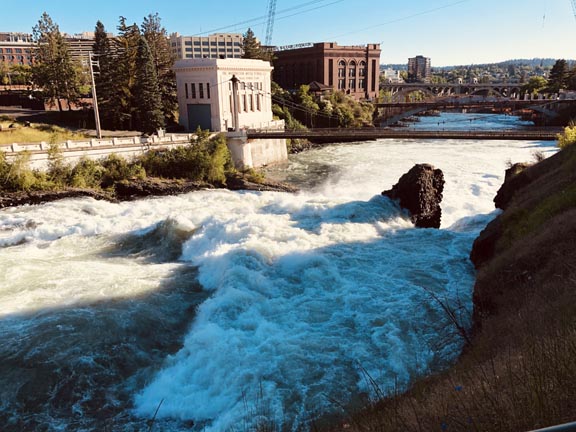 Day #3=>

We were sorry to leave Spokane but this day we had to cross Idaho and make our way to northern Montana. Our lodging in West Glacier was at the Apgar Village Lodge. We arrive in the afternoon and only wanted to soak up the sun and views from our deck.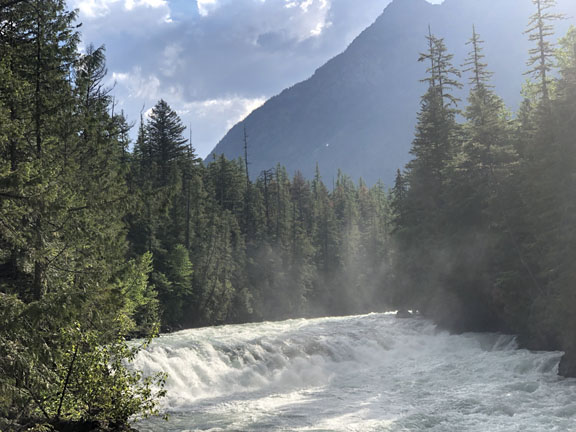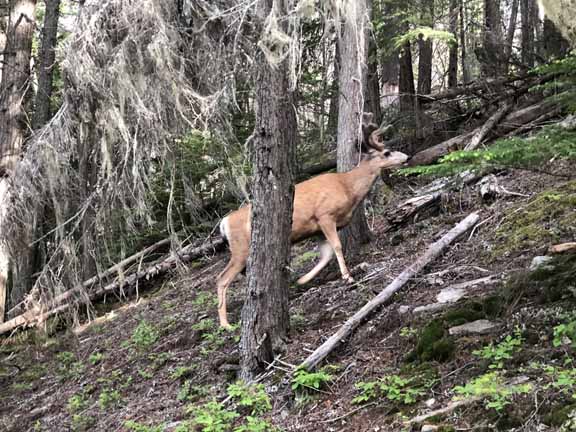 Day #4=>

This was our one full day at West Glacier. Unfortunately the "Going-to-the-Sun" road was still not open so our activities were limited. But the scenery and views from our balcony were great so no complaints.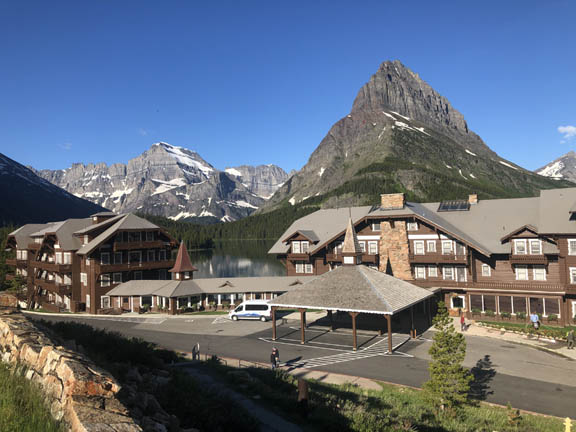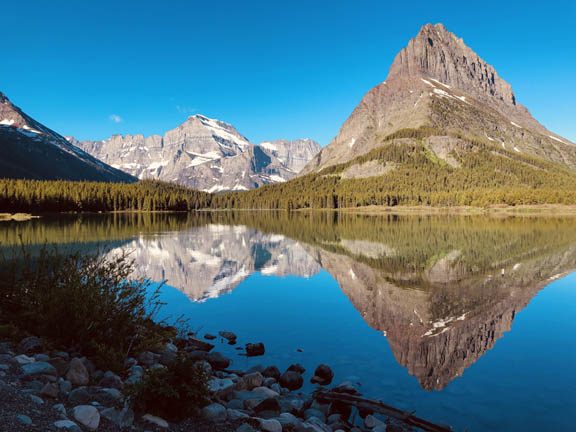 Day #5=>

The plan for today was to go to East Glacier which was made longer than it should have been because the shorter "Going-to-the-Sun" road was closed. So we took the long way around and as luck would have it a storm was coming in. During our drive the wind was stronger than I have ever experienced. Our lodge in East Glacier was the stately Many Glacier Lodge and the skies opened up as we arrived. Fortunately they had a covered area for unloading so we were able to watch the storm, all dry in our lake front room.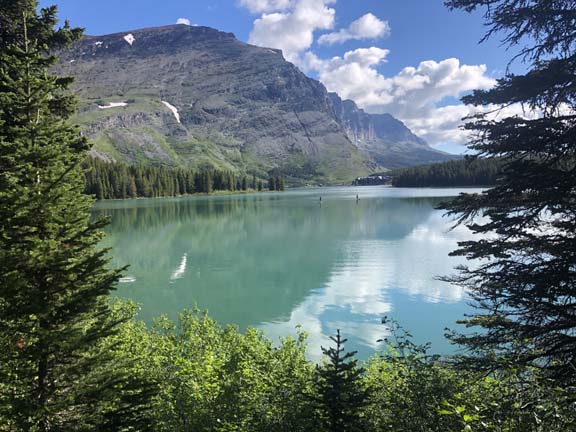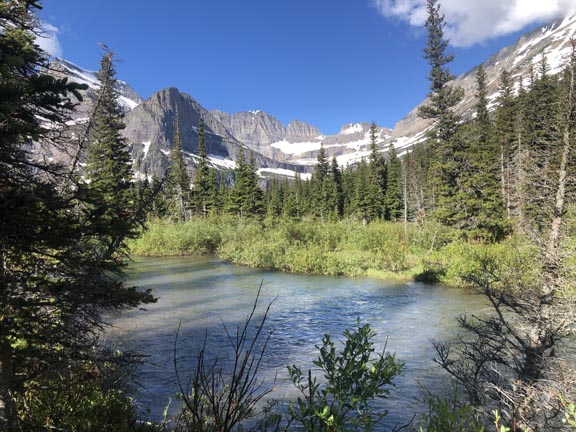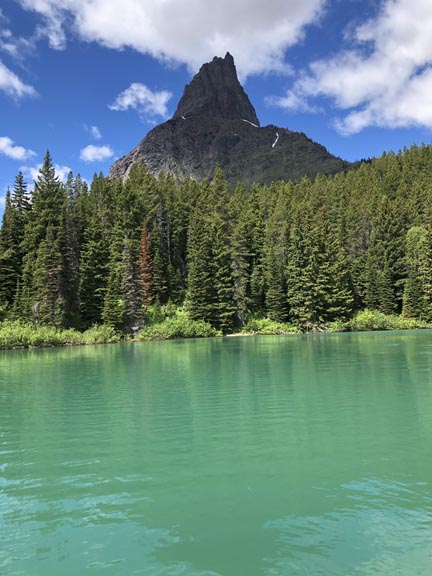 Day #6=>

The next day was beautiful and we had a full day to fully explore the natural beauty of East Glacier. The plan was to do the Grinnell Glacier Hike and we had already purchased a one-way boat ride for the trip back to the lodge.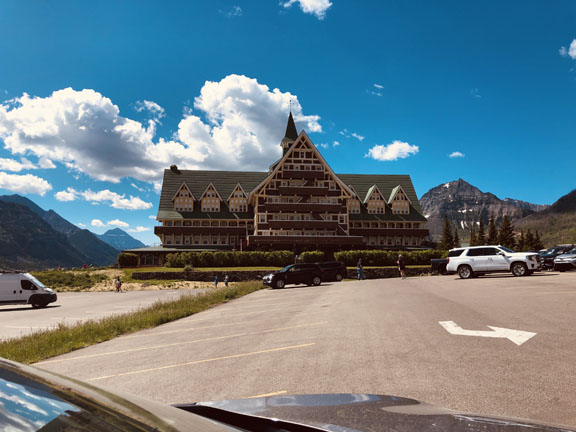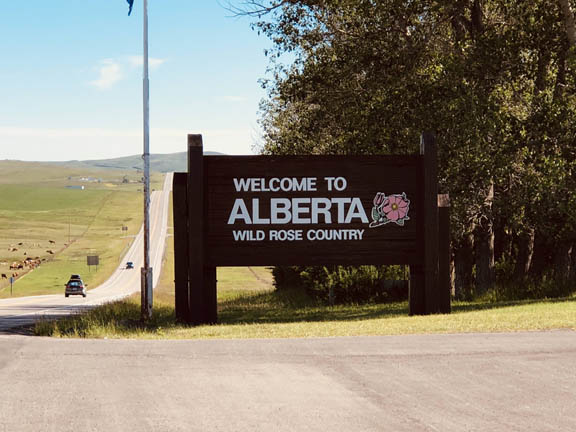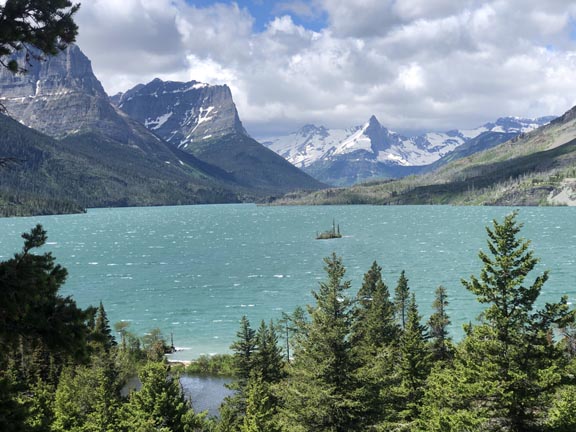 Day #7=>

Today was border crossing day. We left Glacier National Park, crossed the border into Alberta, Canada and made our way to Banff. There were a few fun viewing spots along the way. Our lodge in Banff was the Rundlestone Lodge, which was right on the main street. It was a short walk downtown to pick up dinner to go.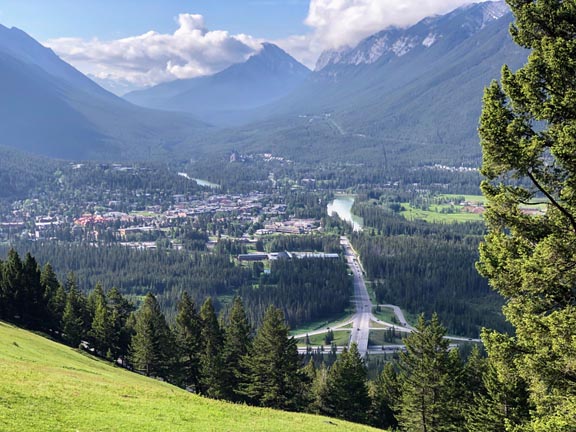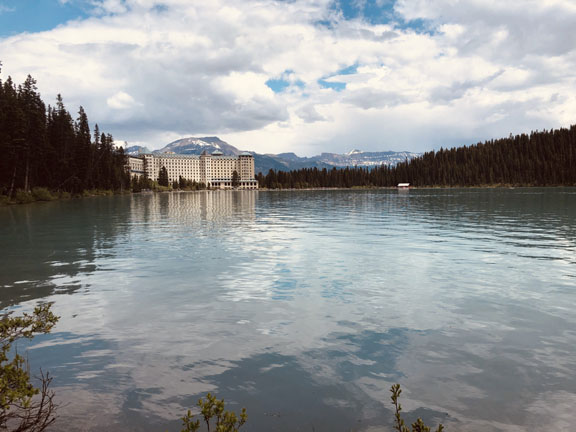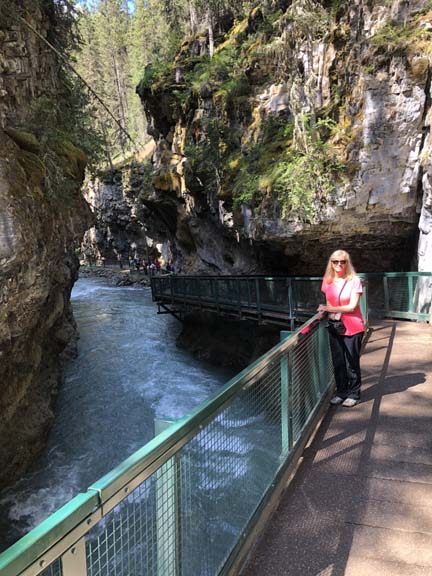 Day #8=>

Our first full day in Canada we left Banff and took some hikes before checking into Deer Lodge for a 2 night stay. Our first hike was through Johnston Canyon, a very popular hike along a raging river. At times there was no place for the trail so they build metal trails hung on the side of rocks. Next we made our way to Deer Lodge where we could park and then walked the short distance to Lake Louise. The hike at Lake Louise was stunning, images from that hike are in the Banff mini-album. In the late afternoon we decided to drive to the EXTREMELY popular Lake Moraine. So popular is this lake that rarely can you drive in which is why we had our bus shuttle pass for the next morning. We thought we would drive by the turnoff to see if enough visitors had left for the day and guess what, it was open. We lucked out and were able to avoid the bus and drive ourselves to Lake Moraine. These images are also in the Banff mini-album.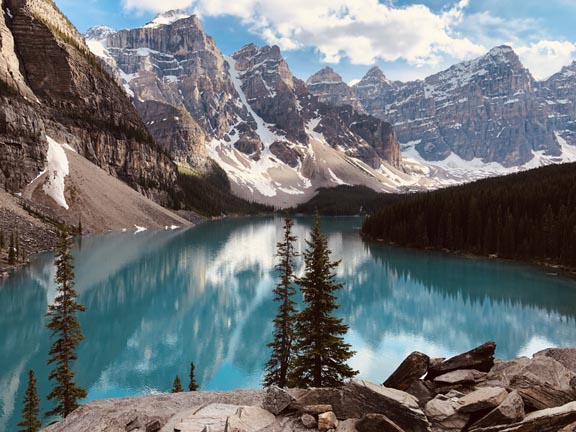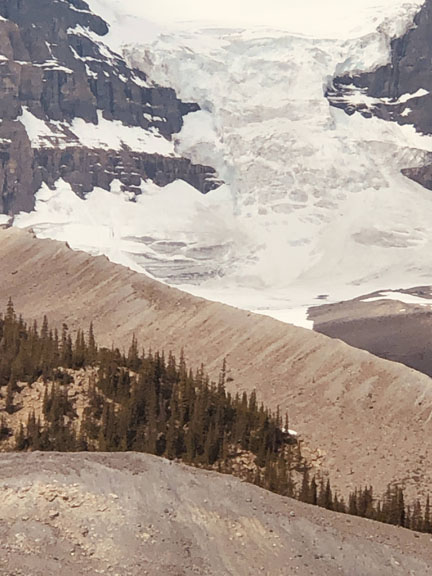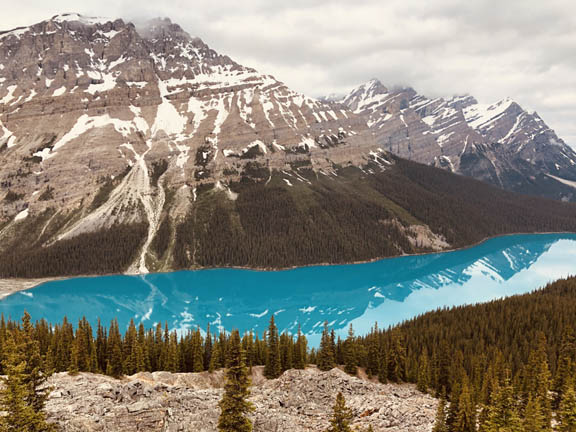 Day #9=>

This was supposed to be our Lake Moraine day but since we already did that attraction we decided to drive the Icelandic Parkway to Columbia Icefield and the Athabasca Glacier since the weather was good. Along the way we stopped and hiked out to the stunning Peyto Lake. At the Athabasca Glacier we visited the information center and walked as close to the glacier as we could get. In recent decades the glacier has retreated so much that to actually stand on the glacier you have to take the tour bus which we decided not to do. Again all the image of this day are in the Banff mini-album.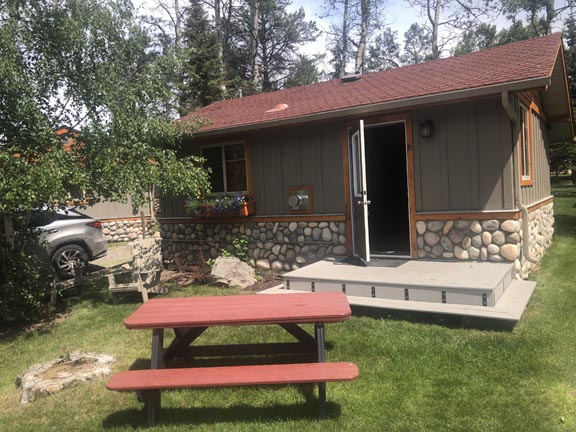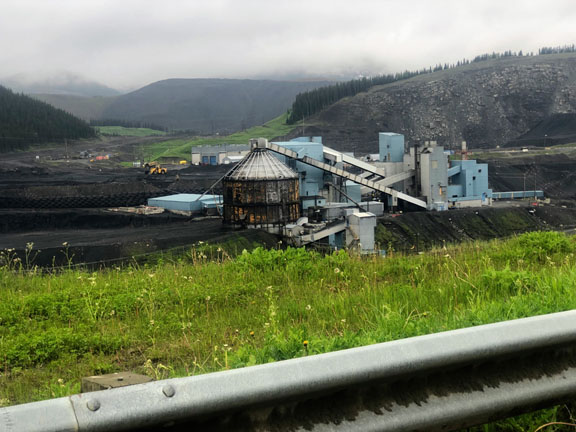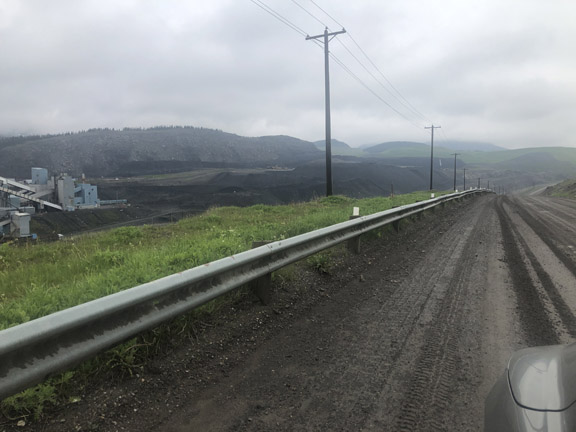 Day #10=>

Today we were supposed to drive the entire Icelandic Parkway to Jasper. Unfortunately for us most of the parkway was closed because of a sever accident. Time before the parkways was to reopen estimated to be a minimum of 8 hours. So we decided to try to drive around. Luckily we did have a map so got pointed in the right direction and then followed others onto a dirt road that turned out to be a logging and coal mining road and it was supposed to rain!!! Yea, the car got dirty and we got a chipped windshield but we finally made it to Jasper and our Patricia Lake cabin in about 4 hours.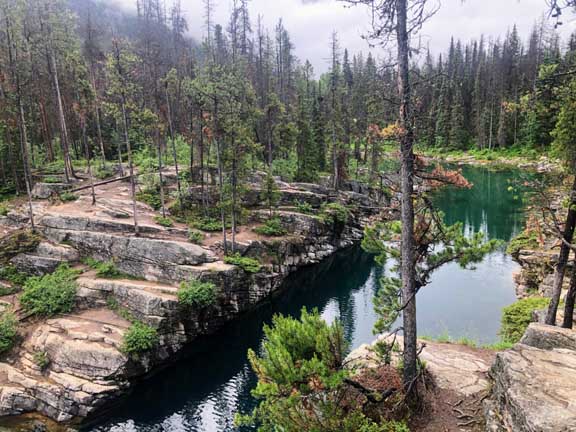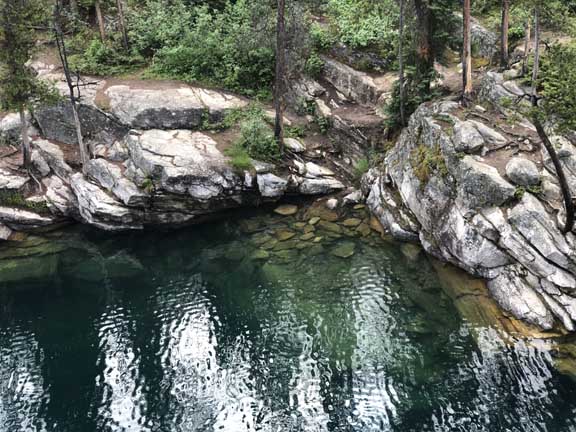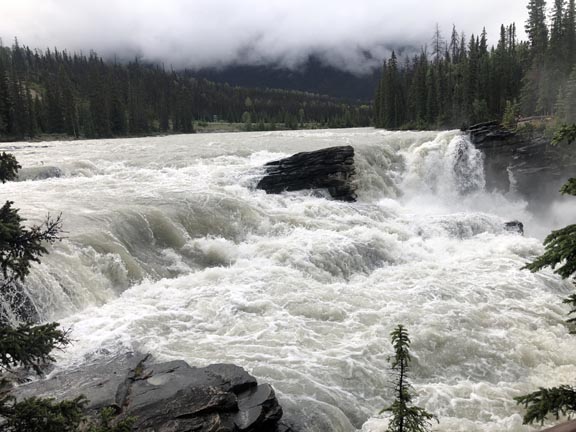 Day #11=>

Our Patricia Lake cabin was home for three nights so we had 2 full days to explorer Jasper National Park.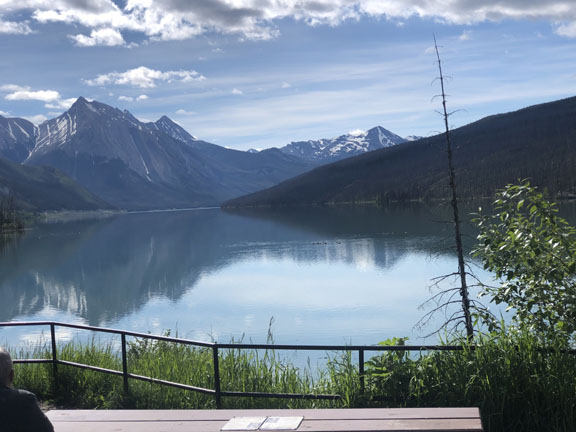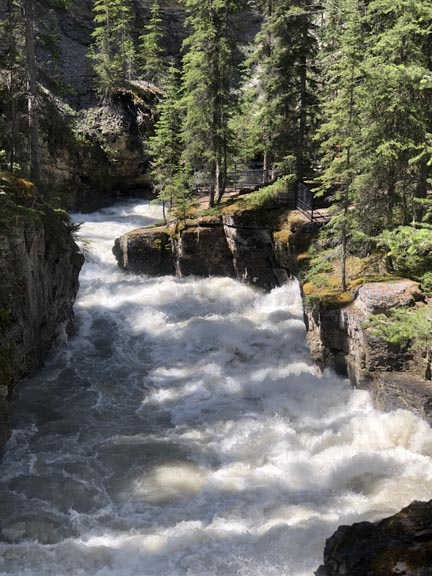 Day #12=>

The first day we visited the Maligne Valley and did the lake hike. We saw bears. Other highlights in Jasper were the Athabasca Falls, and Drive up to Mount Edith and Path of Glacier Trail.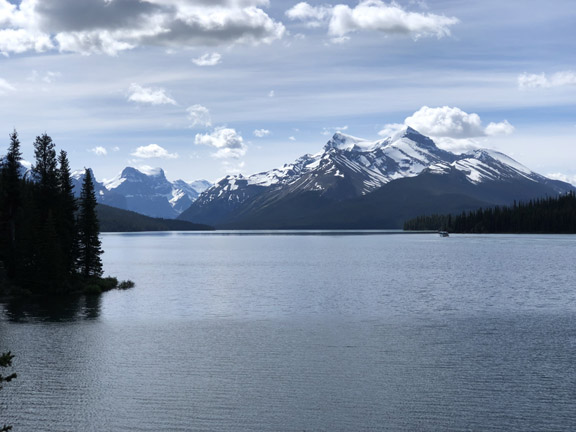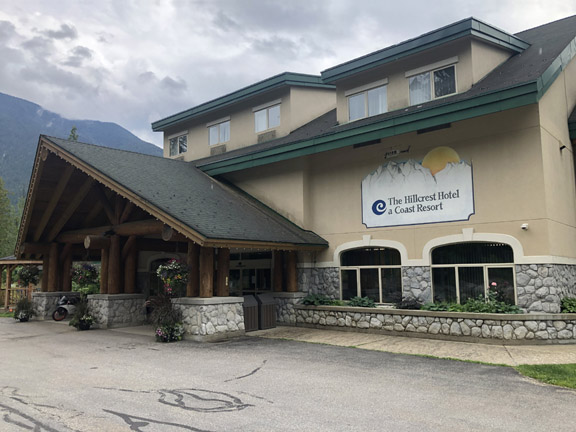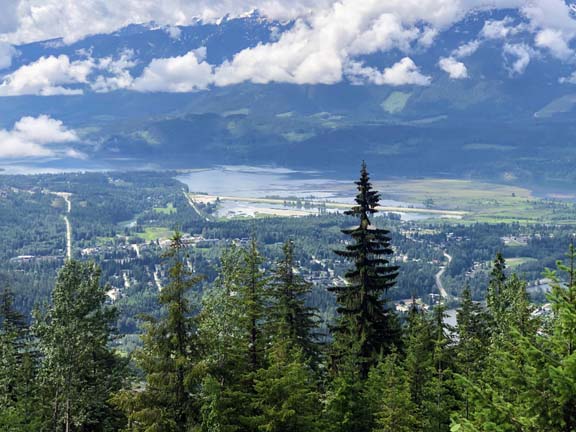 Day #13=>

Today we finally drove the entire length of the Icelandic Parkway back to Banff and then west on the trans-Canada highway. Our destination was the Hillcrest Hotel in mountain town of Revelstoke. The mini-album labeled "Revelstoke" contains images of our drive, the hotel and a drive up Mt. Revelstoke with some fabulous views.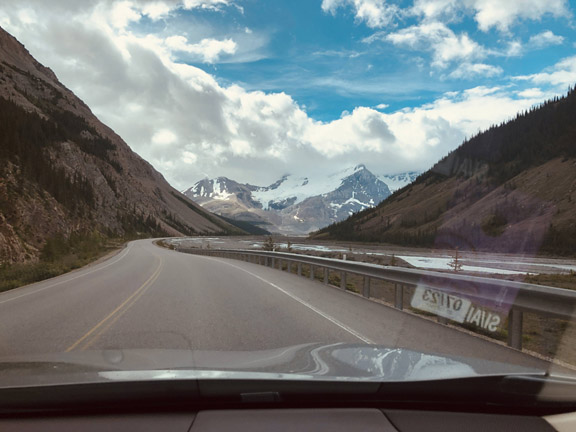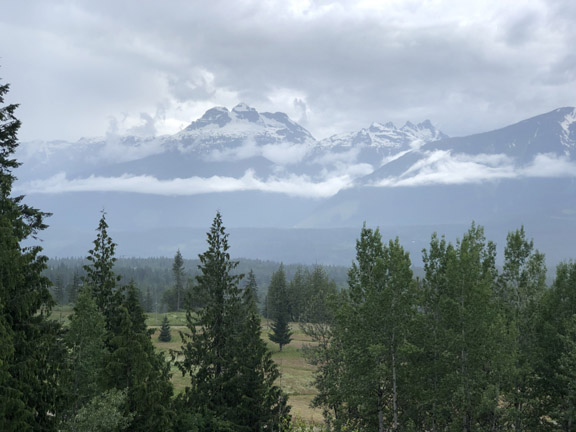 Day #14=>

This was our last full day is Canada with more driving west on the trans-Canada highway. The terrain in this part of Canada is full of elevation extremes, constantly going very high and then steep downgrades. Our destination for this day was Hope, BC. This was not are best accommodation but sometimes there are few choices.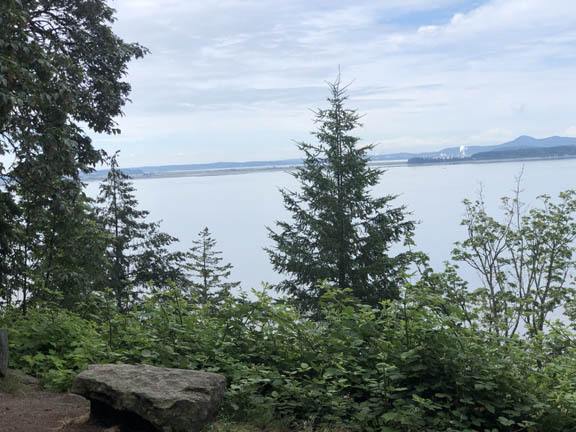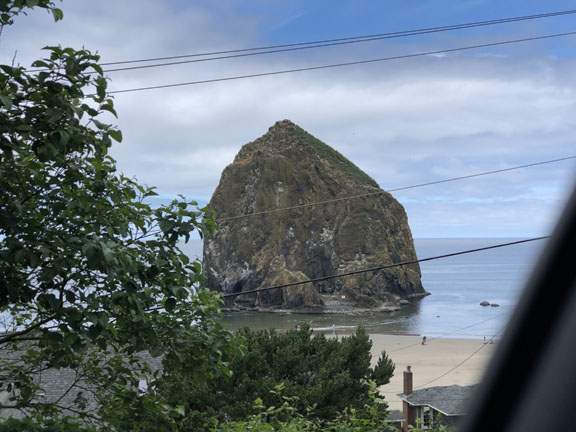 Day #15=>

Today we drove back into the US, through Seattle with a final destination of the Olympia Hotel in Olympia, WA. Unfortunately the traffic around Seattle could not be avoided. We tried timing our drive through Seattle with the weekend but that was not enough. The Seattle traffic on this day was worse than anything I have experienced in the LA area. The last mini-album(Return Drive Coast) contains images from all our drive home.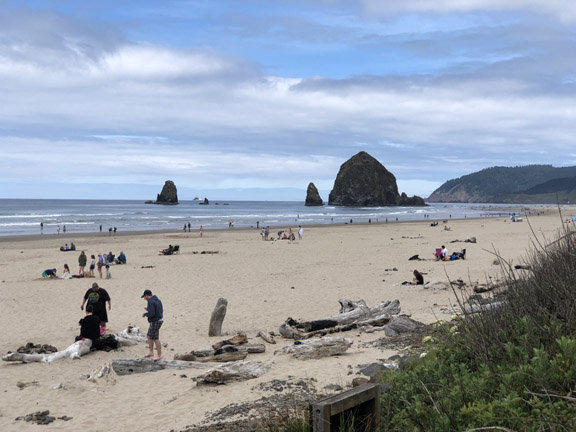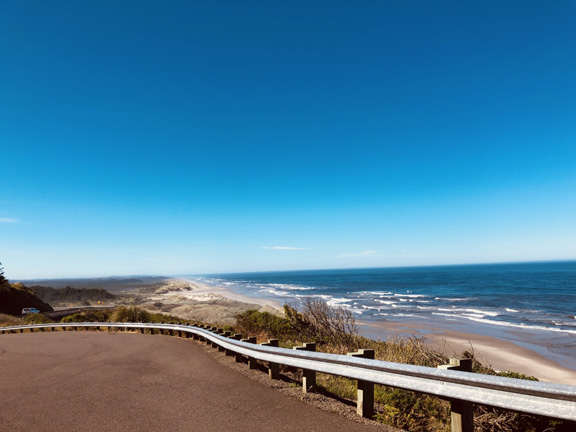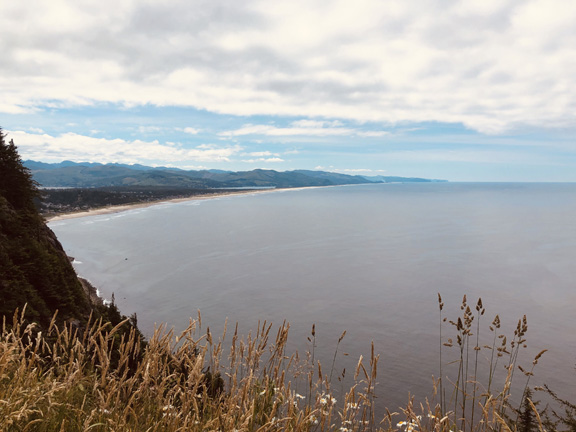 Day #16=>

The next destination was to Yachats, OR. Why Yachats? Because they have a great restaurant and the Fireside Motel overlooks waves crashing on the rocks. Love to get a dinner to go and enjoy from our room watch the pounding surf. Unfortunately our dream restaurant was closed that day due to equipment failure. Oh well good reason to go back!!!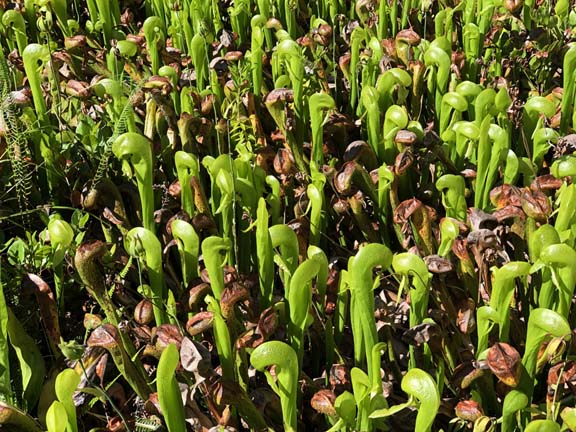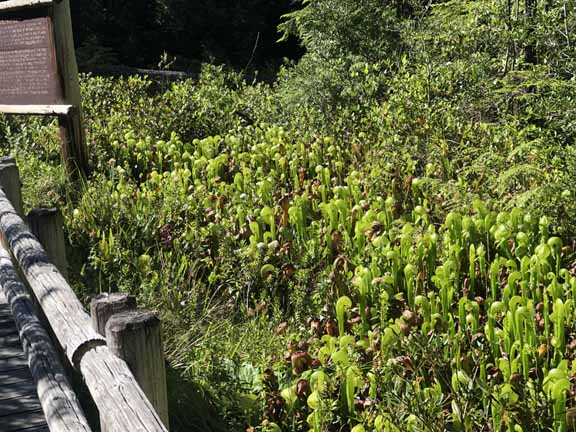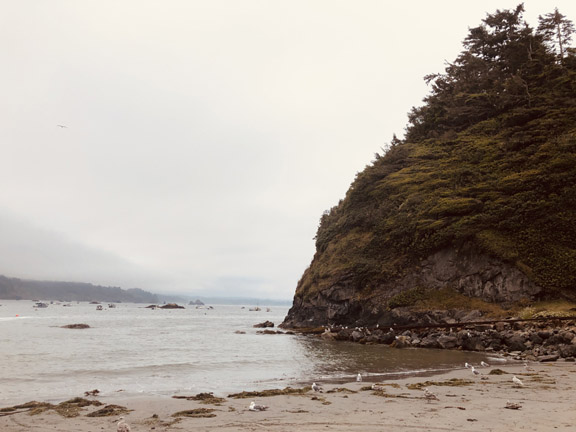 Day #17=>

Our final destination on this road-trip was a stop outside the town of Trinidad, CA just north of Eureka. We booked a little cabin with an attached hot-tub for a couple days to rest up. The cabin had a full kitchen but that was not needed as Trinidad has a number of very good seafood restaurants. An additional highlight on our drive to Trinidad was a small (free) attraction in Oregon at a natural habitat for Cobra plants. These carnivorous plants are native in the bog areas of Norther California and Southern Oregon. Insects are attracted by the smells and colors of the Cobra plant and get caught in the plants center tube.