2022 New Mexico Road Trip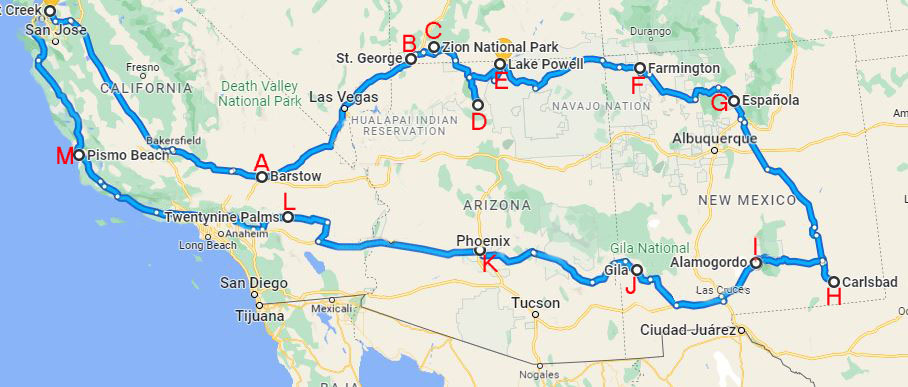 The goal of this road trip was to see and experience New Mexico. From California getting to New Mexico meant passing through Arizona, Nevada and Utah as the route map to the right indicates. This road trip was 21 days in length, during which time we logged 4,100 miles. Most road-trip days are not total driving but instead involve activities like hiking or just sight-seeing.

The following day by day narrative follows the route map which only indicates our lodging location. During this three week trip we encounter many stunning beautiful places which we have separated into the following 15 mini-albums. The locations of these 15 mini-albums will be referenced in the day by day narrative.

Day #1=>

The first day was an exception to our norm, a drive only day. Our destination, label "A" on the map, was no accident. Barstow is a common stop on our southern road trips because of DiNapoli's Firehouse, a great Italian restaurant.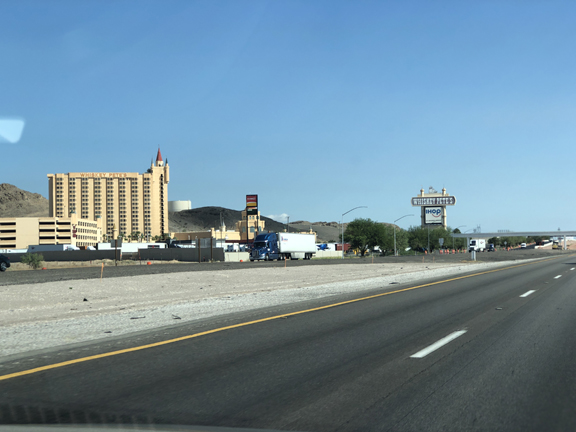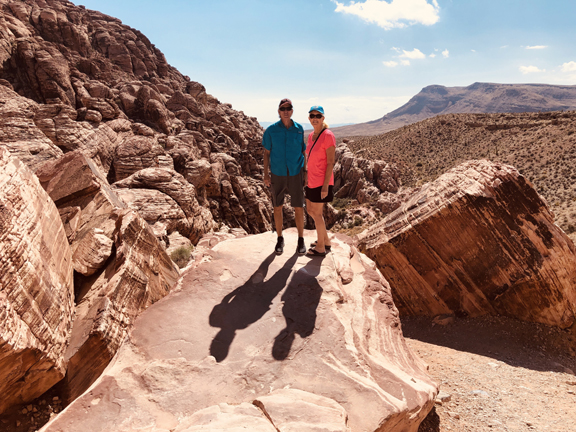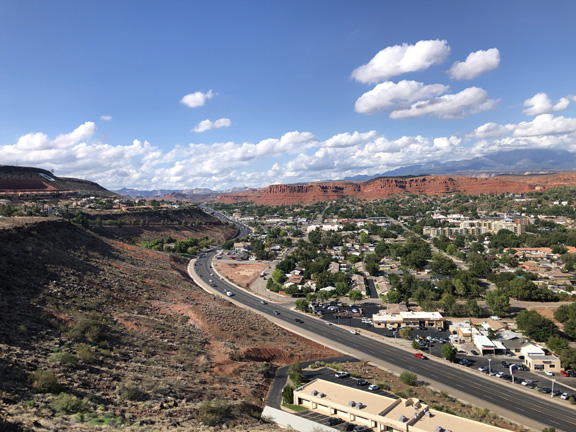 Day #2=>

The destination for our 2nd day was St George, Utah, labelled "B" on the map. This was not a driving only day even though we were touching 4 different states. It was easy to tell when we had entered Nevada with the big casinos. Our route took us right through Las Vegas but the "strip" was not our destination. Instead we wanted to visit a national park we had missed on prior trips, the Red Rock Canyon. Images from this park are viewable via a mini-album link above. It is hard to believe this beautiful park is so close to the Las Vegas "strip", it is so different it should be a world away. After leaving the Las Vegas area we passed through a corner of Arizona before entering Utah. St George is a favorite destination for us because of the views from our room at the Inn on the Cliff. More images from this lodge are viewable via the "St George" mini-album link above.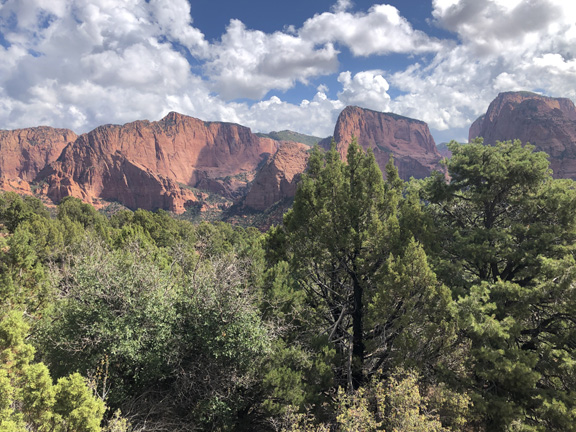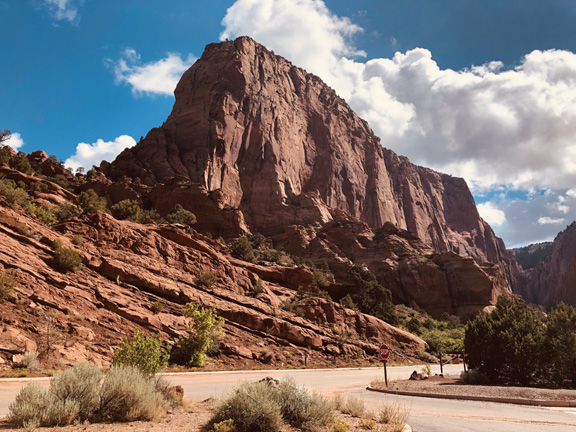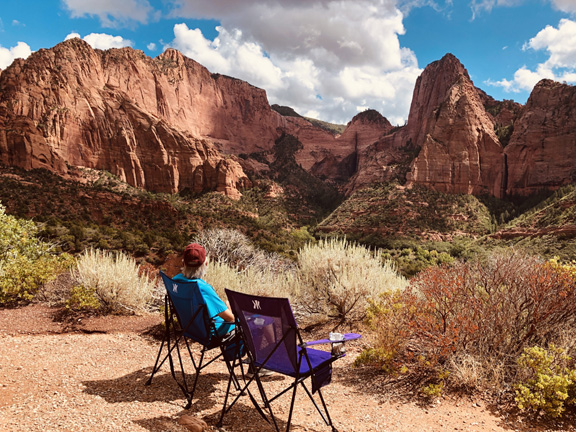 Day #3=>

Our next destination was a very short drive to Zion National Park, labelled "C" on the map. Check-in at Zion was not until 2p so we decided to explore Kolob Canyons , which is part of Zion National Park. We always carry our chairs in case we find a great lunch spot which is exactly what happened while visiting Kolob Canyon.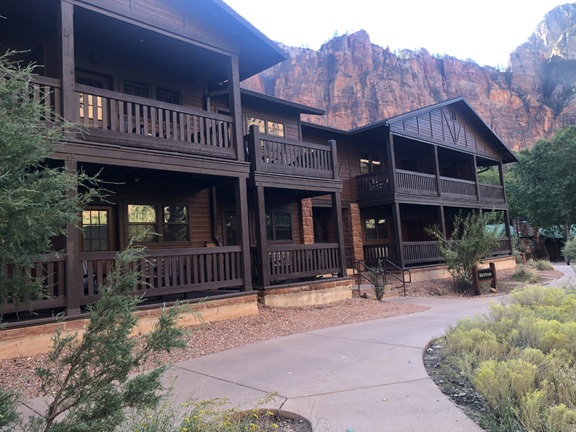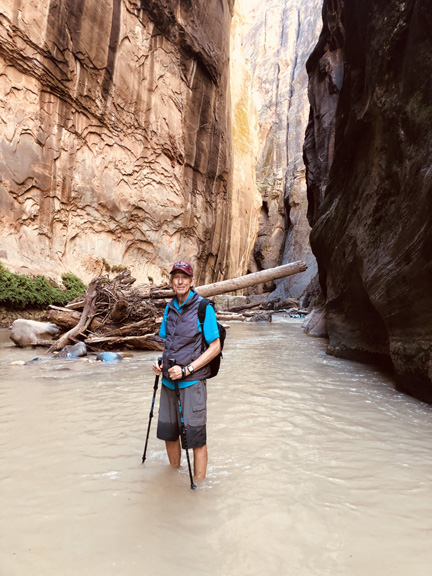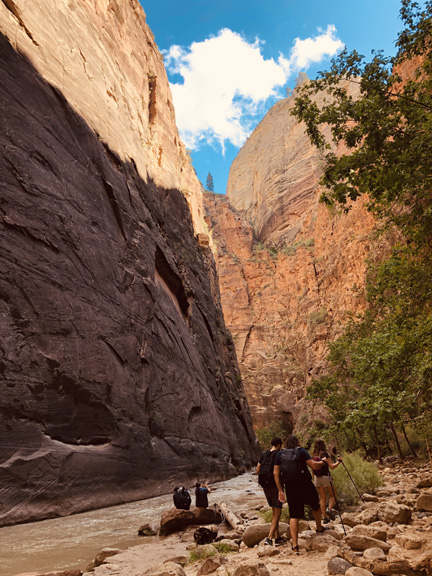 Day #4=>

This was our 2nd day in Zion National Park. Zion National Park has many great hikes but our favorite and the one for this day was their famous "Narrows" slot canyon hike. On this hike the majestic walls of the main canyon close in to form a tall and narrow canyon with beautiful dark corners and the Virgin River flowing around you.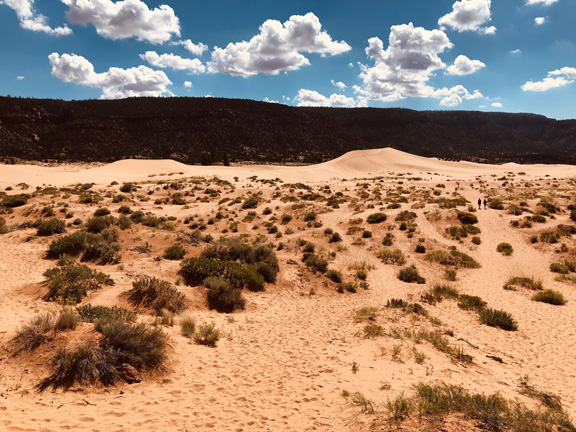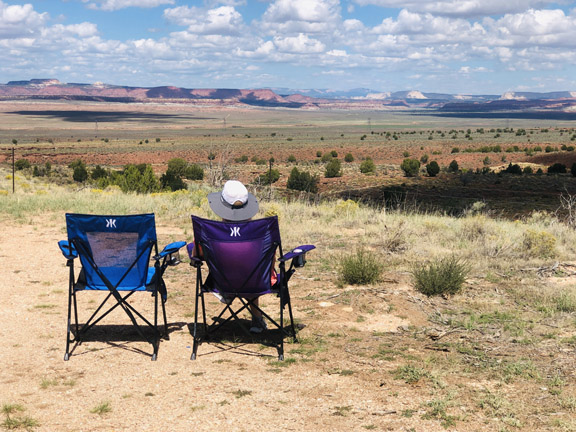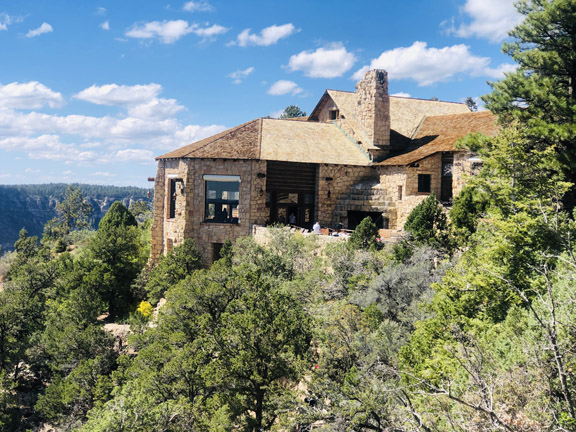 Day #5=>

The destination for our 5th day was the North Rim of the Grand Canyon, labelled "D" on the map. The route map shows a definite exit from the main road to climb to the North Rim which is higher than the South Rim. In route we simple pulled off the road and got out our chairs for a quick lunch stop. We made another small detour to visit the Coral Pink Sand Dunes State Park. These are the best red sand dunes we have seen outside of Namibia. We arrived at the lodge in time to enjoy a gorgeous afternoon before checking-in to our cabin on the rim. At an elevation of over 8,000 feet our night on the rim was chilly!!!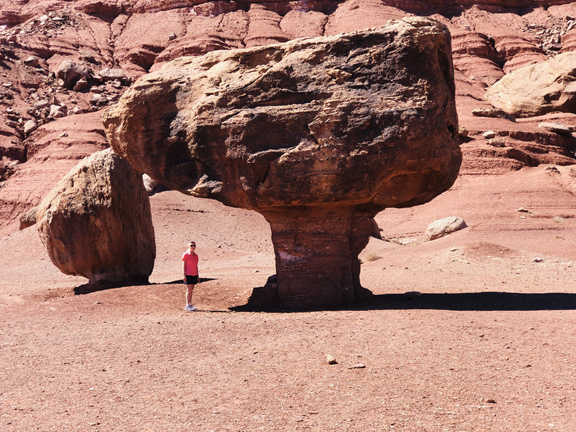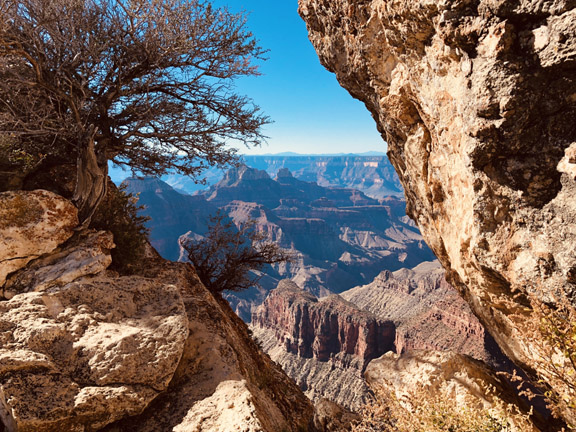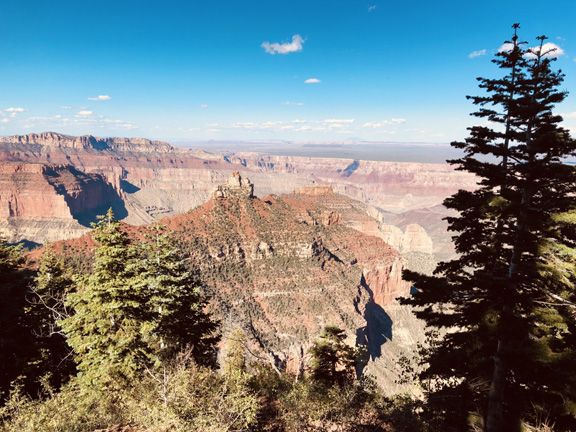 Day #6=>

Before leaving our cabin we did a morning hike to capture a bit more of the stunning scenery before leaving for our next destination Lake Powell, labelled "E" on the map. In route to Lake Powell we detoured to Marble Canyon for a little sight-seeing and a lunch stop.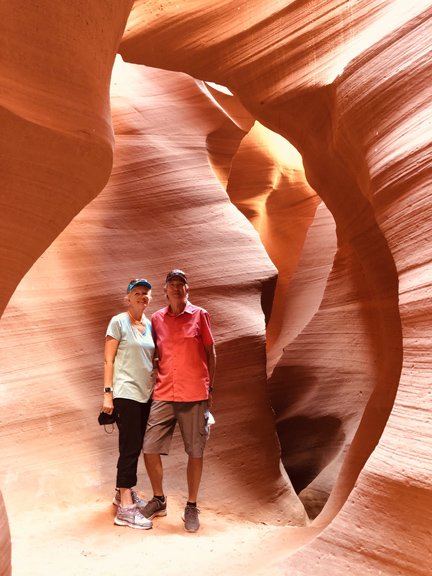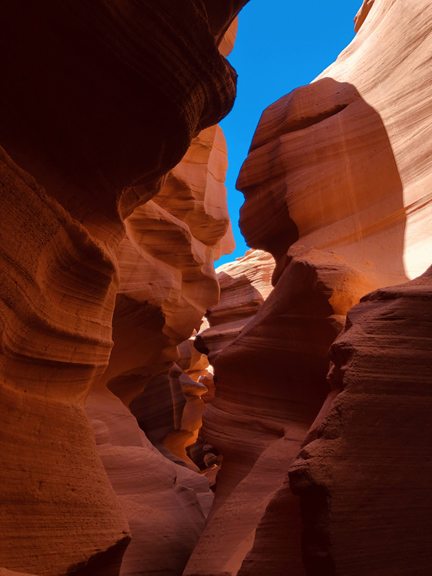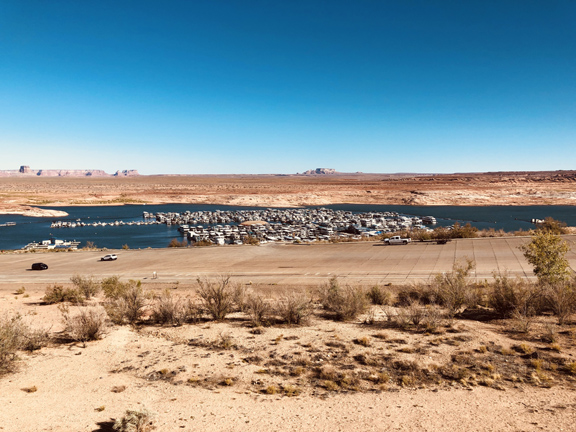 Day #7=>

This was our 2nd day in Page, AZ on Lake Powell. Our activity for today we had pre-reserved the Antelope Slot Canyon tour. We were not disappointed as our images speak for themselves.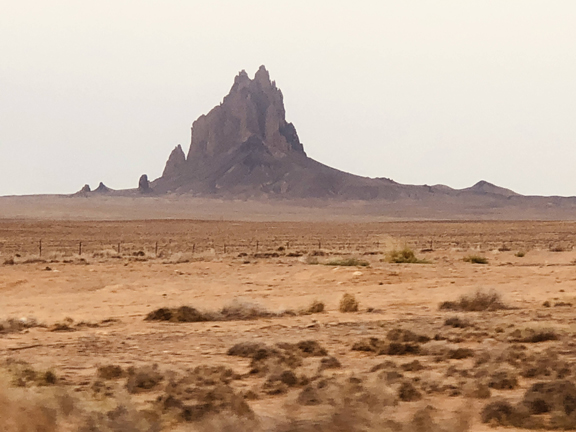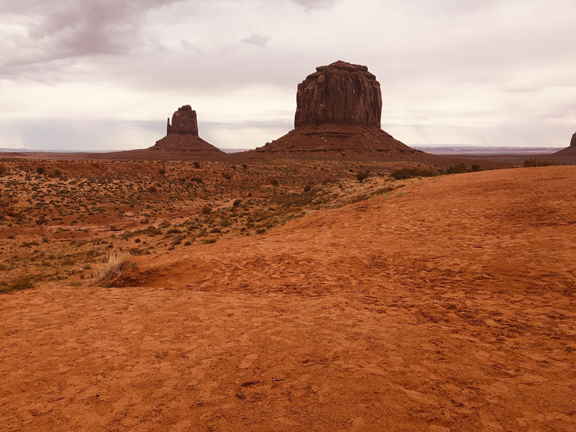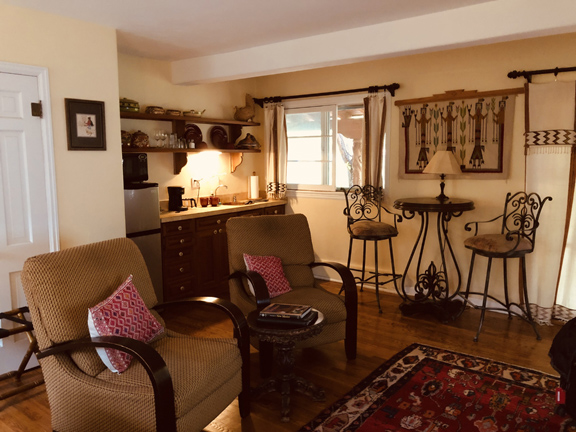 Day #8=>

On this day we are finally going to reach our destination, New Mexico. Our first night in New Mexico was in the little town of Farmington, labelled "F" on the map. Our lodging in Farmington was a very cozy B&B with a full kitchen. Before leaving Arizona we passed right through a favorite destination of ours, Monument Valley. Unfortunately it was raining on this day so our images are not as good as they should be and thus a good reason to return some day. After entering New Mexico it did not take long to spot "Wheeler Peak" which stands out on the relatively flat terrain.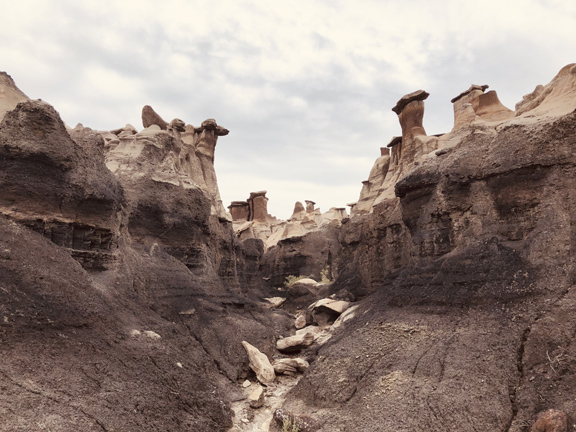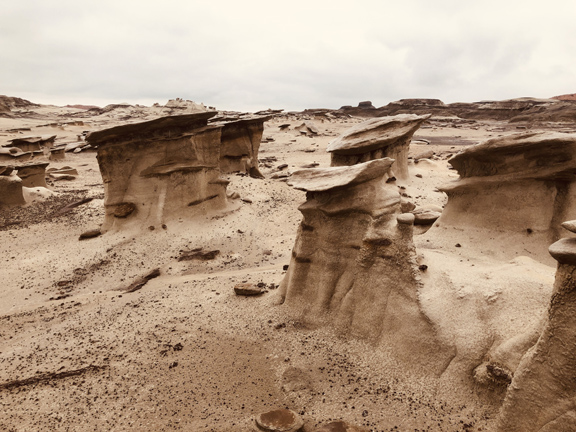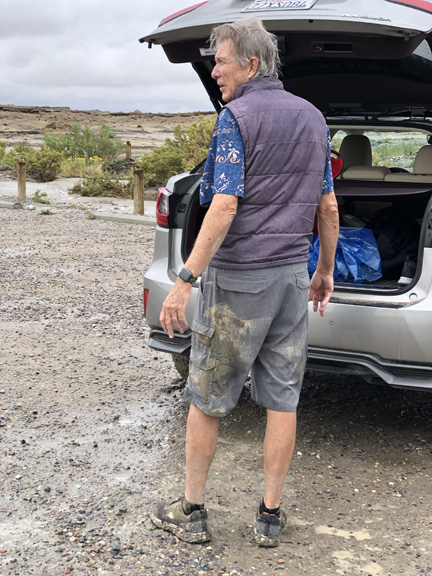 Day #9=>

This was our 2nd day in Farmington, New Mexico. Our plan for this day was to hike the Bisti Wilderness Area more commonly referred to as the Bisti Badlands. We came prepared with gps apps on our phone and lots of water to hike an area where people have been known to get lost, unable to find their way back to their vehicle. What we did not plan for was rain and what happens to the badlands when it gets wet. We now know it turns slipperier than ice and when you do fall, which you will, you are cover in mud. Phones do not work with muddy fingers. NOT a do-over!!!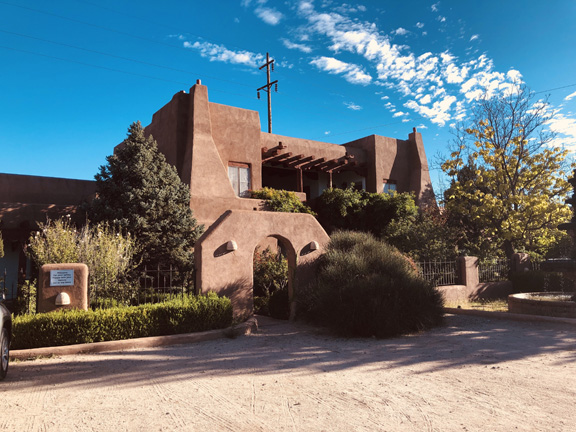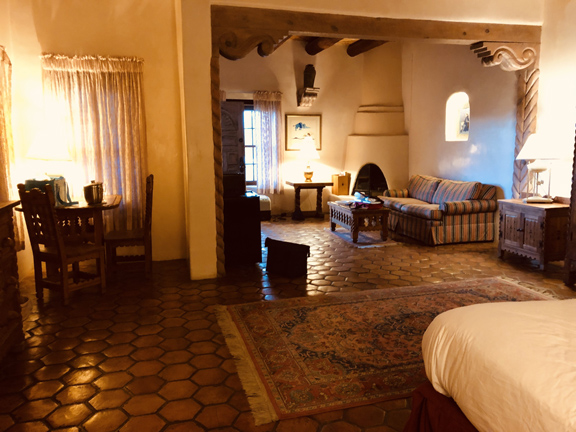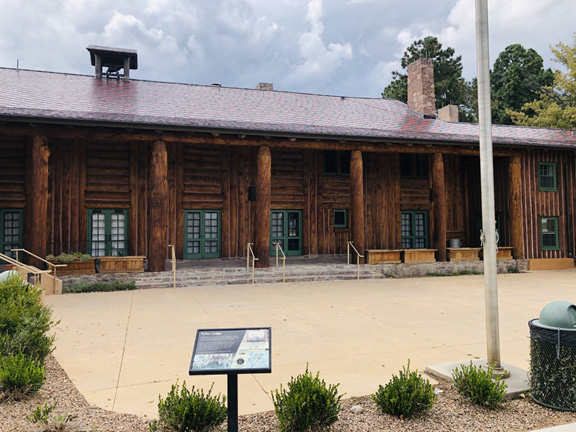 Day #10=>

Our next destination was Espanola, New Mexico, labelled "G" on the route map. We had another very nice B&B, huge room. The special activity just outside Espanola was a visit to Los Alamos National Labs. Los Alamos was the headquarters of the WWII Manhattan project. Their exhibits are free and include a couple short videos on the Manhattan project and projects currently being conducted by the lab. Los Alamos is more than a lab. Los Alamos is an entire town that was locked down very tightly during the Manhattan project for security reasons. This is a highly recommended activity that is very informative and thought provoking.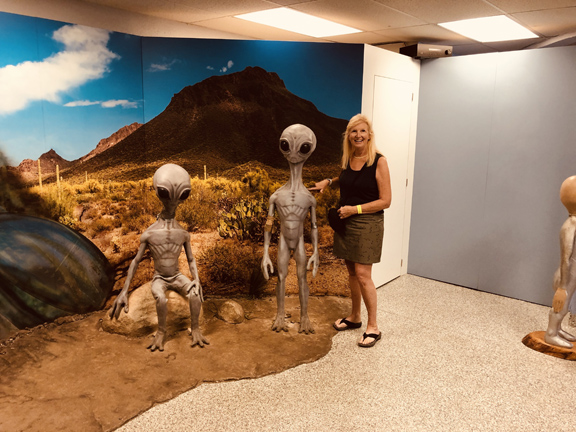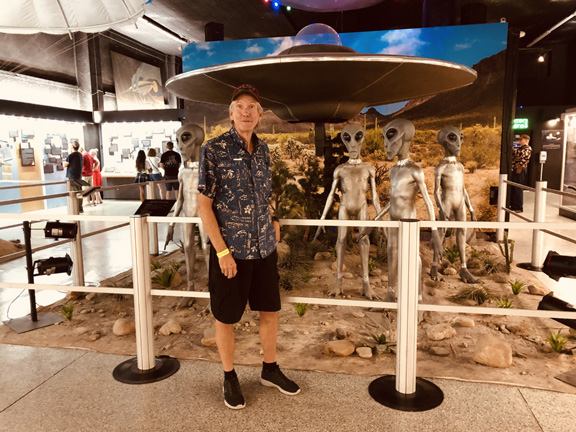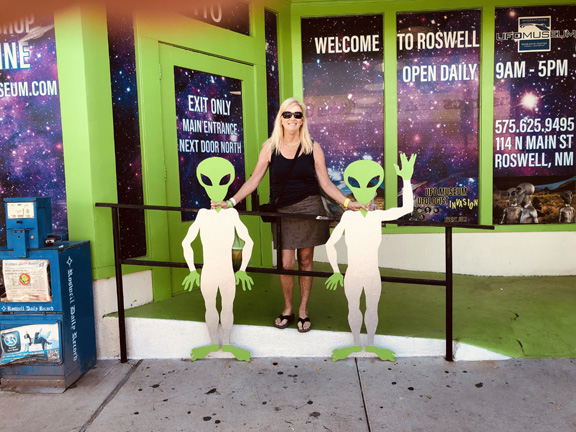 Day #11=>

Our activity for today was highly anticipated "Rozwell". Our visit to Rozwell definitely lived up to expectations. Everyone needs to visit Rozwell at least once!!!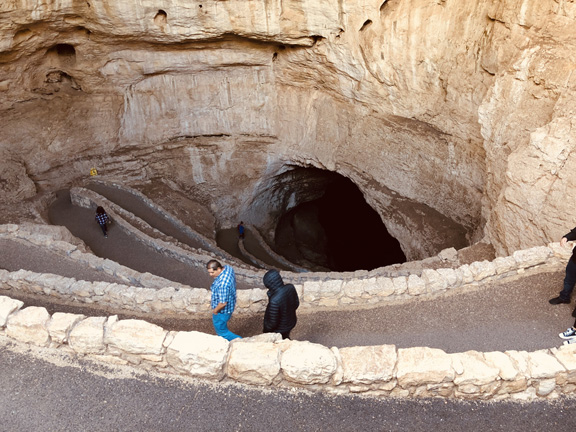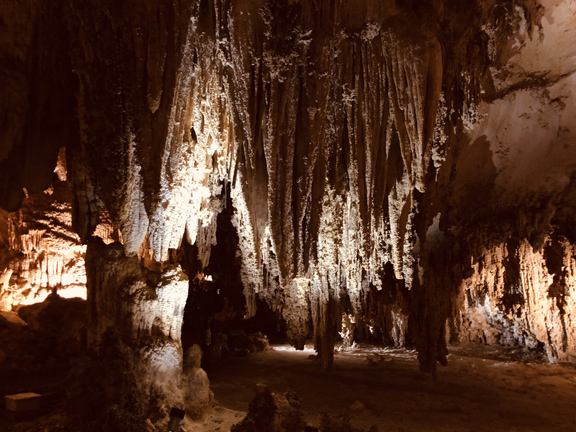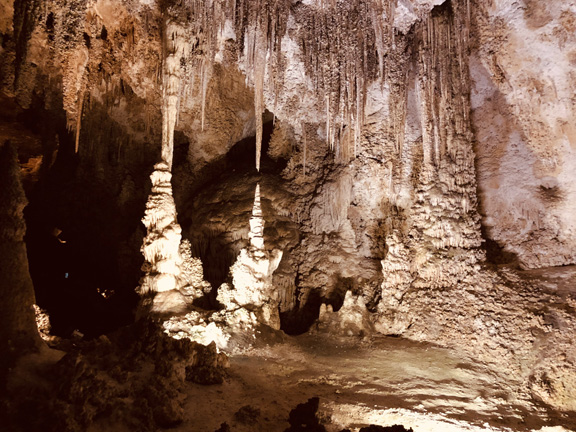 Day #12=>

Our next destination was Carlsbad, New Mexico, labelled "H" on the route map. The activity here is obviously the Carlsbad Caverns. I am not a big fan of caves and thus I was not looking forward to this activity. I was so wrong this is a MUST see, highly recommended!!!!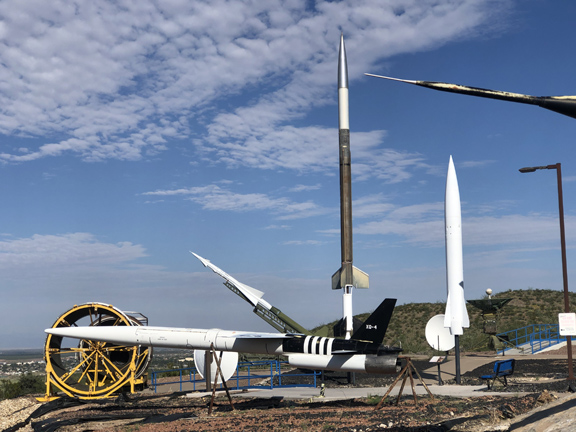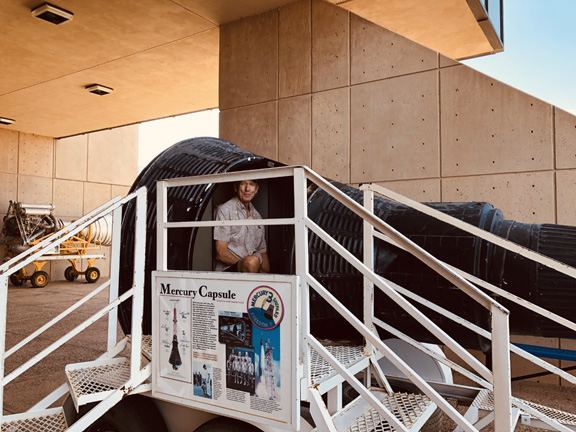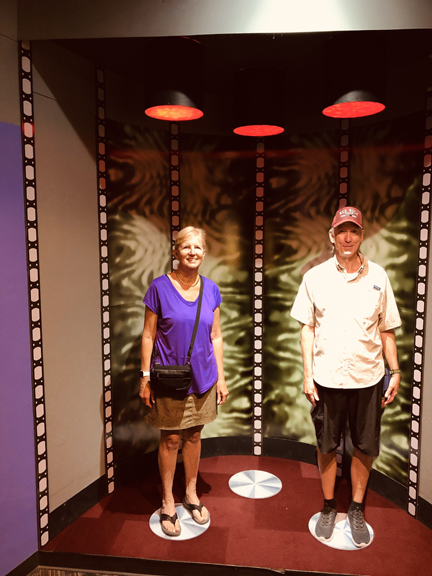 Day #13=>

Our next New Mexico destination was Alamogordo, labelled "I" on the route map. We had planned to stop and visit the mountain town of Cloudcroft on the way. But we were running late so continued on to Alamogordo which was just down a very steep hill from Cloudcroft. There main attraction in Alamogordo for us was the International Space Hall of Fame. This space museum was situation on a hill overlooking Alamogordo, great view, and contains a lot of fun exhibits including hands on exhibits.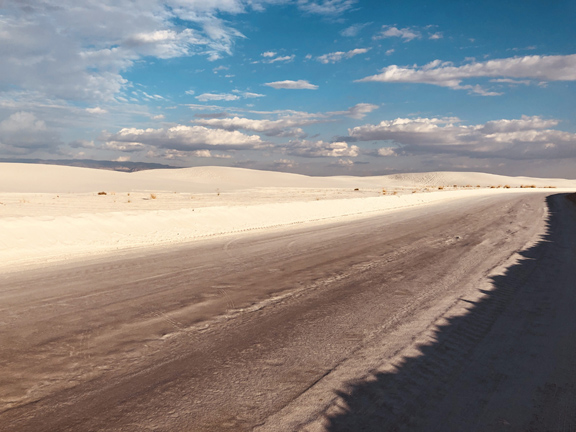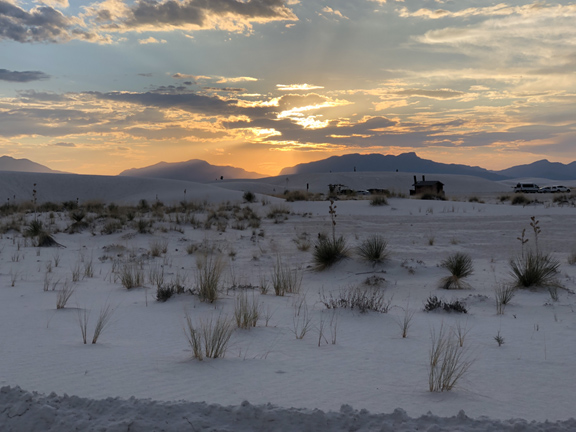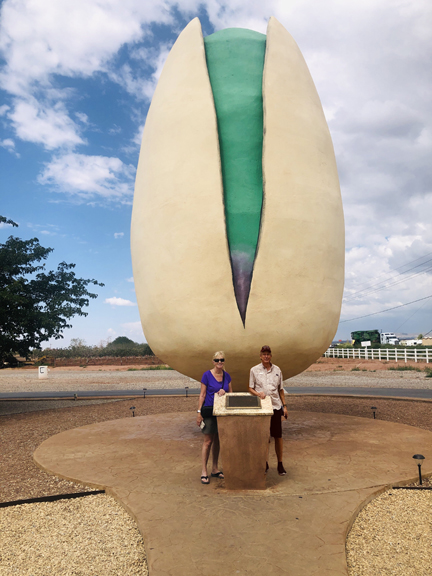 Day #14=>

This was another Alamogordo day that started with a visit to the world's biggest Pistachio. We also decided to visit White Sands National Park which is just outside Alamogordo. The sand was so white it looked like snow.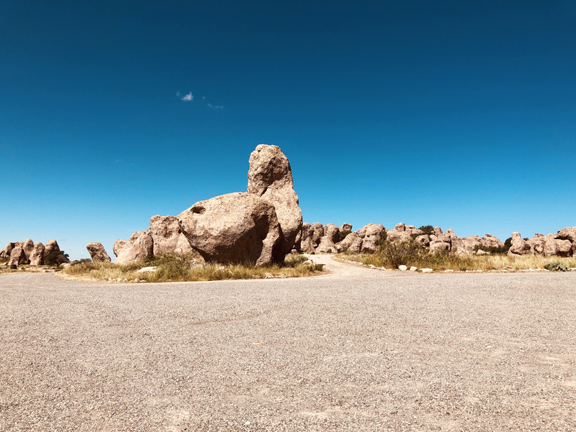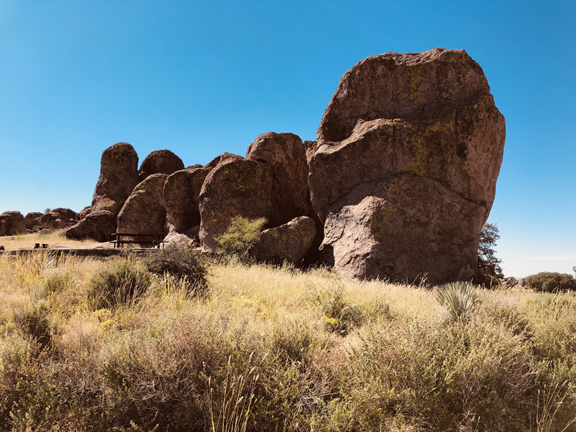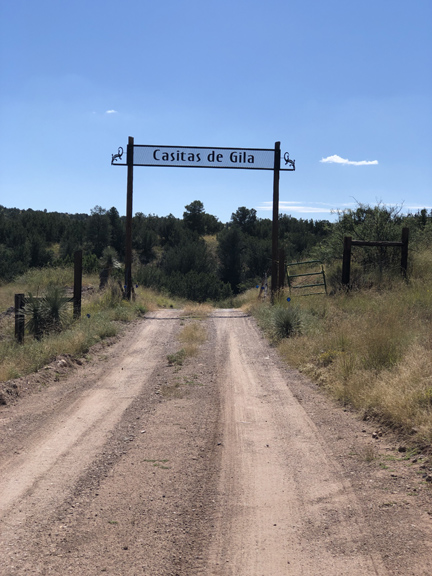 Day #15=>

Our next destination was our last in New Mexico, a little town by the name of Gila, labelled "J" on the route map. Our Gila booking was located by searching for "cabins in the woods" and turned out to be exactly what we wanted. The drive to Gila took us by the "City of Rocks State Park" which turned out to be a perfect lunch stop.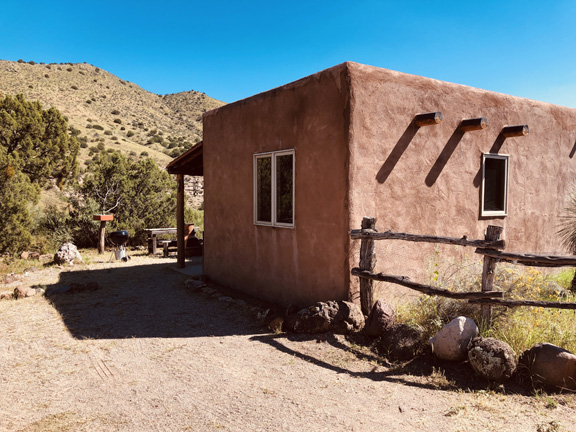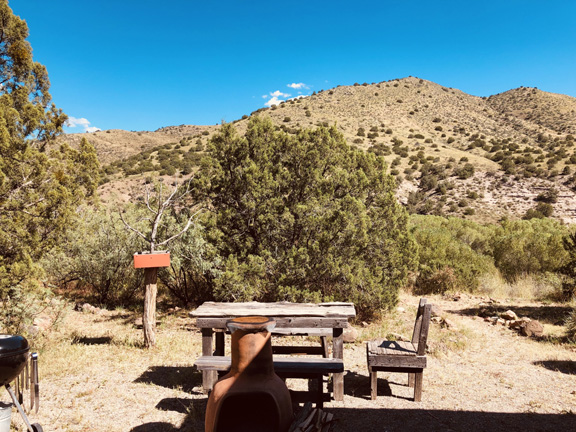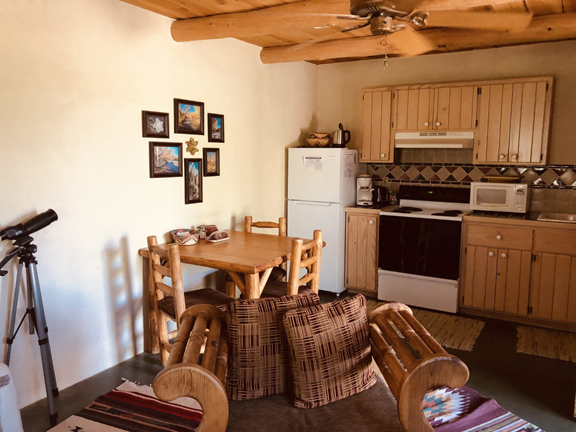 Day #16=>

Our 2nd day in our Gila cabin we decided to rest and enjoy the great cabin in the wilderness, an R&R day!!!

Day #17=>

Our 9 days in New Mexico had come to an end. So today we started the long road home starting with Scottsdale, AZ, labelled "K" on the map. This was just a drive day with no pictures taken.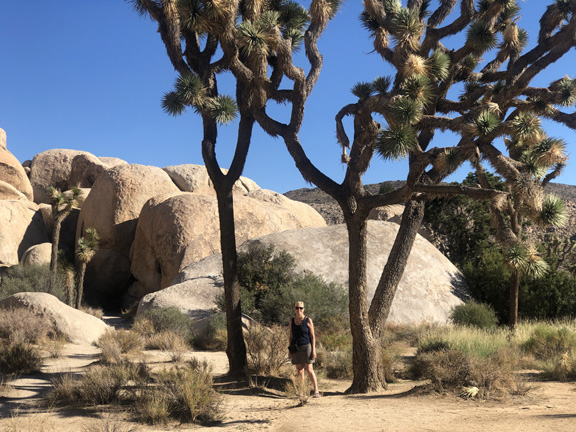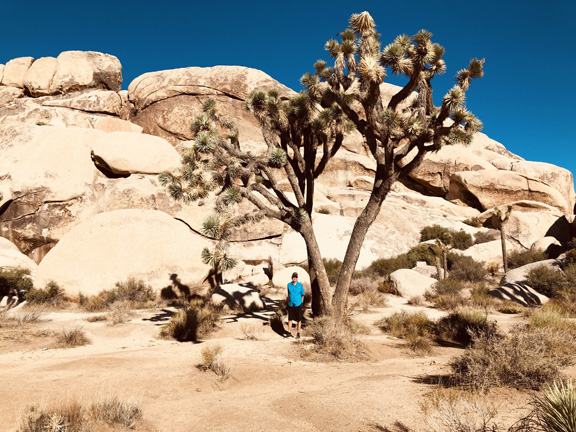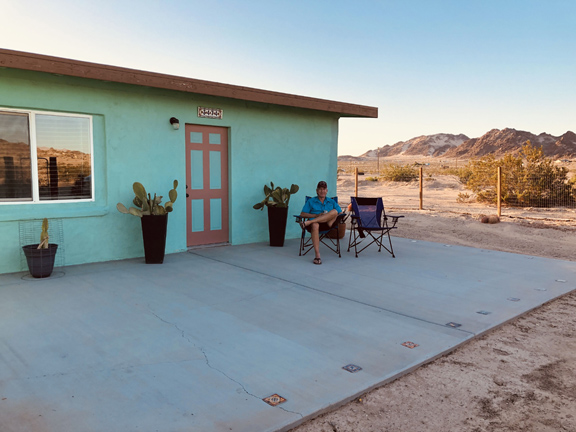 Day #18=>

Our next destination was 29 Palms California, labelled "K" on the route map. We tried to find another cabin in the woods and came up with a funky green hut in the high desert. After getting our chairs out it was perfect, quiet and comfortable. We also choice 29 Palms because of its proximity to Joshua Tree National Park.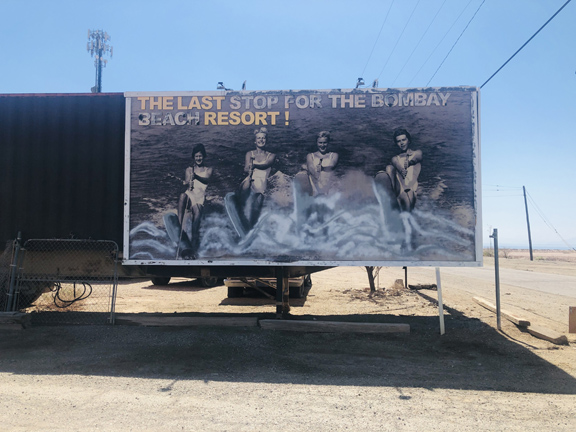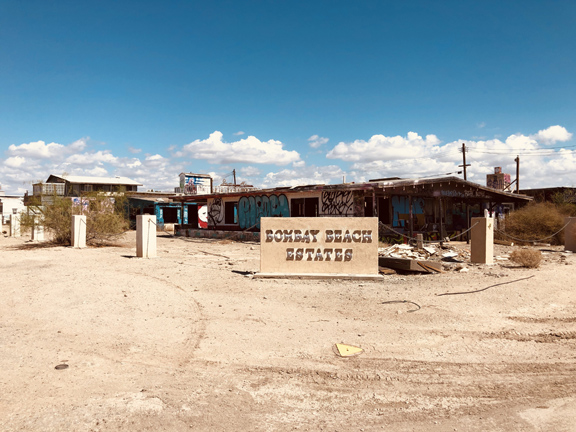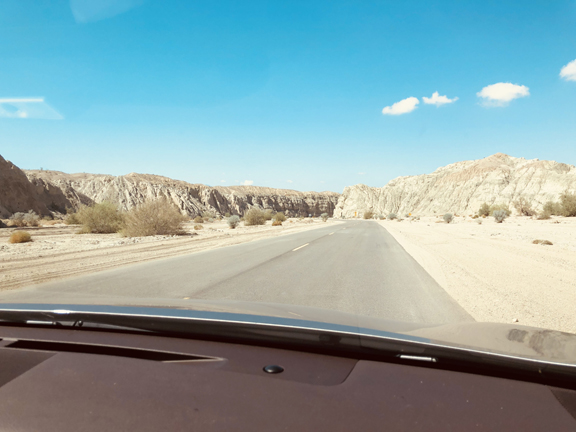 Day #19=>

This was a sight-seeing day in 29 Palms. Besides more Joshua Tree National Park we also decided to visit the Salton Sea. We were intrigued by the story and wanted to see it for ourselves. The lake is huge but it is man-made. It was once considered a prime recreation location but has turned into an ecological disaster. The road to the Salton Sea is built at the same level as a stream bed thus flooding every time it rains. The land near the sea is huge agriculture, very interesting area!!!!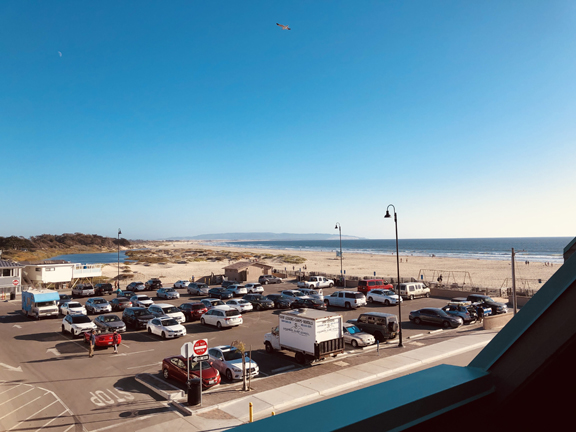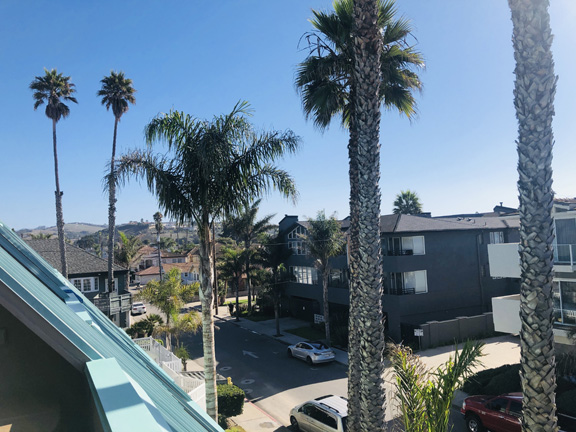 Day #20=>

We could have simple driven up interstate-5 to home but decided instead to head for the coast and highway-101. Our destination for this day is a favorite of ours Pismo Beach, labelled "M" on the route map. Our lodge at the beach and a nice seafood dinner made this little detour before going home well worth it.

Day #21=>

The plan for this day was to head straight up the 101 to home. But we did time our route so we were conveniently in Monterey for lunch. Monterey is another of our favorite destinations.