2022 Orlando Trip
Our last Orlando trip was December 1999 with all our boys. Orlando was unusually cold during our 1999 trip and traveling with teen-agers can be a challenge. I still remember how hard it was to get everyone up to make rope-drop(park opening). In 1999 we rented a car so finding our non-distinct rental car in the huge theme parking lots was always a challenge.
Thus the goal for this Orlando trip was for senior adults only. Which meant going at a slower pace, making rope-drop everyday and having time to sit-down and enjoy meals with an adult beverage.
This trip was first planned for 2020 but had to be rescheduled because of COVID, too bad we had really cheap plane tickets that year. The plan for our rescheduled trip was two-weeks so we could go slow and early November to try and avoid as many crowds as possible and the summer hear. Unfortunately even November was heavily booked forcing us to put our five Universal days first followed by eight Disney days.
Our strategy for this senior Orland trip was to avoid rental cars and rely on Lyft instead. Thus our lodging had to be convenient for getting to and from the theme parks. Additionally we really embrace the afternoon naps, like when the grand-kids were young so transportation was vitally important.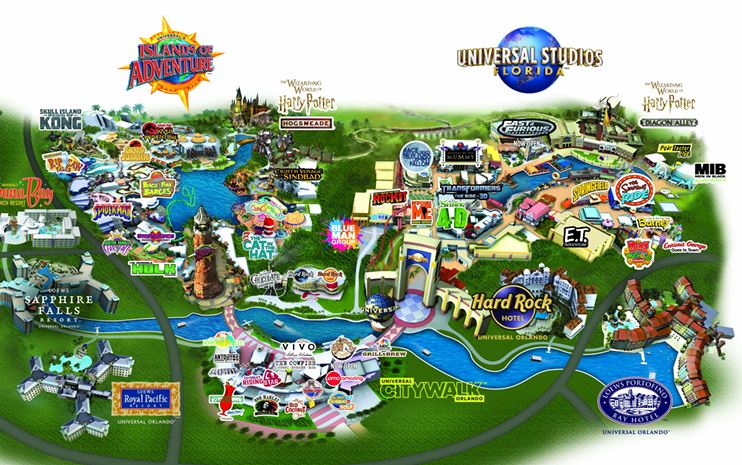 The plan for our Universal days was to stay close enough to the parks so we could walk if we wanted to. We decided on the Royal Pacific which is in the lower left corner on the map to the right. The two theme park "Islands of Adventure" and "Universal Studios Florida" are clearly visable on the map as well. Notice entrance to both parks are rather close together both just over a bridge from "City Walk".
Our Universal plan worked very well. The Lyft ride from the airport was very quick without any drama. Not dealing with the Orlando traffic and trying to drive on unfamilar roads was great. We arrived in the late afternoon. The weather was perfect, short sleeve temp, a huge improvement of the chilly temperatures we left at home. Unfortunately the Royal Pacific lobby temperature was very cold. So cold that we struggled during our entire stay to keep our room warm; constantly fighting the impact of the temperture in the lobby and hall.
For our first evening we had reservations for dinner at a "City Walk" restaurant, Vivo Italian Kitchen. An excellent way to end a cross-contry fly day. We decided to walk from the Royal Pacific which turned out to be an excellent decision, very nice, short, enjoyable walk, even for seniors!!!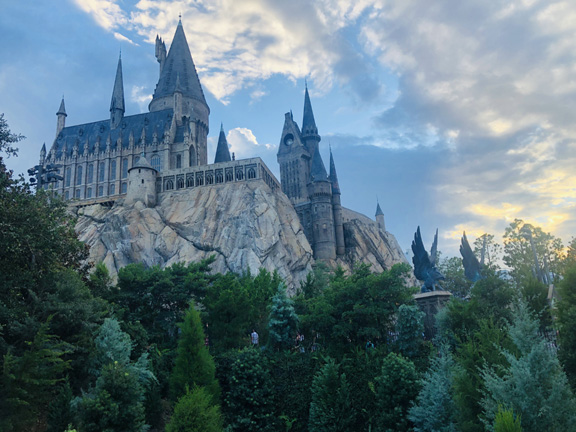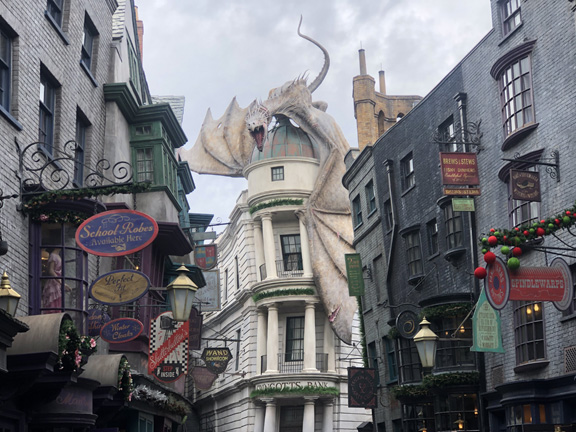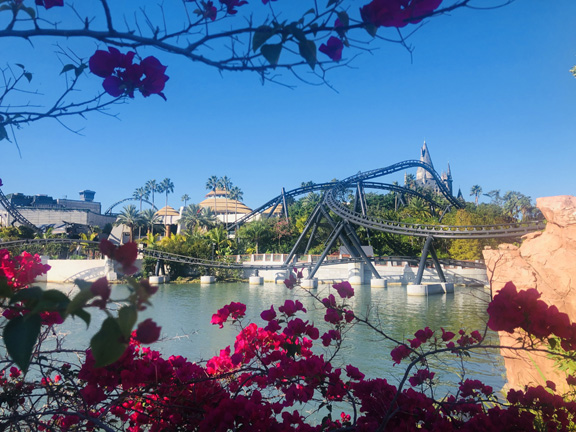 During our entire five day stay at Universal Florida we only used the boat once to return to the Royal Pacific. The walk along the river was much better that standing in a line and then jamming in a boat with a crowd. Another advantage of staying at the Royal Pacific is getting express pass access to all those attractions that honored it. With our express access and ability to make rope-drop every morning we had no problems riding everything we wanted to ride. With 5 days we even had an opportunity to do multiple rides for some of the special attractions. We put all of images from our Universal Days in this album.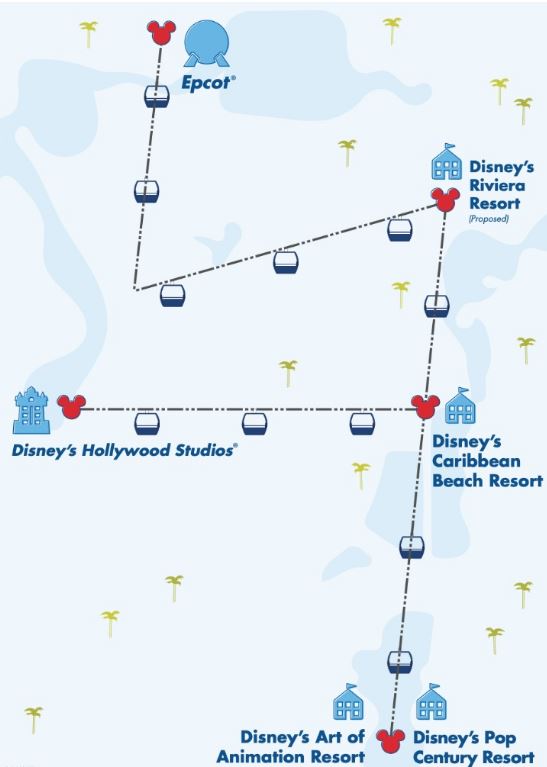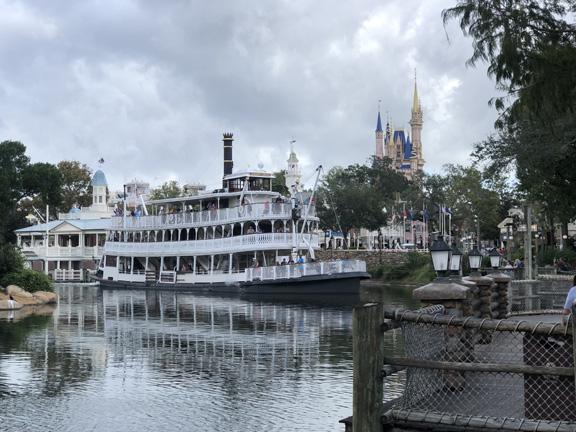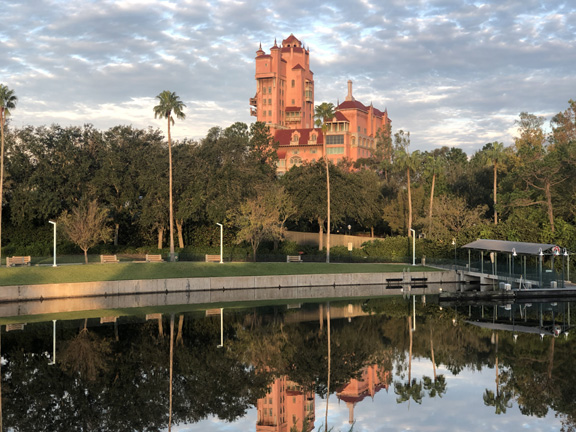 Our plan for our Disney days, with no rental car, involved using the Skyliner. As the map to the right shows currently the Skyliner can only be used for Epcot and Hollywood Studios.

This strategy also meant our Disney lodging options were limited to the four shown on the map. At the time of our booking the only one of the four with availability was "Art of Animation" resort. This resort was a good choice and access to the skyliner was fabulous.

Our first Disney day was a short Lyft ride from Universal so too early to checkin. The plan for this day was to check our luggage at the resort then caught the Disney bus to Animal Kingdom. The bus pickup and drop off area was actually closer to the resort lobby than our room was thus a pretty good day-1 plan. We arrived back at our resort after dark and learned our luggage had already been delivered to our room. No check-in is a perfect check-in as we simple went straight to our room.

During all but our last day at WDW we visited two parks everyday. The first was always at opening (rope drop) and the 2nd park was always in the afternoon. We visited the parks on the Skyliner more than others because it was so easy. Each Skyliner car can hold up to 10 riders so even the very busy times of park opening and closing were not an issue. We put all of images from our WDW Park Days in this album.

For our last WDW day we purchased a ticket to a Christmas party held at Magic Kingdom. Entrance for the Christmas party was at 4pm when all visitors without a party pass had to leave. We put all of images from the Christmas Party in this album.