&nbsp [Cruise Map/Itinerary]

2023 Mediterranean Cruise
Day #1=>Depart SFO on British Airways for an overnight flight to Heathrow, outside London.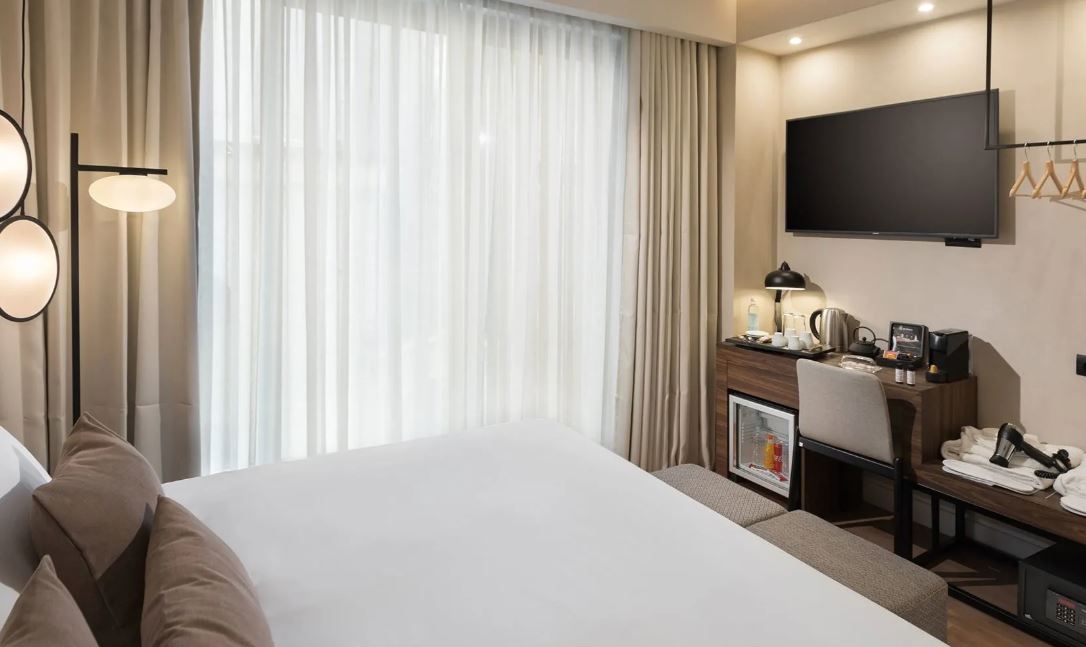 Day #2=>After a short lay-over we board our 2nd flight to Athens, Greece. Arriving after 7pm we will go straight to our pre-cruise hotel the AD Athens Luxury Rooms & Suites which is very close to the Acropolis.
Day #3=>Our first full day in Athens we have 7:30a tickets at the Acropolis/Parthenon. In the afternoon our hotel has a nice roof-top bar with views of the Acropolis. For dinner we were planning on visiting Liondi.
Day #4=>Still recovering from jet-leg our plan for our last full day in Athens is to do some Rick Steves self-guided walks.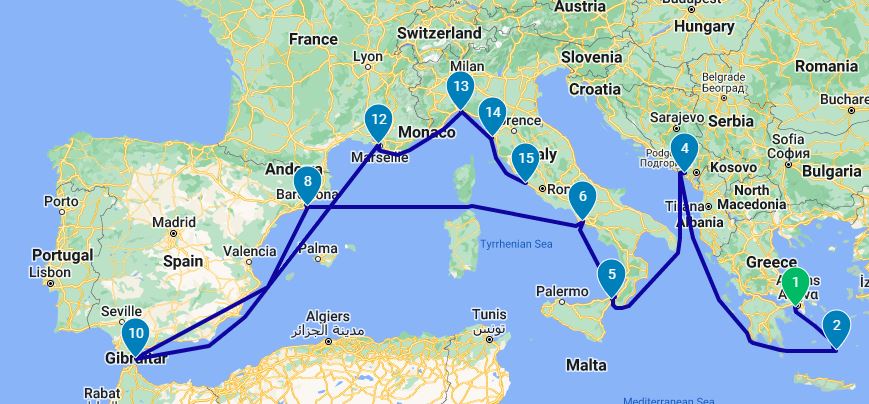 Day #5/Cruise #1=>Today we begin our 14-day Mediterranean cruise aboard the "Enchanted Princess", sail away is 7pm. The cruise map to the right identify our ports of call and what cruise day each port is.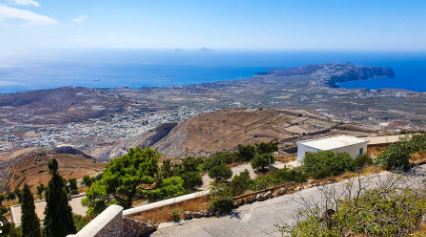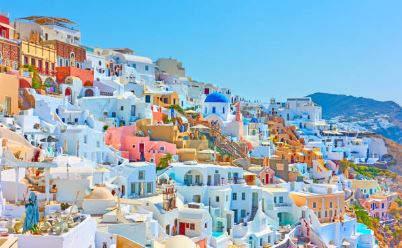 Day #6/Cruise #2=>

Our 2nd port, still in Greece, is the island of Santorini. Santorini is not far from Athens, we arrive at 7am. This island is in the Aegean Sea and was devastated by a volanic eruption in the 16th century BC, forever shaping its rugged landscape. The whitewashed, cubiform houses of its 2 principal towns, Fira and Oia, are perched on the cliffs above an underwater caldera (crater). On Santorini we are taking a 4hr excursion that will visit the peak created by the volcano (image to the right) their two main towns and a winery tour. The unique wine of Santorini dates back to the 1700 BC. Assyrtiko grapes (white wine) are the leading variety grown, as they thrive in the rich, volcanic soil. We have all day to explore Santorini as sail-away is 7pm.

Day #7/Cruise #3=>A day to relax as this is one of the few sea days on the cruise. Thus, this is a day to enjoy the fine dining on a cruise ship and explore the ship.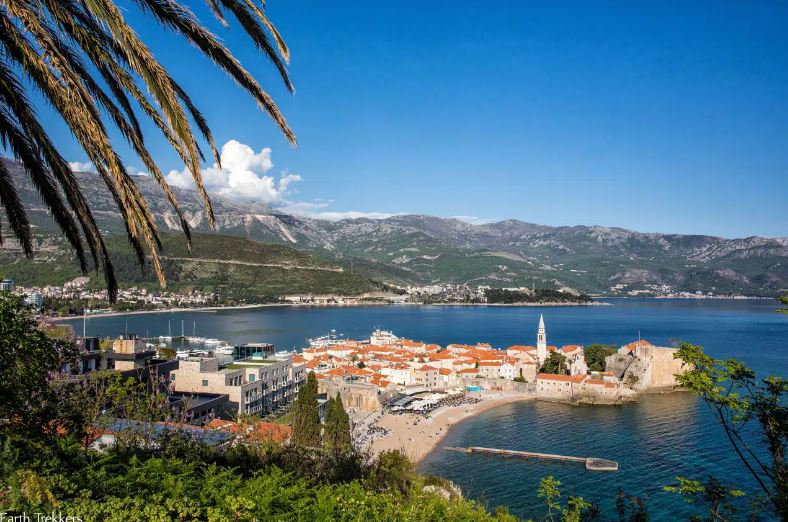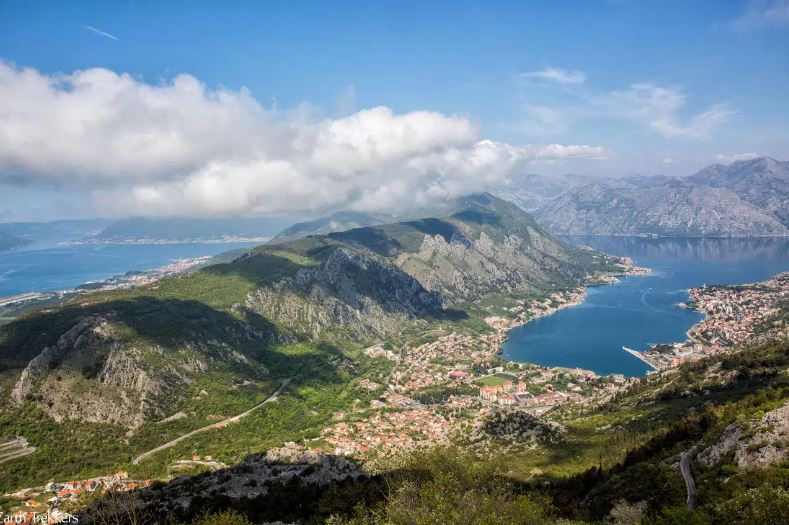 Day #8/Cruise #4=>

The next port is Kotor, Montenegro and we are again arriving at 7am. Kotor is an anchorage port which means we are transferred to shore via ship's tender. We have not planned an excursion at this port and instead plan to simple stroll and enjoy the beautiful sights of this medieval gem with its narrow, asymmetrical streets lined with ancient stone houses, old palaces, and churches dating from the 12th century. The streets of this old port are lined with pubs, taverns and cafés. But not on this trip as we leave Montenegro at 3pm.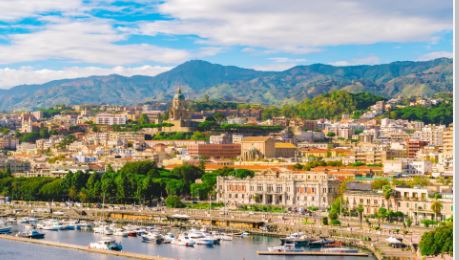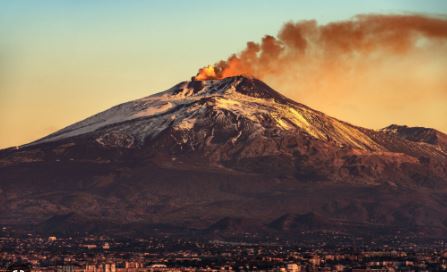 Day #9/Cruise #5=>

On the 5th day of our cruise we will arrive at Messina, Sicily about noon. Messina is the third largest city on the island of Sicily, and the 13th largest city in Italy. Our excursion at this port is to Mt Edna, Europe's largest active volcano which last erupted in October 2002. It's erupted over 130 times in recorded history and buried the town of Catania by an eruption over 300 years ago. The rim of the crater is almost 6,400 feet above sea level, a great picture taking walk from high above Sicily. Afterwards we will drive to Taormina a village perched 700-feet above the sea and overlooking the Bay of Naxos. This was a great resort town even in Roman times. We will have time to explore Taormina and have an authentic Sicilian lunch. We depart Sicily at 8pm.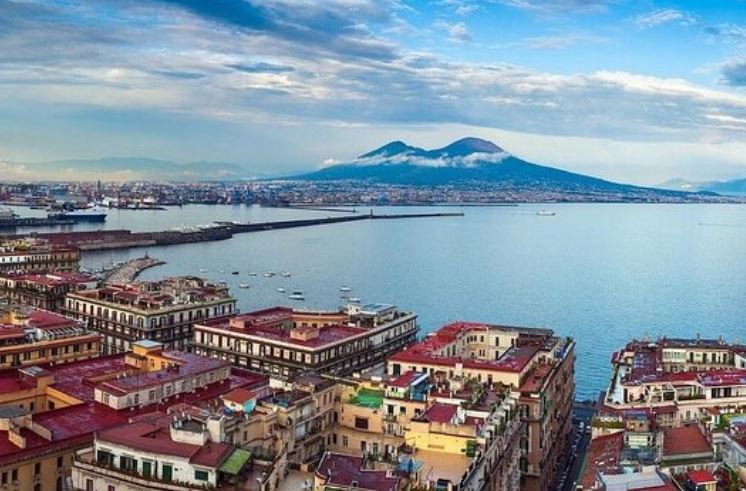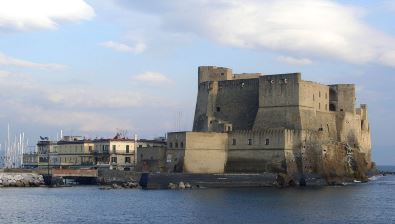 Day #10/Cruise #6=>

Our 6th cruise day is another great Italian port Naples, the 3rd largest Italian city. The image to the far right shows Naples with Mount Vesuvius in the background. Arrival is scheduled at 7am which is when we will start our all day excursion. The excursion starts with a guided walking tour of Naples with over 2,800 years of history. The city tour includes the underground Borbonic Gallery followed by viewing The Castel Of The Egg (image to the right) and the beautiful waterfront of Naples before stopping for a pizza style lunch.

After lunch we board a coach for an hour drive to the ancient city of Pompeii. Pompeii was entombed by the eruption of Mount Vesuvius in 79 A.D. In Roman times prior to the eruption Vesuvius was home to an ideal grape growing area making Pompeii a major wine producer. Pompeii was also known as a vacation community for high society which included wealthy homowner villas. After exploring Pompeii it is back on the bus for our return to the ship and our 7pm sail-away.
Day #11/Cruise #7=>Finally a day to relax and catch our breathe, a well deserved sea day. Our ship is now heading west to Spain as we enjoy a Mediterranean summer day.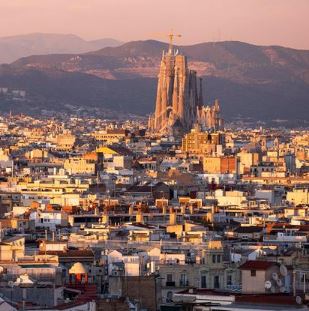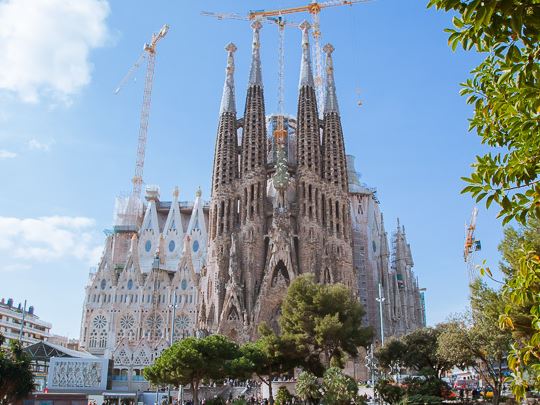 Day #12/Cruise #8=>

Our 8th day aboard the "Enchanted Princess" we will arrive at Barcelona, Spain about 5am. We are not planning to do a Princess excursion at this port. Instead we have reservations to view the fantastical Sagrada Família church. We even secured tickets to go up into the Tower on the Nativity facade. Afterward we plan to do a self-guided city walk. We will have plenty of time as sail-away is not until 6pm.

Day #13/Cruise #9=>Another sea day as we make our way south to the point where Africa and Europe are only 13 km apart.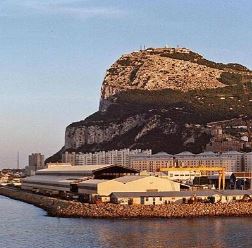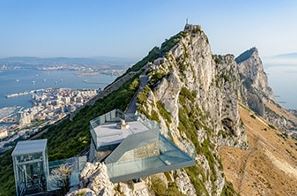 Day #14/Cruise #10=>

Our destination on the 10th day of our cruise is a little piece of land that is part of the UK, Gibraltar. The six square kilometres of the Rock of Gibraltar are steeped in history, from the very beginning around 100,000 years ago. The distance from Gibraltar to Africa is only 13km. Our arrival is scheduled to be at 5am and departure is not until 6pm. We will have plenty of time for our 3hr excursion that includes St Michael's Cave, the Great Siege Tunnels and Apes Den.

St Michael's cave is a series of underground, limestone caves and tunnels located in the Upper Rock Nature Reserve of Gibraltar, approximately 300 meters (984 feet) above sea level. This natural phenomenon showcases stalagmites and stalactites, a series of twisting subterranean passageways and an unexpected amphitheater used as a concert hall. St. Michael's Cave has undergone a transformation in summer 2021, with a technology-led installation, creating a brand-new immersive experience inside the natural attraction. Opened to the public in summer 2021, 'The Awakening' highlights the history of the famous cave, explaining how the geological formation came to be through 360° light projection combined with immersive spatial audio.

After years of abandonment, the World War II Great Siege Tunnels of Gibraltar were opened to the public. In 1940, Britain was at war with Italy and Germany, and the fate of Gibraltar was uncertain. British military leaders and Winston Churchill believed that Gibraltar was in great danger of an attack. To save the Rock, a massive underground fortress was built, consisting of a network of tunnels, 30 interconnecting miles, that lead to a hospital, power station, military headquarters and room to support 10,000 troops and civilians.

The Apes Den attraction are tailless monkeys also known as Barbary apes, the only free-roaming monkeys in Europe. Mysteriously inhabiting the area for centuries, they are believed to have made their way onto The Rock through underground caves or were perhaps imported by sailors and pirates who brought them over from Africa on voyages. The apes are well cared for by the Gibraltar Ornithological and Natural History Society and are given fresh food and water every day to supplement what can be found in the wild.

Day #15/Cruise #11=>Leaving Gibraltar is our 4th and final sea day of this cruise. So our obvious goal is get plenty of rest for the reminder of our cruise and non-crusie days.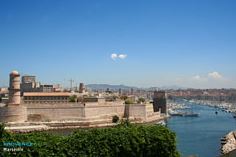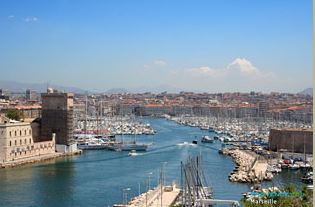 Day #16/Cruise #12=>

On our 12th cruise day we stop at our only French port Marseille (Provence), France. This port city in southern France was founded by the Greeks in 600 BC. Our scheduled arrival is 8am plenty of time for breakfast before we start our 6.5 hr excursion. The excursion starts with a short drive to the port of Marseille and the city of Aix-en-Provence. Upon arrival a guided walking tour begins down the romantic streets lined with stately 17th- and 18th-century mansions. Afterward there will be time to explore on our own and catch lunch before boarding the coach to see more of the scenic coast and idealic towns alone the way. Our depart from this port is before dinner, 6pm.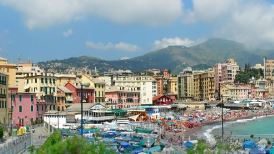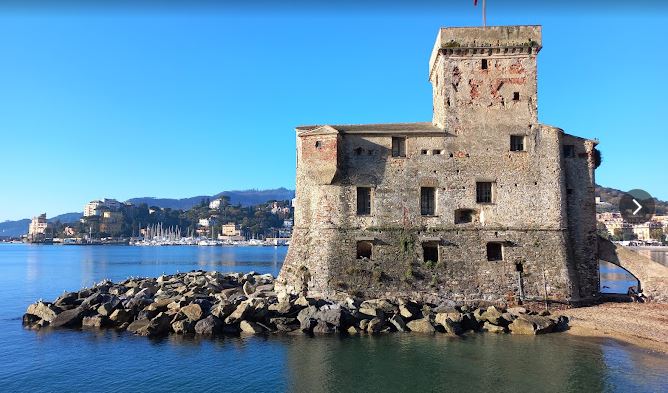 Day #17/Cruise #13=>

All our remaining ports are in Italy and today we will visit Genova, Italy with a population of over 600,000. Arrival is scheduled for 7am which should be just enough time for breakfast before our excursion begins. Our excursion begins with a motorcoach ride along the scenic, winding coastline to the village of Rapallo. Upon arrival we will have a guided walking tour and refreshments at a local cafe. This village has a 16th-century castle built as a defense against the Saracen raids. It is connected to the land by a single-span Roman bridge over which, according to the legend, Hannibal crossed during his invasion of Italy.

Then we board our bus to Santa Margherita. Here we'll stroll along the seaside promenade and explore the charming shops and cafes. We will visit a gelateria for a scrumptious treat and admire the luxury yachts and quaint fishing vessels that dot the harbor.

Then we will board a motorboat and travel to Portofino. Today this ancient fishing village of Roman origin is one of the most famous resorts in the world with its tall and colorful houses facing the Piazzetta and the harbor.

After Portofino we will return to Santa Margherita via motorboat, then board the motorcoach for the return drive to Genoa and our ship.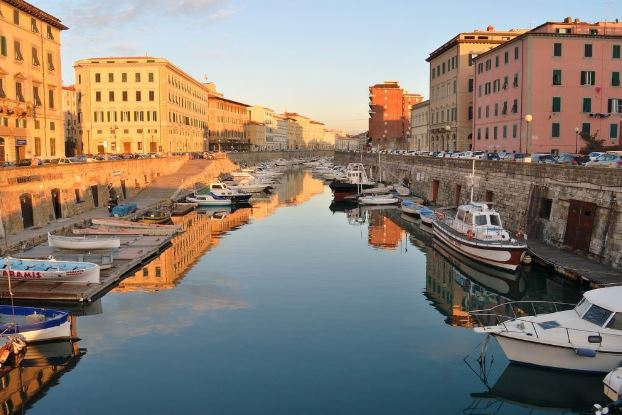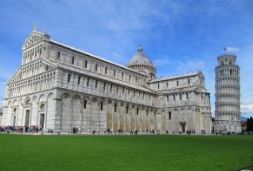 Day #18/Cruise #14=>

Our 14th cruise day is yet another Italian port, Livorno which was founded as a city in 1606 by the Medici family. Bridges, canals, and historic palaces are reflected in the calm waters, making it feel like a little Venice on the Mediterranean. It's full of small picturesque canals, built in the 17th century using Venetian methods of reclaiming land from the sea, and is known as "New Venice".

We are scheduled to arrive at the port of Livorno at 7am. Our planned excursion is to see the Leaning Tower Of Pisa. This UNESCO World Heritage Site, Piazza dei Miracoli (Square of Miracles) is actually the cathedral's bell tower. Many people ask why it leans and what its original purpose was. The tower was meant to be the bell tower for the cathedral, but due to its faulty design and loose soil beneath it, it never fulfilled its purpose. The Leaning Tower of Pisa really is leaning! On the side where the tower is higher, it stands at 187.27 feet, and on the low side it stands at 186 feet. Maybe the millennium tower in San Francisco will soon be a World Hertiage site too!!!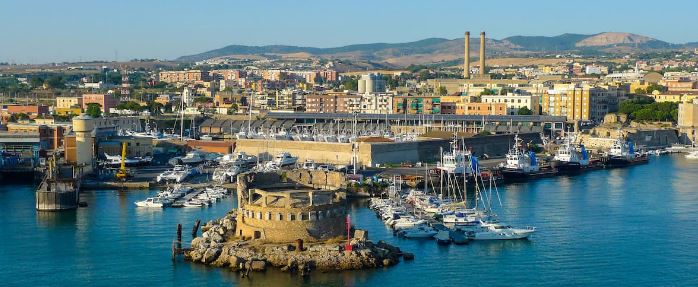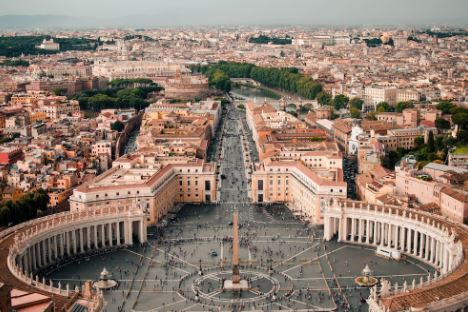 Day #19/Cruise #15=>

The last port is our disembarkation port Civitavecchia. We are taking the ship's debark tour which states that we will take 90-minutes to get to Rome, a distance of 16 miles. Our first stop is the spectacular Vatican Museum, a complex that houses one of the most impressive and varied collections of art in the world collected by the popes through the centuries. We will then continue on to the Sistine Chapel, small and elegant but huge in artistic significance, and home to the masterpieces of the great artist Michelangelo. A recent restoration has revealed the beautiful colors that were used in his work. The exquisite frescos hanging on the sidewalls were created by artists such as Botticelli, Perugino, Rosselli, Ghirlandaio and Signorelli, which complete this overwhelmingly beautiful room. We visited the Sistine Chapel back in the 70s and always wanted to return.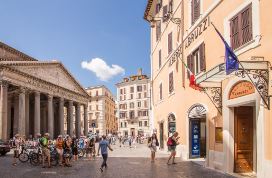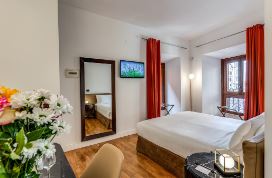 After our Vatican visit we will board our motorcoach again for the short ride to our Rome lodging the Albergo Abruzzi.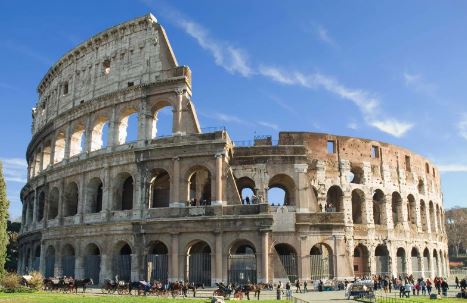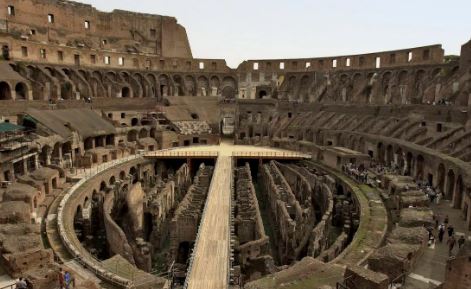 Day #20=>

Our first full day in Rome we have scheduled a colosseum tour. We are excited because our tour includes the Colosseum undergroud, areana, roman forum and also Palatine Hill. In the afternoon we plan to follow a Rick Steve's Walking tour to see more highlights of Rome.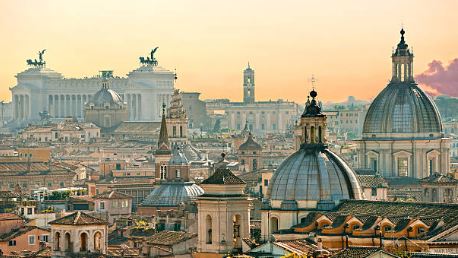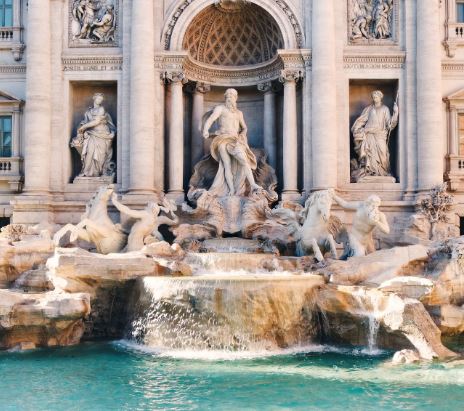 Day #21=>

We have no set plans for today but we expect to do lots of walking that will include the Pantheon neighborhood and Trevi Fountain.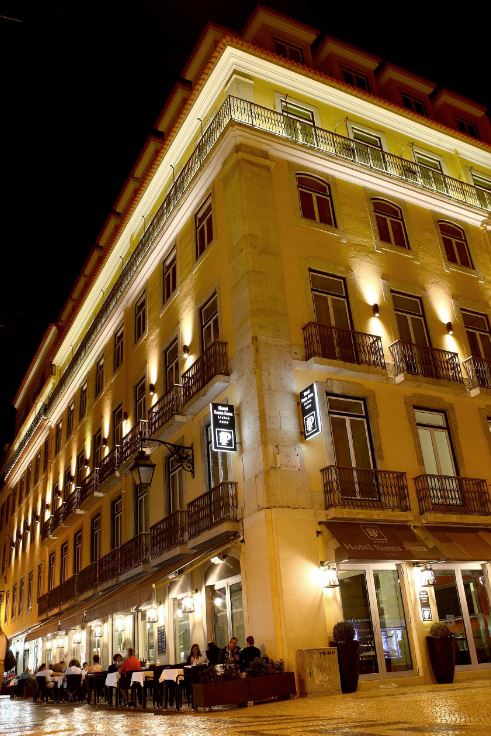 Day #22=>

On our last half day in Rome we will continue with self guided exploration of ancient Rome. After lunch, we will make our way to the airport for a late afternoon flight to Lisbon, Portugal. On the cruise map at the top of this web-page you can see that Lisbon in on the west side of Portugal on the Atlantic Ocean not far from Gibraltar. In Lisbon we are staying at Hotel Santa Justa.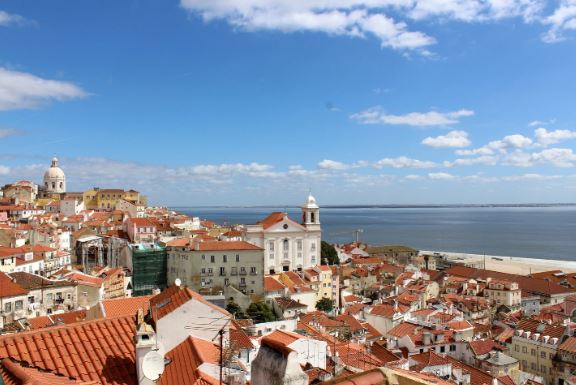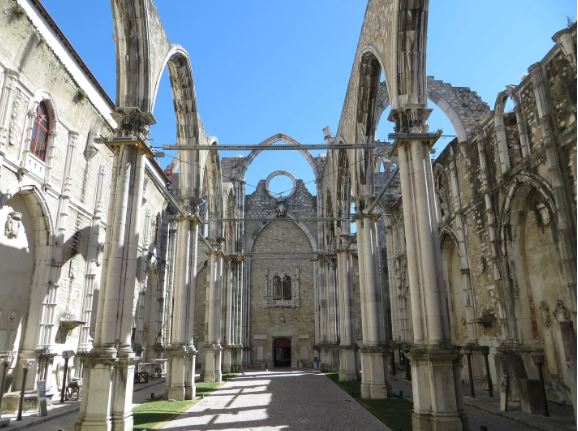 Day #23=>

For our first morning in Lisbon, "City of Seven Hills", we will take a guided Best of Lisbon walking tour to get our bearings. After that, we're on our own to explore the city.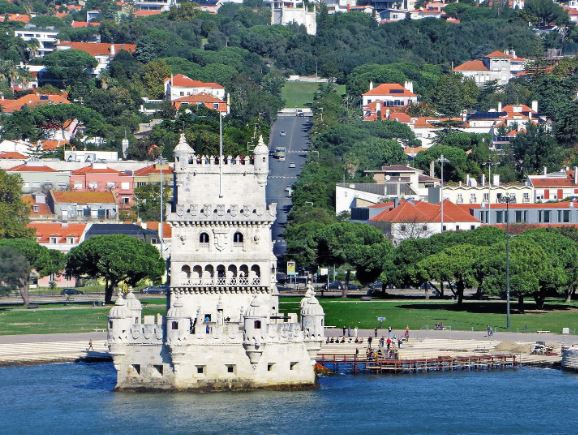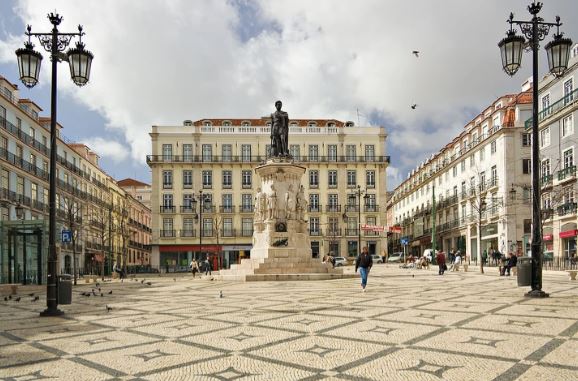 Day #24=>

We're leaving today open to see what we feel like doing. Do we need a beach day or are we up for more churches? Come back for the trip report to see what we decide.

Day #25=>

After breakfast we plan to check out and make our way to the airport for our non-stop to SFO.....and back home. Trip over!!!