[Return]
Africa Safari -- Zimbabwe 2013 Itinerary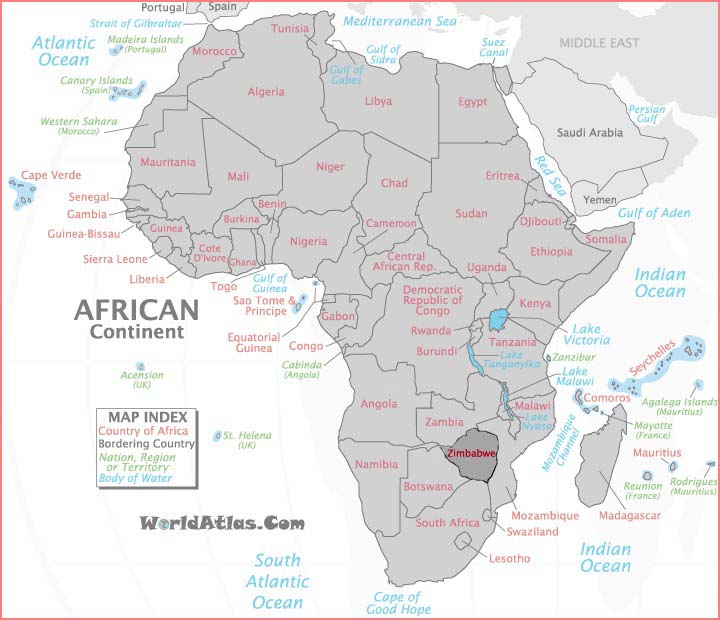 Our 2013 Safari will start in San Francisco, and will include Debbie and Jim Sawin, from Walnut Creek, California. Our major airline this year is British Airways; flying thru London(Heathrow) ending in Lusaka, Zambia.



This year's safari will be mainly in Zimbabwe(dark gray on Africa map), even though we first arrive in Zambia. The locations for this safari will be along the Zimbabwe, Zambia border; the Zanbezi river area. See 2nd map, Zimbabwe is orange and our destinations are shown as stars along the Zambezi river.


OUR 2013 SAFARI: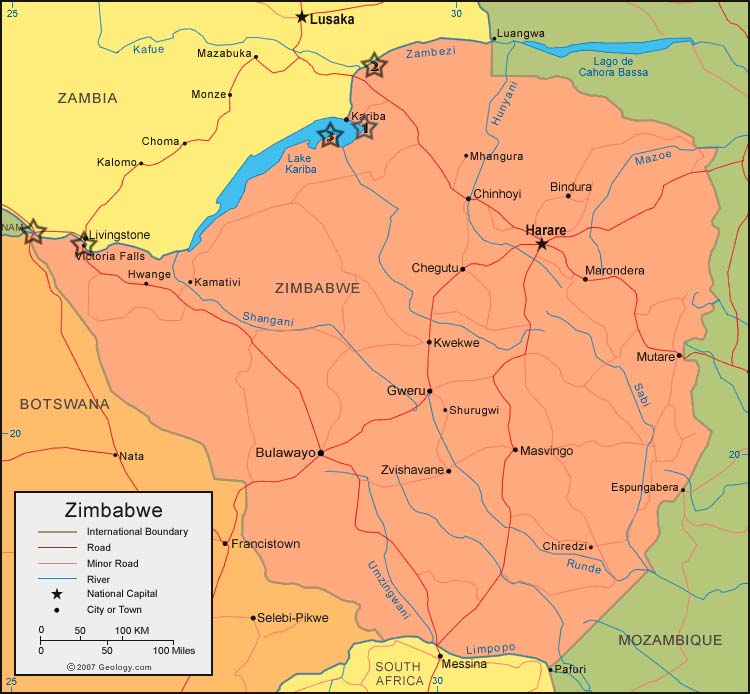 Day #1=>

Depart SFO at 7pm on British Airways to London(heathrow).






Day #2=>

Arrive in London at 1pm. After a 6hr layover we depart at 7pm for Lusaka, Zambia, arriving 6am the following morning. Lusaka is on 2nd map at the top(middle) in yellow(Zambia).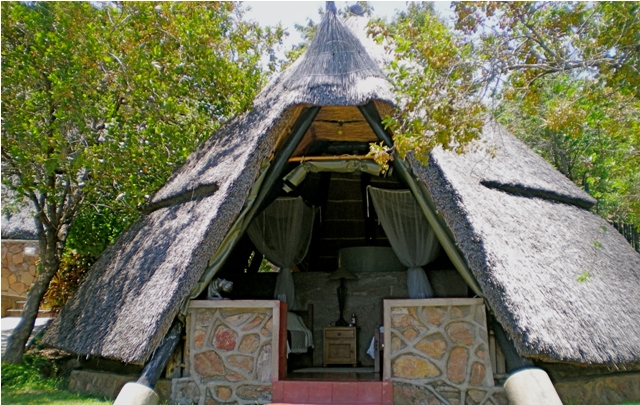 Day #3=>

Upon arrival we will be met by our guide and transferred to the Hornbill Lodge in Karibia, Zimbabwe(about a 4hr trip by road). Look for star with a "1", near eastern end of Lake Kariba. The Hornbill Lodge is a small 3 chalet lodge, situated on Mica Point, Kariba. Here we can bask in the Zimbabwe sun beside the plunge pool, enjoy a sundowner whilst soaking up the panoramic view of Lake Kariba or relax in the shade of the beautiful landscaped garden.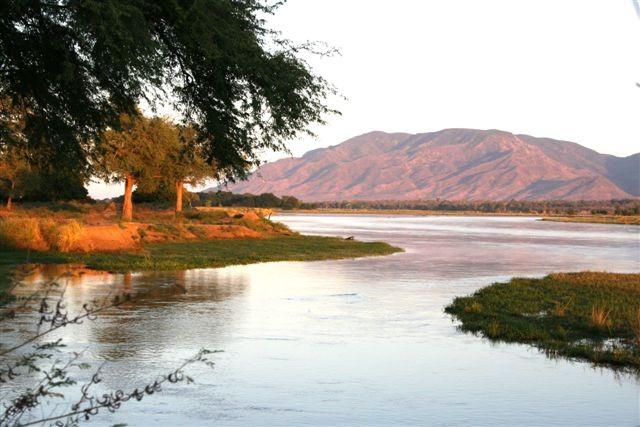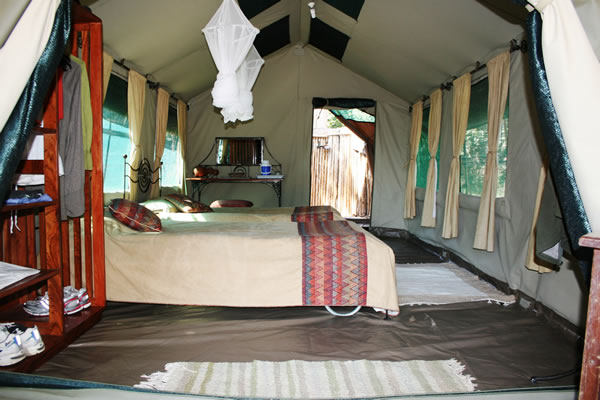 Day #4=>

Morning transfer to the Kariba airport for an air charter to Mana Pools Main and 4 nights at Goliath Safari Tented Camp(star-2 on map), located down river from the Kabira dam. Goliath Safaris is an owner-run safari company operating a luxury tented camp in the Lower Zambezi Valley.

Stretch Ferreira, the founder and co-owner of Goliath has operated in Mana Pools for over 25years and today he is based at a semi-permanent Luxury Tented Camp on the banks of the Zambezi River in the heart of Mana Pools National Park, a World Heritage Site. From here he conducts hikes, game drives and short canoe trips. World renowned for his close relationship and interaction with individual animals within the park, Stretch is the main draw-card for anyone wanting a unique and personalized safari.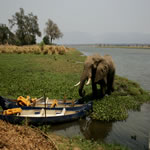 There are no set routines in camp and each day is planned according to the guests' wishes. However most days typically begin with tea/coffee, rusks and porridge around the fire at sunrise. Soon after you will leave for the mornings walk with Stretch. This will vary in time and distance depending on the animals around. It may involve tracking lions or the wild-dog, sitting with an elephant bull, following a herd of buffalo, or all of the above. Mid-way through your walk/game drive you will stop for tea and biscuits and some quiet time on the rivers edge. Thereafter you'll continue with game viewing or birdwatching until returning for a late morning full English breakfast/brunch.

After resting for a few hours tea and cake will be served or a light snack. Thereafter, Stretch will discuss your choices for the afternoon with you. They may involve a game drive, a canoe trip or another walk. Please note that these activities are very flexible and are often decided in an instant depending on which animals are in the vicinity.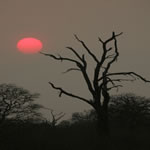 Drinks at sunset on the rivers edge are a perfect way to end the day before returning to camp for a hot shower. Dinner is a 3 course meal accompanied by wine, served in our open-air dining area. Coffee around the fire rounds off a perfect day.



Day #5, #6 and #7=>

Goliath Lodge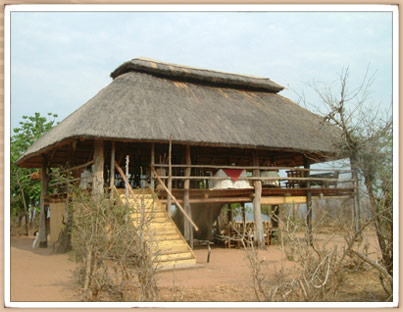 Day #8=>

Morning game activity followed by transfer to the airstrip for an air charter to Rokari airstrip near Lake Kariba for 3 nights at the Rhino Safai Lodge(star-3 on map). Rhino Safai Lodge is situated on the shores of Lake Kariba, a massive man made lake formed by the damming of the mighty Zambezi River in the late 1950's. It is also situated within the Matusadona National Park, a remote wilderness area which has been designated as an Intensive Protection Zone for a small but successful population of the endangered black rhino.

This is the original habitat in which these animals have existed since before the formation of the lake. The legendary and internationally publicized "Operation Noah" took place shortly after the damming of the river. This exercise saw a small but dedicated team undertake the rescue and resettlement of thousands of animals ranging from rhino to monkeys and snakes.
br> The big five: black rhino, elephant, lion, leopard and buffalo are all found here. Hippo and crocodile and a wide variety of water birds make use of the lake. Kudu, Warthog, Zebra, Bush buck, Impala, and numerous antelope species as well as over 350 documented bird species are also here.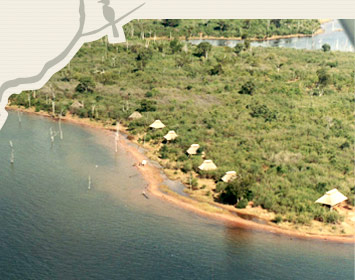 Day #9 an #10=>

Activities at Rhino Safari Camp include 4WD game drives; cruises down the lake for game-viewing, birdwatching and fishing; and walking safaris.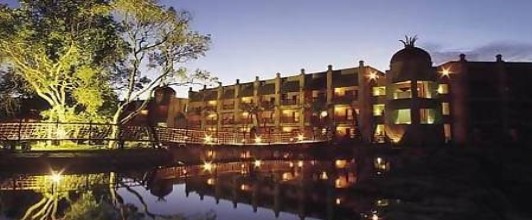 Day #11=>

Morning activities than transfer to Rokari air strip for air charter to Victoria Falls and 2 nights at the The Kingdom Hotel(star on map by city of Livingston).

The Kingdom Hotel in Victoria Falls is the closest Hotel to the Victoria Falls.It is situated within the Victoria Falls National Park, a World Heritage Site, and the Zambezi National Park. This is a fun-filled resort hotel aimed at the tourist who wants to take in the majesty and excitement of one of the Seven Natural Wonders of the World as well as enjoy a holiday adventure with someone special.

This wasn't our first choice for Victoria Falls but all the smaller lodges were fully booked and it has a great location. While we are here we have booked a morning elephant back safari on the Zambezi Trail, a sunset bridge run on an orginal restored Victoria Falls Steam Train and time to view Victoria Falls from the Zimbabwe side.



Day #12=>

Kingdom Hotel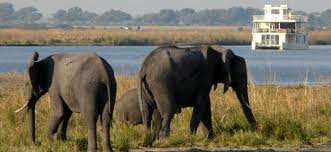 Day #13=>

Road transfer from Victoria Falls, Zimbabwe to Kasane, Botswana then boat transfer across the Chobe River into Namibia on the Impalila Island at the tip of Namibia, for 3 nights on a houseboat. The Ichobezi Houseboat(star on map at the tip of Namibia, far left side of map).

The Ichobezi Safari Boat (4 luxury cabins) will be our home for the next 3 nights based on the Chobe River bordering Nambia and Botswana. The Safariboat will begin to cruise along the Chobe River giving us the opportunity to enjoy this beautiful part of Africa from the comfort of the boat. A few hours later the Safariboat will dock for the evening and our guide will pack an ice box with G and Ts and take us by tender boat to meander along the banks of the Chobe National Park and appreciate the spectacular beauty of the Chobe sunset.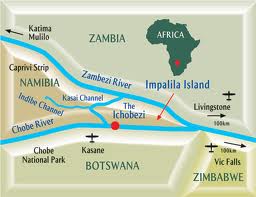 A 3-course plated dinner will be served at 20h00 back on the boat.



Day #14 and #15=>

The next 2 days will be cruising the Chobe or Zambezi rivers. Whilst sailing on the Chobe River the houseboat's top decks provide an ideal platform from which to view the abundant wildlife of the Chobe National Park. Each houseboat has dedicated tender boats. These are small motor boats that accompany the houseboat on their travels. A tender boat allows guests the freedom to partake in any excursions or activities best done away from the main houseboat.

Other activities offered include fishing on the Zambezi River renowned for its sizeable tiger fish and bream, sunset cruises and birding trips in the tender boats, and visits to some of the local fishing communities in the area.



Day #16=>

Boat transfer from Namibia back to Botswana than a road transfer back to Zimbabwe for flight out of Victoria Falls to Johannesburg, South Africa. Then catch the 8:45pm BA flight to London(Heathrow).



Day #17=>

Arrive in London(Heathrow) at 6:45am. Depart again at 11:30am for SFO, arriving at 2:20pm.