Arrive Windhoek, and pickup our Toyota 4x4. Windhoek is the capital of Namibia and is about the middle of the country, but very bottom center on this map of northern Namibia. The locations of the lodges we will visit on this safari are shown on this map and will be referenced by the following day by day itinerary. But before we start our safari our first lodge is only about 20mins outside Windhoek, the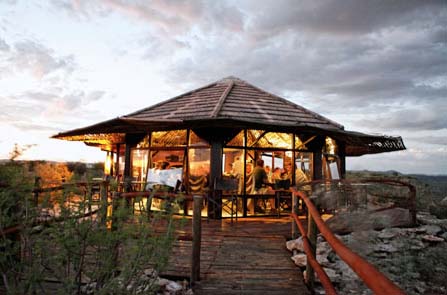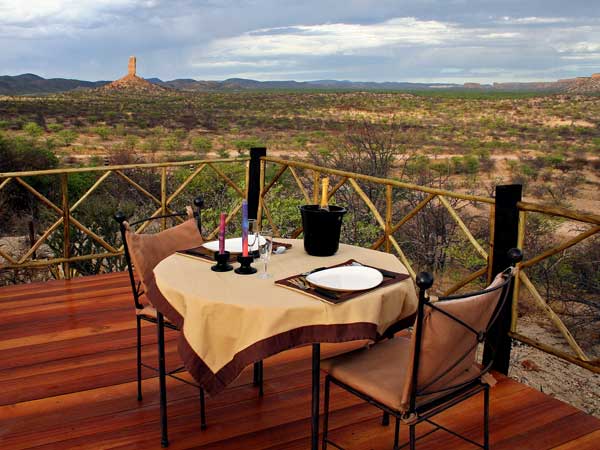 Day #3 and #4=>
For Namibia 2014, we will head north to Damaraland, one of the most scenic areas in Namibia, a huge, untamed, ruggedly beautiful region. Here there are prehistoric water courses with open plains and grassland, massive granite koppies and deep gorges. The 35m-high Vingerklip (finger rock) is also known as Kalk-Kegel (limestone pillar) and rises above the Bertram farm. It is an erosional remnant of a limestone plateau and was formed over 15 million years ago. The large cave in it's base, surrounded by rubble, gives the impression it will topple over any minute. Activities including hiking to the Vingerklip or to the top of the Ugab Terraces. So on day #3 we drive north from Windhoek on the B1. Arrive at
Vingerklip Lodge
in Damaraland for a 2 night stay, point "B" on map. We have booked the
Heavens Gate room.
More images of Heavens Gate click this link then scroll down to the
Heavens Gate images.
This site also has images of the Vingerklip restaurant the "Eagle Nest", check them out to see the stairs to the restaurant. Assume a similar set of stairs are needed to get to the Heavens Gate room......where is the elevator???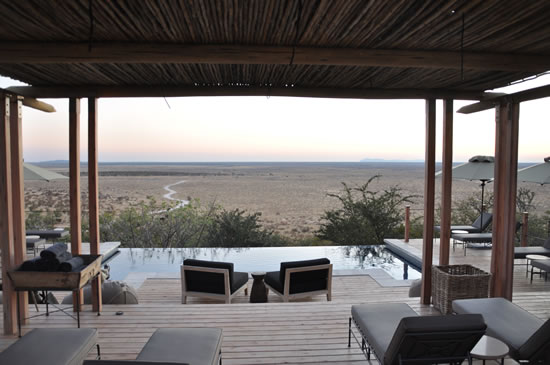 Day #5=>
We will continue driving through Southern Damaraland and enter through the western entrance to Etosha at Galton's Gate. Guests staying at
Dolomite Camp(click image for gallery)
are the only visitors allowed in the western part of Etosha, point "C" on map. The camp itself is set amongst dolomite formations and large herds of zebra, giraffe and antelope wander the plains around this unfenced camp.. Black and white rhino are present in numbers also.
Day #6, and #7=>
A total of 3 nights in deluxe chalet at
Dolomite Camp(click video to see entire camp)
in Western Etosha.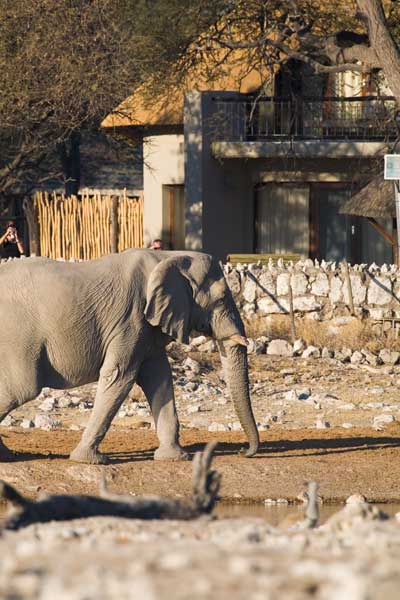 Day #8=>
Next we will move on to
Okaukuejo Camp(click on photo)
in central Etosha, point "D" on map. The main attraction of this camp is that it overlooks a permanent waterhole, which is floodlit at night. Here a wide diversity of wildlife congregates and interacts. The spectacle starts at dawn, with animals coming in large numbers to quench their thirst. The excitement continues throughout the day and deep into the night. In the early evenings, it is not uncommon to have black rhinoceros, elephant and lion, all drinking at the same time.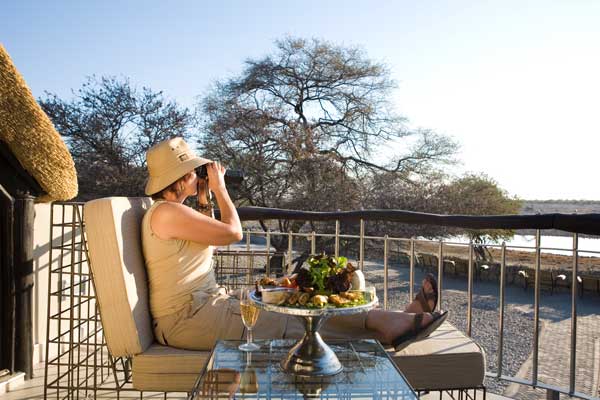 Day #9 =>
Our 2nd of a 2 nights premier waterhole chalet at
Okaukuejo Camp
with world famous waterhole visible from our room. Watch the video of action at the water hole and how close the room are. Also click on the images of the "Chalet", our first time for this premier room. Looking forward to filming the action for our 2nd floor balcony.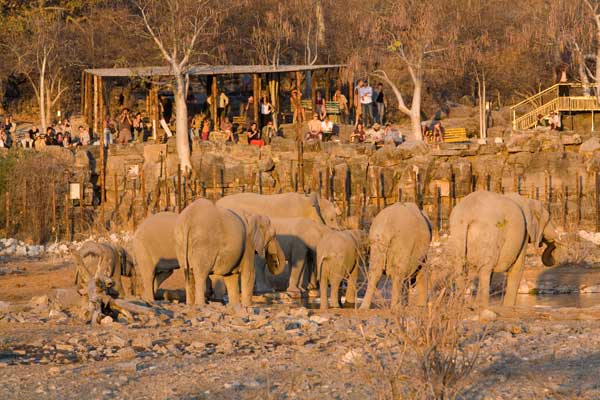 Day #10=>
We will move on to
Halali(click on photo)
which is strategically located halfway between Okaukuejo and Namutoni at the far east end Etosha National Park, point "E" on map. It is surrounded by some of the most popular water holes in the Park. The room images via this link are from the "chalet", which we have reserved.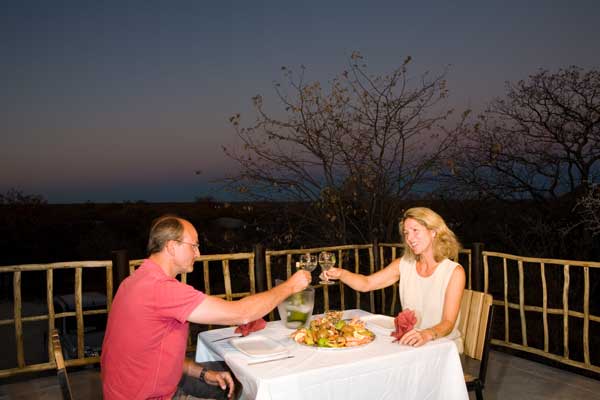 Day #11=>
The 2nd of 2 nights in bush chalet in
Hahali Camp(click photos tab)
where we will "attempt" to do our own cooking, with local offerings.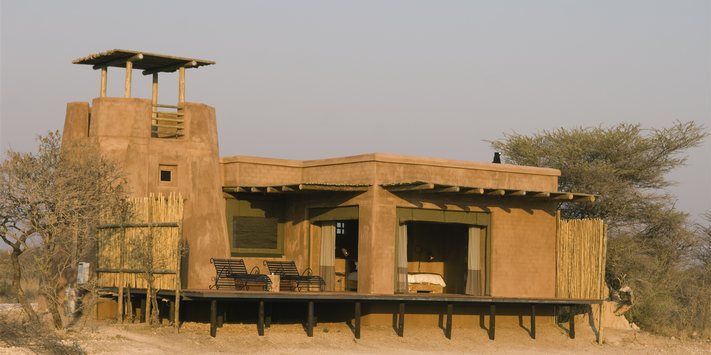 Day #12=>
Next we will spend some time in a private game reserve just outside of the Etosha Park boundaries, point "F" on map. Onguma Game Reserve is situated on the eastern side of Etosha Park in Namibia, bordering Fischerís Pan. The
Fort at Onguma
is set on this 20 000 ha nature reserve which boasts over thirty different animal species. Predators such as lion, cheetah, leopard are common residents of the area. The latest addition to the already abundant wildlife at Onguma Nature Reserve is a family of black rhinos!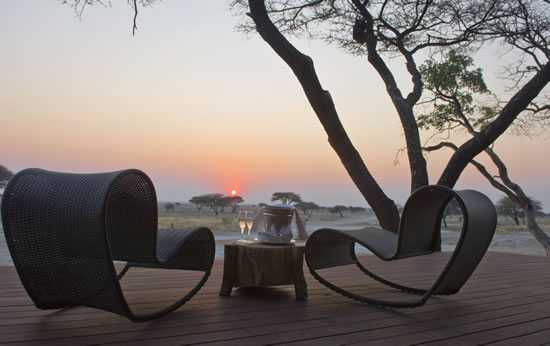 Day #13 and #14=>
A total of 3 nights at the east end of Etosha on private reserve at
Onguma The Fort(click on photos tab).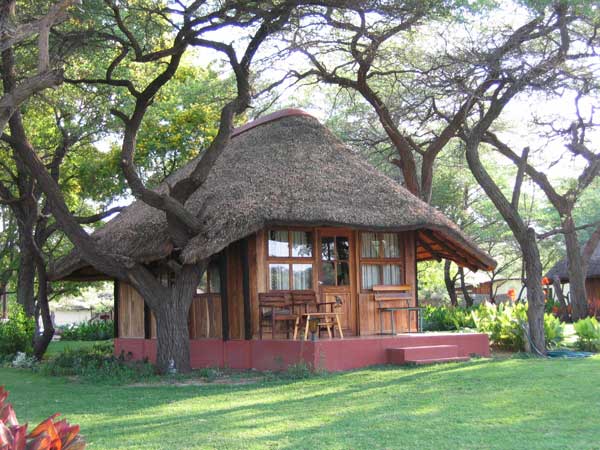 Day #15=>
Then heading off to the Kavango and Caprivi regions - here the dusty dry desert climate that is the rest of the country gives way to wetter, greener tropical conditions. Many of the lodges, are situated on the banks of one of the regions main rivers (the Kwando, Kavango & Zambezi) or one of their tributaries. The Caprivi in Namibia borders Zambia, Zimbabwe and Botswana with the Zambezi or Chobe Rivers separating the 4 countries.
Activities from the lodges is often water based, with game viewing by boat and sundown river cruises being particularly popular at most lodges. The wildlife found in the area is also strikingly different to that which one would expect to find in the rest of Namibia - here hippos and waterbuck are likely to roam past your
lodge room(click on photos tab)
, while crocodiles rest on sandbanks along the rivers.
1 night at
Hakusembe River Lodge
over looking the Kavango River along the Angola border, point "G" on map.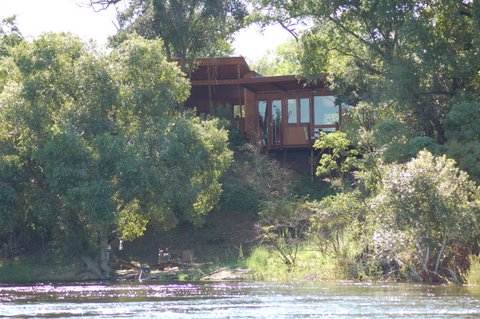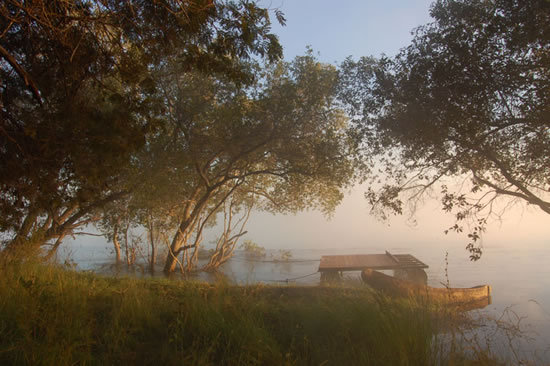 Day #16, #17=>
2 nights at
River Dance Lodge, click large image of slide show
on the
Kavango River(click on photos tab)
where we can explore Popa Falls and Mahango Game Reserve, point "H" on map.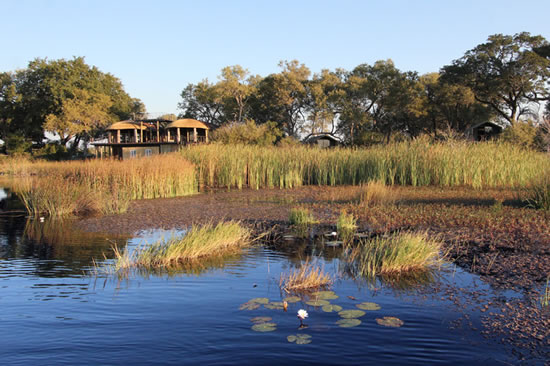 Day #18=>
Next we drive to
Nkasa Lupala Tented Lodge(click on photos tab)
in Mamili National Park, point "I" on map. This adventurous watery wonderland of wildlife rich islands, river channels and wetlands, mirrors Botswana's Okavango Delta. Mamili holds the distinction of being the largest wetland area with conservation status in Namibia. In turn it protects flora and fauna living within a complex channel of reed beds, lakes and islands, that form the Linyanti swamps. The focal point of the 320km≤ national park are Nkasa and Lupala, two large islands in the Kwando/Linyati River systems, from which the tented lodge takes it's name.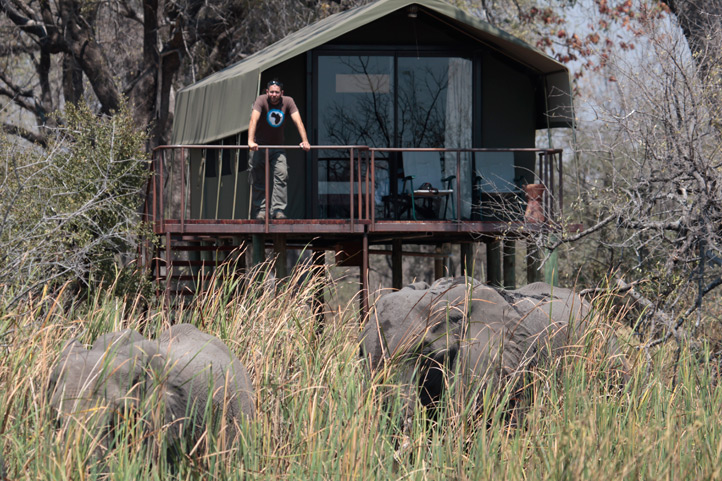 Day #19, #20=>
A total of 3 nights in Nkasa Lupala Tented Lodge in Mamili National Park.
Day #21=>
Our final day we will drive to Katima Mulilo on the Zambezi River to drop off our truck and get a ground transfer to Kasane(point "J" on map) in Botswana to begin our travel home.