, with a game drive through the Iahasha Sector famous for tree climbing lions. Dinner and overnight at the
Morning game drive, afternoon boat trip dinner and overnight at Mweya Safari Lodge.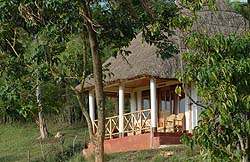 Day #11=>
Drive to Kibale forest National Park.
Kibale Forest National Park is one of the best safari destination in Africa for chimpanzee tracking. Kibaleís 795km2 National Park contains one of the most beautiful and with the most varying tracts of tropical forest in the whole of Uganda. This is home to 13 species of primate coupled with chimpanzees.
Dinner and overnight at
Chimpanzee Guest House
.
Day #12=>
Today we will take part in the full-day Chimpanzee Habituation Experience (CHEX) works with a chimp community which is undergoing habituation. Early visitors can watch chimps leaving their overnight nests between 6:00 - 6:30am before feeding, copulating, hunting, breastfeeding, resting, patrolling and displaying until it is time to build new nests around 7pm.
Day #13=>
Morning free or optional walk, afternoon at the Bigodi Wetland Sanctuary, located just outside the park, home to 138 bird species which may be seen during guided walks along the boardwalk trail and viewing platforms. These could include the White-spotted Flufftail, Yellow-spotted Barbet, Hairy-breasted Barbet, Yellow-billed Barbet, Western Nicator, Grey-winged Robin-chat, White-tailed Ant-thrush, Brown-backed Scrub-robin, Black-and-white Shrike-flycatcher, Brown-throated Wattle-eye, Superb Sunbird, Brown-crowned Tchagra, Bocageís Bush-shrike, Black Bishop, White-breasted Negrofinch and Black-crowned Waxbill among others.

Day #14=>
Early departure to Murchison National park which is suited in the northern part of Albertine Rift Valley. A place where the massive Bunyoro escarpment amalgamate into the enormous plains of Acholi land. Itís well known to be one of Ugandaís ancient conservation areas. In 1926, it was known as a game reserve set up to protect the savannah grassland that was talked about by Winston Church in 1907. In 1951, a movie was shot with background scenery of the Murchison falls that was Humphrey Bogart in John Hustonís prominent movie. Another movie was the African Queen which was shot on the vicinity of the Murchison Nile along with Lake Albert. We will cross the Nile river on a ferry to reach our lodge (
Paraa Safari Lodge
) for the next 3 nights.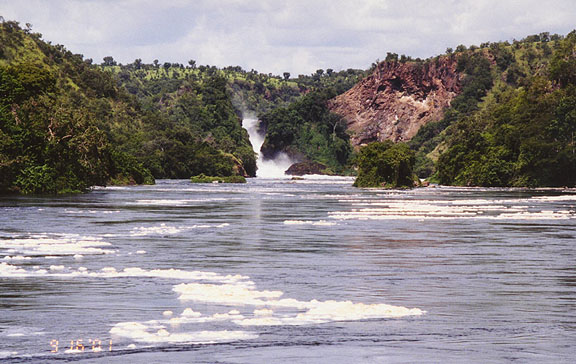 Day #15=>
Morning game drive, afternoon boat to falls. Dinner and overnight at Paraa Safari Lodge.
Day #16=>
Morning
boat trip
to the Delta, afternoon game drive. Dinner and overnight at Paraa Safari Lodge.
Day #17=>
Transfer back to Entebbe where a day room at Airport Guest House Dinner is optional. Depart 11:30pm on our return trip back to SFO.