Africa Safari -- Namibia Fall 2015 Itinerary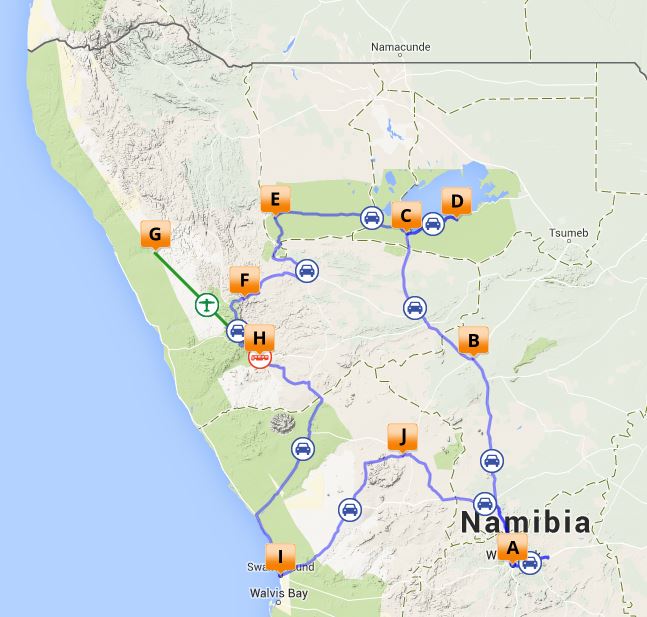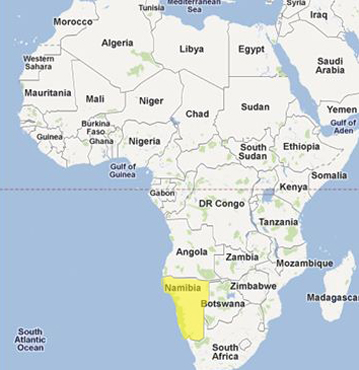 Day #1=>Depart SFO aboard BA to Heathrow, where we catch a flight to Johannesburg, South Africa.
A short layover in Johannesburg then on to our final destination, Windoek, Namibia. Only three flights from Northern California but half way around the world.
Day #2=>Arrive Windhoek, and pickup our Toyota 4x4(always white). Windhoek is Namibia's capital, home to an international airport and a plethora of restaurants, shops, entertainment venues and accommodation options. The city is clean, safe and well-organised, with a colonial legacy that is reflected in its many German eateries and shops.
The locations of the lodges we will visit on this safari are shown on this map by different letters and will be referenced by the following day by day itinerary.
Our first lodge will be the same lodge we stayed last time we were in Namibia, Villa Violet, point "A" on map. This lodge is advertised as a ideal spot to relax and catch your breathe before starting your safari. And after 36+ hours of travel driving to dinner is the last thing we want to do. No problem, Joe's Beerhouse is only a short walk for Villa Violet's.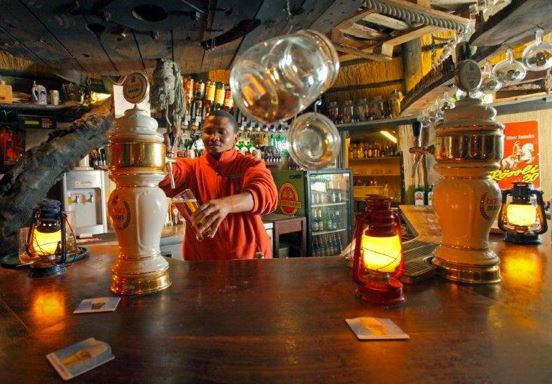 Check out the food and drinks at Joe's.
Namibia is known for GREAT food so Joe's is a good start to our 3 week safari.
Day #3=>Today we leave Windhoek and head toward Etosha National Park. But first a stop at the local grocery store and buy food for Estoha. At two of our Etosha lodges we have reserved their "bush chalet" which has a BBQ and kitchen. After shopping we will drive up the "B1" to location "B" on the map, in the Waterberg Region. The Waterberg Region incorporates the Waterberg Plateau National Park and the farming districts from Outjo and Otjiwarongo in the west to Grootfontein and Tsumeb in the west.
Day #4=>Today we will enter Etosha National Park for the first of seven day's of animal tracking and photographing. The Etosha National Park is Namibia's premiere game viewing experience, situated in the northwest of Namibia and is an area well known for its wildlife. Vegetation ranges from dense bush to open plains attracting a diversity of wildlife. In the heart of the Park is The Etosha Pan - a shallow depression that covers an area of 5000sq kilometres. Dry and shimmering for most of the year, the pans fill up with water after good rains to a depth which is seldom deeper than 1m. In the dry season wildlife is attracted to perennial springs and waterholes that makes for excellent game viewing. Then prepare and enjoy a Namibian BBQ dinner with the groceries we pickup in Windhoek.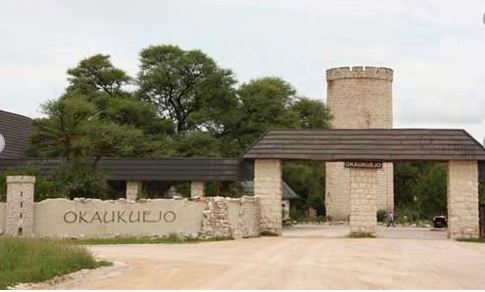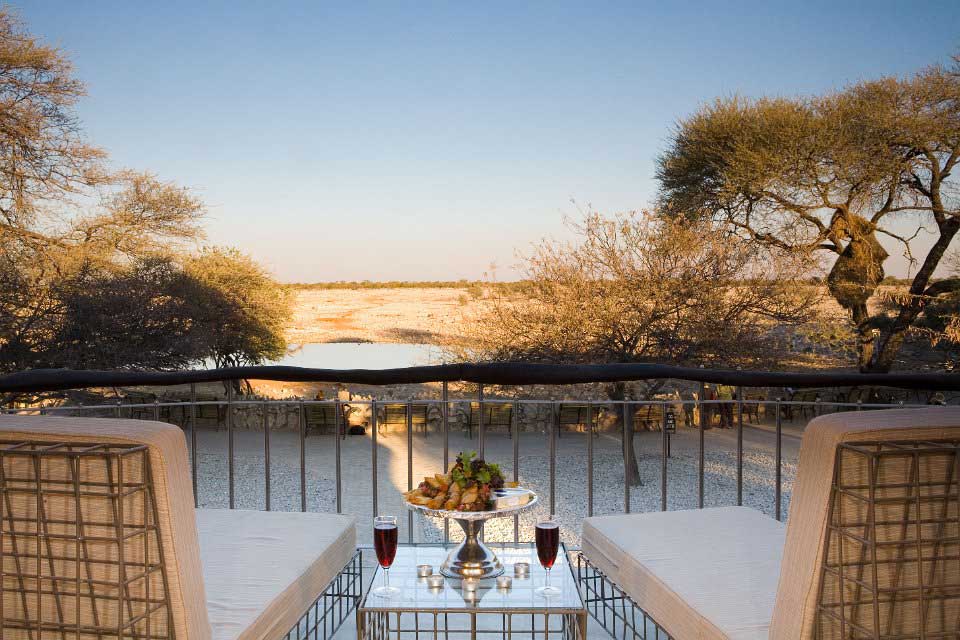 This is our 3rd visit to Etosha so we know which water holes are best. Our 1st Etosha lodge is Okaukuejo, letter "C" on the map. Okaukuejo is located 17 km from the southern entrance of the park, and famous for its flood-lit waterhole, where visitors can observe at close quarters a spectacle of wildlife congregating and interacting.
Accommodation is provided to suit every need, in premier bush chalets overlooking the waterhole; bush chalets and double rooms; or family chalets. Other facilities include a restaurant, bar, shop, swimming pool, kiosk and camping facilities.
Day #5 and #6=>Our next two nights are also a Okaukuejo.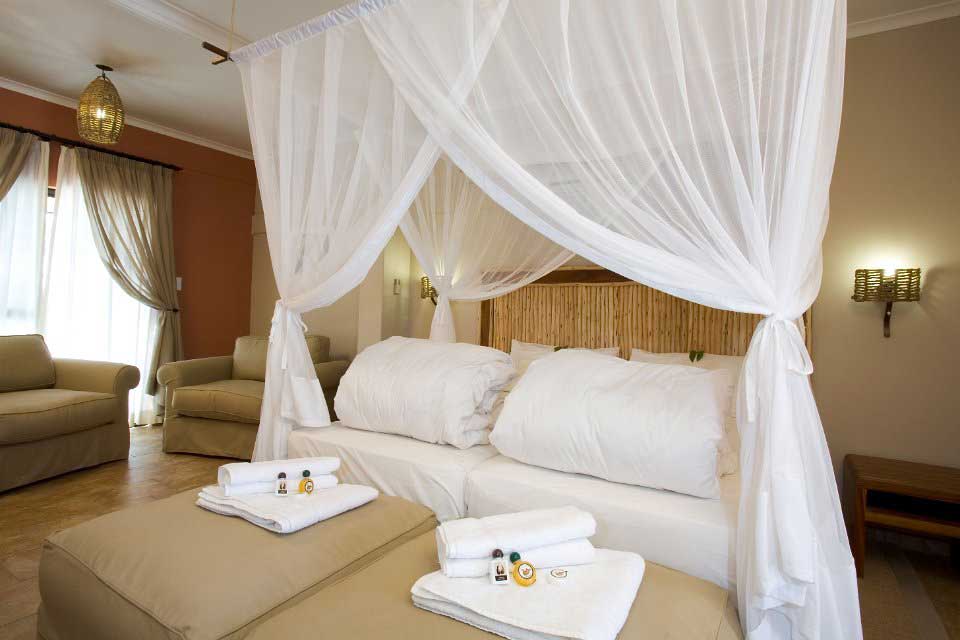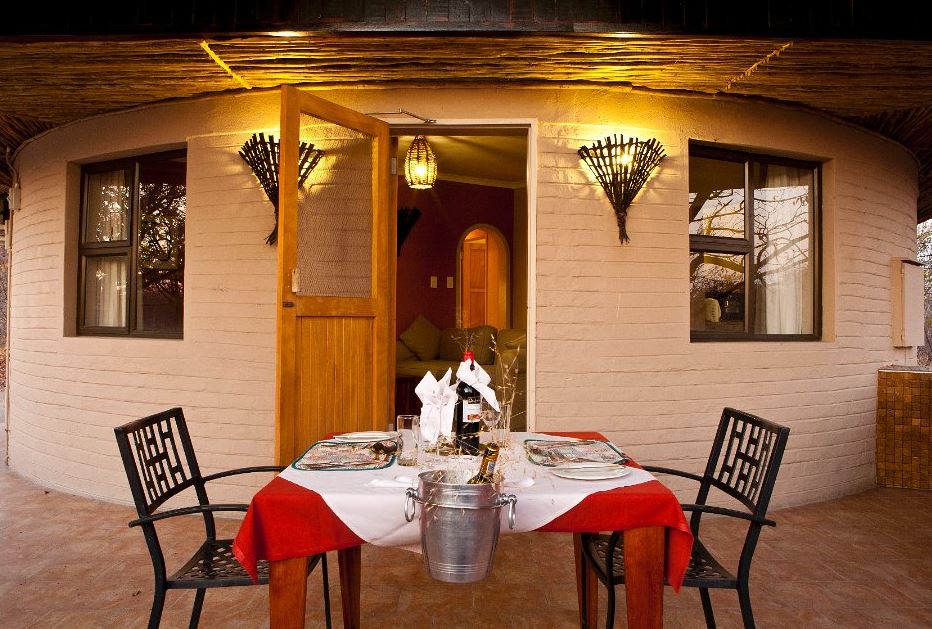 Day #7 and #8=>Our next Etosha lodge is Halali, letter "D" on the map. Our plan for our 2 nights at Halali is to game drive at our favorite watering holes in the early morning and again in the late afternoon when the animals are most active.
Halali is strategically located halfway between Okaukuejo and Namutoni, Halali is situated at the base of a dolomite hill, amongst shady Mopane trees. A flood-lit waterhole which is viewed from an elevated vantage point provides exceptional wildlife viewing throughout the day and into the night.
Accommodation is provided in family chalets, two and four bed bush chalets and double rooms - all converted with large sliding doors to the outside, to allow visitors to experience and benefit from the peace and tranquility of the natural surroundings.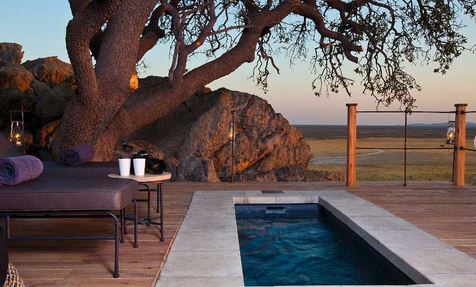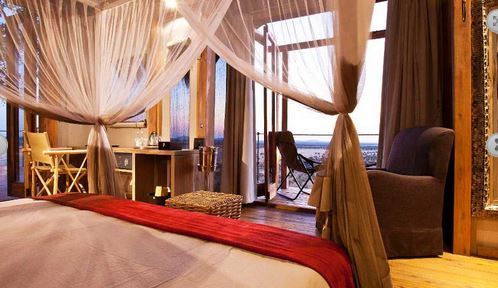 Day #9 and #10=>Another combo day of game driving and transferring to the last of our Etosha lodges. Letter "E" on the map is Dolomite Camp, located at the far western end of the park. Dolomite Camp consists of a spacious reception, lounge, bar and restaurant area with a walkway leading to thatched, en suite chalets nestled amongst the rocky outcrops, which provide privacy with dramatic and panoramic landscape views.
Camp's interiors are designed to harmonize the natural surroundings, characterized by weathered dolomite rock formations, Mopane, moringa trees and savannah woodland. With no fewer than 15 waterholes in the surrounding areas, Dolomite Camp presents great wildlife viewing opportunities. Specially arranged Game drives, operated by knowledgeable guides, take you to parts of the Park previously only known to Conservationists.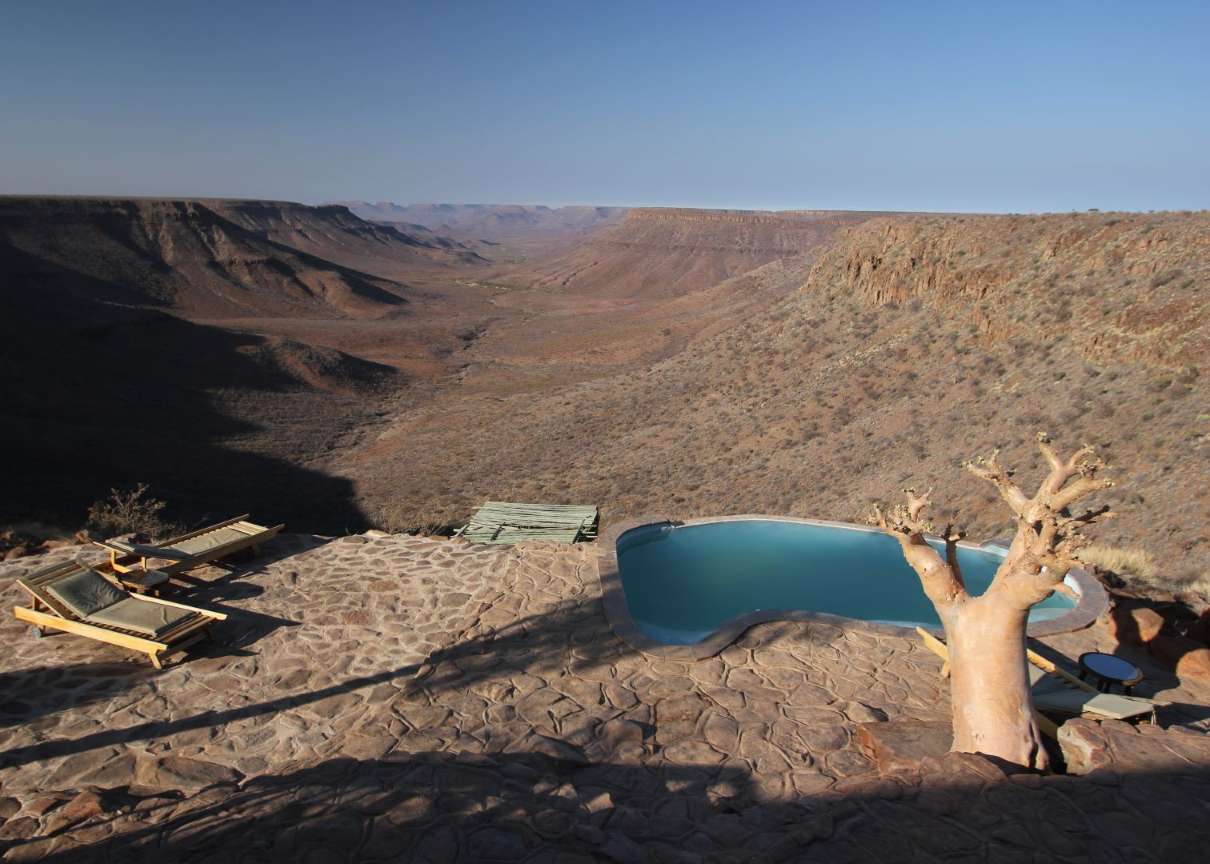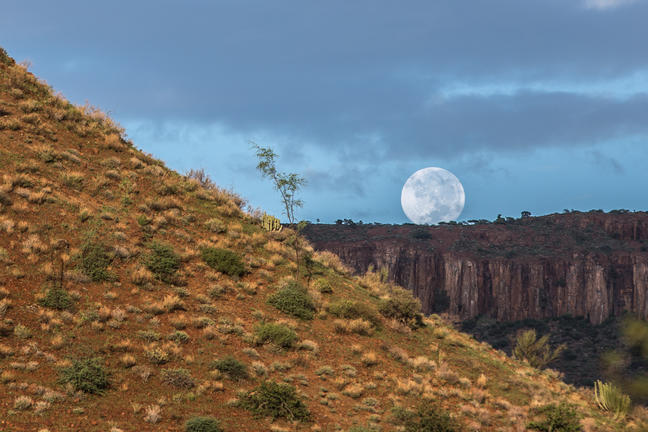 Day #11=>Today we leave Etosha for the Damaraland area. The Grootberg Lodge letter "F" on the map is stunning. Click on "View Gallery" near the bottom on the above link. Huge, untamed and ruggedly beautiful Damaraland is an exceptionally scenic landscape of open plains and spectacular rock formations. The major attractions are Spitzkoppe, the Brandberg, Twyfelfontein, Vingerklip(we stayed here last year) and the Petrified Forest.
The lodge offers scenic drives on top of the Etendeka Plateau with the possibility of seeing a variety of wildlife population of zebras, antelope, jackal and occasionally leopard and lion. Springbok, Kudu and Oryx are a permanent fixture and even the nervous and shy klipspringers are sometimes seen leaping from ledge to ledge on the steep cliffs of the mountain.
Day #12=>Grootberg is set on a large private concession at the top of the Grootberg Pass and with superb views out over a network of canyons, this lovely little lodge is sensitively constructed out of the local red granite to blend into its environment. We will be trekking rhino on foot and having lunch under the shade of a tree in the remote wilderness of Damaraland. Damaraland is one of the few last places where the wildlife roams freely, sightings cannot be guaranteed.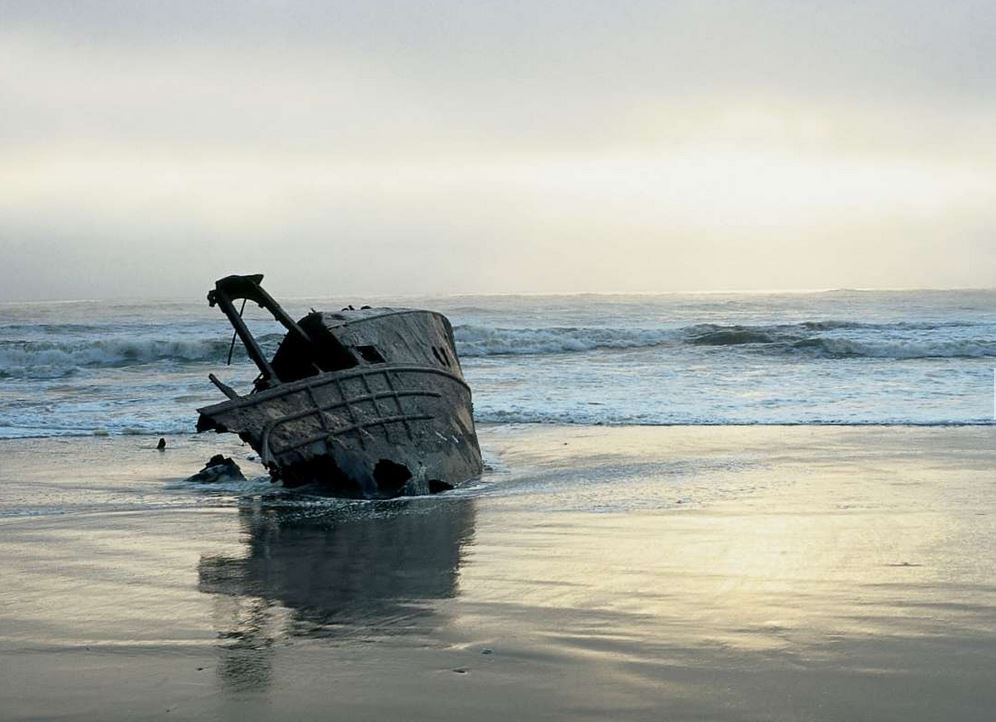 Day #13=>The theme of this safari, the "Skeleton Coast". We have a short drive to an airstrip as our next brand new lodge the Hoanib Skeleton Coast Lodge, letter "G" on the map is only accessible by air. Click on the "View Gallery" near the bottom of the page on the above link.
Located in the most remote part of the Kaokoveld – a land of mountains, vast plains, and dry riverbeds inhabited by fascinating wildlife – Hoanib Skeleton Coast Camp lies on the transient Hoanib River.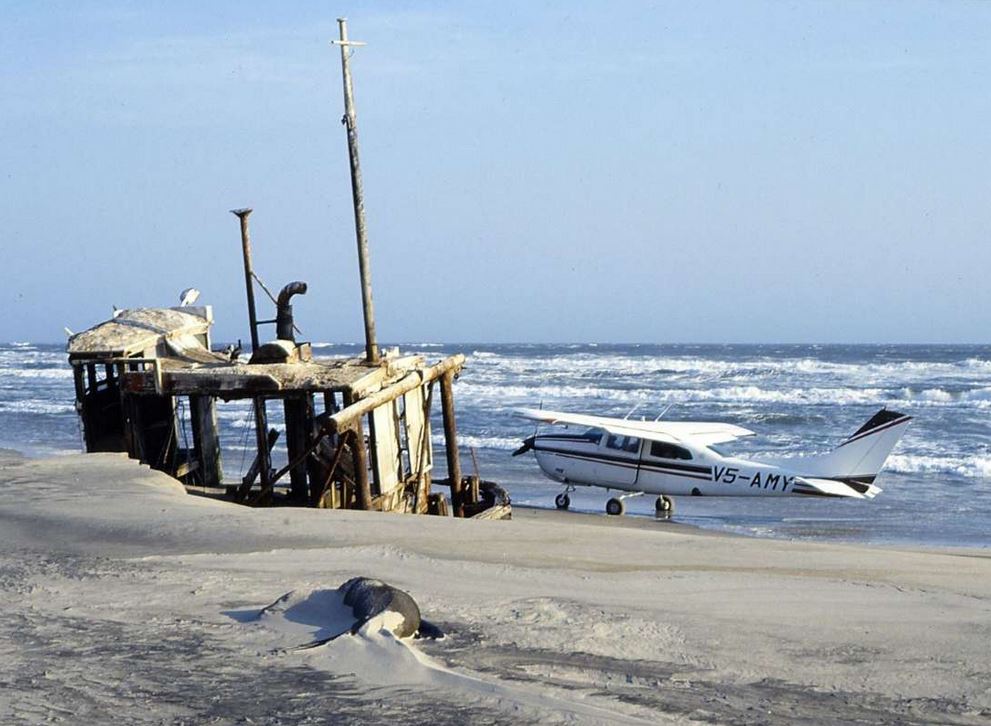 This Classic camp consists of 8 stylish, well-insulated en-suite tents (7 twins and 1 family unit,) with free flow stretch canvas roofing and floating concrete foundations on stilts. Each unit comes with en suite bathroom and includes a private shaded outdoor lounge. The main area flows beautifully into the surrounding desert and looks out onto a small waterhole occasionally visited by oryx, elephants and other mammals. The main area comprises a lounge, bar area, dining room, library, fire pit and a deck where guests can cool off at the pool.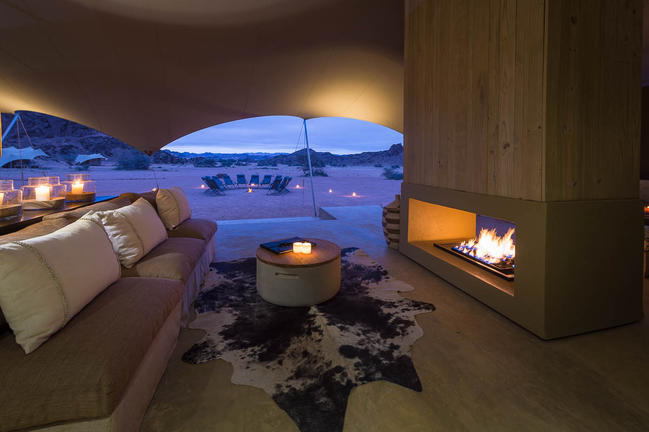 Day #14=>We'll wake up in the morning to take a scenic Skeleton Coast flight to Möwe Bay, showcasing the dramatic landscape. From Möwe Bay, drive to the seal colony and then either to view shipwreck debris or south to Hoanib Mouth and Klein Oase. Wildlife that may be encountered includes gemsbok, black-backed jackal and potentially lion or brown hyena.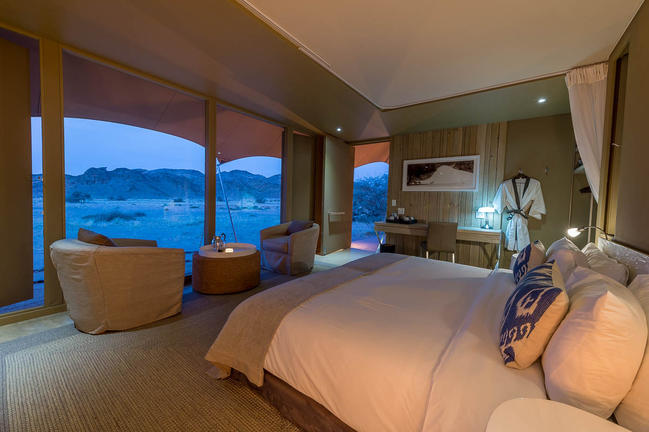 Following lunch, guests fly back to camp and see the seal colony, the Suiderkus wreck, the dune fields, Auses Spring and the Hoanib floodplains from the air.
Before dinner, we have a presentation on the unique desert-adapted lion and other research in the area.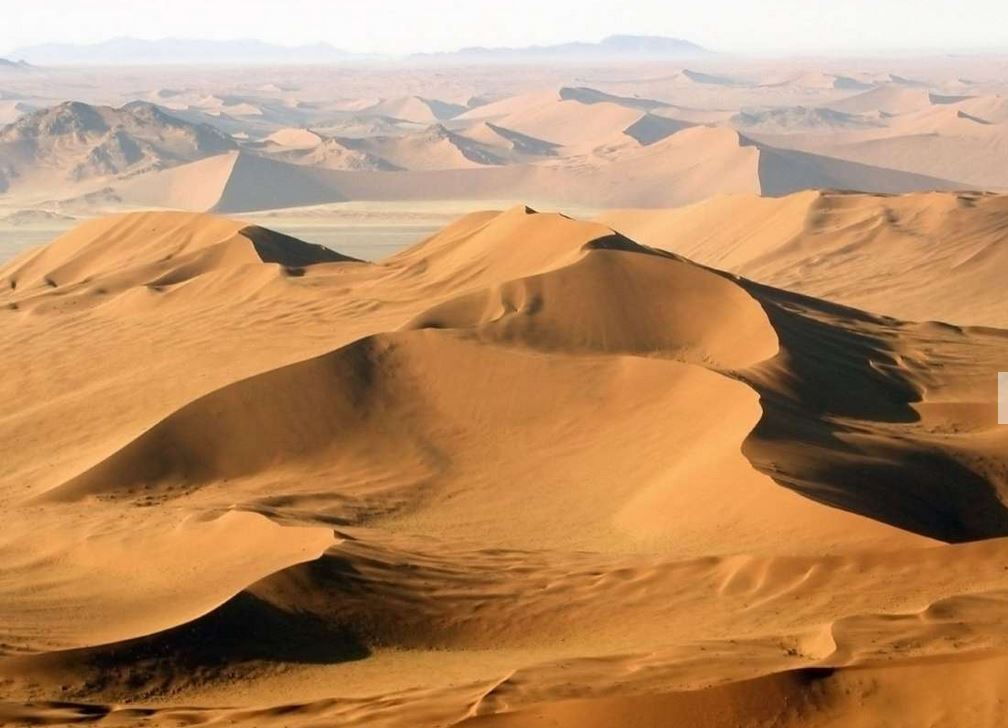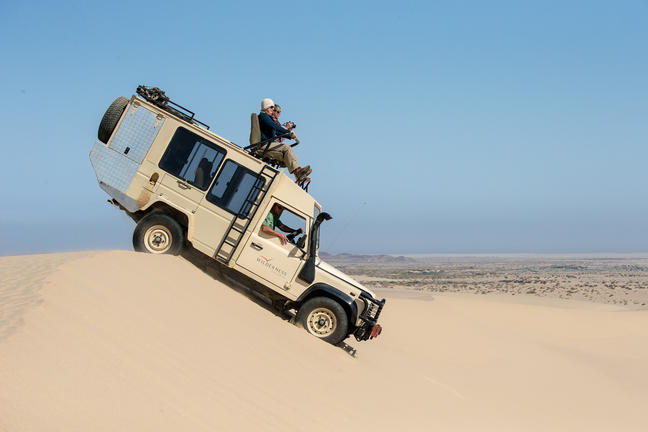 Day #15=>This morning will treated to an incredible game drive south over gravel plains to Mudorib Spring, taking in fascinating scenery and wildlife; return to camp for lunch.
In the afternoon, we search for big game! We head to Hoanib Riverbed and then downstream to Hoanib Floodplains in search of elephant and giraffe – and maybe even lion!
Day #16=>Our final morning at Hoanib begins with a walk around camp viewing the local wildlife or taking a final game drive in the vicinity of the Hoanib River before flying back to our Toyota 4x4.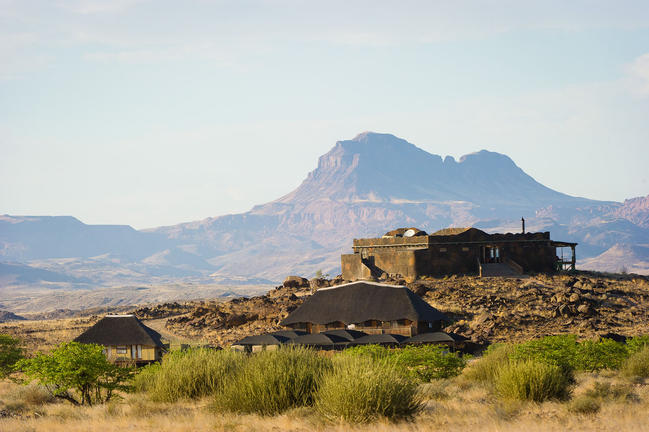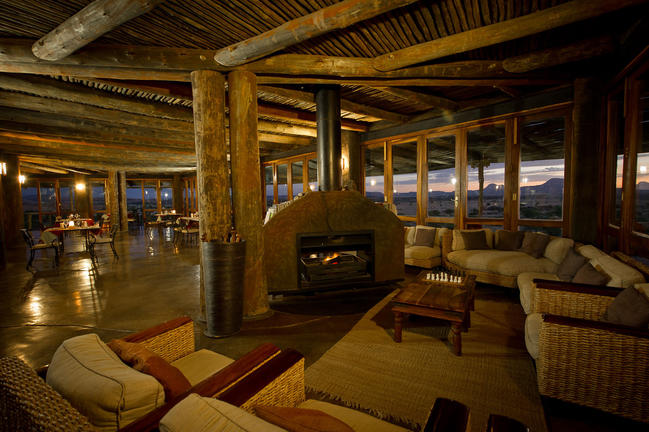 Leaving the airstrip we will drive to Doro Nawas Camp, letter "H" on the map. Doro Nawas rests on the slopes of a small hill on the edge of the dry Aba-Huab River overlooking ancient plains with glorious views of the rugged Damaraland area.
Guests are housed in 16 natural walled units, the design and décor blending in with the surrounding scenery. Each unit consists of a bedroom, en-suite bathroom and veranda for stargazing or sleep-outs. There are indoor and outdoor dining areas, a residential pool area and a small curio shop.
Day #17=>Doro Nawas camp provides an excellent base for exploring the local area in game drive vehicles and on foot, combining a luxury safari experience with economic empowerment for the local community. Guests can view petroglyphs – prehistoric rock engravings – and San rock art at Twyfelfontein, Namibia's first World Heritage Site. The combination of Africa's past and present makes Doro Nawas a fascinating visit.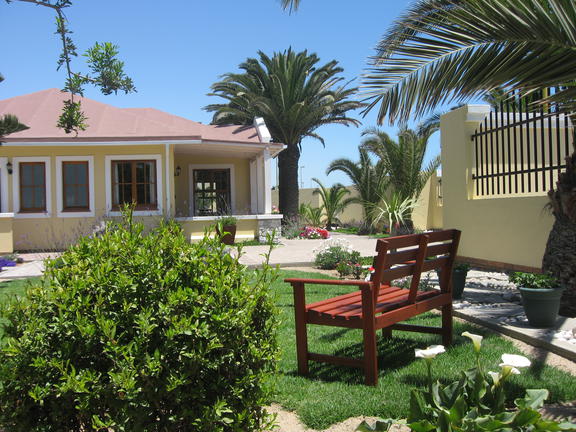 Day #18=>We will have breakfast overlooking Damaraland before heading to the Atlantic coast (Swakopmund) and the Cornerstone Guesthouse, letter "J" on the map. The Cornerstone Guesthouse is a small, private and peaceful bed and breakfast an easy walk to the sea and the town centre of Swakopmund on Namibia's fascinating Skeleton Coast. Occupying a quiet corner of Swakopmund's old town near the marine museum and the old brewery, Cornerstone Guesthouse offers the charm and intimacy of a family-run B&B combined with the modern amenities of a luxury hotel. Within a few minutes from the guest house you can walk to beaches, cafés, restaurants, lively pubs, Swakopmund tourist attractions and a variety of interesting shops and markets in the town.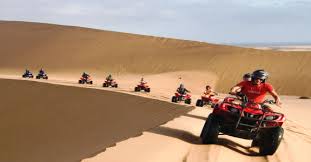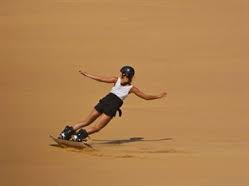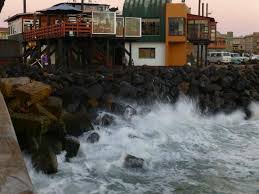 Day #19=>This is our 2nd visit to Swakopmund. During our 1st visit we did not have time for all the activities we wanted to try and the dining options were excellent, thus a return visit.
Day #20=>This is our 2nd visit to Swakopmund. During our 1st visit we did not have time for all the activities we wanted to try and the dining options were excellent, thus a return visit. So the plan this time is to do sand boarding and quad biking; two popular activities in the Swakopmund area.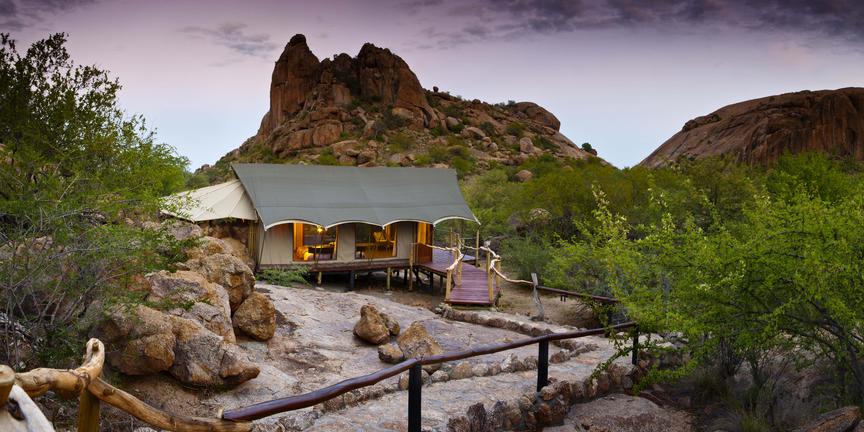 Day #21=>Our time in Swakopmund ends too quickly. Today we need to start getting closer to Windhoek (the airport). But Windhoek is too far for one day so we plan to stop at Erongo Wilderness Lodge, letter "K" on the map for a couple days. Erongo Wilderness Lodge is in a secluded valley with ten luxury tented chalets in a dramatic setting of granite boulders and breathtaking views. Raised wooden walkways and natural stone steps connect the chalets to the main area, where the restaurant, lounge, swimming pool and sundowner deck invite you to relax and fully unwind. The open-plan lounge and restaurant overlooks a floodlit waterhole, and is warmed by a central fireplace in the winter. Delicious and original meals, freshly baked breads and pastries, and sumptuous breakfasts, are all complemented by the spectacular setting. The chalets, raised on stilts, are in harmony with their surroundings, with broad, shaded decks, and indulgent bathrooms built around the existing rocks and trees. Inside, each spacious tent is a haven of thoughtful comfort and casual luxury. Nature provides the compelling reasons for visiting this unique environment. Many rare, endemic, and special species of animal, bird, and plant life thrive here, making this one of Namibia's most diverse and wildlife-rich areas. This wealth of natural and cultural history can be enjoyed by joining a guided nature drive, visiting one of the Bushman rock art sites, or walking among the mountains with one of our knowledgeable guides.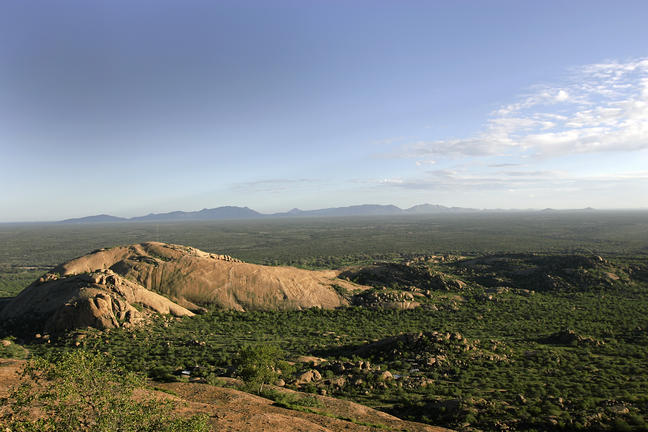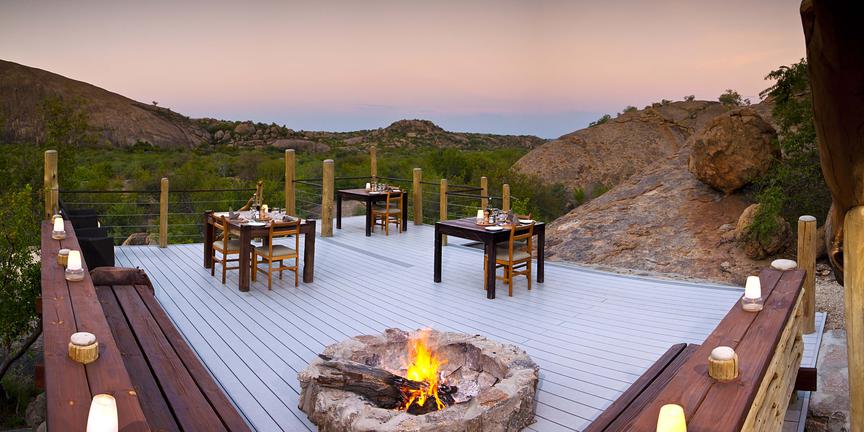 Day #22=>Our last full day in Namibia for this trip. Today the plan is to simple rest up for the long flights we have ahead of us which will include taking full advantage of this oasis that is only a short distance for Windhoek.
Day #23=>A busy day, that will begin very peacefully at Erongo Lodge. After breakfast we will make our way back to Windhoek, return our Toyota 4x4, and proceed to the airport for our long trip home and back to civilization.