Oct/Nov 2015 Namibia Trip Report
We headed off to Namibia for our 4th trip this past October 2015. This was to be a northern Namibia only trip but with a new area for us, the Skeleton Coast. We had 3 weeks on the ground and here was our itinerary:
1 night Villa Violet, 1 night Etosha Safari Lodge, 7 nights inside Etosha Park (3 nights self-catering at Okaukuejo Restcamp, 2 nights self-catering at Halali Restcamp, 2 nights at Dolomite), 2 nights Grootberg Lodge, 3 nights at new Hoanib Skeleton Coast Camp, 2 nights Doro Nawas, 3 nights in Swakopund at Cornerstone Guesthouse, and 2 nights at Erongo Wilderness Lodge. We flew on British Airways from San Francisco to London to Johannesburg to Windhoek. We were met at the airport by Advanced Car Hire and taken to their rental offices in town. I did a post about our experience at Trip Advisor.
This was our 2nd time staying at Villa Violets and we love it and we will always stay here when we need a place in Windhoek. Again we had dinner at Joeís Beerhouse, this is a must stop for us. Our trip began the next morning with a trip to the Maerua Super Spar for groceries and booze. Hubby did the Spirits/Bottle shop while I did the groceries. Contrary to what you might think the super market is lovely, well stocked and similar to a store back home.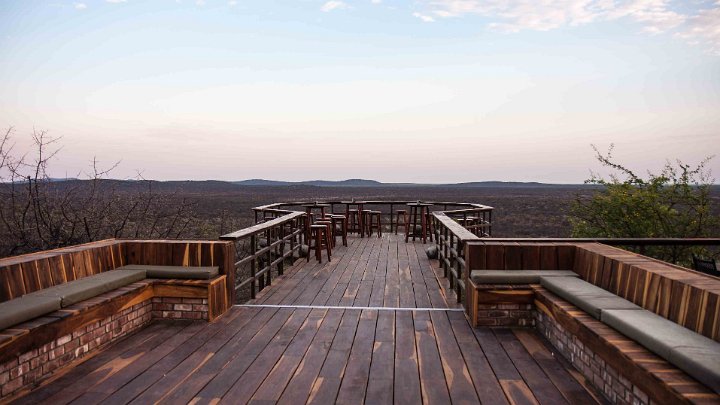 They also have a deli, cafť and everything else you might want. We finished the shopping in about an hour and were on the road North to Etosha by 10am. The road is good tar with some detours and construction for the first hour. After that traffic thins out and itís smooth sailing all the way to Etosha travelling on average about 110 km per hour. We decided to stay just outside of the Park at the Etosha Safari Lodge for the first night so we could sort out our baggage before entering the park. This was a good choice as the views are lovely and the buffets very good. The lodge is big and there were some groups but we were expecting this so it didnít distract.
We left relatively early for the Andersen Gate which was about 10 minutes from the lodge turn-off. Formalities were quick and we were on our way. This is our 3rd trip to Etosha so I will not give blow by blow details just some of the highlights. That first morning we headed off the tar road towards Gemsbokvlakte. We had seen a family of 15 lions at the beginning of this road last October but not this year. It was very quiet until we got near Olifantsbad.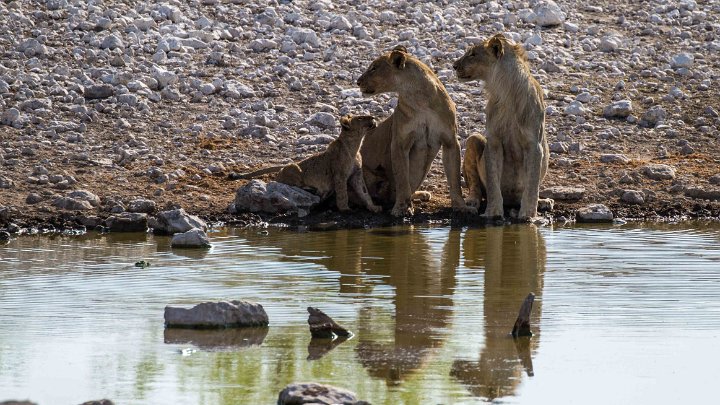 First we found a male and female lion along the road resting in some bushes and then a family with 2 cubs at the waterhole. We watched them drink and then drove to the main road to get in front for the walking at us shots. All lion activity was over by 8am so it is important to get out early. After that we checked out more favorites waterholes and then headed to camp to check in. This year we self-catered in a bush chalet. Ours was right across the road from the premier waterhole chalets at a fraction of the cost and a lot more fun. Our routine was to head out early and then some days come back for breakfast or skip it altogether if we found something interesting.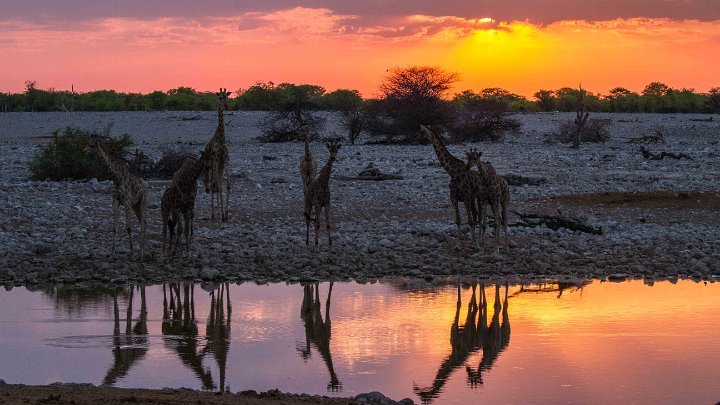 We would then spend time in camp to catch up on sleep, read or stake out the waterhole. We would then head out in the afternoon to places on the sighting board, favorite haunts or to a place for a nice sundowner. We cooked every evening on the braai and then strolled back and forth to see what was happening at the waterhole. It was busy all evening but pleasant with a glass of wine in hand.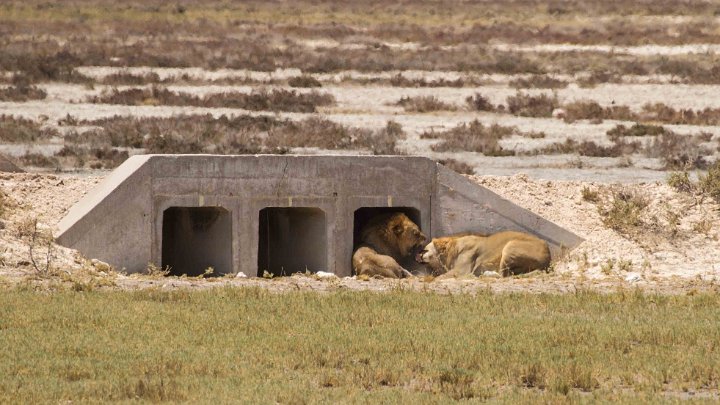 Other highlights were large male lions sleeping in the culvert by Nebrowni. Large vehicles would awaken them and sometimes they would even stir a little. We went back in the early evening to see what they were doing. The females had left and the 2 males were trying to find them. They would go back and forth through the culvert to see both sides of the road.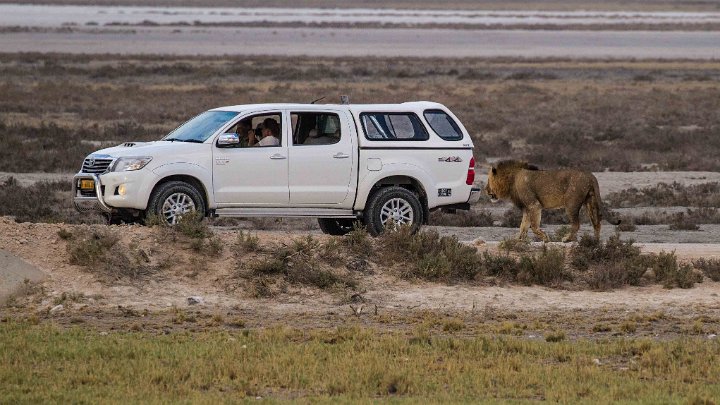 At one point a male lion went up and over the road and a truck that had stopped to watch the other lion didnít even see the other lion approaching. Too funny! We found a beautiful pair of lions one morning out near the airport in beautiful morning light. Also just missed a male lion kill a springbok at Okondeka. He was very proud and posed for us. We found lions with a giraffe kill out at Ozonjuitji míBari. We revisited them for 3 days and they remained close. 2 of their cubs were stashed near the dam and were patiently waiting for mom to return. And lastly on lion sightings, there was a pride with 2 cubs that visited the Halali waterhole every morning and evening. FYI they were quite fearful of the rhinos. So, over 5 nights in the central area of the park we spotted 33 different lions.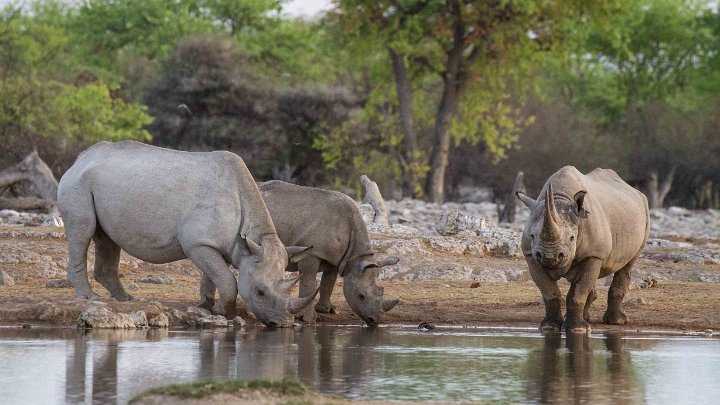 We saw lots of rhinos this year. They were at the regular waterholes during the day, at camp waterholes at night and also just crossing the road. We also saw the anti-poaching units out and about everywhere and maybe that is making a difference.
Also saw all the usual wildlife but we did miss on leopard and cheetah this time. We could have searched more for cheetah in the right areas but we were enjoying the lions too much. This was the first time that we didnít see leopard.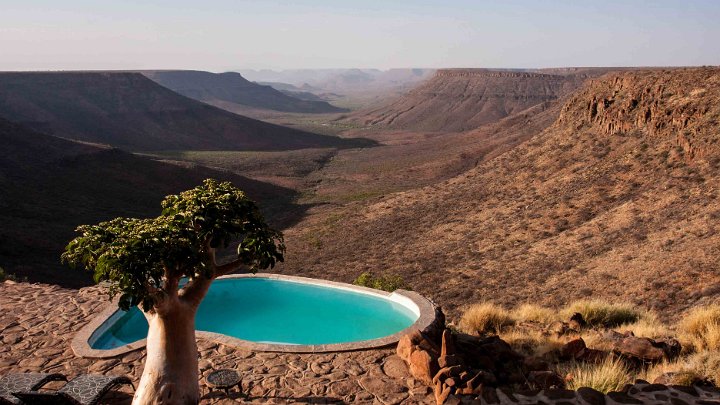 Our next stop was at Dolomite Camp on the west side of the park. We used this stop to mostly relax in our deluxe tent with plunge pool. Still lovely. After that we left the park for Grootberg Lodge with its stunning views. The view was marred a bit by light fog and dust. We did the rhino trekking on foot. It was a long morning to find them. Probably 1 Ĺ hours each way to drive into the valley and back and then about 3 hours hiking on foot. The trackers had a hard time finding them and they were quite fearful of us so ran off fairly quickly. Iím glad we did the hike but we really didnít get very close and we saw lots more and up closer in Etosha.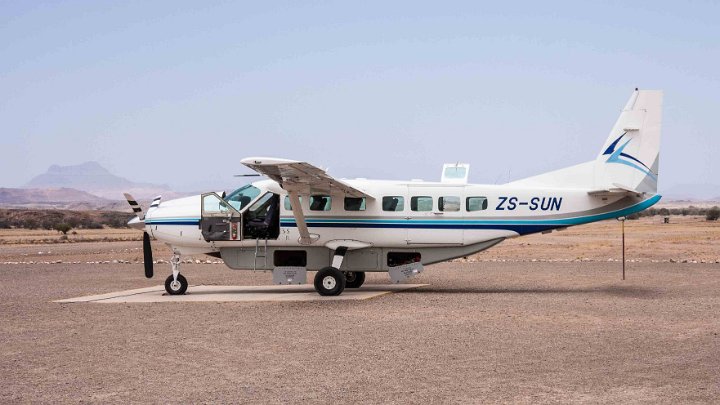 Next up was the new Hoanib Skeleton Coast Camp. We drove to Damaraland and left our truck at Doro Nawas Lodge for a flight to Skeleton Coast Camp.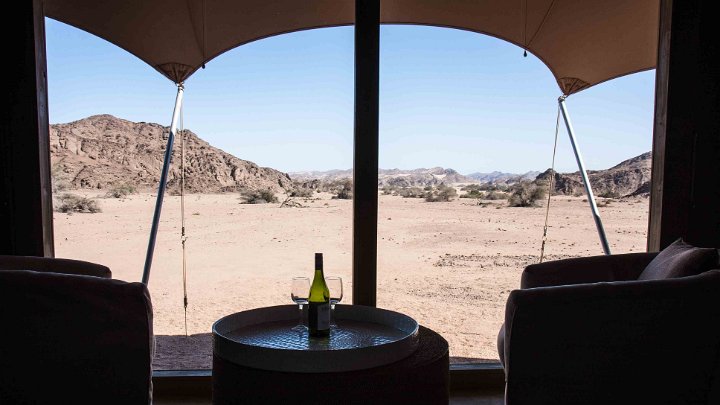 The new camp is gorgeous and the staff is wonderful. We ran into Dr Philip of the lion project on the way to camp and he warned us that the desert lions were nearby. So our first afternoon activity was to see the 3 musketeers featured in the movie, Vanishing Kings.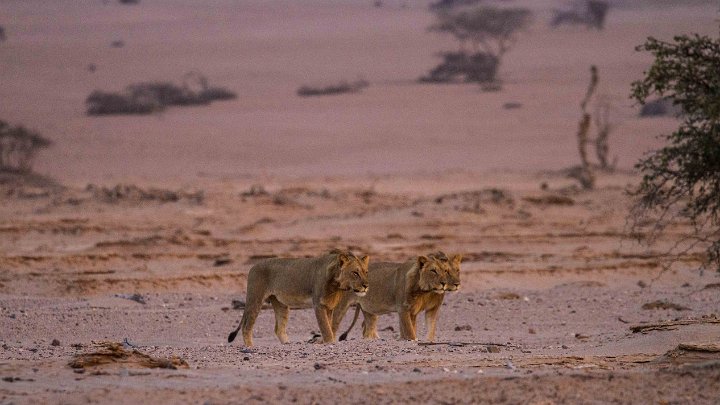 Desert lions were on my wish list so I was a happy camper from the minute we arrived in camp. We got to spend as much time as we wanted with them and after waking up they did some posing and then headed off into the sunset. The next morning we headed off to the Skeleton Coast and again found one of the lions looking down over the dry riverbed. We had to continue on and we were not disappointed.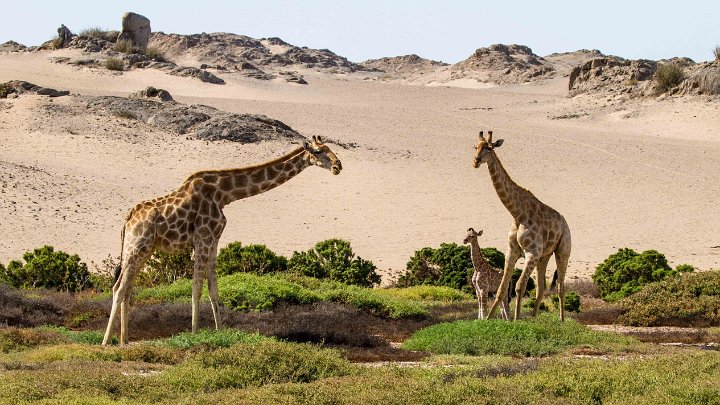 Saw a new born giraffe with parents, some great birds, seals flamingos, etc. Our fabulous guide, Sir Charles, had us all slide down a dune on our butts so we could hear the roaring dunes.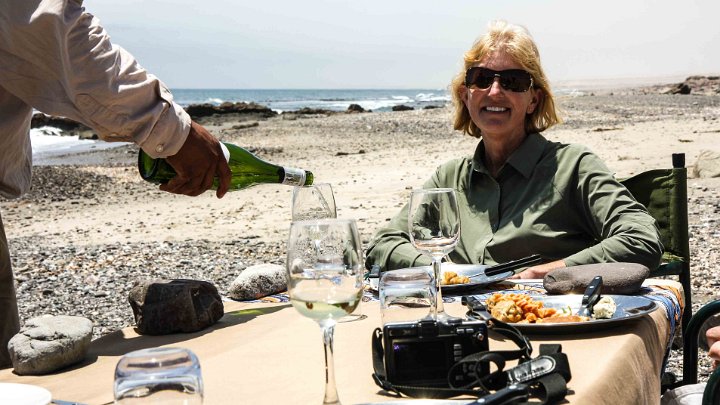 And then we arrived at the ocean to a table set for a fabulous lunch. The sun came out and we had a fabulous lunch on the beach. After a little more time on the coast we went to the airstrip and our pilot was waiting to fly us back to camp. Itís only a 15 minute flight but the scenery is stunning and poor Charles had to drive the truck back to camp.
That evening, the plan was to talk to the research lady about brown hyenas but Sir Charles had different plans for us. The desert elephants were coming down the riverbed to make their way to the camp waterhole.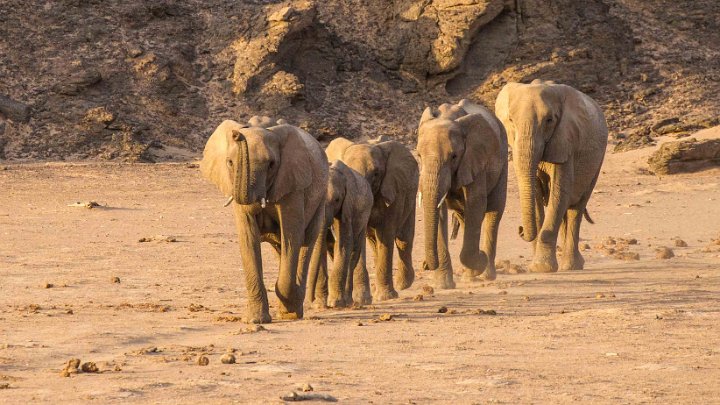 He thought we should race out on foot to get a good look at them, and boy did we. At one point we had to climb up onto a large rock and wait for them to pass us. Then we followed them back to camp at a safe distance. We were last for sundowners that night as we were sitting on a rocks waiting for them to leave so we could return to camp. Would have been perfect if weíd had our gin & tonics in hand but Iím not complaining.
The next day we went in search of the ellies again and spent the morning with them. And then on our last evening we went to appreciate the stunning scenery.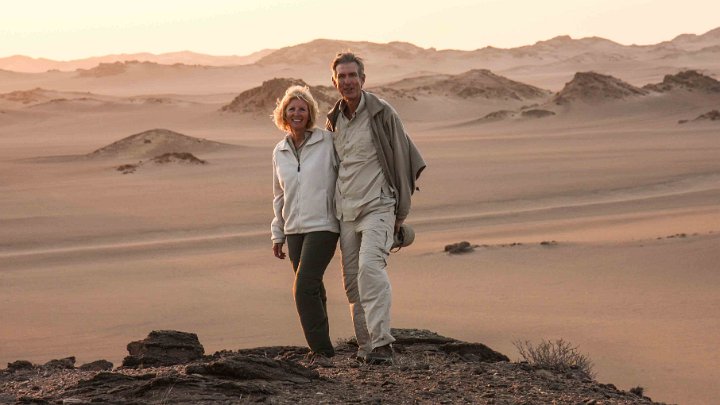 Sir Charles had us climbing mountains with breathtaking views and then a perfect sundowner as the sun set. This camp is really special. It has great food, great tents and the staff is so committed and their love of the camp comes through. They are most interested in showing us everything the area has to offer and not as much about afternoon tea and sundowners.
The last day we slept in and woke to a foggy misty morning. Out at the camp waterhole was a brown hyena, my last item on the wish list. It was a perfect visit!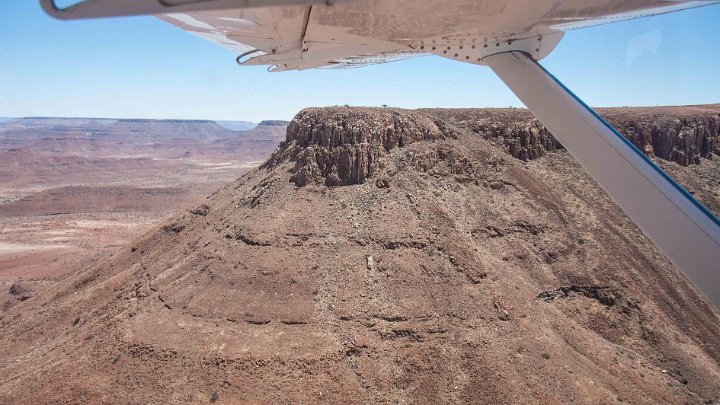 And then back to the airstrip for a flight back to reality. We spent the next 2 nights at Doro Nawas.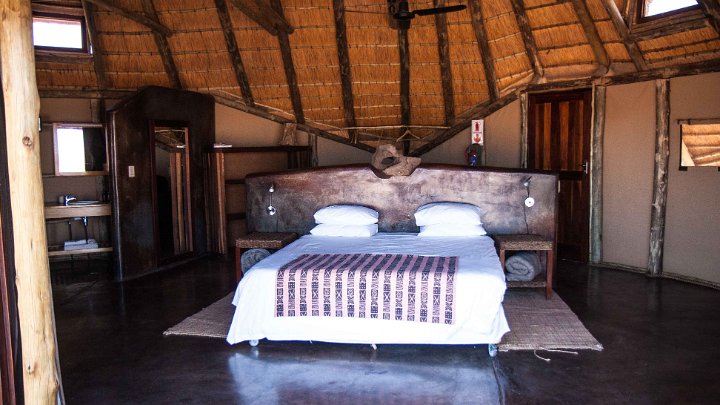 This was not a favorite for us but we thoroughly enjoyed rolling our bed out on the deck to sleep under the stars both nights. It was surprising how cold it got at night while reaching 100+ during the day. The camp manager was on holiday which affected the feel of the camp as well as large groups staying here. We did make a sunset trip to Burnt Mountain and I have to say I donít get it. I knew not to go mid-day but it wasnít special at sunset either.
Next up was our return to Swakopumd. This time we stayed at the Cornerstone Guesthouse and loved it. We walked to town and dinner. Last time we ate at the Tug and the Jetty and loved them both. This time the Tug was not so good but the Jetty was better than ever. We also had lunch twice at the Fish Deli so I guess we liked it.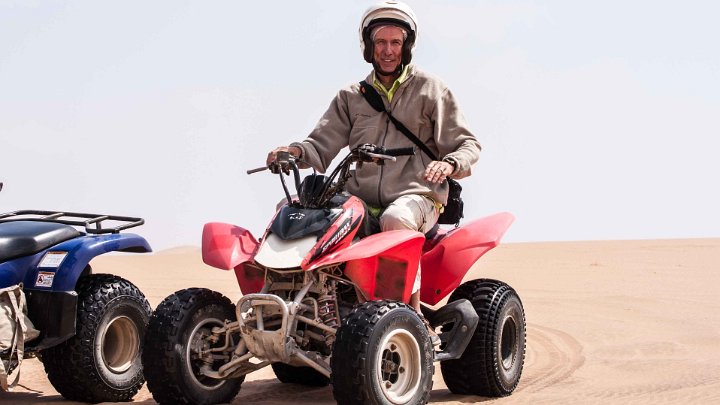 The only activity we did was the Quad bike/sandboarding combo tour with Desert Explorers. Moe took us out in the dunes (just the 2 of us) and we had a great time. Sandboarding is harder than you think, well walking back up the dune is. Quadbiking is just plain fun. We almost did it again the next day but shopped instead.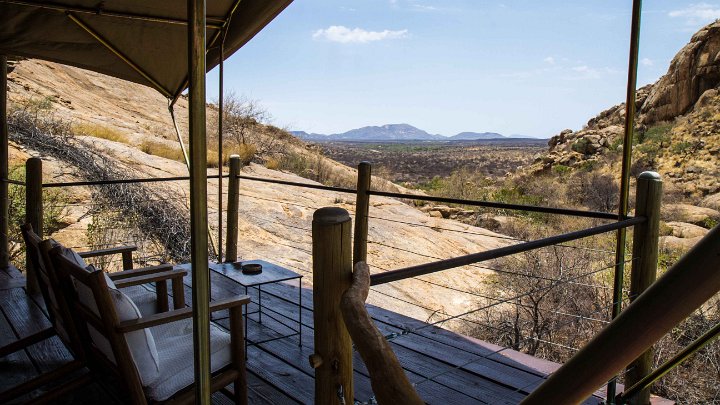 Our last stop was at Erongo Wilderness Lodge. Itís a beautiful drive through the mountains and the camp is set among some huge boulders. We had a high tent with a stunning view. We took the evening sundowner hike to the top of a nearby boulder and loved it. The following morning we did a medium guided hike before breakfast. Otherwise we mostly just enjoyed this camp and rested up or our long trip home. The new managers are very nice and the camp is beautifully run.
The next morning it was time to return to Windhoek, drop our truck back with Marlette and transfer to the airport. It was a great trip and we are anxious to return!