Day #1=>Depart SFO, on a red-eye non-stop to Heathrow, London.
Day #2=>Touch down the morning of day #2 where we spend most of the day wait for our next red-eye a non-stop to Johannesburg, South Africa.
Day #3=>Upon arrival in Johannesburg we will pick-up our Avis Toyota Fortuner and immediately head for Kruger. Kruger is the largest game reserve in South Africa and is a synonym for the word "safari". It is home to over 500 bird species, 100 reptiles, 150 mammals, archaeological sites and a stunning diversity of trees and flowers. It is South Africa's premier wildlife destination. It should be about a 6 hour drive to our first Kurger lodge, Skukuza, "A" on the Kruger map to the right.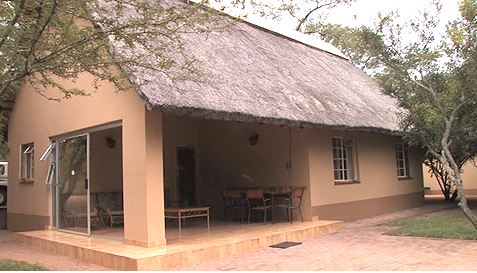 Day #5, #6, #7=>Today we move to Biyamiti Bushveld Camp for 3 nights in a 1 bedroom 1 bath unit with a view, point "B" on Kruger map. Biyamiti Camp is situated on the banks of the Mbiyamiti river and is ideally placed between huge Wild Fig and Jackalberry trees. Biyamiti offers 15 cozy, family cottages that are spread out in a long well spaced line along the Biyamiti River.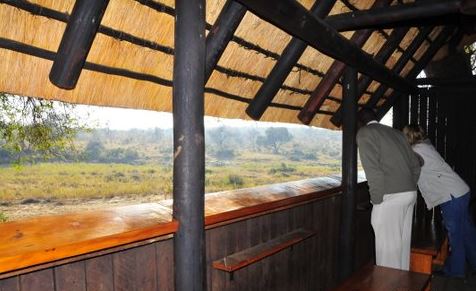 Some of the animals to be seen in the area are Giraffe, Kudu, Duiker, Impala, Steenbok, Elephant, Black and White Rhino, Buffalo, Hippopotamus, Lion, and Leopard. There is also the chance of seeing the elusive Cheetah, or a pack of Wild Dog. This camp also has a nice hide overlooking the river, pictured here.
Day #8, #9, #10=>Our next lodging is Lower Sabie Camp for 3 nights, point "C" on Kruger map. Lower Sabie camp is the favorite camp in the south of the Kruger Park situated on the Sabie River.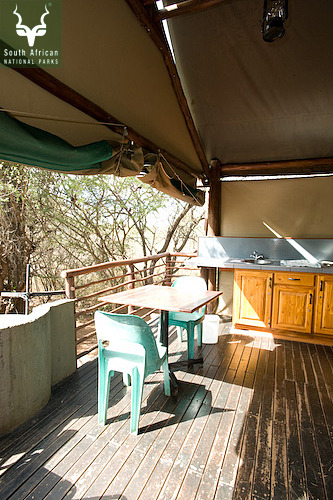 Lower Sabie has the addition of romantic, semi-luxury 2-bedded tents, positioned along the Sabie River. Each has its own small bathroom and kitchenette, and we have the added advantage of a river view for sightseeing. Large numbers of game are attracted to the abundance of water, sweet grass and foliage in the vicinity of Lower Sabie Rest Camp, giving rise to a diversity of game, almost unequalled anywhere else in the Park. The area is also rich in Lion, Cheetah, Elephant, Hippopotamus, Rhino, herds of Buffalo up to 800 strong, and is known for its high density of Warthog. Film shows on conservation and wildlife are shown on certain evenings.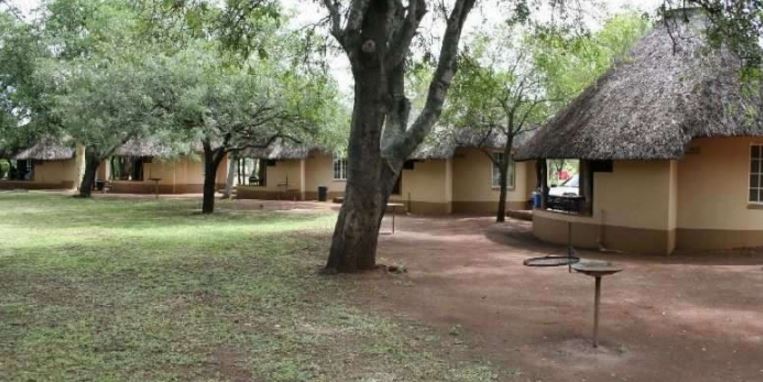 Day #11, #12, #13=>Our next lodging is Satara Rest Camp for 3 nights, point "D" on Kruger map. This camp is in the heart of "cat" country so we have a perimeter view room.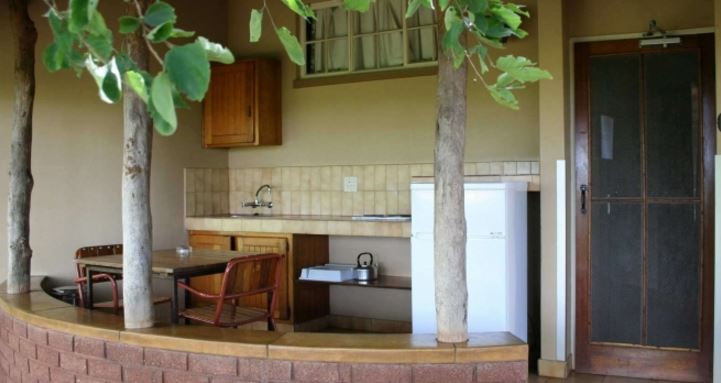 Satara Camp, is located in the centre of the Kruger National Park in South Africa, stakes its reputation on being one of the best spots in the world for viewing Lion, Leopard and Cheetah, because of the fertile grazing land found in the area which attracts vast herds of Antelope. For this reason the camp is often referred to as the 'cat camp'. Large Cats are frequently spotted in the Muzadzeni area, where a large and successful Lion pride operates, or along the 5100 route that runs east from Satara Camp, hugging the bank of the N'wanetsi stream. This stretch is especially productive in winter when the veld is dry, and Lion and Leopard lie waiting to ambush the thirsty Antelope that come in large herds to drink at the few remaining pools of water.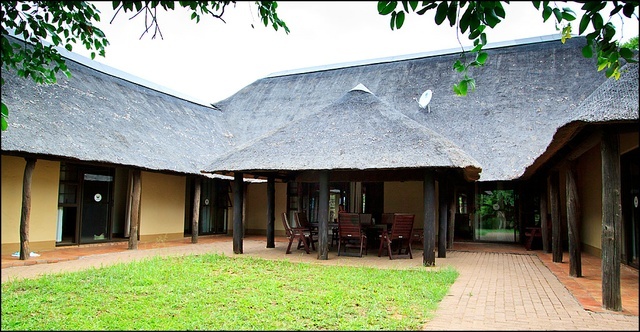 Day #14, #15, #16=>Our next lodging is "big" Shingwedzi Rest Camp for 3 nights, point "E" on Kruger map. At this camp we are renting this guest house with 3 bedrooms, 3 baths and a river view.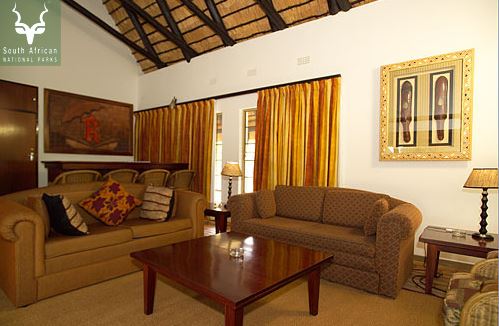 This is our most northern camp on this trip to Kruger. The area is less populated with guests but still good of leopards, lion, elephants, buffalo and hundreds of birds. Rentmeester Guesthouse, offering a comfortable stay overlooking the Shingwedzi River. The Shingwedzi River flows only in the summer months, but winter is one of the best times to view wildlife when animals fight over the small diminishing pools which remain behind as the river recedes. A nearby route passes by the Kanniedood Dam which is a perfect place to be on the lookout for Crocodile, Hippopotamus, Elephant, Bushbuck and even Leopard. The region around the Shingwedzi River is scattered with many mopane trees and many animals are reliant on this tree.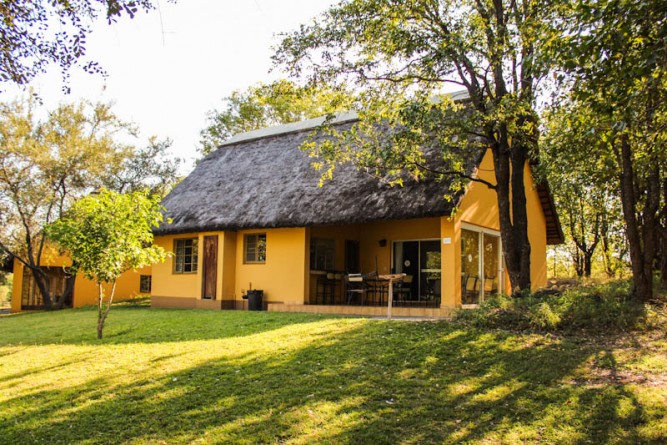 Day #17, #18=>Leaving the big house and on to Shimuwini Bushveld Camp for 2 nights, point "F" on Kruger map. At this camp we have a 2 bedroom 2 bath river front cottage.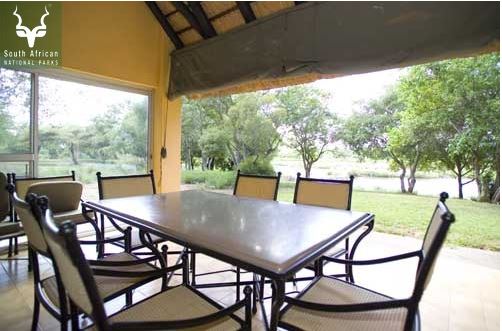 This camp is the most modern of the bushveld camps as it was completely rebuilt after the 2000 floods. The camp has two bomas, a swimming pool as well as a bird hide to keep visitors busy. There are 15 family cottages spread out in a long, well-spaced line along the Shimuwini Dam at this Kruger Park camp. Shimuwini Camp has a Bird Hide that offers guests the opportunity to get a closer look at the birdlife on the Shimuwini Dam. There are 20 kilometres (12 miles) of road for the exclusive use of residents to this Kruger Park camp. The Shimuwini Dam, does not dry up during the dry season.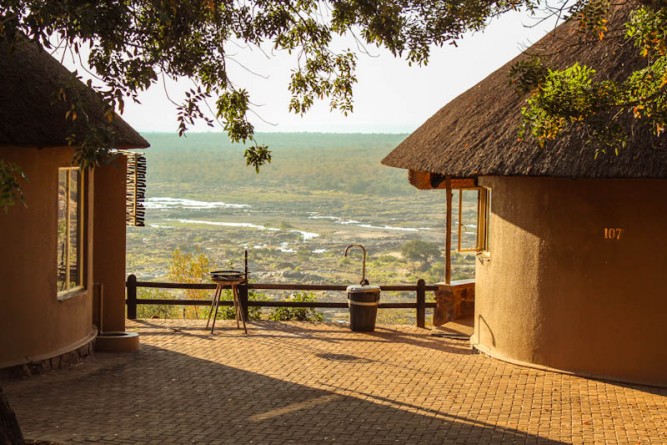 Day #19, #20, #21=>Our next camp is Olifants Rest Camp for 3 nights, point "G" on Kruger map. At this camp we have a 2 bedroom 2 bath cottage on the river. We have cottage #14 which is the premier view cottage overlooking the Letaba River.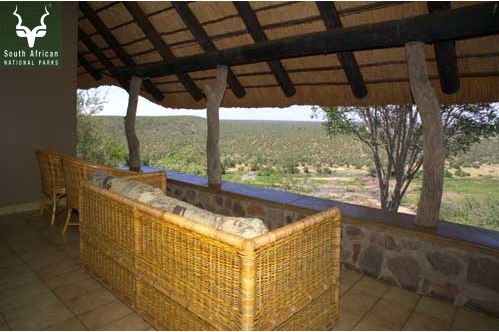 The Olifants Camp is situated on top of a hill towering several hundred feet over the Olifants River. Sightseeing views from the lookout platforms allow a person to observe the river below. Because Olifants Camp is situated in a transitional zone, 2 distinct types of vegetation can be found, offering a wide range of game. In the north, the low lying Mopane trees provide cover for Zebra, Impala, Kudu and Elephant. To the south, rolling plains are dotted with Buffalo, Giraffe and Kudu. While along the Olifants River, wildlife such as Lion, Crocodiles and Hippopotamus can be viewed on gameviewing and sightseeing excursions in Kruger Park, as well as an abundance of birdlife such as Owls, Storks and Eagles.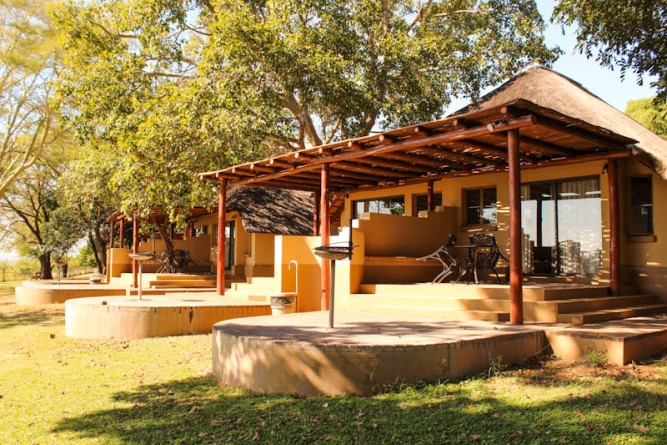 Day #22=>We end our Kruger Safari back at Lower Sabie Camp for 1 nights, point "C" on Kruger map. However, on this visit to Lower Sabie we will not be staying in the romantic tents as we did on days #9, #10, and #11, instead we will try the unit pictured here. Our return to Lower Sabie will make day #24 when we have to drive back to Johannesburg much easier.
Day #23=>Depart Lower Sabie and Kruger, drive to the Johannesburg airport where we catch a BA flight to return home.