Africa Safari -- Namibia Winter 2016 Itinerary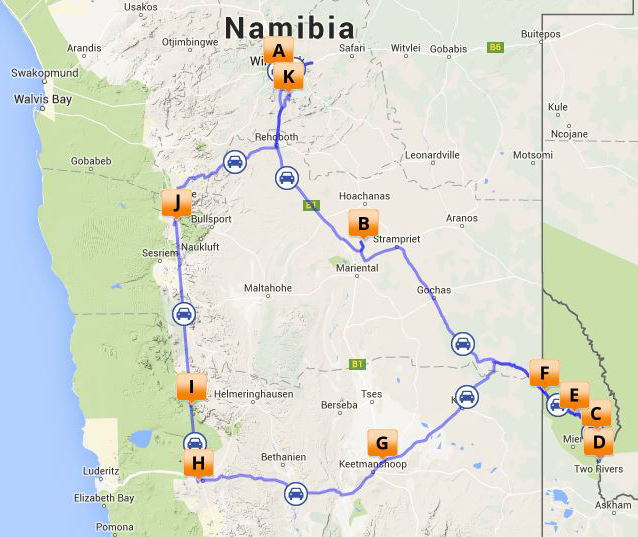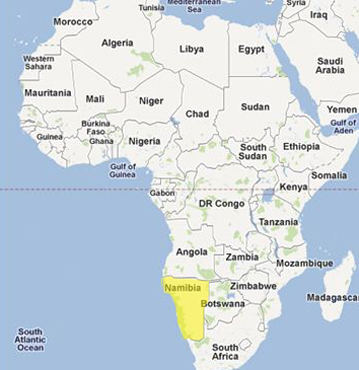 Day #1=>Depart SFO, on a red-eye non-stop to Heathrow, London. We touch down the morning of day#2 where we spend a short layover before boarding another non-stop to Johannesburg, South Africa.
Again another short layover and then on to our final destination, Windoek, Namibia. Only three flights from Northern California but half way around the world.
Day #3=>Arrive Windhoek, and pickup our Toyota 4x4(always white). Windhoek is Namibia's capital, home to an international airport and a plethora of restaurants, shops, entertainment venues and accommodation options. The city is clean, safe and well-organised, with a colonial legacy that is reflected in its many German eateries and shops.
The locations of the lodges we will visit on this safari are shown on the map to the right. Each lodge is represented with a different letters and will be referred to by the following day by day itinerary.
Our first lodge will be the same lodge we stayed our last two times we were in Namibia, Villa Violet, point "A" on map. This lodge is perfect after 30hrs of travel. It is an ideal spot to relax and catch your breathe before starting your safari. And it is only a short walk to our favorite dinner spot Joe's Beerhouse.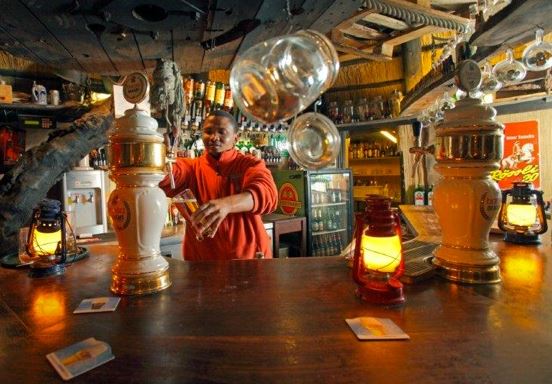 Check out the food and drinks at Joe's.
Namibia is known for GREAT food so Joe's is a good start to our 3+ week safari.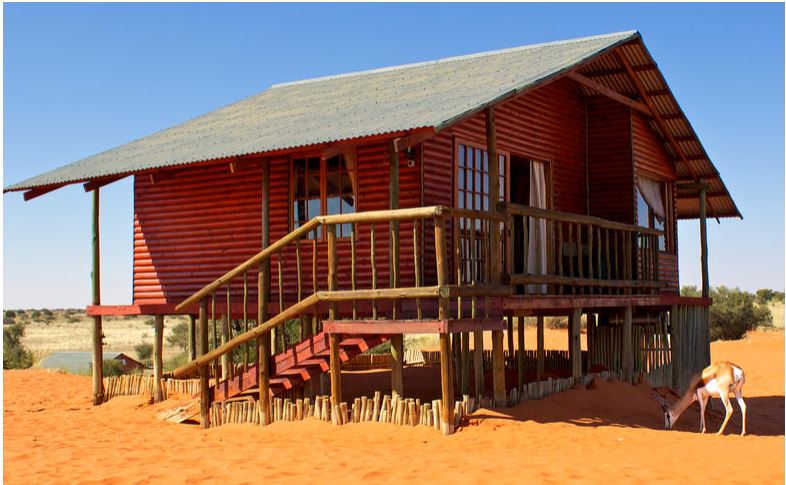 Day #4=> Only driving half of the Kalahari our first day on the road. Spending one night at Bagatelli Kalahari Game Ranch, point "B" on map. Click on the "View Video Clip" to get a good image of this ranch. Afternoon activities at this ranch includes cheetah feeding and sundowners. At night they have an observatory with a state-of-the-art computerized telescope to view the brilliant southern hemisphere sky (planets, star clusters, galaxies and the Moon).
The Kalahari is an exceptionally beautiful living desert a large semi-arid sandy savannah. Reservation are very hard to get. We were very lucky to get three different lodges for this safari. The Kalahari is the best place in the world to see cheetah hunting and the big black main lions. Lodges in the Kalahari are UNFENCED, thus accomdodation are either raise or fenced.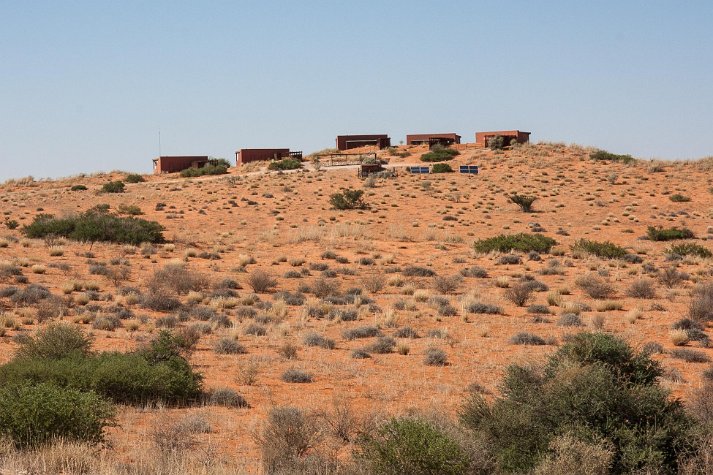 Day #5, 6, 7 and 8=> Our first Kalahari lodge is our favorite Kieliekrankie Wilderness Camp, point "C" on map. This camp is in the middle of the park perched a top a large red dune overlooking a water hole.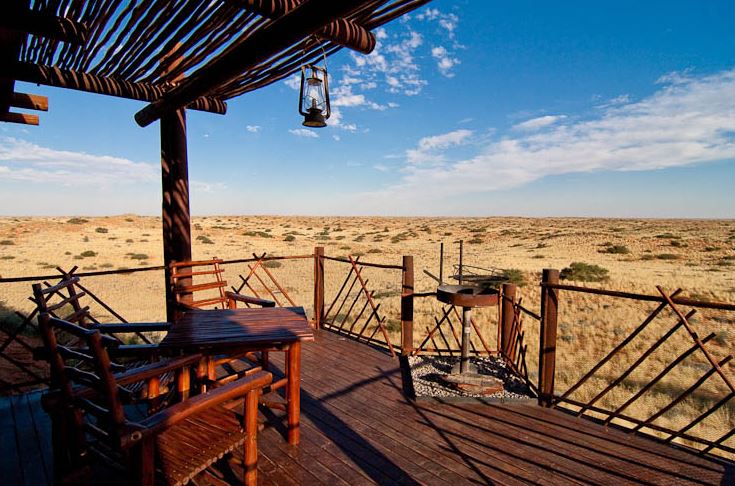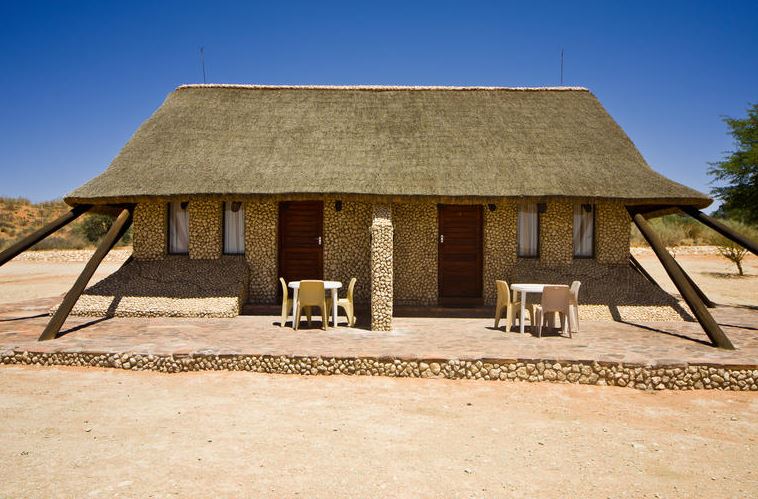 Day #9 and 10=> Our 2nd Kalahari lodge is the largest Kalahari camp located at the southern gate Twee Rivieren Rest Camp, point "D" on map. Twee Rivieren camp possesses the character and stature of a desert camp to be remembered. Occupying an impressive position on the dry Nossob river bed, the camp is particularly well noted for its seasonal migrations of desert herbivores, such as blue wildebeest and red hartebeest, as well as the ever-trailing predators, yielding exciting hunts and game viewing from virtually all corners of the camp. This camp is the administrative headquarters of the Kgalagadi Transfrontier National Park as a whole, and the largest rest camp within its borders.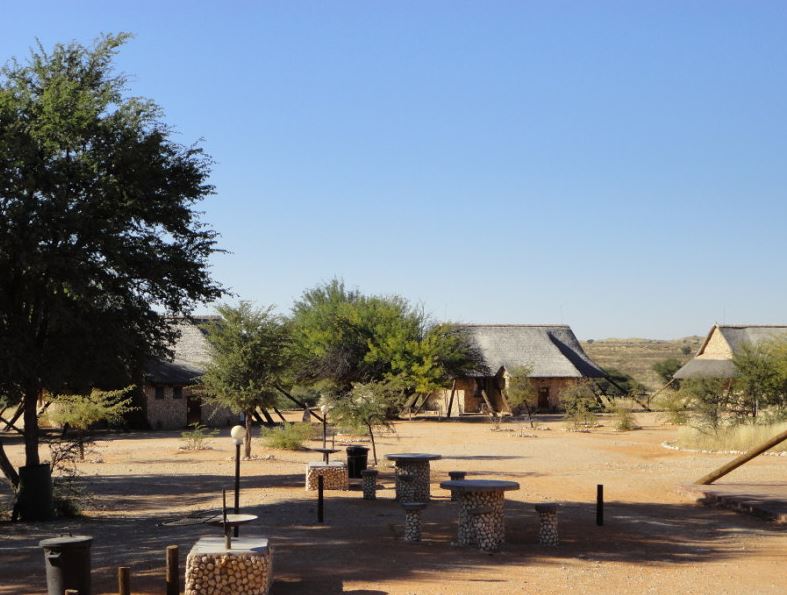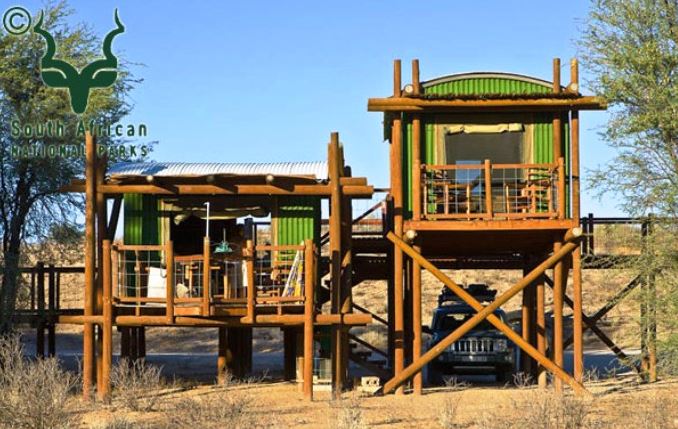 Day #11 and #12=> Our 3rd Kalahari Lodge like our first is very small and unfenced with only has four cabins. Notice even our vehicle is fenced in. The reason for this is avoid lion damage, they like to chew on the tires. Urikarus Wilderness Camp, is point "E" on map. It is a stilted camp hidden amid camelthorn trees that has good wildlife viewing near its dry riverbed and waterhole. The cabins are connected by an elevated walkway, and have kitchens and solar power.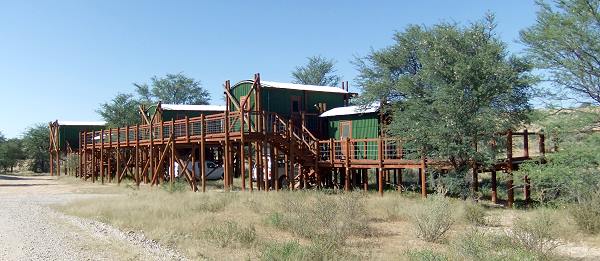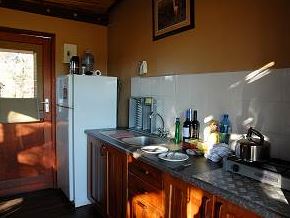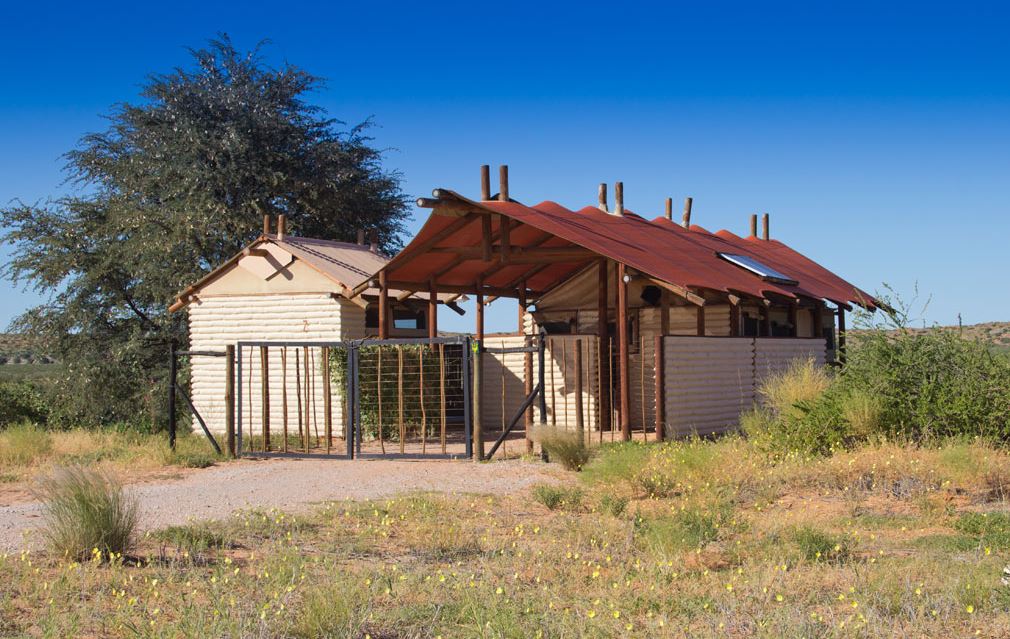 Day #13 and #14=> Our last lodge in the Kalahari is Kalahari Tented Camp, point "F" on map. KTC boasts 15 desert tents each elegantly decorated with rustic finishes using wood, sand and canvas exteriors. The tent camp is 3 km from the Mata-Mata Rest Camp where Kalahari Tent Camp residents can refuel and get basic supplies at the shop. The camp is designed in such a way that residents feel they have only themselves and the desert for company.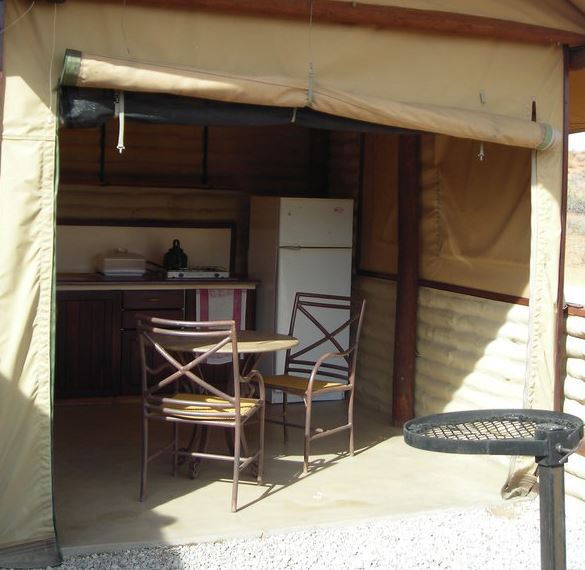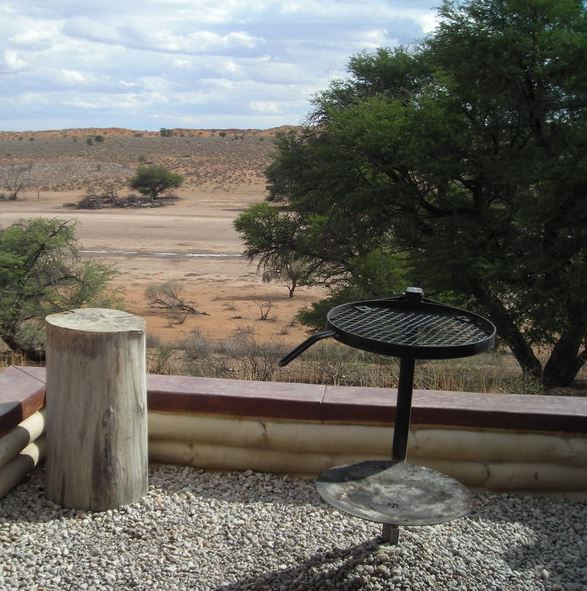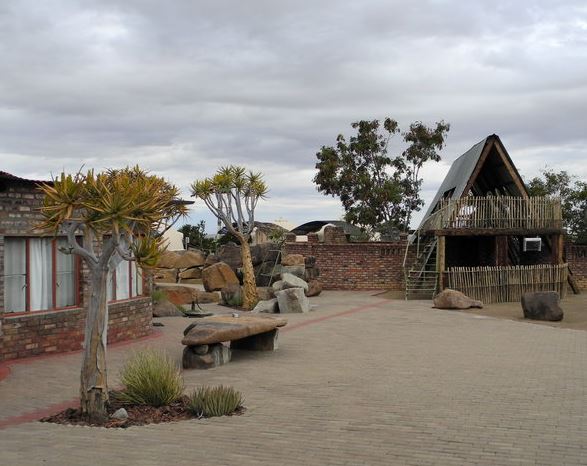 Day #15=>Today we leave the Kalahari and self cartering and head west, toward the Atlantic Ocean. Keetmanshoop is about half way were we will stop at a very beautiful area, the Quiver Tree Lodge. While at this lodge we will explore the ancient and famous Quivertree Forest and the dolerite rock formations of the Giants Playground. Don't know what a Quiver tree is? It is the national plant of Namibia, some over 300 years old. This link has some stunning views of Quiver Trees and some interesting facts.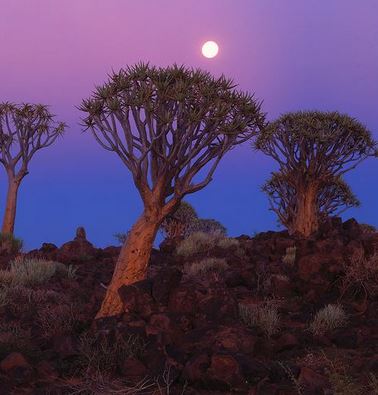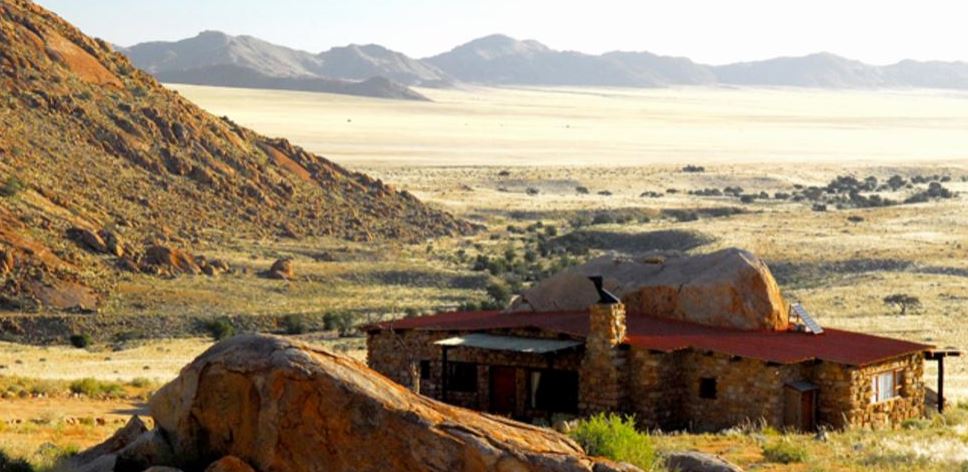 Day #16 and 17=> Next we are going to spend two days at Klein Aus Vista, point "H" on map. We have booked the Eagle's Next Chalet(click the Eagle's Nest image) at this lodge. Plan visit wild desert horses.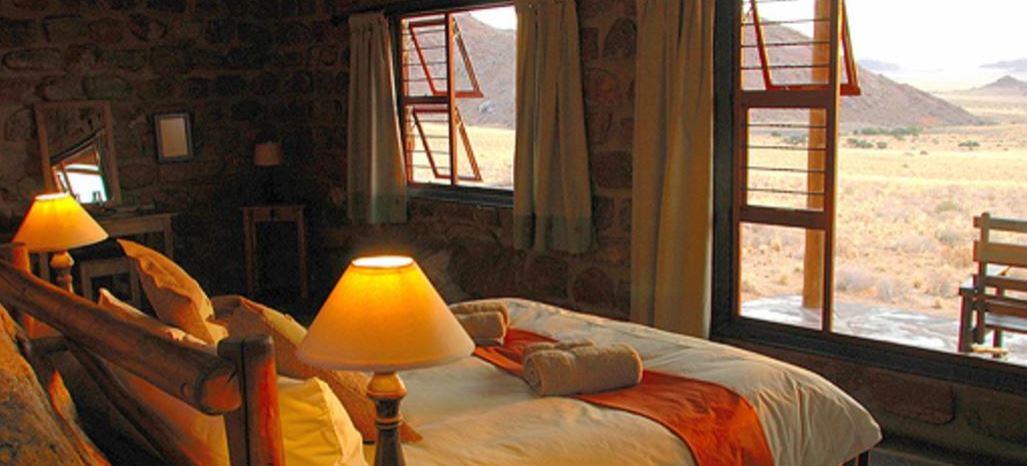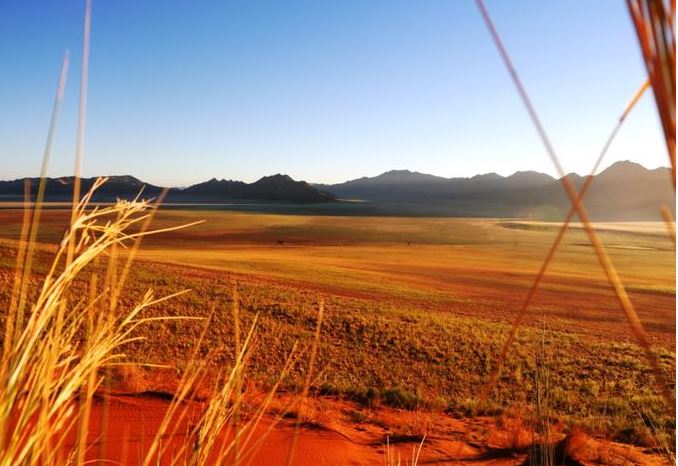 Day #18, 19 and 20=> Next we are going to spend three days at N/a'an Desert Retreat, point "H" on map. Kanaan N/a'an ku sę Desert Retreat is situated on 33,000 hectares of unspoilt nature. Contrasting landscapes are never-ending, with rippled sand dunes glowing in the magical light of sunrise and sunset. Kanaan is ideal for wildlife enthusiasts, photographers, geologists, hikers or for those looking to get away from it all.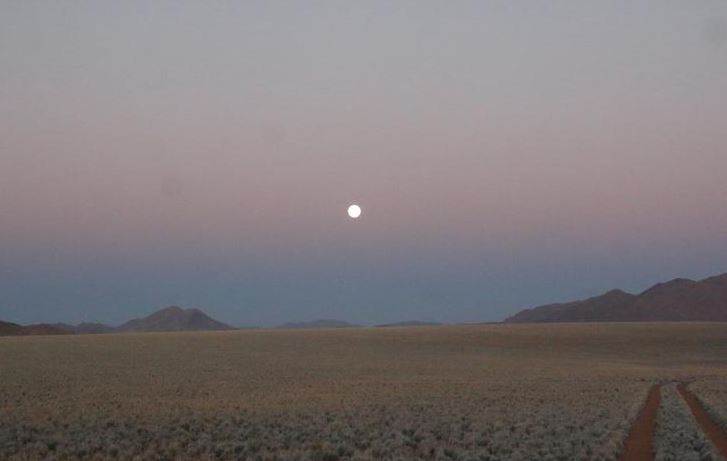 In the dedicated hands of the N/a'an ku sę team, the Kanaan N/a'an ku sę Desert Retreat focuses on the rehabilitation of the land to serve a purpose other than being a photographer's paradise - conservation and protection of the wildlife and environment. This enchanting reserve borders the Namib Naukluft Park with its breath taking photogenic dune belt to the west, and the Tiras Mountains to the east, enhancing our captivating scenery.
Kanaan is home to free roaming kudu, springbok, ostrich, oryx, caracal, hyena, bat-eared fox and jackal, there is never a shortage of animal action in front of the camera.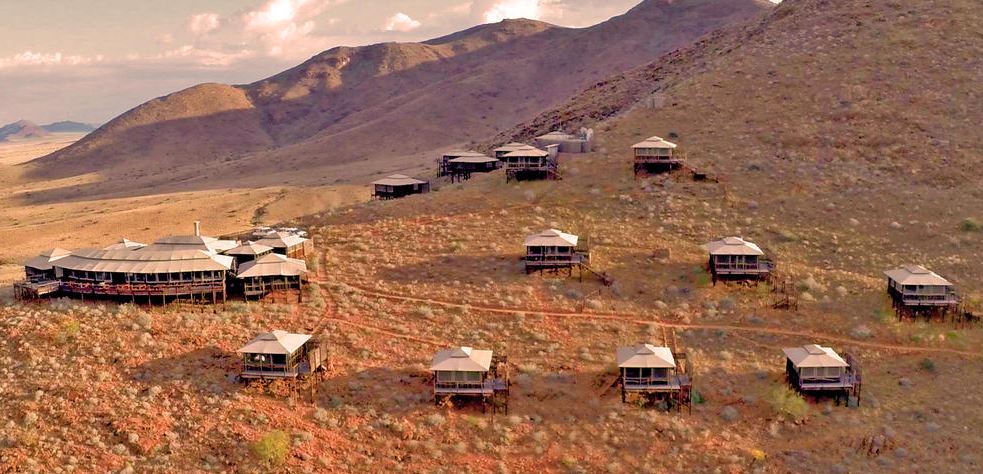 Day #21 and #22=>Our next lodge is at the foot of the Naukluft Mountains, the Moon Moutain Lodge." Moon Mountain Lodge offers 17 accommodation units each with private a plunge pool. Rooms feature mountain or desert views. Each accommodation is individually decorated.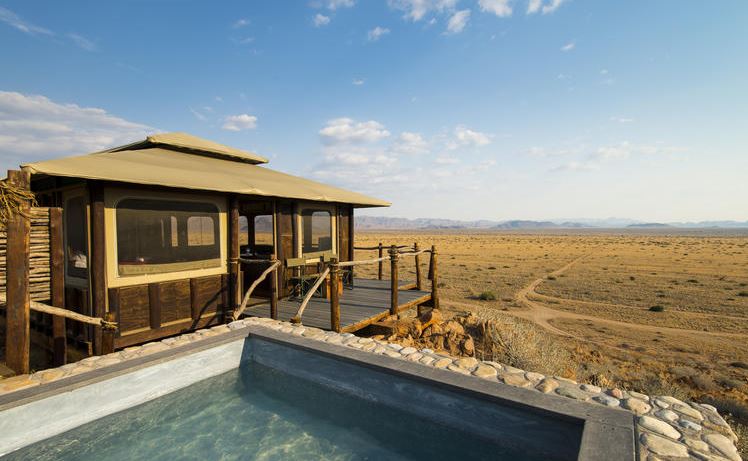 The Nebula Restaurant specializes in local cuisine and serves breakfast, lunch, dinner, and drinks. Alfresco dining is possible on the outside deck.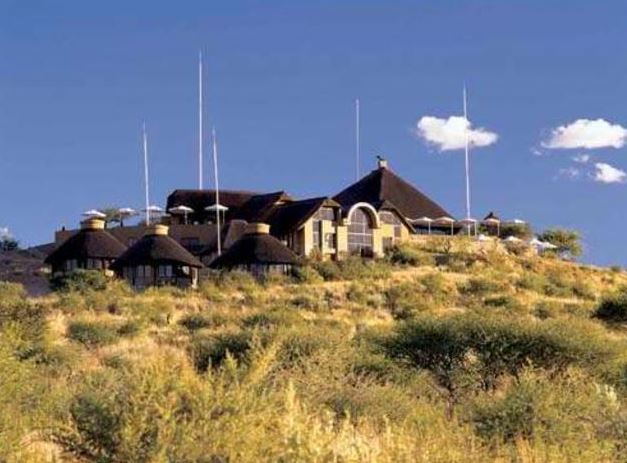 Day #23 and #24=>Our last lodge on this trip is GocheGanas Nature Reserve", only 28km from Windhoek. GocheGanas offers 16 luxurious chalets, under thatched roof, with uninterrupted views over the Nature Reserve. All rooms are equipped with en suite bathrooms, air conditioning, mini bars, TV and DVD/CD players.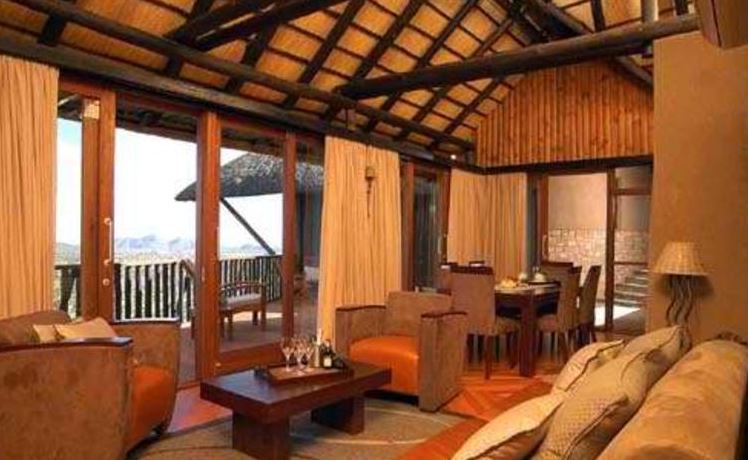 Game abound on the GocheGanas Nature Reserve, with 25 different large game species totaling approximately 1,600 animals roaming across the reserve.