Africa Safari -- Namibia Etosha 2018 Itinerary
This Safari is our 2nd trip to Namibia in 2018. Yes, Namibia is our favorite. And again on this trip we will use our favorite truck rental company "Advanced Hire". There are countless stories of flat tires and other vehicles issues and we have had NONE. Thank you Advanced Hire. The details of this safari start with the map to the right. If you compare this map with our Winter 2018 trip you can see this is a much different Namibian trip. Our prior trip was mainly southern Namibia and this one is Northern and Western.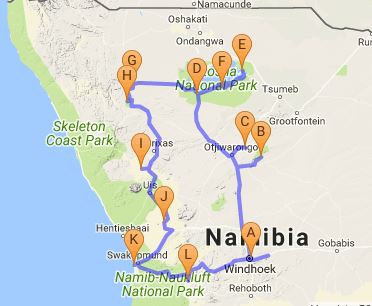 Day #1=>Depart SFO, on British Airways red-eye non-stop to Heathrow, London. We touch down the morning of day#2.
Day #2=>A short layover in Heathrow before boarding another non-stop to Johannesburg, South Africa.
Day #3=>After arriving in Johannesbug we have another short layover and then off to our final destination, Windoek, Namibia. Three flights from Northern California but half way around the world. We arrive Windhoek at 2p, and are picked up by an Advanced Hire representative. Windhoek is Namibiaís capital, home to an international airport and a plethora of restaurants, shops, entertainment venues and accommodation options. The city is clean, safe and well-organised, with a colonial legacy that is reflected in its many German eateries and shops.
The locations of the lodges we will visit on this safari are shown on the map to the right. Each lodge is represented with a different letters and will be referred to by the following day by day itinerary.
After getting the keys to our Toyota 4x4 and a tank of fuel it is off to our first lodge for a well deserved rest after two back-to-back red-eye flights.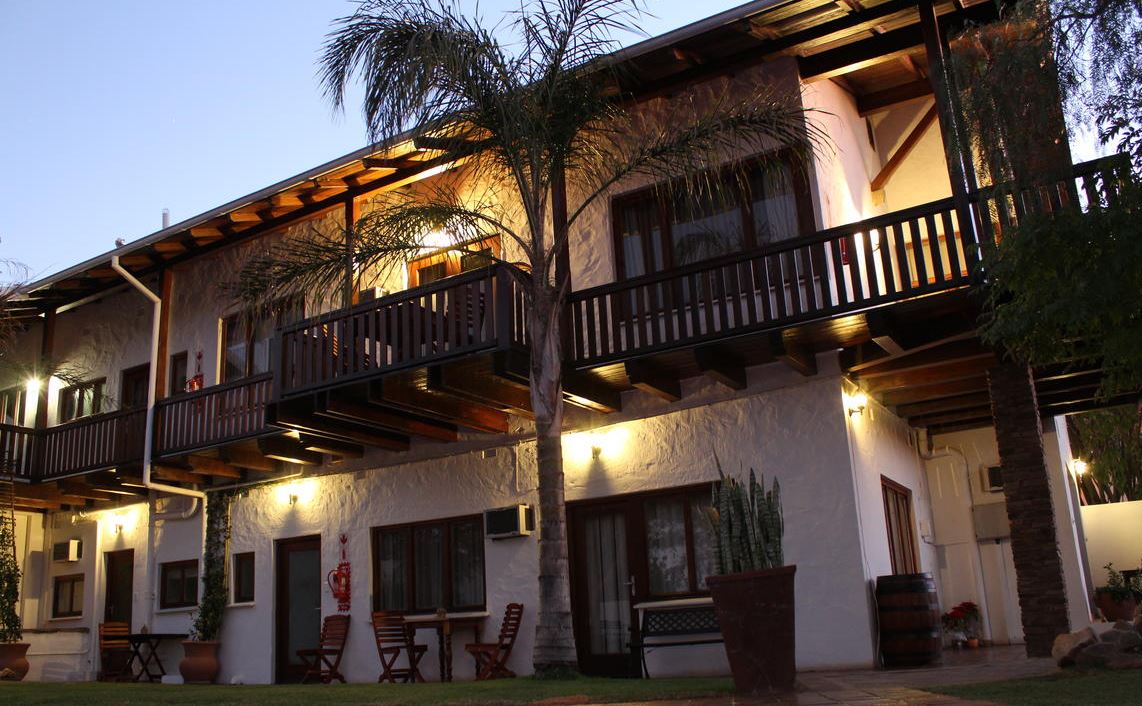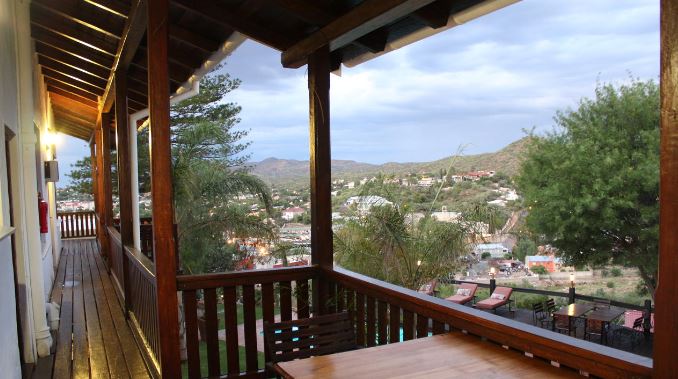 After getting the keys to our Toyota 4x4 it is a short drive to our Windhoek lodge, Hilltop Guest House, point "A" on map. This will be the 1st time at this lodge; looking forward to the view. This lodge will be great after 30+hrs of travel.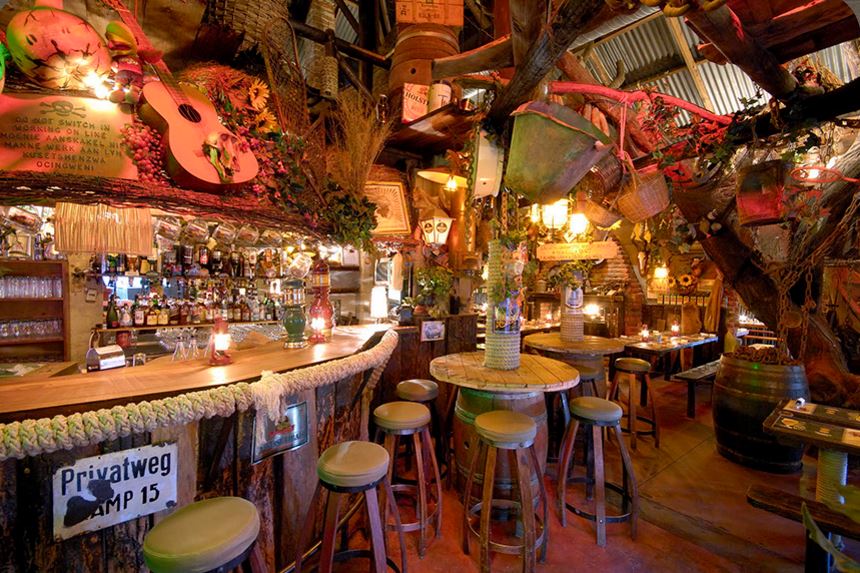 And it is only a short walk to our favorite dinner spot Joe's Beerhouse.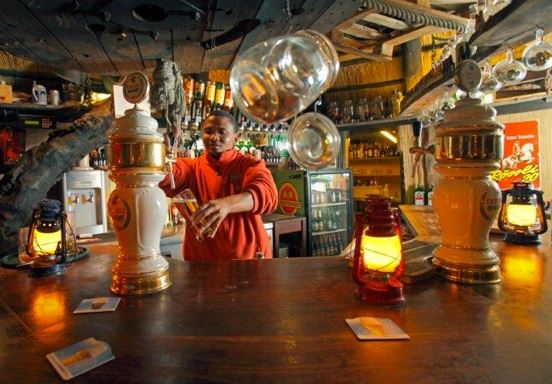 Check out the food and drinks at Joe's.

Namibia is known for GREAT food so Joe's is a good start to our 3+ week safari.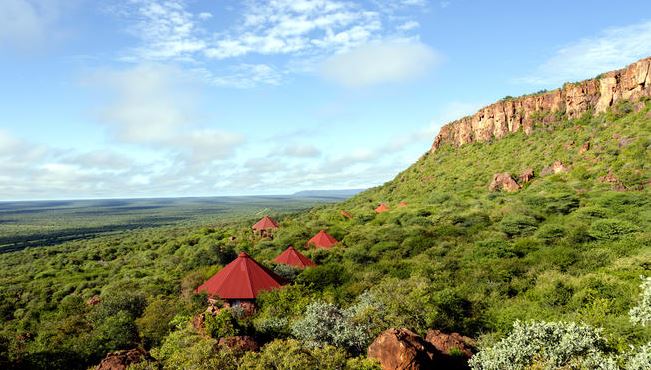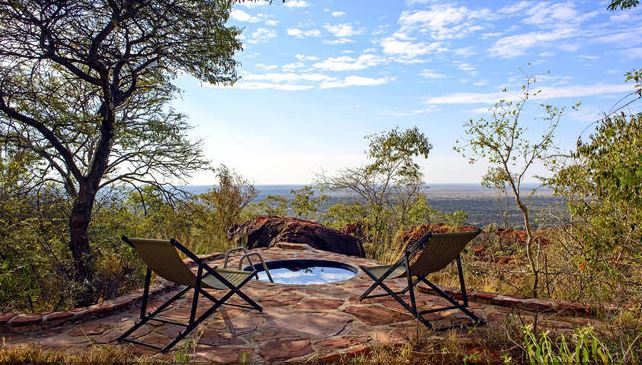 Day #4=>Leaving Windhoek we are heading north on the B1 in route to the Waterberg region. Our first day will be at the Waterberg Plateau Lodge, point "B" on map. Situated on a rock terrace high up on the slope of Waterberg, the restaurant and chalets of Waterberg Plateau Lodge afford grand vistas of the endless Kalahari bush savannah below. Each of the double room chalets sits between red sandstone rocks in the midst of green bush, with total privacy guaranteed. Acacias shade the terrace; a plunge pool filled with spring water provides cooling and attracts birds and small game. The lodge is part of the private nature reserve Waterberg Wilderness, offering a world of experience at the Kalahari's table mountain. Guests can join guided plateau hikes, honeymoon sundowners, rhino drives, game tracking tours or cultural tours to Hereroland. They can have a walk back into the past on the History Path (battle of Waterberg 1904) and explore the valley of Waterberg Wilderness on five nature trails.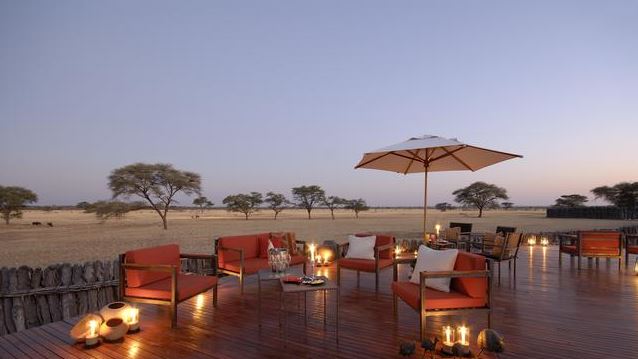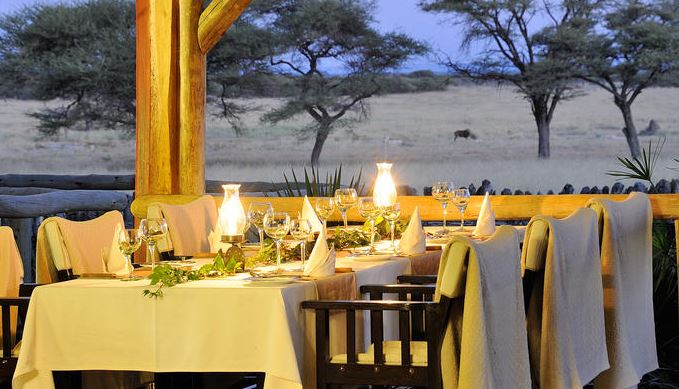 Day #5 and #6=>Our next Waterberg lodge is Frans Indongo Lodge, point "C" on map. Relax on the sundeck at the swimming pool and watch a succession of Sable Antelope, Black Springbok and Nyala quench their thirst at the nearby water hole. Relish the special African atmosphere: the lodge and the interior decoration feature stylish traditional elements from the Ovambo culture in northern Namibia Ė the birthplace of Frans Indongo. Watch cheetahs sprinting and learn more about the fastest terrestrial animal on the planet at the nearby Cheetah Conservation Fund or explore Waterberg Plateau Park, where water is plentiful.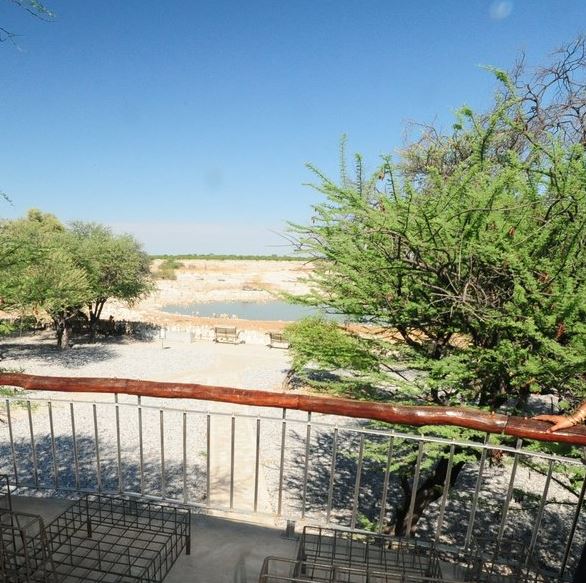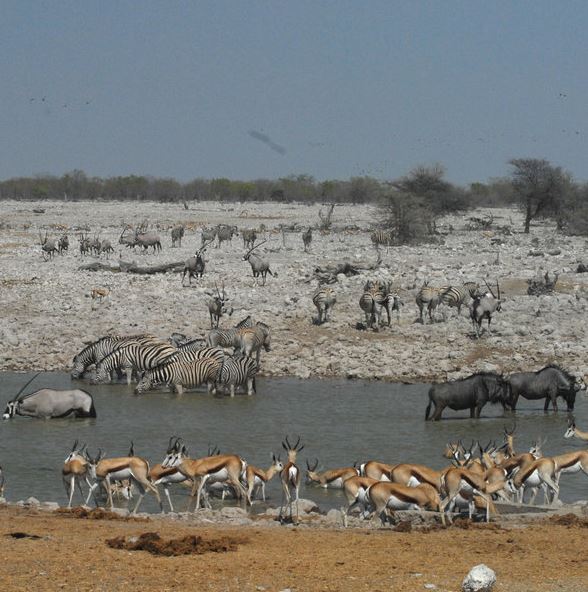 Day #7, #8 and #9=>Our 1st Etosha lodge is Okaukuejo, point "D" on map and has the best water in Etosha. Okaukuejo is located 17 km from the southern entrance of the park, and famous for its flood-lit waterhole, where visitors can observe at close quarters a spectacle of wildlife congregating and interacting(image). Accommodation is provided to suit every need, in premier bush chalets overlooking the waterhole; bush chalets and double rooms; or family chalets. Other facilities include a restaurant, bar, shop, swimming pool, kiosk and camping facilities.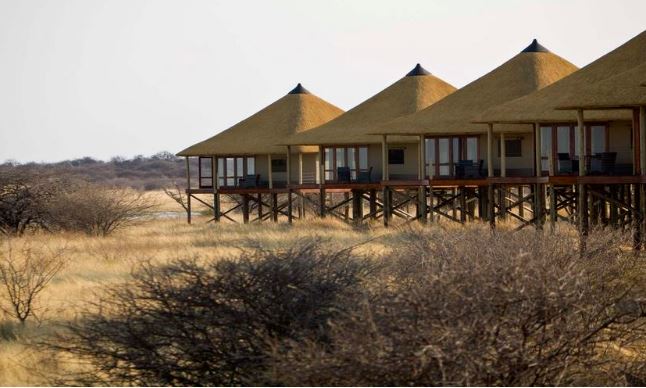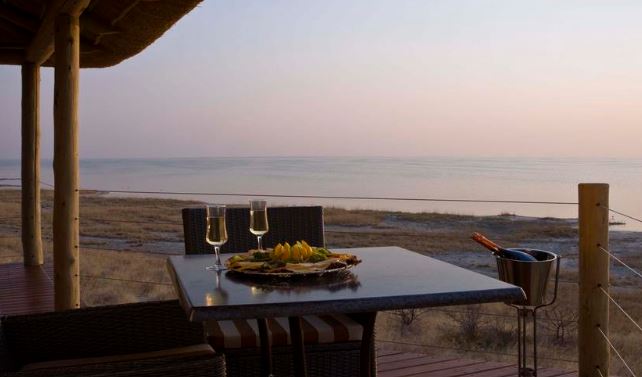 Day #10 and #11=>Our 2nd Etosha Lodge is a new one for us Onkoshi Camp, is point "E" on map. Onkoshi Camp is the latest addition to Etosha National Park. Nestled on the rim of the pan on a secluded peninsula, Onkoshi Camp is a low impact, environmentally friendly establishment with only 15 units (30 beds), which guarantees a truly personal and exclusive experience. The location is entirely out of view of current tourist routes, and all other developments in the area, and thus offers a pristine, tranquil and unique experience. Guests arrive in Namutoni from where they are transported to Onkoshi Camp in NWR vehicles.
Onkoshi Camp offers superb vistas over the Etosha pan, with its shimmering mirages during the hot days; dramatic sunset and sunrise textures and colours; sense of isolation and space; clear night skies; and the sights, smells and sounds of untamed and unadulterated Africa.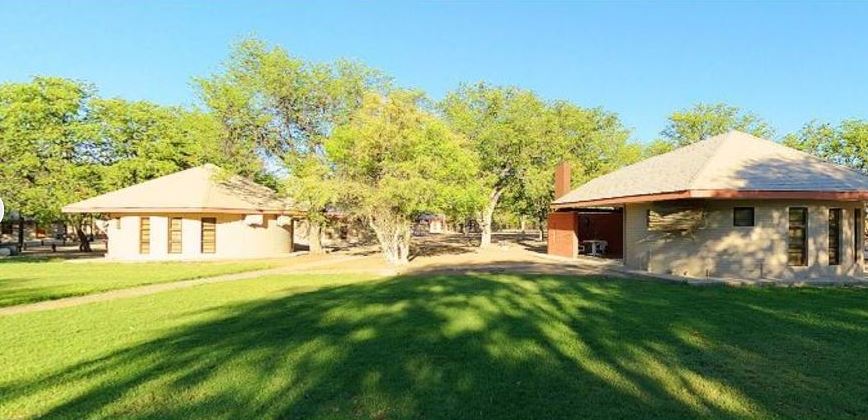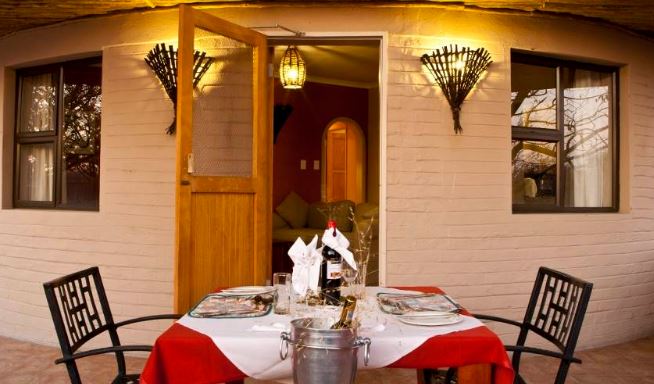 Day #12 and #13=>Our 3rd Etosha lodge is an old favorite Halali Resort, point "F" on map. Strategically located halfway between Okaukuejo and Namutoni, Halali is situated at the base of a dolomite hill, amongst shady Mopane trees. A flood-lit waterhole which is viewed from an elevated vantage point provides exceptional wildlife viewing throughout the day and into the night. Accommodation is provided in family chalets, two and four bed bush chalets and double rooms - all converted with large sliding doors to the outside, to allow visitors to experience and benefit from the peace and tranquility of the natural surroundings. Other facilities include a restaurant, bar, shop, swimming pool, kiosk and camping facilities.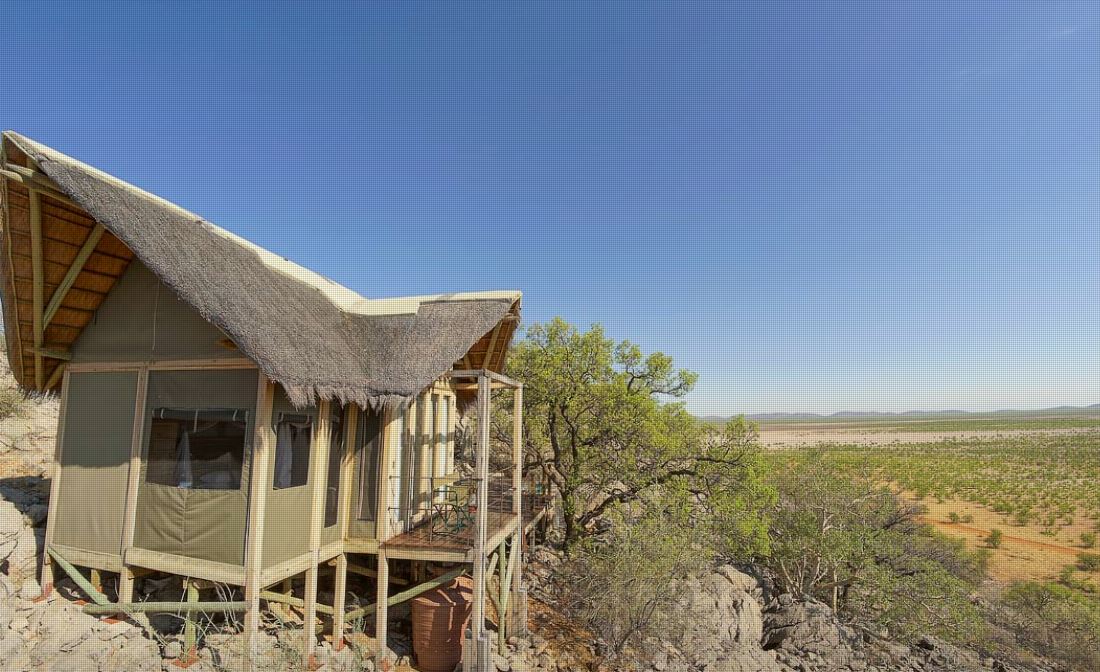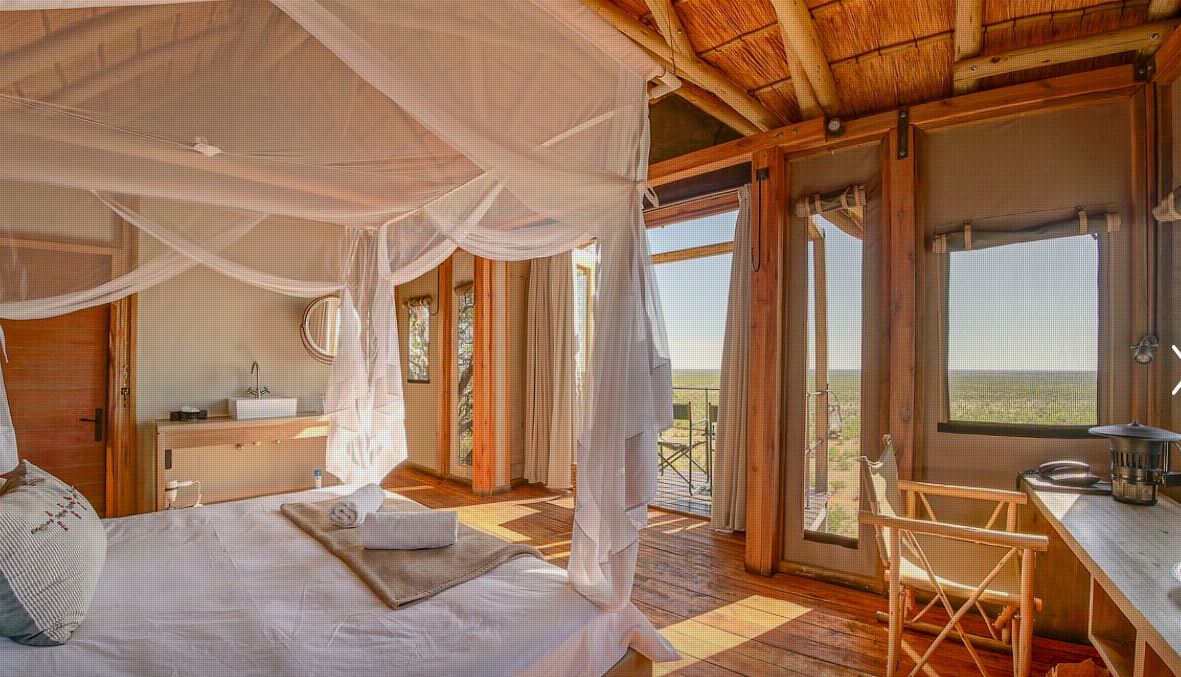 Day #14 and #15=>Our 4th and last Etosha lodge is Dolomite Camp, point "G" on map. Dolomite Camp consists of a spacious reception, lounge, bar and restaurant area with a walkway leading to thatched, en suite chalets nestled amongst the rocky outcrops, which provide privacy with dramatic and panoramic landscape views. The campís interiors are designed to harmonize the natural surroundings, characterized by weathered dolomite rock formations, Mopane, moringa trees and savannah woodland. With no fewer than 15 waterholes in the surrounding areas, Dolomite Camp presents great wildlife viewing opportunities. Specially arranged Game drives, operated by knowledgeable guides, take you to parts of the Park previously only known to Conservationists.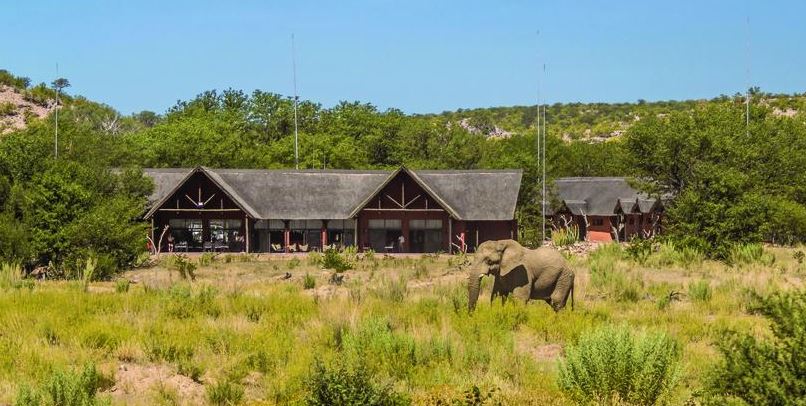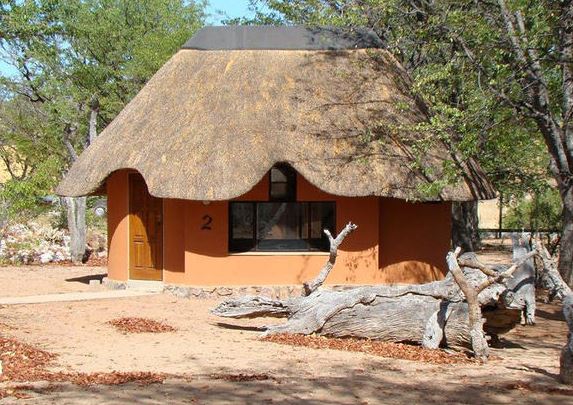 Day #16=>Our next lodge is just outside Etosha's western gate, Hobatere Lodge, point "H" on map. Hobatere Lodge is located 80 km north of Kamanjab on the western border of the Etosha National park, situated in a concession area of 32 000 ha, which is home to a wide selection of game including Lion, Leopard, Oryx, Eland, Cheetah, Giraffe, Hartmannís Mountain Zebra and Elephant. Our activities centre around day or night game drives, bird watching and guided walks, affording guests ample opportunity to view the abundance of wildlife and endemic species in the area. We also have a hide overlooking a nearby waterhole and a sundeck with panoramic views, which is floodlit for part of the night.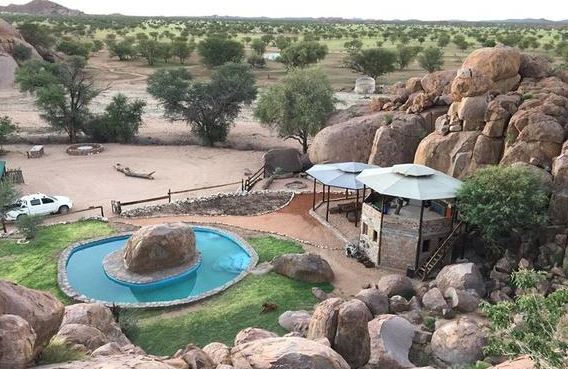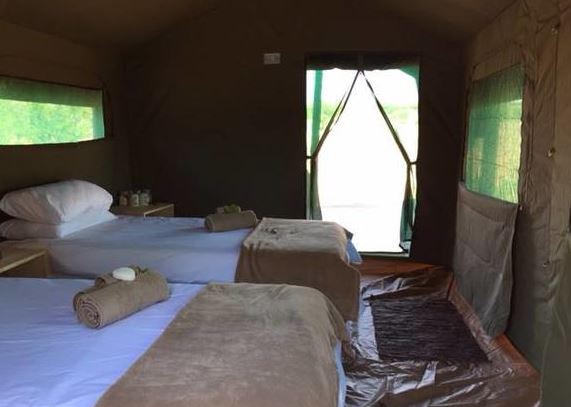 Day #17=>Our next lodge is a new one for us Madisa Camp, point "I" on map. Madisa Camp is a one nighter to break up a long drive. The camp is hidden between amazing rock formations which are scattered with Bushman Paintings and has privy to an ancient Desert Elephant route that often gets visited by these beautiful giants. Meals at Madisa can be arranged, for dinner or breakfast. They do basic home cooked meals around the fire. Its very relaxed and is a great way to enjoy the setting and chat to fellow travelers and the Madisa family.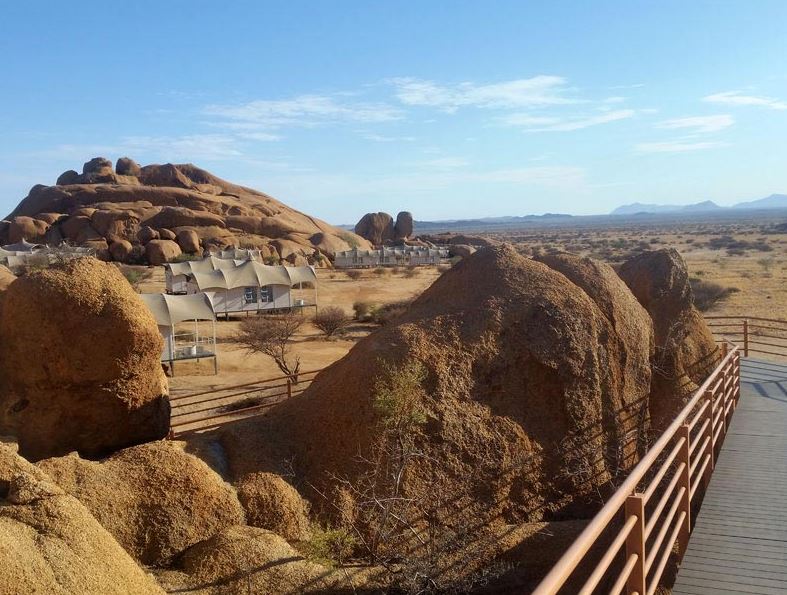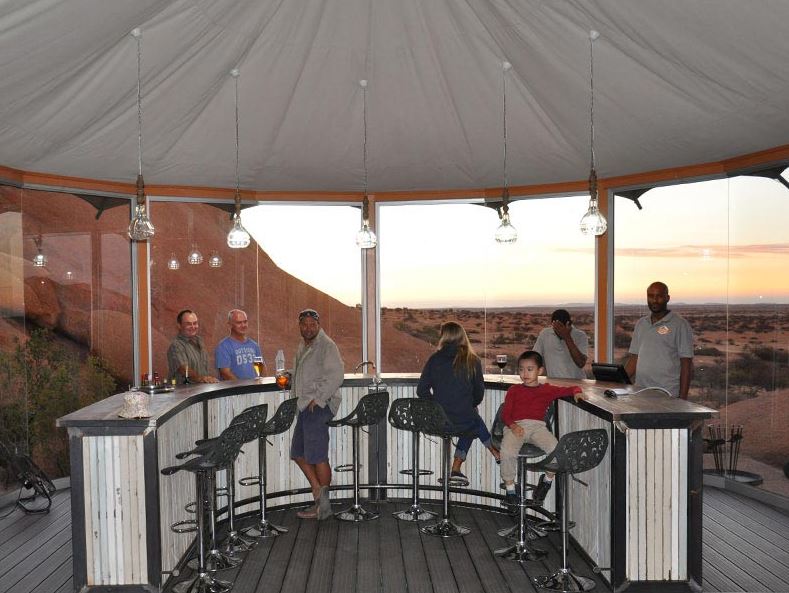 Day #18 and #19=>The next lodge, for a two night stay is the Spitzkoppen Lodge, point "J" on map. Spitzkoppen Lodge is situated on the northern periphery of the Spitzkoppe inselberg - between substantial granite boulders with breathtaking views of the Brandberg and Erongo Mountains. The stylish, private accommodation consists of 15 spacious, tastefully furnished chalets, each with a private bathroom and outside viewing deck - which connects the guest with the vast stretches of untouched sand and boulders beyond. The buildings are linked with elevated walkways all constructed to be wheelchair friendly and minimise the impact on the environment.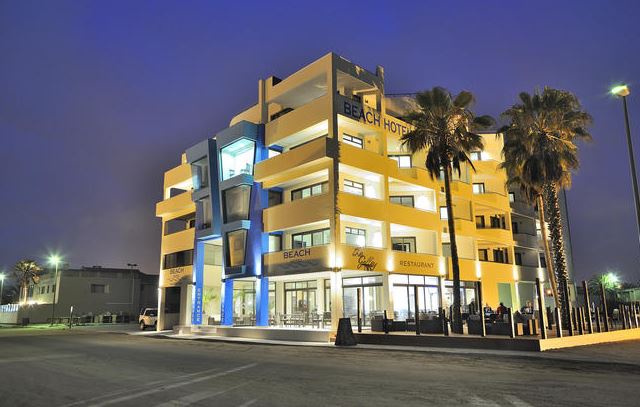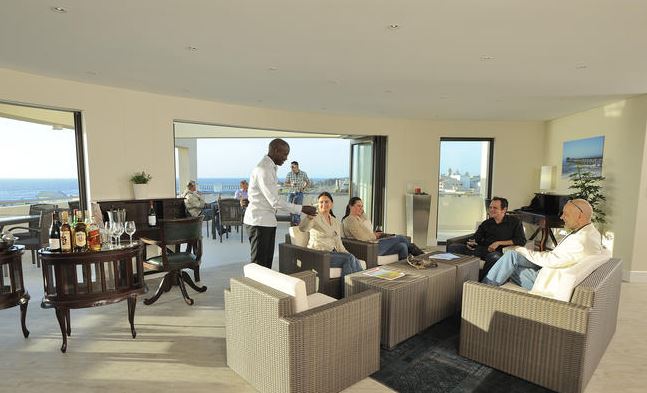 Day #20, #21 and #22=>Next we head to the coastal city of Swakopmund for three days where we will be staying at a new lodge for us Beach Hotel Swakopmund, point "K" on map. The ideal location of Beach Hotel Swakopmund, just 50 m from the Atlantic Ocean and within walking distance to the centre of Swakopmund, allows you to experience the flavour of this charming town, while providing you the opportunity to explore the surrounding areas. Beach Hotel Swakopmund offers the larges ranges of categories at the Namibian coast. From an upper market luxury apartment to an economically family unit! All rooms have a balcony and only 4 without sea views. Facilities on site include a Restaurant, "Anchor Point" which is open all year round as well as a lounge with Sundowner bar, a roof terrace with panoramic view and where you can enjoy some Sundowners or relax in the swimming pool. After a long day out you can enjoy a professional massage or head to the gym for the fitness enthusiasts.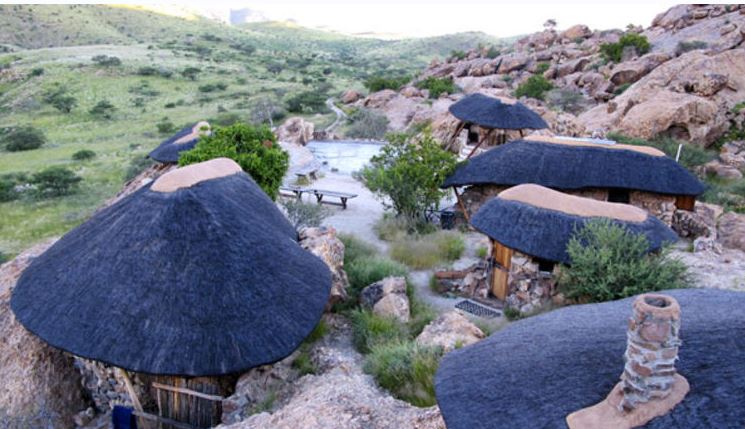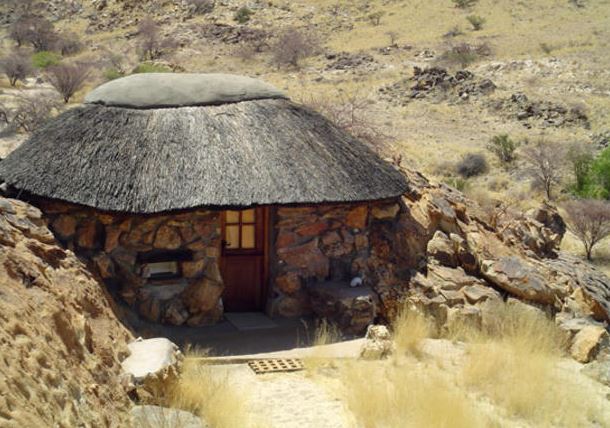 Day #23 and #24=>For our last lodge of this trip we head back inland where it is warmer to another new lodge for us Kobo Kobo Hills", point "L" on map. Kobo Kobo Hills is a rustic guest farm, situated halfway between Windhoek and the coast, on the edge of the Namib Desert. Accommodation is in thatched cottages with a swimming pool and lapa from which you can watch the game at the watering hole OR North-African style houses set amongst granite boulders. Both are beautifully camouflaged into the scenery. Breakfast and lunch is served under the lapa and can be enjoyed anywhere. Dinner is prepared on an open fire and served under the stars. Drinks are served throughout the day in our 300 degree bar or at the pool. Guests can sit back, relax and enjoy the tranquility of this ageless land, simply by floating in the pool all day, watching the birds or reading a good book. For the more adventurous, we offer hiking, abseiling, less strenuous walks and game drives.
Day #25=>Today the safari part of the trip is over. After breakfast we are driving back into Windhoek (point "A" on map) to Advance Hire where they will shuttle us to the airport to catch our 2pm flight to Johannesburg. In Johannesburg we will have a few hours to rest before our BA red-eye to London.
Day #26=>We arrive in London(Heathrow) in the early morning and have a few hours layover before boarding our last flight back to SFO. We arrive in SF later this day. Stay tune....more to come!!!