Africa Safari -- Namibia Winter 2018 Itinerary
This Safari is the first of our 2nd decade of African Safaris. Our first decade 2008-2017 we had 16 different Safaris. To celebrate our 2nd decade this is our longest safari ever, just over 4 weeks total. To our favorite African location, southern Namibia. After picking up our "Advanced Hire" Toyota truck in Windhoek we will follow this map for this safari. Full details below: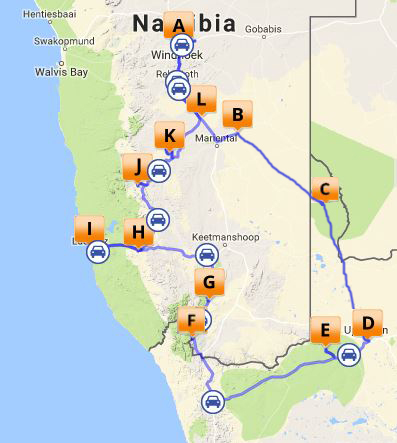 Day #1=>Depart SFO, on British Airways red-eye non-stop to Heathrow, London.
Day #2=>We touch down the morning of day#2 where we spend a short layover before boarding another red-eye non-stop to Johannesburg, South Africa.
Day #3=>Another short layover and then board a short 2hr flight to our final destination, Windoek, Namibia. Three flights from Northern California but half way around the world. Upon arrival in Windhoek we are picked up by a representative for Advanced Hire who drives us to their location where we pickup our Toyota 4x4(any color you want as long as it is white). Windhoek is Namibia's capital, home to an international airport and a plethora of restaurants, shops, entertainment venues and accommodation options. The city is clean, safe and well-organised, with a colonial legacy that is reflected in its many German eateries and shops.
The locations of the lodges we will visit on this safari are shown on the map to the right. Each lodge is represented with a different letters and will be referred to by the following day by day itinerary. One exception is "C" which represent all our Kalahari lodging during the 10 days we will be in the Kgalagadi Transfrontier Park.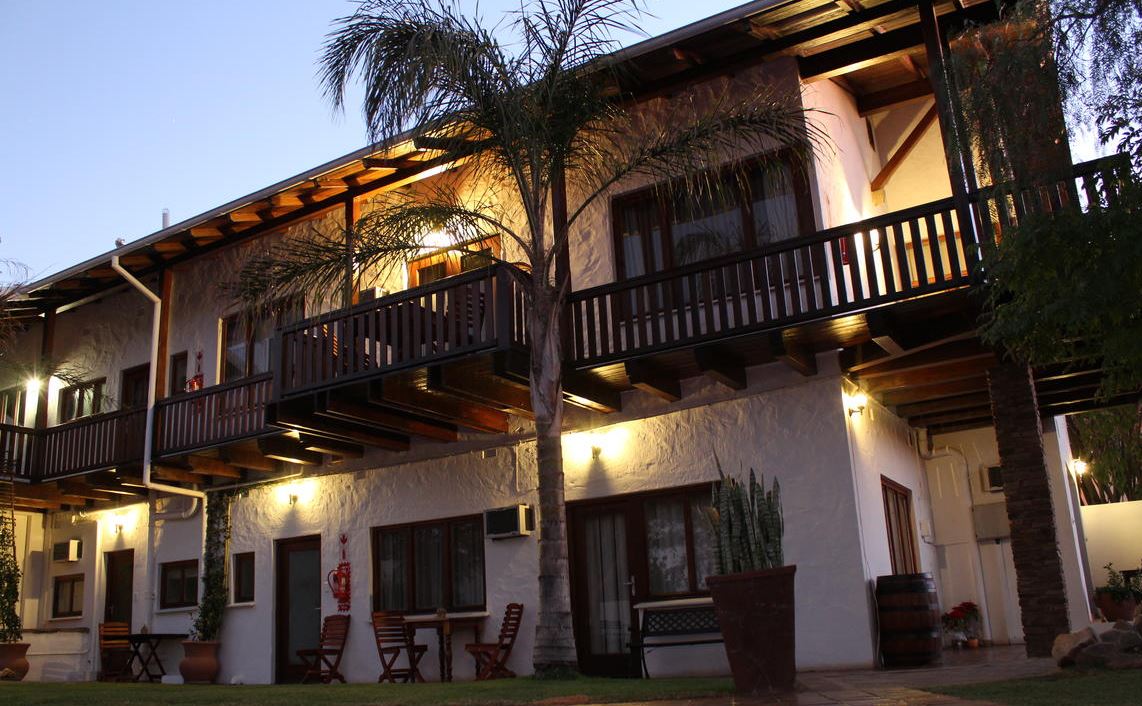 After getting the keys to our Toyota 4x4 it is a short drive to our Windhoek lodge, Hilltop Guest House, point "A" on map. This will be the 1st time at this lodge; looking forward to the view. This lodge will be great after 30+hrs of travel.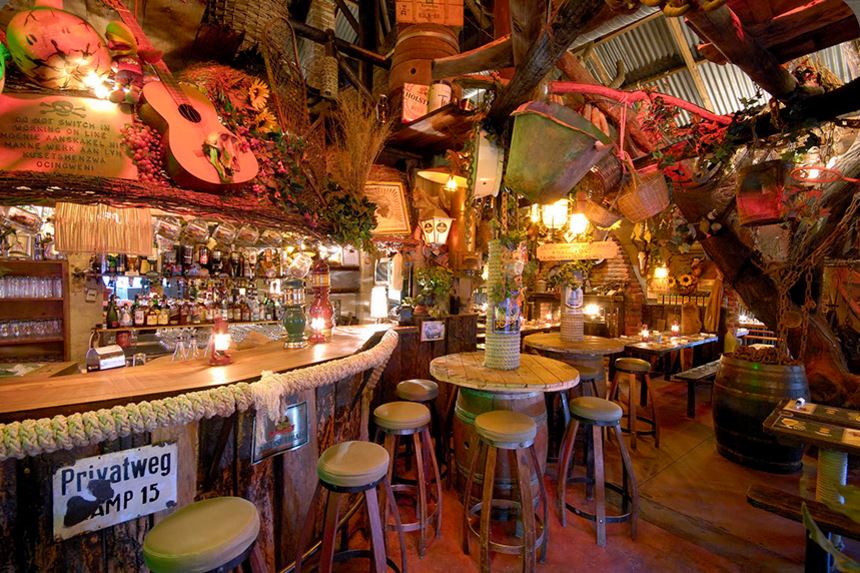 And it is only a short walk to our favorite dinner spot Joe's Beerhouse.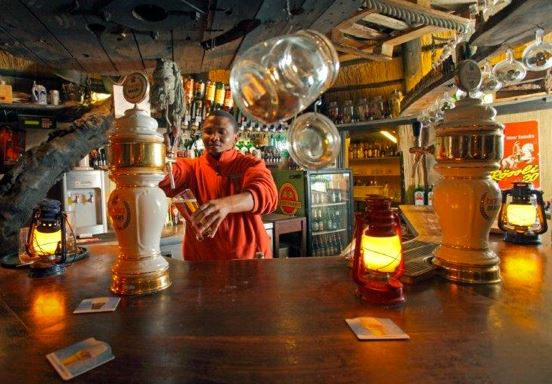 Check out the food and drinks at Joe's. This is a favorite stop of ours on every Namibia trip.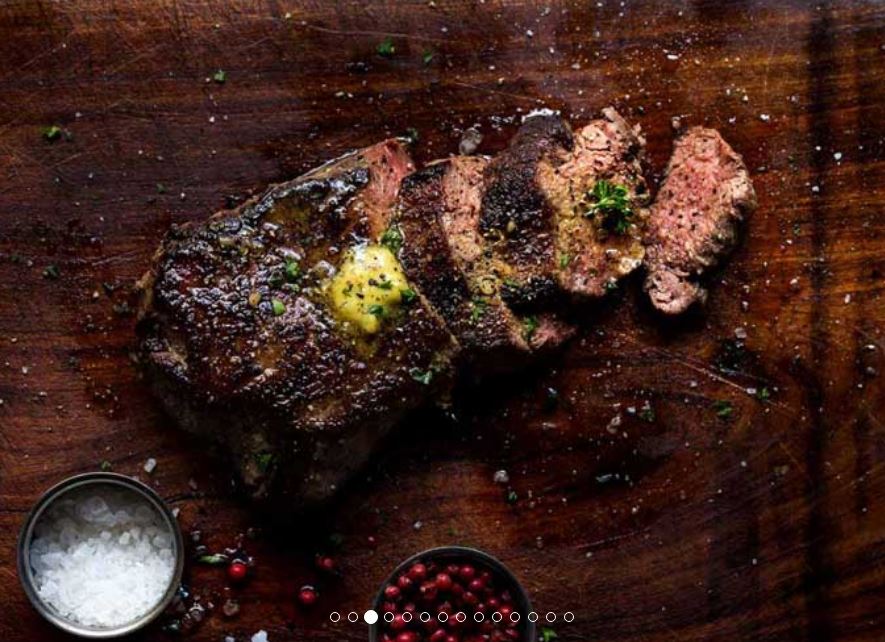 Namibia is known for GREAT food so Joe's is a good start to our 4+ week safari.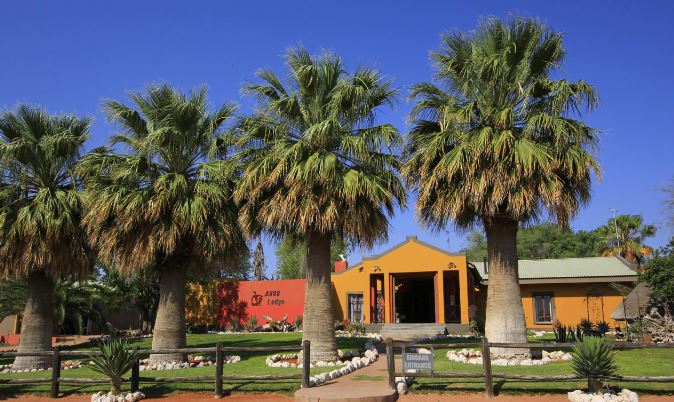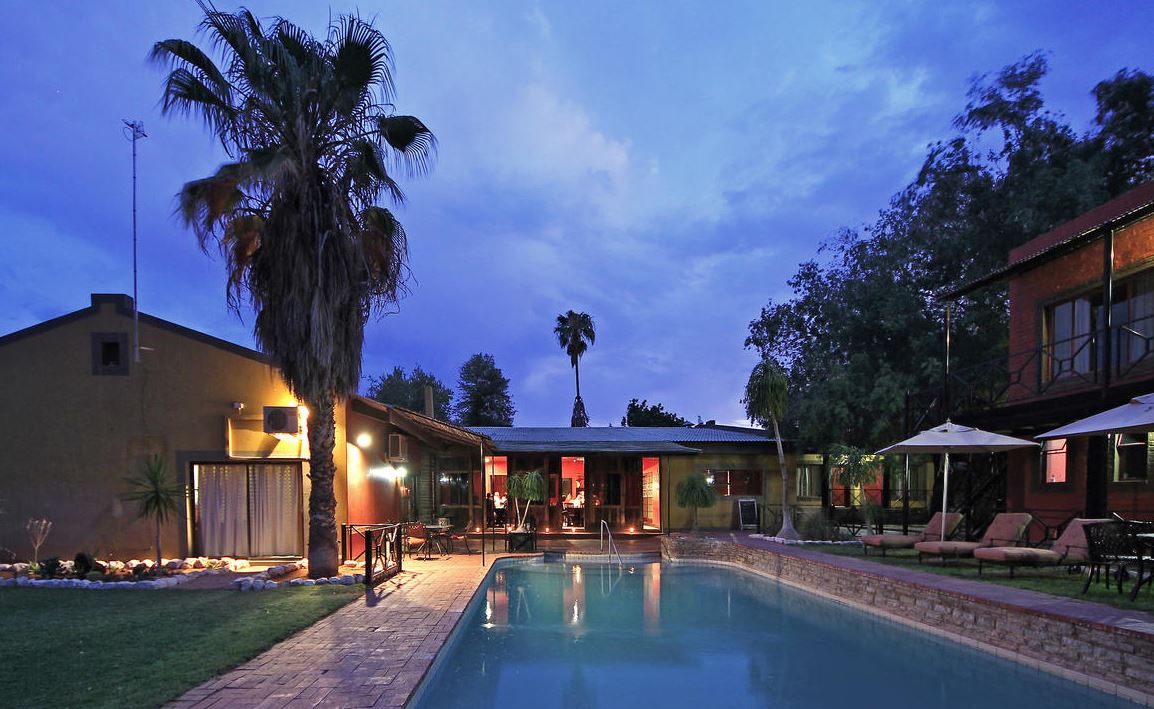 Day #4=>Before leaving Windhoek we have to get groceries for our Kalahari days where there is no food service. Our choice is the Super Spar it is huge, great store. After getting everything on our list it is time to start heading to the Kalahari. We prefer to break the drive up into 2 days and thus today only going part way to the Auob Country Lodge, point "B" on map. The Auob Country Lodge is located just outside Gochas which is much closer to Kalahari than prior years making our drive tomorrow much shorter. This one night rest stop has 25 units around an old farmhouse with traditional kitchen, a pool, lounge area, bar, etc. Very comfortable after our long day on the road.
This is our fourth year in a row to winter in the Kalahari; we just cannot get enough of it. The Kalahari is an exceptionally beautiful living desert a large semi-arid sandy savannah. Reservation are very hard to get so we therefore took advantage of being in the park in 2017 to make reservations for 2018. Accommodations in the Kalahari are mostly government run which typically means not fancy. But location is everything and thus these are some of the hardest reservation to get in Namibia. Our goal for 2018 is to repeat some of our favorites and add some new lodging options. The Kalahari is the best place in the world to see cheetah hunting and the big black main lions. Camps in the Kalahari are UNFENCED, thus accommodations are either raised or have some fencing around each unit.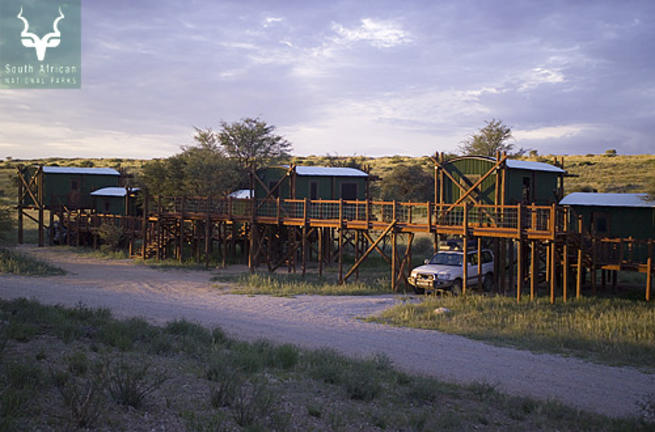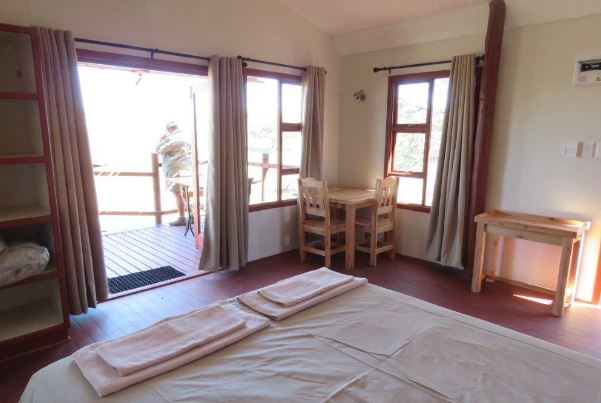 Day #5, #6 and #7=>Our 1st Kalahari lodge is one of our favorites Urikaruus Wilderness Camp, which has only 5 units. This year we were able to reserve their newest unit that is separate for the other four units and is the honeymoon tent, shown in the image to the right. Urikaruus has one of the best water holes in the Kalahari which is exclusive only for Urikaruus guests and the camp is centrally located so very easy to locate animal activity.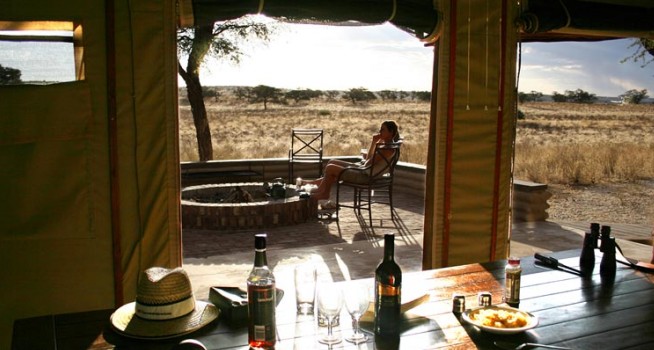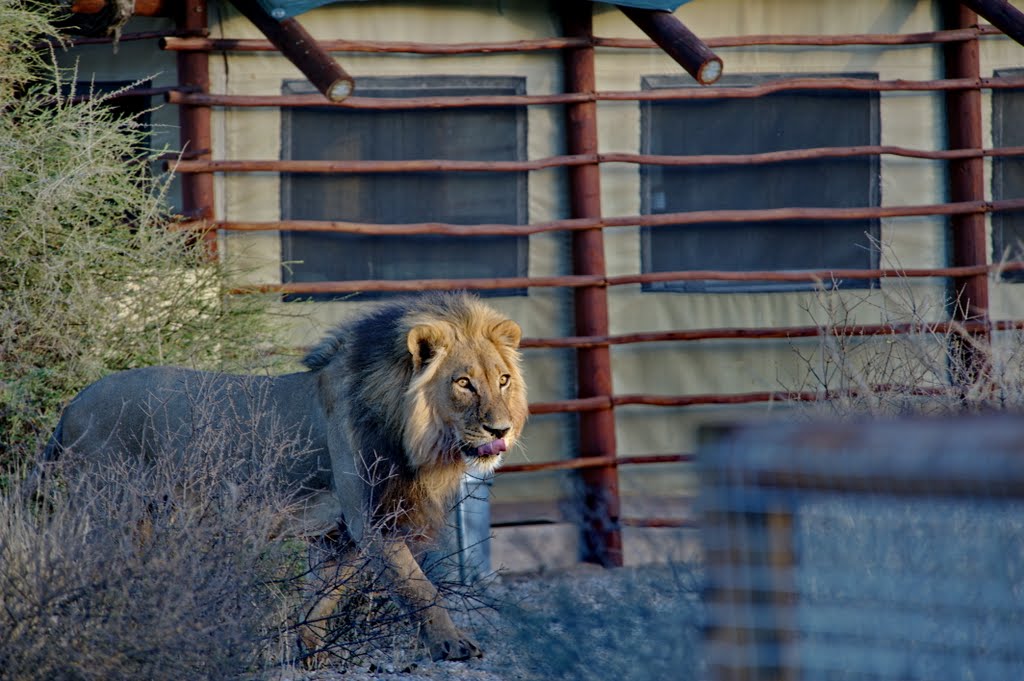 Day #8 and #9=> Our 2nd Kalahari Lodge is the first in the Nossob river basin Grootkolk Wilderness Restcamp. Grootkolk Camp consists of only four chalets or Desert Cabins, made from canvas and sand bags. This camp is neither fenced nor raised and lions love it. Claw mark in the sand bags reminds you to ALWAYS be aware of your surroundings.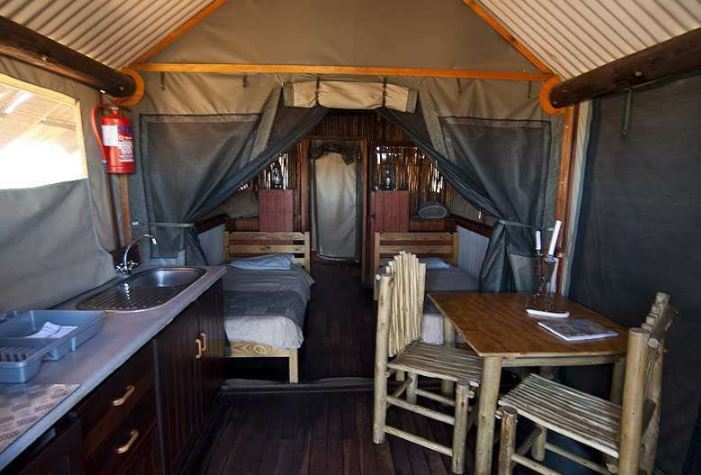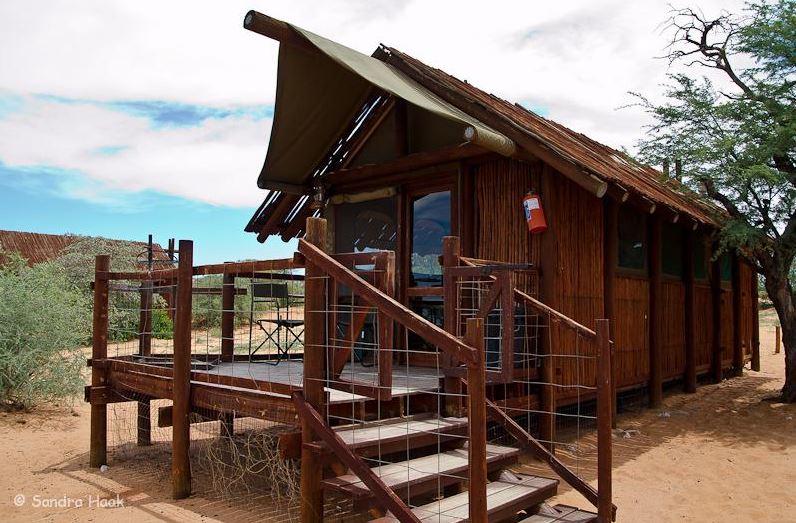 Day #10=>Our next lodge in Nossob river basin is Gharagab Wilderness Camp a favorite it you like to listen to lions roaring in the night. There are only 4 cabins and only accessible with a 4x4. The road to this camp is over red sand dune, lots of fun off-road driving.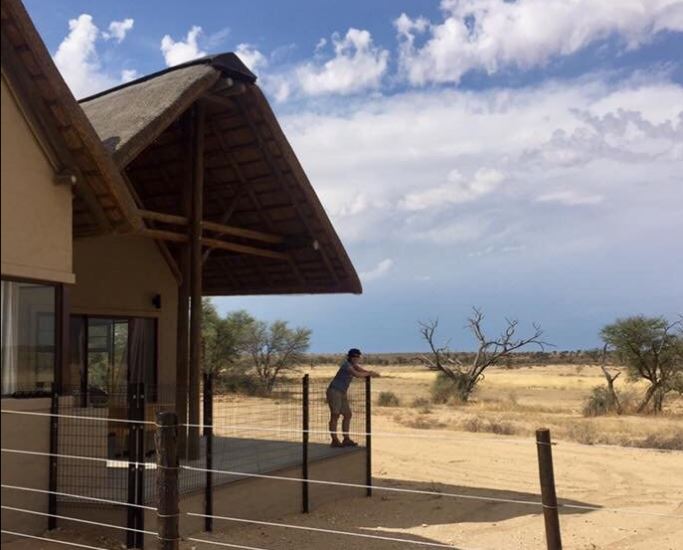 Day #11=>Our last lodge in the Nossob basin is Nossob Rest Camp. This year we have booked the brand new river front chalets. We are hoping the new units have air conditioning because it can get hot at this camp. The two prior times we have stayed here it was hotter than hell, but it is the heart of lion country so we are back.....with more ice. Nossob Rest Camp is well known for its predator sightings.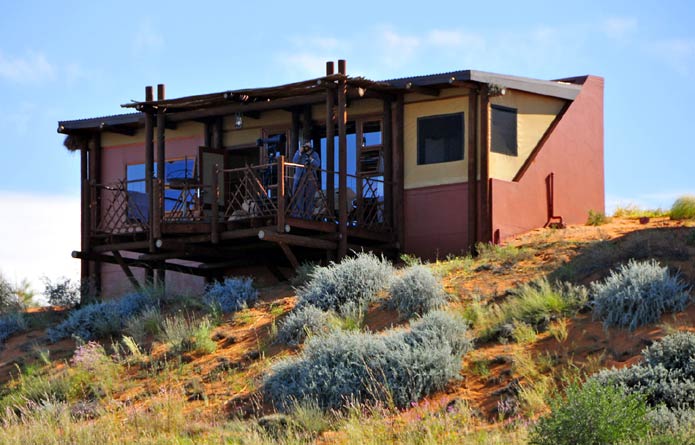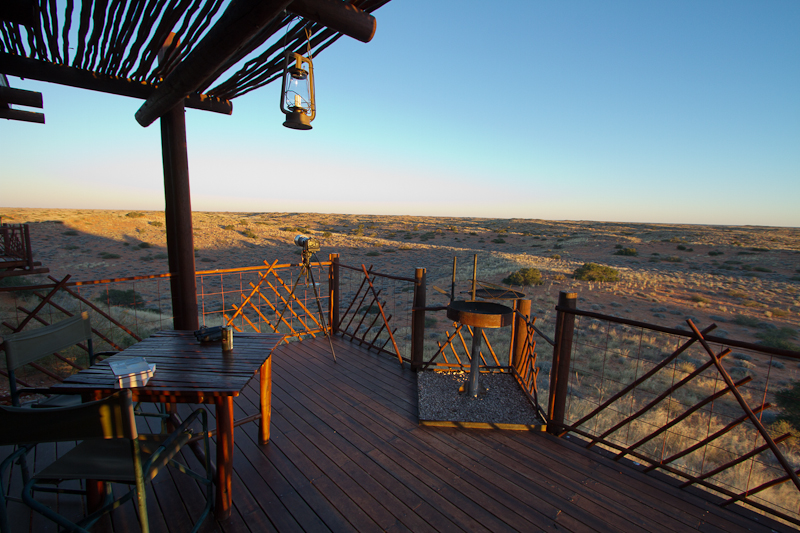 Day #12, #13 and #14=>Our last Kalahari camp is our favoriteKieliekrankie Wilderness Camp. Kieliekrankie is a self catering wilderness camp on top of red sand dunes, with endless views of the red Kalahari sands. The camp has 5 dune cabins. Each unit has 2 single beds, a bathroom, a kitchen equipped with gas fridge and freezer, solar power for lights, gas for hot water and bbq facilities on a deck.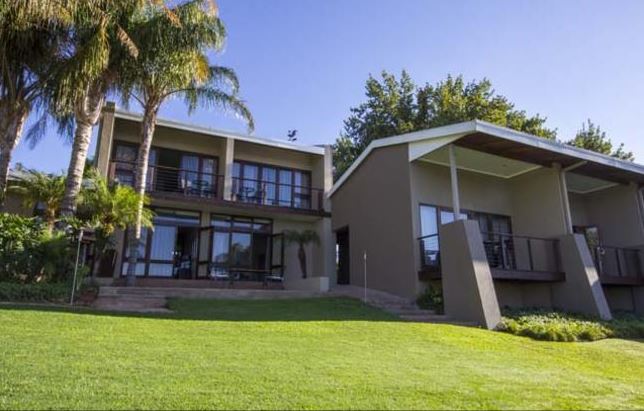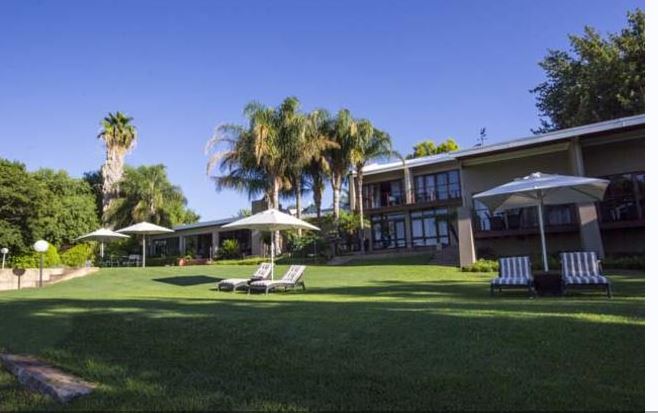 Day #15 and #16=>This is the day we leave the Kalahari. But instead of driving back into southern Namibia like we have on all prior trips we will go south into South Africa, destination River Place Manor, point "D" on map(above). This lodge is in the Orange River area home to many great South African wineries. There are even wine tasting rooms within walking distance. When not wine tasting the lodge has canoes we can take out on the river. For dinner we have the choice of going down to their restaurant and having them server dinner on our private deck. A third option is to prepare our own using their BBQ on their floating barge; might have to do both(not restaurant).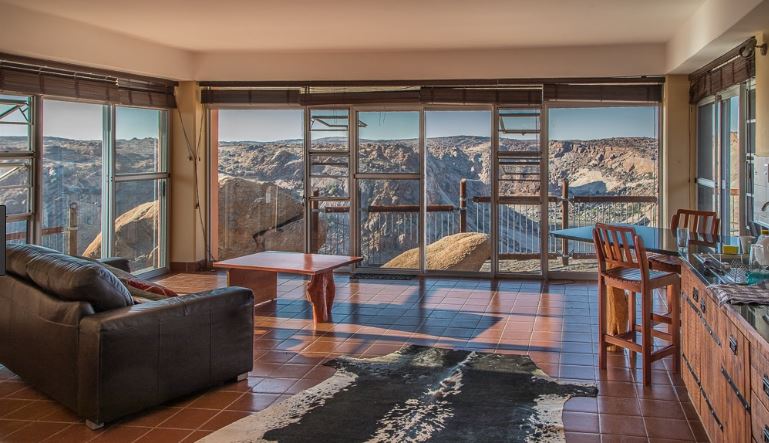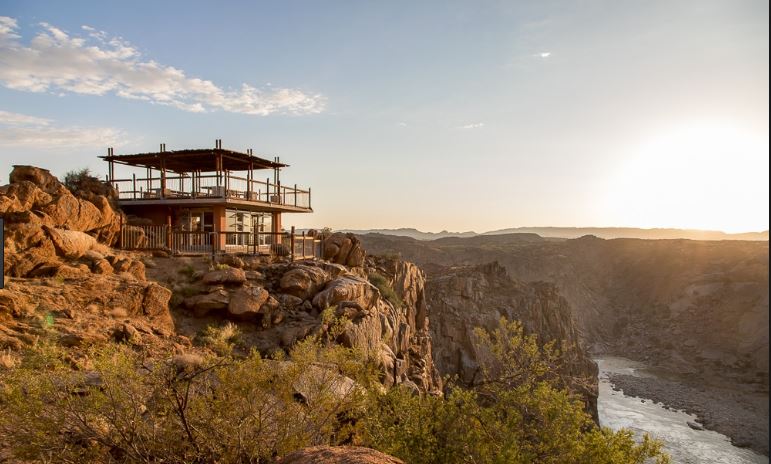 Day #17=>Our next lodge is Augrabies Falls, point "E" on map(above). This lodge is inside Augrabies Falls National Park. It provides an excellent base from which to explore the lovely northen cape park. But rather than staying at one of the rooms at the lodge we instead have the exclusive "Gorge Room", pictured in these images.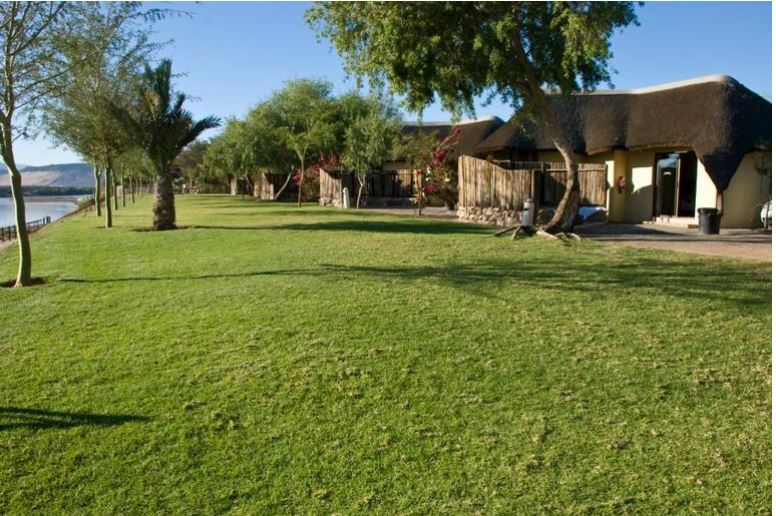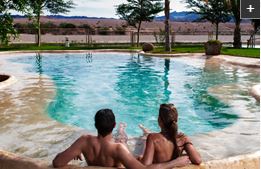 Day #18 and #19=>On this day we head north back into southern Namibia. Our destination for the next two days is Norotshama River Resort, point "F" on map(above). Norotshama River Resort is ideally situated on the banks of the Orange River. A gateway to Southern Namibia's wealth of breath-taking natural landscapes, Norotshama is nestled in the heart of the Aussenkehr Grape Valley, home to the largest export table grape farms in the southern hemisphere.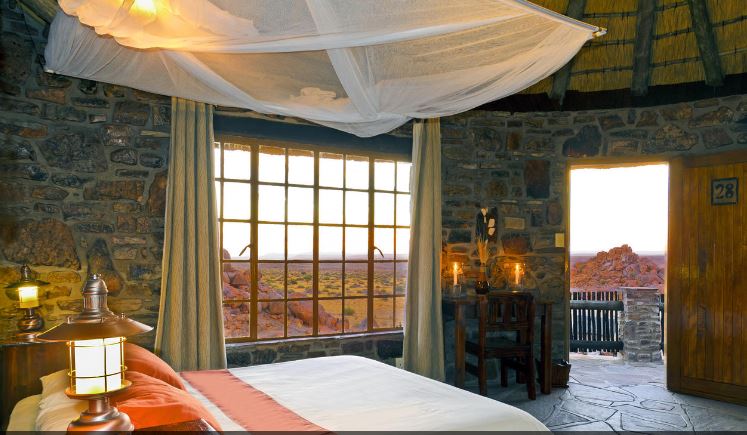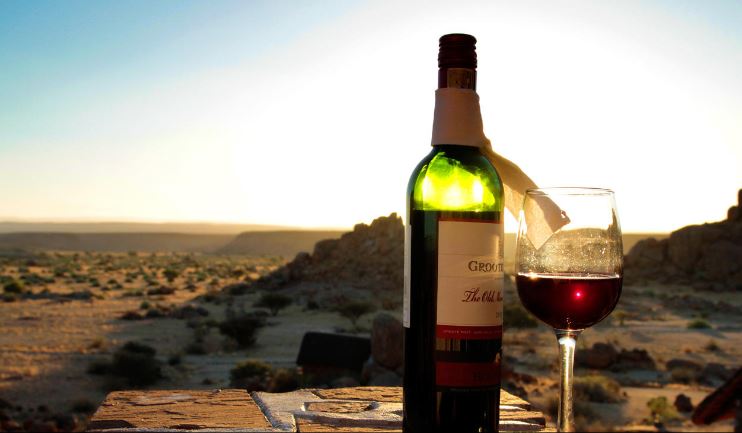 Day #20=>Our next lodge for one day is Canyon Lodge Gondwana, point "G" on map(above). Canyon Lodge is located 20 km east of the Fish River Canyon on the C37. A gem in the rugged environment, Canyon Lodge is a fusion of farmhouse flavour and natural splendour. Walkways lead to 30 natural stone chalets nestled amongst granite boulders. Carving out an epic rocky wonderland in the south of Namibia, the Fish River has created Africa's largest and the world's second largest canyon. Hot, dry and stony, the Fish River Canyon measures a whopping 160 kilometres in length, at times 27 kilometres in width and 550 metres in depth. The awe-inspiring natural beauty of this ancient geological marvel draws visitors from around the globe.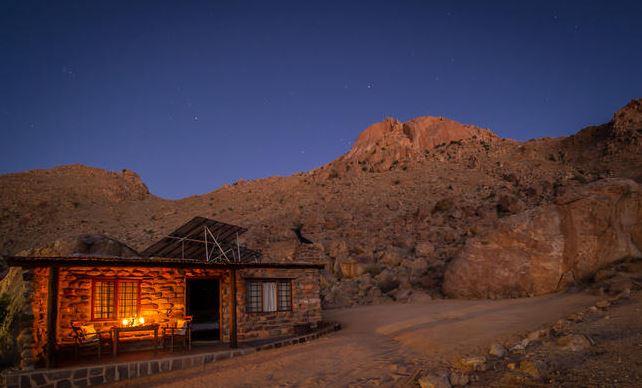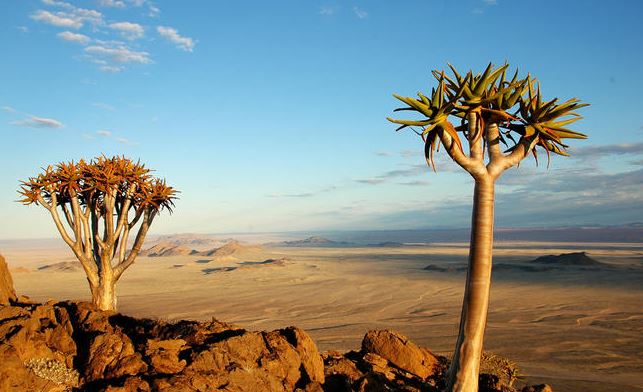 Day #21 and #22=>Our next lodge is an old favorite of ours "Eagle's Nest Chalets", point "H" on map(above). Forever landscapes, solitude, silence and sunsets. Eagle Nest is a self-catering getaway with eight individually-built rock chalets.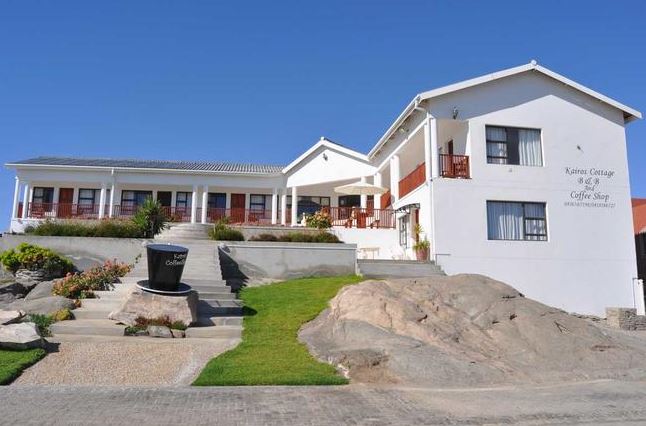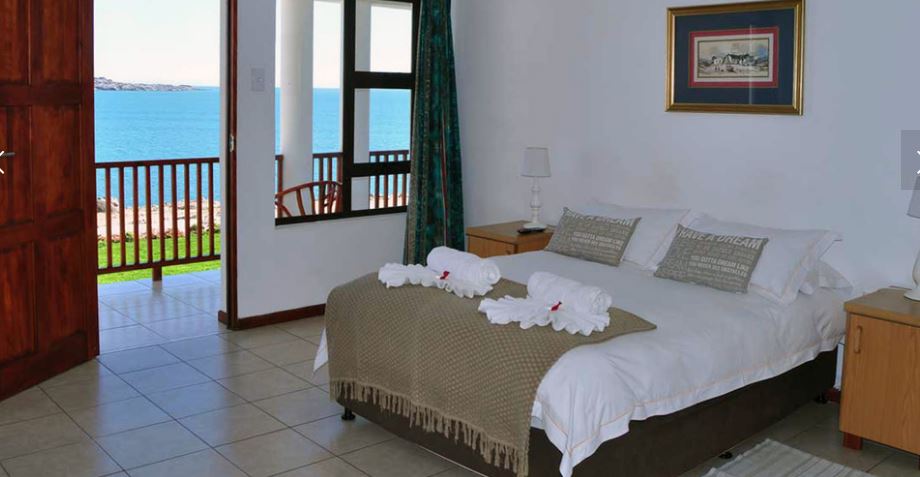 Day #23 and #24=>Today we heading west to the Atlantic Ocean, the city of Luderitz, and staying for two days at "Kairos Cottages", point "I" on map(above). Kairos Cottage is a unique bed and breakfast accommodation boasting stunning sea views and a lovely breakfast. After a lovely breadfast we plan to do the all day Coastal Safari Tour of the forbidden diamond fields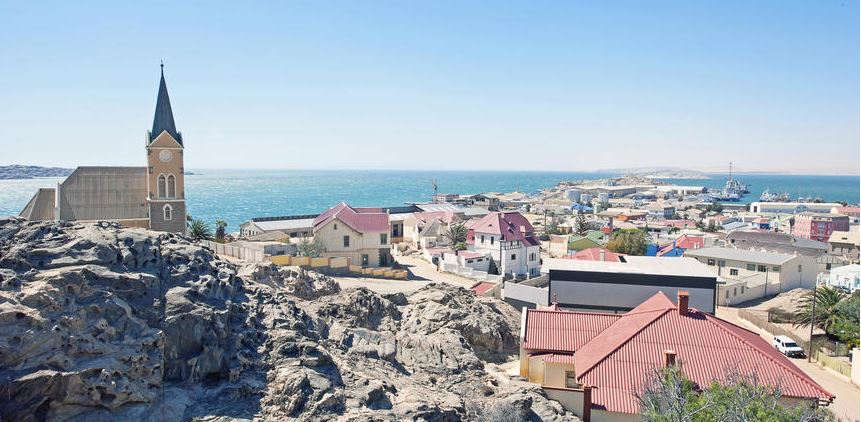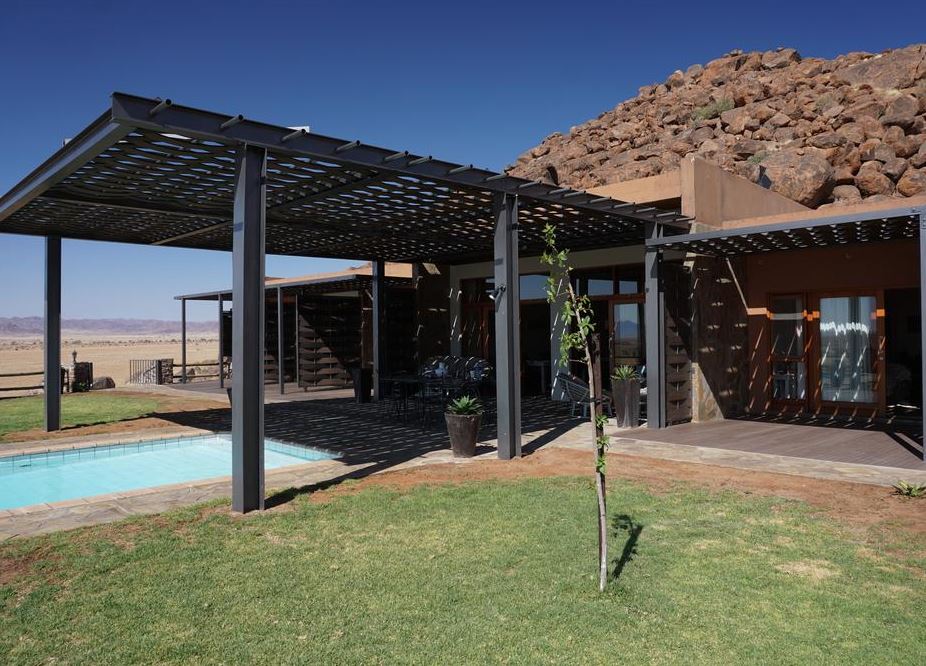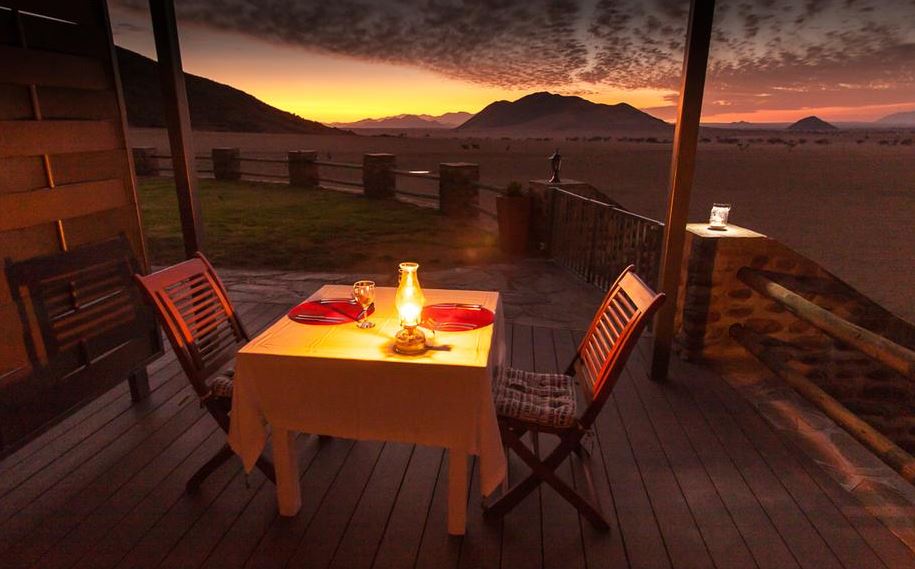 Day #25 and #26=>Today we heading northeast back to warmer weather, destination "Greenfire Desert Lodge", point "J" on map(above). Greenfire Desert Lodge is situated on a private 20000 hectare wilderness reserve, within the Namibrand Nature Reserve. The lodge offers a game viewing experience as well as comfortable accommodations, while also providing a convenient stopover between the Sossusvlei Dunes and the attractions of Fish River Canyon and Luderitz.
The lodge features six spacious, comfortably appointed en suite rooms, as well as a generous central lounge and dining area, all built of local stone to ensure warmth in winter and cool in summer. All rooms have a splendid west facing view of the surrounding desert. A terrace and sparkling swimming pool complete the package.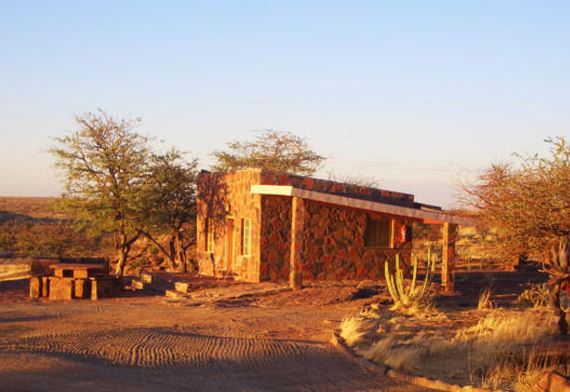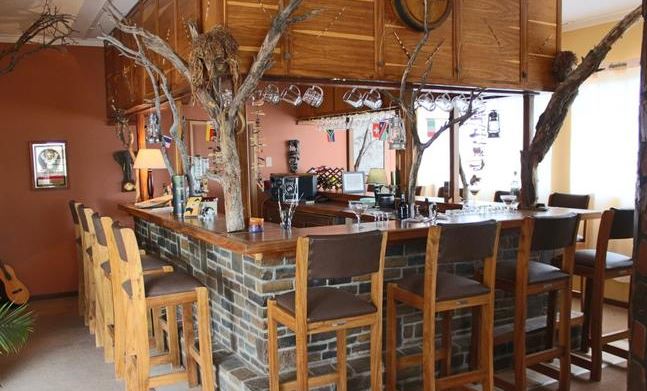 Day #27=>As this safari winds down the next lodge is just outside the capital, Windhoek. For one day we will be staying at "Namseb Game Lodge", point "K" on map(above). Namseb Game Lodge is situated at the top of the Namseb Plateau and nestled among the golden grass of the African savannah, Namseb Lodge offers guests a welcome retreat from the hustle and bustle of the city. Guests can spend lazy afternoons relaxing beside the swimming pool while enjoying nature. Sundowner game drives provide exclusive game-viewing opportunities, while hiking trails are ideal for a chance encounter with a kudu or a giraffe.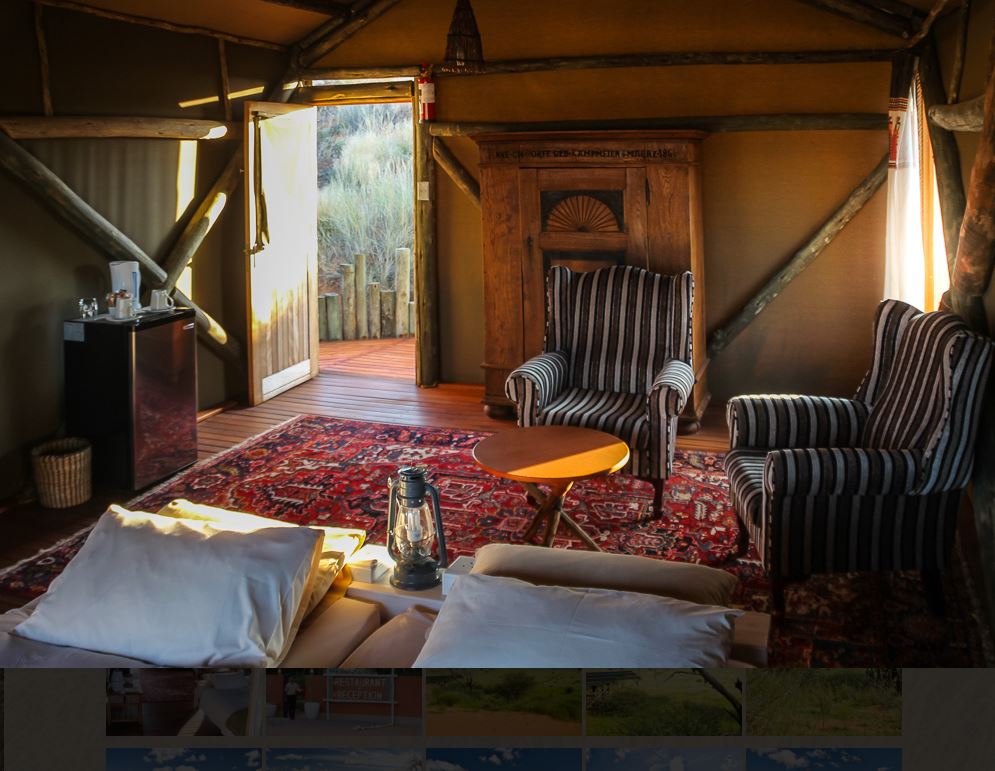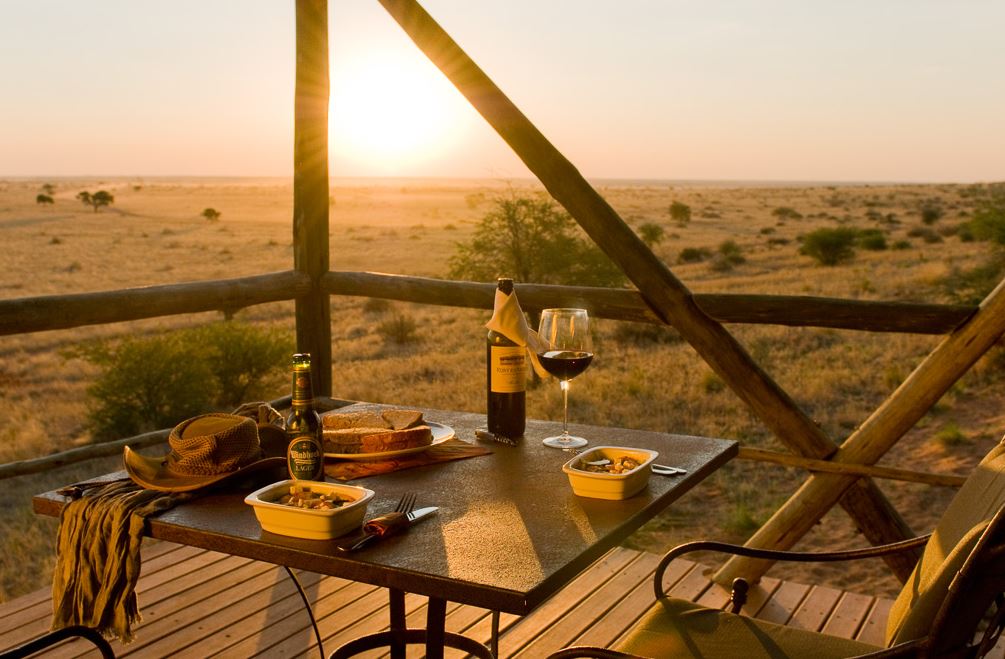 Day #28=>All good things must come to an end and so it is with our longest Safari. Our last night in Namibia (for this safari) we are staying at "Teufelskrallen Tented Lodge", point "L" on map(above). The large observation platforms of the 6 luxury tents on stilts offer a breathtaking view towards the impressive Kalahari scenery with its red dunes and camel thorn trees. The tents are large and comfortable, tastefully furnished and possess their own bathrooms that can be reached via a wooden boardwalk. Things to do include enjoying almost 10,000 acres of pure Kalahari desert during a game drive. Climb red dunes that elevate up to 30 meters in an open off-road car and watch the spectacular animals and vegetation.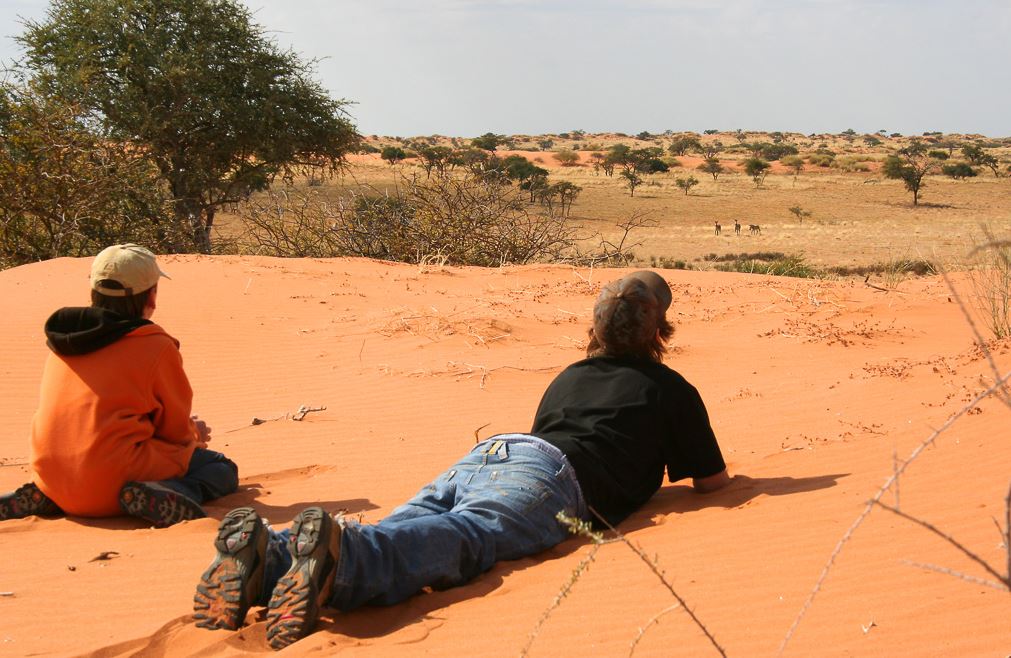 Day #29=>Today the safari part of the trip is over. After breakfast we are driving back into Windhoek (point "A" on map) to Advance Hire where they will shuttle us to the airport to catch our 2pm flight to Johannesburg. In Johannesburg we will have a few hours to rest before our BA red-eye to London.
Day #30=>We arrive in London(Heathrow) in the early morning and have a few hours layover before boarding our last flight back to SFO. We arrive in SF later this day ending our longest safari ever. Stay tune....more to come!!!