Africa Safari -- Namibia 2020
This will be our 10th Namibian safari and we are making major changes. The length of this trip will a month+ which is very similar to recent trips; no change. The major change will be our animal safari time. On prior safaris we have always picked up our truck after touch-down. Then driven to the store for provisions and immedately headed for an animal park. Which means our first week is always a bit tough since we are dealing with 11 hours of jet-leg. On this trip will plan to start with some R&R days ahead of our animal safari days so we will be fully adjusted by the time we get to the Kalahari. Additionally after 9 trips with the same truck rental company we have decided to try a new rental company. We became very fond of the frig in the back that was powered by a 2nd battery and when that feature was eliminated we needed to find an alternative. We considered just buying lots of ice, frequently, and doing it the old fashion way but then found a company that still offers this feature. The new rental company also does not rent trucks with an empty fuel tank and expect you to return empty(very hard to do). For this Namibia trip we will be picking up our "Toyota truck" at "Safari Car Rental" in Windhoek; and we will follow this map for this trip. Full details below: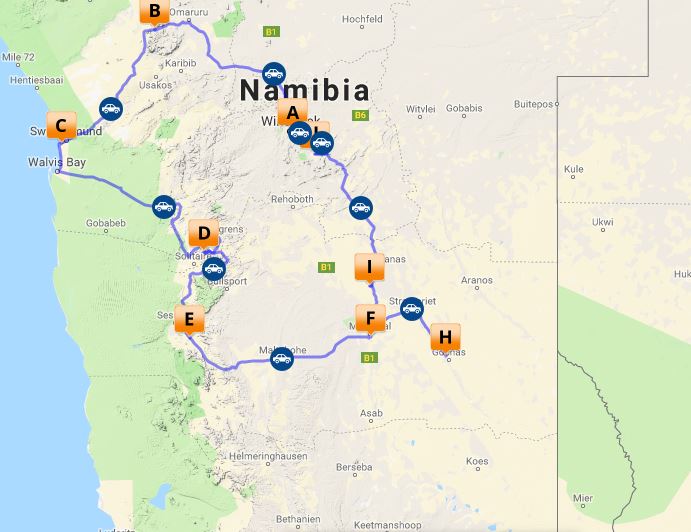 Day #1=>Depart SFO, on British Airways red-eye non-stop to Heathrow, London.
Day #2=>We touch down the morning of day#2 where we spend a short layover before boarding another red-eye non-stop to Johannesburg, South Africa.
Day #3=>Another short layover and then board a short 2hr flight to our final destination, Windoek, Namibia. Three flights from Northern California to go half way around the world and a different hemisphere. Upon arrival in Windhoek we are picked up by a representative from "Safari Car Rental" who will drives us to their location where we pickup our Toyota 4x4(any color you want as long as it is white). Windhoek is Namibia's capital. The city is clean, safe and well-organised, with a colonial legacy that is reflected in its many German eateries and shops.
The locations of the lodges we will visit on this trip are shown on the map to the right. Each lodge is represented with a different letters and will be referred to by the following day by day itinerary. One exception are the 12 days between "F" and "H" when we will be in the Kgalagadi Transfrontier Park which is the green area in the bottom right corner of this map. The Kgalagadi Transfrontier Park is actually in South Africa and Botwanna. The straight vertical line on the map is the Namibian border and the curved line in the green area is the South Africa, Botswanna border. All of our lodges inside the Kgalagadi Transfrontier Park are in and run by South Africa, thus we will technically only be in the west side of the park.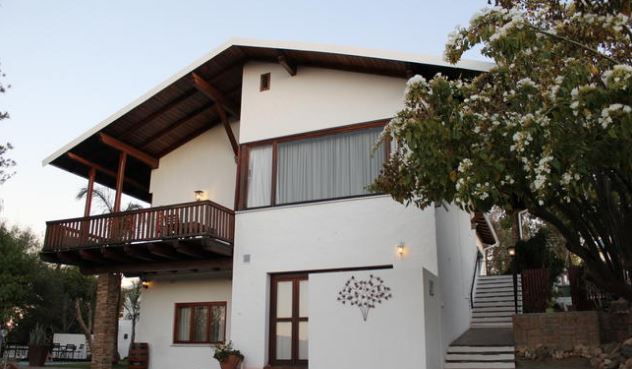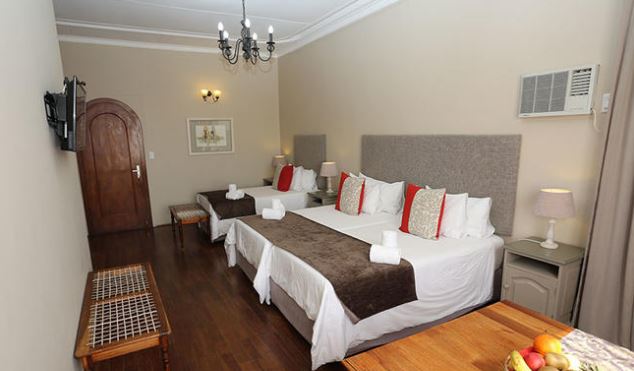 After picking up our Toyota 4x4 it is a short drive to our Windhoek lodge, Hilltop Guest House, point "A" on map. This will be our 4th visit to this lodge. This is a great lodge to recoupe after 30+hrs of travel that included two red-eye flights. This lodge is centrally located in a quiet cul-de-sac on top of a hill in Klein Windhoek with a magnificent view of Windhoek and surrounding mountains. At night time this becomes a wonderland of light and color.
But more importantly from this lodge it is only a short walk to our favorite dinner spot Joe's Beerhouse.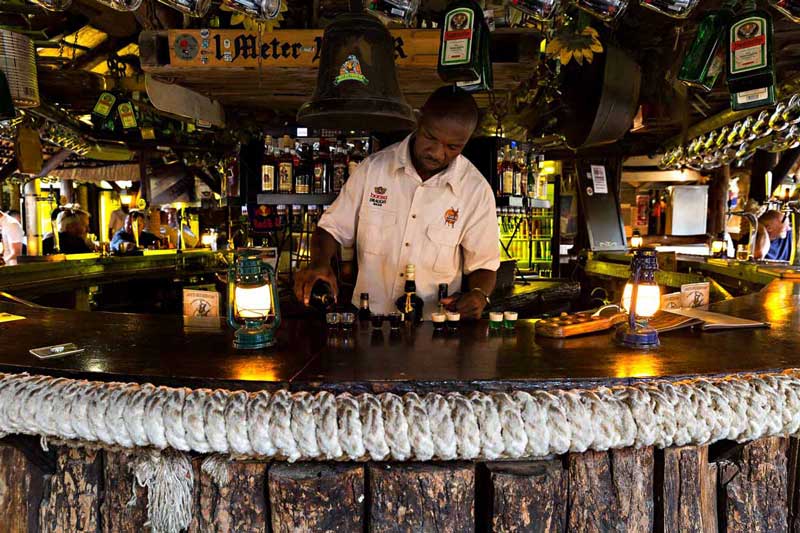 Check out the food and drinks at Joe's. This is a favorite stop of ours on every Namibia trip.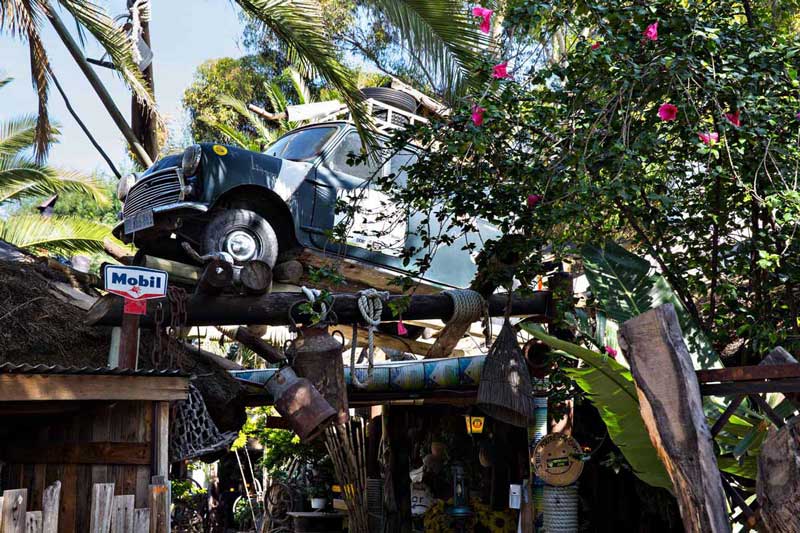 Namibia is known for GREAT food so Joe's is a good start to EVERY safari.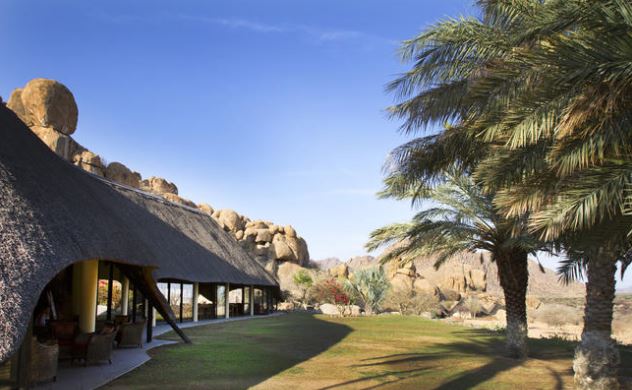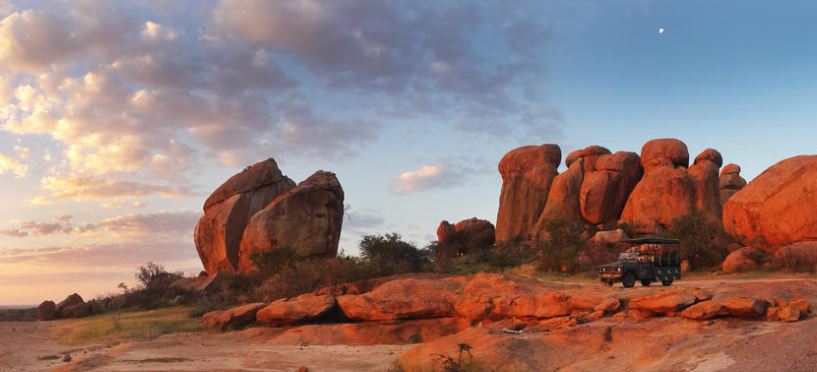 Day #4 and #5=>As you can see from the map above we immediately head northwest. Our first destination is Ai Aiba - The Rock Painting Lodge in the Erongo Mountains; point "B" on our route map. This lodge is set afoot massive granite rock boulders, overlooking the magically beautiful Erongo mountain range. The panoramic view from the restaurant and bar is amazing. The crystal clear pool invites you to refresh and relax. Here you can enjoy the tranquility and purity of Africa. Which definately qualifies for an R&R lodge.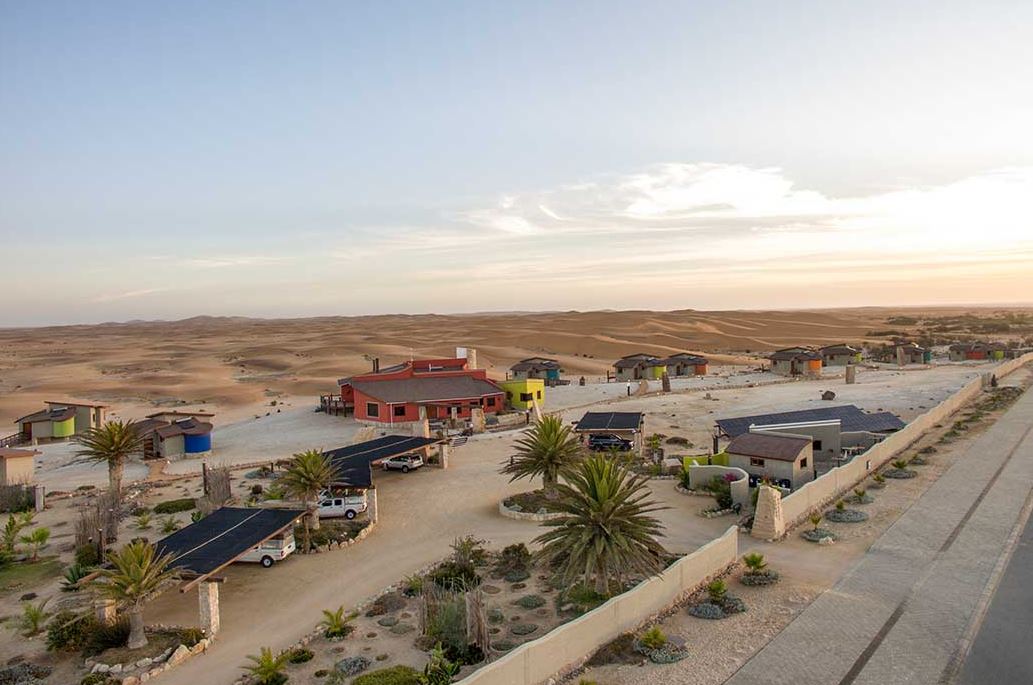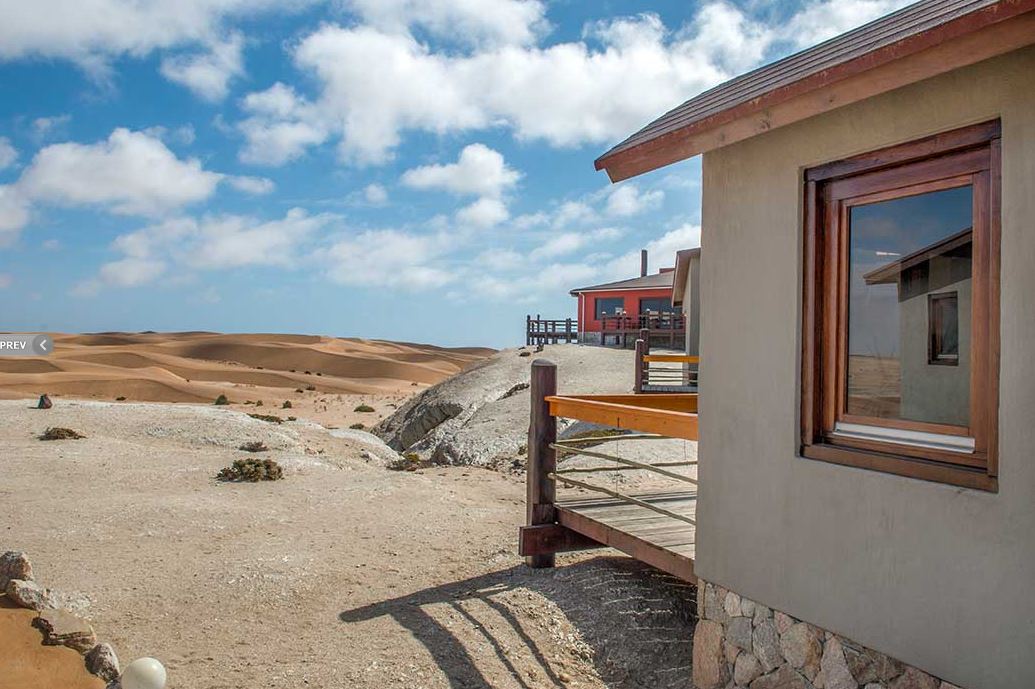 Day #6, #7 and #8=>Our next lodge is in the seaside city of Swakopmund where we are staying at a new lodge for us the Desert Breeze Lodge; point "C" on our route map. This lodge is a very short drive from city center and seaside dinning. The Desert Breeze bungalows overlook the oldest desert in the world. It is surrounded by colourful and very unique architecture contrasting but yet fitting in with the desert landscape.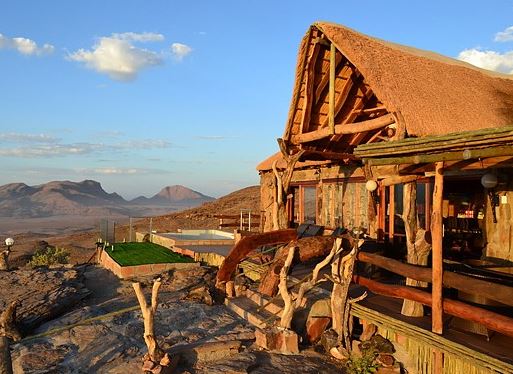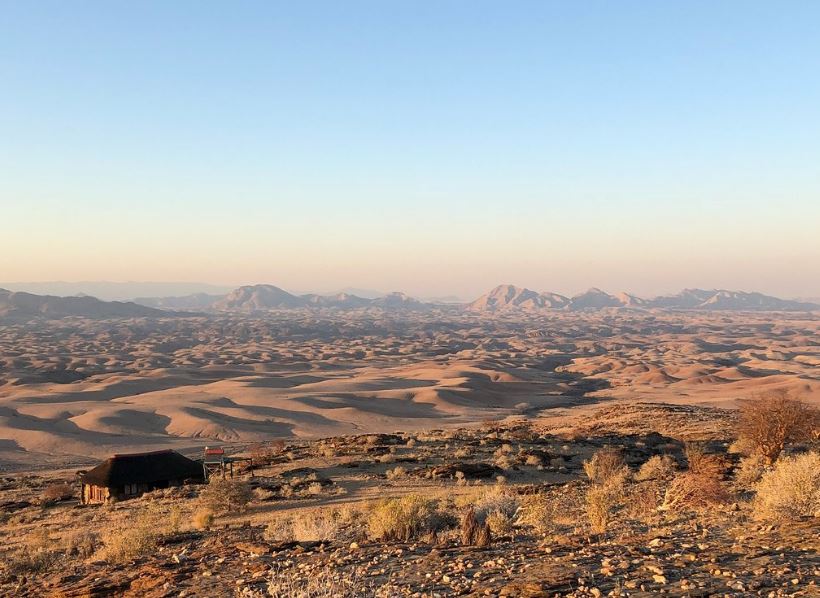 Day #9 and #10=>Our next lodge, another new lodge for us, Namib's Valley of a Thousand Hills, which has a panoramic view of the Guab Valley; point "D" on our route map. The valley is riddled with thousands of hills creating a photographers heaven. This natural scenery creates a fairy tale feel to a place otherwise known for its dry and arid conditions. Main building boast, bar/lounge, Dinning area, Free WiFi spot and the outdoor swimming pool.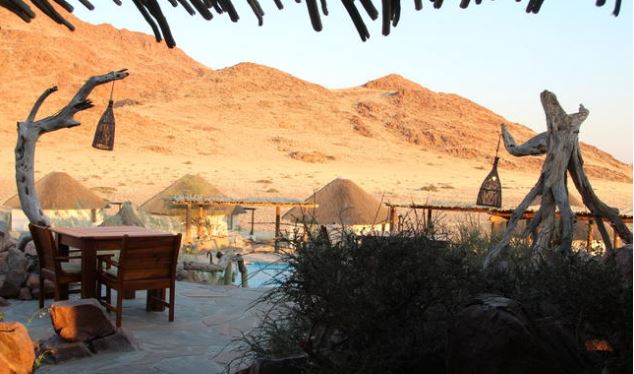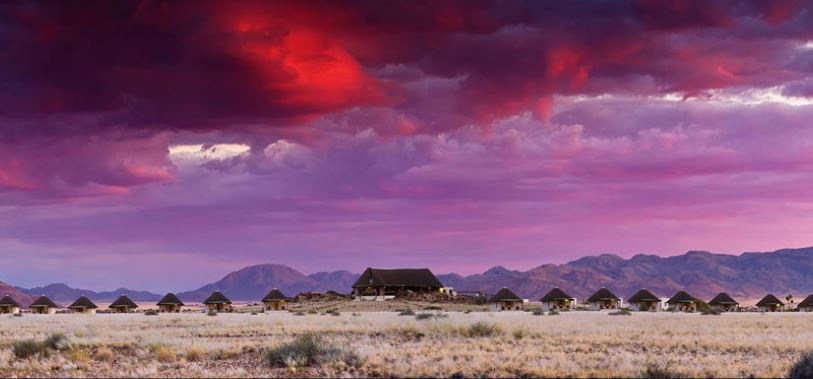 Day #11, #12 and #13=>Our next lodge is in my favorite area in the whole world, Sossusvlei. Our destination lodge is the Desert Homestead Lodge, also new for us; point "E" on our route map. The wide grassy valley in which the lodge is situated is sheltered by the Nubib, Tsaris and Naukluft Mountains with a view reaching the distant dunes of the Namib Desert in the west. Tranquil surroundings, al fresco dining, delectably fresh farm cuisine, refreshing dips in the pool, stunning sunsets and sunrises are the basic pleasures at the lodge. Each day see nature at her most profound. Rugged landscapes bathed in hues of pastel ... a truly humbling experience.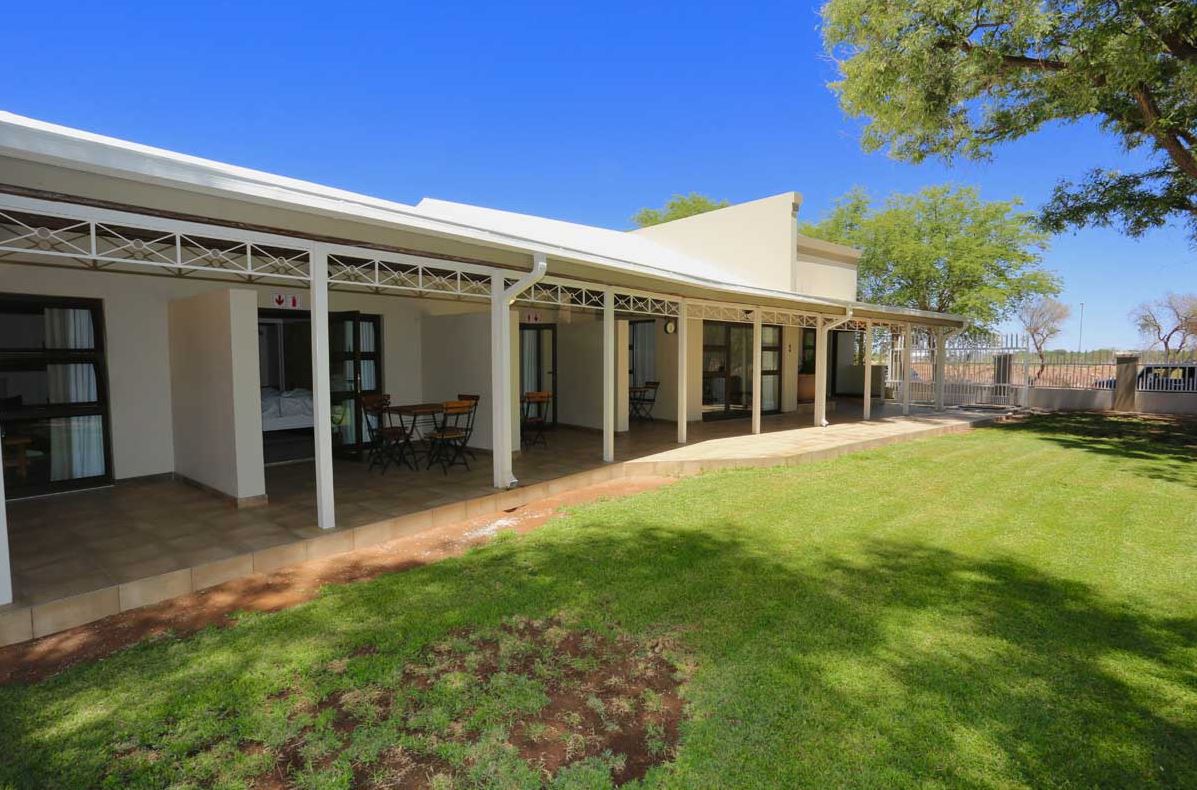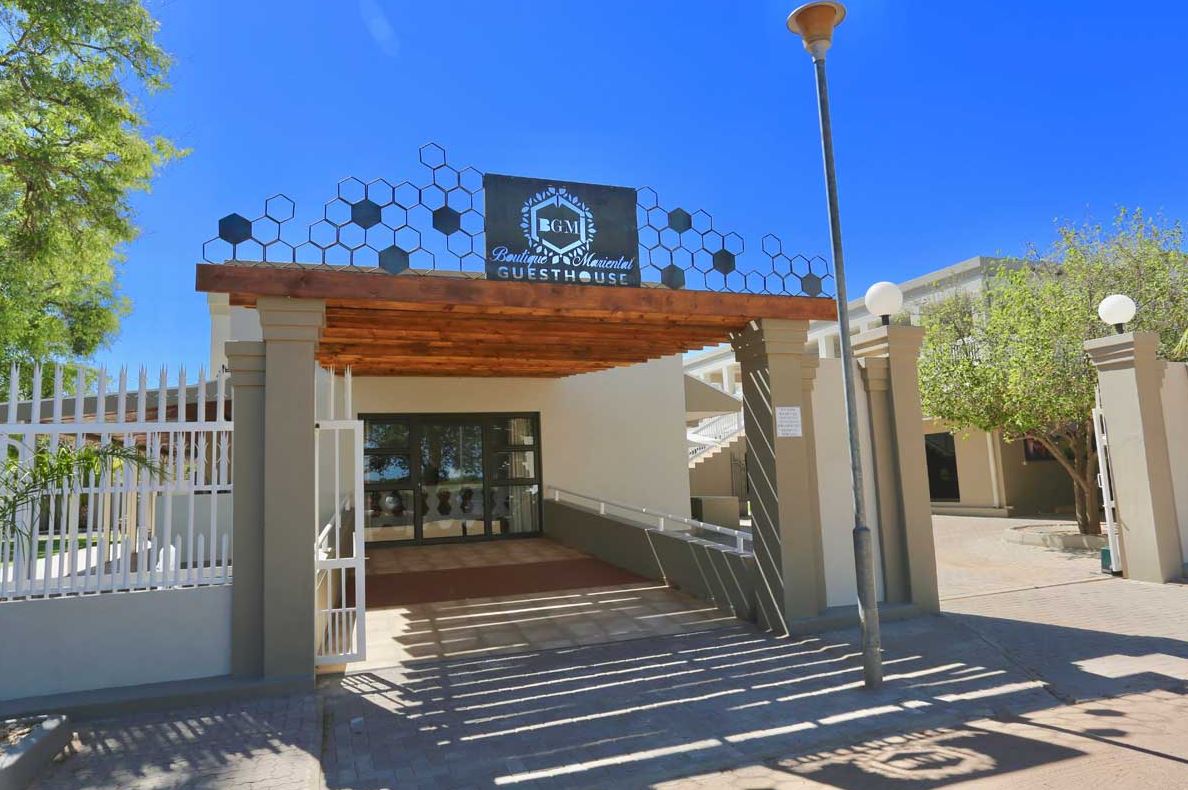 Day #14=>After two weeks of rest and relaxation it is time for our animal safari. Unfortunately the Kalahari is on the east side of Namibia and our currently location in Sossusvlei is the west side of Namibia. Thus it will take a couple days to reach the park. Our next lodge, heading east, is in the city of Mariental. Our destination lodge is the Boutique Mariental Guesthouse; point "F" on our route map. Rooms have air-conditioning, coffee making facilities, fridge, microwave, safe and satellite TV. All rooms have a table and chairs on your private balcony. Breakfast in their private restaurant.
This is our sixth year in a row to return to the Kalahari; we just cannot get enough of it. The Kalahari is an exceptionally beautiful living desert a large semi-arid sandy savannah. Accommodations in the Kalahari are mostly government run(South Africa National Parks) which typically means not fancy. But location is everything and thus these are some of the hardest reservation to get in all of Namibia. The Kalahari is the best place in the world to see cheetah and leopard hunting and the big black main lions. Camps in the Kalahari are UNFENCED, thus accommodations are either raised or have some fencing around each unit.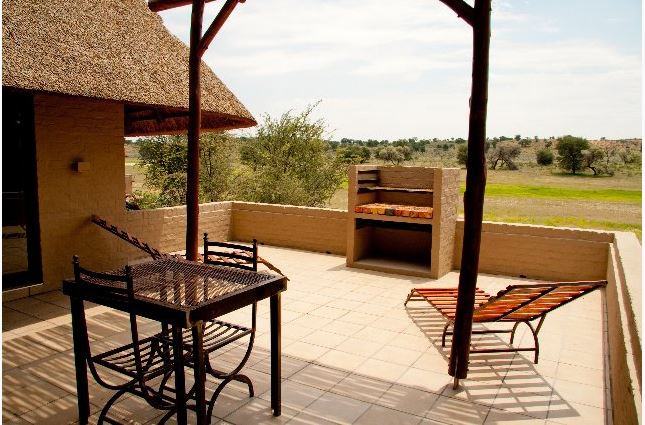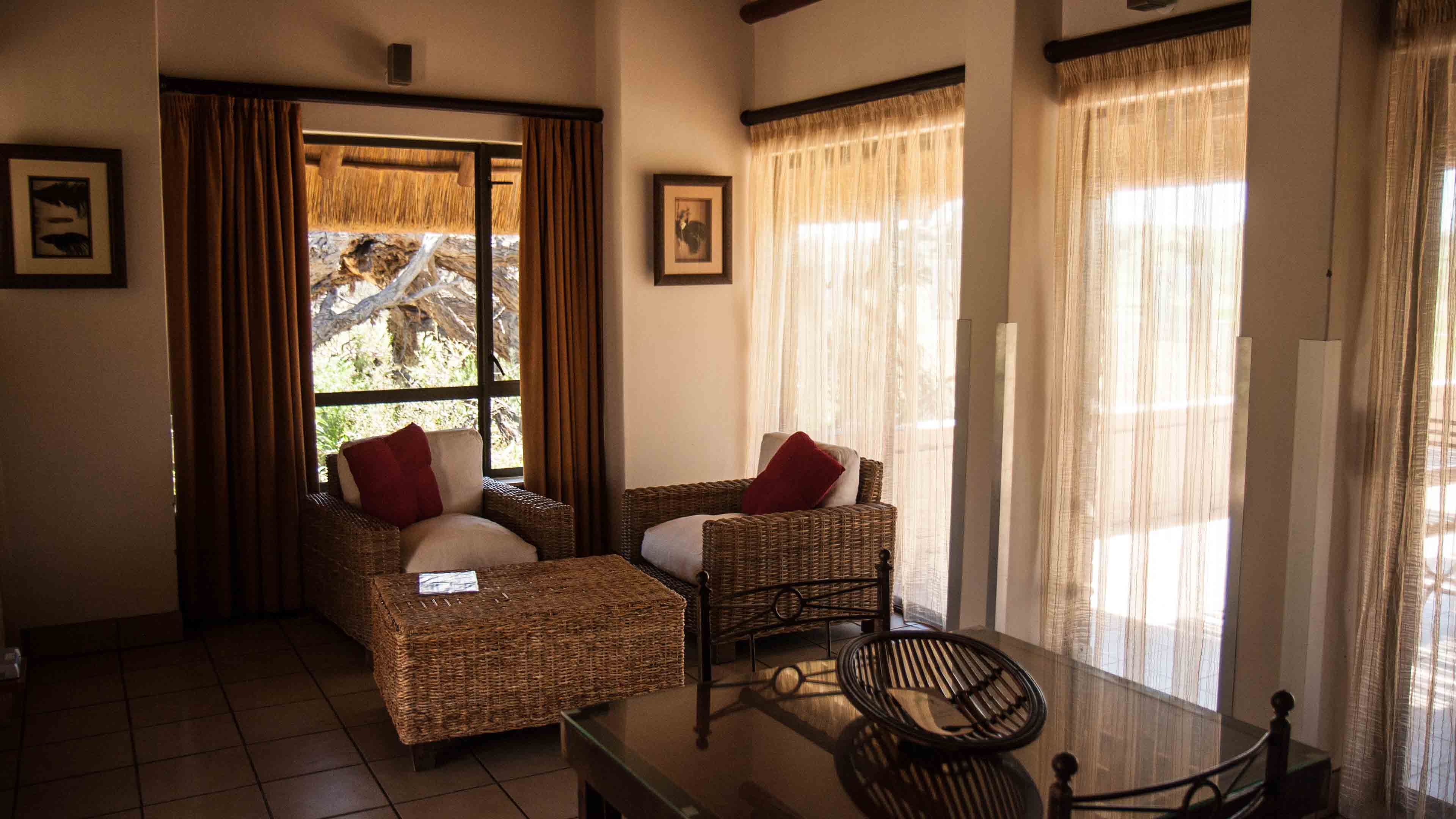 Day #15=>Our first night in the Kalahari is just inside the Mata-Mata gate; green area on the map. The river chalets are very nice, and an excellent place to organize food for our Kalahari days.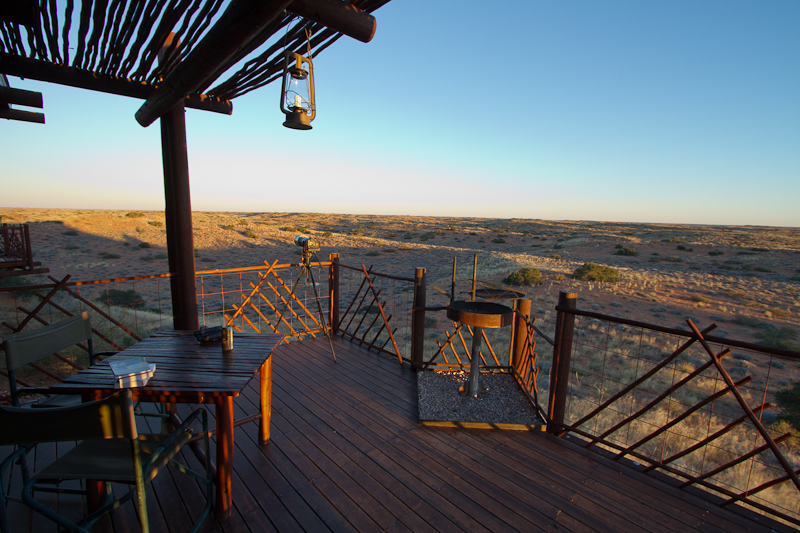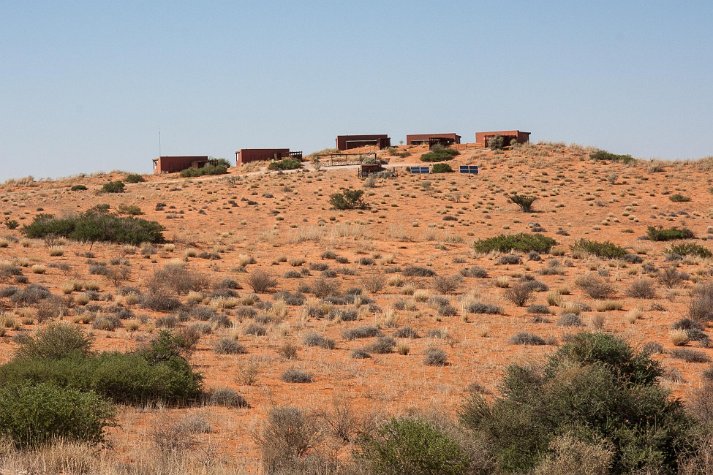 Day #16, #17, #18 and #19=>Our 2nd Kalahari camp is our favorite Kieliekrankie Wilderness Camp. Kieliekrankie is a self catering wilderness camp on top of red sand dunes, with endless views of the red Kalahari sands. The camp has 5 dune cabins. Each unit has 2 single beds, a bathroom, a kitchen equipped with gas fridge and freezer, solar power for lights, gas for hot water and bbq facilities on a deck.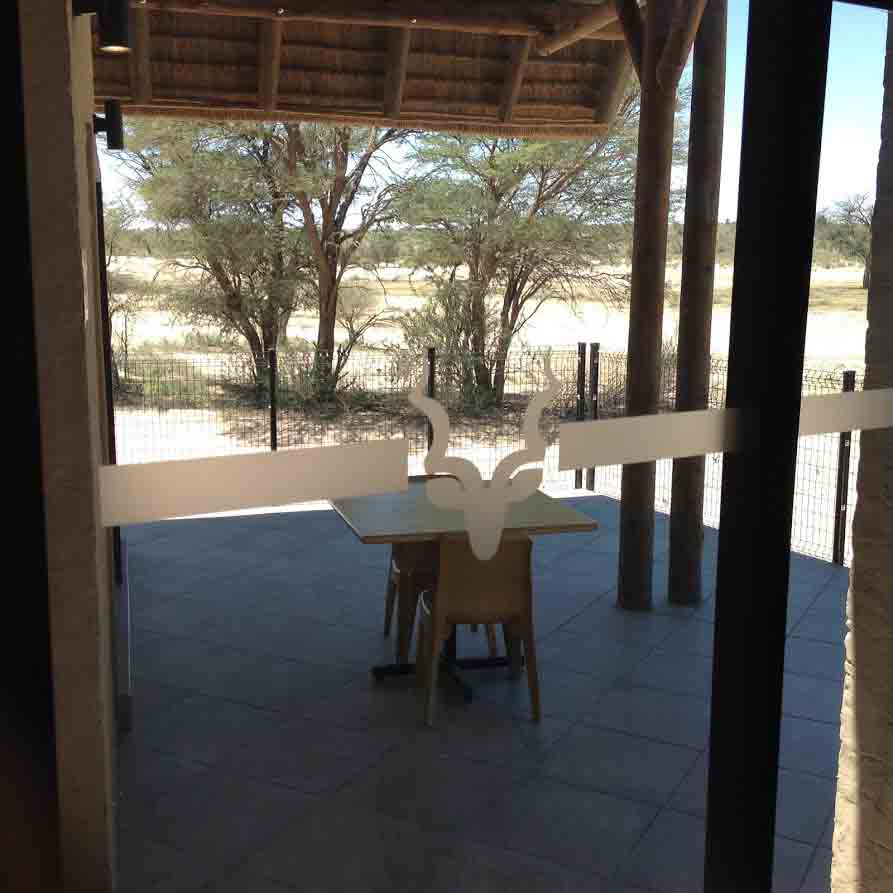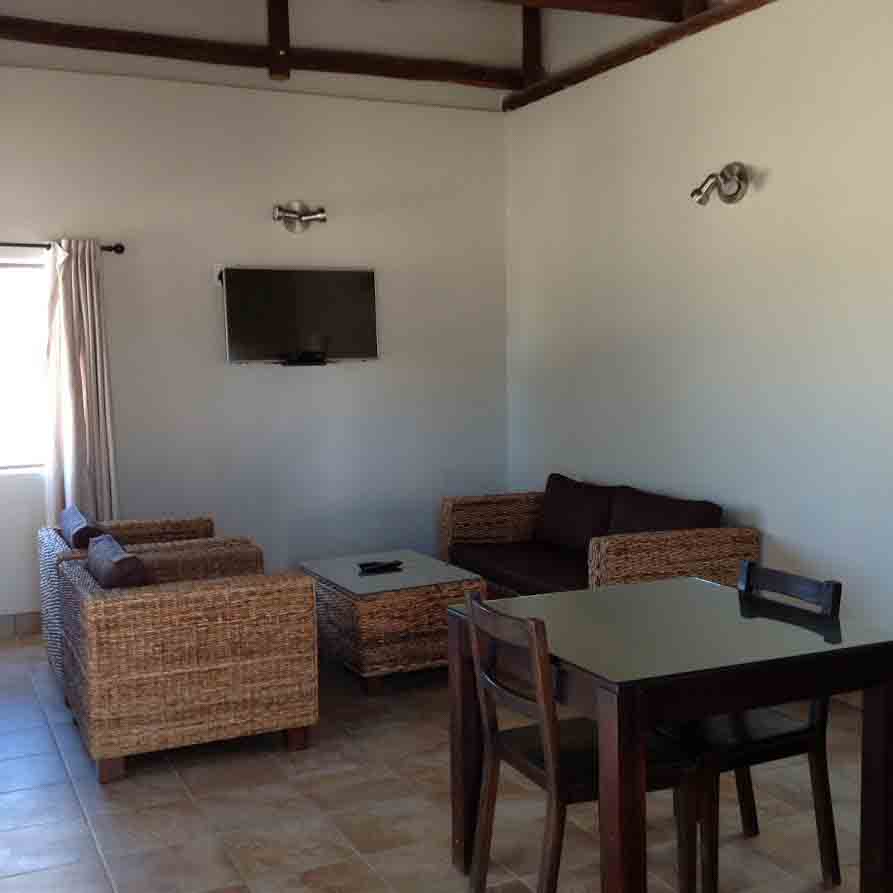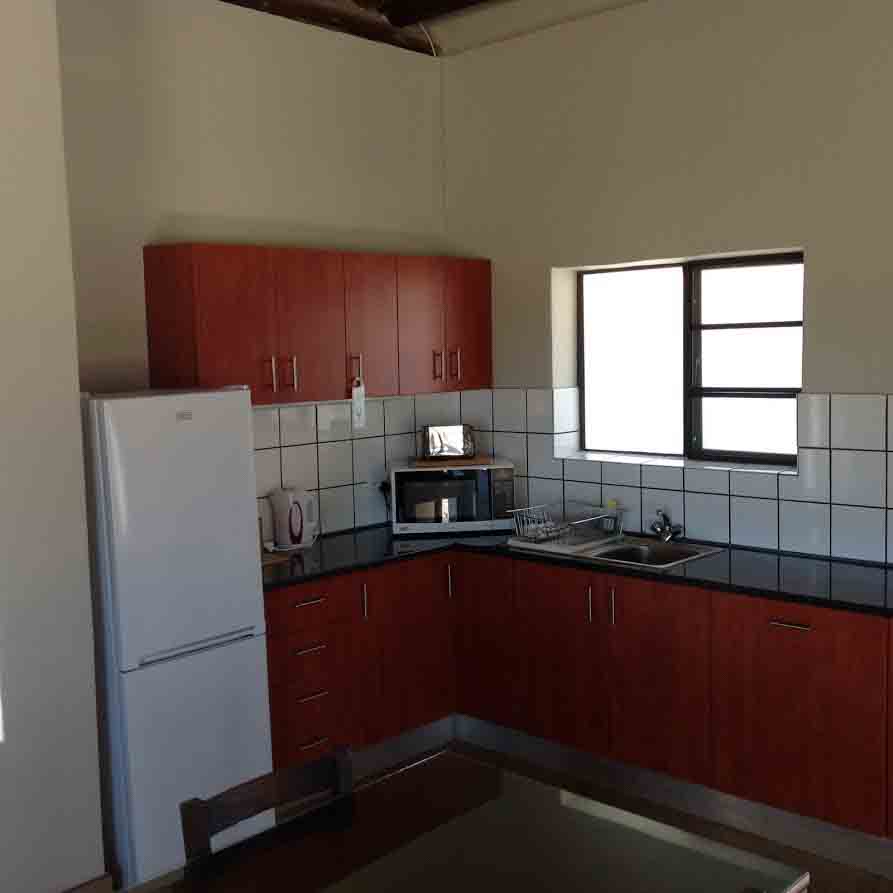 Day #20 and #21=>Our 3rd Kalahari lodge is in the Nosob river bed, the Nossob Rest Camp. In 2018 we tried one of these new river front chalets, and it was great. So this year we booked 3 days. We have never been very successful at animal viewing in the Nossob river basin but hoping our luck with change this trip.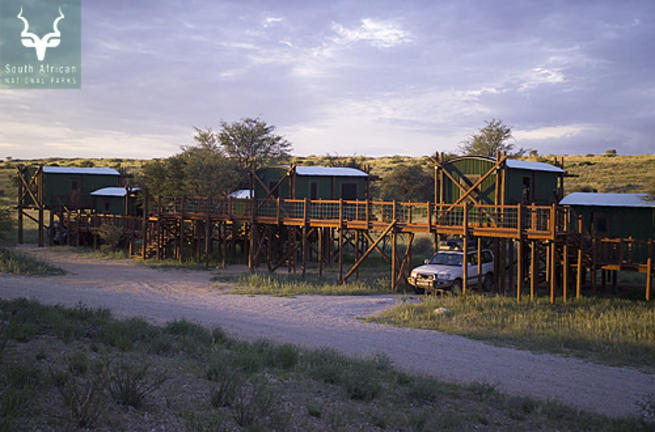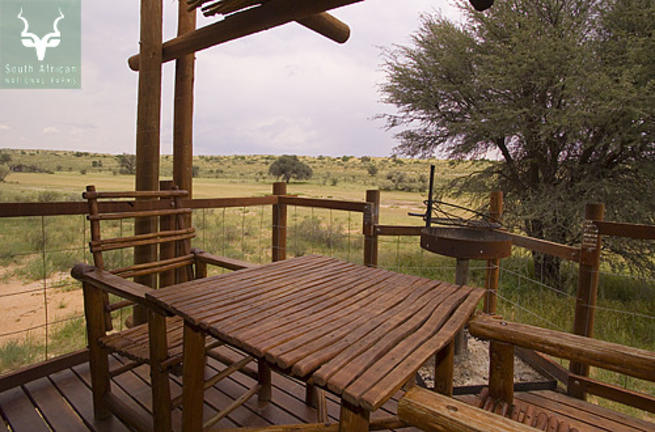 Day #22, #23, #24 and #25=>Our 4th Kalahari lodge is another one of our favorites Urikaruus Wilderness Camp, which like Kieliekrankie is located in the central Auob river basin area. Besides its location Urikaruus has one of the best water holes in the Kalahari which is exclusive only for Urikaruus guests and the camp is centrally located so very easy to locate animal activity.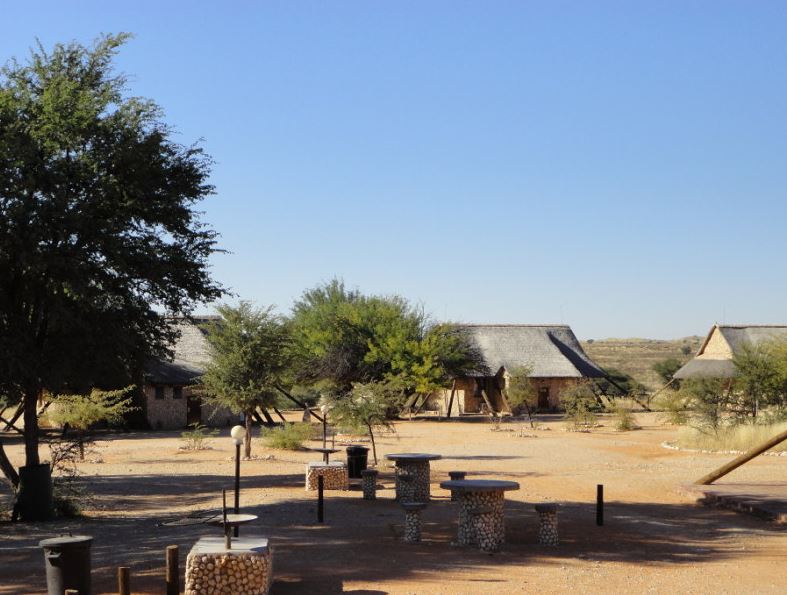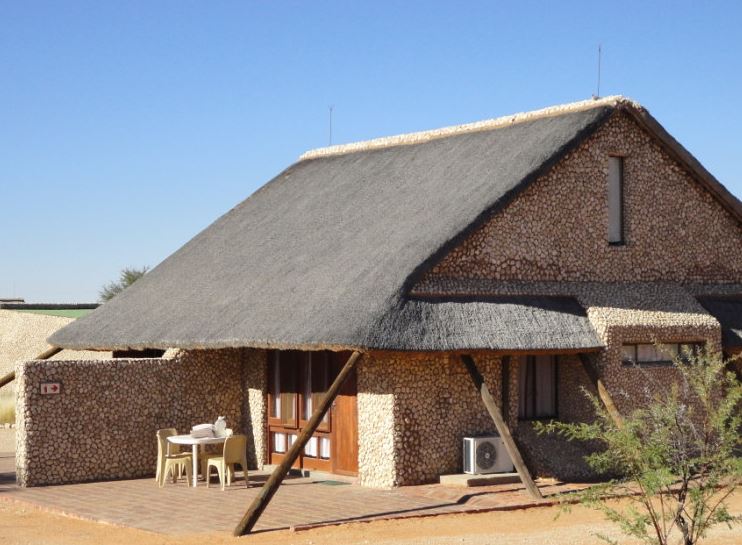 Day #26=>Our 5th and final Kalahari lodge is the largest Kalahari camp located at the southern gate Twee Rivieren Rest Camp. Twee Rivieren camp possesses the character and stature of a desert camp to be remembered. Occupying an impressive position on the dry Nossob river bed, the camp is particularly well noted for its seasonal migrations of desert herbivores, such as blue wildebeest and red hartebeest, as well as the ever-trailing predators, yielding exciting hunts and game viewing from virtually all corners of the camp. This camp is the administrative headquarters of the Kgalagadi Transfrontier National Park as a whole.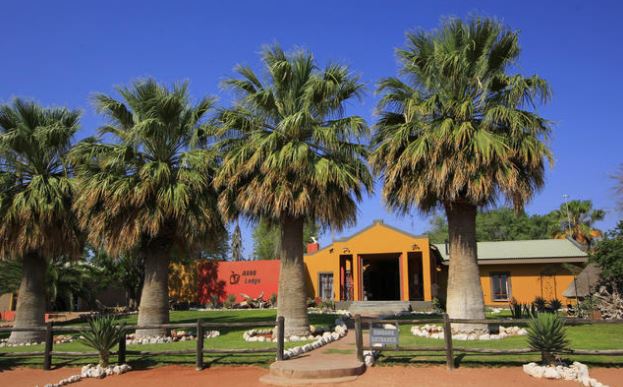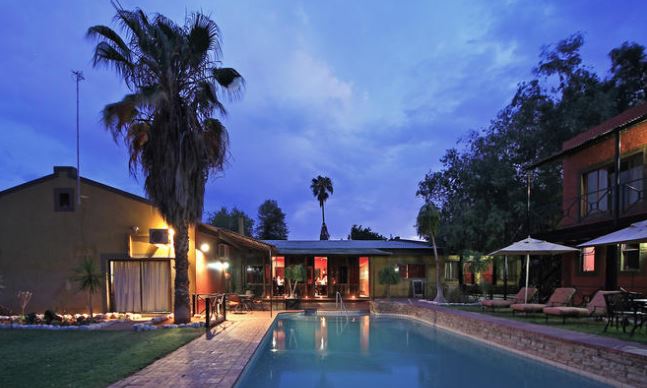 Day #27 and #28=>Our first lodge after the Kalahari is about 2 hours from the Mata-Mata gate theAuob Country Lodge, point "H" on our route map. This one night rest stop has 25 units around an old farmhouse with traditional kitchen, a pool, lounge area, bar, etc. Very comfortable after our long day on the road.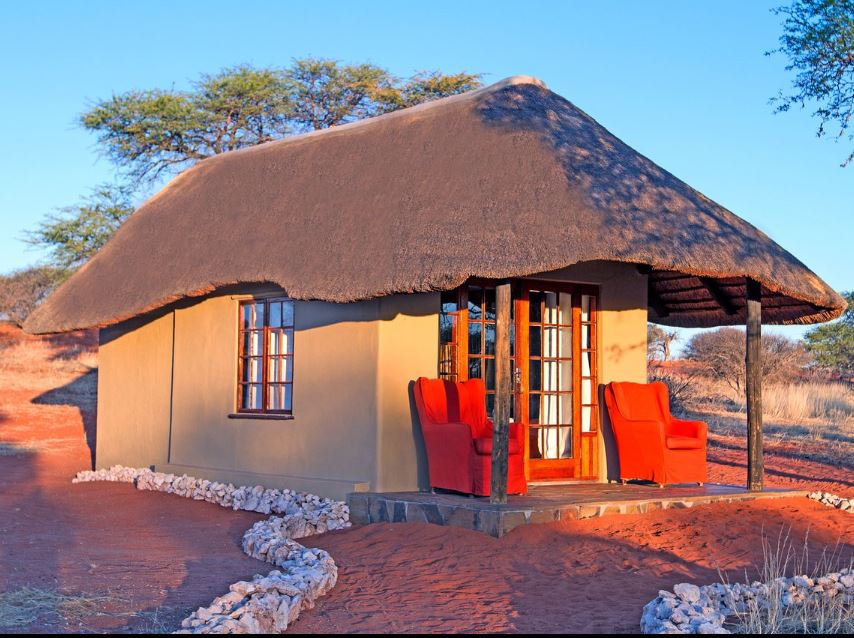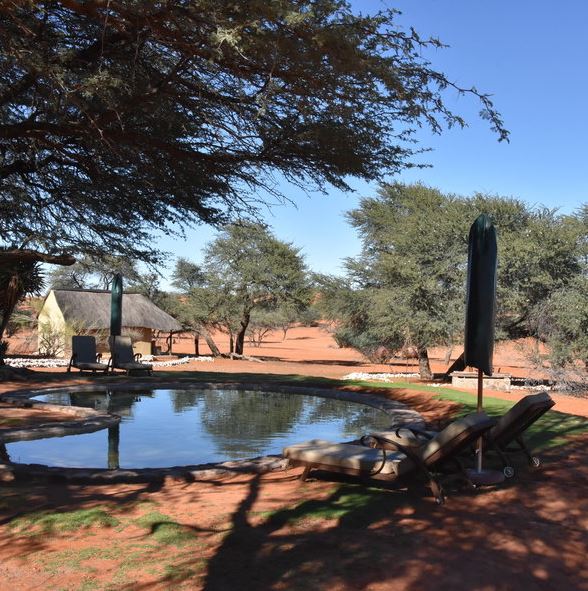 Day #29 and #30=>Our next lodge, also a first for us, the Camelthorn Kalahari Lodge, point "I" on map(above). An inviting, sparkling blue pool which attracts the odd Oryx despite there being a waterhole in close proximity is the first sight to catch your eye as you enter the main area of the lodge. The lounge has comfortable leather seating and is next to the bar that leads to a boma area where large fires are lit and barbecues can be enjoyed at night. An upstairs restaurant overlooking the majestic sights serves an alternative area where sumptuous meals are served.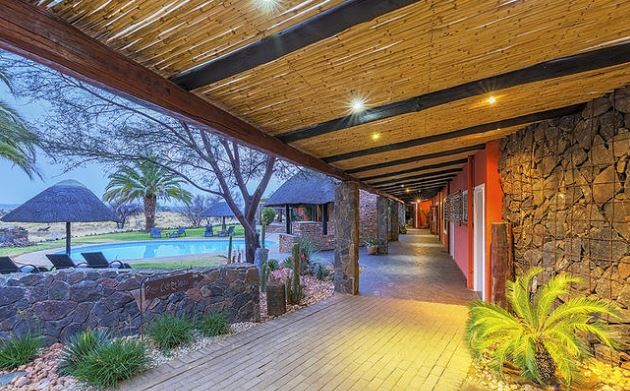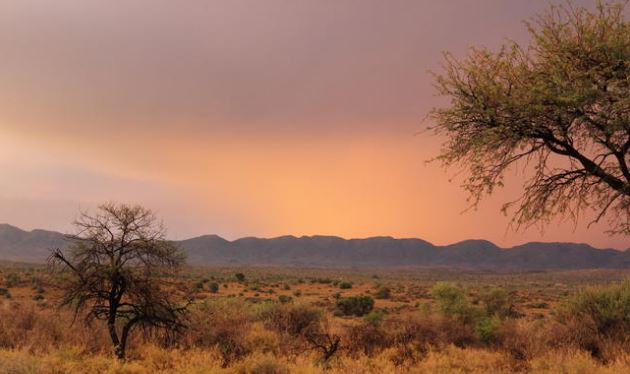 Day #31 and #32=>Our last lodge on this trip is yet another new one for us the Auas Safari Lodge, point "J", covered by a car icon, on route map. The Auas Lodge is situated in the heart of Nambia's unspoiled nature, 45 minutes by car from the Windhoek International Airport on the B1, thus making it an ideal starting point to a tour of Namibia, or as last destination before your journey home.
The Lodge facilitates a swimming pool where guests can enjoy a truly fascinating view of the sunset, game and landscape combined. From the kitchen, guests will be served exquisite local cuisine in our dining area providing indoor seating as well as on the patio. Bar and Lapa facilities are also available and Coffee/Tea and Mini Bar facilities available in each room.
Day #33=>Today the safari part of the trip is over. After breakfast we are driving back to "Safari Car Rental" (point "A" on map) where they will shuttle us to the airport to catch our 2pm flight to Johannesburg. In Johannesburg we will have a few hours to rest before our BA red-eye to London.
Day #34=>We arrive in London(Heathrow) in the early morning and have a few hours layover before boarding our last flight back to SFO. We arrive in SF later this day ending our longest safari ever. Stay tune....more to come!!!